Another week, another deluge of BS from the White House and from the Controlled Opposition. Not much has really happened, so with that noted, on we go.
Justice Must Be Done.
The prior election must be acknowledged as fraudulent, and steps must be taken to prosecute the fraudsters and restore integrity to the system.
Nothing else matters at this point. Talking about trying again in 2022 or 2024 is hopeless otherwise. Which is not to say one must never talk about this, but rather that one must account for this in ones planning; if fixing the fraud is not part of the plan, you have no plan.
Lawyer Appeasement Section
OK now for the fine print.
This is the WQTH Daily Thread. You know the drill. There's no Poltical correctness, but civility is a requirement. There are Important Guidelines, here, with an addendum on 20191110.
We have a new board – called The U Tree – where people can take each other to the woodshed without fear of censorship or moderation.
And remember Wheatie's Rules:
1. No food fights
2. No running with scissors.
3. If you bring snacks, bring enough for everyone.
4. Zeroth rule of gun safety: Don't let the government get your guns.
5. Rule one of gun safety: The gun is always loaded.
5a. If you actually want the gun to be loaded, like because you're checking out a bump in the night, then it's empty.
6. Rule two of gun safety: Never point the gun at anything you're not willing to destroy.
7. Rule three: Keep your finger off the trigger until ready to fire.
8. Rule the fourth: Be sure of your target and what is behind it.
(Hmm a few extras seem to have crept in.)
Spot Prices
All prices are Kitco Ask, 3PM MT Friday (at that time the markets close for the weekend).
Last week:
Gold $1731.80
Silver $25.01
Platinum $1216.00
Palladium $2736.00
Rhodium $26,800.00
This week, 3 PM MT on Friday, markets closed for the weekend
Gold $1745.20
Silver $25.35
Platinum $1205.00
Palladium $2700.00
Rhodium $27,000.00
Gold has tested the $1760 level during the past week, apparently it's trying to stage a rally.
Palladium
Two more precious metals to go.
This time, it's palladium.
It, along with rhodium, are the two metals Wollaston discovered closely associated with platinum, shortly into the 19th century. Indeed, since it sits directly above platinum in the periodic table, it's basically platinum's little brother.
There's one unusual property of palladium that attracts a ridiculous amount of attention: It absorbs up to 900 times its volume of hydrogen. It can even be used as a hyrdogen filter if it's heated: The hydrogen will diffuse through it, other gases mixed in with the hydrogen will not.
People seem to imagine that this would make palladium a great way of storing hydrogen. But consider: It absorbs 900 times its volume of hydrogen, not 900 times its weight, or even half its weight. That's basically equivalent to putting hydrogen in a very strong tank. But the tank is cheaper (and lighter) than the palladium would be. However, there is one last little quirk about this I'll get to later.
Palladium, back in the days I first started noticing things, was sort of midway between silver and gold. Silver was perhaps five to ten dollars an ounce. Gold was $300. Palladium was $80.
A few years later, palladium spiked to $900 bucks an ounce…for maybe a year, then dropped back down to very roughly the $200 level. I thought about buying some, thinking it could spike to $900 again, and people basically laughed–it was a very special set of circumstances that had caused that spike.
Well palladium has been doing very well now, pushing towards three thousand dollars an ounce, higher than gold or platinum have ever been, and in fact its price rise preceded the rhodium/iridium madness we're seeing now.
You can find palladium in solid form; back when it was 80 or 120 bucks I did buy an ounce in the mid 1980s…and it got burglarized away, not very long after that little event I alluded to. It had just shot up to $180/ounce overnight. Back then a precious metal wasn't listed if you couldn't buy a pretty little bar of it.
OK, what was the little event? The apparent discovery of cold fusion. In 1989, Pons and Flieschmann claimed that they had gotten hydrogen–deuterium, the stable heavier isotope of it in fact–to fuse at room temperature. How did they do it? They performed electrolysis on heavy water, using a palladium electrode.
Electrolysis is the process where one passes a current through water, and causes the water molecule to split up into its component hydrogen and oxygen atoms. When this is done to heavy water, the hydrogen, of course is actually the deuterium isotope–still hydrogen, but the nucleus contains a neutron as well as the proton, and it's much easier to get it to undergo nuclear fusion.
So here's hydrogen being released right next to palladium, right? And palladium is a hydrogen sponge, right? So basically the hydrogen is effectively very compressed, one of the things you'd need to do to it to get it to fuse.
Pons and Fleischmann claimed to have measured more heat being generated than could possibly have come from anything other than fusion, as well as fusion by products. Other scientists, however, failed to replicate their results.
It's nonetheless an odd thing, because some people claim they do get unusual amounts of heat out of similar apparatuses (apparati?).
My gut feel–and it's worth exactly what you are paying for it–is that something a little odd is going on here, but that it's probably not fusion. Some people are still playing with this, but nothing definitive seems to have come out of it. It's just barely an open question still, in my mind, though I am largely skeptical.
Which is a damn shame, because fusion would solve the energy crisis. It would avert the next ten energy crises. It is what makes the stars shine, and they can shine for billions or even trillions of years. If they were made out of coal that was being burned, instead of hydrogen being fused, they'd only last a few thousand years. Which tells you how very, very, energy dense fusion is.
Other than the usual catalyst uses, palladium is part of the alloy we know as "white gold." Which must, therefore be more expensive than the regular yellowish-orange gold. Its melting point is actually under three thousand degrees Fahrenheit, no doubt a bit of a change after all of those metals that need to be melted by lightning bolts. It's a bit lower than platinum's melting point, and that was managed by the lime block furnace back in the mid 1800s.
Here's a picture of a credit suisse palladium bar. This was pretty much the first form it came in for investing.
Credit Suisse now makes the PAMP bar, with a bit of artwork on the bar:
The Soviet Union made coins out of palladium back in the 1980s (when it was cheap), and the United States makes a one ounce eagle.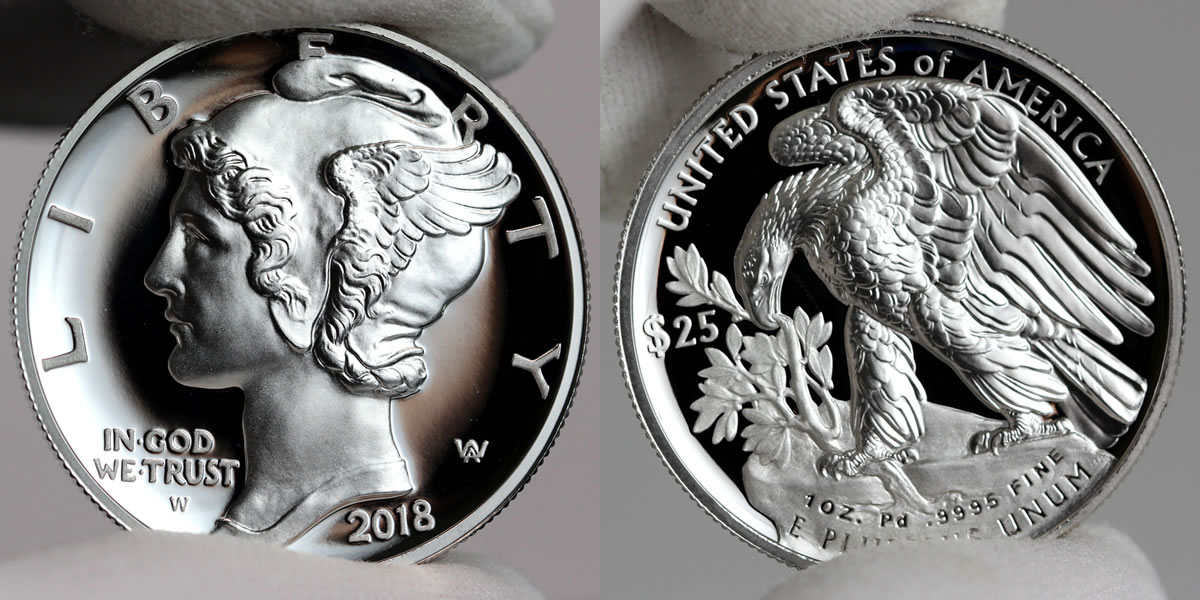 That eagle coin is given a face value of 25 dollars (and is worth a hundred times that!). The obverse is a blown-up version of the "Mercury" (Winged Cap Liberty) dime, while the eagle on the reverse strongly resembles the one on the Walking Liberty half. Instead of his head facing forward, the eagle's head is bent downwards, grasping what looks like an olive branch.
As you can see the metal is just another silvery-white metal. When not frosty and lustrous it tends to look like stainless steel.
Obligatory PSAs and Reminders
China is Lower than Whale Shit
To conclude: My standard Public Service Announcement. We don't want to forget this!!!
Remember Hong Kong!!!
中国是个混蛋 !!!
Zhōngguò shì gè hùndàn !!!
China is asshoe !!!
China is in the White House
Since Wednesday, January 20 at Noon EST, the bought-and-paid for Joseph Biden has been in the White House. It's as good as having China in the Oval Office.
Joe Biden is Asshoe
China is in the White House, because Joe Biden is in the White House, and Joe Biden is identically equal to China. China is Asshoe. Therefore, Joe Biden is Asshoe.
But of course the much more important thing to realize:
Joe Biden Didn't Win
乔*拜登没赢 !!!
Qiáo Bài dēng méi yíng !!!
Joe Biden didn't win !!!