My fellow Q treepers, if you have not yet seen the litany Q posted of lawmakers and those around lawmakers currently in custody for criminal abuses of children yesterday, please visit Qanon.pub or Qmap for four VERY LONG posts to go along with this:
4628
Q !!Hs1Jq13jV6 ID: fe6cd6 No.10503446 
 NEW
https://www.fbi.gov/services/information-management/foipa/privacy-impact-assessments/sentinel
Files do not go 'missing' unless 7th floor direct involvement.
Follow the logs.
Q
4629
Q !!Hs1Jq13jV6 ID: fe6cd6 No.10503638 📁
Sep 2 2020 10:46:30 (EST) NEW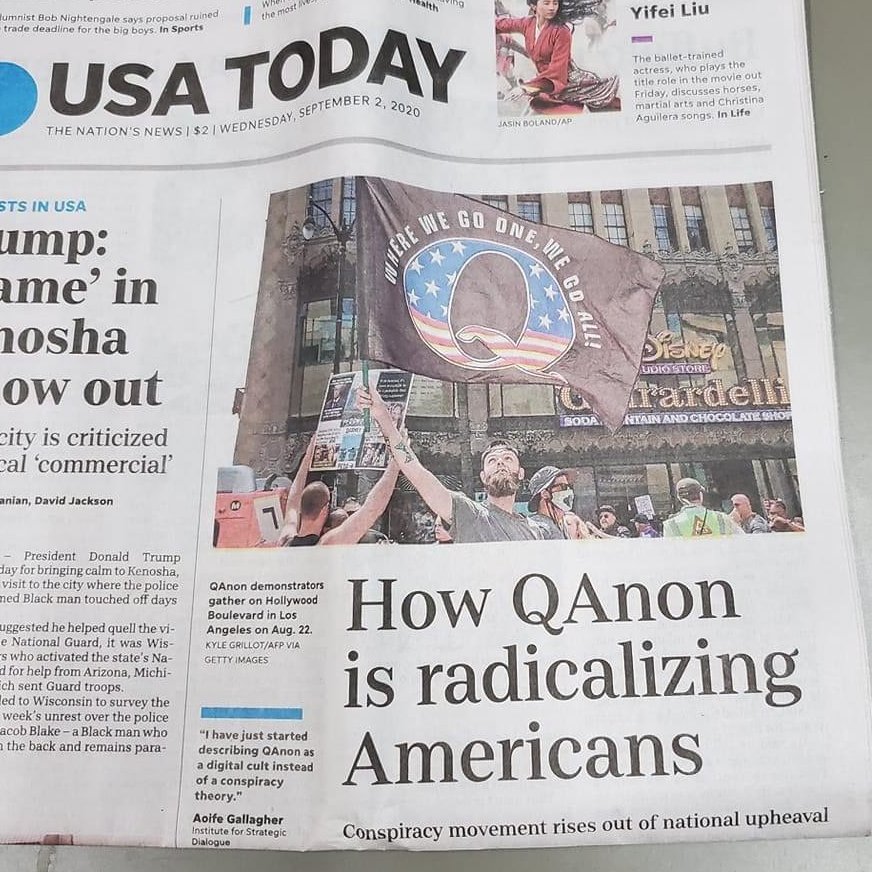 CORRUPT.
CONTROLLED.
ENEMIES OF THE REPUBLIC.
Q
4634
Q !!Hs1Jq13jV6 ID: f84976 No.10504572 
 NEW
Why did it take a political outsider to [finally] confront China?
Q
Not sure, but VSGPOTUSDJT keeps getting the people to come out of lockdown.
As for any extended lockdowns, fear mongering, mask wearing, gaslighting…MSM, this one's for you.
I miss Mark Metcalf's acting.
_______________________________________________
As usual, this is the daily thread, the place to put all information that needs to be out there – Q drops, Q drop decodes, riot information, rumors about MAGA rallies starting up again, news flashes, Chy-na flu updates, fashionable mask photos, satire, memes, and of course cute animal videos.
In the meantime, the short and sweet version of "THE RULES" is here borrowed from Tuesday:
Guidelines for posting and discussion on this site were outlined by our host, WolfM00n. Please, review them from time to time.
The discourse on this site is to be CIVIL – no name calling, baiting, or threatening others here is allowed. Those who are so inclined may visit Wolf's other sanctuary, the U-Tree, to slog it out.
This site is a celebration of the natural rights endowed to humans by our Creator as well as those enshrined in the Bill of Rights adopted in the founding documents of the United States of America. Within the limits of law, how we exercise these rights is part of the freedom of our discussion.
Fellow tree dweller Wheatie gave us some good reminders on the basics of civility in political discourse:
No food fights.
No running with scissors.
If you bring snacks, bring enough for everyone.
Since it is almost the weekend, the reminders are in place to not swing from the chandeliers, wash your hands and face, and be nice to the liberals whether they deserve it or not. Making your bed, OTOH, is optional.
__________________________________________________
LUKE 5:1-11
1While the people pressed upon him to hear the word of God, he was standing by the lake of Gennes'aret. 2And he saw two boats by the lake; but the fishermen had gone out of them and were washing their nets. 3Getting into one of the boats, which was Simon's, he asked him to put out a little from the land. And he sat down and taught the people from the boat. 4And when he had ceased speaking, he said to Simon, "Put out into the deep and let down your nets for a catch." 5And Simon answered, "Master, we toiled all night and took nothing! But at your word I will let down the nets." 6And when they had done this, they enclosed a great shoal of fish; and as their nets were breaking, 7they beckoned to their partners in the other boat to come and help them. And they came and filled both the boats, so that they began to sink. 8But when Simon Peter saw it, he fell down at Jesus' knees, saying, "Depart from me, for I am a sinful man, O Lord." 9For he was astonished, and all that were with him, at the catch of fish which they had taken; 10and so also were James and John, sons of Zeb'edee, who were partners with Simon. And Jesus said to Simon, "Do not be afraid; henceforth you will be catching men." 11And when they had brought their boats to land, they left everything and followed him.
_______________________________________________________