Listen to Naomi Wolf's take on things, to prepare you for THE WOLF'S take on things.
---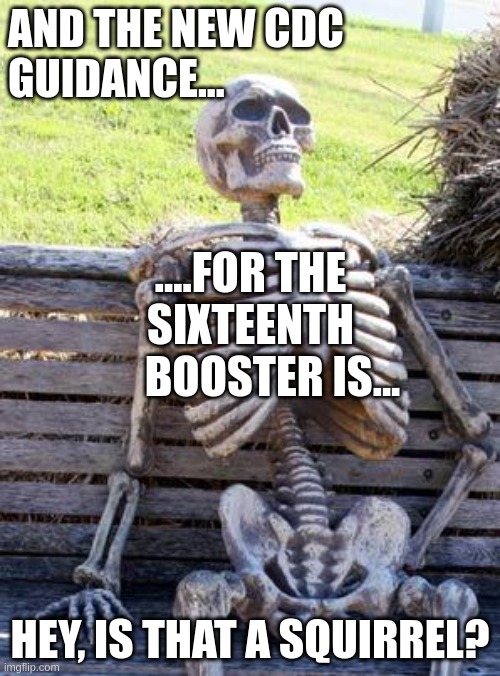 What Do You Mean, "The Guidance Changed?"
This is actually a great question, to which I thought I knew the answer, but in fact did not.
The "guidance" is actual documentation of what CDC thinks the "sheeples in charge" should force the rest of the sheeple to do about COVID-19.
CDC guidance is why everything went crazy in the United States.
And now, all of a sudden, that "guidance" is far less crazy and forceful than it was recently. What's up with that?

I first found a Fox News version of the change.
LINK: https://www.foxnews.com/us/cdc-eases-covid-guidance-shift-approach
This had no links to the actual changed guidance, so I went looking.
I found a place called "guidance" on the CDC website, but it's dated from March of 2021.
LINK: https://www.cdc.gov/coronavirus/2019-ncov/communication/guidance.html
Looking around the CDC website, I eventually found what I was looking for. It was off the beaten path, but in a place where journalists were apparently used to looking for goodies on a weekly basis.
LINK: https://www.cdc.gov/mmwr/volumes/71/wr/mm7133e1.htm?s_cid=mm7133e1_w
This is much like an academic paper. Here is the title information: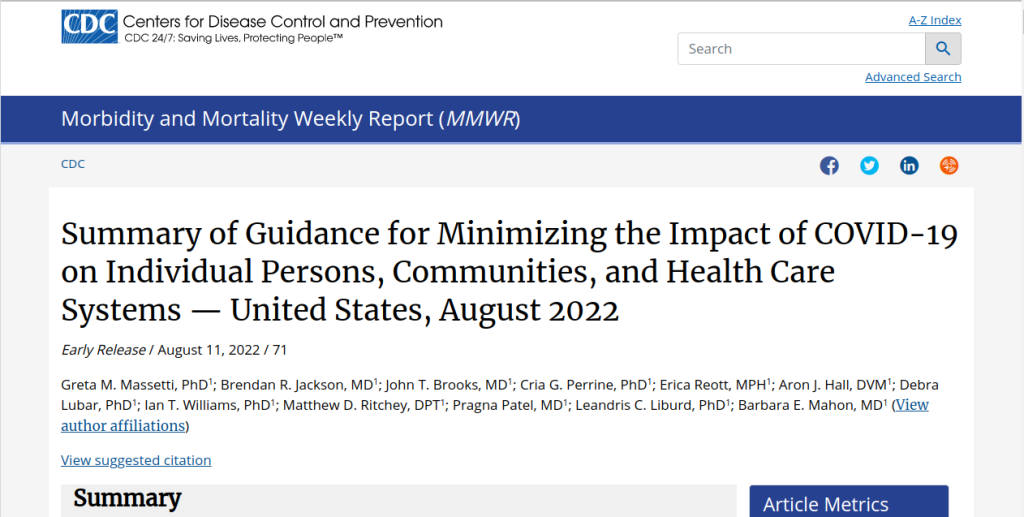 Let's put that into text.
Summary of Guidance for Minimizing the Impact of COVID-19 on Individual Persons, Communities, and Health Care Systems — United States, August 2022
Early Release / August 11, 2022 / 71
Greta M. Massetti, PhD1; Brendan R. Jackson, MD1; John T. Brooks, MD1; Cria G. Perrine, PhD1; Erica Reott, MPH1; Aron J. Hall, DVM1; Debra Lubar, PhD1; Ian T. Williams, PhD1; Matthew D. Ritchey, DPT1; Pragna Patel, MD1; Leandris C. Liburd, PhD1; Barbara E. Mahon, MD1 (View author affiliations)View suggested citation
Summary
What is already known about this topic?
High levels of immunity and availability of effective COVID-19 prevention and management tools have reduced the risk for medically significant illness and death.
What is added by this report?
To prevent medically significant COVID-19 illness and death, persons must understand their risk, take steps to protect themselves and others with vaccines, therapeutics, and nonpharmaceutical interventions when needed, receive testing and wear masks when exposed, receive testing if symptomatic, and isolate for ≥5 days if infected.
What are the implications for public health practice?
Medically significant illness, death, and health care system strain can be reduced through vaccination and therapeutics to prevent severe illness, complemented by use of multiple prevention methods to reduce exposure risk and an emphasis on protecting persons at high risk for severe illness.
MORE: https://www.cdc.gov/mmwr/volumes/71/wr/mm7133e1.htm?s_cid=mm7133e1_x
You can also download a PDF of the full guidance HERE.
LINK: https://www.cdc.gov/mmwr/volumes/71/wr/pdfs/mm7133e1-H.pdf
CNET has a nice summary HERE.
LINK: https://www.cnet.com/health/medical/cdc-nixes-quarantine-tweaks-other-covid-guidance/
Even NPR has tried to summarize things – and did rather nicely.
Given that NPR is an official party organ, that's pretty serious. I repeat: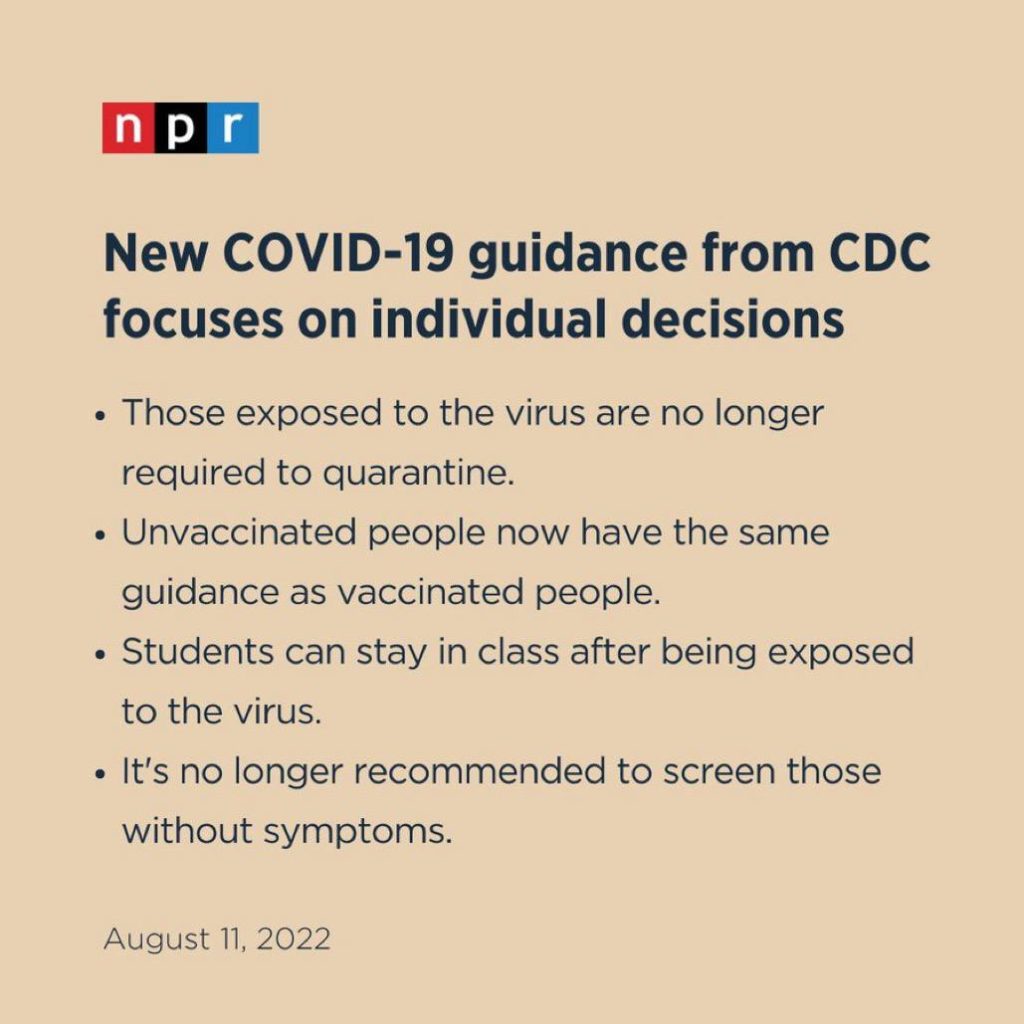 So assuming you've read one of the summaries (Fox or CNET) or at least the NPR checklist, what do more critical voices think?
Many people consider it a REVERSAL OF POLICIES in several important ways. Naomi Wolf, who has championed medical freedom from a classical liberal standpoint, is one of them.
---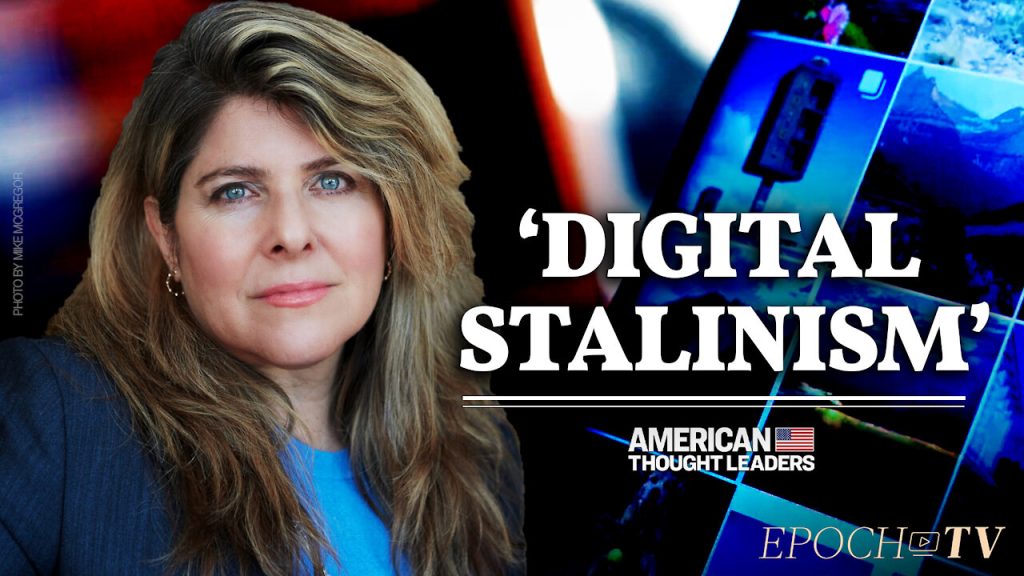 Naomi and Steve Take a Tour of WTF Falls
CDC's sudden reversal on COVID guidance – from obsessively meddling and frequently "backwards" to "almost sane" – is almost certainly political in many ways, including a reaction of the DNC to their dismal prospects in the upcoming election. And yet the new guidance does do some scientific "hand-waving" to justify itself.
Without making enough of a point about natural immunity to admit its superiority to the immunity offered by the "vaccines", CDC has admitted the fact that natural immunity, along with clot shot immunity, has effectively ended the crisis of the virus.
The crisis of the vaccinated, however, is just beginning.
Listen to Naomi Wolf's take on CDC's reversal.
LINK: https://rumble.com/v1g4yvt-naomi-wolf-joins-warroom-to-discuss-the-cdcs-full-180-turn-on-vaccine-discr.html
Summary:
people don't want COVID vaccines – Moderna is throwing out 30 million unwanted doses
people don't want the vaccines for their kids
vaccines don't affect transmission, and CDC no longer says so
there's no reason to have mandates, firings, dismissals
now after all the destruction, not even an apology, just ignore vaccination status
"the edifice is crumbling, because so many people have exposed their lies"
the legacy media is not questioning the reversal – just putting it out there
CDC is making up a fantasy about the science having evolved
no evidence is presented, just as no evidence was presented before
no mention is made of the devastation from the policies that went before
So what does the Wolf think of all this?
---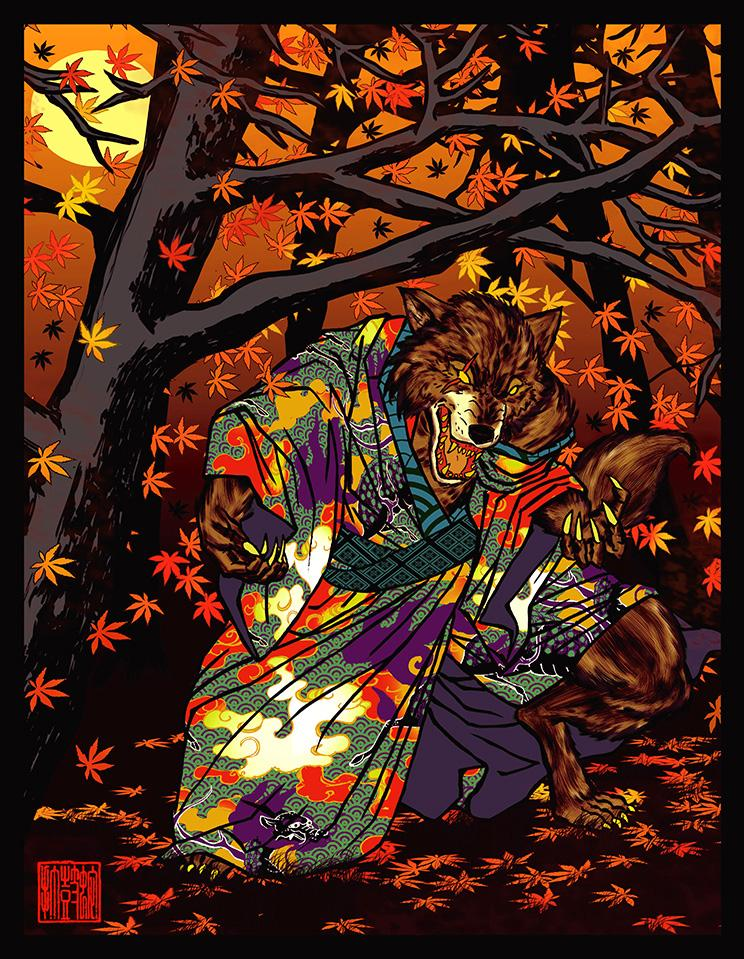 Light in August
The novel is an exploration of what we think we know vs what we actually know.

Pamela Jean, Goodreads
To dig out the truth, as scientists instead of artists, we have to "think we know" things, and on average, more often than not, what we think we know has to turn into what we actually know.
In addition to simply denying us "things we think we know" by gaslighting and censorship, one of the ways that criminals get away with things, is by throwing enough phony "think we know" at us, to prevent us from ever getting to the point of actually knowing things.
"Chaff and countermeasures", as Sundance likes to call them.
To me, the very first CHAFF is right in the "title" of the "new guidance". The PROPAGANDA is LEADING with the "new goal".
Summary of Guidance for Minimizing the Impact of COVID-19 on Individual Persons, Communities, and Health Care Systems — United States, August 2022
These creeps didn't just say something short and open-ended like "Summary of Guidance for Management of COVID-19, August 2022" – they added their alleged goal right there.
"Minimizing the Impact of COVID-19 on Individual Persons, Communities, and Health Care Systems"
WAIT A MINUTE.
SO – suddenly THAT MATTERS?
It didn't matter EARLIER.
These two things are things we actually know.
That title of the new guidance could have been written by Scott Atlas. You know – the SWORN ENEMY OF SCARF WENCH. And yet – we are now in the BIDEN administration – which pushed the FATAL SHOTS.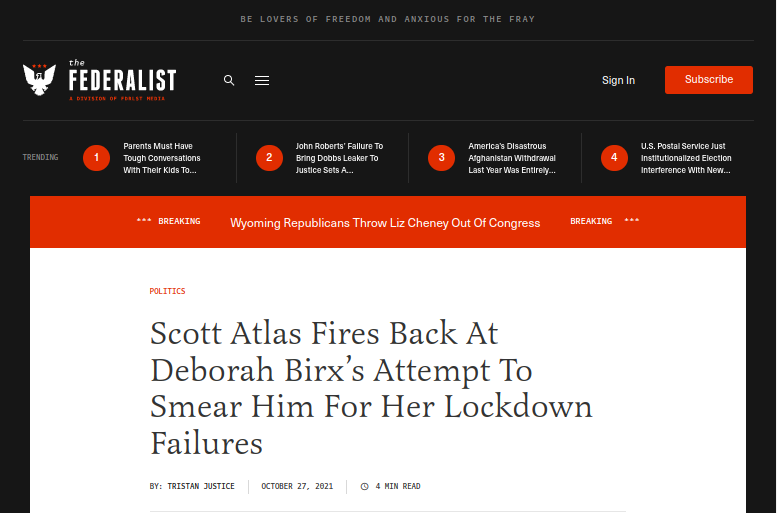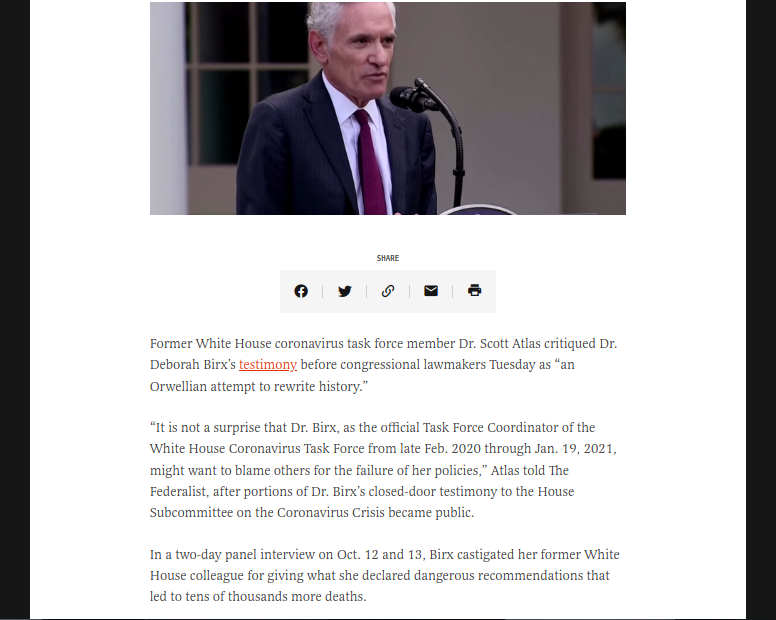 LINK: https://thefederalist.com/2021/10/27/scott-atlas-fires-back-at-deborah-birxs-attempt-to-smear-him-for-her-lockdown-failures/
It has been my contention that Scott Atlas was ABSOLUTELY NOT on #TeamDepopulation, and that Birx refusal to even go to meetings where he was present, was not only a smart tactic of policy engagement, but a tactic of "big plot defense".
If there was ever anybody who would have seen through to the "virtuous depopulation plan to save the planet from climate change" in real time, it would have been Scott Atlas. Here is a guy who understood motivation in health care, from the inside – but obviously from the "old days" of FIRST, DO NO HARM. He's old school – just look at his age – obvious in the picture. If Birx would have slipped up somehow in gunning for more control, less treatment, and ultimate reliance on the statistically fatal shots, it would have been clear as day to Atlas. HIS suspicions could have been raised to the proper levels.

This is something we THINK WE KNOW – not something we ACTUALLY KNOW.
At least, NOT YET.
Ideas that can become things we ACTUALLY KNOW have to become CONCEIVABLE first, and to become conceivable TO THE PUBLIC, they have to become public.
This is why ALL THE CENSORSHIP. The "virtuous depopulation plan" was not allowed to become conceivable in the minds of men and women, by not allowing the smaller components of the idea to take shape – to fit together like a jigsaw puzzle, leading to NEW EVIDENCE.
Sure – they love to let people make the BIG assertions, because who would believe them? It's the smaller things that add up, that allow us to see that 1+2+3+4=10.
Now – Birx is a tricky one. Not only does she admit to sabotaging Trump in terms of her reporting practices and bureaucratic policy documentation, which can be made to look virtuous to the left – she even tried to feed Trump rope to hang himself, which is at best unseemly, and at worst treasonous.
An example of that level of personal duplicity is how Birx gave Trump a "tour of the incredible" in terms of COVID cures, leading Trump to then give the waiting Fake News media exactly what it wanted – "injection of bleach", "crazy ultraviolet treatments", and all that noise.
Let's be very blunt. Birx SET TRUMP UP. KNOWINGLY.
At the time of "infamous injection of bleach", I was struck by Trump's demeanor when stating the things he did. It was clear to me that he KNEW this would feed the media with red meat for controversy, but even more, I detected DISDAIN FOR BIRX, as he mentioned VERY BRIEFLY having gotten the tour, and then proceeded to "step into the trap" by stating some of the things they looked at, stripped of anything he MUST have heard, supporting their scientific credibility.
Typical Trump – allowing the Fake News to backhandedly validate him, while not "appearing weak" by making the arguments himself.
He let Scarf Wench crow for the moment, only to "wear the L" later.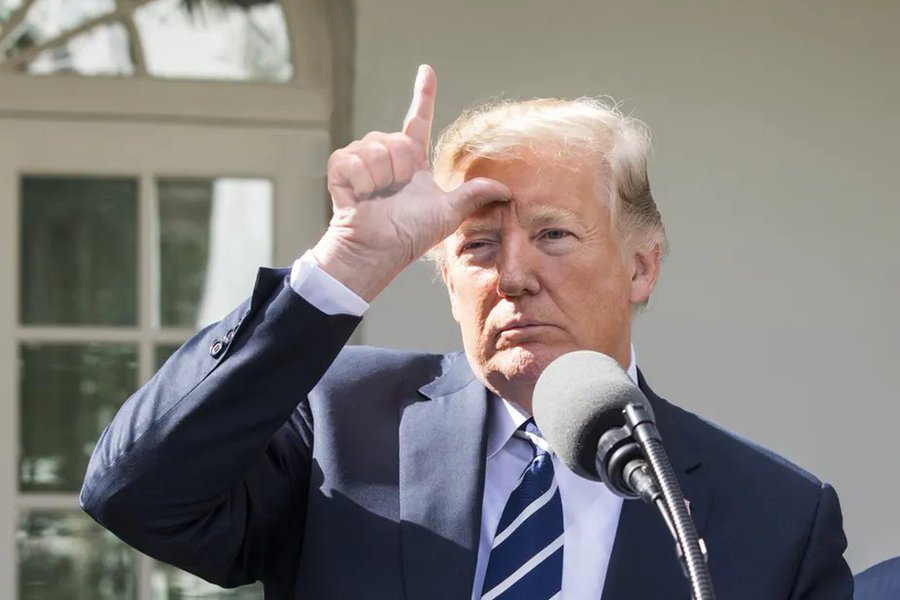 Getting back to the point, there has to be a set of reasons WHY CDC is suddenly "normalizing normal again".
Democrats are no longer pretending. They're doing the right thing. WHY?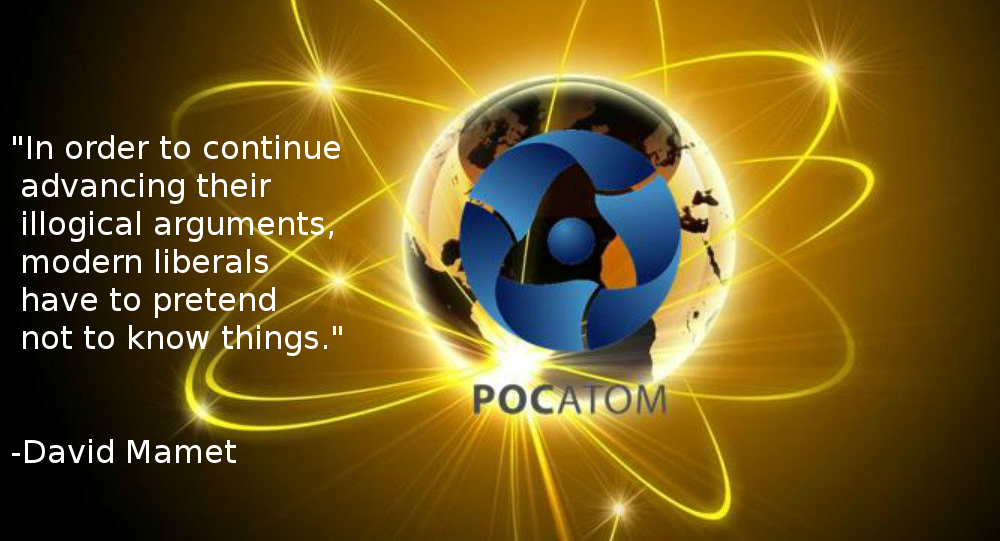 The election is surely one of them. Democrat voters need to come back for their hug after being bitch-beaten to the graveyard.
But there is MORE. This policy is IN MOTION. It has already been allowed to pass the phalanx of school administrators, who had earlier enjoyed their lockdown and mandate powers well beyond the expiration date.
Holly brought us EVIDENCE in that regard. I invite you to enjoy this conversation as much as we did!
---
Offline
Wolverine
August 16, 2022 04:56
Good sign! Utica University's fall 2022 covid policy no longer requires the vaxx or exemptions for ANYONE. Private and in New York. This is a big deal. 
https://www.utica.edu/fully-forward
14
Reply
Online
Admin
Wolf
Reply to holly08
August 16, 2022 04:59
OMG – Team Depopulation is in FULL FLIGHT. They're opening every jail cell to cover their escape!!!
13
Reply
Online
Coyote
Reply to Wolf Moon
August 16, 2022 07:43
"Just following the science. following the data".
/s
Bastards
9
Reply
Online
Admin
Wolf
Reply to kalbokalbs
August 16, 2022 12:06
Suddenly "the science" – THE REAL SCIENCE – looks good to them.
WICKED.
3
Reply
Offline
Coyote
Reply to Wolf Moon
August 16, 2022 09:31
Let the lawsuits begin…
8
---
This is now something we ACTUALLY KNOW. Democrats (teachers unions and university administrators) are doing a 180 in terms of feeding the "protesting parents of Democrat-abused children" with any MEDICAL reasons to protest. Even at the CDC level, they are relenting.
WHY? Just for the election?
Democrats are STILL pushing both TRANS and CRT in schools. Indeed, the early assertion that the notorious Tavistock Institute was being shut down not as victory over TRANS, but as a form of TARGET DENIAL, so that TRANS could be disseminated to hospitals and schools, seems to be borne out, as the center of the fight has indeed shifted to a multitude of "woke" hospitals with insane new TRANS policies.
No. There is more. And I may not ACTUALLY KNOW that the depoppers in American medical bureaucracy are strategically retreating, but I certainly THINK I KNOW THIS.
Fauci's announced retirement at the end of the Biden administration notwithstanding, I suspect that he will exit SOONER – particularly in the event of Republican control of the House. This will have the effect of thwarting public revelation of facts which would lead irrevocably to the realization of what I am certain actually happened – that a shot which damages the hearts of ALMOST ALL RECIPIENTS AFTER REPEATED INJECTION was advanced KNOWINGLY.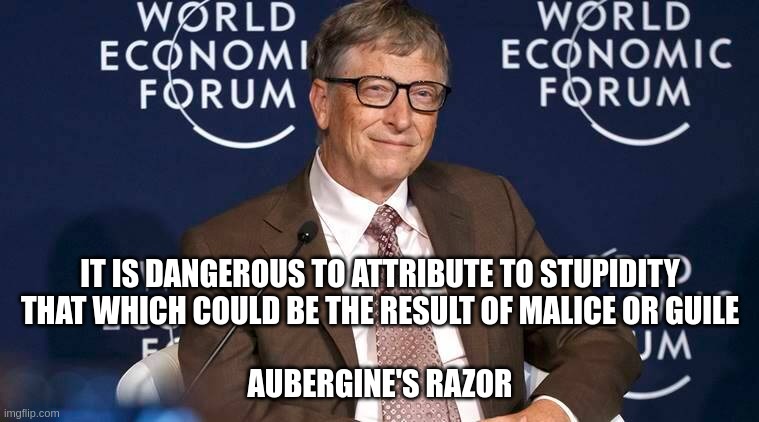 I find it interesting that science is now catching up to the plot, and results which should have been obvious earlier, if things were actually innocent, are NOW becoming obvious to scientists who are innocent enough to publish.
Consider the NUMBERS in this very recent Thai study. My comments on Gab, wrapped around comments by Steve Kirsch, who sees the same evidence, but seems to be keeping any recognition of the plot quiet for now. AND YET HE TAUNTS THEM.
---
Repeating for the bigger link.
Nobody did this accidentally. Team Depopulation is busted.
https://stevekirsch.substack.com/p/thailand-study-of-young-adults-post?utm_source=substack&utm_medium=email
Thailand study of young adults post jab showed nearly 30% with cardiovascular injuries
It is amazing what you find when the people doing the study are honest.
8 likes
6 reposts
1 quote
---
What was that they were saying, that had no effect on Republican scientists, but might actually troll up some Democrat scientists to "action"?
"There's no time."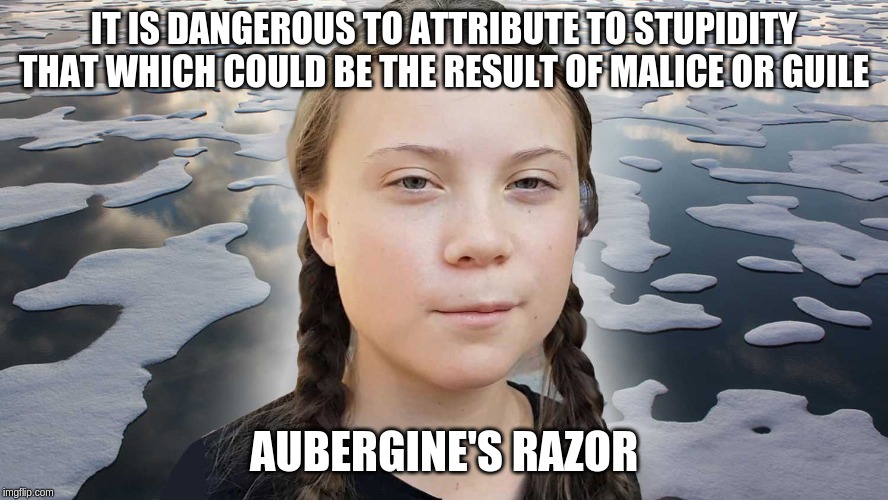 Likewise – at the top – people who are intellectually unable to question science from a standpoint of common sense and moral solidity, can easily get out over their skis, when urged by others who they trust. I think I know that Andrew Cuomo is one of them.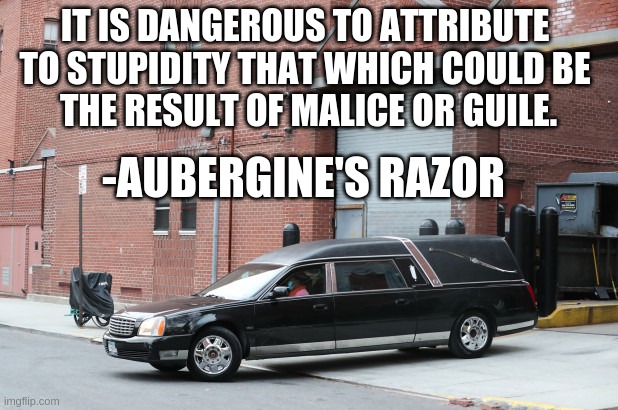 I don't ACTUALLY know who had prior knowledge of the "left-virtuous plan", but I am gaining pieces of the puzzle every day. Millions of actions which appear to be mistakes, take shape when we consider that thousands of those actions, committed by a small but core cadre of "knowing" participants, created virtue signals that drove the vast remainder of DUPES to participate in a massive folly.
And what is that folly?
Deploying the MOST ADVERSE VACCINE IN HUMAN HISTORY – while simultaneously REFUSING TO EXAMINE OR ADMIT the evidence of its adversity. The actions of the whole PROTECTED THE ADVERSITY.
And remember – that ratio – scientifically studied by the CIA – makes all sorts of things possible.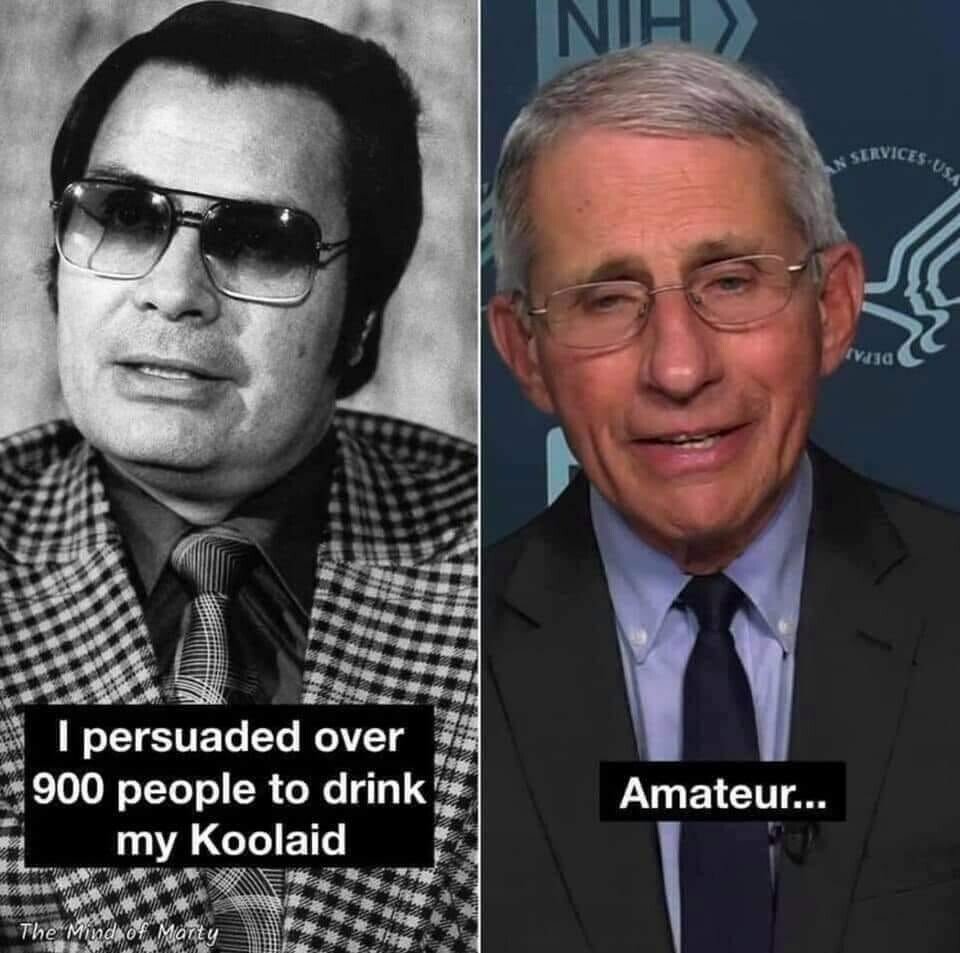 Motivations in real conspiracies are always complex, interlocking, apparently contradictory, and tend to "shift and flip" in going down from the most knowing top to the less knowing bottom – yet each layer knows the guilt of their own interests and participation. This form of guilty self-motivation locks people – including mostly innocent people – into defending the whole construct.
---
I do not actually know who the core cadre is, but I'm working on it.
Your suspicions as to WHO THEY ARE – are welcome.
We are an investigatory collective. We are free to postulate – to hypothesize – to be both scientists and detectives.
I know what I think. I ACTUALLY KNOW what I think I know.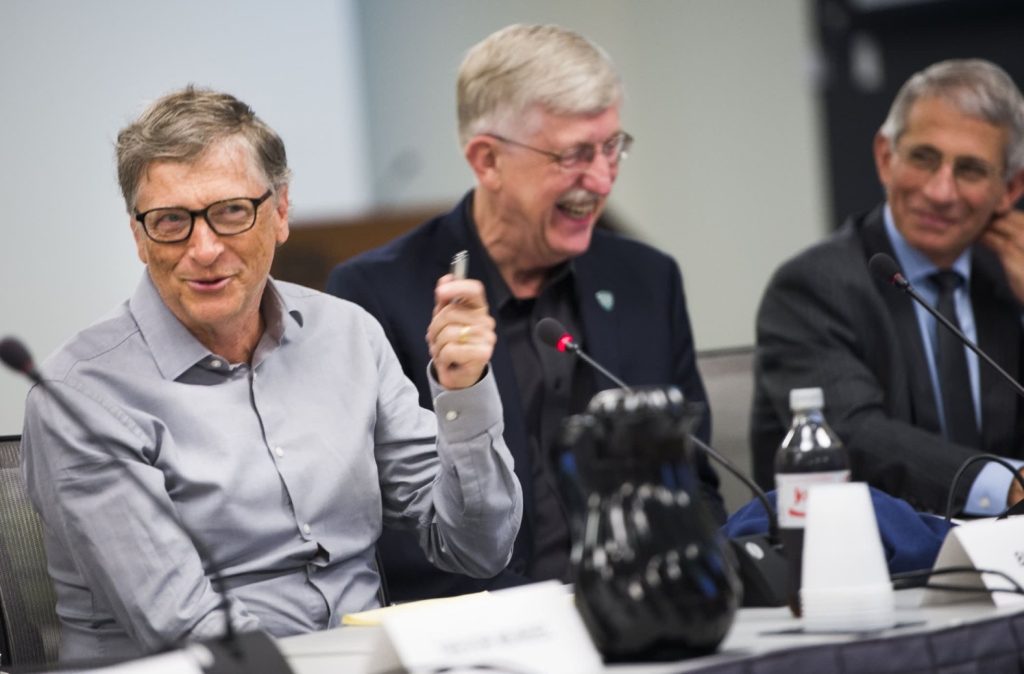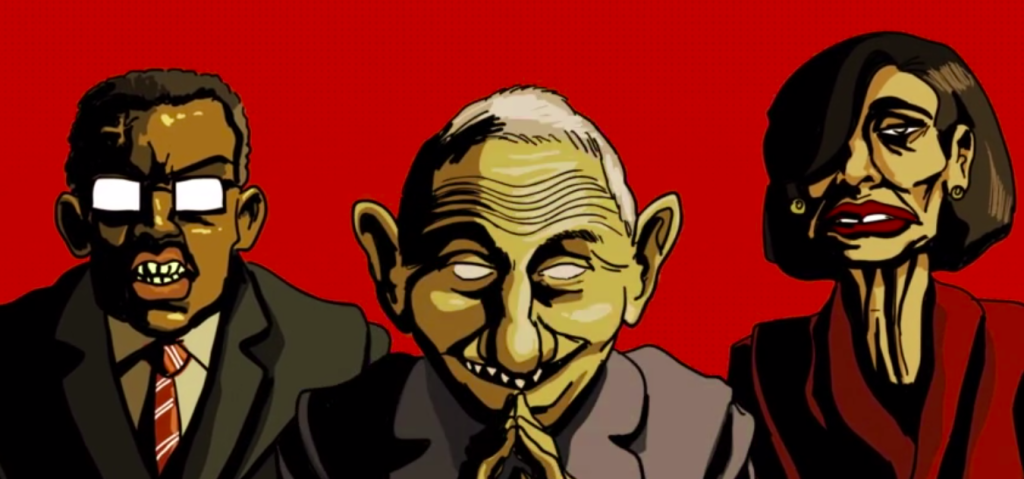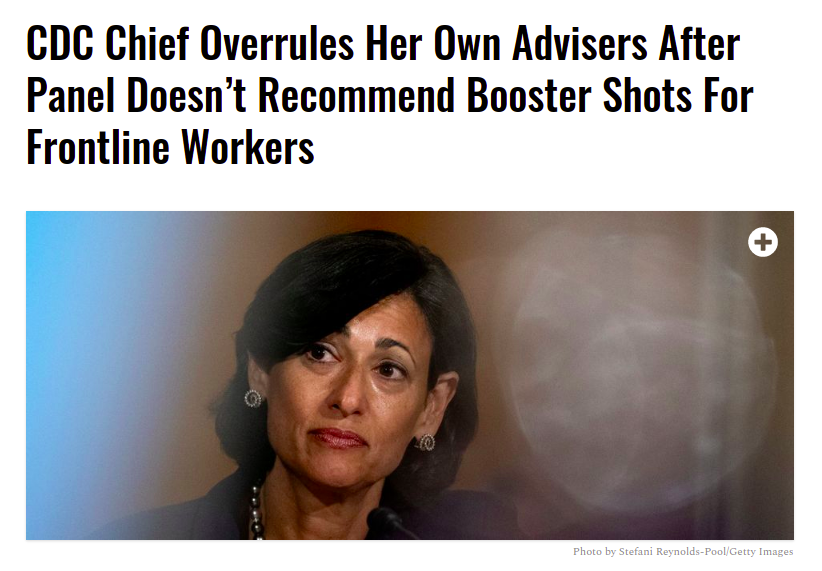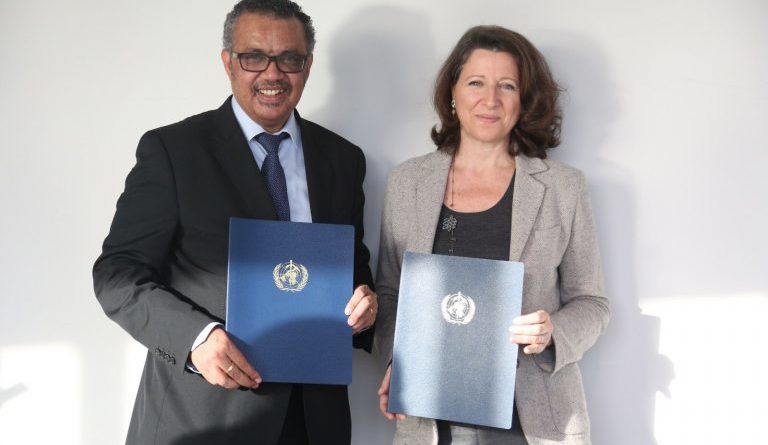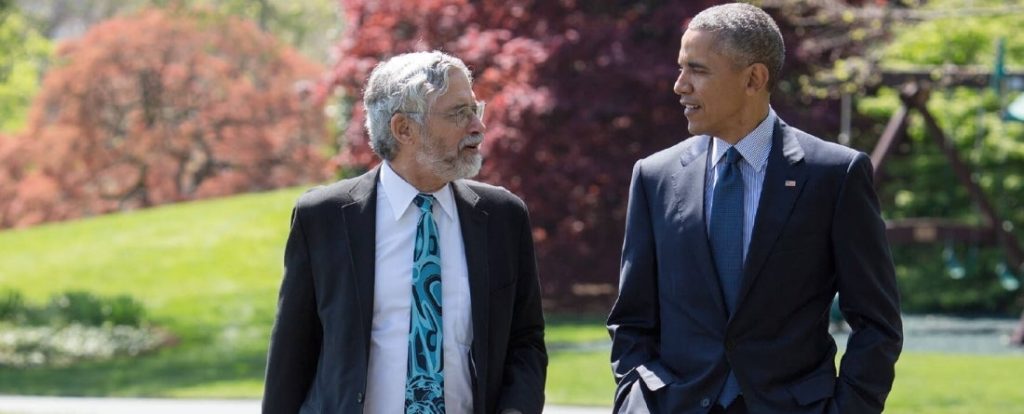 ---
What do YOU think you know?
W