RINOs an Endangered Species?
If Only!
According to Wikipoo, et. al., the Northern White Rhinoceros (Ceratotherium simum cottoni) is a critically endangered species. Apparently two females live on a wildlife preserve in Sudan, and no males are known to be alive. So basically, this species is dead as soon as the females die of old age. Presently they are watched over by armed guards 24/7.
Biologists have been trying to cross them with the other subspecies, Southern White Rhinoceroses (Rhinoceri?) without success; and some genetic analyses suggest that perhaps they aren't two subspecies at all, but two distinct species, which would make the whole project a lot more difficult.
I should hope if the American RINO (Parasitus rectum pseudoconservativum) is ever this endangered, there will be heroic efforts not to save the species, but rather to push the remainder off a cliff. Onto punji sticks. With feces smeared on them. Failing that a good bath in red fuming nitric acid will do.
But I'm not done ranting about RINOs.
The RINOs (if they are capable of any introspection whatsoever) probably wonder why they constantly have to deal with "populist" eruptions like the Trump-led MAGA movement. That would be because the so-called populists stand for absolutely nothing except for going along to get along. That allows the Left to drive the culture and politics.
Given the results of our most recent elections, the Left will now push harder, and the RINOs will now turn even squishier than they were before.
I well remember 1989-1990 in my state when the RINO establishment started preaching the message that a conservative simply couldn't win in Colorado. Never mind the fact that Reagan had won the state TWICE (in 1984 bringing in a veto-proof state house and senate with him) and GHWB had won after (falsely!) assuring everyone that a vote for him was a vote for Reagan's third term.
This is how the RINOs function. They push, push, push the line that only a "moderate" can get elected. Stomp them when they pull that shit. Tell everyone in ear shot that that's exactly what the Left wants you to think, and oh-by-the-way-Mister-RINO if you're in this party selling the same message as the Left…well, whythefuckexactly are you in this party, you lying piece of rancid weasel shit?
Justice
It says "Justice" on the picture.
And I'm sure someone will post the standard joke about what the fish thinks about the situation.
But what is it?
Here's a take, from a different context: It's about how you do justice, not the justice that must be done to our massively corrupt government and media. You must properly identify the nature of a person, before you can do him justice.
Ayn Rand, On Justice (speaking through her character John Galt, in Atlas Shrugged):
Justice is the recognition of the fact that you cannot fake the character of men as you cannot fake the character of nature, that you must judge all men as conscientiously as you judge inanimate objects, with the same respect for truth, with the same incorruptible vision, by as pure and as rational a process of identification—that every man must be judged for what he is and treated accordingly, that just as you do not pay a higher price for a rusty chunk of scrap than for a piece of shining metal, so you do not value a rotter above a hero—that your moral appraisal is the coin paying men for their virtues or vices, and this payment demands of you as scrupulous an honor as you bring to financial transactions—that to withhold your contempt from men's vices is an act of moral counterfeiting, and to withhold your admiration from their virtues is an act of moral embezzlement—that to place any other concern higher than justice is to devaluate your moral currency and defraud the good in favor of the evil, since only the good can lose by a default of justice and only the evil can profit—and that the bottom of the pit at the end of that road, the act of moral bankruptcy, is to punish men for their virtues and reward them for their vices, that that is the collapse to full depravity, the Black Mass of the worship of death, the dedication of your consciousness to the destruction of existence.
Ayn Rand identified seven virtues, chief among them rationality. The other six, including justice, she considered subsidiary because they are essentially different aspects and applications of rationality.
—Ayn Rand Lexicon (aynrandlexicon.com)
Justice Must Be Done.
Trump, it is supposed, had some documents.
Biden and company stole the country.
I'm sure enough of this that I put my money where my mouth is.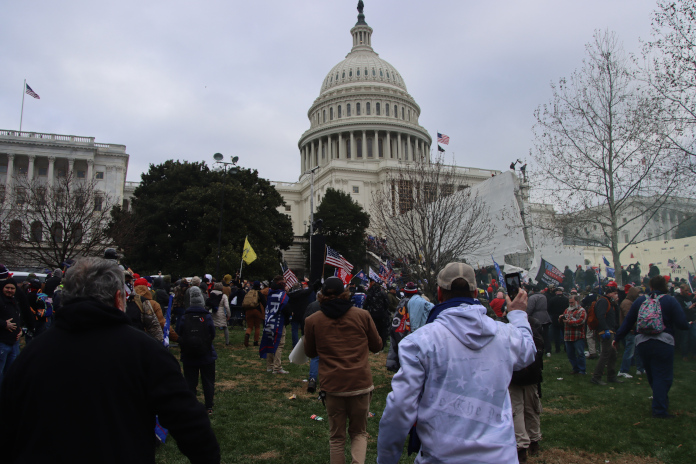 The prior election must be acknowledged as fraudulent, and steps must be taken to prosecute the fraudsters and restore integrity to the system. (This doesn't necessarily include deposing Joe and Hoe and putting Trump where he belongs, but it would certainly be a lot easier to fix our broken electoral system with the right people in charge.)
Nothing else matters at this point. Talking about trying again in 2022 or 2024 is pointless otherwise. Which is not to say one must never talk about this, but rather that one must account for this in ones planning; if fixing the fraud in the system is not part of the plan, you have no plan.
This will necessarily be piecemeal, state by state, which is why I am encouraged by those states working to change their laws to alleviate the fraud both via computer and via bogus voters. If enough states do that we might end up with a working majority in Congress and that would be something Trump never really had.
Lawyer Appeasement Section
OK now for the fine print.
This is the WQTH Daily Thread. You know the drill. There's no Poltical correctness, but civility is a requirement. There are Important Guidelines, here, with an addendum on 20191110.
We have a new board – called The U Tree – where people can take each other to the woodshed without fear of censorship or moderation.
And remember Wheatie's Rules:
1. No food fights
2. No running with scissors.
3. If you bring snacks, bring enough for everyone.
4. Zeroth rule of gun safety: Don't let the government get your guns.
5. Rule one of gun safety: The gun is always loaded.
5a. If you actually want the gun to be loaded, like because you're checking out a bump in the night, then it's empty.
6. Rule two of gun safety: Never point the gun at anything you're not willing to destroy.
7. Rule three: Keep your finger off the trigger until ready to fire.
8. Rule the fourth: Be sure of your target and what is behind it.
(Hmm a few extras seem to have crept in.)
Spot Prices
Last week:
Gold $1,658.90
Silver $19.52
Platinum $941.00
Palladium $2,096.00
Rhodium $15,000.00
This week, 3 PM MT on Friday, markets closed for the weekend
Gold $1,646.70
Silver $19.34
Platinum $952.00
Palladium $1,981.00
Rhodium $15,000.00
Everything is down except rhodium, which hasn't budged. Relatively speaking palladium is the big loser, dropping over 5 percent and falling through the $2000 barrier.
The Eagle in The Nebula
A number of people seemed to have trouble seeing the eagle in M-16 the Eagle Nebula.
(M-16 stands for Messier 16; Charles Messier was an astronomer in the 1700s who was interested in comets. He made a list of about 100 objects in the sky that were not comets because he kept hitting them over and over. M-16 is one of that list. It's also redundantly listed as NGC 6611 (there are exactly 7000 objects in the New General Catalog…which isn't all that new anymore having been compiled in 1888). NGC objects were typically nebulae, only about 40 years later did they realize that many of the nebulae were actually galaxies.
Anyhow, here's a picture of the Eagle Nebula similar to what you'd see in a really BIG earthbound telescope, without any false colors. (You'd probably, even so, need a long camera exposure.)
What you can see, even in a dinky little six inch (diameter!) telescope is the central structure (and absolutely no color at all). Most of the orange area is basically black, the blue area looks white. (I know this, because that's what I see in my dinky little six inch telescope.) You can see the three "pillars of creation" there, but note that the one on the left, the tallest, is less visible than the other two. So what you see is a zig-zag and that bit off to the right that looks like a T on its side.
OK, so I said something like "turn it 90 degrees clockwise to see the eagle" and that still didn't work for some people so I did five minutes of really crappy drawing with a mouse to produce: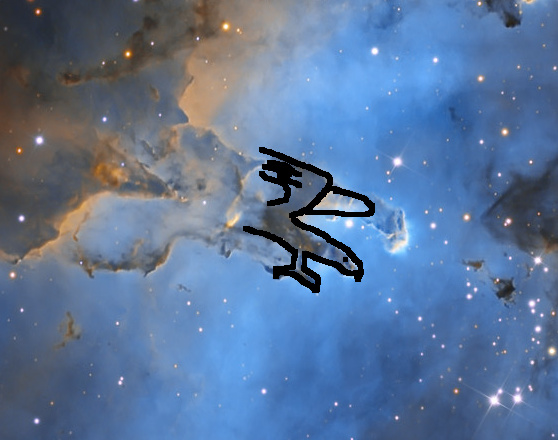 Which I hope makes it clearer. It's not a perfectly well proportioned eagle like the actual eagles at the top of the Saturday posts, but it's there nonetheless. (There's no freaking way the talons should be in front of the wings, just for instance; wings are the forelimbs, the legs are the rear limbs.)
It's one of those things that once seen, cannot be unseen.
Obligatory PSAs and Reminders
China is Lower than Whale Shit
To conclude: My standard Public Service Announcement. We don't want to forget this!!!
Remember Hong Kong!!!
中国是个混蛋 !!!
Zhōngguò shì gè hùndàn !!!
China is asshoe !!!
China is in the White House
Since Wednesday, January 20 at Noon EST, the bought-and-paid for Joseph Biden has been in the White House. It's as good as having China in the Oval Office.
Joe Biden is Asshoe
China is in the White House, because Joe Biden is in the White House, and Joe Biden is identically equal to China. China is Asshoe. Therefore, Joe Biden is Asshoe.
But of course the much more important thing to realize:
Joe Biden Didn't Win
乔*拜登没赢 !!!
Qiáo Bài dēng méi yíng !!!
Joe Biden didn't win !!!