News Flash
Today, it is still the case that Joe Biden didn't Win.
I realize that to some readers, this might be a shock; surely at some point things must change and Biden will have actually won.
But the past cannot actually be changed.
It will always and forever be the case that Joe Biden didn't win.
And if you, Leftist Lurker, want to dismiss it as dead white cis-male logic…well, you can call it what you want, but then please just go fuck off. No one here buys that bullshit–logic is logic and facts are facts regardless of skin color–and if you gave it a moment's rational thought, you wouldn't either. Of course your worthless education never included being able to actually reason–or detect problems with false reasoning–so I don't imagine you'll actually wake up as opposed to being woke.
As Ayn Rand would sometimes point out: Yes, you are free to evade reality. What you cannot do is evade the consequences of evading reality. Or to put it concretely: You can ignore the Mack truck bearing down on you as you play in the middle of the street, you won't be able to ignore the consequences of ignoring the Mack truck.
And Ayn Rand also pointed out that existence (i.e., the sum total of everything that exists) precedes consciousness–our consciousnesses are a part of existence, not outside of it–therefore reality cannot be a "social construct" as so many of you fucked-up-in-the-head people seem to think.
So much for Leftist douchebag lurkers. For the rest of you, the regular readers and those lurkers who understand such things: I continue to carry the banner once also carried by Wheatie. His Fraudulency didn't win.
Let's Go, Brandon!!
Hey China!
Or rather, "Hey Chinese Communist Party and your entire array of servitors, ass-wipers, and fellators!"
You're not even worth my time this week. When you decide to act like civilized people, maybe I'll give you a lesson or two in how non-barbarians behave.
Hey BiteMe!
(Or, Whoever Has Their Hand Rammed Up That Putrefying Meat Puppet's Ass)
[Language warning]
You and yours have caused a lot of injury. Literal injury with your war on people who don't want to take an untested vaccine. When people die in an emergency room because a hospital won't admit them because they haven't had their clot shot, that's a crime.
I'm going to address here the insult on top of the injury, because I am among the insulted. I still have my health but apparently you want me to live under the 8th Street Bridge (which actually isn't on 8th Street, but whatever, that's what the I-25 overpass over Cimarron is called), so maybe if you have your way that won't be true for long. Dreadful time of year to become homeless.
No, you're just trying to make me unemployed, because I won't take your fucking shots.
Well, that threat is NOT going to work. I. Won't. Take. Your. Fucking. Shots.
And it looks like enough people agree, that you're having to back down, you worthless asswipe.
You're LOSING.
You LOSER.
You Chinese-bought ratfucking traitor.
I would love to see you die an agonizing, humiliating death. (This isn't a threat, because I am not threatening to cause that death. I am just announcing my intention to party if it happens.) It would be just recompense for the way you're killing America…and millions of Americans.
His Fraudulency
Joe Biteme, properly styled His Fraudulency, continues to infest the White House, we haven't heard much from the person who should have been declared the victor, and hopium is still being dispensed even as our military appears to have joined the political establishment in knuckling under to the fraud.
One can hope that all is not as it seems.
I'd love to feast on that crow.
(I'd like to add, I find it entirely plausible, even likely, that His Fraudulency is also His Figureheadedness. (Apparently that wasn't a word; it got a red underline. Well it is now.) Where I differ with the hopium addicts is on the subject of who is really in charge. It ain't anyone we like.)
Justice Must Be Done.
The prior election must be acknowledged as fraudulent, and steps must be taken to prosecute the fraudsters and restore integrity to the system.
Nothing else matters at this point. Talking about trying again in 2024 is hopeless otherwise. Which is not to say one must never talk about this, but rather that one must account for this in ones planning; if fixing the fraud is not part of the plan, you have no plan.
Lawyer Appeasement Section
OK now for the fine print.
This is the WQTH Daily Thread. You know the drill. There's no Poltical correctness, but civility is a requirement. There are Important Guidelines, here, with an addendum on 20191110.
We have a new board – called The U Tree – where people can take each other to the woodshed without fear of censorship or moderation.
And remember Wheatie's Rules:
1. No food fights
2. No running with scissors.
3. If you bring snacks, bring enough for everyone.
4. Zeroth rule of gun safety: Don't let the government get your guns.
5. Rule one of gun safety: The gun is always loaded.
5a. If you actually want the gun to be loaded, like because you're checking out a bump in the night, then it's empty.
6. Rule two of gun safety: Never point the gun at anything you're not willing to destroy.
7. Rule three: Keep your finger off the trigger until ready to fire.
8. Rule the fourth: Be sure of your target and what is behind it.
(Hmm a few extras seem to have crept in.)
Tranheuser Busch
Those asshats either get the world, all time record for obtuseness…or this is deliberate somehow. And their namby pamby non-apology that amounts to a "We're sorry you're too much of a knuckledragger to appreciate what we did" simply underscores the stupid. It'd be like a 400 pound golfer wearing spikes tromping on your instep and being utterly clueless why you are screaming in pain.

Me
I wrote that months ago, and they are casting about now trying to figure out how to get people to come back. However the one thing that might work (an abject admission that they were wrong to even think of doing this) is the one thing they cannot do. Because the decision makers are woke and cannot conceive that they were actually fuckheadedly wrong to do this.
Spot Prices.
Kitco Ask. Last week:
Gold $1,959.20
Silver $24.29
Platinum $992.00
Palladium $1,449.00
Rhodium $7,100.00
This week, markets closed as of 3PM MT.
Gold $1,920.20
Silver $22.52
Platinum $972.00
Palladium $1,316.00
Rhodium $6,100.00
Wow, gold and silver have been taking a beating lately! Market manipulation? Or just fake good news about the dollar?
Going Out of Line
A lot of different categories of numbers have been mentioned here recently, from rational numbers, to irrational numbers, to transcendental numbers.
But those aren't all the types. Not by a long shot.
Going the easy way first, we have a group called, variously, the counting numbers, the whole numbers, and the natural numbers. This last designation is a bit problematic because there are two competing definitions. One of them is that ℕ includes 1, 2, 3, 4, etc, and the other one starts with 0, then picks up with 1, 2, 3, 4…
I was taught that the "natural numbers" did not include zero, but that "whole numbers" were the natural numbers, with zero added in. But others got something different. Mathematicians have taken to writing ℕ1 and ℕ0 to distinguish the two possibilities.
One distinction that mathematicians like to make is whether a grouping like this is closed or open for some operation.
For example ℕ (either one) is closed for addition and multiplication, because you can take any two numbers from ℕ, add (or multiply) them together, and the result is a member of ℕ. However, ℕ is open (or just simply "not closed") for subtraction and division. 5 – 19 = ?? 2 ÷ 3 = ???
Yes, there are valid answers to those problems, but they are not part of ℕ.
In early elementary school, of course, these are the only numbers you work with at all, so your teacher just told you that you couldn't subtract a big number from a little one, and division was for later anyway.
Now there is a caveat. If you think of division as "quotient" and "remainder" (or "modulo") then ℕ0 is closed over division. [With of course the important caveat that you cannot divide by zero unless you are Donald Trump on a Batman day.] Because you can divide any ℕ by any other ℕ and you will get a whole-number quotient and a whole number remainder, both of them 0 or greater. But notice, ℕ1 is not closed for division, because something like 3 ÷ 4 has an answer quotient 0, remainder 3 and 0 is not a part of ℕ1.
Zero was the first addition to the set of numbers that pegged some people's bullschiff meters at the time. Zero, to them, wasn't a number, it was a lack of a number.
But arithmetic works far better with zero being considered a number than it does without it (and no I'm not just talking about the difference between working in Roman and 'Arabic' numerals–the Roman system didn't have zero in it at all, much less the convenience of the way numbers can be written provided you have a zero). The fact is that people literally didn't think of zero as a number in its own right, even after deciding it might be handier to work with "10" than "X".
This was reflected in the way musical intervals were counted (a musical "first" is the same note, the second is the adjacent note and so forth, "first" didn't mean the note immediately following the base note, because there wasn't a concept of going zero steps). It even made its way into the Bible; the resurrection is depicted as happening on the third day…even though Sunday is only two days after Friday, and in fact based on times of day, it was less than 48 hours after the crucifixion. If this happened today the Gospel writers would probably have said "less than two days later…" to mean the same thing. Friday isn't zero days after the crucifixion in the Gospels, it's the first day. No concept of a zero.
In any case, we're well past elementary school, and we have a way to close the number set, for subtraction at least, and that's the negative numbers, -1, -2, -3, and so on. Add them to the set denoted by ℕ0 and you have the integers, for which the symbol is, of course, ℤ. After all what else could the symbol for "integer" possibly be?
You can add, subtract, and multiply any integers together, and still get an integer, you can do division (again, no dividing by 0) with remainders, too.
You have two identities as well. There's the additive identity, 0. Because you can add (or subtract) zero to anything…and it doesn't change. And the multiplicative identity, 1. You can multiply anything by 1, and it doesn't change.
You have inverses, too. Pick some number…oh, say 17. It has an additive inverse, -17, because when you add a number and its inverse, you get zero. And there's also a multiplicative inverse (also called the reciprocal), the number you can multiply 17 by to get 1…and that of course is 1/17.
So this is the sort of things that mathematicians think about when talking about sets of numbers, and the operations that can be performed on them. If it sounds like this is all third grade stuff…okay, fifth grade stuff since long division is in there…that's because we're dealing with a simple case; these issues become a big deal when talking about vectors, matrices, and tensors.
(In fact when I was going through elementary school these "simple" rules plus ones like associativity [(a+b)+c = a+(b+c)] and commutativity [a+b = b+a] were put out there and I was wondering why they were harping on them so much. Well it's because mathematicians need to consider this stuff for higher mathematics.)
What's missing here? Fractions, of course! In essence any number you could get by dividing integers (again, not by zero, though you can divide zero by anything else) is some sort of fraction, or perhaps a compound number like 1¼, which you can get from 5 divided by 4. This is the set of rational numbers, symbolized with…wait for it…ℚ.
"Rational" comes from "ratio," not our modern meaning of "rational" to describe the exact opposite of "woke".
ℚ is closed under addition, subtraction, multiplication and division (so long as you don't divide by zero).
You can exponentiate, i.e. raise these numbers to a power. Is ℚ closed for that operation? Well you can raise to any integer power, without a problem. Squaring, cubing, etc any of these numbers gives you another such number (and in fact that's true even for whole numbers, like -42) and still be within ℚ. You can even use a negative number, because 5-1 is simply 1/5. But that's not all that is in ℚ. The fractions are in ℚ and if you raise a number to a fraction you will end up taking a root. The simplest most trivial case where ℚ "breaks" is 2½, which is the square root of 2 and that is not a rational number, it's an irrational number: 1.414… And here irrational means it cannot be expressed as a ratio between two integers.
Well. It seems like every time we introduce a new mathematical operation it "breaks" our number set and we have to extend it, doesn't it?
We now have a set of the combined rational (ℚ) and irrational numbers. Does that have a name? Not really because there are still more numbers that cannot be written as fractions, and cannot be got at just by taking some root of a rational number. These are the transcendental numbers like e and π.
Lumping all of these together you get a set known as the real numbers, and that is symbolized by ℝ, so at least now we're back to symbols that make sense given the name of the number set. Why "real numbers"? Well…read on, it will become clear presently.
ℝ is closed over addition, subtraction, multiplication, and division. It is still not closed over exponentiation, though. Wait, we're no better off than we were with rational numbers ℚ??
Well we are, because as long as you are raising to an integer power, you can raise any real number to a power and you'll still have a real number. So e23 is a real number, so is e-23, or -337 or even (-π)-4. And you can raise any positive number to any real power, e.g., 27e, 3.247/13. These are all in ℝ.
The problem arises when you try to take any root of a negative number (i.e., raise to a fractional power).
At the most trivial, the square root of minus one (√-1) is not in the real set. There is no real number you can multiply by itself to get minus one. Nor for any other negative number. You can try to take a crack at something like √-9, though:
√-9 = √9 ⋅ √-1 = 3 ⋅ √-1
You will end up with some answer, multiplied by this non-existent "square root of minus 1." It's like taking the square root of a negative number almost works like taking the root of the same number as a positive number–you can do the same arithmetic to extract the root, but then this bogus "square root of minus one" piece which just hangs around as some bit of ballast.
OK, let's take a bit of a breather.
Another one of those things I saw in elementary school which made me think "why bother" is the number line.
Here's one for ℕ0: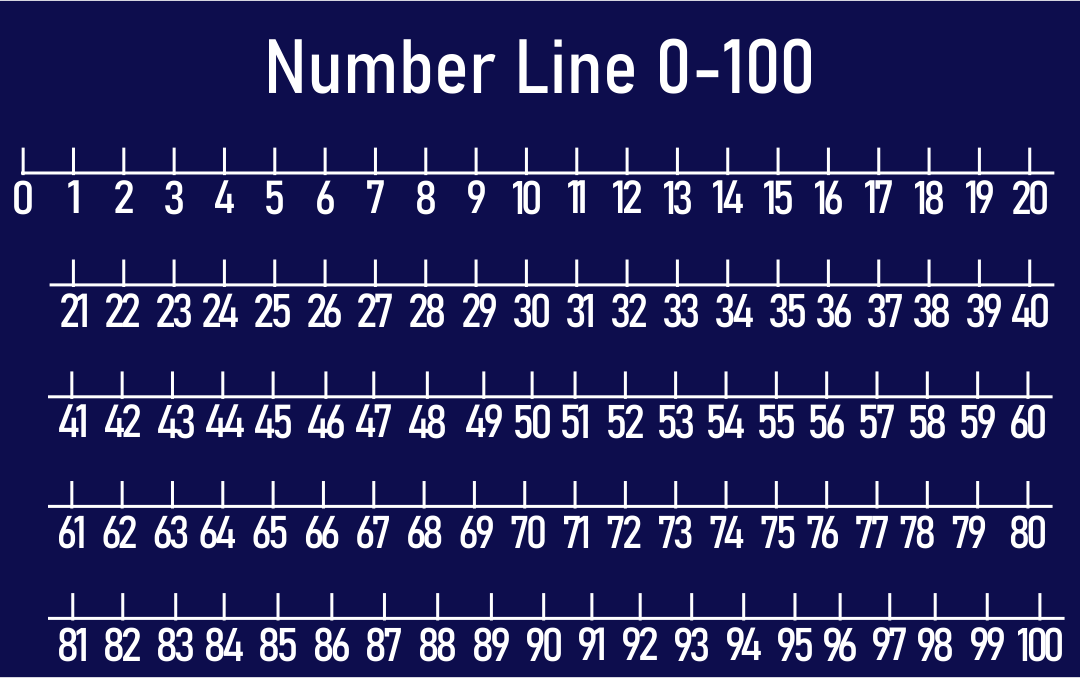 Notice it seems to end on the left hand side at zero, but it continues after 100, implying you can get higher and higher numbers. But this is clearly not a number line you'd want to use for negative numbers. When those come up you suddenly see a whole left side of the number line with the negative numbers on the left, and it open on the left too, implying numbers can get lower and lower than that.
And fractions, of course have their places between the integers. The irrational numbers actually fit in between fractions. You can write down some fraction arbitrarily close to, say e but not quite reach it, from both above and below. You can narrow the gap with increasingly ridiculous fractions, but you can't close it, so e, π, √2 and all the other irrational numbers are wedged in between the rational numbers.
Another way to think of ℝ is as the complete set of numbers that can be represented on the number line. Negatives, fractions, irrationals, transcendentals, you-name-it, it's on there…somewhere.
It's just a shame you can't take the square root of a negative number. It's not much consolation to know that you can take the cube root of a negative number just fine: -8 = -2 x -2 x -2, therefore ∛-8 = -2.
Actually you can do it, but you're going to have to expand your notion of what a "number" can be, literally into another dimension.
Let's just define √-1 to be i. (Lower case "I".)
Why i? Because someone decided to name this number "imaginary."
You can multiply i by a real number…like 17…to get 17i, which is still considered an imaginary number. You can square i, of course, to get -1, you can cube it to get –i. The fourth power of i is actually +1. What happens if you want the reciprocal of i? In other words, what is 1/i?
1/i = 1⋅i / i ⋅i = i / i2 = i / -1 = –i.
You can basically just do algebra on imaginary numbers, and when you square i, replace with -1. If you see higher powers of i, break them down into products of squares and proceed accordingly:
i3 = –i, i4 = 1, i5= i,
and so on.
Because you can do basic algebram it turns out that anything you could do to real numbers you can do with i.
But it doesn't show up anywhere on the number line. And because this critter doesn't appear on the number line, it isn't a real number. It's not real, so it's imaginary. (And this is why they call ℝ the real numbers, by contrast with the imaginary ones.)
Imaginary is a crappy name, honestly, because all numbers are abstractions with no concrete existence. If you want to disagree with that last statement, point to three. Not three dogs, or three amigos, but just to three…and I don't mean a copy of the symbol '3' either, it's a symbol for the abstract concept.
So "imaginary" numbers are no more imaginary than "real" ones, nor are "real" numbers any more real than "imaginary" ones.
But that doesn't stop people from claiming mathematicians are just engaging in mental masturbation "imagining" things.
Well, no. That's simply ignorant.
The fact of the matter is all electronic engineering, and almost all electrical engineering as well–in other words the tech you are reading this little ramble on– absolutely relies on these so-called "imaginary numbers." [The only thing is, since i is current in electrical engineering, when electrical engineers want the square root of minus one, they write it as j. Which drives math teachers buggy, and of course probably the biggest swath of people in many college level math classes are electrical engineering students; who end up having to flip back and forth depending on whether it's a math course or an engineering course.]
But we're stuck with the name "imaginary", so I will quit putting it in quotes.
Is it possible to have combinations? A "thing" that has both real and imaginary parts?
Not just yes, but hell yes. But if we do it, we end up with a number that has two distinct pieces, not just one. And since that sounds a bit complicated, these are the complex numbers, and their symbol is ℂ.
So how do they fit together? How do you combine them?
Not to sound flippant, but you combine them by, well, combining them. You have a nice imaginary number like 4i. And a solidly real number like -2.
To combine them, just do this:
-2+4i
There's your complex number.
If these form a valid set of numbers, then what operations is ℂ closed over?
All of the ones I've mentioned. Even exponentiation, but I will have to demonstrate that some other week.
But how do they work?
Addition seems straight forward. Let's take that complex number above and add it to 3-7i.
Hmm… (-2 + 4i) + (3 – 7i). Now what? Rearrange things. Combine the real and imaginary parts like this: (-2 +3) + 4i – 7i) and you see that you get 1 – 3i. Or a bit more succicntly: Just add the real parts together, and the imaginary parts together.
What about multiplication? Remember imaginary numbers can be mangled with algebra the same as real numbers, and so can complex numbers. If you want to multiply the two numbers above:
(-2 + 4i) × (3 – 7i)
You can "foil" it just like you would do with two binomials. FOIL, of course, stands for first, outside, inside, last.
First: -2 × 3 = -6
Outside: -2 × -7i = +14i
Inside: 4i × 3 = +12i
Last: 4i × -7i = -28 i2 which is to say -28 × -1 = 28
Combining bits and pieces, your answer is 22 + 26i.
And it's now 13 minutes after 10 my time so I need to hit "post" and let you all bang your head on the wall trying to understand this! Much, much more about complex numbers…I think (unless you already know it) you'll be a bit surprised!
Obligatory PSAs and Reminders
China is Lower than Whale Shit
Remember Hong Kong!!!
中国是个混蛋 !!!
Zhōngguò shì gè hùndàn !!!
China is asshoe !!!
China is in the White House
Since Wednesday, January 20 at Noon EST, the bought-and-paid for His Fraudulency Joseph Biden has been in the White House. It's as good as having China in the Oval Office.
Joe Biden is Asshoe
China is in the White House, because Joe Biden is in the White House, and Joe Biden is identically equal to China. China is Asshoe. Therefore, Joe Biden is Asshoe.
But of course the much more important thing to realize:
Joe Biden Didn't Win
乔*拜登没赢 !!!
Qiáo Bài dēng méi yíng !!!
Joe Biden didn't win !!!