Oh, Boy A Shutdown

MOAR SHUTDOWN!!!!
The government will temporarily stop doing much of the useless stuff it does. Not nearly enough.
And it won't start doing any of the useful things it hasn't been doing (apparently it hasn't done anything useful in, oh, almost three years).
So it's a mixed bag. But shutdowns piss off all the right people. So…revel in it!
This Man is Pissed!
And if you aren't…what the hell is wrong with you?
Is This Our Anthem?
Or at least our song to march to?
I'm sure most of you know I don't believe in "devolution" or any variant of "we're really still in charge" and certainly not the ones that come with "They're waiting for everyone to wake up."
No, I don't think the good guys are in charge. But that makes it even more necessary that people wake up.
This might be the Uncle Tom's Cabin of our age. (Or perhaps the recent trafficking movie was it. Or maybe both.)
Certainly there seem to be a huge number of people who are finally having the light bulb turning on when they hear this song.
Joining The Herd Of Lemmings
I've had cause to consider a few things. Maybe we're going about it the wrong way, and we need to ditch Trump
Yeah, NO
Trump all the way! Why? Because being hated by the people who hate him is a sign of impeccable character, that's why.
The haters can go fuck themselves with rusty twelve gauge bore brushes. I'd prefer ten gauge but that's kind of scarce, so…I'm willing to compromise.
The RINO's Dilemma
The RINOs who who have burrowed in and taken over most GOP organizations, from the state down to local organizations, have quite a dilemma on their hands, and most of them have their heads too far up their asses to realize it.
OK, I'm not talking about the liberal in a Republican area, who knows they're in the wrong party, but is there because it's the only game in their town; they hope to capture a nomination someday, at which point they're guaranteed to be elected…otherwise, they never will be. These people are a hazard in any heavily conservative area.
No, I'm talking about the guys who are a little bit conservative and want to do some good by going into politics, and they're in a closely matched area, closely enough that they can join the party they are most aligned with and still have a chance. They think the Democrats…particularly the ones who end up running for office…are nuts.
They don't think much better of the Deplorable types, either. A bunch of bumpkins whose hearts are in the right place, mostly…OK a bit extreme. But they think Deplorables can't understand that first you have to get elected, then work within the system to change things…a slow process. They genuinely want many of the things Deplorables want…just not as much. The government is spending too much. Or they need to spend money on highways instead of welfare for illegal immigrants. But they want to work within the system to get these things done.
Or maybe they think things are pretty close to ideal right now, and they want to nail it in place.
The problem is, that means they don't stand for anything in particular. And it shows. They're about as unappetizing to the electorate as a puddle of dog vomit. The folks in the middle, who they think they are appealing to because they themselves are not extreme, would honestly prefer a clear-spoken radical to someone who qualifies everything they say to the point where they sound like they don't believe anything at all.
The problem these "Mild RINOs" have, is they just can't see that. And the reason they just can't see that, is their entire sense of self-worth is tied up in not seeing that. In their minds, they've worked tirelessly for their party, to keep those crazy Democrats out…only to have to constantly fight with a small number of crazy Republicans–who are only liabilities if they end up as candidates. They've fought the good fight, and if they can just find the right candidate, someone with some charisma, they might stop the crazies…without being too beholden to the OTHER crazies. In the meantime it's not working. What's a responsible guy in politics to do?
They simply cannot understand that the Republicans can't succeed as the party of nothing in particular. Not really in the past, and certainly not today when people are starting to realize that no matter what they do in the voting booth, the country is still about to fly off a precipice. If they did see it, they'd suddenly have two choices: Go away and let the GOP succeed, or stay and fight. But "go away" isn't really an option, because what's the point of having a party now owned by the crazies, win?
Well, they have a dilemma…and WE, therefore have a problem. And we would have that problem even IF they realized that they had a problem…that they were the problem.
No one ever thinks they are the bad guy. Even Epstein probably thought he was the good guy. Right up to the moment where he didn't kill himself.
So if you ever wonder why these unappetizing dufuses cling on even when their fingernails are being left behind…that's why. They don't understand no one wants them, and can't imagine that no one should want them. And oftentimes their greatest pride is in all the hard work they've done for the party. They're not going to give that up; it'd be psychological suicide.
If you've worked with these people, there's a good chance you like them and consider some of them your friends. But even if so…we're going to have to give them a good, hard shove. Because America is more important than those milquetoasts' egos.
Justice Must Be Done
The prior election must be acknowledged as fraudulent, and steps must be taken to prosecute the fraudsters and restore integrity to the system.
Nothing else matters at this point. Talking about trying again in 2022 or 2024 is hopeless otherwise. Which is not to say one must never talk about this, but rather that one must account for this in ones planning; if fixing the fraud is not part of the plan, you have no plan.
Lawyer Appeasement Section
OK now for the fine print.
This is the WQTH Daily Thread. You know the drill. There's no Poltical correctness, but civility is a requirement. There are Important Guidelines, here, with an addendum on 20191110.
We have a new board – called The U Tree – where people can take each other to the woodshed without fear of censorship or moderation.
And remember Wheatie's Rules:
1. No food fights
2. No running with scissors.
3. If you bring snacks, bring enough for everyone.
4. Zeroth rule of gun safety: Don't let the government get your guns.
5. Rule one of gun safety: The gun is always loaded.
5a. If you actually want the gun to be loaded, like because you're checking out a bump in the night, then it's empty.
6. Rule two of gun safety: Never point the gun at anything you're not willing to destroy.
7. Rule three: Keep your finger off the trigger until ready to fire.
8. Rule the fourth: Be sure of your target and what is behind it.
(Hmm a few extras seem to have crept in.)
Spot (i.e., paper) Prices
Last week:
Gold $1,925.80
Silver $23.62
Platinum $937.00
Palladium $1,287.00
Rhodium $4,450.00
This week, 3PM Mountain Time, markets have closed for the weekend.
Gold $1,849.40
Silver $22.28
Platinum $915.00
Palladium $1,282.00
Rhodium $4,450.00
Holy smokes someone is holding a clearance sale on gold! And silver, which went down even more proportionately speaking.
Annular Eclipse Oct 14
OK the first thing y'all in the Basket of Deplorables need to unnerstand is "Annular" is not some weird down-home way to pronounce annual.
😀
It actually comes from "annulus" or "ring."
This is an eclipse of the sun, and it will not be a total eclipse like the one in 2017. The Moon will pass directly between the Earth and Sun, which would normally cause a total eclipse for some lucky people, but in this case, it will not. The Moon will be too far away from Earth, and thus will not seem quite wide enough to cover the sun. If you find yourself exactly in line with the Moon and the Sun sometime on October 14, you will therefore see the Sun as a ring, since the moon won't be big enough to cover it, but will be (from your point of view) centered over the Sun. So, from the ring like appearance of the Sun, "annular" eclipse.
We are actually pretty lucky. As seen from Earth the Moon and Sun appear very nearly the same size. (The Sun is in fact roughly 400 times as wide as the Moon, but it's also 400 times further away.) Because of the near-perfect match in size, solar eclipses happen where the Moon just barely covers the Sun's disk, leaving a clear view of the solar atmosphere (the corona).
There are two downsides, though.
One is that you have to be directly in line with the Moon and Sun to see a total solar eclipse. The other is that sometimes the moon is just too far away and you get an annular eclipse.
I went to see the last annular eclipse in the US, but forgot the plate that holds my camera to my tripod so got no pictures. But it looks like this:
I have seen both annulars and total eclipses now. And I can tell you comparatively speaking an annular eclipse is dogshit compared to a total solar eclipse.
An annular is worth seeing once–but don't bust your budget or spend too much money on it.
Total solar eclipses have groupies who will travel the world to see them, again and again and again.
The good news is you do not have to settle for this one. There will be a total solar eclipse next April that will hit much more populous areas of the United States. If it's a long trip to the annular eclipse…save your money and go to the April eclipse instead.
After next year's total the US will have to wait until 2045…but that one will be easy for me assuming I'm alive and still living here…I just have to park a lawn chair in front of the house.
OK so here's the explanation.
Below is a pretty standard illustration of what's going on in a solar eclipse. Nothing is to scale (not even remotely), but in a fictitious earth/moon/sun system where these are to scale, it would work the same.
If you are somewhere in the region marked "umbra" you cannot see the Sun because the Moon is blocking it. (The Moon always has an umbra but it is almost always completely out in space.) The "penumbra" is that volume of space where the moon partially covers the sun. It overlaps it, and the Sun looks like someone took a bite out of it.
Notice that in the diagram the umbra just barely touches the Earth. That's the usual situation during an eclipse, but this time the point of the umbra won't quite reach the Earth's surface because the Moon is close to the furthest point in its elliptical orbit around the Earth.

Again not even remotely to scale (and they used a different wrong scale in this diagram). Note here the point of the umbra doesn't touch Earth, but there is a conical "antiumbra" to the right of the umbra. It's basically the other half of the same cone (technically a cone isn't just one pointy teepee shape, it's two of them touching at the points). Inside the antiumbra the Moon passes entirely in front of the Sun but appears too small to cover it.
OK, so there's one very natural question you might be asking yourself, planning to ask me in the comments. If the Moon goes around the Earth once a month (indeed that is the original definition of a month though our calendar months are somewhat too long to match perfectly), why don't we have some sort of solar eclipse, somewhere on Earth, every month?
Well, we would, if the Moon's orbit about the Earth were in the same plane as the Earth's orbit around the Sun (that plane shows up as the ecliptic in the sky). However, they aren't the same plane and the Moon's orbit is therefore "tilted" relative to the ecliptic about five degrees. Two planes that aren't parallel will intersect in a line, so the moon has to happen to be on that line, just as it's passing (roughly) between the Earth and the Sun on a new moon, for there to be a solar eclipse.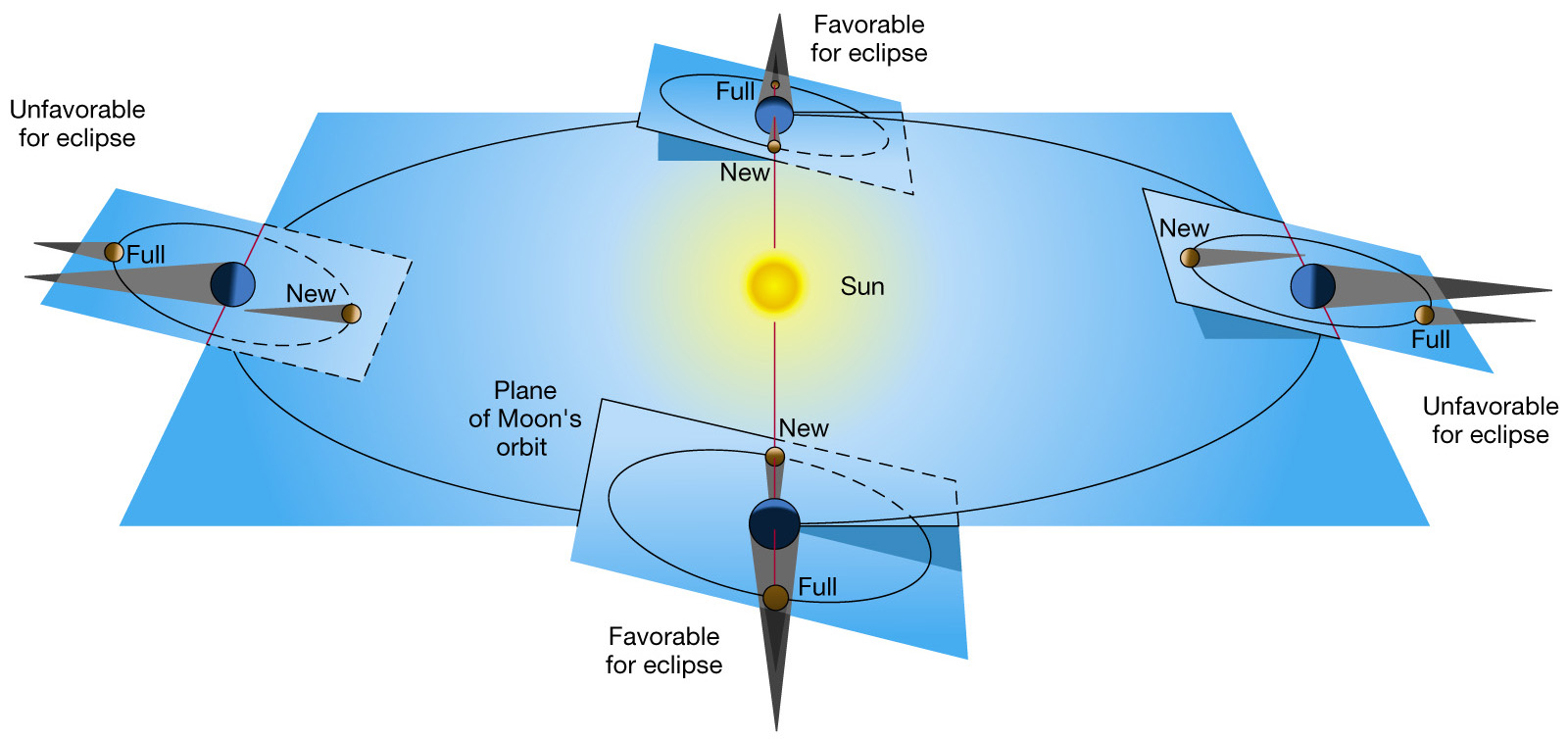 (Wow this is actually a pretty good diagram (but also not even remotely to scale)!) You can see that at some points in Earth's orbit around the Sun, the Moon (if it happens to be new moon at the time rather than say a quarter moon to the left or right of Earth) will eclipse the sun. And if the moon happens to be full at that time you'll get Earth's round shadow covering the moon (a lunar eclipse).
Eclipse Maps
Here are maps of the ground track for both the October annular eclipse and the April total eclipse.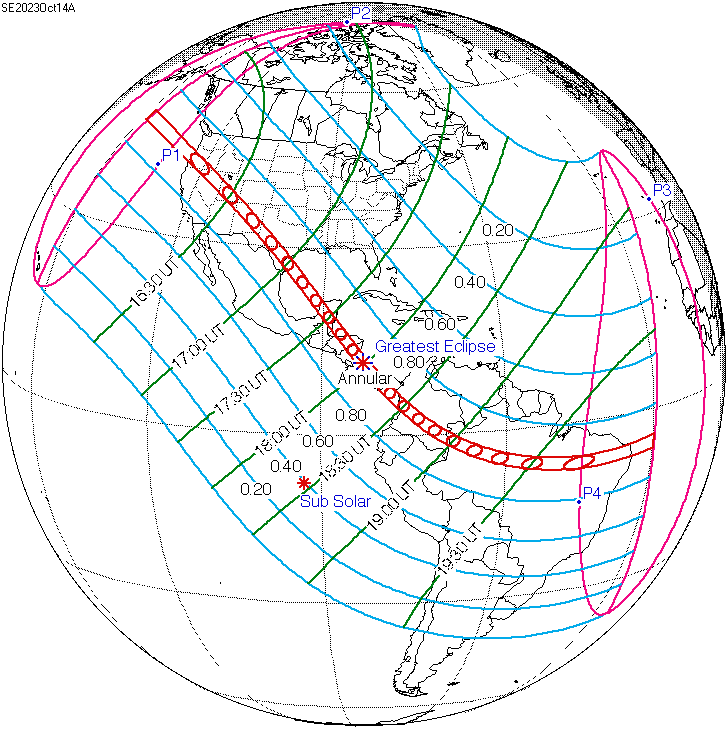 The red path running from Oregon through Texas is the area in which the antiumbra will pass; people in that stripe will see the entire Moon in front of the Sun. It will be centered in the center of the path. You can see the times marked in green (Universal Time; Mountain Daylight time is 6 hours behind) that so the eclipse leaves Texas for the Gulf at 11:00 AM MDT or 12 Noon Texas time.
The moon's penumbra (region of partial eclipse) is shown in light blue.
Now for the April 8 eclipse next year: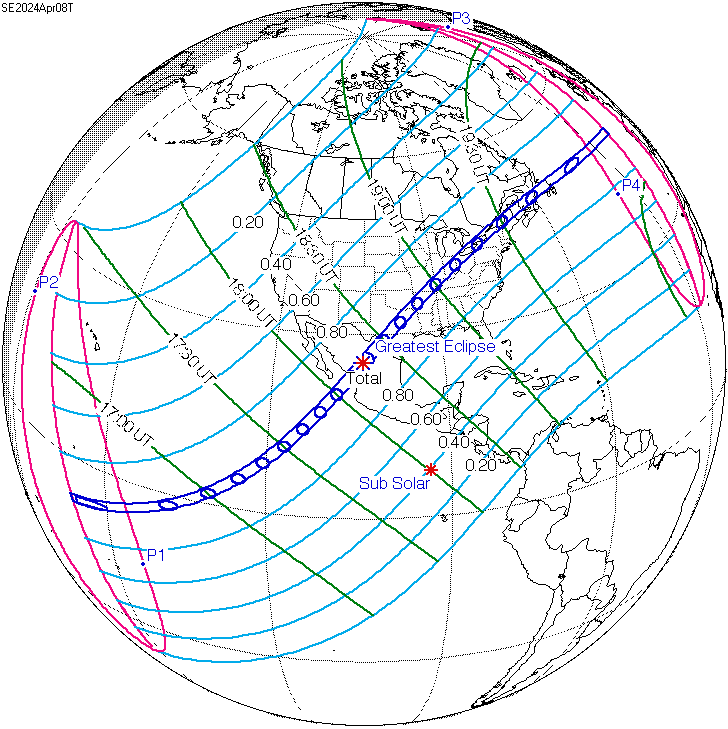 Note that the path is in blue indicating the umbra is making the path, not the anti-umbra; otherwise the diagram works the same. And you'll notice this one goes through Texas at a 90 degree angle to the first one (hitting Dallas and Texarkana), then goes through the Midwest. It almost hits St. Louis, grazes Dayton and Columbus, hits Cleveland and Toledo and then largely tracks Lake Erie and the St. Lawrence river. Easy travel for many of us. And much more worthwhile.
Which is not to say I won't go see the annular eclipse if I feel up for a road trip two weeks from today. This time I'll have the complete camera tripod. (Do or do not. There is no "tri.")
Why Not To Scale?
I've been commenting on the diagrams not being to scale. This isn't a cheap-out; it's impossible to show Earth, Moon and Sun to scale on a diagram without either having to scroll a LOT, or having Earth and Moon be smaller than a pixel.
Below are the Earth and Moon, drawn to scale both in size and distance. The Sun is 400 times as wide as the Moon, and 400 times more distant. On my monitor that would put it over 200 feet away.
This is basically the ONLY time you will ever see a to-scale diagram on astronomy. You might see sizes to scale, or distances, but never both at the same time. When I wrote on the Great Conjunction back in 2020, I had diagrams (drawn by me based on actual positions) that were to scale for distances, but even the Sun would have beenless than one pixel across in those diagrams if they were fully to scale.
Fuck Joe B*d*n
Due to complaints about foul language, I've censored the most objectionable word in the title of this section.
B*d*n, you don't even get ONE scoop of ice cream today.
(Please post this somewhere permanent, as it will continue to be true; the SOB will never deserve a scoop.)
Obligatory PSAs and Reminders
China is Lower than Whale Shit
Remember Hong Kong!!!
中国是个混蛋 !!!
Zhōngguò shì gè hùndàn !!!
China is asshoe !!!
China is in the White House
Since Wednesday, January 20 at Noon EST, the bought-and-paid for His Fraudulency Joseph Biden has been in the White House. It's as good as having China in the Oval Office.
Joe Biden is Asshoe
China is in the White House, because Joe Biden is in the White House, and Joe Biden is identically equal to China. China is Asshoe. Therefore, Joe Biden is Asshoe.
But of course the much more important thing to realize:
Joe Biden Didn't Win
乔*拜登没赢 !!!
Qiáo Bài dēng méi yíng !!!
Joe Biden didn't win !!!