Language Warning
In the next piece I had to discuss a particular topic. Unfortunately, I couldn't discuss it without naming it. Therefore I apologize in advance for having to do so, and apologize to anyone offended by the sight of the name.
RINO McDaniel
As you no doubt know, RINO McDaniel got re-elected to RNC Chair Friday. I hope no one has already managed in the intervening time to suppress that memory; if so I apologize for the PTSD trigger.
RINO McDaniel isn't the problem.
Let me be crystal clear on this, RINO McDaniel is a lower-than-whale-shit, piss guzzling ratfucking shit eating traitorous rancid syphillitic cunt. Her worth as a human being is substantially less than zero, any oxygen sucked into her lungs is wasted, and it would be, no matter what job she had.
I fear I haven't been clear enough, but that will have to suffice.
But she is not the problem…or rather, she would not be a problem were it not for others. She'd still be as I have described, but we wouldn't know who she is and would not care, because she could do no damage. She'd just be anonymous human refuse.
No, the real problem is the fact that a majority of the 168 top GOP people voted for her. And now that has happened five times so they cannot claim they didn't know what she was.
In spite of the fact that under her "leadership" the party has deliberately sabotaged the will of its base, has deliberately refused to challenge blatant election fraud, had gone out of its way to ensure certain candidates do not get nominated, has diverted donor money to namby-pamby candidates who have all the electoral appeal of a puddle of dog vomit…and in general has done nothing whatsoever to help fix the problems that plague America.
However that last is to be expected; I cannot expect anyone who IS the problem to help FIX the problem.
RINO McDaniel would be powerless without an entire party leadership of the same mind as her. They want this dismal performance; they want to ignore the party base.
If she were to drop dead this instant, it would solve nothing as someone just like her would be elected by those same pustulous people.
According to Charlie Kirk, about 55 people voted against her, 10-12 wanted something different but were too chickenshit to do the right thing, and roughly 100 people voted for her enthusiastically, and even had the unmitigated gall to complain to Kirk about US. Fuck 'em. Rusty 12 gauge bore brushes would be too good for these arrogant pricks and cunts.
Every single one of those hundred is just as bad as she is. In other words, they are all worse than I described at the beginning of this piece. And no doubt those people in turn have people who supported them to be state party chairs and whateveritis they call the other two people from each state and territory who were voting.
It's time to face up to the fact that the Republican party is effectively owned by the shit-eating RINOs. We've got more work to do, a lot more work, to make the GOP an instrument for the restoration of the United States of America. And that's in addition to cleaning up our elections.
There's no point in cleaning up elections just to elect ratfucking RINOs.
OK, hopefully now you will have some inkling of my true attitude towards RINOs. Sorry that words were inadequate to give you the full picture.
The Real Fascist is His Fraudulency Joe Biden*
*Or whoever has his hand rammed up that meat puppet's ass.
Brandon (which I will use as a term for whoever is the power behind the Porcelain Throne) has thrown down the gauntlet…but in a way where most of America will never see it. The networks didn't carry his tirade. CNN air brushed it (or whatever you call editing the red background) for its five viewers (who aren't trapped in airports).
Luckily for me I live in Colorado, and therefore, despite my best efforts, I probably didn't vote for Donald Trump.
Of course, for this purpose who I actually did try to vote for will be essential, and they undoubtedly know.
Come and get us, asswipes!
https://www.youtube.com/watch?v=3h6ZZ28QtX4
Justice Must Be Done.
The prior election must be acknowledged as fraudulent, and steps must be taken to prosecute the fraudsters and restore integrity to the system.
Nothing else matters at this point. Talking about trying again in 2022 or 2024 is hopeless otherwise. Which is not to say one must never talk about this, but rather that one must account for this in ones planning; if fixing the fraud is not part of the plan, you have no plan.
Small Government?
Many times conservatives (real and fake) speak of "small government" being the goal.
This sounds good, and mostly is good, but it misses the essential point. The important thing here isn't the size, but rather the purpose, of government. We could have a cheap, small tyranny. After all our government spends most of its revenue on payments to individuals and foreign aid, neither of which is part of the tyrannical apparatus trying to keep us locked down and censored. What parts of the government would be necessary for a tyranny? It'd be a lot smaller than what we have now. We could shrink the government and nevertheless find it more tyrannical than it is today.
No, what we want is a limited government, limited not in size, but rather in scope. Limited, that is, in what it's allowed to do. Under current circumstances, such a government would also be much smaller, but that's a side effect. If we were in a World War II sort of war, an existential fight against nasty dictatorships on the brink of world conquest, that would be very expensive and would require a gargantuan government, but that would be what the government should be doing. That would be a large, but still limited government, since it'd be working to protect our rights.
World War II would have been the wrong time to squawk about "small government," but it wasn't (and never is) a bad time to demand limited government. Today would be a better time to ask for a small government–at least the job it should be doing is small today–but it misses the essential point; we want government to not do certain things. Many of those things we don't want it doing are expensive but many of them are quite eminently doable by a smaller government than the one we have today. Small, but still exceeding proper limits.
So be careful what you ask for. You might get it and find you asked for the wrong thing.
Political Science In Summation
It's really just a matter of people who can't be happy unless they control others…versus those who want to be left alone. The oldest conflict within mankind. Government is necessary, but government attracts the assholes (a highly technical term for the control freaks).
A Few Things We Cannot Blame on His Fraudulency
I am pretty sure Joe Biden had nothing whatsoever to do with the 30 Years War that ran from 1618-1648 and probably killed about a third of the people then living in what is now Germany.
Nor did he cause the collapse of either Roman empire (Western, 476 CE, Eastern 1453 CE). Nor the ignominious failure of most of the Crusades. Nor the collapse of Bronze Age civilization around 1200 BCE (including the collapse of the Minoans and the blowup of Santorini).
However, my utter lack of ability to imagine how he could possibly be responsible for these things is not a valid argument against them, so I await correction if appropriate.
His Truth?
Again we saw an instance of "It might be true for Billy, but it's not true for Bob" logic this week.
I hear this often, and it's usually harmless. As when it's describing differing circumstances, not different facts. "Housing is unaffordable" can be true for one person, but not for another who makes ten times as much.
But sometimes the speaker means it literally. Something like 2+2=4 is asserted to be true for Billy but not for Bob. (And when it's literal, it's usually Bob saying it.) And in that sense, it's nonsense, dangerous nonsense. There is ONE reality, and it exists independent of our desires and our perceptions. It would go on existing if we weren't here. We exist in it. It does not exist in our heads. It's not a personal construct, and it isn't a social construct. If there were no society, reality would continue to be what it is, it wouldn't vanish…which it would have to do, if it were a social construct.
Now what can change from person to person is the perception of reality. We see that all the time. And people will, of course, act on those perceptions. They will vote for Trump (or try to) if their perception is close to mine, and vote against Trump (and certainly succeed at doing so) if their perception is distant from mine (and therefore, if I do say so, wrong). I have heard people say "perception is reality" and usually, that's what they're trying to say–your perception of reality is, as far as you know, an accurate representation of reality, or you'd change it.
But I really wish they'd say it differently. And sometimes, to get back to Billy and Bob, the person who says they have different truths is really saying they have different perceptions of reality–different worldviews. I can't argue with the latter. But I sure wish they'd say it better. That way I'd know that someone who blabbers about two different truths is delusional and not worth my time, at least not until he passes kindergarten-level metaphysics on his umpteenth attempt.
Lawyer Appeasement Section
OK now for the fine print.
This is the WQTH Daily Thread. You know the drill. There's no Poltical correctness, but civility is a requirement. There are Important Guidelines, here, with an addendum on 20191110.
We have a new board – called The U Tree – where people can take each other to the woodshed without fear of censorship or moderation.
And remember Wheatie's Rules:
1. No food fights
2. No running with scissors.
3. If you bring snacks, bring enough for everyone.
4. Zeroth rule of gun safety: Don't let the government get your guns.
5. Rule one of gun safety: The gun is always loaded.
5a. If you actually want the gun to be loaded, like because you're checking out a bump in the night, then it's empty.
6. Rule two of gun safety: Never point the gun at anything you're not willing to destroy.
7. Rule three: Keep your finger off the trigger until ready to fire.
8. Rule the fourth: Be sure of your target and what is behind it.
(Hmm a few extras seem to have crept in.)
(Paper) Spot Prices
Last week:
Gold $1,927.30
Silver $24.01
Platinum $1,052.00
Palladium $1,800.00
Rhodium $13,000.00
This week, 3PM Mountain Time, markets have closed for the weekend.
Gold $1,928.50
Silver $23.69
Platinum $1,021.00
Palladium $1,696.00
Rhodium $12,550.00
Gold apparently was higher earlier in the week (roughly $1950), but has now receded. Still, it's holding its current gains, and that's a good sign for gold. Not so good for the US Federal Reserve Note (the "Fern" from its initials FRN, or "Federon" the entirely appropriate name of the monopoly money in the SolarQuest board game).
Orbital Elements (Part 2)
Before we continue, let's back up just a bit.
Let's look at the elliptical orbit again.
This rather cheesy (but it's free!) graphic from Wikipedia shows 1) the farthest approach of a satellite to the planet (3), and also the nearest approach (2). (Never mind that the diagram is clumsily drawn so that it looks like the closest approach is somewhere else on the ellipse–I see that mistake a LOT and the planet should be drawn a bit further to the right.)
The farthest point is generically the apoapsis. When it's Earth being orbited, it can be called apogee, when it's the sun it's aphelion. (Some other bodies have special names for it too.) Similarly the near point is periapsis (or perigee or perihelion…). The line connecting the two, along the long axis of the ellipse, is the line of apsides.
We're going to need those concepts in a little bit.
OK, going back now to the satellite in the inclined orbit, there is a point when the satellite passes from south of the equator to north of the equator, this is the ascending node. And similarly, moving from north to south, the descending node.
Just giving the inclination, though, doesn't uniquely specify the plane of the orbit. Let's say a satellite passes through its ascending node at precisely midnight ET on January 28th. But, at that moment, it could be over Ecuador. Or Brazil. Or Equatorial Guinea. Or Kenya. Or Indonesia. Or any point in between.
So our next orbital element is called the longitude of the ascending node, Ω. (Capital omega.) Except we don't measure the longitude on Earth's surface…because that reference moves; Earth rotates. Instead, we measure it off a place called the "first point of Aries." It's basically the direction the sun is in as seen from Earth, at the moment spring begins in the northern hemisphere (or another way to put that, it's the place where the ecliptic and the celestial equator intersect). This doesn't move (much).
The following diagram shows an object in orbit around the sun (so it refers to perihelion, not periapsis).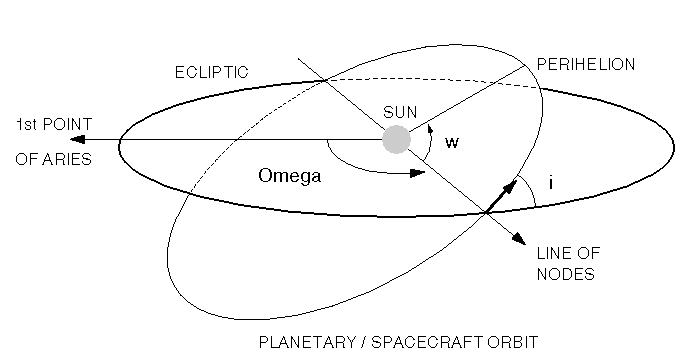 Earlier when I was talking about earth centered inertial coordinates, I said the Z axis was the earth's axis of rotation, and sort of blew off talking about the X and Y axes except to say they were in the plane of the equator. Now I can say that the line from Earth to the first point of Aries is the X axis.
So between i and Ω, we define the plane of the orbit of the satellite. a defines the size of the orbit and e the shape of the orbit.
We've still got two to go, and the diagram shows the first of the two, the angle labeled w (which should be ω, lower case omega). That's the angle between the ascending node and periapsis, and is called the argument of periapsis. Without that, the periapsis could be over the southern hemisphere instead of the northern hemisphere; that's two quite different situations.
The last parameter defines where the satellite is in its orbit at some particular time. This is done in multiple different ways. Perhaps it's an angle, the true anomaly, with an implicit given time (the epoch). For example the epoch could be midnight, January 1, 2001, and the true anomaly would be where the satellite was in its orbit (measured from periapsis) at that time (or, if the satellite wasn't yet in that orbit, you can back-calculate where it would have been).
It is also possible to simply give the x, y and z positions of a satellite, and also its velocity vector…at some epoch time…and one can convert back and forth between the two. Note that this method also involves six numbers. But the way I described in detail is the way that gives you a feel for what the orbit looks like; the x, y, z, and velocity vector won't do that for you right off the bat.
Stupid Orbit Tricks
If anyone remembers David Letterman's Stupid Pet Tricks, well this is my homage to that. I'm going to do a few of these, likely continuing next week.
Trick #1: Geostationary Orbits.
The Earth rotates in 23 hours, 56 minutes and 4 seconds. What, not 24 hours? The 24 hours you're thinking of is with respect to the sun. But Earth orbits the sun in about 365 days…in other words, it travels almost one degree in its orbit about the sun every day. That means, as seen from Earth, the sun appears to move almost a degree in the sky every day, and if you want to define a day as the time between (say) high noon one day and high noon the next, Earth must rotate almost 361 degrees in one day to re-center the sun. We defined that time as 24 hours, so the actual 360 degree rotation in the inertial reference frame takes a bit less time.
Earlier I stated that the period of an orbit (the time the satellite takes to go around it once) depends only on the size of the orbit a. Implicitly it also depends on the mass of the body it's orbiting, too. Here's the formula:
T = 2 π sqrt( a3 / μ )
μ is the gravitational parameter, Newton's gravitational constant multiplied by the mass of the primary (G x M). In metric units (kilometers and seconds) it's 3.986 x 105 for the Earth and 1.327 x 1011 for the sun.
That formula gives you the period for a given semi-major axis a. If we do a bit of algebra, we can reverse it, and get the semi-major axis of an orbit with a specific period:
So with T equal to 23 hours, 56 minutes, 4 seconds…that's 86,164 seconds. Shove that number through that formula and get: 42,164 kilometers or 26,205 miles. That number is from the center of Earth.
So any orbit with this semi-major axis will result in a satellite that goes around Earth in the same amount of time that it takes Earth to spin on its axis. So if it's over Mar A Lago at 11:32 AM on one day, it will be over Mar A Lago at the same time the next day, and the day after that. That is a geosynchronous orbit.
Note, though that if the orbit is inclined (and one passing over anything not on the equator is inclined) or is elliptical, it will not stay over Mar A Lago 24/7. Inclination, of course means that the satellite will move over a range of latitudes from +i to -i every orbit. If the orbit is elliptical, it will move at different speeds over the course of the orbit, so instead of keeping pace with the rotating earth, it will move ahead of, or behind, some point on the earth's surface depending on whether it's moving faster or slower (respectively).
Therefore, a geosynchronous orbit like this is not terribly useful. But make it circular, so it moves across the sky at a constant speed as seen from Earth, and then make sure the orbit has an inclination of 0 degrees, so it's always over the equator, and you have a satellite that, as seen from the surface of the earth which is rotating, appears to be stationary in the sky. That is a geostationary orbit, and it's a special case of the geosynchronous orbit. It's a circular orbit, so it has a radius, and that radius is of course equal to a of 42.164 km.
This is extremely useful because you can just point an antenna at that spot in the sky and the satellite is always there. So it's great for propaganda TV or forms of meanignful communication. As such, positions in that circle are valuable real estate, and they're specified in degrees longitude (i.e., the longitude the satellite appears to hover over). (Specifying a position like that only works for geostationary orbits.)
Trick #2: Molniya Orbits
But there's a problem with this…one that's not a big deal for us in the Lower 48 but is a big deal in Russia and Alaska. When you get to about 80 degrees north, that satellite will be on the horizon; anywhere above 70 degrees north and it's less than ten degrees above the horizon, and your signal has to push its way through a lot of atmosphere. Clearly geostationary communications satellites don't work well near the north pole (or south pole for that matter).
The Russians came up with a fairly effective workaround. It's not as elegant as geostationary, but it can be made to work. It's called the Molniya orbit. It's a Russian inwention, so the original spelling is Молния. (In English it is usually mispronounced "mole-NYE-uh" but the Russian pronunciation is "mole-KNEE-yuh".)
As you can see from the diagram, it's a very elliptical orbit, at a high inclination, 63.4 degrees. Also the argument of periapsis (perigee) is 270 degrees; the periapsis is 3/4 of the way around from the ascending node (which is over Africa in the diagram); 3/4 of a circle is 270 degrees.
It's a 12 hour orbit, not a 24 hour orbit, so twice every day it's at apogee, the point marked 6 in the diagram (six hours since perigee). The satellite is moving so slowly near apogee that it almost tracks with the earth. So it can actually be used as a communication satellite any time between 2 and 10 hours after perigee. Of course on the next orbit, North America, not Russia, will be under it, so there needs to be another satellite with the opposite longitude of the ascending node to be over Russia then. And to be sure, there's still a four hour gap (out of every twelve) in coverage while the satellite is too close to perigee. So the Russians likely have several of these satellites to ensure continuous coverage.
Incidentally, the inclination of this orbit must be at 63.4 degrees. It might look as if it could be adjusted a bit, but there are reasons (having to do with the fact that Earth is not a perfect sphere) that the orbit has to be at this inclination; any other inclination and the line of apsides will precess and the apogee won't be in the right place for very long, in other words, ω will change. Eventually perigee will be over Russia and then it's useless as a communications satellite because it will zip across the sky very quickly. (Accounting for "perturbations" due to other bodies or irregularities in the Earth is considerably more advanced stuff than I've gone into here. I've been pretending perturbations don't exist to get the basic concepts out.)
Any of these orbits (geosynchronous, geostationary, Molniya) would be good places to send worse-than-useless RINO party officials to, provided they don't collide with anything useful up there such as actual satellites. But of course it would be expensive to put them there. On the other hand, nothing need be spent on pressure suits, so some cost could be saved.
There are a lot more stupid orbit tricks, but the next ones I want to cover involve a little more background, so until next time…
Obligatory PSAs and Reminders
China is Lower than Whale Shit
Remember Hong Kong!!!
https://youtube.com/watch?v=L3tnH4FGbd0
中国是个混蛋 !!!
Zhōngguò shì gè hùndàn !!!
China is asshoe !!!
China is in the White House
Since Wednesday, January 20 at Noon EST, the bought-and-paid for His Fraudulency Joseph Biden has been in the White House. It's as good as having China in the Oval Office.
Joe Biden is Asshoe
China is in the White House, because Joe Biden is in the White House, and Joe Biden is identically equal to China. China is Asshoe. Therefore, Joe Biden is Asshoe.
But of course the much more important thing to realize:
Joe Biden Didn't Win
乔*拜登没赢 !!!
Qiáo Bài dēng méi yíng !!!
Joe Biden didn't win !!!