This is SO HUGE. I must explain this to you.
---
TL;DR – The spike protein not only contains a special sequence that allows it into the cell nucleus – it also has an ability to bring its own spike mRNA sequence with it. Both features appear to be unique among coronaviruses. The features explain genomic incorporation found for both the virus and the vaccines. The special key and the mRNA shepherding can be considered to be defects in any spike vaccine that has them.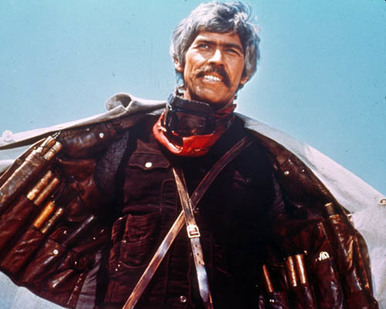 ¡Muy explosivo!
---
Due to comments by WSB and Valerie Curren, I realized that I had to do this post.
Also, NONE of the "bigs" are talking about this, but it is HUGE, if only people will read the paper.
By sheer luck, I was alerted to this new development ASAP on Twitter.
A follower of mine, who I had followed back, posted on Twitter the link to a paper with this title:
Nuclear translocation of spike mRNA and protein is a novel feature of SARS-CoV-2
I immediately realized what this was about.
It's about how the SARS-CoV-2 (COVID) virus spike protein and its mRNA get into the cell nucleus – an extremely important point which WSB has been hitting on over and over. It's very important, because THAT is how "genomic incorporation" happens. And genomic incorporation is what HIV does – what retroviruses do. They "get into" the DNA and leave cookies, so to speak.
Sometimes, they leave enough cookies, that the whole virus comes back out, fully functional, and ready to infect. Sometimes, they only leave enough junk in the DNA to cause some damage. Sometimes, they leave enough to change us – and that is why human DNA is filled with "viral leftovers".
In principle, mRNA technology should NOT do this. We were TOLD that mRNA technology could not do this. But somebody LIED TO US. And not only that – NOBODY – from Bill Gates on down – ever apologized to us about lying, or even about just "being mistaken".
We'll get to that later.
You will recall that there are two papers I love to mention.
One is the "Jaenisch paper", which describes how the SARS-CoV-2 virus manages to get some of its genetic instructions for the spike protein into the DNA of cells.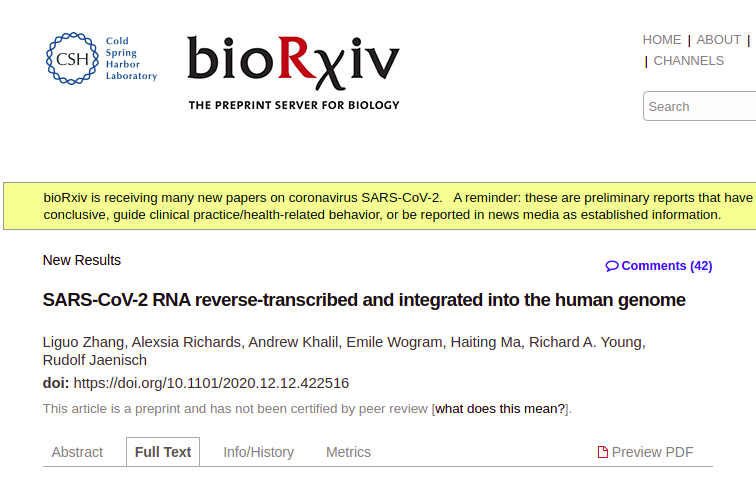 LINK: https://www.biorxiv.org/content/10.1101/2020.12.12.422516v1
ARCHIVE: https://archive.fo/XWC52
---
The other is the "De Marinis paper", which describes how the Pfizer vaccine did the same thing to human liver cells in vitro – meaning that in an experiment using cells in culture, the Pfizer vaccine got its mRNA sequences into the DNA genetic material of human liver cells, and it did so in a matter of minutes.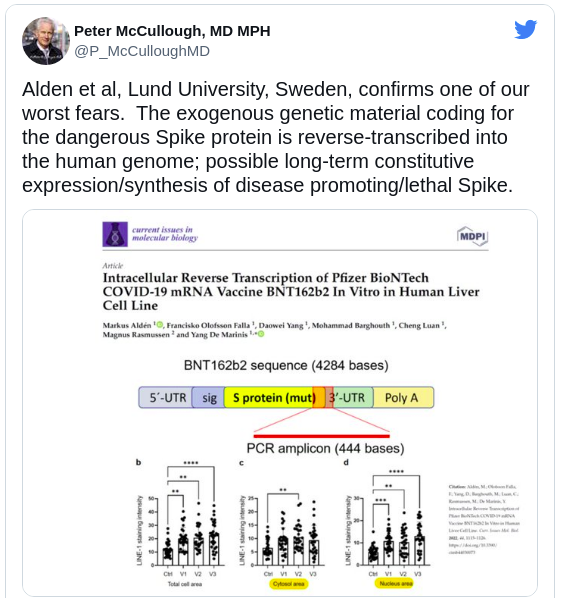 McCullough got in a lot of trouble with Twitter for posting this, even though it was utterly true. Now we know that the government was trying to shut it down. They likely used the technicality of McCullough's very VALID speculation (stated as speculation and concern), which turned out to be correct, IMSO.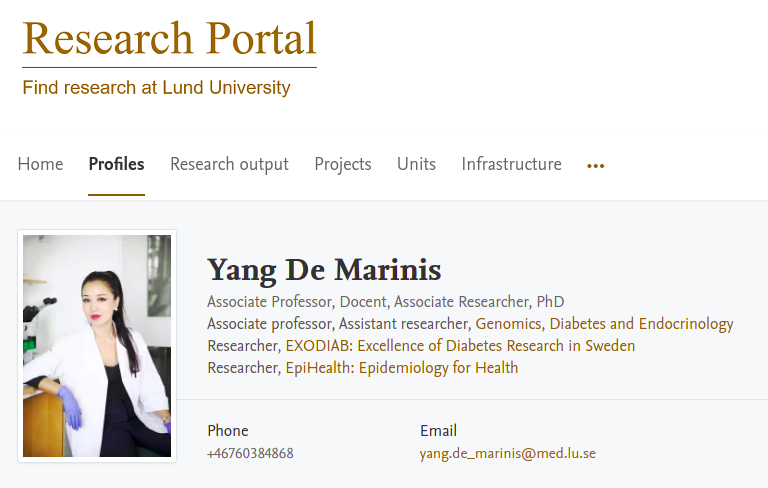 LINK: https://www.mdpi.com/1467-3045/44/3/73
LINK: https://portal.research.lu.se/en/publications/intracellular-reverse-transcription-of-pfizer-biontech-covid-19-m
---
These papers explain ALMOST everything. When I saw the Jaenisch paper, I predicted that we would see the De Marinis paper. MEANING – when I saw that the virus could get mRNA into the DNA, I predicted that the vaccine might get its mRNA into the DNA, too. And yes, I was right. Clearly others thought the same thing, and decided to investigate.
Now, after the De Marinis paper, it seemed very obvious to me that one did not need any kind of special conditions or reverse transcription promoters to get the vaccine mRNA to incorporate.
That bothered me, and I suspected, at the time, that MAYBE – just maybe – the spike protein ITSELF was somehow causing genomic incorporation – that it functioned as a kind of reverse transcription promoter.
Well, it sure looks like that is the case.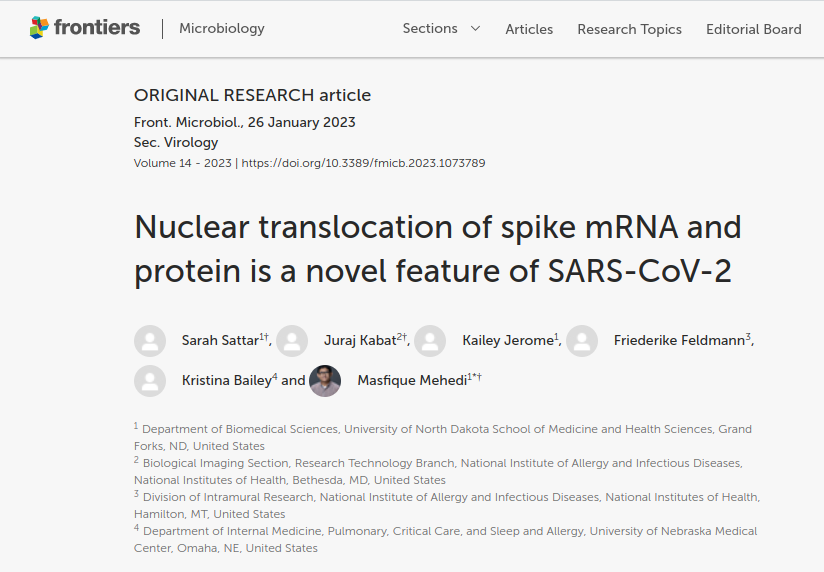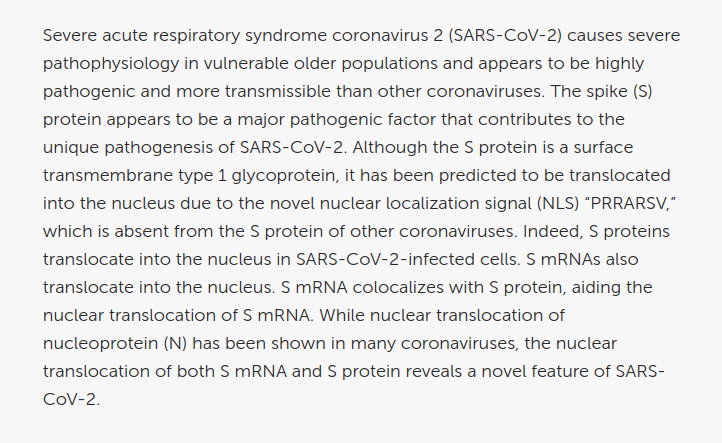 According to the discoveries revealed in the new paper, which I have taken to calling the "Mehedi paper", there is a special sequence in the spike protein that acts like a "key to the nucleus" – and this sequence is found in NO other coronavirus spike protein.
LINK: https://www.frontiersin.org/articles/10.3389/fmicb.2023.1073789/full
ARCHIVE: https://archive.fo/kW9Bd
Here is the abstract of the new paper.
---
Severe acute respiratory syndrome coronavirus 2 (SARS-CoV-2) causes severe pathophysiology in vulnerable older populations and appears to be highly pathogenic and more transmissible than other coronaviruses. The spike (S) protein appears to be a major pathogenic factor that contributes to the unique pathogenesis of SARS-CoV-2. Although the S protein is a surface transmembrane type 1 glycoprotein, it has been predicted to be translocated into the nucleus due to the novel nuclear localization signal (NLS) "PRRARSV," which is absent from the S protein of other coronaviruses. Indeed, S proteins translocate into the nucleus in SARS-CoV-2-infected cells. S mRNAs also translocate into the nucleus. S mRNA colocalizes with S protein, aiding the nuclear translocation of S mRNA. While nuclear translocation of nucleoprotein (N) has been shown in many coronaviruses, the nuclear translocation of both S mRNA and S protein reveals a novel feature of SARS-CoV-2.
---
Let me put that in plainer English.
---
COVID-19 really hurts old people and seems to be both deadlier and easier to catch than other coronaviruses. The spike protein seems to be why. Although the spike protein is a surface protein that normally would not do this, it might be predicted to get into the cell nucleus because it has a special sequence "PRRARSV," a known key to the nucleus which appears in no other coronavirus. Sure enough, the COVID spike protein gets into the nucleus of infected cells. What's more, the mRNA for COVID spike protein also gets into the nucleus. What happens is that the spike mRNA collects near the spike protein, which helps it get in. While a different protein called the "nucleoprotein" of many coronaviruses is known to get into the nucleus of cells, the penetration of the cell nucleus by BOTH the spike protein AND the mRNA for it, seems to be a unique new feature of the SARS-CoV-2 virus.
---
Once you read it in plain English, it's much more mind-blowing.
Now – I really recommend that you read the rest of the paper, but it's really just technical details about what was mentioned in the abstract. Those details can help you gauge the expectedness or unexpectedness of things, but I have tried to do that as best as I could in the translation.
At this point, you should have all kinds of questions.
could this defect of the vaccines have been predicted?
should it have been predicted?
did the Chinese know this when they sent us the sequence?
did we know it when we got the sequence?
would NOT using the full spike protein have prevented this?
if so, why did we use the full spike protein anyway?
would the "forbidden" Winfried Stöcker RBD vaccine have avoided this?
if so, why was his vaccine suppressed by the German government?
does this affect the Peter Hotez vaccine, Corbevax?
if not, why didn't his vaccine get promoted through the process quicker?
is nuclear penetration a common problem with mRNA technology?
how did this "key" get into the sequence? Naturally or not?
could "directed evolution" of the spike have yielded this?
why wasn't this clear from the moment we got the sequence?
did people know this and hide the information?
were key people like Bill Gates (their side) and Robert Malone (our side) aware of this possibility?
The last question is a gift to WSB and her virologist friend. I am by default a defender of Dr. Malone, but WSB and her friend are long-time skeptics of the technology, and thus of Dr. Malone. In all fairness, I think we have to ask EVERYBODY the same questions.
Did people KNOW that mRNA technology had this vulnerability?
Does this look any more like an engineered bioweapon, designed to get into the nucleus?
Was this thing made by nature, by people, or by somebody with more advanced technology?
What is the purpose of getting into the nucleus, if it is designed to do that?
That should be enough. I will leave some links to prior comments I have made, in an appendix, hopefully added later.
Thank you.
W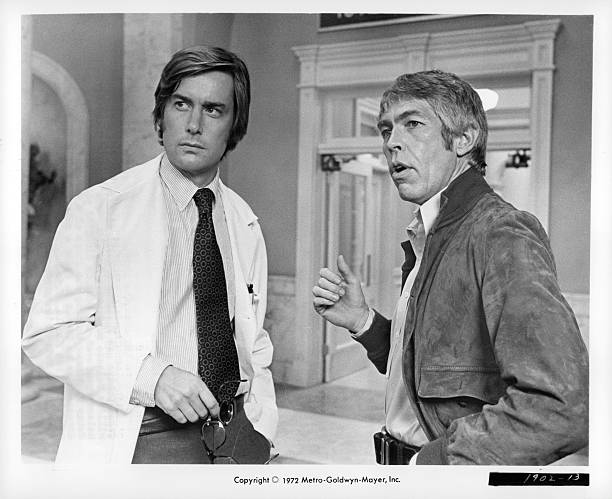 PS – A great interview of our site mascot!
https://thehollywoodinterview.blogspot.com/2008/02/james-coburn-hollywood-interview.html