Don't relax now – we have them ON THE RUN
There are many SIGNS that we have scored a MIDWAY VICTORY…..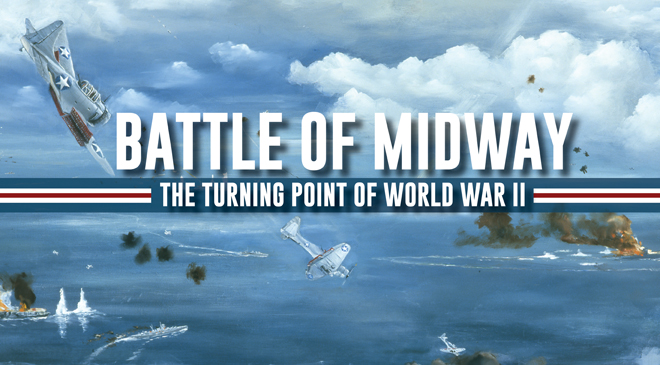 ……in the fight against the COVID PLOT. I'm not kidding. Bringing down the SPIKE PROTEIN – the ABORTION PROTEIN – and the
WHOLE-BODY SPREADING
THROUGH-SKIN SHEDDING
TEEN-AGER DEADING
mRNA vaccine – is like – in reference to the "event" 20 years earlier….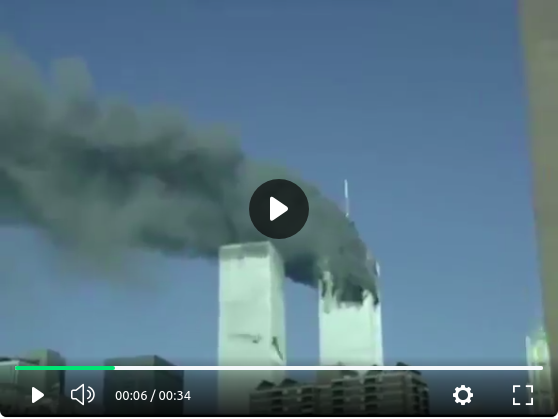 …..stopping the "endless wars" immediately after Afghanistan, because we figured out the SCAM.
I want to SHOW YOU THE SIGNS.
BUCKLE UP for a FAST RIDE.
Stay tuned for the FINAL ONE. It's the BIGGIE.
---
1.
Infoton Torpedo Strikes Obamian Ship C.I.A. Discreditation Operation
Recall this recent post in the "vaccine magnetism" series:
---

This is for the historical record. I hope that this analysis gets to the "dissident scientists" involved, but even if it never does, future historians will get a powerful look at what I call "Fake Science" – the establishment's phony, deceptive and controlled scientific complex – and how infiltration, control, and discreditation of dissident populist …
---
You will recall that I located the point where the "suramin error" was dropped in front of the right people to be uploaded to the prominent doctors of the anti-vaxx community, prior to the "magnet challenge" disinformation being similarly uploaded, and then used to discredit them in the Daily Mail.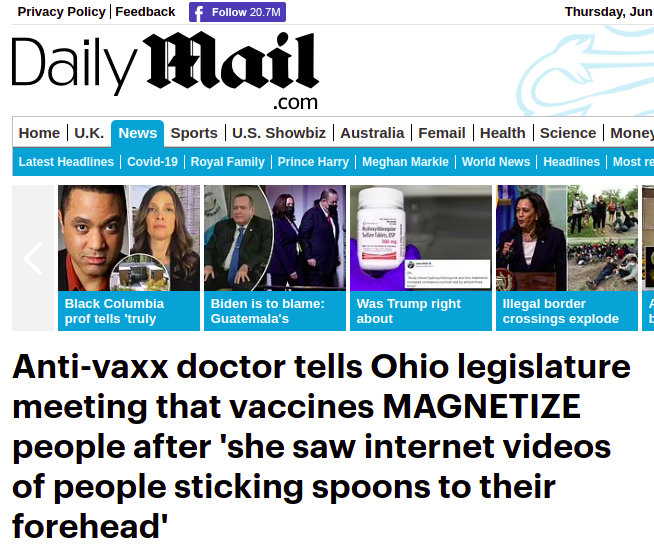 Part of the suramin attack involved a highly edited video of Judy Mikovits touting suramin, minus the full information about that drug. That video, in combination with erroneous assertions about suramin being in pine tree needles, resulted in the physicians who are currently prominent warning about the COVID vaccines, picking up the error and discrediting themselves in their very current and very popular videos about the gynecological and shedding problems of the persistent and migratory spike protein vaccines.
Well, that video which was used to misinform them has been removed.
Sunlight. It cures quite a bit all on its own.
More seriously, I realized that, at some level there, probably in the background, I was dealing with pro "influencers of influencers of influencers". I won't be sharing all my information on that, as much as I would love to, but it became apparent that they are watching us like hawks. Speaking of which…..
2.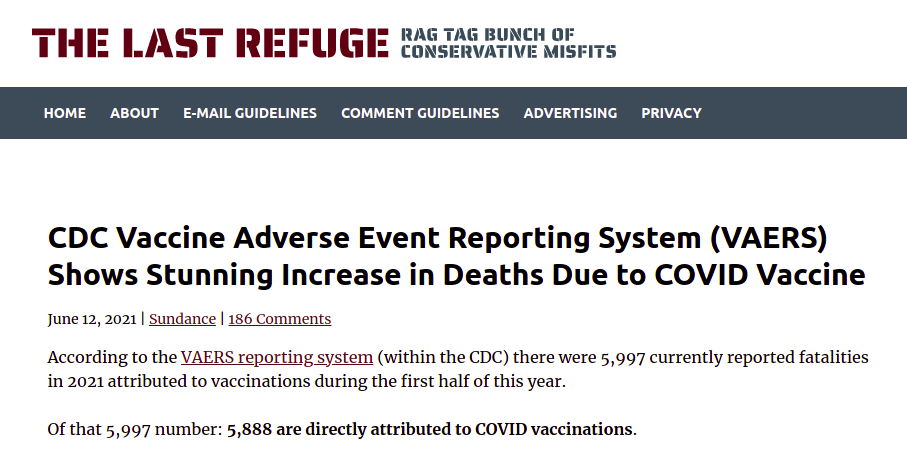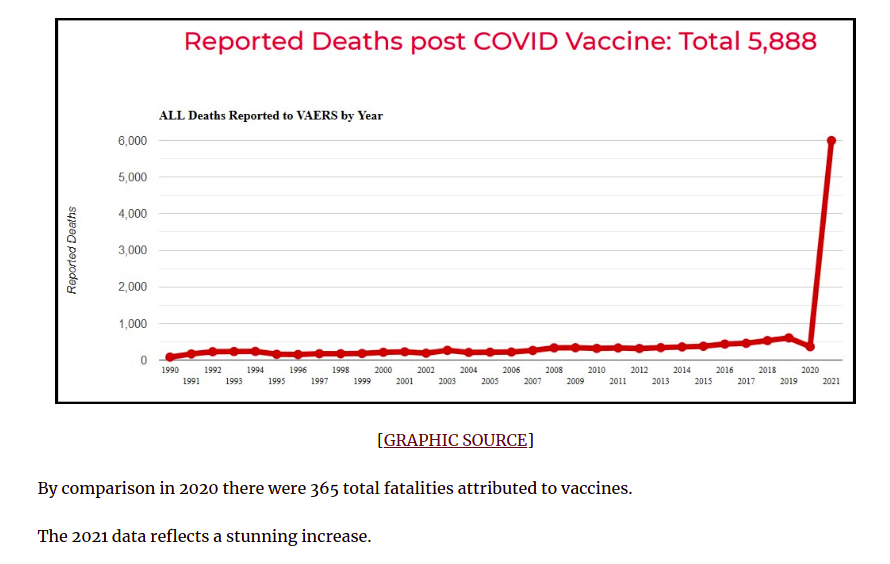 The Sleeper Has Awakened
Yes, Sundance just came out with a piece critical of the COVID vaccines. You will recall that SD and his crew were all fairly pro-vaxx, so this tells me there is a fundamental shift going on.
And while the fact that the HHS entrance to VAERS went down at the same time SD came out with this article may very well just be coincidence, I am 100% certain that the policy of Barack Obama and Eric Holder is BACK IN PLACE under Merrick "Whatever You Say, Barack" Garland, and that journalists like Sundance (and ourselves) are being SPIED ON by the federal government, in a abuse of power for political purposes.
SO – anyway – keep an eye on CTH in regard to things "COVID" – there is going to be some good stuff there, I'm willing to bet.
[Just for the record, I wrote this BEFORE the recent CTH post about "QAnon" stuff, which I happen to regard as a very helpful warning, but which was "not received warmly" by most on this site. I'm not looking to exacerbate the situation, but I hate "spiking" anything – for anybody. And I'm going to be very blunt. Sundance is going to have THE BEST coverage of DOJ asshattery against our site, so prepare to see me using a LOT of his coverage in my postings and reasoning. People need to learn to keep their emotions in check, because that is how an army survives – digital or otherwise. WWG1WGA begins with YOU.]
---
3.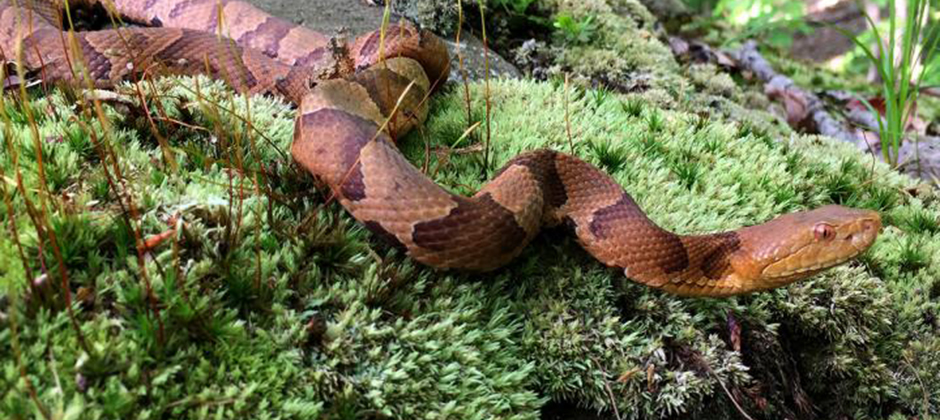 Scientists Are Calling Out The Snakes
Everybody is seeing how people are calling out FAUCI, but in my opinion that's actually a side-show. The REAL DEAL is scientists calling out the scientific BULLSHIT about COVID, and particularly the spike protein nuttery that was imposed on us. At long last, people in Scienceville are going "WHAT THE #### IS GOING ON?"
First, a video that came to us via Grandmaintexas and this link:
https://www.barnhardt.biz/2021/06/13/ferocious-call-out-of-the-covid-and-deathjab-crime-against-humanity-by-a-canadian-m-d-pathologist-heart-inflammation-and-young-men-dropping-from-heart-attacks-including-a-danish-soccer-player/
It's worth listening to the beginning of this video to hear this dude list off his credentials. This guy isn't just some country doctor. Nor is he old, senile, or out-of-date on current medicine. Just listen to him. This dude is IMPRESSIVE. He's still sharp as a tack, just like Trump. I would almost say "more", at the risk of offending some who believe this is not possible! Just listen to him.
Here is the URL if it doesn't show up properly: https://www.bitchute.com/video/AA68FWFJazTd/
Among many other jaw-droppers of sensible scientific perspective, this video basically tells you why I have been so mouth-agape about that Pfizer data snagged back into American science from JAPAN.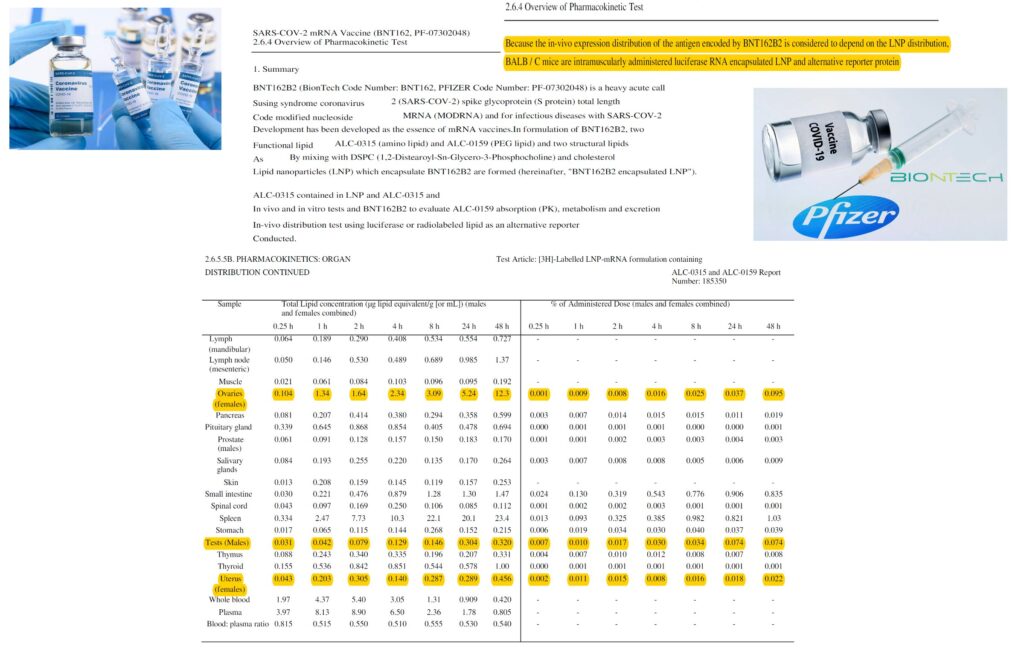 You have to look closely at it, but not THAT closely.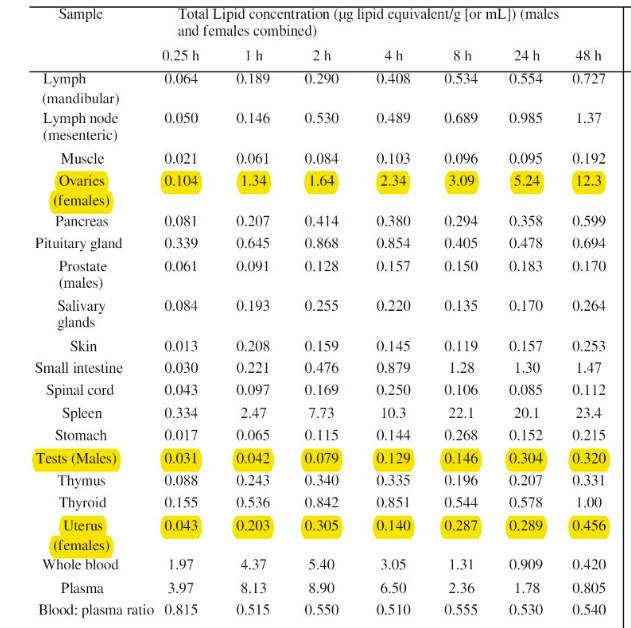 The VIDEO adds more about testicular localization in males.
Yeah, boys. It ain't just the broads. Cross those legs – this is gonna make you cringe like a prostate exam.
One of the things which is EXTREMELY NOTEWORTHY about the video is that this lady YouTuber / Facebooker / BitChuter and all-around "social media presenter" goes into deep detail about the extreme censorship she is encountering, and how she deals with it.
For example, she states that the YouTube video was taken down in about 10 minutes.
Alternatively, you can listen to some different scientists in THIS great video, thanks to singingsoul.
There is a necessary backup of this on BitChute: https://www.bitchute.com/video/TH2HAmTp40xq/
Here we have Bret Weinstein interviewing a doctor and an engineer who explain – to the satisfaction of any honest scientist – WHY the mRNA vaccines (and to a lesser extent, the adenoviral vector vaccines) are CLEARLY problematic.
This is EXACTLY the same stuff we've been talking about. And it will be extremely useful in getting to where we are going, looking at NEW VACCINES COMING.
I'll give you a hint now – the new vaccines could be a strong correction, back to what vaccines SHOULD be – or they could just be a slower and stealthier path to get us where the cabal has us going now – elite-controlled social contraception, and immunity debt enslavement – which is the worst-case future of "vaccine capture" a la Marek.
So – let me review previous posting, mostly mine, but also Deplorable Patriot's reachy but prophetic question about the incredible and previously unthinkable idea of vaccine shedding. All of it based on what YOU, our loyal posters, brought here for the group to digest.
Take a bow, people. YOU DID GOOD.
---
4.
A Short Bibliographic Toldjaso From This Site
---
I will preface each of these blurbs with another short blurb, explaining relevance.
This will "refresh your memory", before we get into the FUTURE.
We start, very appropriately, with RAND PAUL.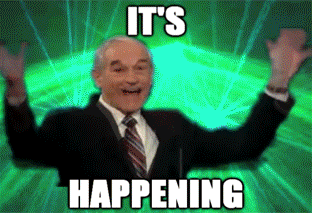 ---
Gotta give DOCTOR Rand Paul credit – he has led the fight to bring SANITY back to medicine and science. Thank GOD Trump put him where he saved the most people – in the SENATE. I also have a personal debt here, as a recoveree, forced to wear a needless mask, aggravating my hypoxia. Rand Paul has FREED ME of my TORTURE MASK.
Thank you, Rand. I mean it.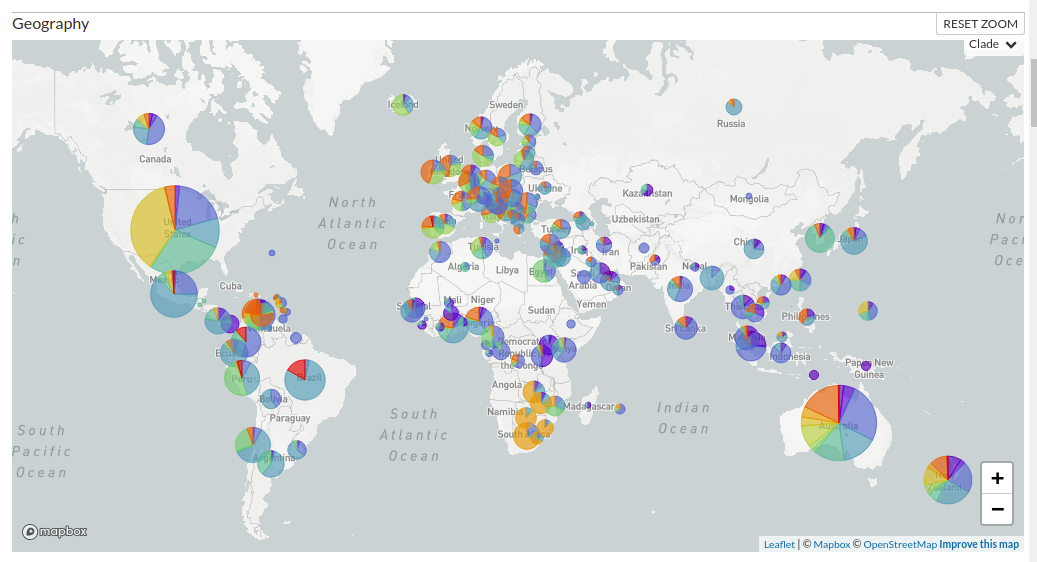 Introduction You have GOT to see the video I'm going to show you. It's not just what they're talking about. It's WHERE IT LEADS. Most of the people who watch Rand Paul go after Fauci here, are concentrating on MASKS, because that is the TOP LAYER of the argument. But THAT is the small potatoes. …
---
This post is where disparate cracks in the narrative all opened at once. I was no longer going along with the bullshit. Too many questions, too many pat answers turning up WRONG – no – the narrative was full of holes, and it was time to think ON OUR OWN.

PREFACE I thought that I might withhold this post on Easter Sunday, and then I changed my mind, thanks to Deplorable Patriot, Trump, Gab and Jesus. If anybody ever FOUGHT on Easter Sunday, it was Christ. It's time to FOLLOW POINT. The Branch Covidians have taken a toll, but the WAR is turning, and – …
---
I just went back and read this thing, and – WOW – just WOW. I was all over two things – spike protein and genetic incorporation – the JAENISCH paper. We are now all over the spike protein, but we MUST turn our attention to genetic incorporation of the vaccine – particularly in people who "fountain" the spike protein. I had forgotten this, but much of the suspicion of Fauci on this site centered around his seeming obsession with vaccines for viruses capable of genomic incorporation.
Yes, Wuhan is important, but I see that as the plotters playing "hot potato scandal" to distract us from the deeper purposes of this LYING phony pandemic.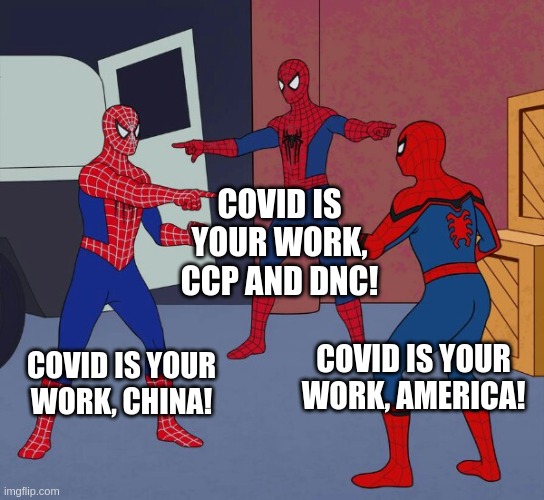 Genetic incorporation of these vaccines must be investigated. There has been so much we have been told that is WRONG – I think genetic incorporation due to the spike protein acting as a reverse transcription promoter for its own RNA is a biggie.

Alternate Title: Is Persistent Reverse Transcription a Hidden Virus/Vaccine Objective? Gloating Pre-Preface There are few feelings of satisfaction like opening up the NEWS and knowing one's theories and understandings are WORKING even better than one thought. Let's see if they use this one for damage control, and get the "new science" out before the STORY …
---
No good guys among these genetic vaccines. They are all RISKY for certain people, and when we EUAed them forward, we took those risks. The problem is, with idiot BIDEN in charge, instead of Trump, there was nobody to push the sensible idea of sparing the vaccine from those for whom it would be knowingly risky.
Fake elections matter.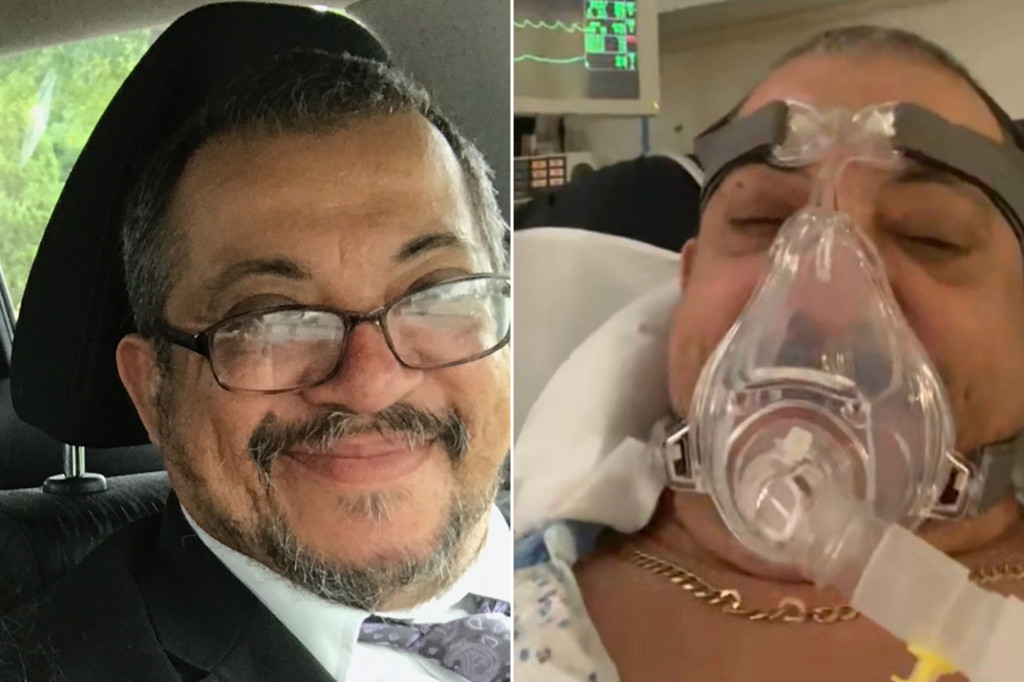 Every coronavirus vaccine so far has shown us SOME defect upon mass release, which was NOT evident in EVEN phase III clinical trials. Look HERE for a searchable PDF document of adverse effects from the Pfizer vaccine: https://assets.publishing.service.gov.uk/government/uploads/system/uploads/attachment_data/file/977005/COVID-19_mRNA_Pfizer-_BioNTech_Vaccine_Analysis_Print.pdf Check out these videos on the low-platelet clotting problem from the Oxford/Astrazeneca vaccine. Here is a fantastic …
---
I was really starting to get it here. I was starting to accept that "it's the full spike protein, stupid!"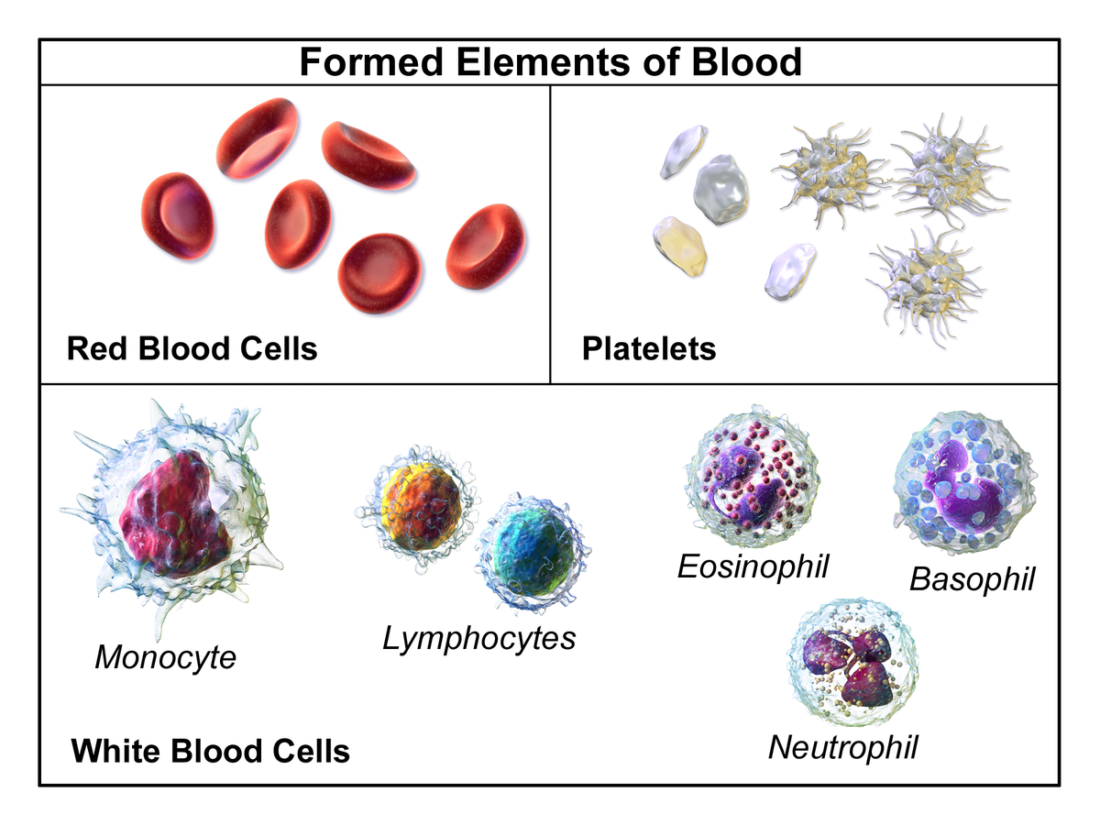 I saw an excellent explanation of the clotting problem with the AstraZeneca vaccine against SARS-CoV-2 / COVID-19 here: The doctor, Dr. ZDogg, MD, offers an exceptionally clear explanation of both what is going on with the AstraZeneca vaccine, and why its distribution was halted or limited in some places for some age groups of patients. …
---
This is when I realized that all the gynecological problems being reported for the COVID vaccines were actually a REAL problem, and not just a sub-problem of the clotting problems. I also realized that this effect was too pronounced to be an accident. And then the complications going to other people in close contact – how could this even be possible?
So I considered what sounded like a more reasonable alternative to "vaccine shedding" – namely, spike protein shedding. Indeed, both avenues could be operating, but vaccine shedding now has DATA to support it, in the form of the Pfizer animal data showing persistence and migration. And if you stay with this to the very end, you will see that these lipid nanoparticles have been nothing but trouble from the beginning. It's an impressive technology, but clearly not fully baked.
Thus, read this post, knowing that the vaccine is likely to be nearly as persistent as the spike protein it produces. Everything I'm saying for the spike protein, should apply in spades for the vaccine, which essentially brings in mRNA as a transmissible FACTORY for creating spike protein. It would not take much vaccine transfer to create the EXACT problem that is observed in alleged shedding incidents.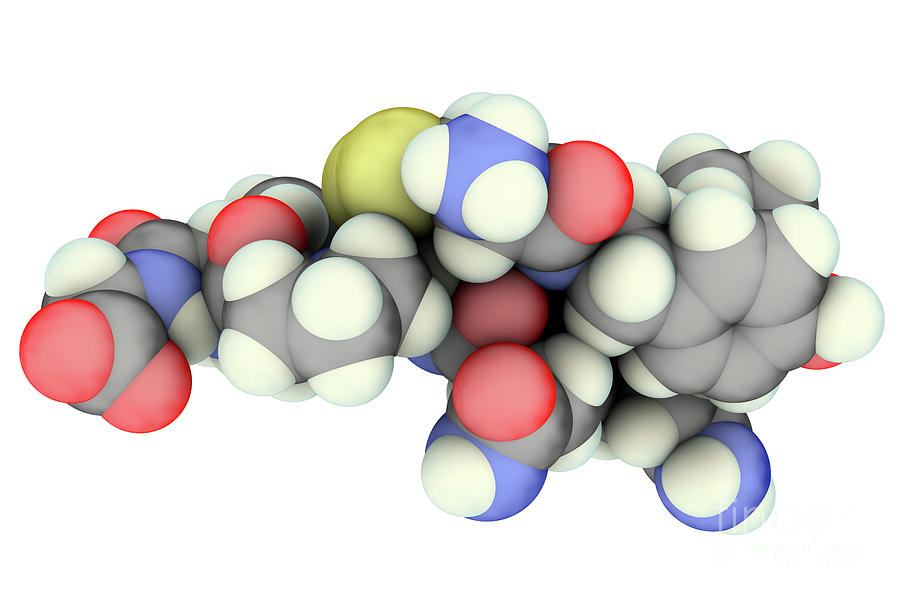 "When the people have any power to object to a socialist solution, a deniable 5% fait accompli is always more desirable to socialists than a negotiated 50% solution, because they can always negotiate on the remaining 95%." -Wolf Moon When I first heard about a case of a miscarriage by a pregnant doctor, due to …
---
This is where I really laid out the evidence that the spike protein is causing the problems we're seeing.
Obviously I'm all "nodding Jack Nicholson" now.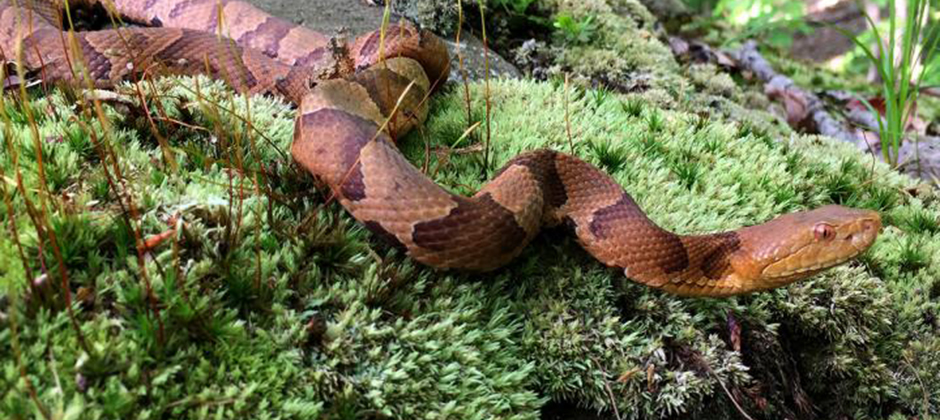 Using Principles of Protein Equivalence and Analogy as Predictive Tools for Coronavirus Understanding Surely you've heard of the BROWN RECLUSE SPIDER. The brown recluse is related to several other recluses, and a couple of other families of spiders, that all have a similar venom – a protein called sphingomyelinase D. This is an enzyme that …
---
If you don't think those "lipid nanoparticles" of the mRNA vaccines can't "act like viruses" and basically pass "disease" to a NEW HOST – read this. LNPs ≈ VLPs.
EVERYTHING we are seeing in vaccine medicine now is a COPY of what nature did about 70-100 million years ago, in the insect world. Once I realized this, I was able to pattern this stuff all over what Big Pharma is doing, and get ahead of their game.
This post is probably going to go over a lot of heads, but I think scientists will find it disturbing until they find it compelling, and then ultimately find it satisfying. Creation teaches us – not the other way around.
Look to the wasp, thou sheeple, and be wise.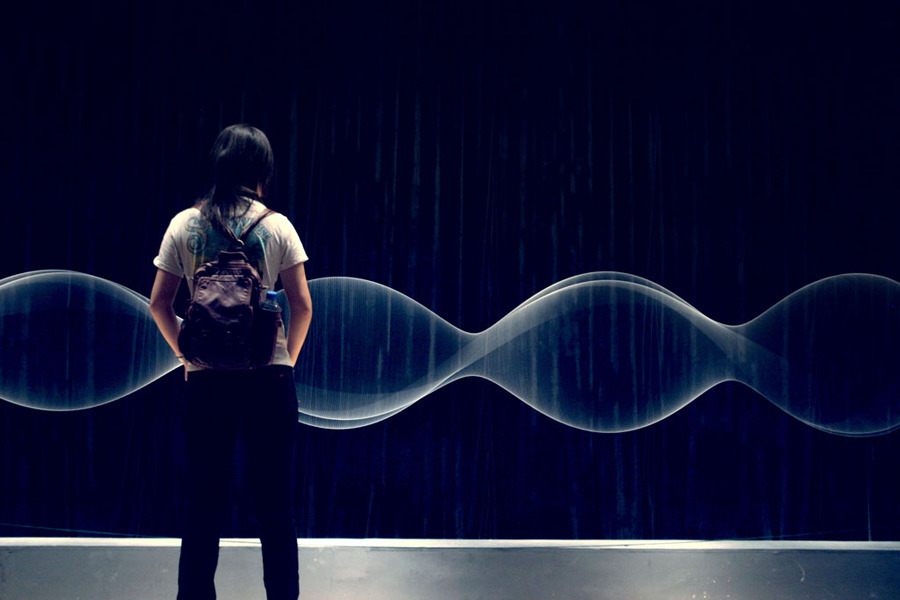 OK – we're going to have some fun here – but stick with me, and you could learn A LOT. Cue the music! Borrowed from Wheatie! Previous posts helped put both the SPIKE PROTEIN DISEASE and the SPIKE PROTEIN VACCINE into deep perspective. We were seeing that the SOLUTION was a significant part of the …
---
Deplorable Patriot hit the nail on the head here. Before I accepted the awful fact that these vaccines are not what we thought they were, I didn't believe shedding could be real. Oh, boy, was I wrong about that.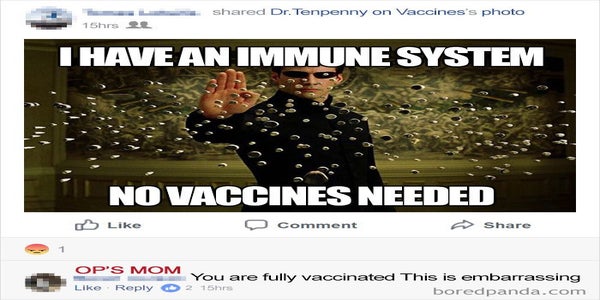 Our dear boss, Wolf, has been busy putting together scientific primers on just what it is the various shots and inoculations marketed to be preventative of severe symptoms of COVID do, but what hasn't been addressed for those of us who chose not to be shot up with whatever is in the syringes is how …
---
This was beautiful – mainstream science and medicine starting to question the Fauci BS. Revel in it. Some of this is now "accepted" – all of it will be, soon enough. We're headed back to sanity, folks.

This is a very important video you don't want to miss. It just came out, and the doctor is a guy I've been following. He chooses his words carefully, to stay inside the establishment where he can publish some of the top papers, but he speaks the truth at all times. Don't let the video …
---
This is where I was blown away by the Pfizer leak out of Japan. The targeting of the ovaries.
AYE-YI-YI. What is one supposed to think? Good GRIEF.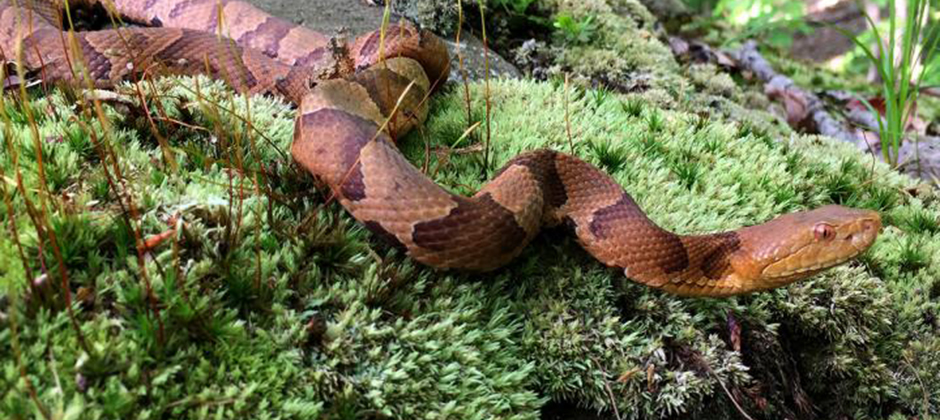 TL;DR – you MUST listen to a short podcast of a scientist revealing the latest research on the spike protein vaccines. The VACCINE ITSELF (not just the spike protein – the mRNA vaccine itself) is persistent and is not only concentrating in ovaries – THE VACCINE ITSELF IS EXCRETED – e.g., in breast milk. Meaning …
---
Now you can see it very easily – the enemy threw that "Magnet Challenge" out to muddy the water as we were gaining understanding. But here is where I started to look at it experimentally – give it a real examination – and come away fairly doubtful that there is anything to it. The Magnet Challenge is bad science. It may be well-motivated, but it's quality disinformation. Top-shelf stuff – ACTIVE DISINFORMATION to make people SELF-DISCREDIT – meant to insulate the controlled and groomed experts by discrediting smart people outside of controlled science.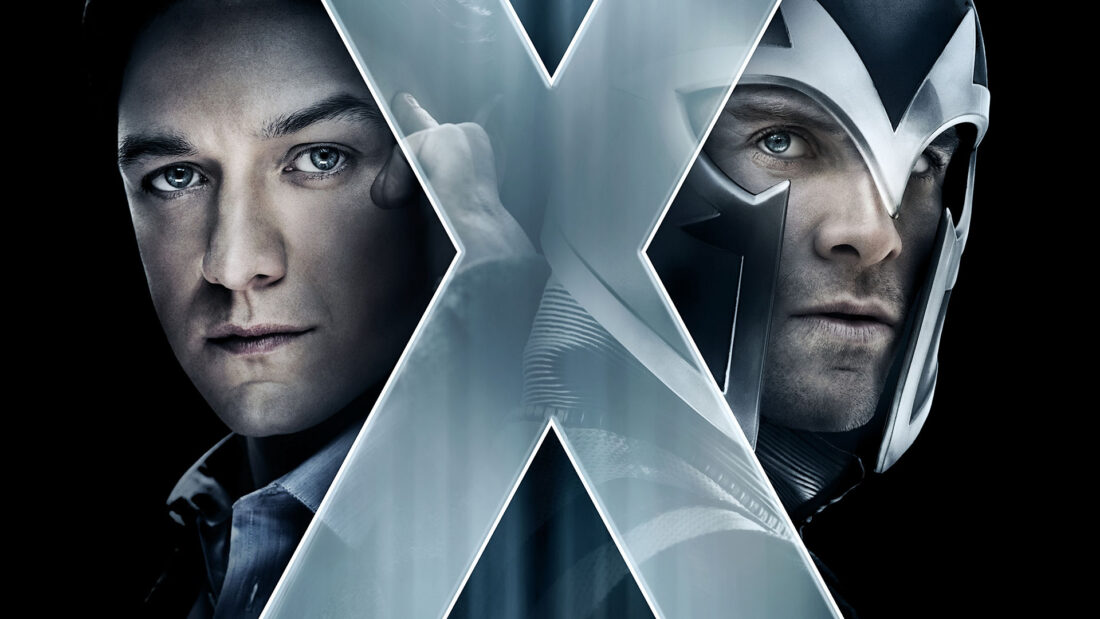 Wherein we examine, in something like "MythBusters" style, the dubious "Magnet Challenge", without relying (too much) on the anti-scientific crutch of scientific authority First, a confession. The main reason I am attracted to these videos of people sticking magnets to the COVID vaccination injection sites on their shoulders, is that I love to watch normal …
---
This is where I actually call out the other side for trying to mislead our side with the "Magnet Challenge". At this point I really understand how utterly misleading this trick is, and WHY it was inflicted on us.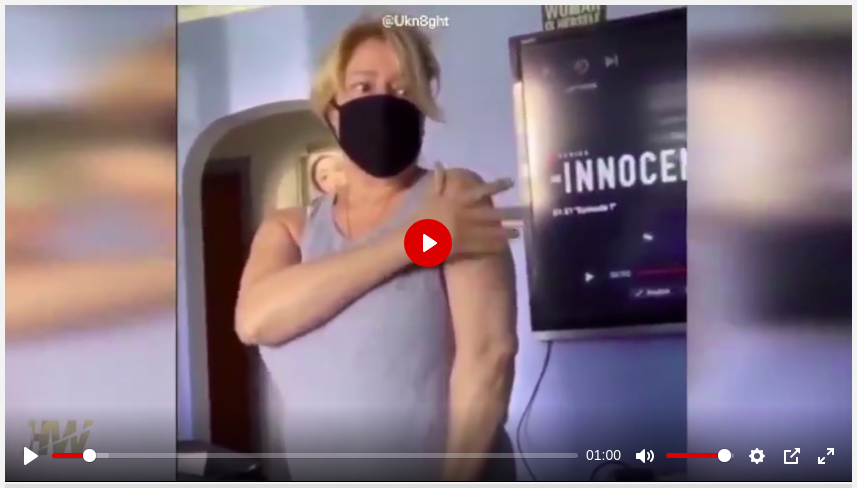 Wherein we look at how the COVID scammers are now using "magnetic" disinformation to try to escape justice for REAL abuse of liposome biotechnology to achieve [most likely contraceptive] vaccine persistence and migration. TL;DR – after mRNA vaccine persistence and anatomical migration were revealed in leaked Pfizer data, explaining "shedding" via persistent liposomes, the COVID …
---
This is where I investigate the origins of one of the "fake facts" used to trip up the doctors opposed to the spike protein mRNA vaccines. I am convinced that this was some kind of discreditation operation – a precursor to the "Magnet Challenge" psy-op.

This is for the historical record. I hope that this analysis gets to the "dissident scientists" involved, but even if it never does, future historians will get a powerful look at what I call "Fake Science" – the establishment's phony, deceptive and controlled scientific complex – and how infiltration, control, and discreditation of dissident populist …
---
At this point, you should be ready for more information – about WHERE vaccination is going.
---
5.

New Vaccines – The Great Crony Blame Escape
It took me a while to put 2 and 2 together, but when I first saw the June 7 cover article on my new "vaccine snitch", Chemical & Engineering News, something bothered me about it.
NASAL VACCINES? FOR COVID-19? ALREADY?

LINK: https://cen.acs.org/pharmaceuticals/vaccines/Intranasal-nose-vaccines-stop-COVID/99/i21
This is more excellent reporting by Ryan Cross, who routinely ferrets out (pun intended) the full story on virus science and vaccine technology, as available to "public science" – to be distinguished from the deeply hidden stuff. Cross never adds in any politics, crime, depolitical deconstruction, "conspiracy theory" speculation, or any of the things that are MY JOB. I have to respect that. This is the way THE NEWS used to be.
get the facts
understand the facts
teach the facts
teach the understanding
light fuse, run away
AH. I love my job. BE THE FUSE.
Figuring out the criminality of the government, industry, and financial backers – getting past the obscurantism, deceptions, and lies – that is OUR JOB – We The People – for we are (now that Merrick Garland soils the DOJ with Chicago communism) the
REAL DEPARTMENT OF JUSTICE.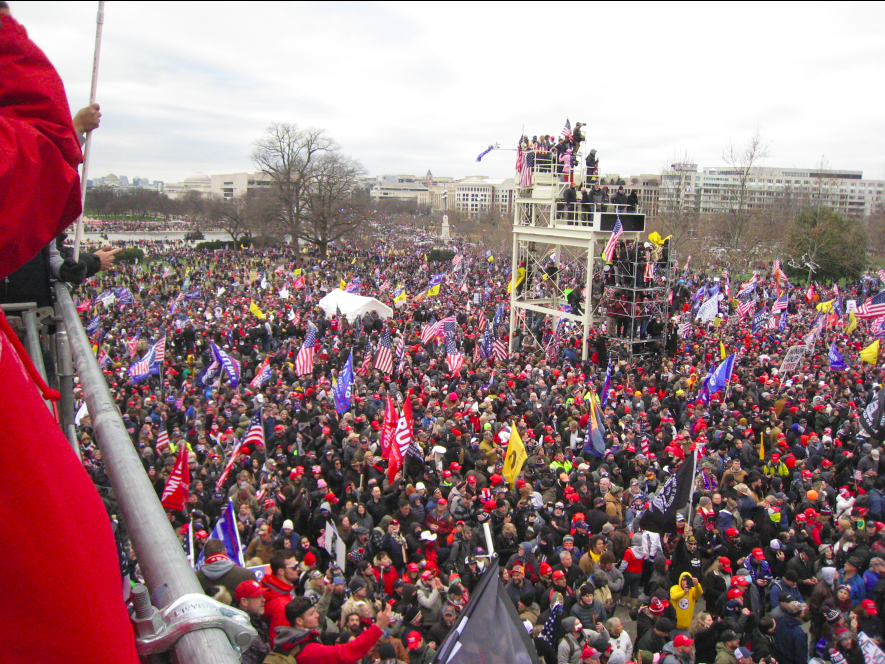 Yup. WE are not the communist insurrection and their corporate cronies, destroying everything in their path to money and power, including honest science and doctor-patient medicine.
We are (and like Confucius, I WANT them to hate this) the RESURRECTION.
The RESURRECTION vs. The INSURRECTION.
Eat your own label, insurrectionist commies. It's good for you!
OK, back to science.
I really encourage you all to read this full article, which is written so that the general public can understand 99% of it easily. You will learn a LOT about vaccine technology. I will move you along through it, skipping over things, but when we're done, consider reading the whole thing both WITH and FOR greater understanding.
I will try to only quote selectively from it, as I capture a few key points. But I can do no better than to give C&EN's own "TL;DR" which they label "In brief":
Vaccines are synonymous with shots, but it doesn't have to be that way. More than a dozen groups are working on COVID-19 vaccines that can be squirted or sprayed into the nose instead of injected in the arm. Besides the potential practical advantage of easier administration, these vaccines could trigger the mucosal immune system to make antibodies in the nose and help stop the coronavirus at its point of entry. It sounds great, but the mucosal immune system is hard to study, and pharma companies have been reluctant to invest in the needle-free approach. Mucosal immunologists and intranasal vaccine developers are hoping the pandemic will change that.
This is where my first "2+2" $0.02 comes in.
Note the final statement:
Mucosal immunologists and intranasal vaccine developers are hoping the pandemic will change that.
It's not the phony pandemic that is "going to" change delivery route. It's already happening, in my opinion, due to the massive unveiling of not just the problems of the systemic gene therapy vaccines, but the clear motivations behind these vaccines, some of which were not just hidden from the public, but also from the scientific community, which I believe is now getting WISE.
Stated more simply, OUR PRESSURE in getting out the TRUTH about the existing vaccines is forcing the industry to react to vaccine shortcomings they WILL NOT ADMIT otherwise. The industry is likely also under forces from ABOVE THEM which are also being exposed.
You will see this as I go through the article.
The most powerful weapons in our hands are the UNDERSTANDINGS of the following:
spike protein toxicity
vaccine persistence
vaccine migration
spike genetic incorporation
Fauci's reverse transcription obsession
Bill Gates' "pre-programming the experts"
Zuckerberg connection to Baric lab
irrational hatred of cheap available therapeutics
generality of therapeutics being fought, thus…
the enabling of ChiCom manipulations
ovarian and testicular targeting
hiding of evolutionary knowledge
"circuits of plausibility" to create errors and crises
Put these things together and the "easy path" of systemic vaccines which do NOT mimic stimulation of natural immunity as well as NASAL VACCINES do, has been chosen under the cover of simplicity, but in reality because it always lies closer to what the industry TRULY wants, e.g., right now, gene therapies, where they NEED to target many specific organs. Nasal vaccination is a niche safety point which has always WAITED while systemic gets the action the deep backers want and NEED.
When it's just easier and possible to do the wrong thing they want, they DO IT.
The current gene therapy desideratum – organ specificity – is actually in another article in the same issue of C&EN, talking about CRISPR, anti-CRISPR, and how to make gene therapy not have side effects, a point which is admitted more openly now that they are "safe on first" by having "proven" that gene therapy "works".
Such a scam.
But it gets worse. Industry motives are not the motives of those who manipulate THEM.
As you read the rest of this, note that the "running dog" industry layer, which now performs for taskmaster commies, is also manipulated by THEIR true masters, the global elite, now looking at pesticides for humans, and particularly deplorables. It's clear to me now, after the ovarian, placental, and testicular actions of the spike protein broke media containment, that the reason the entire vaccine industry jumped into full spike protein gene therapy tests masquerading as necessary vaccines is manipulation by the one guy who double-controls vaccine technology via "owning" CEPI – and that would be BILL GATES.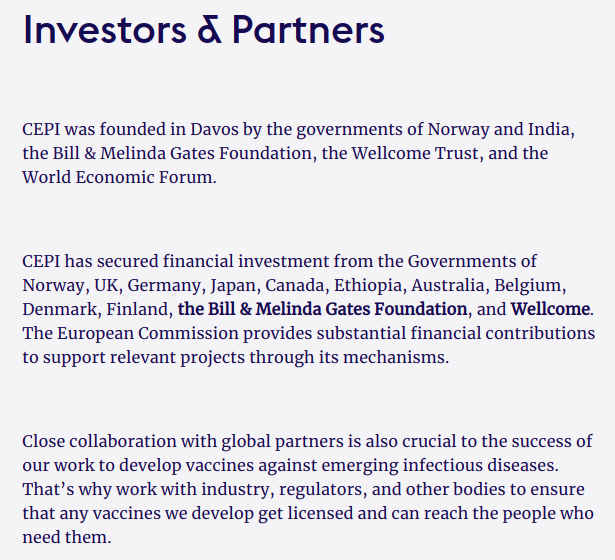 Yes, that Bill Gates, whose father is standing behind Fauci here.
Thus, when both the Gates Foundation and CEPI back some project, it's Bill Gates getting TWO SCOOPS of control.
Note also Event 201 backing.

With Fauci and the Faucists inside government, and Bill Gates on the outside, there was no way that safer, metered, recombinant spike protein tech or peptide subunit tech was ever going to go first. They needed the new tech given a carte blanche, and they got it. This plus the "crisis" allowed the full spike protein's foot to be shoved in America's door, past everybody who might have questioned it.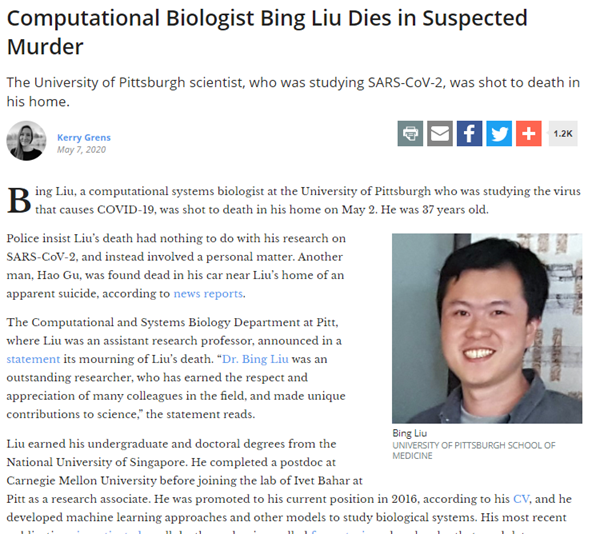 This is one of the guys who spotted the "snake protein analogy" first, in what would have been time to alter the landscape.
No longer random, this is what happens when people get in the way of a conspiracy TWO LEVELS UP, where the really big boys and girls play. There are money motivations in between, but this guy's real crime was potentially interfering with "the spike must flow".
Have I raised your suspicions?
GOOD! Let's look more deeply at the article now.
---
In fact, the mucosal membranes that line our airways, digestive systems, and reproductive tracts are often the first parts of our bodies to face an invading pathogen. A network of immune cells resides underneath our mucous membranes, or mucosae, and forms a front line of defense against invaders, and they prevent most infections from taking root. This is the mucosal immune system, and some immunologists think we have been seriously underestimating it.

"When you think about it, that's where we acquire most of our infections: we inhale them, we consume them, or we get them through sex," says Michael W. Russell, a mucosal immunologist and professor emeritus at the University at Buffalo.
This is where we begin to realize that mucosal immunity and systemic immunity are NOT the same thing. And it doesn't have to be "either/or" – you can have BOTH. There are many plausible reasons for one over the other, but it will become clear that using the mucosal pathway adheres more strongly to the natural "API" of immunity by "contact", if you will, with the pathogen, rather than sudden systemic introduction.
Have we really been underestimating it? Or have we been IGNORING IT ON PURPOSE at the highest motivational levels of power?
In my opinion, if the powers that be in VAXX WORLD would have been looking out for us all this time, there would have been stronger forces pushing researchers toward mucosal immunity. The problem is, that kind of naturalistic and patient-centered thinking is a problem for those who see vaccination as more of a path to power or other ends, particularly SOCIAL ends, rather than as part of a path to individual health. Nothing has made this more clear than the "pandemic", controlled by "experts" who seemed not to know what they were doing.
Are you now starting to understand how and why conspiracies are intentionally mischaracterized as giant joint illicit cooperation, when they are in fact TOWERS OF LAYERS OF INTERNAL DECEPTIONS?
Good. Let's move on.
Our mucosal immune cells make a special class of antibodies that are constantly secreted from the mucous membranes to protect the nose, gut, and other vulnerable sites from pathogens we've seen in the past. "But if you don't stimulate the immune system in the mucosae, you don't obtain mucosal immune responses," says Pierre Charneau, head of the Molecular Virology and Vaccinology Unit at the Pasteur Institute.

Yet most research on SARS-CoV-2 and our immune systems has overlooked mucosal immunity in favor of the easier-to-study systemic immunity. "When the pandemic hit last year and I started to see papers coming out about immunity, it really quite staggered me to see an absence of attention to the mucosal immune response," Russell says.
See that? The TILT of the field – the RUSH to systemic – that is a SOCIAL phenomenon – and socialists, or believers in the effectiveness of socialist tactics, like me – will tell you very honestly that science can be controlled SOCIALLY – that the SOCIAL aspects of science are not all warm campfires around each other's blogs, but actually PART OF THE FIGHT that controls WHAT SCIENCE THINKS and WHAT SCIENCE DOES.
Or like this blog. I'm just honest about it.
I keep telling people that the "jabs" were PUSHED and SHAPED to be what they were – for REASONS – diverse yet all valid – which compromised all the insiders to DO WHAT WAS NEEDED to create what was needed at the TOP:
SYSTEMICALLY MOBILE, GONAD-TARGETING, SPIKE PROTEIN OVERDOSE INJECTIONS AT CONTRACEPTIVE LEVELS.
Stated more generally, it wasn't a BUG – it was a FEATURE. And we were RUSHED into testing (if not USING) the feature ON PURPOSE.
Now – remember how COVER works – these vaccines did what they were SUPPOSED to do in our little world – but they also did what other people wanted in THEIR little and very exclusive world of "human benefactors".
We move on.
Charneau and a group of scientists in Paris have shown that natural SARS-CoV-2 infections trigger both systemic and mucosal immunity. But our current crop of COVID-19 vaccines offer only systemic protection. Developing vaccines that are sprayed up the nose, rather than injected into the arm, could change that, Charneau says. Mucosal immunity in our noses could be like a guard at the door, potentially helping stop even small infections of SARS-CoV-2 right where they start.

It's a tantalizing notion, but whether it's a viable one is up for debate.
Now, the FIRST thing I think when I read this is "hey, that means my disease immunity is almost certainly BETTER than vaccine immunity – as doctors have all known for decades prior to COVID-19".
Of course, we know they lied about that to "prevent vaccine hesitancy". Or stated using different words, "to prevent picking the mild disease over the vaccine in the safer age groups, the latter being most of them".
Do you see that? Almost ANY lie can be justified in the name of "overcoming vaccine hesitancy". Who, besides Fauci and CDC is so obsessed with that Swiss army knife excuse and viral talking point?
But you know what – Fauci knew this – and Rand Paul knew Fauci knew this. So when Rand Paul went after Fauci on reinfection of COVID recoverees, like both HIM and ME, he knew Fauci was on THIN ICE.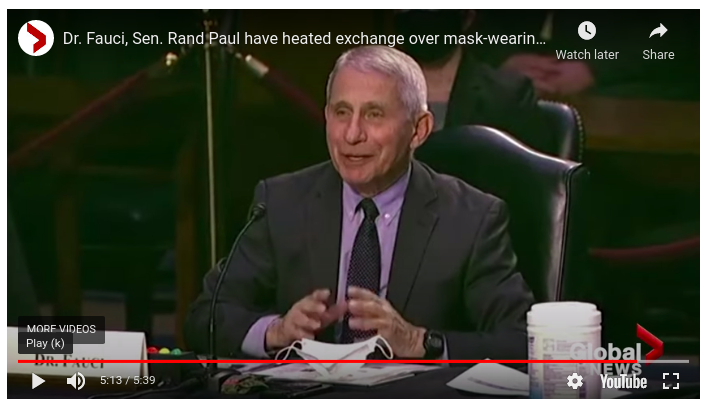 But toss that all aside. At BEST, we went straight after systemic immunity "because emergency". But it turned out that it wasn't all that big of an emergency, and that's where it gets interesting.
As I said, things are changing very rapidly now – obviously getting a technology on the cover of Chemical & Engineering News is a big deal.
And I quote:
After all, the pandemic provided a chance for messenger RNA (mRNA) vaccine technology to finally prove its worth, and mucosal immunologists are hoping that this will be a moment for intranasal vaccines to do the same. "This climate is a game changer," says Hiroshi Kiyono, codirector of the University of California San Diego Center for Mucosal Immunology, Allergy, and Vaccines. "This is a great opportunity to advance nasal vaccines, not just for COVID-19 but for other respiratory diseases."
YUP. That's the way CRISIS MECHANICS works. The "crisis" is just going to CHANGE, to get people to do a NEXT NEW WRONG THING.
My advice to Hiroshi Kiyono would be WATCH OUT – you are going to be subjected to many pressures that bring mucosal vaccines TOWARD viability as spike protein contraceptives. There will be pressure AWAY FROM doing what is best for the PATIENT, and TOWARD doing what is best for the SCIENCE and the RESEARCH, and that "better" will just happen to be better for surreptitious social or even sociobiological manipulations, too.
This is just a HEADS UP.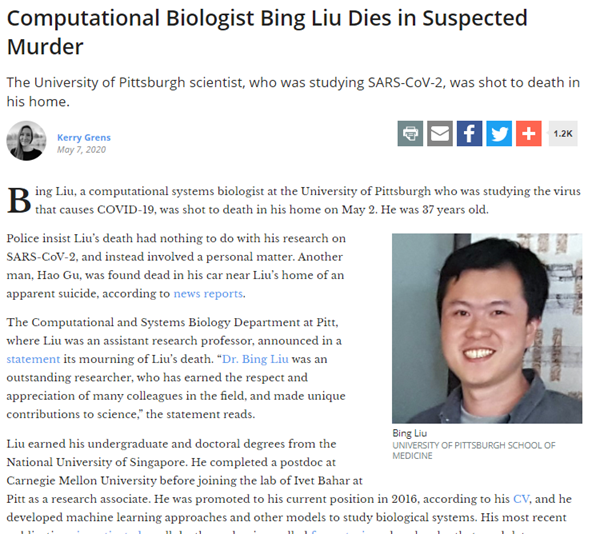 I've been there. Fake Science is not a very nice place to be when billions or trillions of dollars are on the line, and YOU'RE IN THE WAY.
At this point, the article goes into the HISTORY of intranasal vaccines, intranasal being one of the very best routes for respiratory virus vaccines. I'm going to SKIP over all that, even though there are some very interesting aspects to that history. I don't really see any smoking guns of obstruction or sabotage, but it's pretty clear that intranasal was a bit of a black sheep, and fended for itself.
Now, HERE is what's interesting. Which intranasal vaccines are "in the pipeline"?
---
TURN YOUR NOSE UP
More than a dozen intranasal vaccines are in development for COVID-19. Here are several to keep an eye on.
Phase 1
Altimmune
▸ Adenoviral vector
AstraZeneca and University of Oxford
▸ Adenoviral vector
Beijing Wantai Biological Pharmacy, University of Hong Kong, and Xiamen University
▸ Live attenuated influenza virus vector
Bharat Biotech and Washington University in St. Louis
▸ Adenoviral vector
Codagenix and Serum Institute of India
▸ Live attenuated SARS-CoV-2
Laboratorio Avi-Mex and Icahn School of Medicine at Mount Sinai
▸ Live Newcastle disease virus vector
Meissa Vaccines
▸ Live attenuated respiratory syncytial virus vector
Preclinical
AuraVax and University of Houston
▸ Recombinant spike protein with adjuvant
HanaVax and University of Tokyo
▸ Recombinant spike protein with adjuvant
TheraVectys and Pasteur Institute
▸ Lentiviral vector
University of Eastern Finland and University of Helsinki
▸ Adenoviral vector
Sources: Companies, World Health Organization.
---
Now, that may not look like much, but there is a TON to unpack, because we not only have OLD "new" technologies in a NEW route – we have NEW "new" technologies to explain – and in a new route.
If you don't think the other side can cause trouble with their spike protein attack through the nose, you are sorely underestimating the ability of those who CONTROL SCIENCE to "get there first" and mislead the rest of the pack.
Remember – if you think like me, then you know people have been doing this crap for billions of years in THIS universe alone. We're just "rediscovering reality under supervision" on one more planet. The lies are OLD. Very, very OLD. And as I like to say, "Satan weaponizes everything."
The adenoviral vectors we've seen. That's AstraZeneca, Johnson+Johnson, Sputnik V, and others. The only difference is that they're going through the nose, where these viruses are actually supposed to go.
There is a LOT of possibility that this move could solve the biggest problems with these vaccines. IF the nasal delivery route is a kind of highly evolved and intelligent natural "attenuation gauntlet" for viruses, then the outcomes for these vaccines could be uniformly improved.
IF that is indeed the case, then I'm going to be a "toldjaso" asshole and use this as part of my explanation of why "they" have divided us in the specific way they have, over the topic of evolution, separating the "intelligence" side from the "evolutionary science" side, thus pushing the latter to view evolution as DUMB instead of "cautiously and obsessively path-checking", which looks dumb to localized intelligence that doesn't know how to keep its biases in its own lane.
These vaccines also introduce lentiviral vectors – pretty much the same thing as the adenoviral vectors, just a different virus. Again, this is new, so it could be interesting.
Another returning technology is Recombinant spike protein with adjuvant. That is basically Novavax, which we have not really had a chance to deconstruct, because there is not yet much public information on safety or efficacy. So a big QUESTION MARK on that one. In principle this should be safer than genetic technologies, both because there are ZERO risks of genomic incorporation (see Jaenisch for SARS-CoV-2 incorporation), and because there are no possibilities of unmetered "fountaining" of spike protein.
First up in technologies we have NOT seen yet: Live attenuated SARS-CoV-2.
We have already used INACTIVATED SARS-CoV-2 – that would include the Chinese Sinovac vaccine, which is rebranded as CoronaVac in the West. I've been cautioning that I believe "bad lots" of CoronaVac, which are incompletely inactivated, have been passed off, which would explain why there is typically a surge in cases right when countries start using CoronaVac. Obviously that's good for business, and we know how Chinese business works. The only other explanation would be that PCR is picking up vaccine during rollout, and I'm half-way thinking that's a better explanation, were I not so familiar with ChiComs and the corruption they spread.
However, we have NOT yet seen live attenuated virus. This could be GREAT – or it could have a whole NEW bag of problems. I'm very "wait and see" on this.
The real BIGGIES of the new intranasal vaccines are these:
Live attenuated influenza virus vector
Live Newcastle disease virus vector
Live attenuated respiratory syncytial virus vector
Unlike the adenoviral vector vaccines, which are basically "working but dead mRNA in a dead skin suit of a different virus that's easy to work with", these vectors are LIVE VIRUSES with "something extra" (like the spike protein) inserted into their genes, making them chimeric at the genetic level, not just the vector level.
These vaccine viruses are actually designed to "run a bit". They INFECT YOU with instructions to crank out spike protein.
This is where things start getting weird, and it's hard to trust a world which contains both THIS technology AND the CCP.
You know what I'm sayin'?
But now let's look at all these. We suddenly have a LOT of vaccines to keep track of.
It's gonna take some work – but we have to do it. We cannot let them keep experimenting on us like they did, while CHINA did almost NO "experimentation" on its people.
Understand what I'm sayin'?
Good.
Now – the rest of the article is basically the HOPES and the NOPES of the intranasal route. Some of the possibilities here are MIND-BOGGLINGLY GOOD.
Mucosal immune cells constantly make an antibody called secretory immunoglobulin A (IgA), which gets released into the mucous membranes of the nose, mouth, airways, and gut. Pound for pound, we produce more IgA than any other antibody, Russell says, although most of it is broken down and sneezed, coughed, or pooped out within a few days.

And critically, while injected vaccines induce only systemic immunity, vaccines delivered to mucosal sites can induce both systemic and mucosal immunity, he says.

That fact is evident in animal studies of a vaccine being developed by David T. Curiel and Michael Diamond at Washington University in St. Louis. Both the injected and intranasal forms of their vaccine triggered the production of IgG antibodies, but only the intranasal route triggered mucosal immune cells to secrete IgA that blocked the virus from replicating in the nose. A day after they published preprint data demonstrating as much in July 2020, the Indian vaccine company Bharat Biotech contacted the university's technology-transfer office to license the intranasal vaccine in India, where it is being tested in a clinical trial. "How that will play out clinically remains to be seen," Curiel says. "But this animal model finding suggests, qualitatively, that we have some additional benefit."
It is very clear that – for a respiratory disease – there is an advantage to having "naturally obtained" respiratory mucosal immunity.
All that said, we're still talking spike protein. But if the intranasal route can keep it out of the ovaries, testicles, and placenta – GREAT.
And THAT brings me to another great C&EN report by Ryan Cross – everything you want to know and need to know about those damned lipid nanoparticles.
---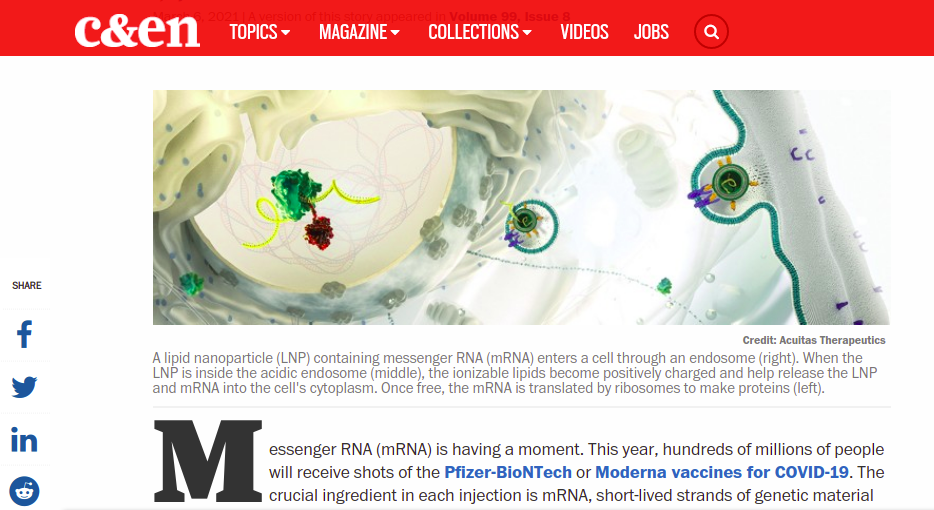 Without these lipid shells, there would be no mRNA vaccines for COVID-19
Fragile mRNA molecules used in COVID-19 vaccines can't get into cells on their own. They owe their success to lipid nanoparticles that took decades to refine
March 6, 2021
LINK: https://cen.acs.org/pharmaceuticals/drug-delivery/Without-lipid-shells-mRNA-vaccines/99/i8
---
Without doing any "gotcha" journalism, Cross reveals the GOOD, the BAD, and the UGLY about these lipid nanoparticles.
The impression I get is that this field was dogged with problems, most of which were overcome, but not all.
So, without getting into the details, all these criticisms of the lipid nanotech that you are hearing are NOT "conspiracy theories" – the scientists are TALKING ABOUT THEM as real problems they're trying to solve, with various degrees of success, in this report.
To me, it was very clear that people WAY above these scientists needed to PUSH this LNP (lipid nanoparticle) technology, necessary for GENE THERAPY, into acceptance using the phony plague.
If you don't want to take this stuff, STAND UP for your rights. Otherwise, it's over the hill, the horses are OUT OF THE BARN, the fence is open and the cattle are GONE.
BUT – I think that if we keep pushing the REALITIES of these vaccines, we can make the "mandate martinets" crawl back into their Fuehrer Bunkers and leave us alone.
And THAT is worth it.
W
PSSSST – hey, DOJ and FBI. Want to see some audit results?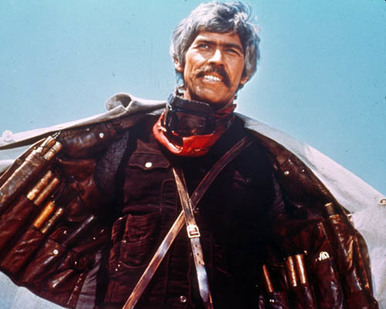 THEY'RE EXPLOSIVE!
Seriously, you injustice-perpetuating assholes deserve to be trolled. Your phony allegations of "violence" or even potential violence by the QAnon "believers" are an affront to Americans. They're a SICKNESS coated with a patina of professionalism. You should be ashamed of yourselves.