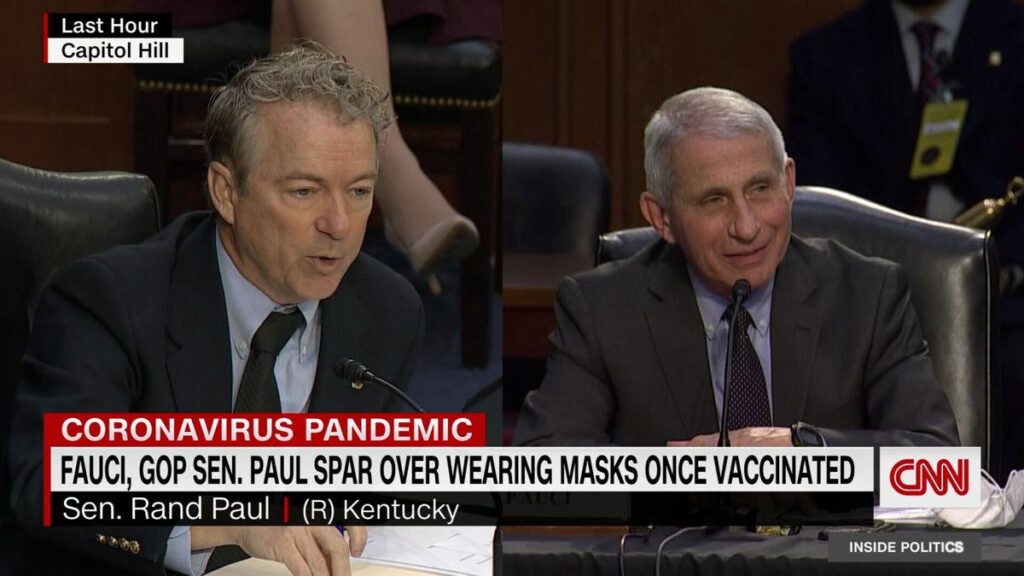 Introduction
You have GOT to see the video I'm going to show you.
It's not just what they're talking about. It's WHERE IT LEADS.
Most of the people who watch Rand Paul go after Fauci here, are concentrating on MASKS, because that is the TOP LAYER of the argument. But THAT is the small potatoes.
Rand Paul distracted Fauci to defend masks, while introducing DEVASTATING truth about variants and immunity.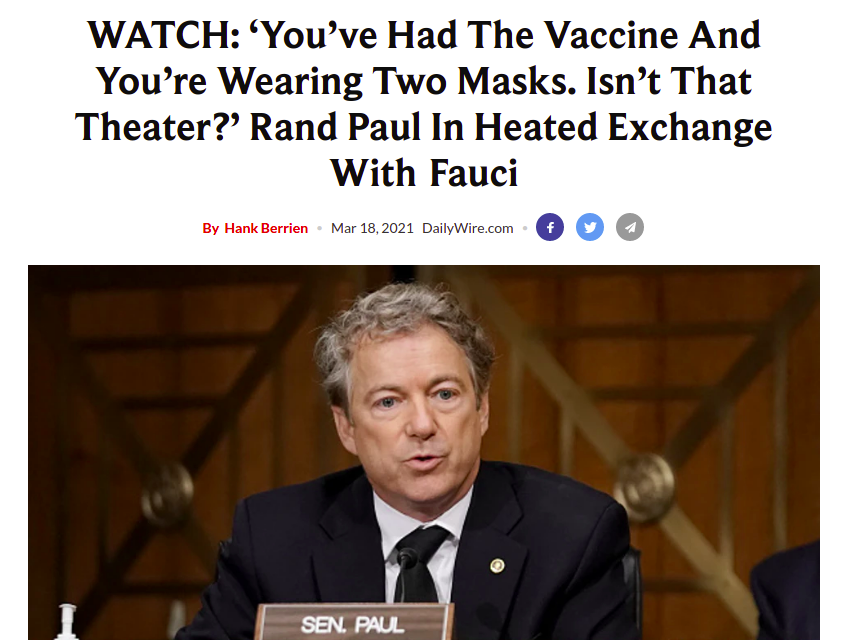 Rand was not only opening up basic questions about what we should be doing in terms of allowing the immune to "bring us back to normal" in terms of wearing or not wearing masks – he exposed a SCAM being pulled by the left, in which they NEED to push humanity to a Marek's Disease dilemma, as part of forced dependence on government, and thus to lock in socialism. I will explain that part below.
Because COVID-19 is constantly mutating, AS IT HAS FROM THE VERY BEGINNING, variants are naturally causing the new infections, AS THEY HAVE FROM THE VERY BEGINNING – important – AS THEY HAVE FROM THE VERY BEGINNING – but Rand Paul is showing a deep truth of the results that Fauci is trying to hide – that "of course variants take over" – but that does not mean that people who have been vaccinated or recovered from EARLIER VERSIONS of the virus don't have real immunity that should be letting them return to their normal lives. Just as we always used to do, and always did, with all other colds and flu.
See? It basically boils down to NORMAL vs. WEIRD NEW UNNECESSARY NORMAL.
You can see Fauci RUNNING from this and DISSEMBLING in every possible "smart" way.
Indeed, Rand Paul is hinting at the truth, and you can see Fauci hiding it. The disease seems to be becoming a NORMAL COLD AND FLU BUG to the vaccinated and recovered, once it is no longer novel. And Fauci absolutely CANNOT SAY THAT. He has to try to make us see the glass half empty, by sleight of hand, to make us focus on the SCARY VARIANTS and not the CURED PEOPLE.
It is SO SLICK. You can see that little MAFIA TWERP trying to evade, but no – he CANNOT.
Because YES – we AS A WHOLE are becoming immune, and the disease is no longer a huge threat – most of all to those who have recovered or been vaccinated.
That is, as long as we don't do something STUPID like making it more virulent – like we did with Marek's Disease.
And I'm pushing it even beyond THAT, because it seems to me that Geert Vanden Bossche is correct about the possibility of a Marek's Disease outcome. It sure looks like the globonazis are "accidentally" doing the wrong thing – which will end up making all humans addicted to a vaccine by PUSHING the variants to greater infectiousness and virulence by the very act of mass vaccination using inefficient vaccines.
Only I'm saying it's not accidental. I'm saying that they want us REALLY dependent on the vaccine (see Marek's Disease), but to get there we have to FAKE IT to make people take the vaccine for a relatively harmless pathogen NOW.
Which is to say, Aubergine's razor.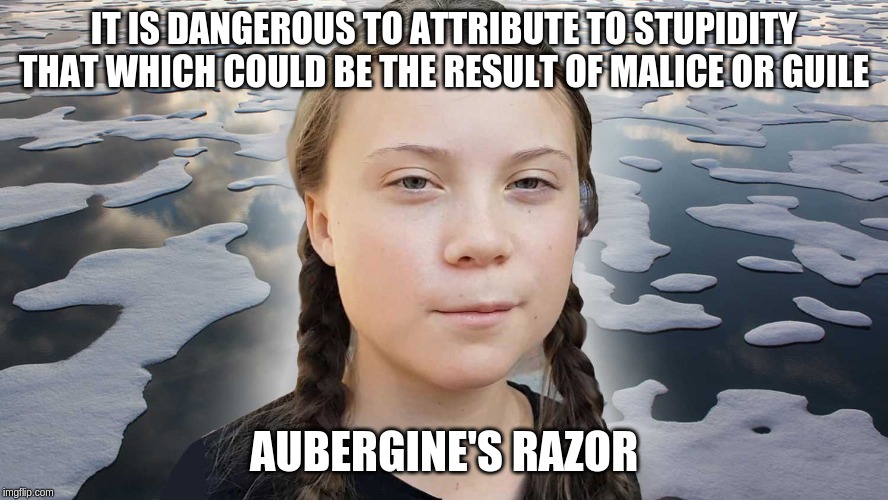 Are you with me?
Maybe not?
OK – there is a lot to unpack there.
Let's START from the beginning.
---
Rand Paul Nails Fauci
This is a great link with a TRANSCRIPT right here. If you want to READ the exchange, go there.
LINK: https://www.dailywire.com/news/rand-paul-in-heated-exchange-with-fauci
Now – if you want to watch the video, you can do that right here.
TWEET:
If you'd like a bigger video, try this one.
YouTube Version:
MY ANALYSIS:
First, listen to Fauci start off with "I don't understand…." – LIAR. Fauci immediately tries to lead away from the IMMUNE to the UNINFECTED.
This is extremely disingenuous. You can tell exactly what Fauci doesn't want to do. He does not want any exceptions in the policy. He wants people obeying mandates.
This is where, as a recoveree FORCED to wear a mask DESPITE both IMMUNITY and HYPOXIA, I am SO PISSED OFF at all these mask martinets with their muzzle mandates.
In their ZEAL to vaccinate, people like me have been THROWN UNDER THE BUS.
So Fauci pretends to not understand. MAMET PRINCIPLE AGAIN.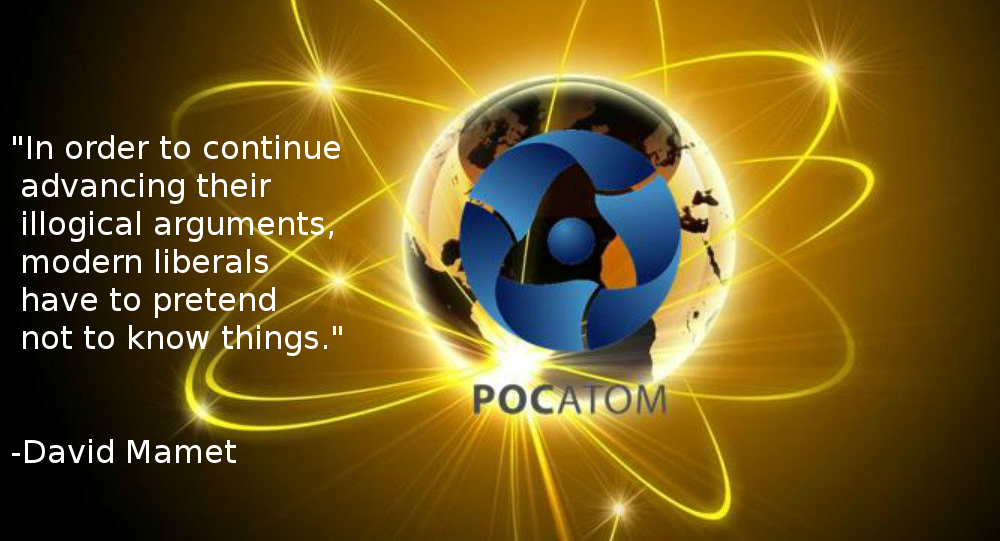 So what does Fauci do? Rather than answer the question – "WHAT STUDIES CAN YOU CITE?" – which of course he cannot do – he THROWS A STRAWMAN at Rand Paul, and says "the studies you are talking about…" – WAIT A MINUTE – what studies is Rand talking about? He's NOT. He's asking YOU, Fauci, for studies in support of YOUR recommendations.
Then Fauci tries to shut up Rand Paul – gets him to back off a bit – and pivots back to SCARY VARIANTS, and the South African results from the Johnson+Johnson trials – with which I'm actually familiar.
Rand Paul actually NAILS Fauci on something I missed.
The J+J results tested people for antibodies – NOT CLINICAL SICKNESS. This is KEY. This is absolutely freaking KEY. We tend to forget that we MEASURE what we ACTUALLY MEASURE – not what we often THINK we're measuring.
The J+J serological results, obtained in the course of vaccine trials, looked at whether people had antibodies to different variants at various stages in the testing, and included BOTH vaccine and placebo groups. Novavax also tested in South Africa, and also got interesting results. But the fact is, these were not tests for disease – they were tests for ANTIBODIES. And the results Fauci is talking about were BYPRODUCTS of the study. They weren't even the POINT of the study.
This just blows up everything Fauci is saying.
Fauci is a hypocrite and a jerk. One the one hand, he DISMISSES clinical testing cases in hospitals for hydroxychloroquine, where LOGIC – PURE LOGIC – can tell you that something is WORKING FOR TREATING DISEASE – because THAT is what you're actually measuring – but Fauci will dismiss it as not being "placebo, double-blind".
Or worse still, Fauci ignored the "Lancetgate effect" – a statistical proof of DEATH on a societal scale when HCQ was withdrawn – showing the BENEFIT of hydroxychloroquine on a NATIONAL SCALE.
Yeah. Fauci loves statistics on a tiny, ancillary, and potentially mistaken scale, but when it's BIG and STARK and says the wrong thing – well – then he just IGNORES them.
So what we're talking about Fauci ignoring are studies of REAL DISEASE – not just antibodies in the blood – and LOGIC is fully operant on the results – but that's no good for Fauci because "no placebo" and "not double-blind".
BUT YET – here we see Fauci talking about MERE HANDFULS OF PEOPLE GETTING ANTIBODIES to the new South African variant, both having HAD the prior version, and NOT having had any prior version. That's all it was. A mere BLIP in a much larger population of tested people.
But that is ALL YOU MEASURED – antibodies in people who walked in the door – and yet Fauci EXTRAPOLATES THIS to disease, and "no protection".
And it LITERALLY does NOT MEAN THAT. It only means what people were tested for. ANTIBODIES. It means that getting new antibodies happens, when exposed to a new version, whether you had an old version or not.
WHOOPEE!
Now I see why people don't think much of Fauci. He sees PROCESS and BUREAUCRACY as TRUTH. He doesn't see the big picture – STOPPING DISEASE. Yet Rand Paul does.
Wow. Just blown away. Mikovits is right. This guy is a PROBLEM.
MOVING ON.
So here's what happens next. Rand Paul pushes the fact that we have NO hospitalizations or deaths for people who have recovered or been vaccinated. He confronts Fauci with this. What does Fauci do? He IGNORES the question – IGNORES the challenge – and sticks to "you're not listening" and "variants and wild type".
Just as an aside, Fauci is helping his ChiCom buddies by calling the original version "wild type", when it was anything but "wild", but THAT is Fauci to the core. Evil little RAT. Bat soup, Fauci! BAT SOUP! You believe that crap?
Buzz off, Fauci, you little demon! LOL. Good grief, I hate people who abuse science like this evil gnome.
Sorry – the guy just makes me burn. "Wild Type"! Bullshit! This thing started mutating so fast, it was wild for about 5 people.
SPIT!
So Rand Paul hits Fauci AGAIN with no significant hospitalization or death, and Fauci AGAIN circles back to variants, and says we have "no variants in this country".
Now THAT is a flat out lie. FLAT. OUT. LIE.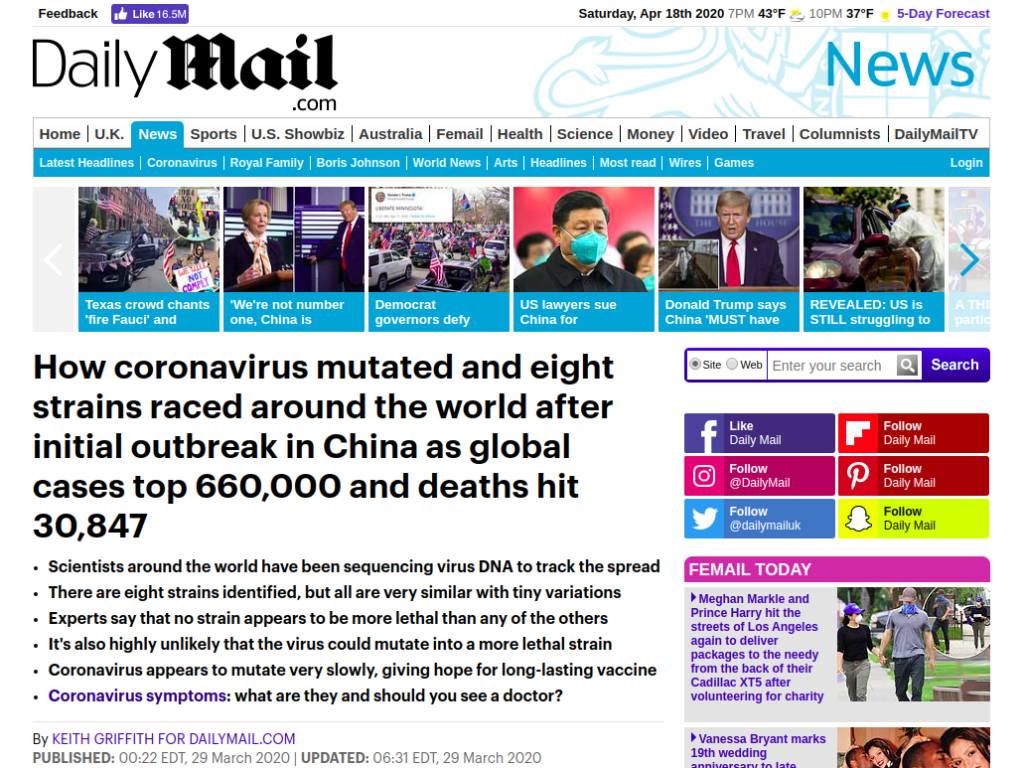 There is an AWESOME website called NEXTSTRAIN.ORG which has phenomenal analysis of the mutations of viruses, and has been on top of COVID-19 coronavirus mutations from the very beginning.
And I mean VERY beginning.
The site is very up-to-date as well. For example, here is the evolution of SARS-COV-2 as of this very moment: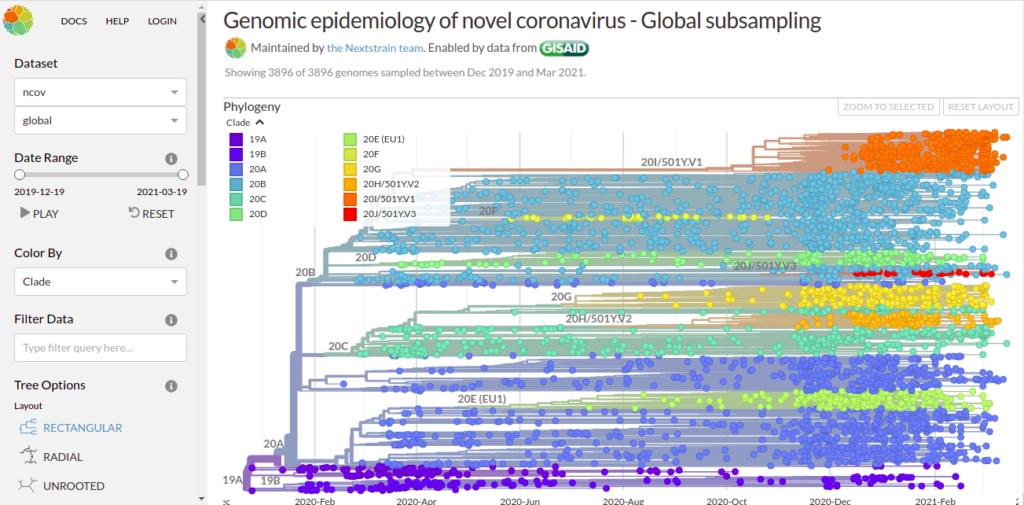 LINK: https://nextstrain.org/ncov/global
This site leads off to another which deals with the COVID-19 variants, called COVARIANTS.ORG.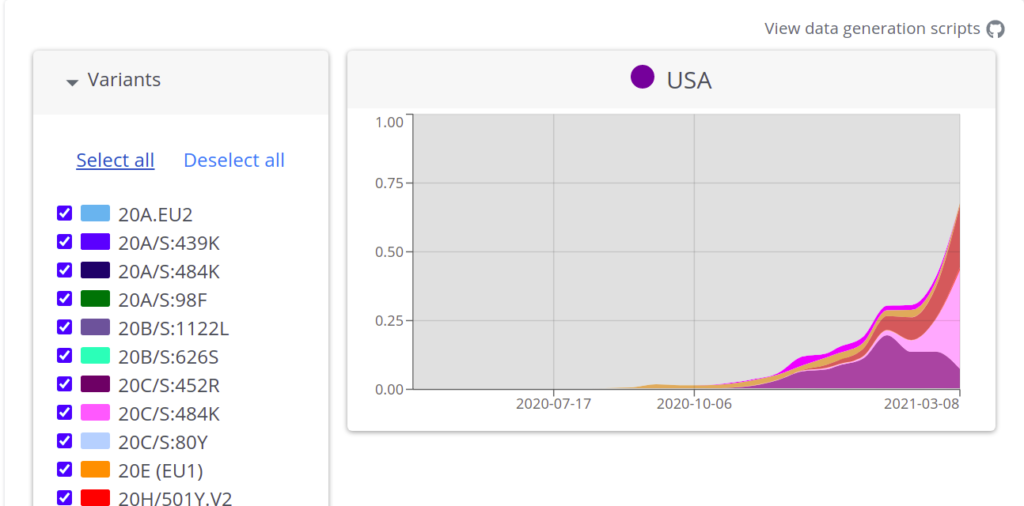 LINK: https://covariants.org/per-country
I was looking at Nextstrain from the VERY beginning of this thing. There were country variants ALL OVER the world IMMEDIATELY, and they were spreading to other countries as fast as PEOPLE WERE.
Let's look at the situation right now. We don't have variants?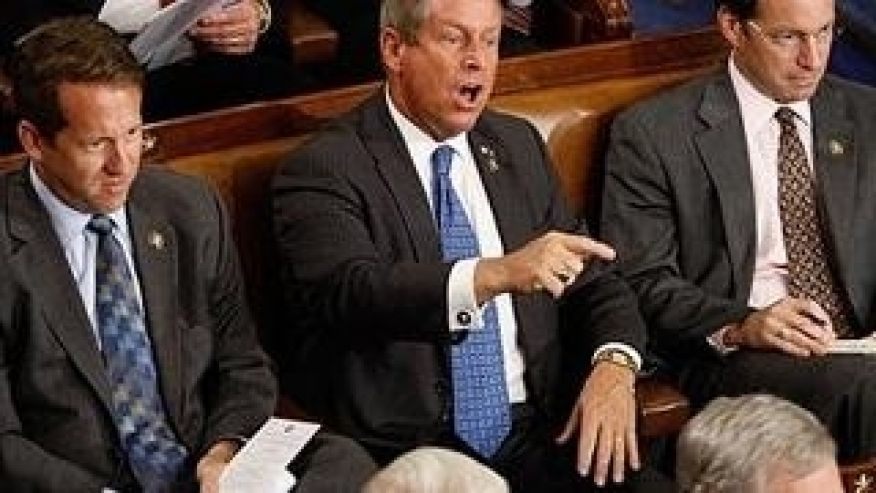 YOU LIE!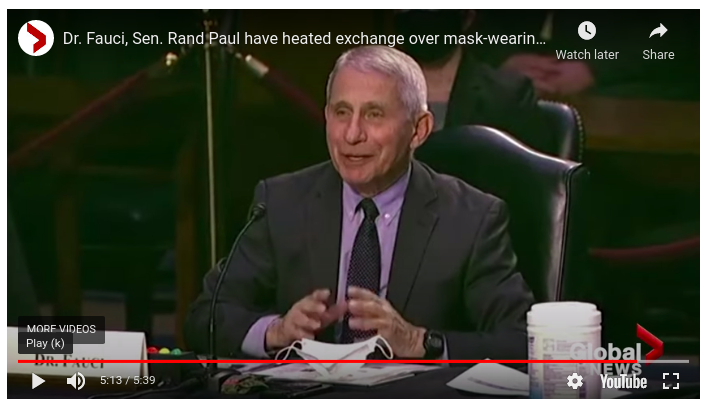 This is what Fauci looks like when he lies. Keep it for reference.
And this is what he's lying about.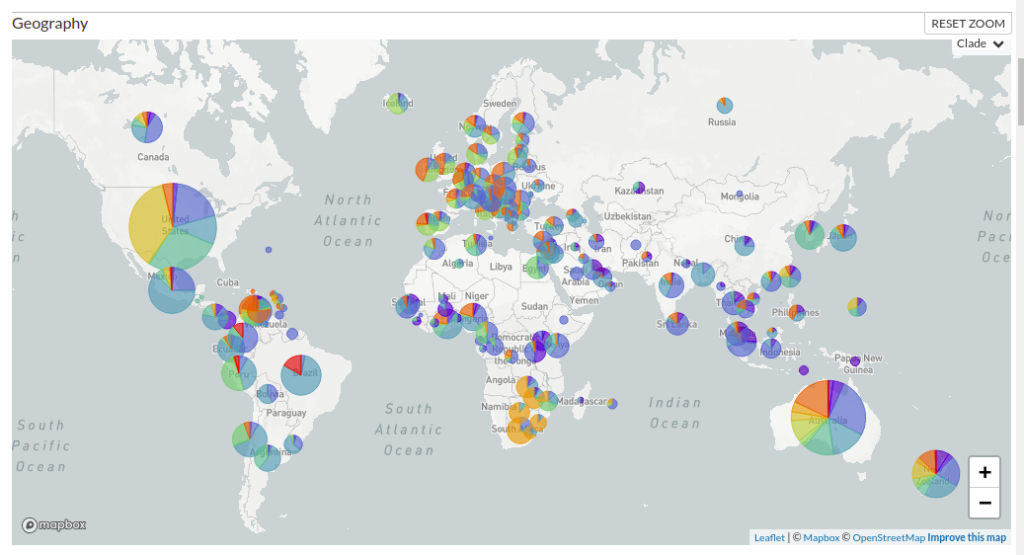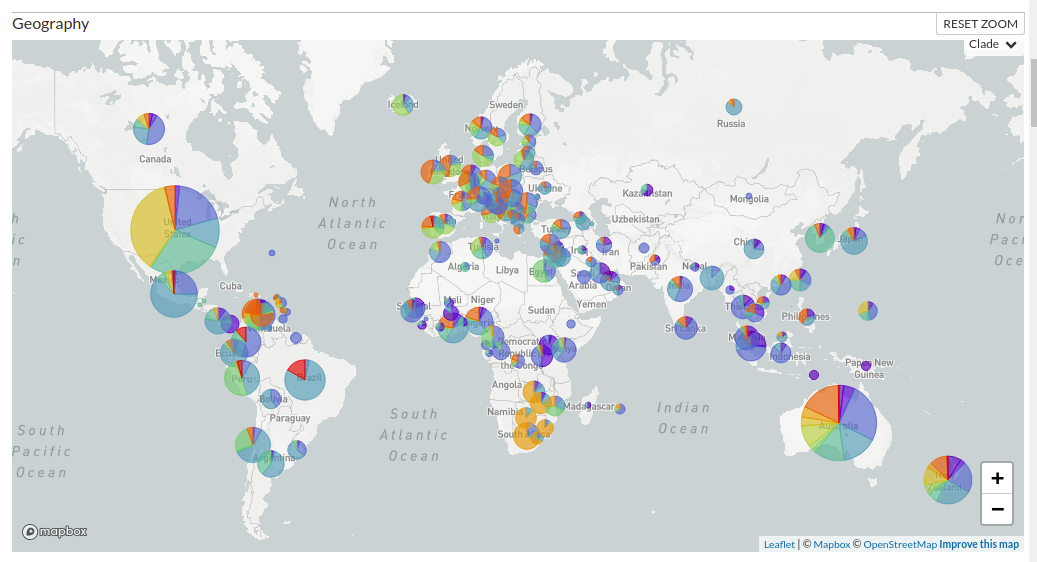 Oh, but it gets better – look how variants were emerging from the very beginning:

So no – do NOT tell me that we don't have any variants, Tony Fauci, you MEALY-MOUTHED GARDEN GNOME.
At that point, Rand Paul just launches into a barrage of truth. JUST LISTEN TO HIM. He is so spot on with the idea of giving people a REWARD for getting the vaccine.
Now – some Democrat chickie-poo comes in and tries to rescue Fauci – who does his best to lie his way out, saying that Rand Paul's statements are only true about the "wild type" and not the variants. We may get into the possibility that the first "allegedly stronger variant" showing up in South Africa……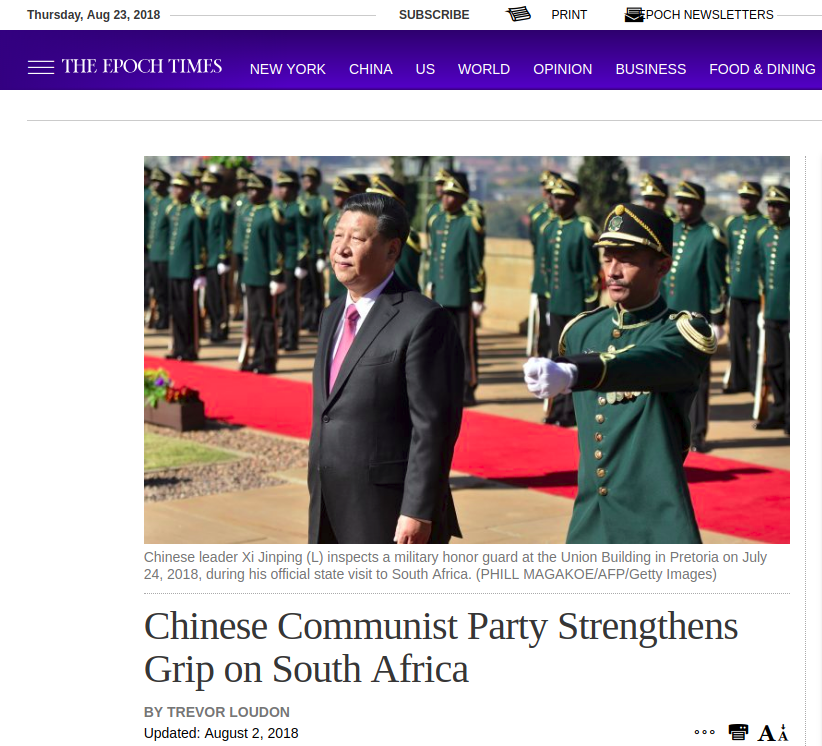 …..may be a product of more ChiCom shenanigans, as a propaganda ASSIST to the AmeriCommies and the COVID COMMIES such as Fauci – but let's just leave that possibility aside for now.
Fauci simply cannot consider letting off on what appear to be IMAGINARY lack of protections of the recovered and vaccinated, even though there is no evidence to suggest that they are not actually protected.
WHY? Why persist in keeping people fearful, and ready for that next vaccine?
I believe it's because they have a reason.
---
Dr. Geert Vanden Bossche's Warning
Here is the text of his letter which you saw on Twitter above.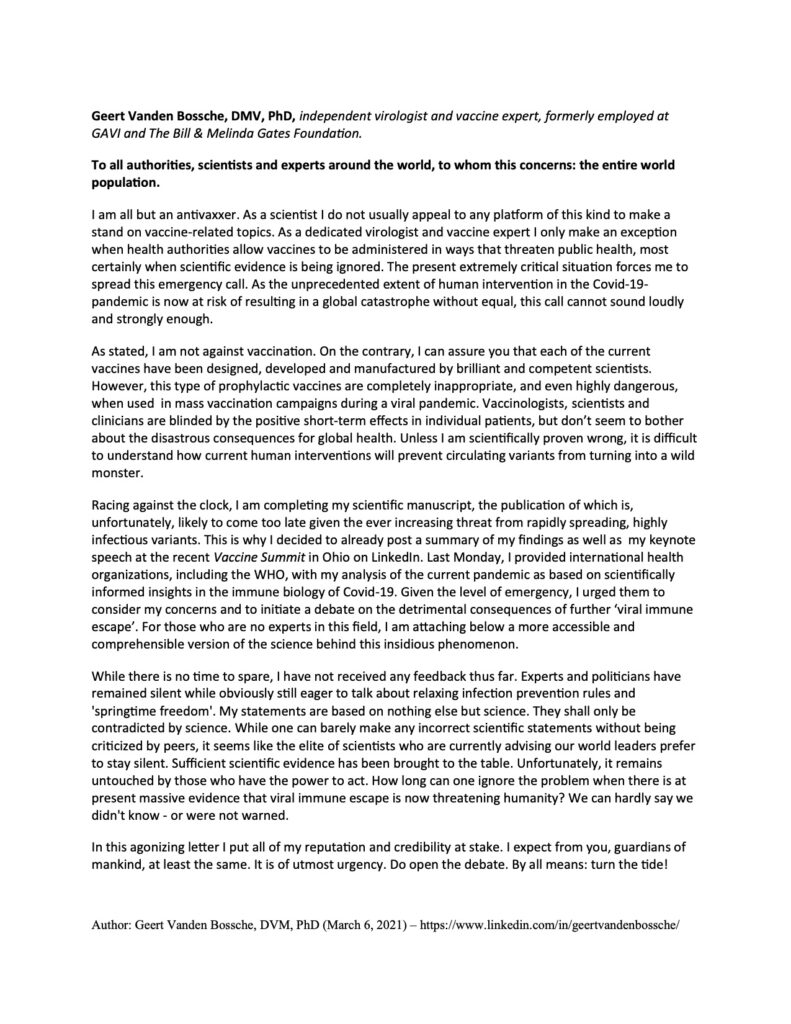 I personally like his video better – this interview – but it's a long listen.
Now – this guy does not spell out the possibility that we could end up with a situation EXACTLY like Marek's Disease – but others have, because that is ONE of the "better" outcomes of what GVB is talking about.
Yeah – it could be WORSE than Marek's Disease. But THAT is bad enough.
Here is the internet explanation of the "better" Marek's outcome, where we are ALL dependent on a vaccine we would not have needed if we HADN'T over-vaccinated – but at least the vaccine keeps us from dying.
Here is the excellent Wikipedia description of that disease.
LINK: https://en.wikipedia.org/wiki/Marek's_disease
ARCHIVE: https://archive.fo/ks5rX
So – are you feeling a bit of overload at this point?
I suggest getting a drink, coming back, and listening to the NEXT GUY.
---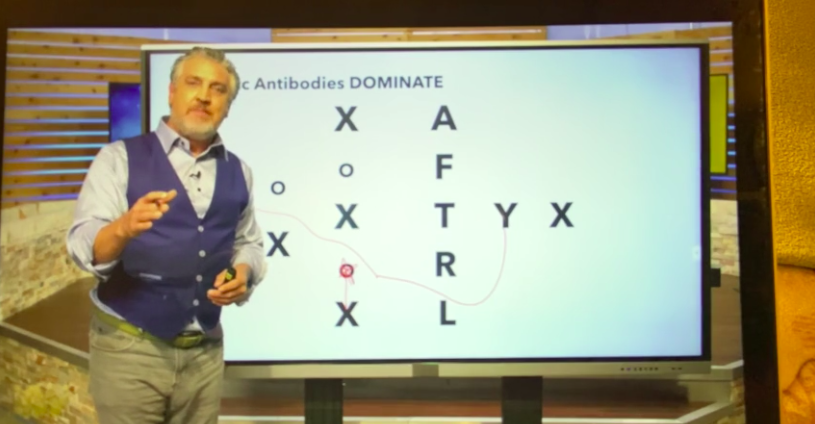 Del Bigtree's Antibody Explainer
I am not actually a fan of this guy – but JUST because of his wonderful "football playbook" method of explaining Geert Vanden Bossche's point about the virtue of general antibodies over specific antibodies under certain circumstances, I really have to recommend watching this.
Del Bigtree has followed this subject (vaccines for a while, and while he's generally on the "opposite side" from me (with Del being generally opposed to vaccines), he clearly understands what GVB is saying, and makes it very easy to understand.
So here you go:
LINK: https://rumble.com/vek0e7-mass-vaccination-in-a-pandemic-did-we-do-the-right-thing.html
VIDEO:
So what else can I tell you?
Well – here is a great bibliography on variants, before I wrap up.
---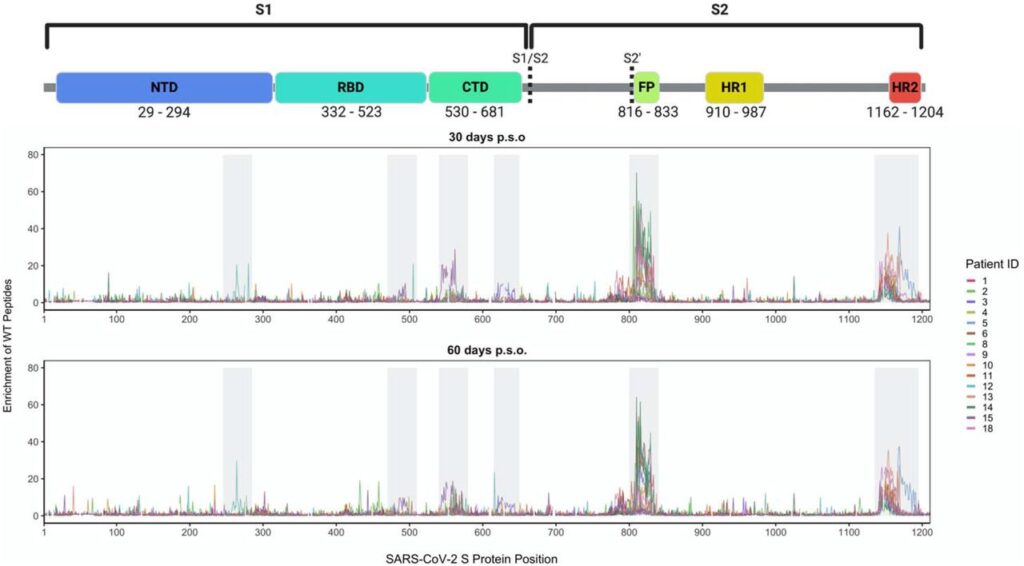 Wolf's nCoV Variant Reading List
"Escape mutations" could help SARS-CoV-2 evade immune attack
High resolution profiling of pathways of escape for SARS-CoV-2 spike-binding antibodies
Novavax COVID-19 vaccine shows efficacy against South African SARS-CoV-2 variant
Researchers discover new COVID-19 variants in three South African provinces
Preliminary Efficacy of the NVX-CoV2373 Covid-19 Vaccine Against the B.1.351 Variant
Study of coronavirus variants predicts virus evolving to escape current vaccines
The coronavirus variants experts are most concerned about
---
Conclusions
I'll keep it short.
Between Rand Paul's excellent questions about WHEN we should call "OVER" an overreaction to a "novel cold and flu" that was masqueraded to us as a pandemic to falsely elect Joe Biden…..
Between Anthony Fauci's dissembling, his evasions, and his flat-out lies, to support policies which have only the trickiest and most misleading grounding in science or reality….
Between Geert Vanden Bossche's disturbingly simple question of whether our vaccines are actually DRIVING the evolution of new and potentially increasingly dangerous variants of COVID-19…..
And between Wolf Moon's suspicion that the "South African variant" may actually be the product of more perfectly timed Chinese bio-adventurism…..
It would behoove us to ask whether we are on the right track with mass vaccination of a NEW FLU.
Because if we're NOT on the right track, then "my vaccine" may not kill grandma – but it could very well kill the grandkids.
And that's not nice.
W