No science post.
No political rants.
Not even any milder political stuff.
Not today.
Today I mark the passing of a friend.
Darwin
June 2018 – 13 July 2023
I went to a reptile show in Denver on November 11, 2018, quite coincidentally the 100th anniversary of the end of World War I. There were a fair number of bearded dragons for sale there, but I didn't want a really tiny, young one; it sounded like there were too many ways for them to come to harm. I opted for one about 5 months old, one who seemed to be a mix of green, yellow and orange, without being too garish. At the time he was approximately 14″ long including an unusually long tail for a bearded dragon. (He would eventually reach 21 3/4 inches. Some told me if they hadn't actually seen him, they would have thought the long tail was a photoshop.)
A wild bearded dragon's color is generally a mix of grays and dull tans, though the pattern is fairly intricate. But reptile breeders love to select for very unnatural color schemes. Red like flaming hot Cheetoh. Bright yellow like a lemon. Or even an albino. Or different skin textures, such as silky smooth, instead of very rough. (The spikes along the sides are actually pretty soft, but the skin naturally feels like rough grit sandpaper.) They give all of these morphs (and others I haven't described) names.
I didn't go too outrageous on the color…I could almost imagine Darwin's color being decent camouflage in central Australia. That's where his particular species (one of eight bearded dragon species, and by far the most common of the eight in the pet trade) is from. And it turned out the green coloration is an illusion; he often exhibited spotty gray coloration which when in close proximity to the yellow, looks a drab greenish. When he was upset the gray color would disappear leaving him looking a drab yellow on the head where there is no orange.
It turned out that my lizard was a "hypo, orange tiger stripe dunner." (Hypo simply meant hypomelanistic, and the prime indicator is clear, rather than black, claws. Dunner has to do with the pattern of scales on the belly.)
I named him Darwin, not after Charles, but after the city of Darwin in Australia, which got its name from the bay it is on, which in turn was named that in the 1830s. Since Charles didn't become famous until 1859 with the publication of Origin of Species, I concluded the city was not named after him.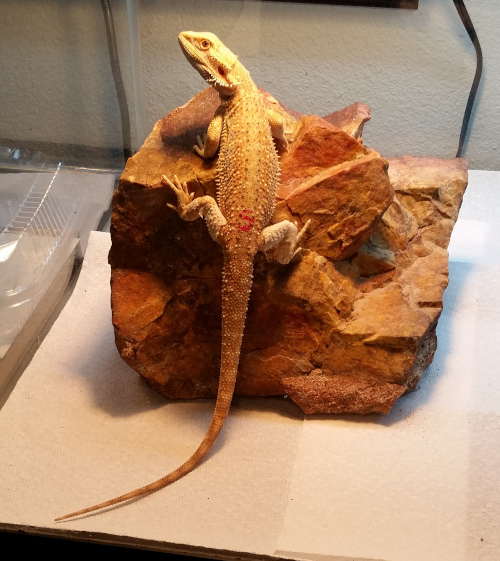 I was wrong. The city was named by the crew of the HMS Beagle, after Charles Darwin who had been on the ship collecting the specimens that would eventually lead him to knowledge of evolution by natural selection. Apparently they had liked him well enough to name places after him–well before he was famous.
Darwin, this time I mean the lizard, had one thing in common with Charles. He was very likeable. To hell with "Everybody Loves Raymond." Everybody loved Darwin.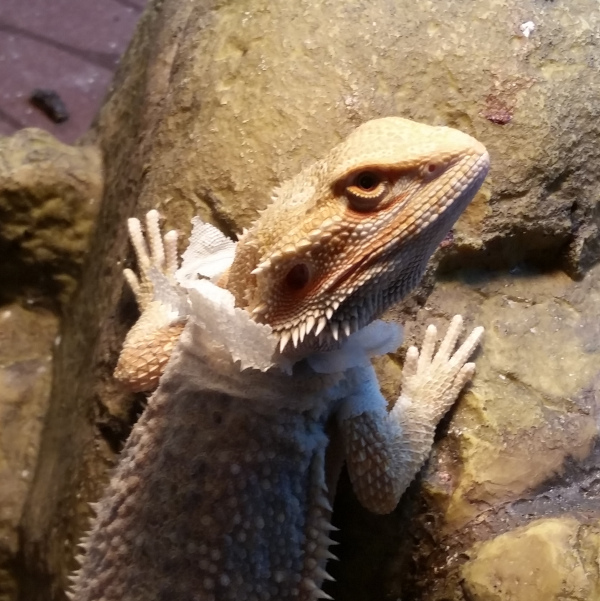 It is easy (though painful) to eulogize him; there's no mentally editing out bad personality traits with a "let's not talk about that" or a "maybe I can make a joke of this."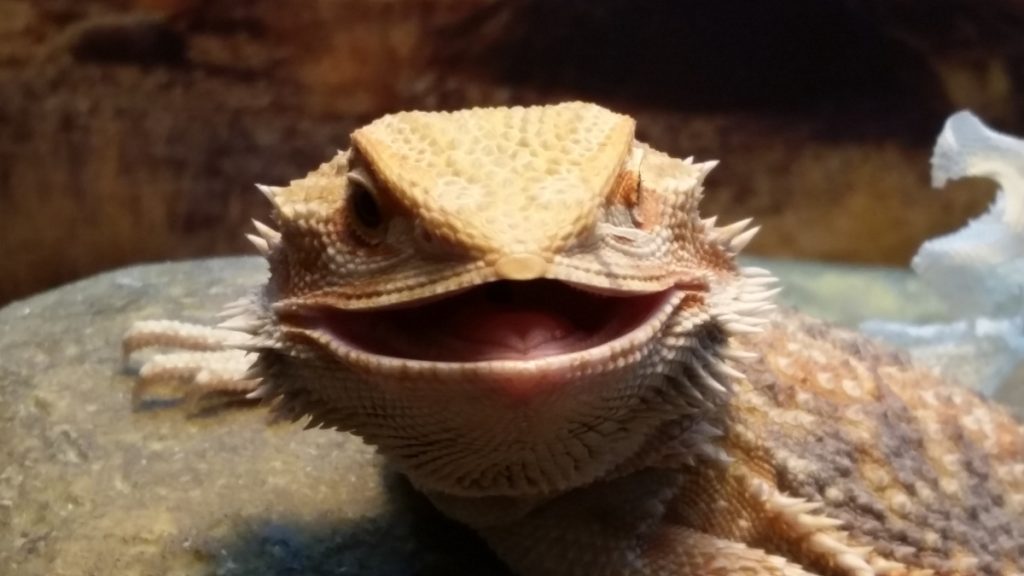 Darwin did have a personality, contrary to those who diss reptiles as not having personalities. In fact, his personality was better than that of most people–a sentiment echoed by a condolence card I received after I wrote the first draft of this.
I could show pictures of him on my office chair (or keyboard) during the early COVID lockdown (it was designated "take your lizard to work week" in this house) and people would spontaneously tell me on the basis of the photographs alone that they had never seen such personality in a lizard.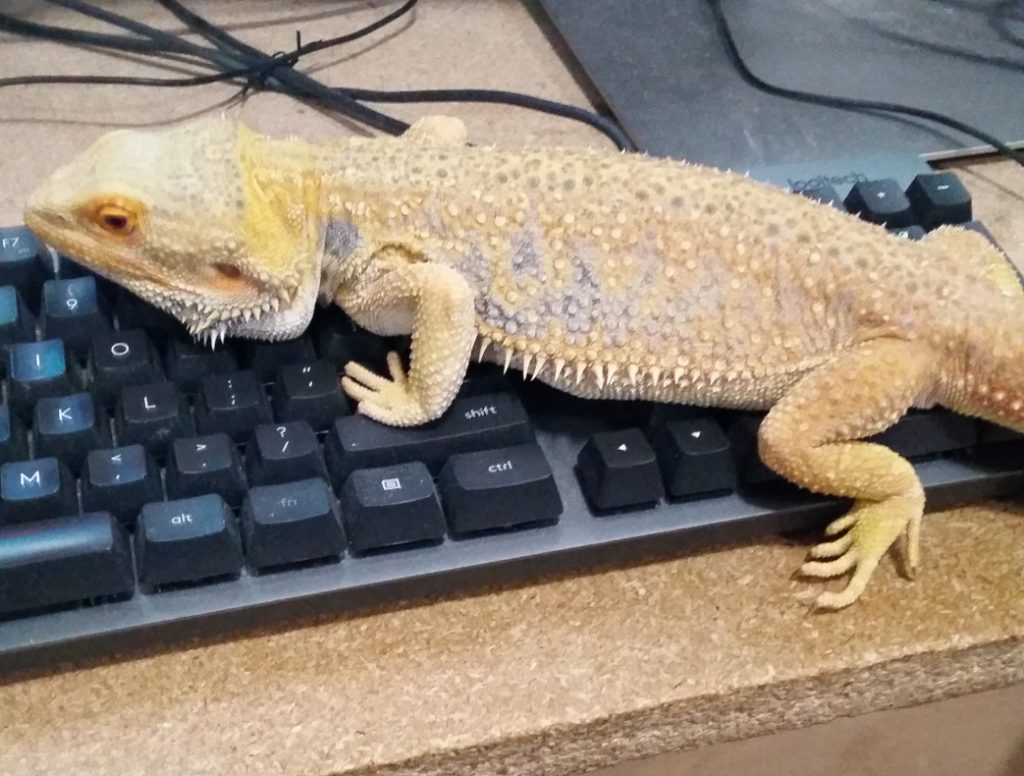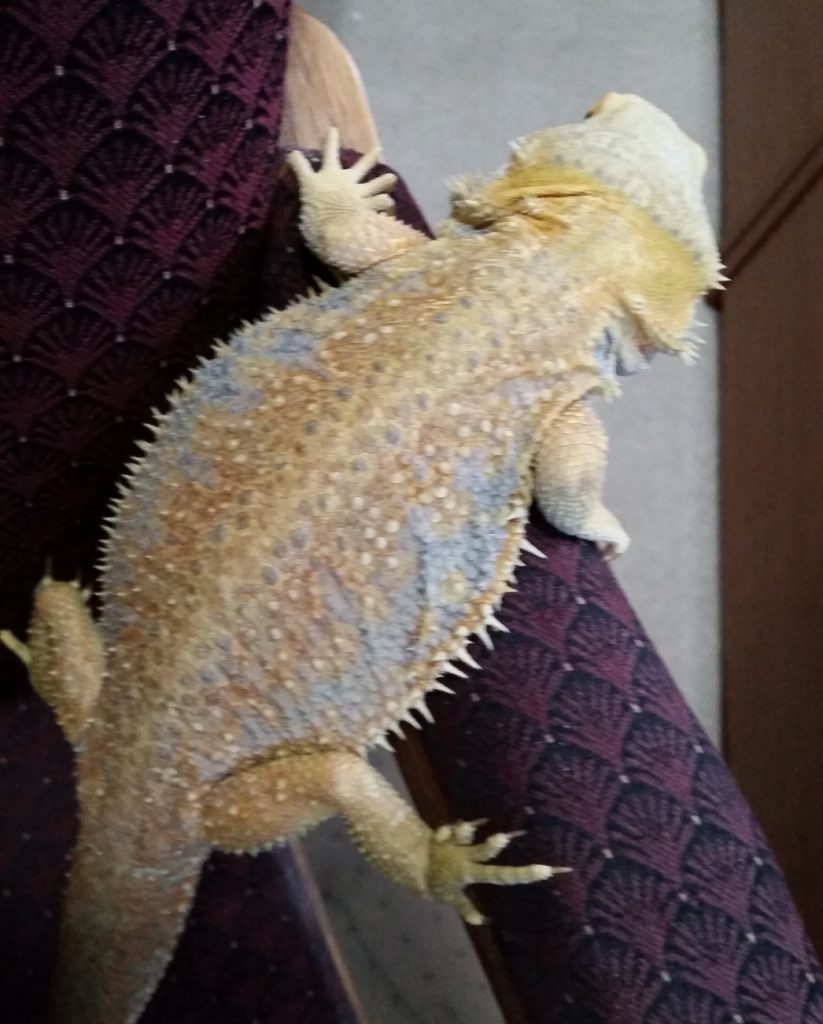 I could take him to street markets, perched on my shoulder and people would be delighted to see him, he was a favorite of kids.
Of course the downside is he sometimes proofread my posts.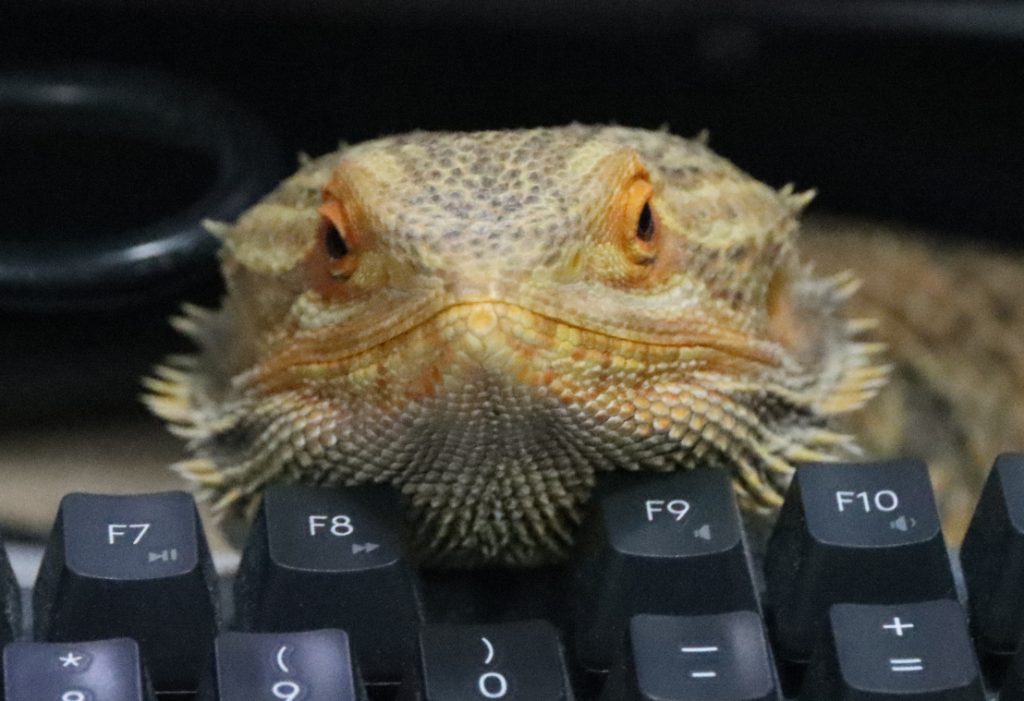 The people at the vet's office loved Darwin too; they'd fawn over him more than they would most people's dogs.
His picture is posted in four locations in this county, one a business whose owner would be appalled to find I actually write for a "Trumper" site like this. He's the unofficial mascot of that store.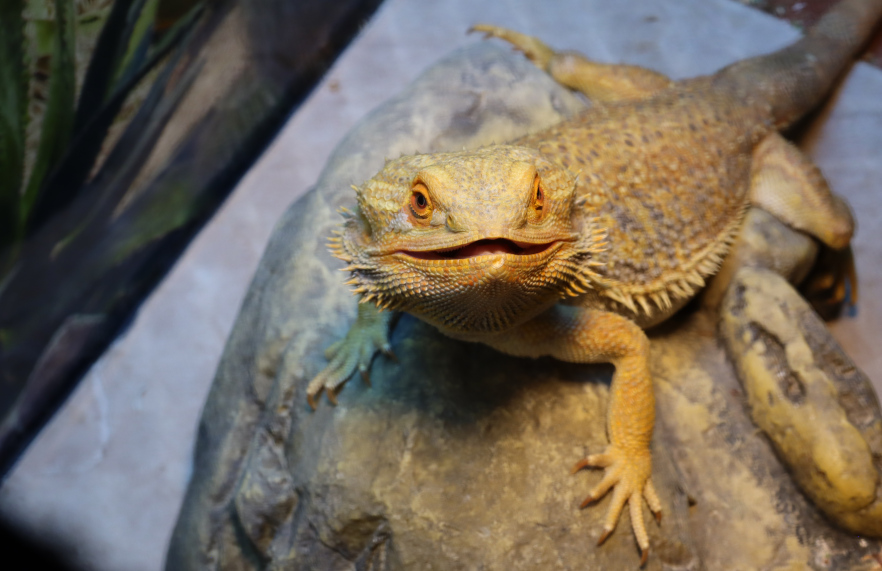 Or rather, he was.
A few months ago I noticed he was having trouble with his back legs, which were swollen. I called for an appointment at the vet, and had to wait a month.
The news was grim. He almost certainly had kidney cancer; it was hugely swollen in the ultrasound. However, there was one dim hope: It might only be a kidney infection.
So began a course of fifteen antibiotic shots, two every week. After the fifth shot, though, there would be evaluation, and if there were no improvement, well, it would be the time for that "quality of life" discussion.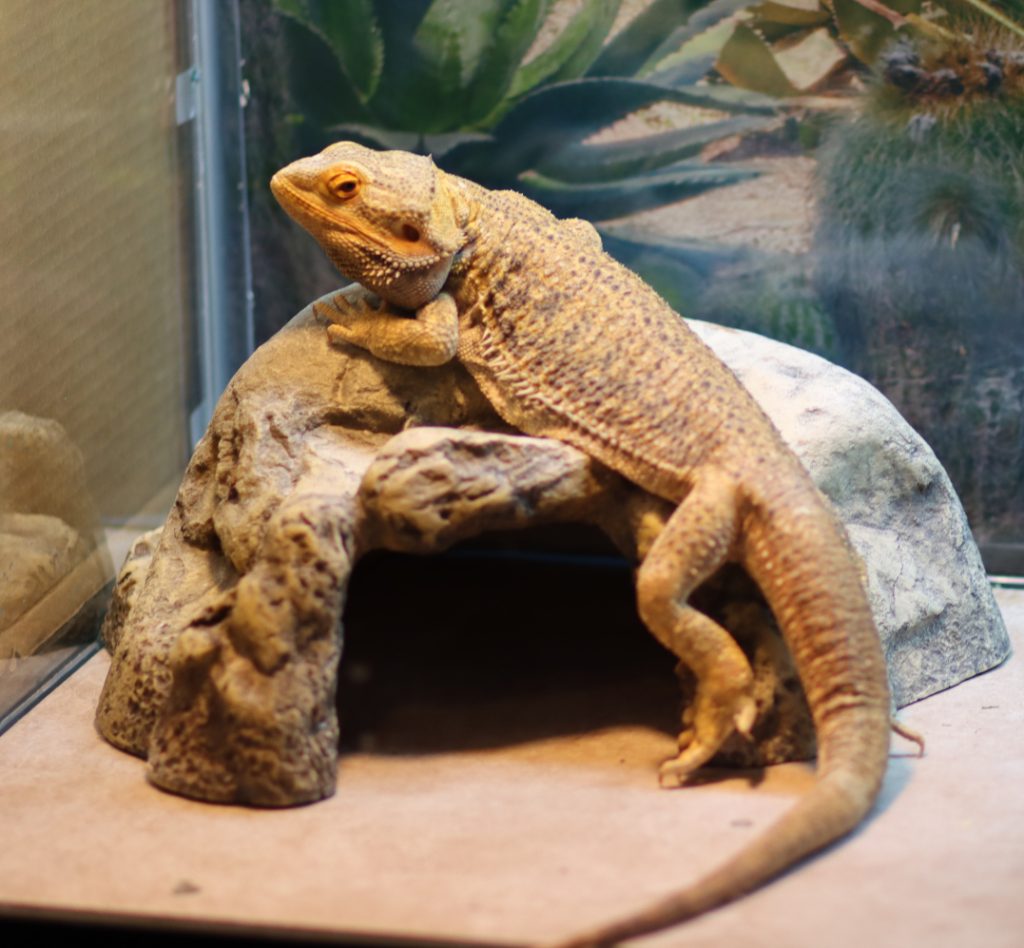 Well, wouldn't you know, it seemed to be working. The vet was ecstatic; he truly thought the infection was very unlikely, but since it was treatable and the cancer was not, it had been worth the gamble.
And even though I don't like driving to the part of town the vet is located at, I was overjoyed to hear I'd be doing it ten more times for the rest of the shots. (I couldn't get the hang of injecting him. The vet could do it without Darwin even noticing; in my case he'd try to get away from my attempts.)
So we went through the ten remaining shots, and scheduled a follow up for a month after the last shot; that follow-up was this past Thursday.
A week ago I noticed Darwin wasn't climbing to the top of his basking rock. Basking is a necessity for many reptiles, it helps them digest their food. Now, instead of his rear legs being useless, it was his front legs…which I tend to call arms when I'm not thinking, as he grasped with those feet ("hands").
And his appetite was off.
He was basically unable to lift himself off the ground. Whereas before he could drag himself up the basking rock with his front legs, he couldn't do that now with no motion in those legs.
I thought this might be any one of the bugs and other micro-critters that sometimes infest the digestive tracts of reptiles (some of them can get us too: pinworms, for instance). He'd had a lot of difficulty with those in the past. He left me with a sample of well, you know, on Monday which I duly collected and refrigerated, knowing the vet could check it over. (He very uncharacteristically deposited it inside his hide, rather than onto his basking rock. And didn't move after he left it.)
Alas this past Thursday the verdict was…"And" logic. He had had an infection and cancer. And with the infection gone, the cancer was progressing rapidly now.
It was time to make The Decision. So at roughly 4PM on Thursday, Darwin–who brought a smile if not joy to everyone he met, even to people who don't like lizards–Darwin was no more.
His light, small as it was, has left this world of gathering darkness.
The photograph at the top of the post is of Darwin being held by a tech at the vet's office, less than an hour before he was put to sleep. The mere fact that his front legs aren't gripping something should tell you how bad it was.
I have other pictures of him on the table, and him being held on, then on me.
He found the strength to move from my arm partway onto my chest (which he liked to do), even five minutes before he took his last sleep.
Spot (i.e., paper) Prices
Last week:
Gold $1,925.40
Silver $23.16
Platinum $920.00
Palladium $1,278.00
Rhodium $5,250.00
This week, 3PM Mountain Time, markets have closed for the weekend.
Gold $1,955.30
Silver $24.96
Platinum $982.00
Palladium $1,304.00
Rhodium $5,450.00
Things up a bit, especially gold. Gold was down for the day on Friday, so clearly Thursday's numbers were even higher. Silver closed up one cent versus Thursday.
Obligatory PSAs and Reminders
References to our opponents as "Lizard People" are officially in poor taste today.

Darwin had ten million times as much personality as they do.

And not one shred of evil.
China is Lower than Whale Shit
Remember Hong Kong!!!
中国是个混蛋 !!!
Zhōngguò shì gè hùndàn !!!
China is asshoe !!!
China is in the White House
Since Wednesday, January 20 at Noon EST, the bought-and-paid for His Fraudulency Joseph Biden has been in the White House. It's as good as having China in the Oval Office.
Joe Biden is Asshoe
China is in the White House, because Joe Biden is in the White House, and Joe Biden is identically equal to China. China is Asshoe. Therefore, Joe Biden is Asshoe.
But of course the much more important thing to realize:
Joe Biden Didn't Win
乔*拜登没赢 !!!
Qiáo Bài dēng méi yíng !!!
Joe Biden didn't win !!!