3931

Q !!Hs1Jq13jV6 ID: ba29f9 No.8748891
Apr 10 2020 14:53:58 (EST)

https://twitter.com/SeekretAgent/status/1248681547827417093 [this tweet is from a suspended account]
The credibility of our institutions [Constitutional Law that governs our Great Land [Our Republic]], and our ability to regain the trust and faith of the American people, all depends on our ability to restore [EQUAL JUSTICE UNDER THE LAW] by prosecuting those responsible [Blind-Justice].
Treasonous acts [sedition] against the Republic [the 'People'] of the United States [START – LEAD-IN].
Infiltration [rogue] at the highest levels of our gov, media, corps, etc.
Planned & coordinated [D/ F].
This is not about politics.
Something far more sinister [evil] has been allowed to flourish through all parts of our society.
It has been protected and safeguarded.
It has been camouflaged to appear as trusted.
It has been projected [normalized] by stars.
[CLAS 1-99]
One must only look to see.
[Symbolism will be their downfall]
This is not another [4] year election.
"Be on your guard; stand firm in the faith; be courageous; be strong."
You are not alone.
We stand together.
Q
2020 was not just another four year election. We know that. It was for all the marbles.
All stops were pulled out to be sure President Donald Trump "lost." In real time, "news" programming audiences, and the people in the White House situation room watched the steal.
We are told the AUDIT, not a recount, but an AUDIT in Arizona is the first domino to fall. When the first wave of results were released on Friday, it SEEMED like a nothingburger, but was it?
From one of our own.
Linda Coyote September 25, 2021 01:10
I'm glad you're postponing the physics lessons this week, Steve. I don't think my mind could process it tonight. But I'll look forward to the next installment.
Thinking back on what came out at the Arizona audit, I think there were quite a few booms, even if delivered in a low key way:
Dominion deleted the server logs the day before the audit.
The servers were connected to the internet (in spite of claims otherwise) and they found a lot of activity going on.
There was a breach during the election.
The machines weren't certified. (That right there should throw the results out).
There were close to 50,000 very sketchy ballots which should be thrown out.
And I'm sure there were a few more, but those stand out in my mind.
And yet the fake news is still running with the story that the "recount" was the same.
Well….
And the reason that President Trump chose to put on a rally the DAY AFTER the audit results, as incomplete as they are, were delivered is….
While that answer is being formulated, here's some information about Perry, Georgia:
History
Founded in 1823 as "Wattsville", the town was located near the center of Houston County and served as its courthouse. The name was soon changed to honor Commodore Oliver Hazard Perry, a hero of the War of 1812.[10] The Georgia General Assembly incorporated the town on December 9, 1824. The original city limit was a circle, one mile in diameter, except where bounded on the north by Big Indian Creek.
Antebellum industry in Perry included gristmills, sawmills, and cotton gins. The Houston Home Journal began publishing in 1870. Cotton was the most significant commodity crop in the 20th century.
Tourism has been important to the local economy since about 1920, when U.S. Highway 41 to Florida was paved. The New Perry Hotel, built in 1870 and rebuilt in 1925, became a landmark for many Florida tourists. The downtown area has emphasized its historic heritage and has several quaint shops and restaurants.
Since World War II, when Robins Air Force Base was established in nearby Warner Robins, the military has been a significant employer in the area. Warner Robins is several times larger than Perry. Other manufacturers in the city have included Frito-Lay, Perdue Farms (formally Heileman Brewing Co.), and Cemex, Inc. (formally Penn-Dixie Cement and Medusa Cement Company).
In the early 1960s Interstate 75 was constructed through the western side of the city. It has attracted more businesses that cater to travelers. The Georgia National Fairgrounds and Agricenter opened in 1990. The Go Fish Georgia Education Center opened October 8, 2010.[11]
And the other side is still pushing their crap.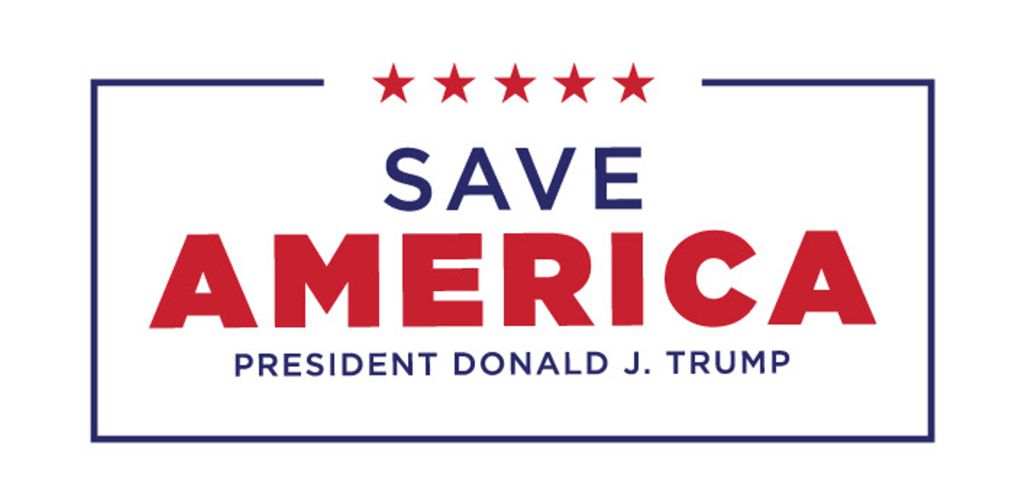 Over the past four years, President Donald Trump's administration delivered for Americans of all backgrounds like never before. Save America is about building on those accomplishments, supporting the brave conservatives who will define the future of the America First Movement, the future of our party, and the future of our beloved country. Save America is also about ensuring that we always keep America First, in our foreign and domestic policy. We take pride in our country, we teach the truth about our history, we celebrate our rich heritage and national traditions, and of course, we respect our great American Flag.
We are committed to defending innocent life and to upholding the Judeo-Christian values of our founding.
We believe in the promise of the Declaration of Independence, that we are all made EQUAL by our Creator, and that must all be TREATED equal under the law.
We know that our rights do not come from government, they come from God, and no earthly force can ever take those rights away. That includes the right to religious liberty and the right to Keep and Bear Arms.
We believe in rebuilding our previously depleted military and ending the endless wars our failed politicians of the past got us into for decades.
We embrace free thought, we welcome robust debate, and we are not afraid to stand up to the oppressive dictates of political correctness.
We know that the rule of law is the ultimate safeguard of our freedoms, and we affirm that the Constitution means exactly what it says AS WRITTEN.
We support fair trade, low taxes, and fewer job-killing regulations, and we know that America must always have the most powerful military on the face of the Earth.
We believe in Law and Order, and we believe that the men and women of law enforcement are HEROES who deserve our absolute support.
We believe in FREE SPEECH and Fair Elections. We must ensure fair, honest, transparent, and secure elections going forward – where every LEGAL VOTE counts.
---
As usual for the Saturday evening rallies, I have a previous engagement, but might be back in time for the later start, so please keep the thread lively. I'll put some links here for better viewing as the day goes on and they become available.
Will add more this afternoon.