Everybody underestimates Spain. The last letter in "PIGS" is far less of an insult than an error.
Years ago, when I was at a conference, and Japanese industrial spies were getting me drunk (it was a great red wine), I decided that I had to give them SOMETHING for their time and effort, if only to keep them distracted, so instead of giving them any of our actual concerns, I gave them my personal assessment of "somebody else's industry in Spain". It was great information, and it was true – and as I always say, the TRUTH is the best cover of all. The Japanese were as surprised as I had been, when I realized how far and how fast Spain had come after it emerged from Franco – at that time almost as backwards as Cuba.
Whether I was ratting out Spain or bragging up Spain, DO NOT underestimate Spain. When Spain is FREE and prosperous, the WORLD prospers.
So when it came to my attention recently that "Spanish medical deplorables" had found the key to ending America's COVID communism problem, I "trusted the science" immediately.
Reading the paper convinced me even more.
I don't remember WHO on this site posted the first link to the "Spanish nursing home antihistamine paper", or on what site that link was found (H/T to whoever!) [LATER – RAC found it – it was Deplorable Patriot, HERE], but the results described therein were every bit as impressive as the story of the American nursing home that saved all its residents by immediate administration of prophylactic hydroxychloroquine.
To briefly describe what happened, Spanish nursing homes were horribly impacted by the COVID pandemic, but TWO of them stood out by having almost no deaths at all.
The story there is a beautiful example of SCIENCE IN ACTION. It was a simple empirical observation, but the best science happens that way. And I quote…..
"We included antihistamines for the treatment of all patients after observing that when added to the initial treatment, our patients had a notable improvement in 24–48 h."
After they did this – NOBODY DIED.
The Spanish crisis was between March and May of 2020. From May to August 2020, applying the therapy, there were no new cases or deaths. The results were researched and submitted for publication (received) on September 16, 2020. The paper was published online 4 months later, on January 16, 2021, and appeared in the April, 2021 issue of the journal.
---
LINK: https://www.sciencedirect.com/science/article/abs/pii/S1094553921000018
Volume 67, April 2021, 101989
Antihistamines and azithromycin as a treatment for COVID-19 on primary health care – A retrospective observational study in elderly patients
Author links open overlay panel
Juan IgnacioMorán BlancoabJudith A.Alvarenga BonillaabSakaeHommacKazuoSuzukidPhilipFremont-SmitheKarinaVillar Gómez de las Herasf
aServicio de Salud de Castilla-La Mancha (SESCAM), Toledo, Spain
bCentro de Salud de Yepes, Av. Santa Reliquia, 26, 45313, Yepes, Toledo, Spain
cDepartment of Advanced and Integrated Interstitial Lung Diseases Research, School of Medicine, Toho University, Ota-ku, Tokyo, 143-8540, Japan
dAsia International Institute of Infectious Disease Control, and Department of Health Protection, Graduate School of Medicine, Teikyo University, Itabashi-ku, Tokyo, 173-8605, Japan
eMassachusetts Institute of Technology Lincoln Laboratory, Lexington, MA, USA
fDelegación Provincial de la Consejería de Sanidad. Servicio de Salud Pública, C/ Río Guadalmena, 2, 45007, Toledo, Spain
Received 16 September 2020, Revised 29 December 2020, Accepted 11 January 2021, Available online 16 January 2021.
Abstract
Background
Between March and April 2020, 84 elderly patients with suspected COVID-19 living in two nursing homes of Yepes, Toledo (Spain) were treated early with antihistamines (dexchlorpheniramine, cetirizine or loratadine), adding azithromycin in the 25 symptomatic cases. The outcomes are retrospectively reported. The primary endpoint is the fatality rate of COVID-19. The secondary endpoints are the hospital and ICU admission rates. Endpoints were compared with the official Spanish rates for the elderly. The mean age of our population was 85 and 48% were over 80 years old. No hospital admissions, deaths, nor adverse drug effects were reported in our patient population. By the end of June, 100% of the residents had positive serology for COVID-19. Although clinical trials are needed to determine the efficacy of both drugs in the treatment of COVID-19, this analysis suggests that primary care diagnosis and treatment with antihistamines, plus azithromycin in selected cases, may treat COVID-19 and prevent progression to severe disease in elderly patients.
---
Now, I actually saw this first in a different source, here:
LINK: https://www.ncbi.nlm.nih.gov/pmc/articles/PMC7833340/
The latter source is the FULL PAPER, including references and graphics.
---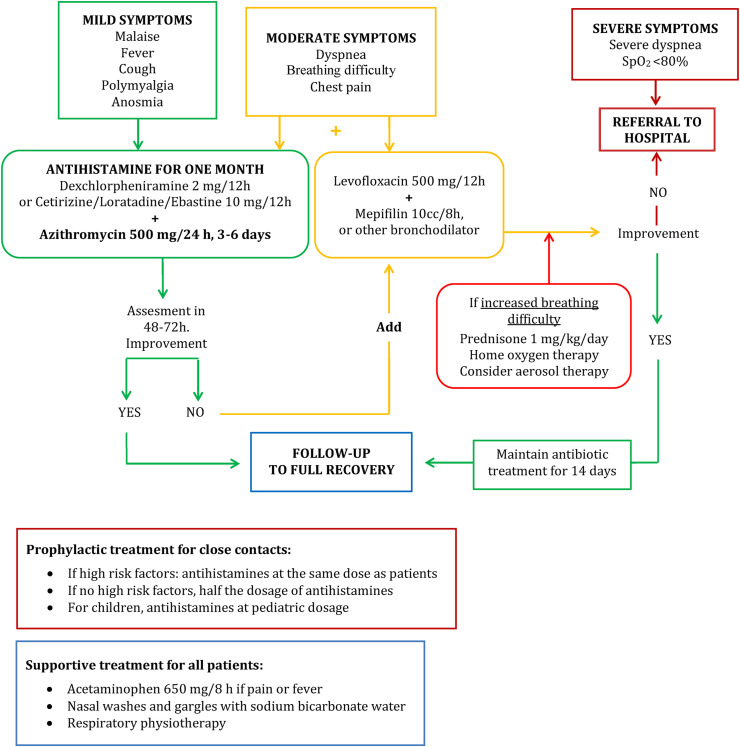 ---
One of the first people to publicize the work was the news-bot "COVID-19 Crusher" on Twitter:
LINK: https://www.latribunadetoledo.es/Noticia/Z46D27633-9AB2-F0DF-941FA42132A3A3A9/medicos-de-yepes-concluyen-que-el-tratamiento-es-curativo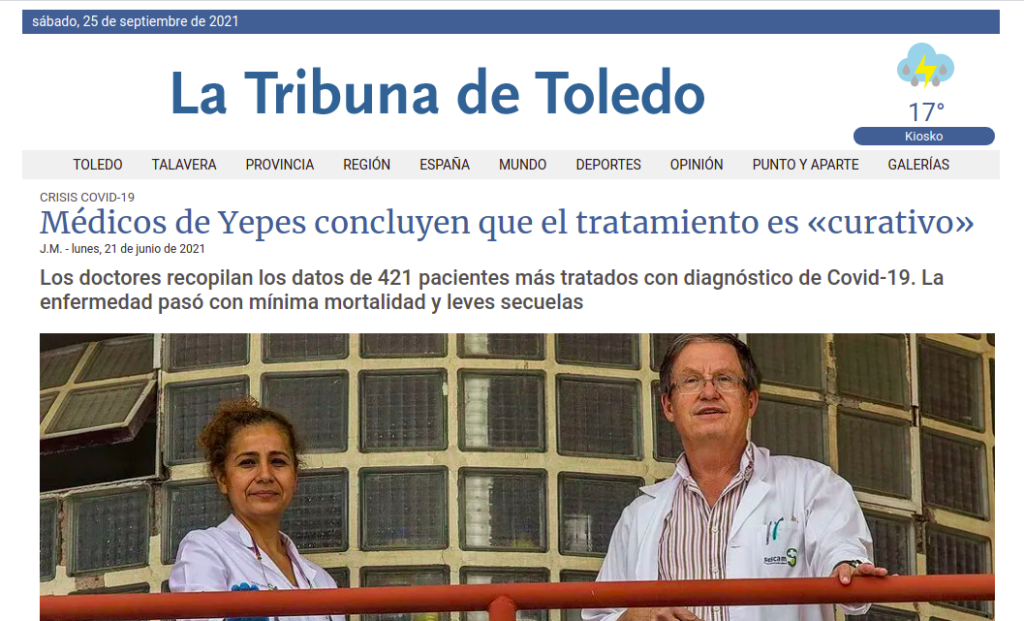 This was then rapidly picked up by some sharp commenters on "Peak Prosperity" – it's worth reading their insights.
LINK: https://www.peakprosperity.com/forum-topic/antihistamines-again-spanish-nursing-home-study/
Now – here is where it gets interesting.
BIG hat tip to barkerjim for bringing this BACK to my attention.
It really took Karl Denninger seeing this, to put a fine point on it.
LINK: https://market-ticker.org/akcs-www?post=243683
ARCHIVE: https://archive.fo/2HZzC
Here is Denninger:
---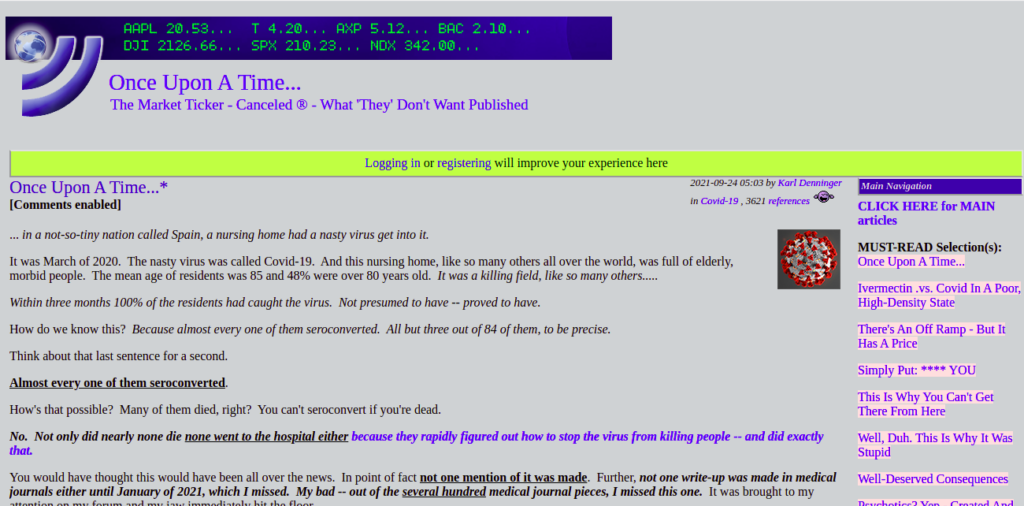 Once Upon A Time…
… in a not-so-tiny nation called Spain, a nursing home had a nasty virus get into it.
It was March of 2020. The nasty virus was called Covid-19. And this nursing home, like so many others all over the world, was full of elderly, morbid people. The mean age of residents was 85 and 48% were over 80 years old. It was a killing field, like so many others…..
Within three months 100% of the residents had caught the virus. Not presumed to have — proved to have.
How do we know this? Because almost every one of them seroconverted. All but three out of 84 of them, to be precise.
Think about that last sentence for a second.
Almost every one of them seroconverted.
How's that possible? Many of them died, right? You can't seroconvert if you're dead.
No. Not only did nearly none die none went to the hospital either because they rapidly figured out how to stop the virus from killing people — and did exactly that.
You would have thought this would have been all over the news. In point of fact not one mention of it was made. Further, not one write-up was made in medical journals either until January of 2021, which I missed. My bad — out of the several hundred medical journal pieces, I missed this one. It was brought to my attention on my forum and my jaw immediately hit the floor.
The jab train must continue, you see. So must the ventilator train. So must the money train, the mask train and the rest of the BS we have endured for the last 18+ months.
So must the slaughter for money, the fear, and the lies.
---
MORE (and it's really worth reading the rest of Karl's thoughts).
---
The answer isn't vaccines. It isn't remdesivir. It isn't even blowdarts.
The answer was simply "use more OTC antihistamines", plus Z-Pack, if you want to be extra certain, this flu season.
But you see, there would have been no crisis that way.
---
SO – here are MY thoughts.
There are lots of ways to skin the COVID cat. The point is to do two things.
(1) Don't die or suffer serious and lasting damage
(2) Gain as much immunity as you can, with NATURAL being almost certainly THE BEST.
I have always been a fan of hydroxychloroquine.
I have since then ALSO become a fan of ivermectin.
But I am now going to add an entire CLASS of drugs which can help guarantee survival of COVID-19.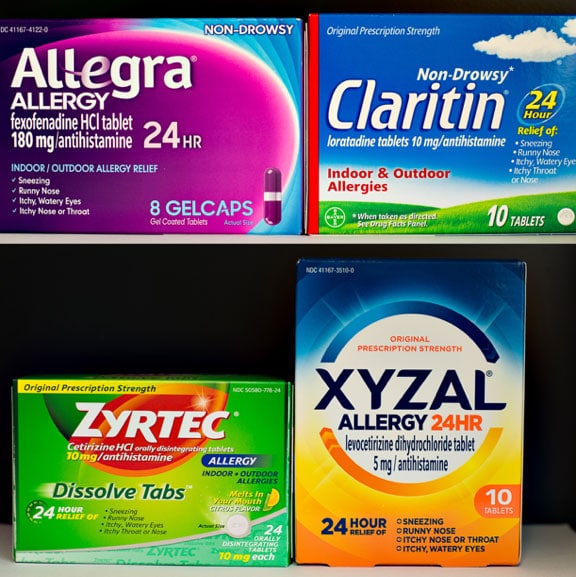 And if colorful boxes don't "impress" you enough….. try molecules!

https://en.wikipedia.org/wiki/Cetirizine
https://en.wikipedia.org/wiki/Dexchlorpheniramine
https://en.wikipedia.org/wiki/Loratadine
Seriously, I think that one of the most FAILSAFE WAYS to deal with likely or confirmed COVID (antigen tests are basically $13) is to treat with antihistamines immediately, and ask the doctor for Z-Pack (azithromycin).
If you HAVE hydroxychloroquine or ivermectin, great – but if not, then antihistamines are the stuff.
The HORRIBLE CDC, FDA, NIH, and BIG PHARMA cannot – at this moment – restrict you from getting antihistamines. And I know for a FACT that these drugs last a LONG time. They remain effective LONG after their expiration dates.
So buy some now, and by the time you need more, you will be immune, and JOE BIDEN and KAMALA HARRIS will be LONG GONE.
Cheers!
W