After a lost week of human self-experimentation to survive multiply mutated Fauci-Baric China Virus, Wolf has obtained answers to a thousand questions. Here are just a few of those answers.
---
Over the last week, overcoming my SECOND case of the China virus, I have been able to learn quite a bit about the enemy's weaponry – AND our own.
I was READY this time. PREPARATION paid off, and big-league.
I tried to help others prepare, and ended up helping myself, too.
---

OK, people. It is time for THE WOLF to GET PATTON ON YOUR ASSES. As you may know, we now have many of our dear members actively fighting COVID-19, including one (gil00) in the hospital. Several have received Regeneron. Thus far, praise God, we have not lost anybody – and I intend to keep it …
---
I felt it was important to share what I have learned, and to answer people's questions, but I wanted to have enough strength to actually do a post – not just a few quick answers lost in the middle of conversations.
I have answered a few questions already – I will try to link to some of those answers. Other answers I may copy here. But most of these questions are being answered here for the first time.
HERE WE GO!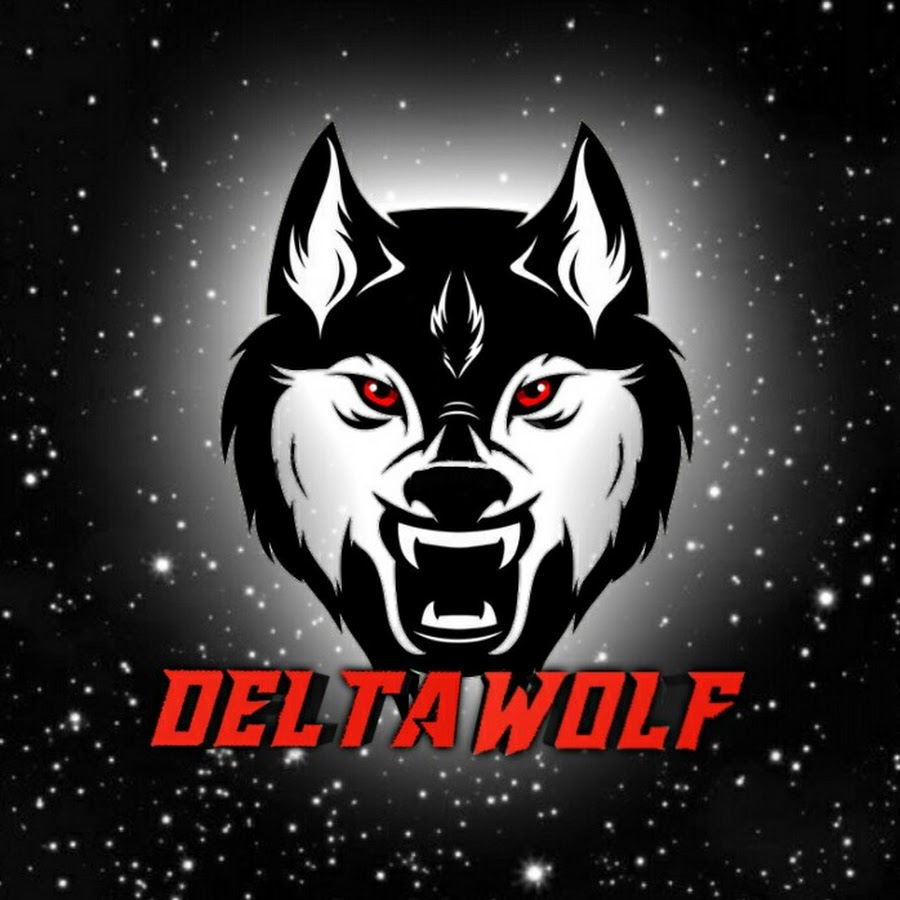 ---
1. Which version of COVID-19 did I have?
singingsoul1(@singingsoul1) Online Wolverine Reply to Wolf Moon December 3, 2021 19:46
Wolf is that [omicron] the strain you and your wife caught? I am wondering since you did not respond as well to Ivermectin?
Where did you catch the first virus covid and where do you think you caught the second virus? You caught two different strains?
---
What I had this time was almost certainly Delta.
What I had the first time was almost certainly a minor variant of the original Wuhan strain (COVID-19).
Here is the current worldwide geographic distribution according to NextStrain.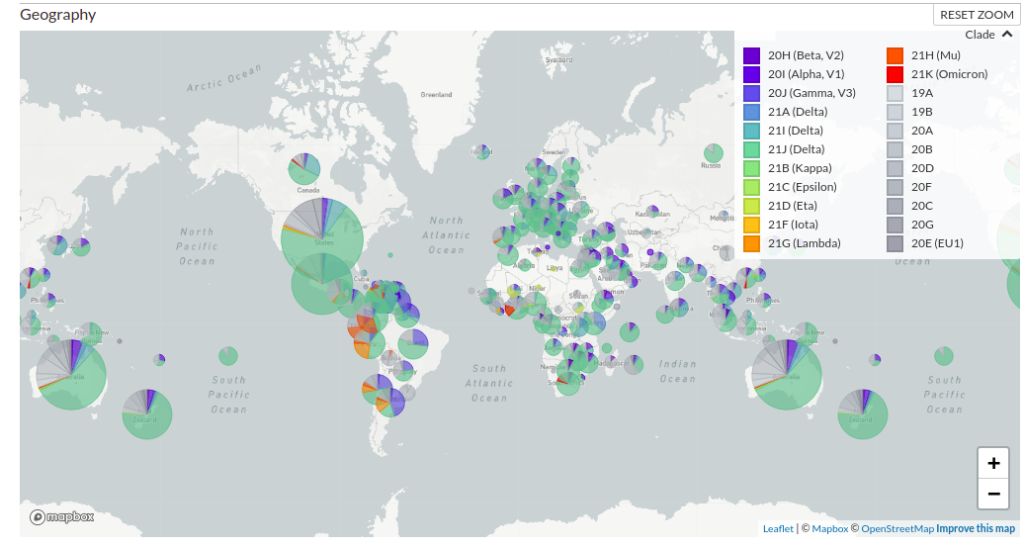 Note that the colors are not fixed – the same data may be shown with different colors from one day to the next.
The turquoise color which covers 2/3 to 3/4 of almost every pie chart across the planet is the Delta variant. You can see that it has rapidly become the predominant version.
The various grayish versions (1/4 to 1/3 of each pie) are basically the original Wuhan strains PLUS the gazillion minor morphs of THAT which formed immediately. You remember the "European strain" and the "Washington strain", and the "New York", "Italian", etc. – those were all still basically Wuhan, and those are the variants that are still effectively treated by all the original vaccines and antibodies.
If things had stayed there, the vaccinated would largely not be having breakthrough cases right now. Similarly, I would not have had a "breakthrough case" on my natural immunity.
The purplish and orange versions are other minor variants of concern, some of which were once much bigger concerns, until delta began to predominate. The vaccines still held up fairly well against those, as did, apparently, my natural immunity.
Omicron (red) is barely on the map right now.
It is EXTREMELY unlikely that I had omicron. It is VERY likely that I had standard issue delta variant.
---
2. How do I know that I had COVID-19?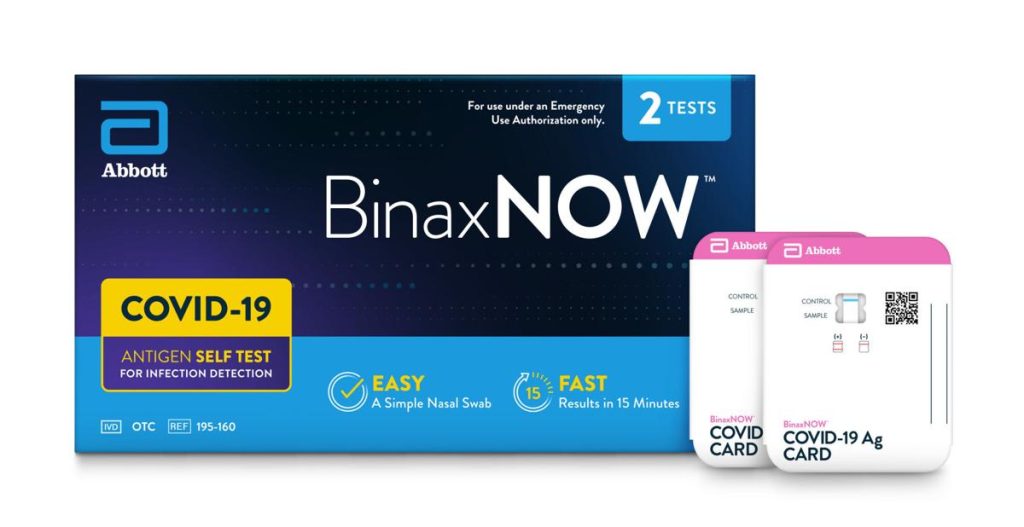 Within a 24 hour period, I was positive to three tests – TWO antigen tests (BinaxNOW and QuickVue), plus a PCR test run by my primary care physician's group.
The same tests showed my wife to be negative on Day Zero and Day One of my infection.
However, LATER, on Day 4 of my case, another run of QuickVue showed my wife to be weakly positive.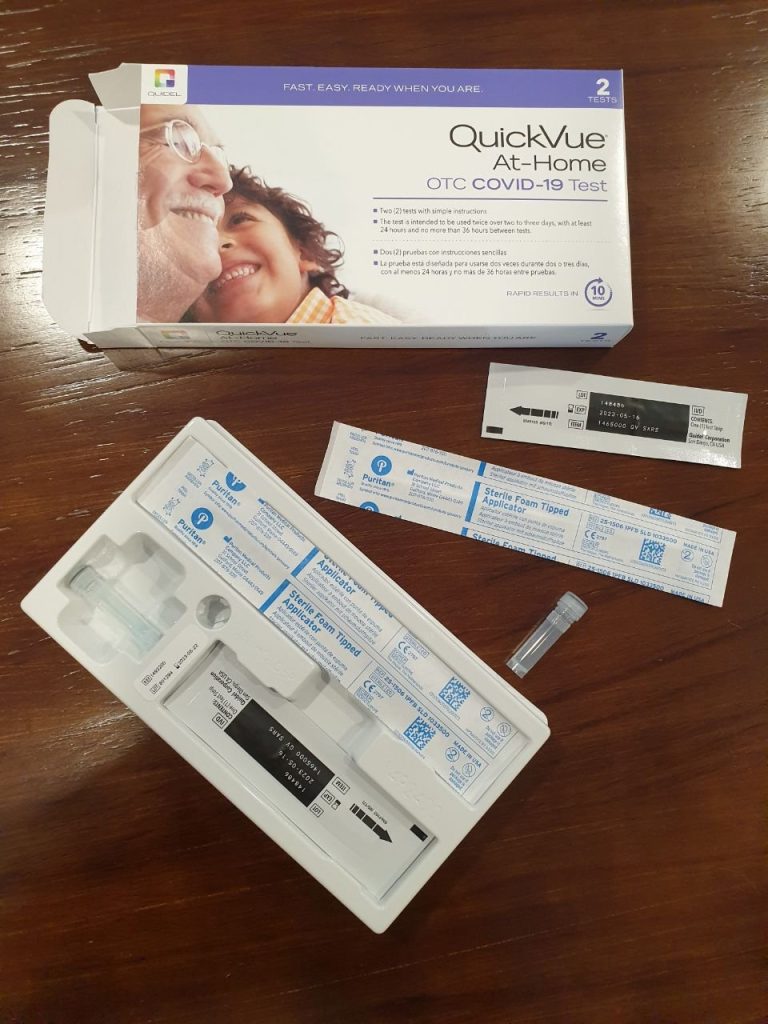 In my opinion, and with as much experience as I have now, running them, these antigen tests are highly reliable and trustworthy.
But that's just the beginning.
My new case was, in so many ways, almost identical to the case that I had in January 2020. That case predated the availability of tests. Also, because it predated antibody test availability, I never got an antibody test until 6 months later – which by then was negative.
But now I'm CERTAIN. I had COVID the first time. Same damn disease. THE SAME.
And it all makes sense. DELTA BREAKTHROUGH IS possible for Wuhan natural immunity, IMO. Maybe not for everybody, but it was for me.
---
3. Did ivermectin work for me?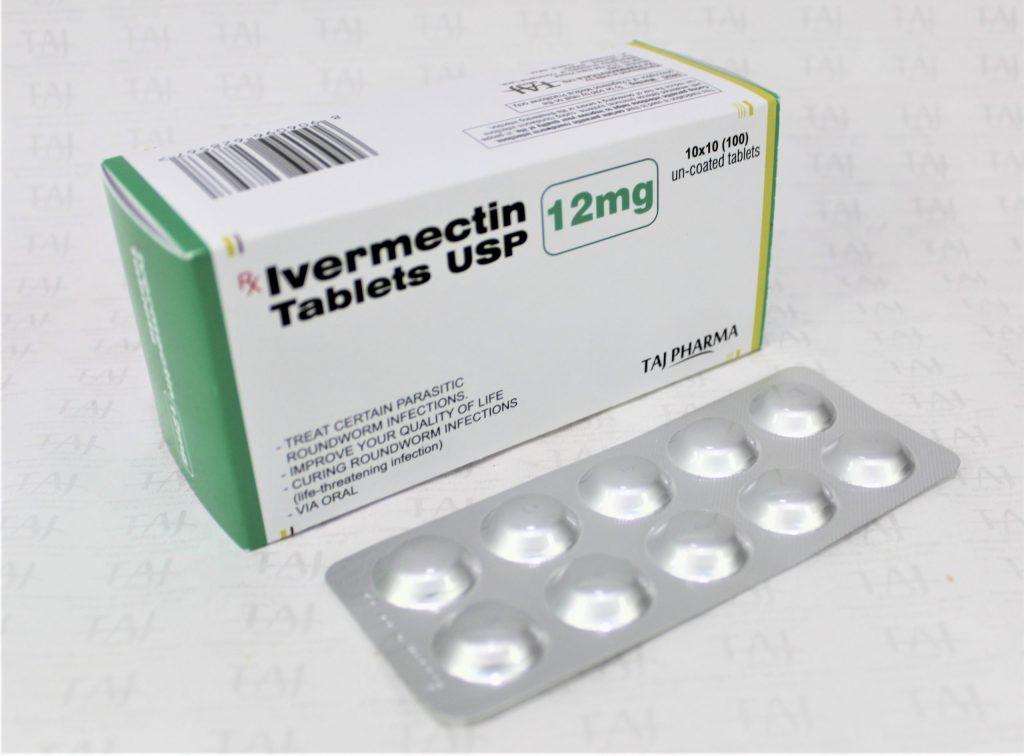 I strongly suspect that ivermectin helped me avoid serious problems and recover quickly.
I cannot be sure that ivermectin actually helped, but it certainly didn't hurt. I would be very tempted to use ivermectin again, if I got COVID again.
My wife also used ivermectin, and it seemed to "flatten the curve" of viral load for her, too.
I would be bullshitting to say that I know ivermectin helped, or that my case "proves that it works." But I can easily say that I strongly suspect that it helped.
---
4. Did I have any side effects from ivermectin?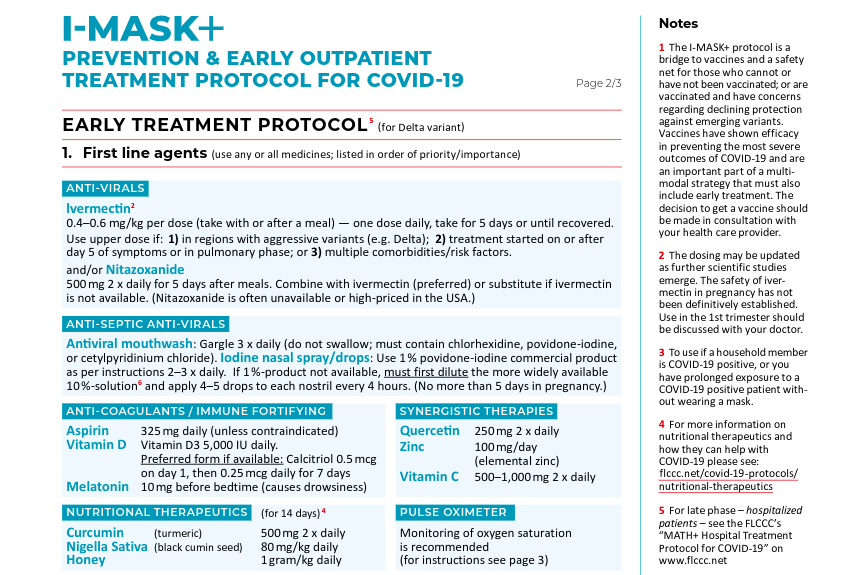 Yes, but the side effects were extremely minor, for as massively high of a dose as I was taking.
I decided to roughly follow the FLCCC "triple-dose" (0.6 mg/kg) recommendation for an active infection, because I had two of the conditions that cause FLCCC to recommend the highest dose – (1) likelihood of delta strain, and (2) multiple comorbidities.
I decided that the same applied to my wife.
To mitigate side effects, I did NOT take the daily amount in a single dose, but rather spread it out in 12-mg pill-pops during the day. But even with the spreading of the doses, and taking them with meals, I felt the following symptoms.
desire to sleep after meals
"lazy eye focus" for a few hours
stomach "not quite right"
None of this was bad enough to quit the drug, or even to reduce the dose, but after 5 days of it, I was absolutely done. I had ZERO desire to take ivermectin any more. I wanted my stomach to return to normal, even if that entailed a greater risk. Given that most of my other symptoms were gone, I didn't feel like it was much of a risk.
Also, ivermectin has a pretty long half-life, so after 5 days of super-high-dosing it, I'm probably STILL flushing it out of my system.
My wife experienced the same stomach issues. She was ready to give it up after 6 days.
---
5. What about the Zelenko / Raoult protocols?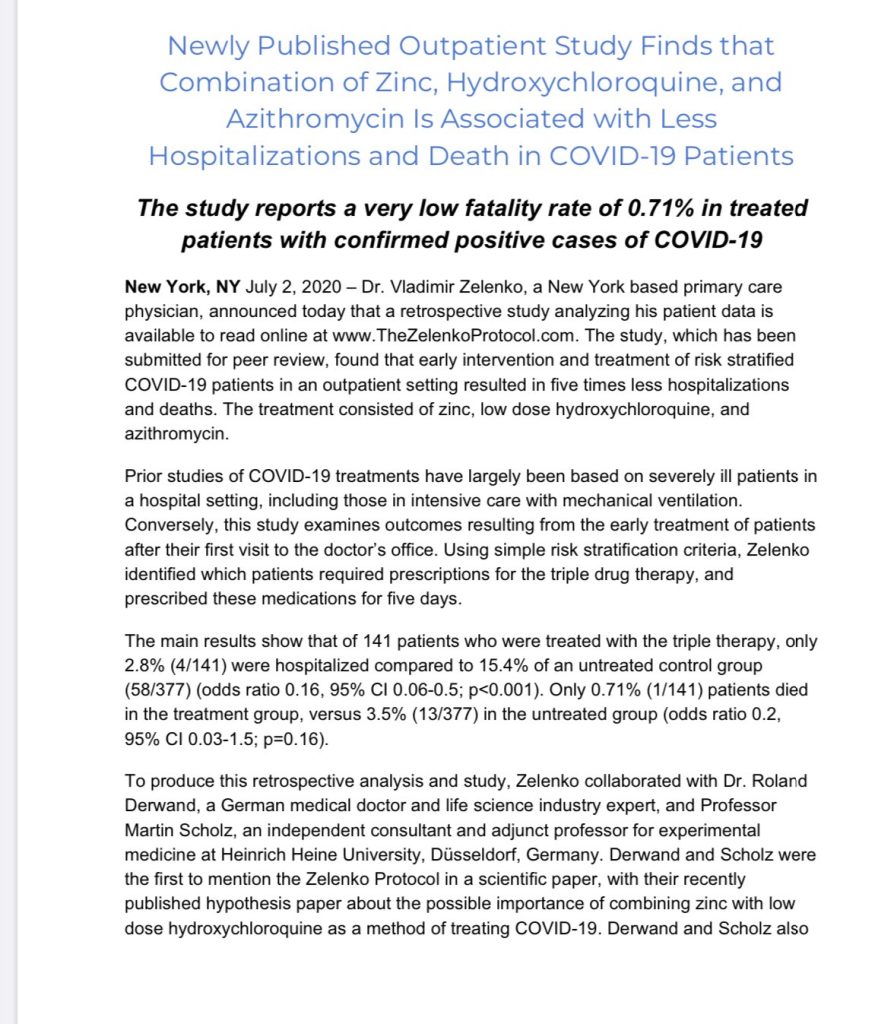 Yes. I credit azithromycin every bit as much as ivermectin, and I have more direct evidence that it helped me.
This is where the reasoning gets very complicated.
In early 2020, I was immediately impressed by the work of Didier Raoult (hydroxychloroquine + azithromycin) and later by the clinical real-world proof of Zev Zelenko (added zinc and moved treatment to outpatient prophylaxis). I was absolutely convinced that early azithromycin was key to stopping the killer pulmonary symptoms of the disease, and basically turned it into "just another weak, influenza-like coronavirus".
Although it turns out that azithromycin has its own powerful antiviral activities, the main thing it did, in my opinion then and now, was to prevent any type of pneumonia from setting in. This is critical if you want to stay out of the hospital.
Thus, as soon as I started detecting what I considered scary lung issues (burning lungs, basically), which was almost immediately (end of day zero, middle of day one), I decided to begin TWO ADDITIONAL PROTOCOLS.
The first was a modified Zelenko protocol. I increased my zinc to my maximum levels ever taken, plus quercetin as natural capers (clearly the bad influence of Aubergine). My wife and I also began using elderberry syrup as an additional zinc ionophore.
However, the real key was adding azithromycin – 2 days at 500 mg, and 2 days at 250 mg. The very first dose resulted in an immediate improvement in my lungs.
There is simply no arguing against the clinical record of success of the Zelenko protocol. I trusted it in my scientific reasoning in 2020, and I trusted it to treat myself.
I get far more mileage out of real-world clinical studies like Raoult's and Zelenko's, than out of Fauci's little "double-blind" – whoops – I mean "double-chump" scam studies that can be manipulated against both doctor and patient by lying, phony, deceptive, agenda-filled, biased, compromised, fake-neutral parties.
The whole idea of double-blind studies falls apart when the researchers and patients are innocent DUPES and CHUMPS, and the people who are supposed to be honest referees in charge of neutrality are in fact dishonest manipulators like NIH, CDC, CEPI, Gates, WHO, and all the rest.
In contrast, studies like Zelenko's and Raoult's are pretty much open source. No Fauci-type con-man is in charge of fake neutrality. This being a neutrality I have little care for anyway, because I don't care what exactly saved the people – simply that they were saved.
Yeah – I'm biased in favor of MEDICINE ITSELF.
The protocol works, end of story.
Fauci's "studied ignorance" of clinical success is exactly why the man should have been fired DECADES AGO. He's not a doctor – not a patient-treating one – and he should not be in charge of doctors.
HOWEVER – I do have to admit – azithromycin was even harder on my gut than ivermectin. Four days was all I could take. My stomach was always double-queasy if I took AZM with my IVM. There was NO WAY I was going to do a fifth day.
But YES – the stuff worked, and IMO kept my lungs "infection-free", knock on wood.
Thank you, Doctors Raoult and Zelenko!!!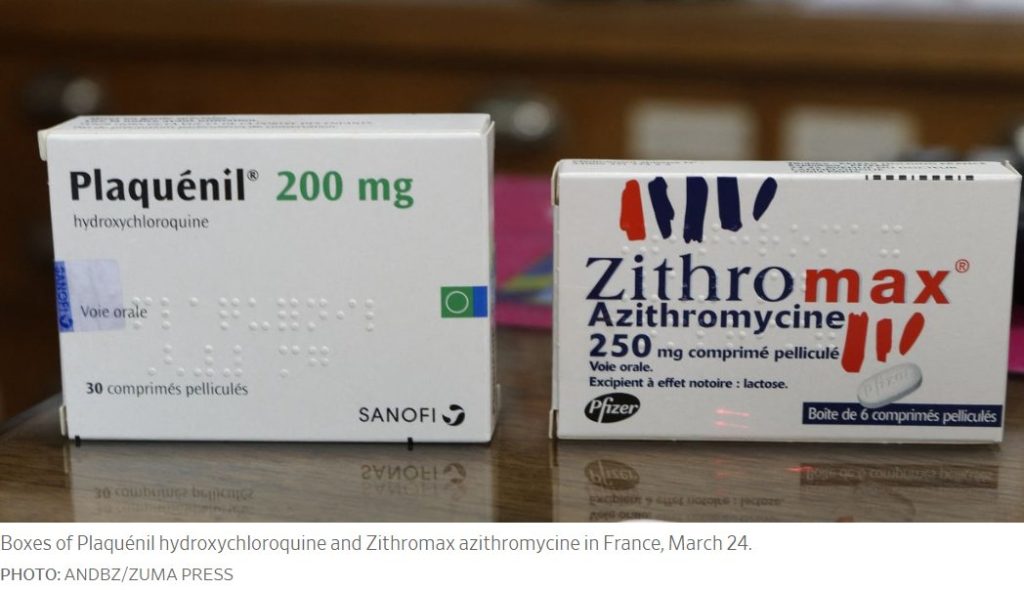 ---
6. What about antihistamines?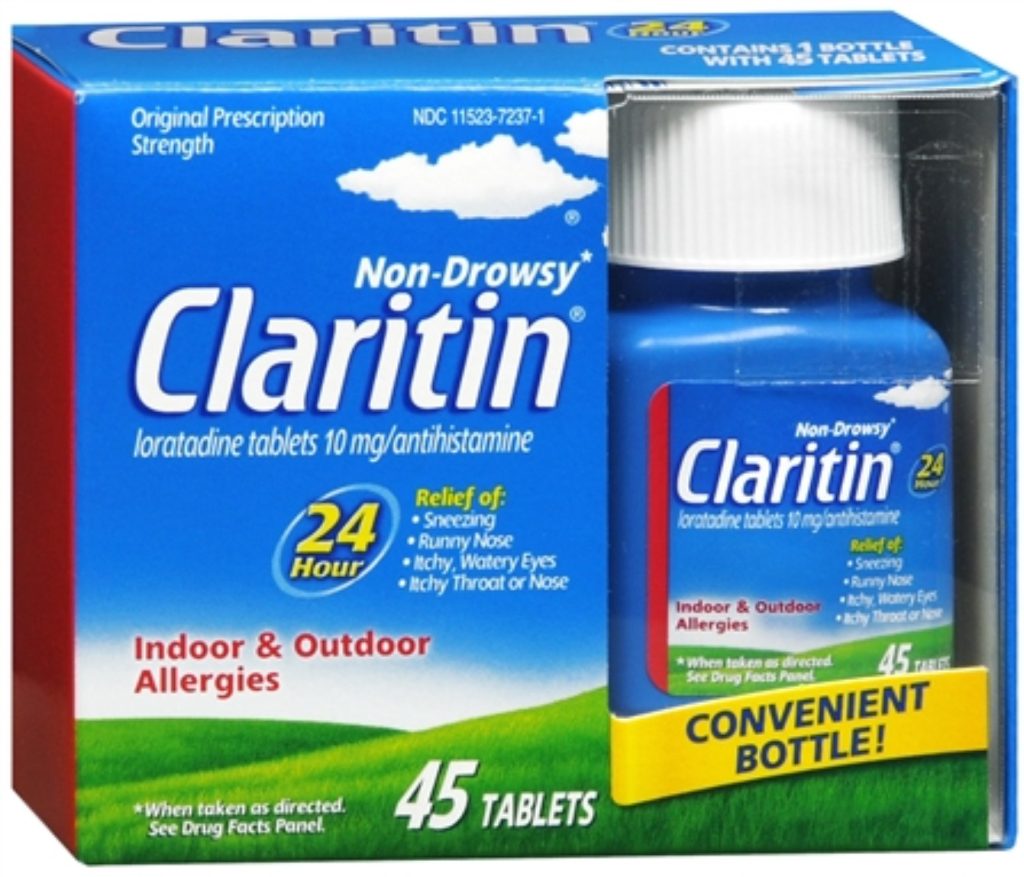 Absolutely. The same well-proven clinical success that Zelenko had with azithromycin, was also evident in the results from the Spanish nursing homes. It would have been negligent not to take an antihistamine, in my opinion.
That, plus some additional reasoning I will explain below.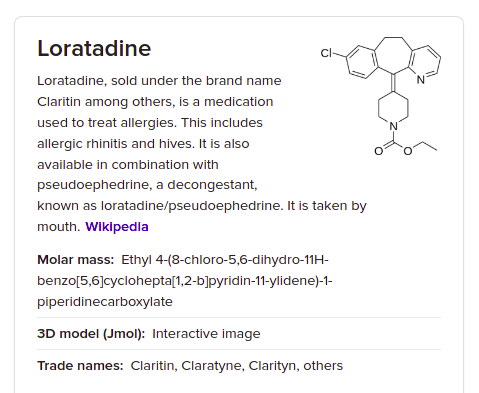 Based on the recommendations of people here, I chose Claritin (loratadine), and quickly found that I tolerated it easily at the recommended double doses.
I experienced a very, very slight dryness of the mouth, but that's it. Just to be careful, I tended to keep the dosing closer to 1.5 instead of double, but in the absence of all the other drugs I was taking, I would have been more rigorous about the double dose, without consequence.
For those who need a refresher on the use of antihistamines against COVID…..
---

Everybody underestimates Spain. The last letter in "PIGS" is far less of an insult than an error. Years ago, when I was at a conference, and Japanese industrial spies were getting me drunk (it was a great red wine), I decided that I had to give them SOMETHING for their time and effort, if only …
---
Now – here is some important new reasoning I had.
In the FLCCC protocols, and the Zelenko protocols, there is very little if any "over-the-counter" patient control in terms of things which could possibly pre-address and prevent the "cytokine storm" problem – particularly any drug that is available on an outpatient, OTC basis.
In the FLCCC protocols, aspirin is the main anti-clotting drug with something approaching that function. In the original Raoult and Zelenko protocols, HCQ's antirheumatic functions combined with azithromycin's actions seemed to suppress pulmonary capillary clotting, although neither did so as well as steroids.
The fact is, however, that the Spanish nursing home study had extremely good success preventing cytokine storms by simply using antihistamines on ALL patients, both as treatment and as prophylaxis. The entire emphasis of the approach was not so much to prevent disease, as to simply limit the disease.
To me it was a no-brainer to add an antihistamine to prevent inflammatory clotting – something that I knew already I was susceptible to, because of my first case of COVID, after which I lost lung function.
Loratadine turned out to be a VERY high-bang-for-buck fix for me, because it also dried nasal and sinus secretions, helped my breathing, reduced lung congestion, and generally decreased symptoms.
Thus, I found that adding an antihistamine had both clearly observable short-term benefits, and very likely long-term benefits.
I highly recommend adding this protocol during COVID treatment. It's completely OTC as well – the Medical Mafia in Washington simply can't stop it.
---
7. What about aspirin?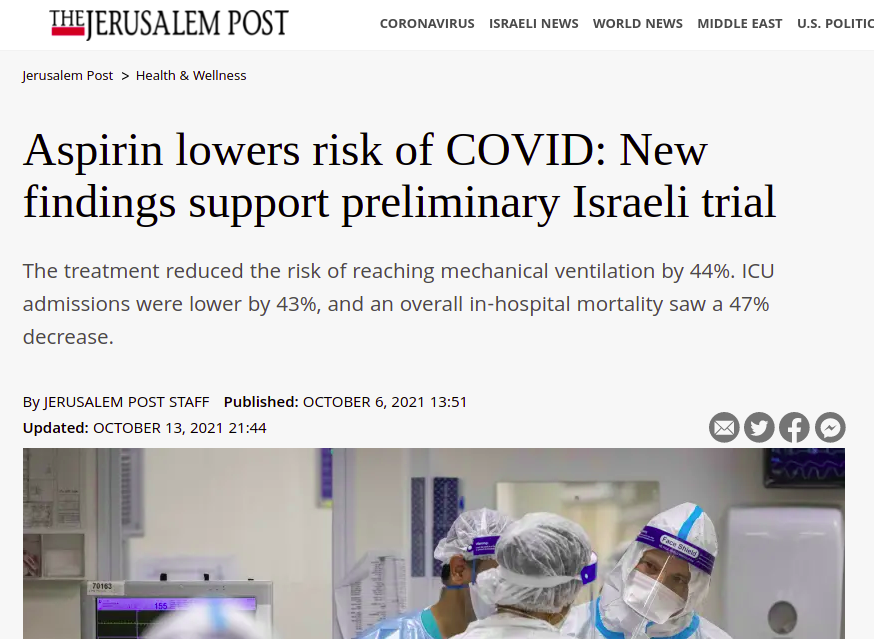 LINK: https://www.jpost.com/health-and-wellness/aspirin-lowers-risk-of-covid-new-findings-support-preliminary-israeli-trial-681127
---
Absolutely. Aspirin is a "must", IMO.
Multiple studies have showed that aspirin, even at low doses, is both protective against getting COVID-19 and also protective against hospitalization and death. The numbers are substantial, too.
This is, again, part of the FLCCC protocol, and pretty much a no-brainer.
I started off using half a regular aspirin, but quickly found that it was just one more drug beating on my stomach.
Switching to low-dose aspirin worked nicely to make any stomach symptoms go away. I also found that I did not need more than 1 or 2 low-dose baby aspirins to control fever. I was able to routinely drop my fever back to near-normal with either 81 mg or 162 mg of aspirin.
Now, my doctor's practice recommended acetominophen in case I had a high fever, but I never came close to needing it. As it was, I did not want to risk my liver in ANY WAY with all the other high drug doses, so there was NO WAY I was going to add dangerous acetominophen to the mix.
According to the literature studies, even a single baby aspirin per day was enough to show the protective effect. Thus, I made sure to always take 81-325 mg aspirin per day, and will continue with at least 81 mg/day for some time to be determined.
---
8. What about HCQ?
Not this time, but I would not rule it out in the future – particularly in the absence of ivermectin.
When I got my ivermectin, I had the opportunity to get hydroxychloroquine and azithromycin as well. I chose the latter, but decided not to bother with HCQ I would likely not use.
I let ivermectin be my "drug of choice" for fighting COVID, for many reasons, including the greater safety profile and better understanding by doctors' groups, including FLCCC. I am satisfied that I made the right choice in ivermectin, but quite frankly, it would have been a good thing to have some HCQ on hand as well.
Anything that kills viruses, is better than their "stupidity of spike identity" vaccine.
---
9. Did I gargle?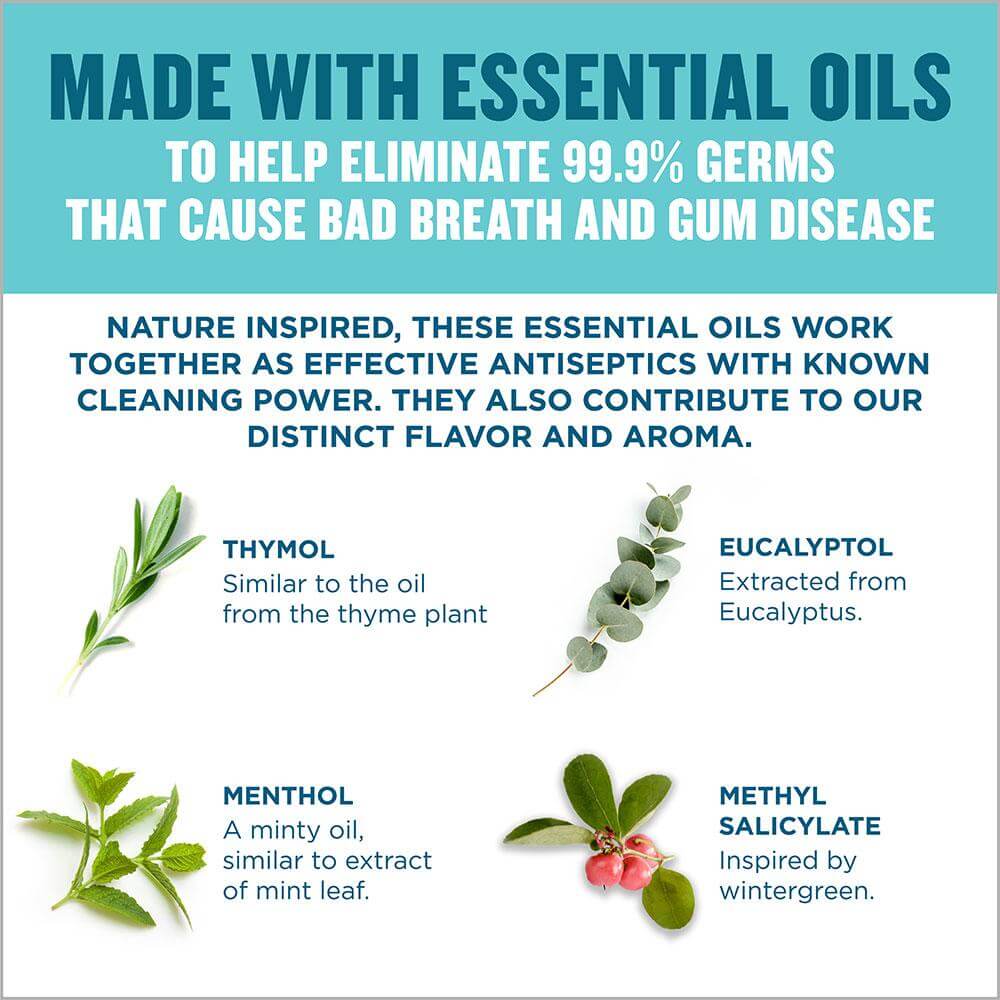 Yes. I used FLCCC-recommended and study-backed Listerine "with essential oils", and the benefits were obvious.
Actually, ALL the Listerine variations use the same "essential oils" – pick any of them. Some of the time, I used one that also packs zinc chloride, to really screw with the virus.
At first, I went with warm saturated sodium bicarbonate (baking soda) gargle, which was the gargle used by the Spanish nursing homes.
Warm bicarb is actually a really good solution, in terms of soothing the throat and decreasing viral load (as experienced through reduction of key symptoms), but it doesn't really do a lot in terms of opening up breathing passages.
In contrast, Listerine gargle was EXCELLENT for helping to clear breathing passages, AND to decrease viral load in the throat and mouth. The beneficial effects even extended to the lungs. I only needed to do it 2 or 3 times a day, and the effects lasted for hours afterwards.
The Listerine gargle was also excellent before sleeping, to have a peaceful night's rest, with clear breathing.
In my opinion, the gargling protocol is really key to helping end things quickly.
NOW – there is some difference between what I experienced and what FLCCC recommends. FLCCC only recommends (at the moment) Listerine for prevention – they DROP IT for early treatment, and recommend ONLY the other types of antiseptics (cetylpyridinium, povidone-iodine, chlorhexidine) once you get the disease. Yet, honestly, I was totally satisfied with the performance of Listerine for TREATMENT, and would not hesitate to use it again.
This may be an individual thing. As they say, your mileage may vary.
---
10. What about povidone-iodine gargle?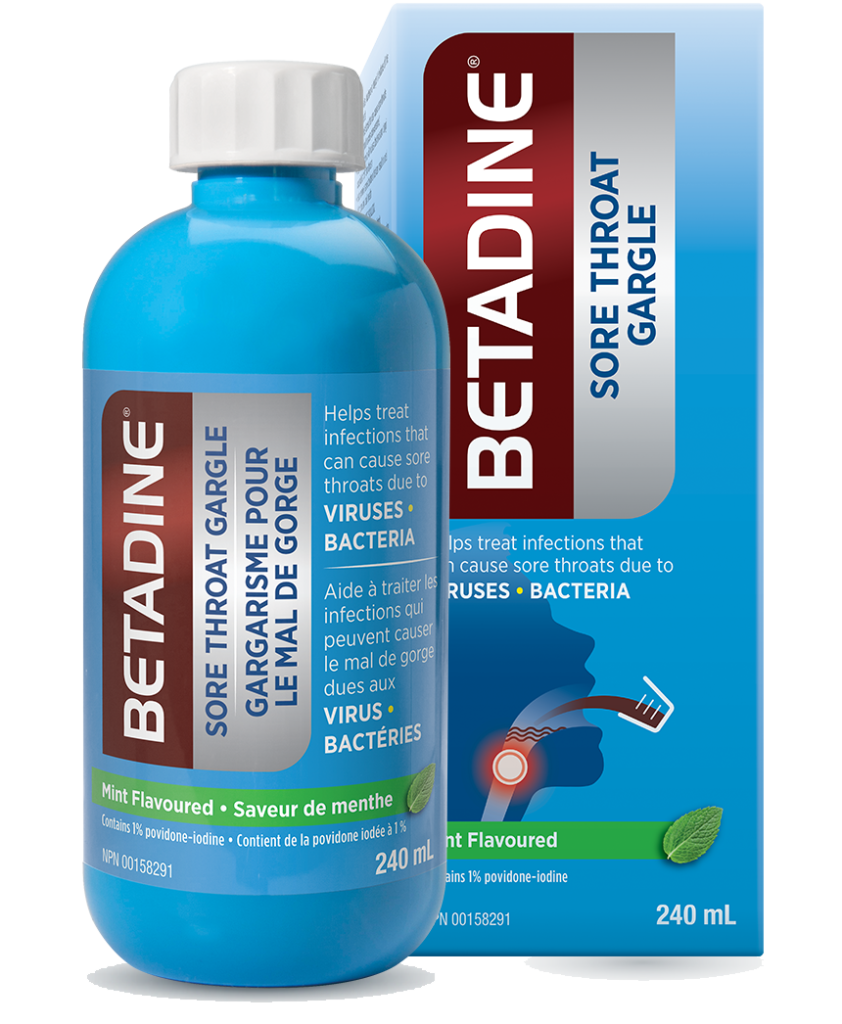 I didn't use it this time, but I may very well try it next time!
I was not aware that you can just buy this stuff OTC, but yeah – it's a product. In the studies I read, povidone-iodine was THE BEST in lowering viral load in patients. It did better than Listerine – not by a whole lot, but enough that it might be worth it.
So if you can't stand Listerine of any kind, or Scope, or whatever – consider trying this one.
---
11. Did I get the monoclonal antibodies?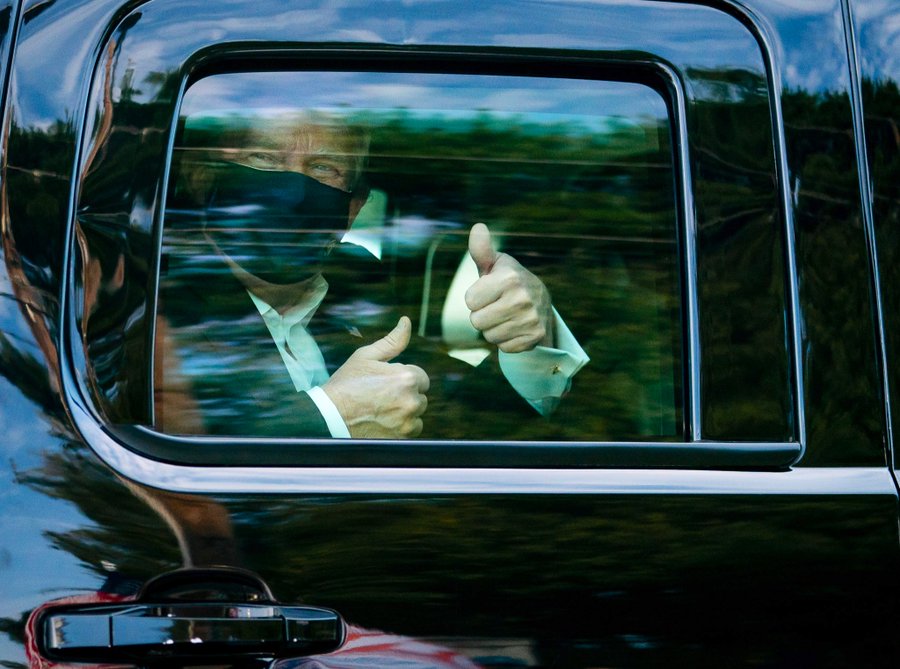 Yes. In "better late than never" fashion, I got the mAb infusion after the treatment with ivermectin and azithromycin was already finished, and my fever was gone.
I was fever-free when I got the antibodies, and fever free when I left the infusion center. Shortly after that, I became exhausted and had a fever again. In another 24 hours, my strength was back and the fever was gone yet again.
Basically, I was treating Delta with more Wuhan antibodies like my own, which had already only provided some protection.
I cannot really be sure if the antibodies helped. I personally found that they knocked me out, increased my fever, and made me suffer a "day of exhaustion" that I had otherwise MISSED thanks to ivermectin.
Were they beneficial? Possibly, but I can't be certain.
My wife got the antibodies somewhat earlier in the progress of the disease, because she got them at the same time I did, but her case was tracking mine LATE by roughly four days.
The antibodies didn't completely finish her case, but she really only had one more day of disease after the "antibody down day".
I would say that antibody infusion was far more likely to have helped HER than it was to have helped ME.
If I had to choose between antibodies, aspirin, loratadine, azithromycin, and ivermectin, I'm not actually sure which one I would toss. I consider EACH of them, just one more tool to make sure the disease stays contained. Use as many as you can get.
---
12. So what happened to my "natural immunity"?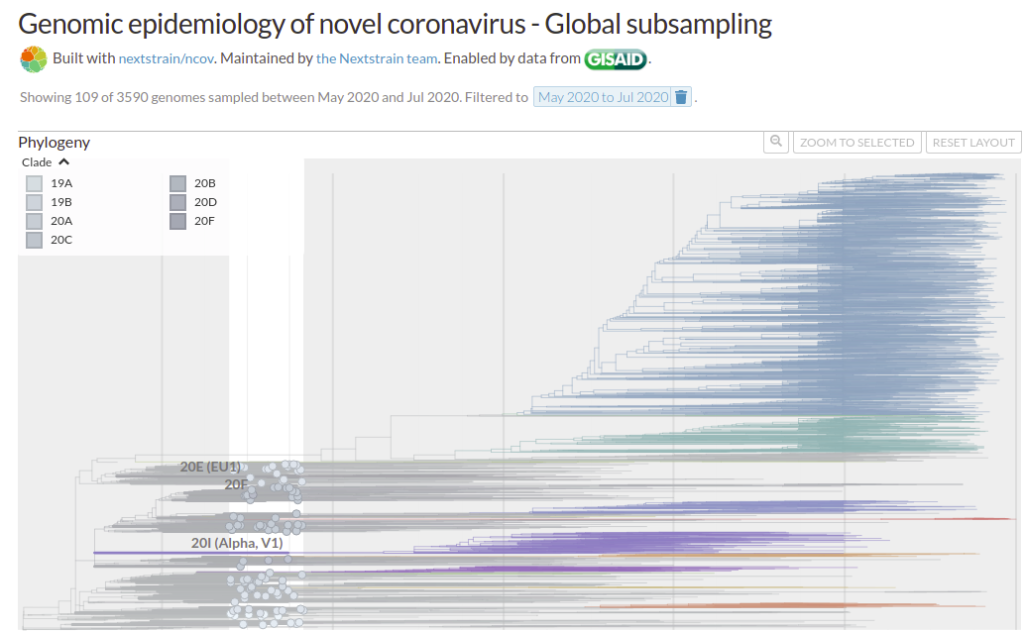 Try some "AND" logic.
It's still there – waiting patiently for a disease that no longer exists.
This blurry snapshot from NextStrain is from a "play mode" view of the data, where you can watch the genetic data being added in accelerated time. I have focused the active band on early 2020. The "19" and "20" strains are pre-delta – they were well within the window of my natural immunity, which was probably generated by a strain within what they are now calling 19A.
Follow the evolution forward in time, and you can see the massive shift to delta versions, shown in turquoise and indigo below.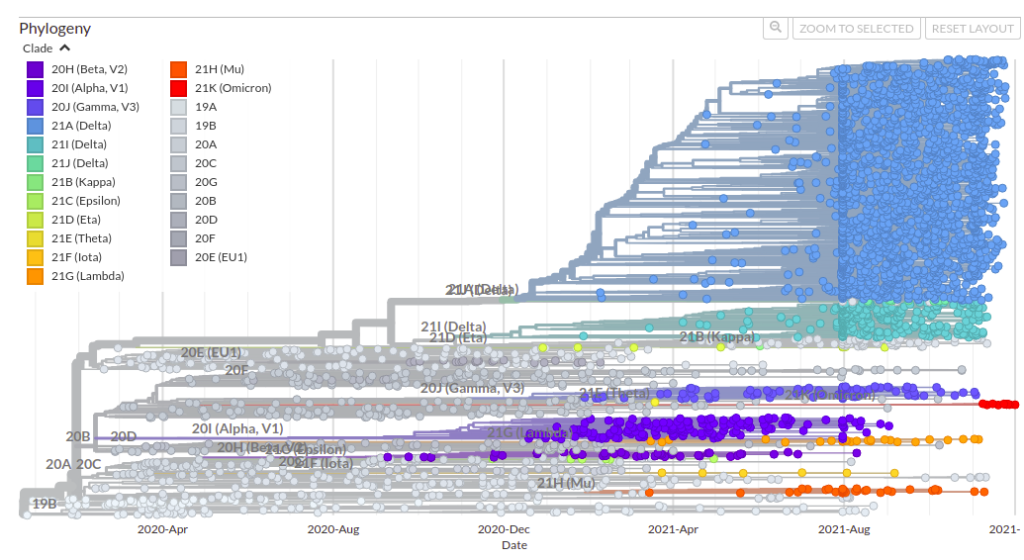 SO – what I have now is DOUBLE natural immunity to TWO HUGE CHUNKS of older/existing COVID-19/20/21/22, the now-rare "gray" stuff and the very common "blue-green" stuff.
You can see, though, where OMICRON in RED is now forming. Whether I have any, some, or no immunity to omicron is an open question. HOWEVER, I would much rather have combined natural immunity to TWO groups of COVID variants, than three, four, or even five vaccines.

We have to start being very scientific about immunity, including in particular natural immunity, which is IMO the BEST response to highly mutating diseases, just as it has ALWAYS been.
Fauci is gaslighting us. Ignore him.
Until the poisonous dwarf is removed from power, do your own science.
---
Start HERE: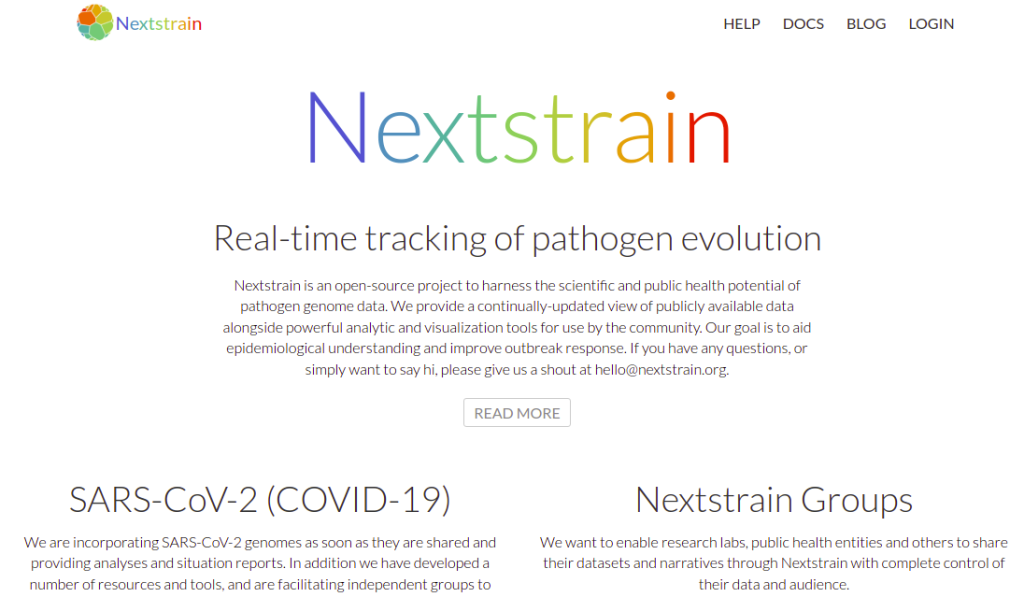 This link in particular, to keep checking up on SARS-CoV-2 – an EVOLVING GROUP OF VIRUSES.
W