This is a quick update that is almost entirely GOOD NEWS, and that needs to SPREAD AROUND LIKE WILDFIRE – just like OMICRON.
I will try to be brief and only comment as needed.
---
1 – A Case of Omicron Treated With HCQ
Remember that case of COVID treated with ivermectin, that was published as a video, and which I basically transcribed for the readers here?
---

This is a great selfie video, done by a young lady with a glorious Southern accent, chronicling her week of COVID-19 and recovery, treated with ivermectin. It's short – just under 7 minutes – but it captures a lot of information about symptoms and relief by the drug. I can't embed the video here due …
---
I think it's really helpful for people to see and hear the reality of an individual COVID case, to see what to expect. This kind of information can absolutely reduce unnecessary fears. It's a real service, IMO.
Well, Omicron is here, and it got here VERY fast (more later). THANKFULLY, somebody who GOT IT took extremely good notes, and put them online.
Specifically, a medical doctor, Dr. Henry Smith, Jr., who has published on American Thinker, got the disease, treated it with hydroxychloroquine, and recovered VERY nicely.
His account of the disease is MUST READ material. It's short – no excuses!
Plus, he's a photographer, and has lots of nice pictures on his site.

LINK: https://henrysmithscottage.com/viral-post-december-23-2021-my-omicron-infection/
ARCHIVE: https://archive.fo/Jm60C
No preview! Please visit his site. I left a comment there, letting him know about antihistamines, because this is something that can get past the "pharmacy gestapo" that Biden and CDC have created.
As Steve has noted here, the 2X dosage of modern, 2nd-gen antihistamines is quite safe, and his own doctor prescribed 4X dosages. This is completely analogous to doctor's prescription of ibuprofen at 800 mg, which is 4X the OTC 1-pill dose.
I know that ivermectin is "all the rage", but hydroxychloroquine is still an excellent drug to treat COVID, and I think it's great to see it in use here. As I recently noted, I believe that none other than Bill Gates was behind the "take-down" of HCQ in the medical literature, via funding of studies designed to knee-cap it.
Dr. Smith comes to FIVE conclusions about Omicron, 3 being numbered, and 2 bonus thoughts after those, made post-illness, all of which I find excellent and agreeable. Please visit his post to see what they are.
OH – and his American Thinker article – a short but powerful post on the OBVIOUSNESS of the solution – natural immunity – entitled "Who Isn't Getting Infected?", is definitely worth reading as well.
LINK: https://www.americanthinker.com/blog/2021/12/who_isnt_getting_infected.html
It is absolutely wonderful to see doctors standing up to CDC myopia (or worse) now!
Hat tip to GA/FL for this tip!!!
---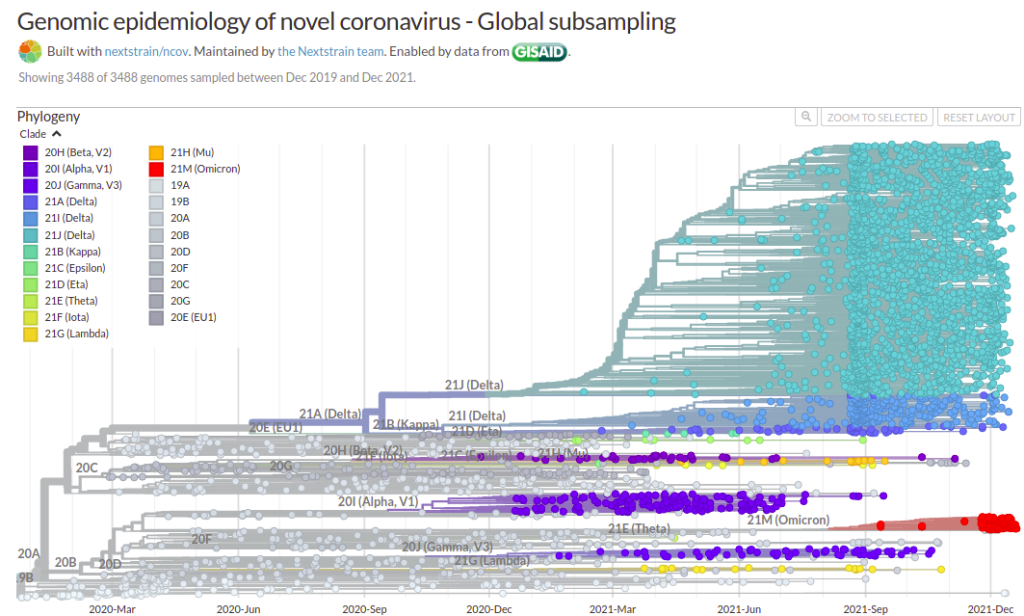 2 – Graphic Views of Omicron Displacing Delta
The graph above – if you know how to read it right – is absolutely STUNNING.
The graph above is North America.
The graph is a screen capture from NextStrain, which keeps track of virus variants globally.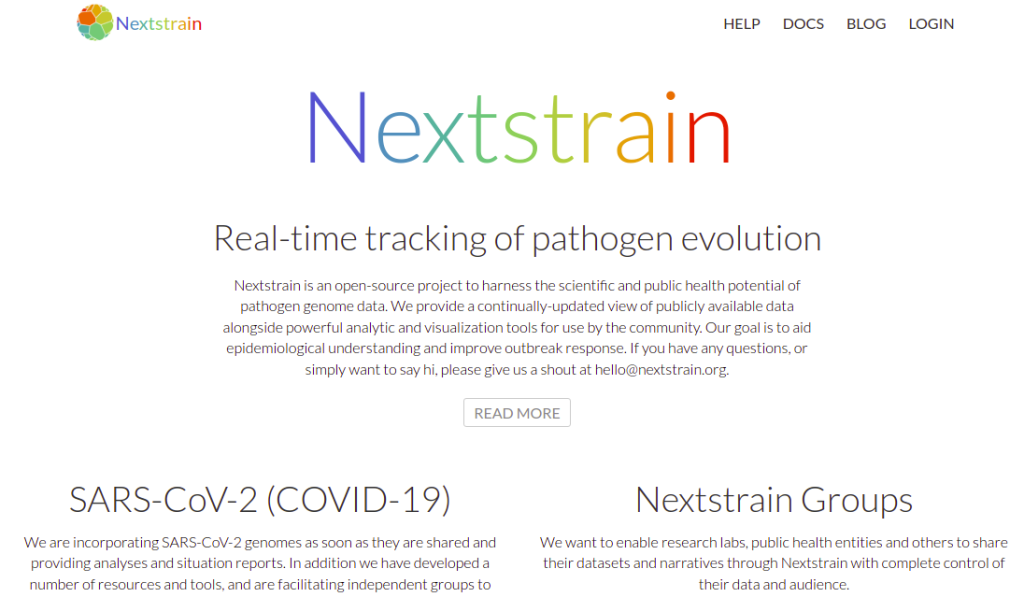 LINK: https://nextstrain.org/ncov/gisaid/global
What this graph shows, is NOT "itty bitty" Omicron (red) sneaking up on "big old" Delta (turquoise).
It shows – at the extreme right edge – Omicron SQUASHING the Delta empire like a BUG. At the very edge, Delta basically STOPS – as Omicron keeps moving to the right.
Let's look at an earlier screen capture from NextStrain. This one is GLOBAL, on December 4.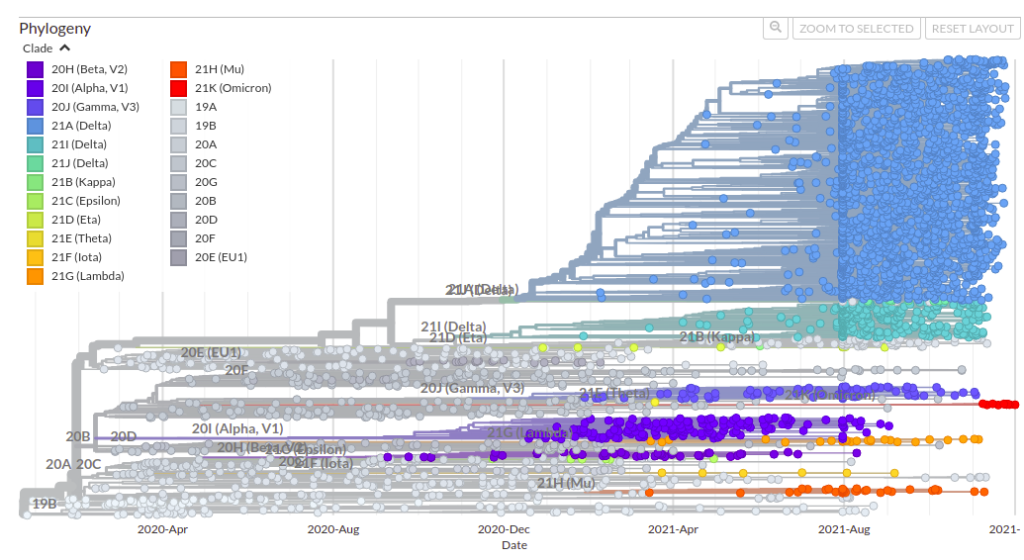 Here, you see the same thing I described above, but you see it earlier, because it took a while for the variant to travel to America, where it would displace Delta. The GLOBAL data is already showing Delta getting walloped.
From this, you can tell that I just missed Omicron. I had Delta with Day 0 (first symptoms) on November 26, and was likely infected on November 22 (yeah, not a good day). Everything in America was still DELTA at that time.
This is more easily seen in another graph. Source HERE at CDC.
LINK: https://covid.cdc.gov/covid-data-tracker/#variant-proportions
Sadly, the current graphics will not archive properly.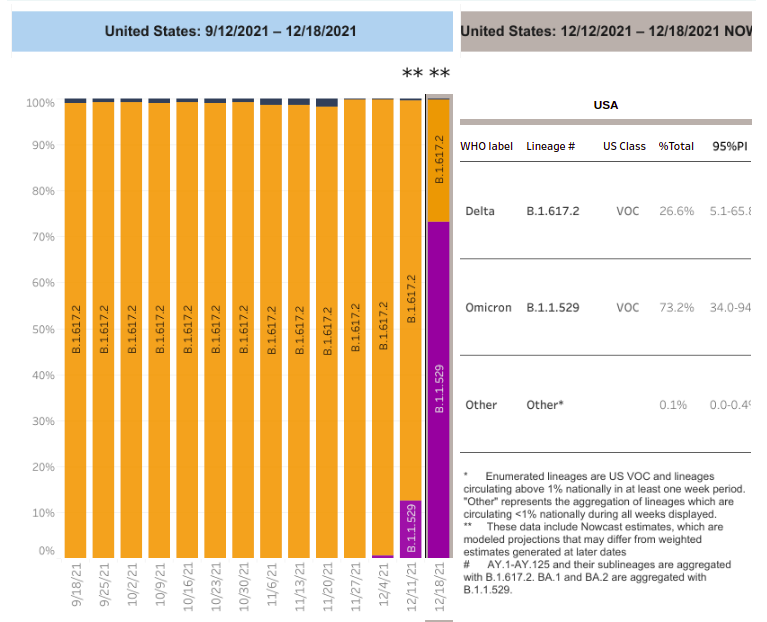 As you can see, on 11/27/2021 in the United States, it was ALL DELTA. On 12/4, It was still almost all Delta. By 12/11, the United States was at over 10% Omicron, But ONE WEEK later, on 12/18, the USA was at
70% Omicron.
This is just INSTANT-FREAKIN'-TANEOUS.
Will it hit 100% Omicron?
Does it HAVE TO hit 100% Omicron to wipe out the nastier Delta?
Stay tuned….. for the next item.
---
3 – The Decline and Fall of the Omicron Variant
Hat tip to RF121 for this video, in which a South African engineering geek and university researcher, Pieter Streicher, who tracks and predicts COVID numbers, tells us what is going to happen to the Omicron variant, and is ALREADY happening in one of the "origin towns" in South Africa, where it is PAST THE PEAK.
I really recommend listening to this, because I am just grabbing a few things that caught my fancy. There is much, much more.
Streicher predicts that Omicron will PEAK and then DECLINE, leaving ultimately around 20% infected and recovered, maybe 30% tops.
It will NOT be a majority of the population.
Here is how Streicher's predictions have been working so far: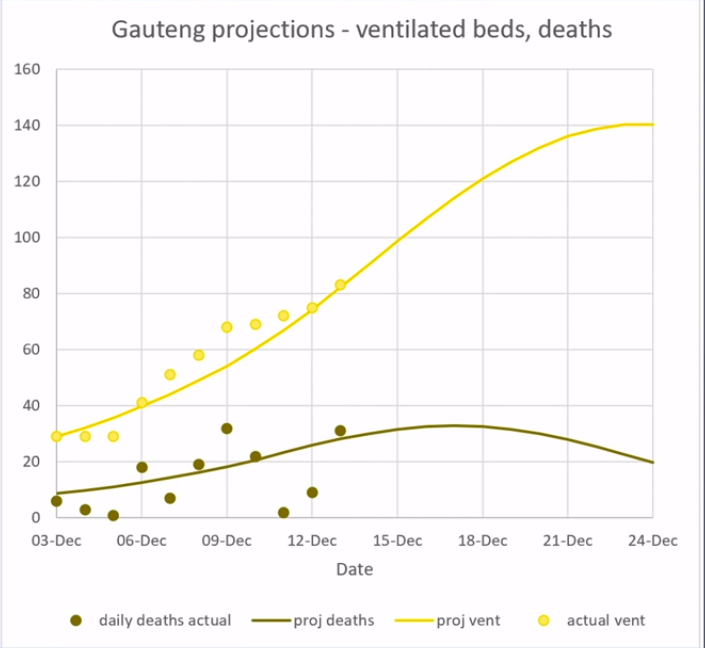 Now – why would I trust this guy – and NOT the Imperial College guy who Bill Gates promoted?
YOU KNOW…..
THIS GUY.
Yeah, the guy who ignored his own lockdowns from dodgy overblown models, so he could do the old pokerino with another "damn near model", Little Mrs. Rubylips, his married British intelligence handler mistress.
Well, Neil Ferguson's predictions turned out to be WILDLY overblown.
Streicher, on the other hand, whose predicted curves and actual numbers you can see above, is predicting – at the PEAKS….
25-fold LOWER deaths for Omicron relative to Delta, and…..
6-fold LOWER ventilated hospital beds for Omicron vs. Delta.
SO – Untreated Omicron is NOT exactly free of risk, and we still need hydroxychloroquine or ivermectin to treat it.
AND – failing availability of those things, we need antihistamines and azithromycin – the Spanish protocol – implement widely, as I discussed earlier…..
---

Everybody underestimates Spain. The last letter in "PIGS" is far less of an insult than an error. Years ago, when I was at a conference, and Japanese industrial spies were getting me drunk (it was a great red wine), I decided that I had to give them SOMETHING for their time and effort, if only …
---
And if you doubt the utility of antihistamines against ALL variants of SARS-CoV-2, then you need the NEXT item to convince you otherwise.
---
4 – An Independent Discovery and Validation of Antihistamine Therapy for COVID-19 *and* for Both Long COVID and Genetic Vaccine Major Adverse Effects
THIS is worth getting the word out to doctors quickly. Hat tip to Gail Combs for bringing this critical video to my attention.
The antihistamine therapy for COVID-19 was independently discovered by a South African doctor, Dr. Shankara Chetty. Even more importantly, the doctor discovered the reasoning behind the therapy, and its applicability to both "long COVID" and vaccine side effects as well.
His REASONING is extremely convincing, and well-explained in the video.
This is a brilliant universal theory of severe COVID, long COVID, and vaccine side effects, which meshes quite perfectly with almost everything we know about SARS-CoV-2 and COVID-19.
Thus, we now have a universally available, over-the-counter treatment protocol for BOTH COVID and COVID vaccination side effects, the former of which was found to be 100% successful in TWO real-world studies, and which cannot be stopped by Fauci-controlled pharmacists or Gates-funded anti-studies.
This video is brilliant, because it really demonstrates how science is done, at the practicing level. A doctor and scientist, using observation and logic, figured out the antihistamine protocol BY REASONING FROM SYMPTOMS, rather than by observation of antihistamines as an accidentally useful therapy. Nevertheless, both independent discoveries confirm each other.
LINK: https://www.bitchute.com/video/LvZDx6gzbJeR/
LINK: https://youtu.be/0tgvE6fuWXY
Dr. Shankara Chetty used a very old FIRST-GENERATION antihistamine, promethazine, as his drug of treatment.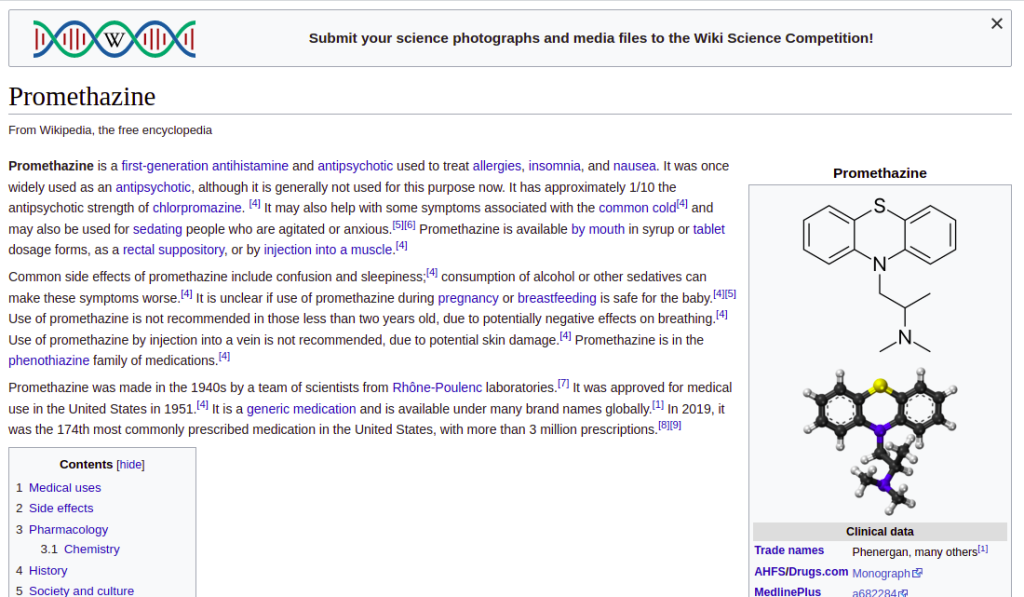 Based on this, our own group's prediction that Benadryl – another first-generation antihistamine – would also work, is almost certainly correct.
I think this is a critical video for every doctor to watch. In fact, this might be a good one to send to YOUR doctor!
---
5 – Omicron Infection Amplifies Neutralizing Antibody Response To Delta Variant
Well, count this as good news. Hat tip to RF121 for tipping us to this one.
First on Twitter:
LINK: https://sigallab.net/
LINK: https://secureservercdn.net/50.62.198.70/1mx.c5c.myftpupload.com/wp-content/uploads/2021/12/MEDRXIV-2021-268439v1-Sigal.pdf
Check out some further tweets from Alex Sigal.
Here is the abstract of the preprint.
---
Omicron has been shown to be highly transmissible and have extensive evasion of neutralizing antibody immunity elicited by vaccination and previous SARS-CoV-2 infection. Omicron infections are rapidly expanding worldwide often in the face of high levels of Delta infections. Here we characterized developing immunity to Omicron and investigated whether neutralizing immunity elicited by Omicron also enhances neutralizing immunity of the Delta variant. We enrolled both previously vaccinated and unvaccinated individuals who were infected with SARS-CoV-2 in the Omicron infection wave in South Africa soon after symptom onset. We then measured their ability to neutralize both Omicron and Delta virus at enrollment versus a median of 14 days after enrollment. Neutralization of Omicron increased 14-fold over this time, showing a developing antibody response to the variant. Importantly, there was an enhancement of Delta virus neutralization, which increased 4.4-fold. The increase in Delta variant neutralization in individuals infected with Omicron may result in decreased ability of Delta to re-infect those individuals. Along with emerging data indicating that Omicron, at this time in the pandemic, is less pathogenic than Delta, such an outcome may have positive implications in terms of decreasing the Covid-19 burden of severe disease.
Here are the critical points:
Importantly, there was an enhancement of Delta virus neutralization, which increased 4.4-fold.
The increase in Delta variant neutralization in individuals infected with Omicron may result in decreased ability of Delta to re-infect those individuals.
---
IMO, this is good news for people who are infected by Omicron. It is very likely that Omicron offers some real protection against Delta.
The degree of protection against Delta is roughly a THIRD of the degree of protection against Omicron itself which is afforded by infection with Omicron (4.4-fold vs. 14-fold). That's still ballpark. Probably comparable to a Delta-specific vaccine.
Not bad at all, IMO. We'll just have to see how real-world data pan out.
---
That's all for now, but stay tuned.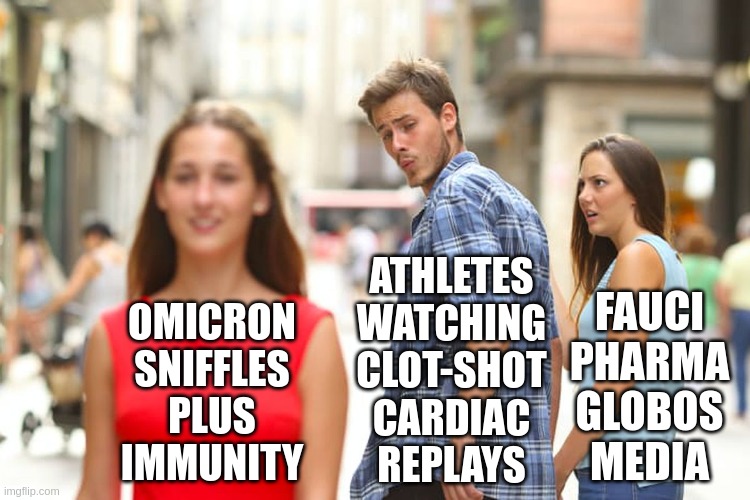 Because YES – there's MOAR.
W