---
Note from Wolf: This post, under a different title that I don't remember, went up last night, but was taken down by the author due to a misunderstanding between Authors. It went into the TRASH, where it did not belong, and then went into DRAFTS, where it cannot get the attention that it deserves NOW.
Thus, I take a rare BOARD OWNER prerogative to post it NOW.
It is my habit, at the Memorial Day parade I always attend, to RESCUE and BRING HOME those tiny, cheap American flags that get dropped on the ground for one reason or another. Sometimes broken, sometimes forgotten, sometimes dropped by a baby or stolen by a happy dog. It doesn't matter why. I pick them up, bring them home, and THOSE FLAGS take the place of honor as my most important flags for the coming year.
If you think that's a message, then I hope you read this post. Treat any imperfections as the ones found in Navajo rugs – proof of authenticity, and recognition of the Creator.
-W
---
When I was a young boy my father, who was an aviation enthusiast, would take me to airshows, and he passed his passion on to me. As far back as I can remember I have loved ANYTHING to do with flight. I would spend hours and days gluing together Revell model airplanes that I bought with money I made mowing lawns and doing chores, painstakingly painting them as accurately as I could using pictures from magazines and books, then hang them from the ceiling in my bedroom. At night after I went to bed, I would stare up at them and imagine myself being one of the pilots of these awesome machines.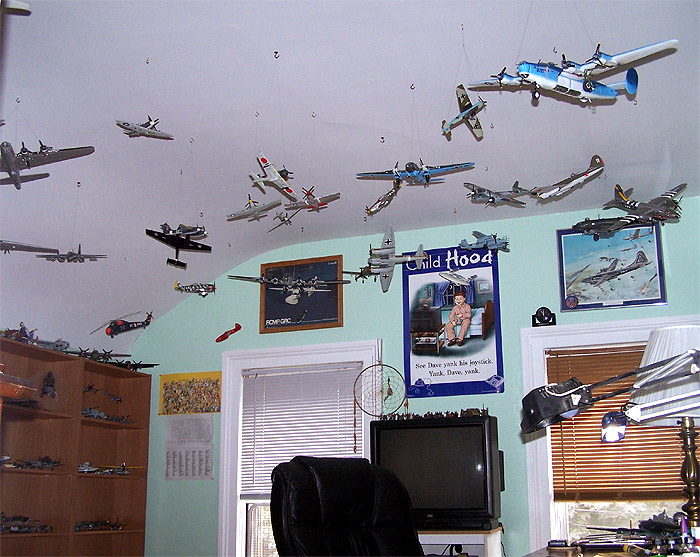 Back in those days, the new heros of flight were the Mercury and Apollo astronauts…but they themselves came from the ranks of men who willingly strapped themselves into several tons of finely machined metal and dared to challenge the harsh and unforgiving ethers above the earth.
For me, both then and now, this was where GIANTS tread.
Men of such courage, ability, fortitude, and character that today their feats are FAR too many to list here, their accomplishments and sacrifices SO IMPOSSIBLY GREAT…so well known….worldwide….that even a shmuck like me is granted some of the respect THEY earned…..simply because I, too, am a pilot.
Bullshit. I am not even a pimple, ON A pimple, on such men's behinds. Reread that.
It is not an exaggeration to say that most of today's federal aviation regulations are written in blood. Hard lessons learned and iron-clad rules set in place from tragic circumstances that cost people their lives….and most of those came from the blood of military pilots and test pilots. For one thing, you must remember that for most of avaiation history aircraft design was done BY HAND…there were no computer models/modeling to test equipment before it was tried out for the first time in actual flight….all too often at the cost of a courageous man's life. Back in those days, HALF of all US test pilots lost their lives. 50% of them!
Then, too, there were the combat pilots…especially those of the 40's through the 60's. This was the time when piston-driven aircraft had reached the limit of that kind's performance, followed by the subsequent birth of turbine engines (jets) that would rocket man beyond the speed of sound. Try as I might, I cannot possibly convey to you how dangerous and challenging these times were for the young men who had the fortitude, courage and ability to face the odds and learn how to push the edge of a high performance aircraft's envelope…to do that IN COMBAT…and try to survive.
However, there is one statistic that might give you some idea, some inkling, of how dangerous it was in those days.
Think of all the kinds of combat taking place in WWII. Sailors, marines, army. Submarines, for example, where one small breach of the hull at depth would send the vessel and all aboard into the crushing pressure of the deep. Or how about soldiers and marines in landing craft, daring to land on a beach while facing a hail of enemy gun fire and artillery as they rushed through the open to try and find some kind of cover and survive. Brave, courageous men….all of them!
That said, of all the different types of armed combat during WWII, which one was the most dangerous for the US serviceman….the one with the greatest casualties out of them all?
Was it the virtually fearless US marines landing on islands across the pacific, facing the fanatical Japanese? How about our troops going up against the Nazis in places like Bastogne? Or the aforementioned submariner forces in the Atlantic and Pacific?
Nope.
The single most dangerous combat job during WWII was to be a crew member of the US 8th Army Air Corps…the Mighty 8th…flying daylight combat missions over occupied Europe. Of ALL combat units of ALL types and service branches during WWII, the Mighty 8th suffered the highest casualty rates of the entire war.
In fact, it was SO bad…so incredibly dangerous….so UNLIKELY for someone to survive….that the US high command instituted….for the very first (but not the last) time….a maximum number of combat missions to be flown before a crew member was deemed to have fulfilled his wartime service obligation and get sent home.
The magic number? 25 combat missions.
Just 25.
Sounds easy, eh? Well, statistically speaking, every single person who stepped into an Mighty 8th airplane and flew combat missions over occupied Europe would get killed by the 13th mission, if not sooner. So they took that number and doubled it to 25, with the belief that if you could survive 25 missions, you earned the right to be honorably discharged and sent home.
And just to drive the point home…no other military occupation across all branches of service was afforded this priviledge. They called it "The Mighty 8th", but in reality it was the Bloody 8th.
WATCH….
At 25,000 feet….5 miles above the earth….the altitude most World War II bomber missions were flown….air temperature ranges from -30° to -45°F. Modern aircraft have sealed cabins and heaters to protect pilots and passengers from wind blast and cold air. Not the crews of WWII. Pressurized cabins hadn't been invented yet, and it wasn't until the development of the B-29 (of "Enola Gay" fame) that bombers had such a luxury.
If the enemy fire and flak didn't get you, the lack of oxygen and/or cold air could….and all too often did.
Have a look at this chart…these guys were regularly flying in the dark blue and purple parts at the right side. Note the amount of time it takes for exposed flesh to suffer frostbite.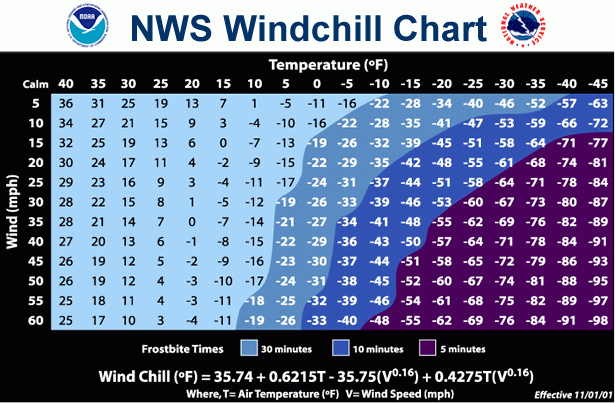 Moreover, where can you take cover in a thin aluminum skinned aircraft? A: you couldn't.
These planes had no armor…THAT was too heavy…and that weight was needed for the bombs and defensive machine guns. There were no foxholes or brick walls or trees to hide behind. No, you were stuck there, with your proverbial ass hanging out in the breeze, hoping it didn't get shot off…that you could make your 25 missions in one piece and go home.
Here…have a look…this is not too far off from what it was like. See if you can count ALL the dangers present in this short clip…
Mind shattering.
My point is simply this.
This weekend we historically honor those who have lost their lives in service to our country. And I wanted to give you a taste of the dangers some of them faced and all too often fell prey to.
They did it for us, the next generations to come. They did it because they loved America, for the deepest and most cherished hopes they had for this country, and all this country has historically stood for.
It is for such heros….who fought and died to establish, protect, and grow our nation…that we honor and remember their sacrifices this weekend.
And some do it every day, 24 hours a day, 365 days a year.
No. Matter. What.
Today, some of America's finest young warriors have emerged to carry forward the legacy of the men and women who came before them. And they have put their creed into word and sealed it with their own blood, spilled often and only rarely known by us.
This is their sacred code….written with the sacrifices of all those who came before them firmly in mind….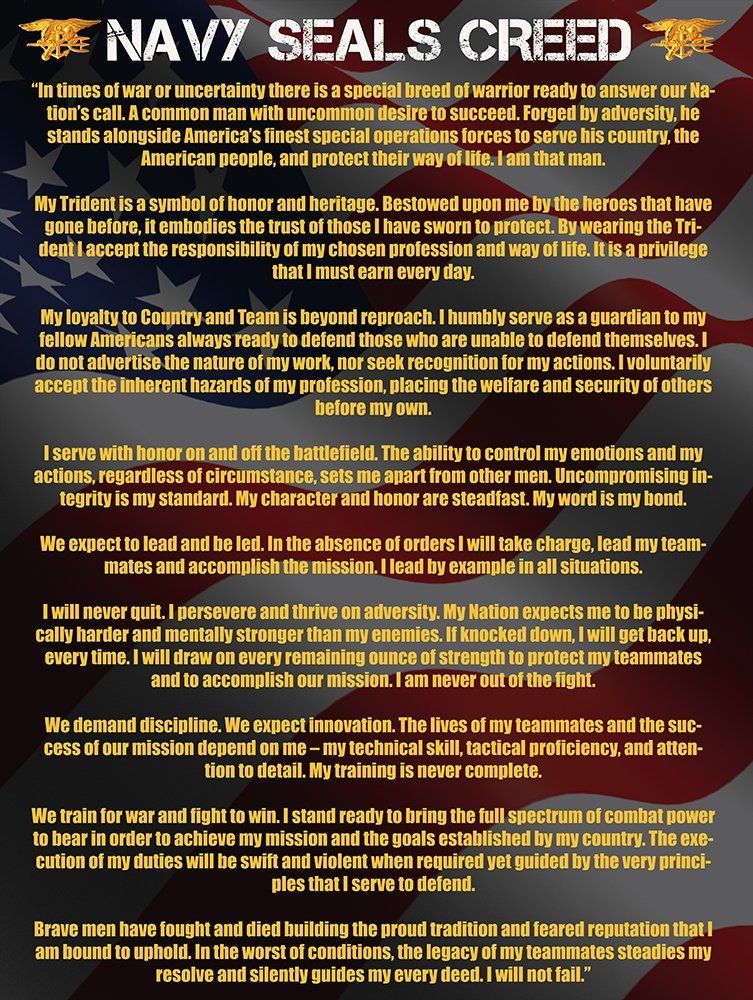 This weekend is a weekend of the fiercest PRIDE…
….of the most breathtaking AWE….
….of inexpressible GRATITUDE…
…..and undying APPRECIATION…
…..for all those who have ever fought and died to establish, protect and defend our great nation. The greatest nation the world has ever known.
To be an American is nothing less than knowing that, regardless of your personal circumstances, we are among the Lord God Almighty's most highly favored children. And this is NOT our "right". No. It is a terrible privilege of the most profound kind.
We live among GIANTS. And their legacy is ours.