From Clandestine's Newsletter:
I'm very glad I conducted this experiment. I was able to gather an overall understanding of how people define these words we use so often. And my hypothesis was correct, and that's is, collectively, we do not posses the same exact definition(s). However, I think we all have a somewhat similar understanding.

Let me clarify what I as an individual mean when I use these terms, and I think this will help many to better comprehend my analysis.

Some use these terms separately, suggesting there is a spectrum of "asleepness", which I certainly agree there is a spectrum. It's not black and white as to who is awake and who is asleep. There is lots of gray. However, I view both "normie" and "sheep" synonymously and use them interchangeably. My personal Definition:

-"Mainstream Media-dependent, brainwashed individuals, lacking any original or critical thought. Victims of mass psychological manipulation via state-controlled media."

The reason the word "normie" is used to describe these people is because for decades the societal norm was you believed what the newspapers said, you believed the man on the TV, and blindly went along with all of the prescribed narratives because that's just what everyone else did. The truth came from the TV and that's how it worked. Social media ruined that, and the societal norms for how people consumed news changed DRASTICALLY with the introduction of the Internet followed by social media, which led to a mass variety of viewpoints and alternative narratives. As opposed to the past where the entire messaging for a nation came from 2-3 news channels and a handful of newspaper companies. "Normies" are victims of outdated societal norms, which sadly includes being heavily brainwashed for political purposes by MSM.

The reason the word "sheep" is used to describe these people is because sheep are a species who, instinctually, blindly follow the herd and are incredibly easy to manipulate. Complacent inside their prison so long as they have food and protection.

Notice how amongst this thread I have yet to mention left or right? That's because there are normies/sheep on both sides of the aisle. Anyone who blindly gets their opinions from the TV, you're a sheep as far as I'm concerned. Left or Right. So when people in my comments screech "normies don't watch Fox and Friends! NoBoDy iZ WaKiNG uP!" You're simply wrong. Millions upon millions are dependent on the TV to confirm things for them. Even if they think something they saw on social media might be true, they don't accept it as fact until the TV says so.

Another point I wanted to address, that many claim "sheep are asleep and will always be asleep". And I vehemently disagree. Yes there will be around 4-6% who are permanently brainwashed and may never recover, but every last one of us was a sheep at some point and we woke up at separate times. Nobody popped out of the womb red pilled and totally aware. Just because some people are taking longer than you did, doesn't mean they are a lost cause. We have to undo decades of high level psychological manipulation and brainwashing. It's incredibly difficult and time consuming. And don't forget we have progressed so much from 2016, but many don't notice it since it's been slow and methodical. A controlled normalization as opposed to shock and awe.

And let me be clear, none of these people are a "lost cause", yet. They have been psychologically manipulated. Their brains drilled with lies from sources and people they have been conditioned to trust since birth, warping their sense of reality. It's not their fault. They should not have to suffer because nefarious entities manipulated them their entire lives.

The overwhelming majority of these people are good, intelligent, kind, loving, and want a better future for all of us, but they are quite literally brainwashed and are not thinking on their own. And I care about many of them, even if I find their ignorance annoying.
More at Clandestine's Substack.
Elon Musk's Bid Reveals Twitter Is The Poison Pill To Be Cured
MONDAY, APR 18, 2022 – 05:30 AM
Authored by Tom Luongo via Gold, Goats, 'n Guns blog,

I've given Elon Musk a lot of grief in the past over how he's run Tesla Motors. Suffice it to say I'm not a fan. Deep down I'm supremely distrustful of Musk because he is, at best, a mercurial figure who is difficult to read.

He's become the richest dude in the world partnering with governments to build some of the biggest hype machines in history. So, his offer to buy all of Twitter and take it private can cynically be seen as just another moment of ego from the 21st century's best reincarnation of P.T. Barnum.

That said, however, strange things happen, when you acquire the kind of Fuck You Money that Musk has.

And it seems to me if you connect some dots that Musk has been planning this move for a while. Last year he came out in favor of Bitcoin. Then he took a memecoin, DOGE, and turned it into the crypto 'flavor of the month.'

Musk's ego is something to remain skeptical of, but it's also hard not to respect a guy who is completely free at this point, or least free enough that he has zero fucks left to give to the regime that made him what he is.

So, when he cashed out a massive amount of money from Tesla at the peak recently it looked to me that he was getting ready to go from Elon Musk Reality TV star to the Real Elon Musk.

Most people, especially clueless bitches like Elizabeth Warren, don't understand that most rich people are asset rich, but cash poor. Jeff Bezos may have billions of Amazon stock, but he really can't sell a lot of it without giving a vote of no-confidence to the company itself.

It runs counter to his fiduciary interest as a board member. This isn't to say Bezos doesn't have money. He does, but he also doesn't have nearly the amount of money you think he has.

So, Musk, freed from Tesla's financial, shall we say creativity, now has real Fuck You Money. Not stock. Not assets. Cash.

And that cash he's putting on the line today to force the moment of Twitter's malfeasance as a public entity to its crisis point.

He has succeeded brilliantly.

He doesn't even need to actually take control of Twitter. He's already won.

By forcing Twitter's board, who doesn't own any shares in the company, to adopt a Poison Pill strategy, Musk has revealed them to be more interested in maintaining Twitter as a social control response engine rather than as a public company with a responsibility to shareholders.
And the world thanks you.
The announcement of the lifting of the mandate inspired a wide range of responses.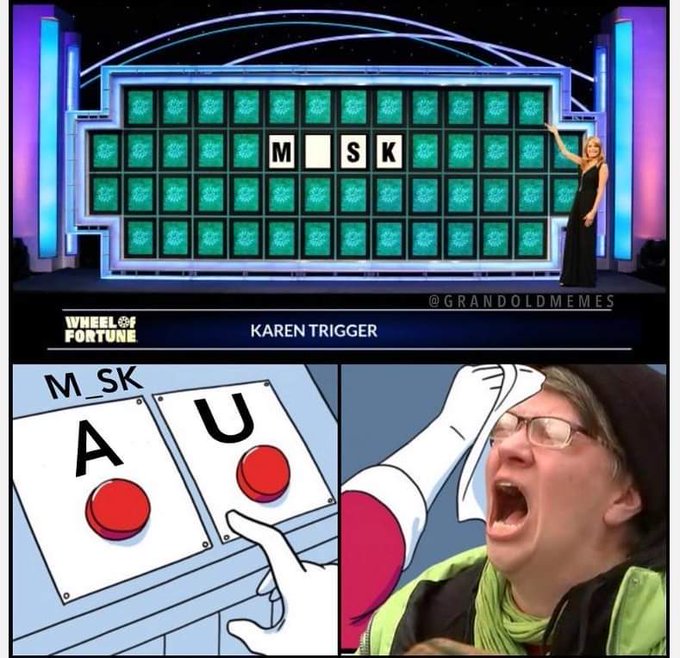 In other news: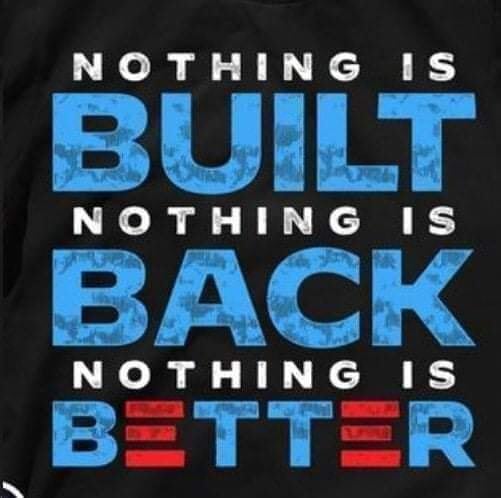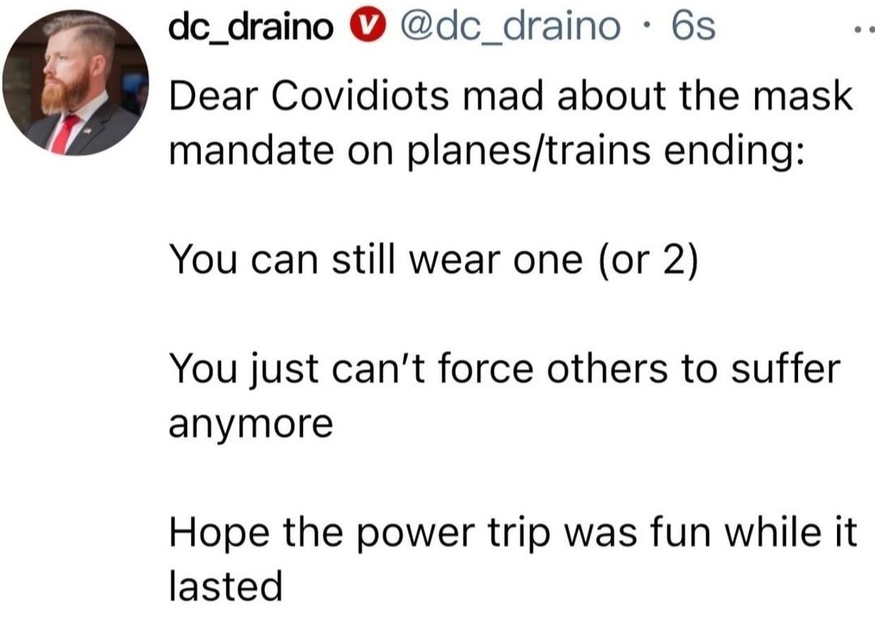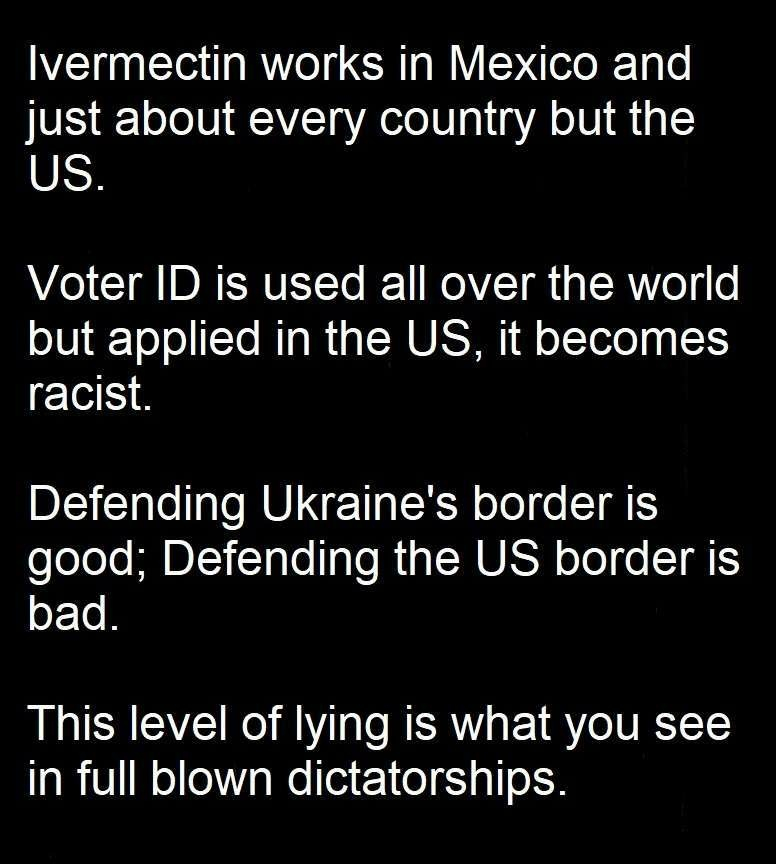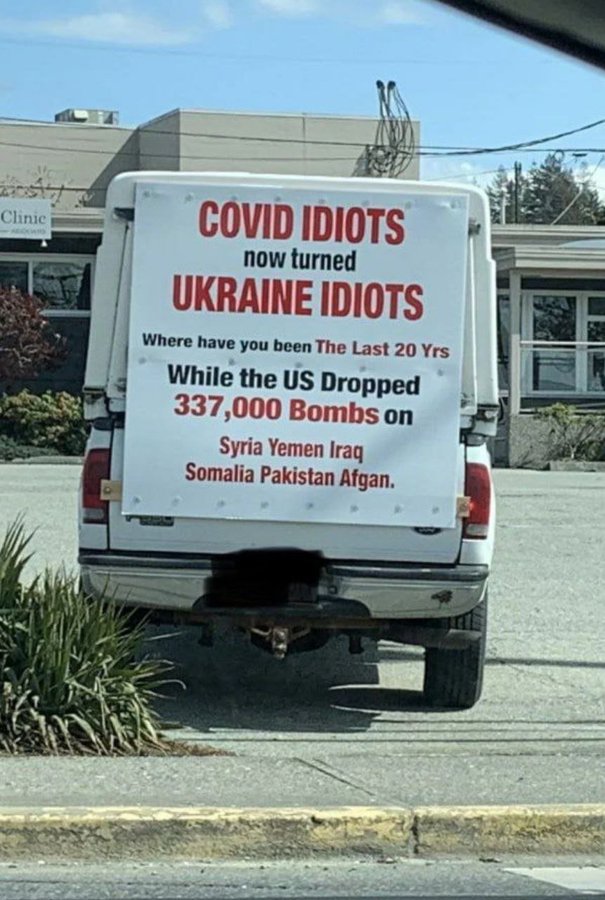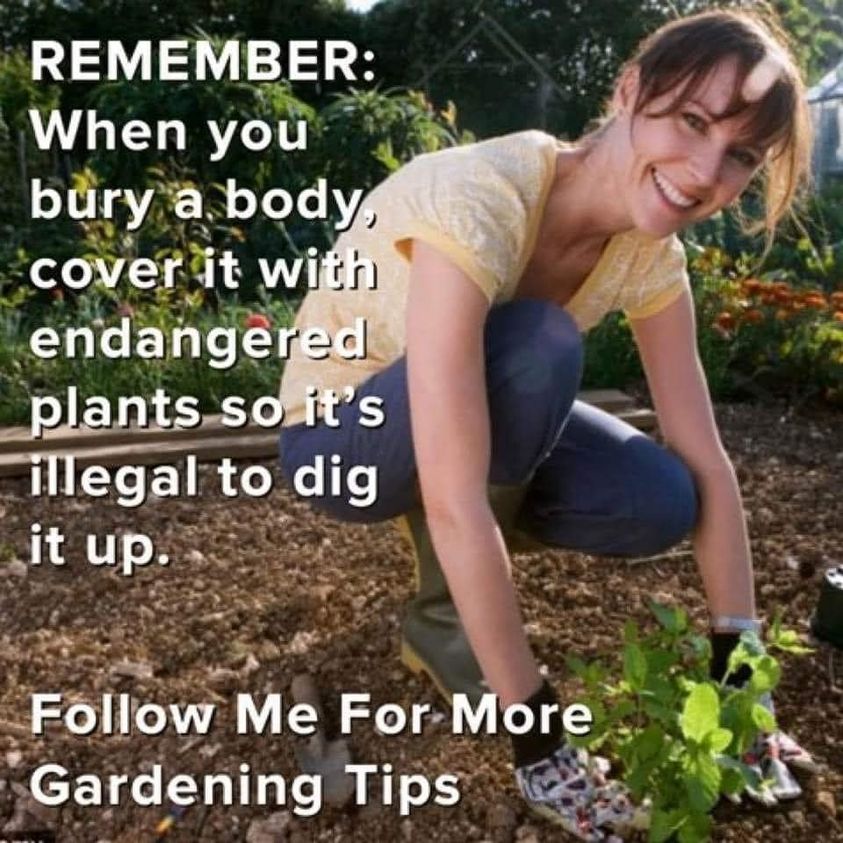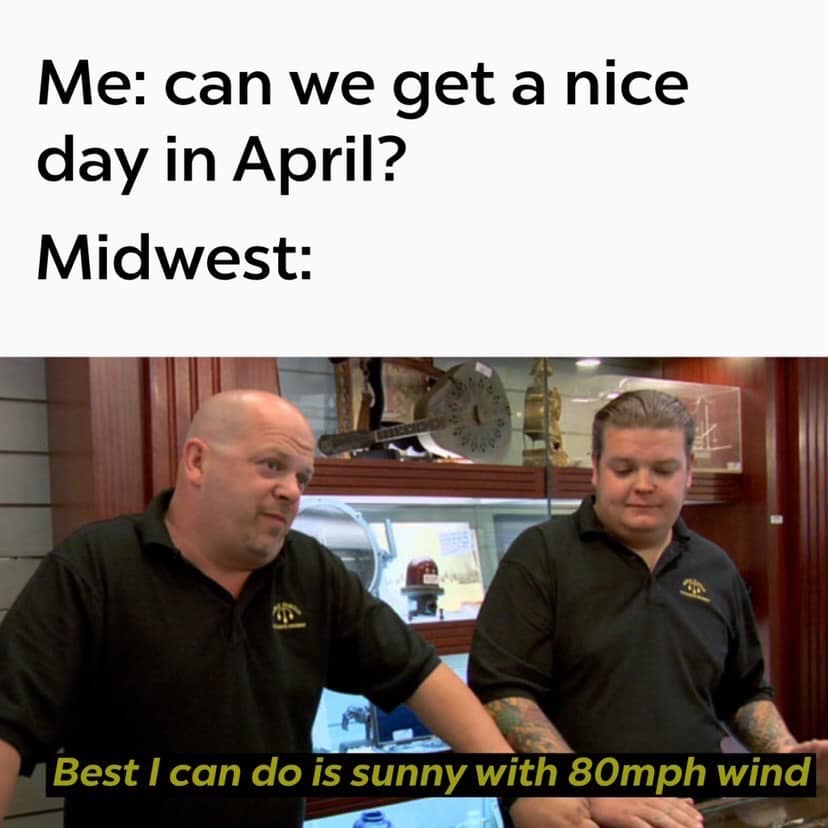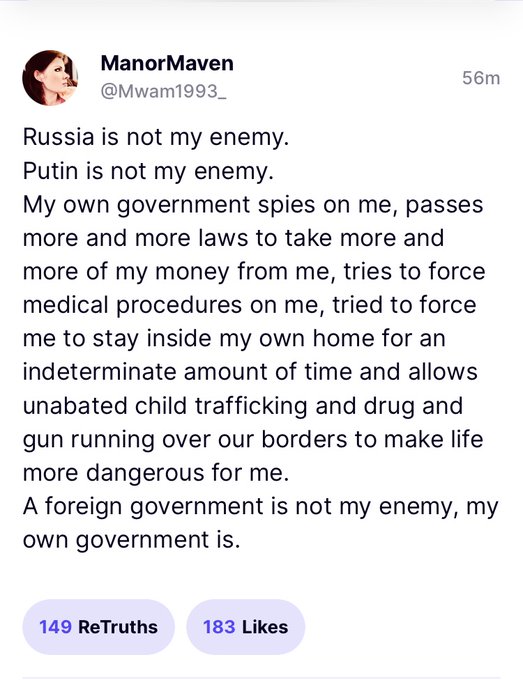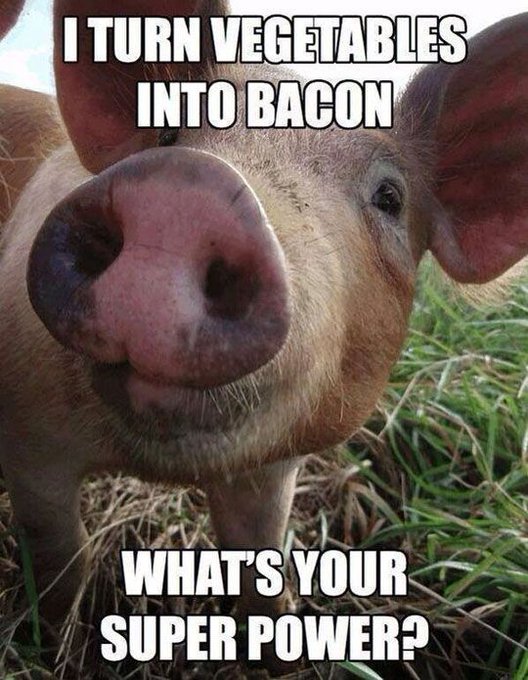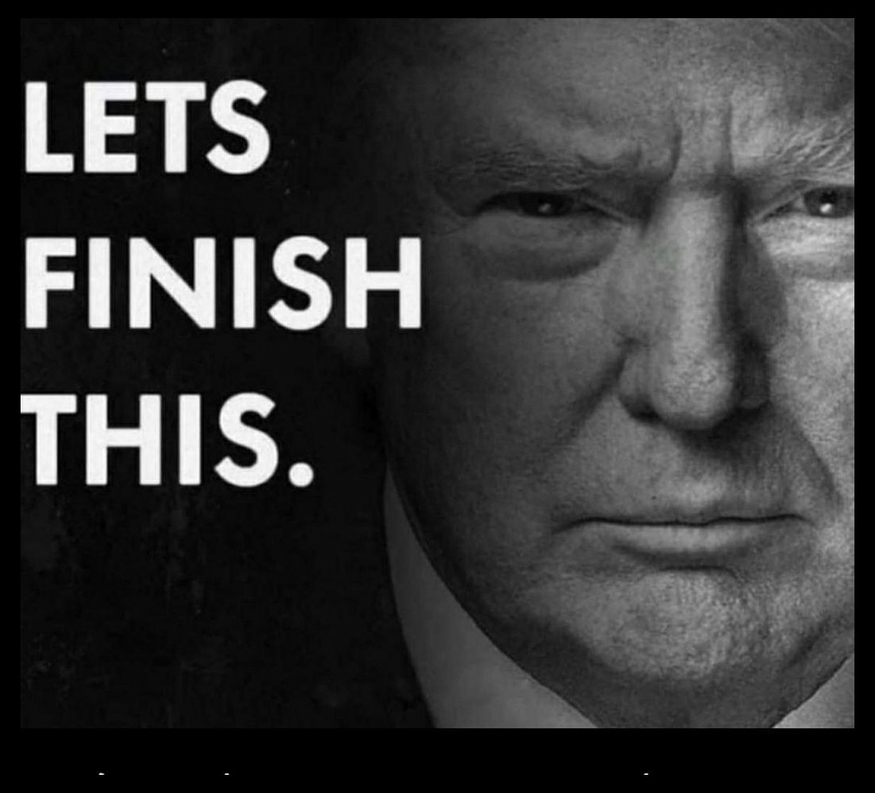 Have a good day y'all.
(I don't remember who brought this to a daily in the comments, but thanks.)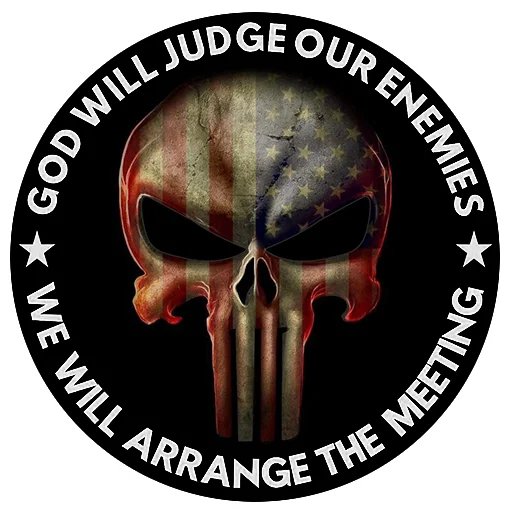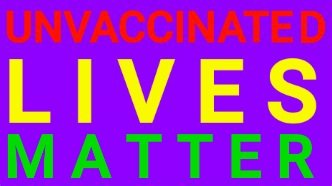 And, of course, the obligatory George Carlin: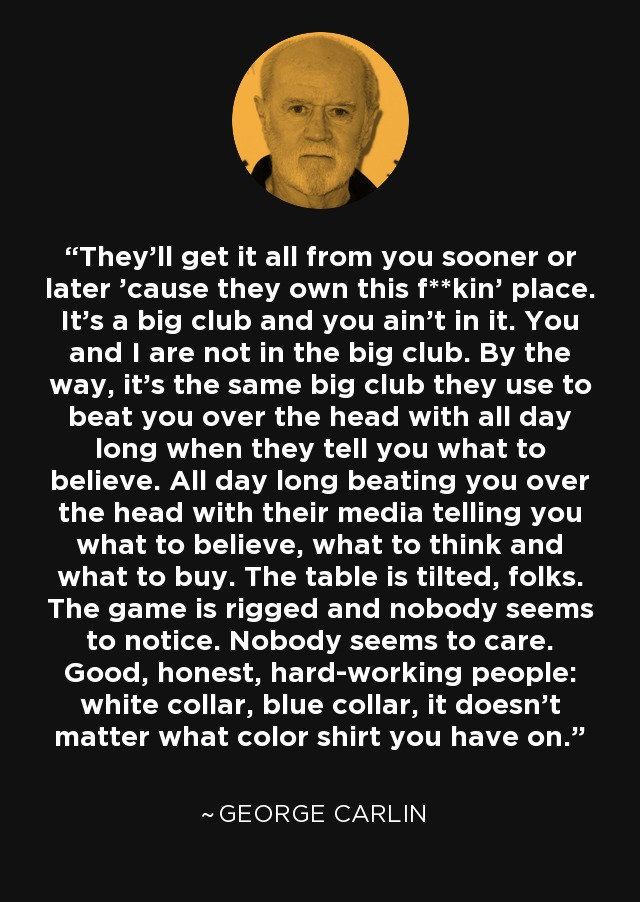 Per the Boss: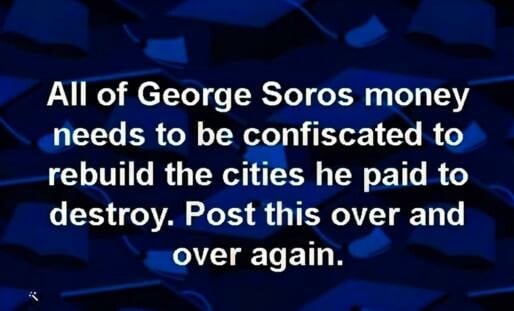 And now for the obligatory message from our sponsors:
Here at the Q tree we believe in the concept of CIVIL open free speech and the discussion that fleshes out ideas. When commenting and participating in the OPEN discussion on this thread all comments MUST NOT CONTAIN personal threats, baiting, name calling, or other anti-social words fomenting hate, violence or destruction. Our host Wolfm00n has strict rules about that.
Fellow tree dweller Wheatie gave us some good reminders on the basics of civility in political discourse:
No food fights.
No running with scissors.
If you bring snacks, bring enough for everyone
Please, stock up on blanks for celebratory gunfire, be ready to swing from the chandeliers…and no messing with the nuclear weapons.
Please remember to remain locked and loaded and ready for trouble should the insurrectionists try to invade your space.
Those who have things to say that do not fit the generally accepted limits of "civil" discussion, Wolf has provided a venue known as the UTree. You're welcome to visit over there and say hi to anyone hanging out over there. The "Rescue Thread" is also over there. In the event a rendezvous of the tree is needed, please check it out, as well as the newest rescue venue.
Auntie DePat's requests:
If you see something has not been posted, do us all a favor, and post it. Please, do not complain that it has not been done yet.
The scroll wheel on your mouse can be your friend. As mature adults, please use it here in the same manner you would in avoiding online porn.
Thank you so much for any and all attention to such details. It is GREATLY appreciated by more than one party here.
One other vital note:
Please, review these rules that our host Wolfm00n outlined toward the beginning of the growth of the tree itself. it won't take long.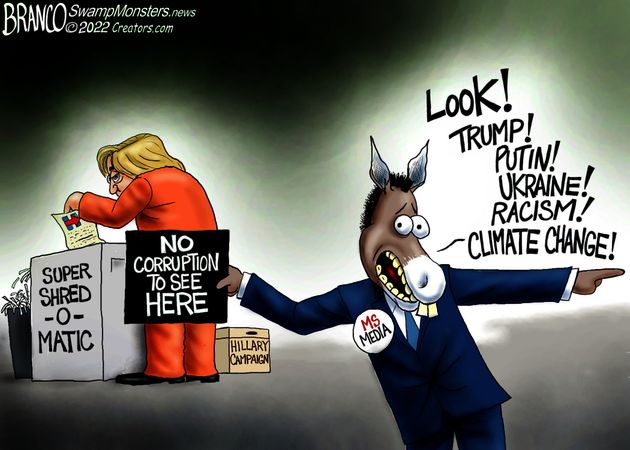 __________________________________________________
ACTS 3:1-10
1Now Peter and John were going up to the temple at the hour of prayer, the ninth hour. 2And a man lame from birth was being carried, whom they laid daily at that gate of the temple which is called Beautiful to ask alms of those who entered the temple. 3Seeing Peter and John about to go into the temple, he asked for alms. 4And Peter directed his gaze at him, with John, and said, "Look at us." 5And he fixed his attention upon them, expecting to receive something from them. 6But Peter said, "I have no silver and gold, but I give you what I have; in the name of Jesus Christ of Nazareth, walk." 7And he took him by the right hand and raised him up; and immediately his feet and ankles were made strong. 8And leaping up he stood and walked and entered the temple with them, walking and leaping and praising God. 9And all the people saw him walking and praising God, 10and recognized him as the one who sat for alms at the Beautiful Gate of the temple; and they were filled with wonder and amazement at what had happened to him.
LUKE 24:13-35
13That very day two of them were going to a village named Emma'us, about seven miles from Jerusalem, 14and talking with each other about all these things that had happened. 15While they were talking and discussing together, Jesus himself drew near and went with them. 16But their eyes were kept from recognizing him. 17And he said to them, "What is this conversation which you are holding with each other as you walk?" And they stood still, looking sad. 18Then one of them, named Cle'opas, answered him, "Are you the only visitor to Jerusalem who does not know the things that have happened there in these days?" 19And he said to them, "What things?" And they said to him, "Concerning Jesus of Nazareth, who was a prophet mighty in deed and word before God and all the people, 20and how our chief priests and rulers delivered him up to be condemned to death, and crucified him. 21But we had hoped that he was the one to redeem Israel. Yes, and besides all this, it is now the third day since this happened. 22Moreover, some women of our company amazed us. They were at the tomb early in the morning 23and did not find his body; and they came back saying that they had even seen a vision of angels, who said that he was alive. 24Some of those who were with us went to the tomb, and found it just as the women had said; but him they did not see." 25And he said to them, "O foolish men, and slow of heart to believe all that the prophets have spoken! 26Was it not necessary that the Christ should suffer these things and enter into his glory?" 27And beginning with Moses and all the prophets, he interpreted to them in all the scriptures the things concerning himself. 28So they drew near to the village to which they were going. He appeared to be going further, 29but they constrained him, saying, "Stay with us, for it is toward evening and the day is now far spent." So he went in to stay with them. 30When he was at table with them, he took the bread and blessed, and broke it, and gave it to them. 31And their eyes were opened and they recognized him; and he vanished out of their sight. 32They said to each other, "Did not our hearts burn within us while he talked to us on the road, while he opened to us the scriptures?" 33And they rose that same hour and returned to Jerusalem; and they found the eleven gathered together and those who were with them, 34who said, "The Lord has risen indeed, and has appeared to Simon!" 35Then they told what had happened on the road, and how he was known to them in the breaking of the bread.
As always, prayers for the fight against that which seeks to enslave us are welcome.
Please include: President Donald Trump, the Q team, our soldiers in the field, special forces, tactical units, first responders and those working behind the scenes…and any and all people with family members in the hospital, COVID or not.
And…members of the QTree who no longer participate for one reason or another.
It is quite clear, as per Wolf's message from July, that we are under spiritual attack. Building up a robust arsenal of prayer and discipline is a must in fighting the enemy and his minions.
In that spirit, the Prayer to St. Michael the Archangel from Tuesday's threads, and the Breastplate of St. Patrick, not to mention the Litany of Humility are favorites recommended by exorcists in spiritual warfare.