Cover image: Sunday Morning by Norman Rockwell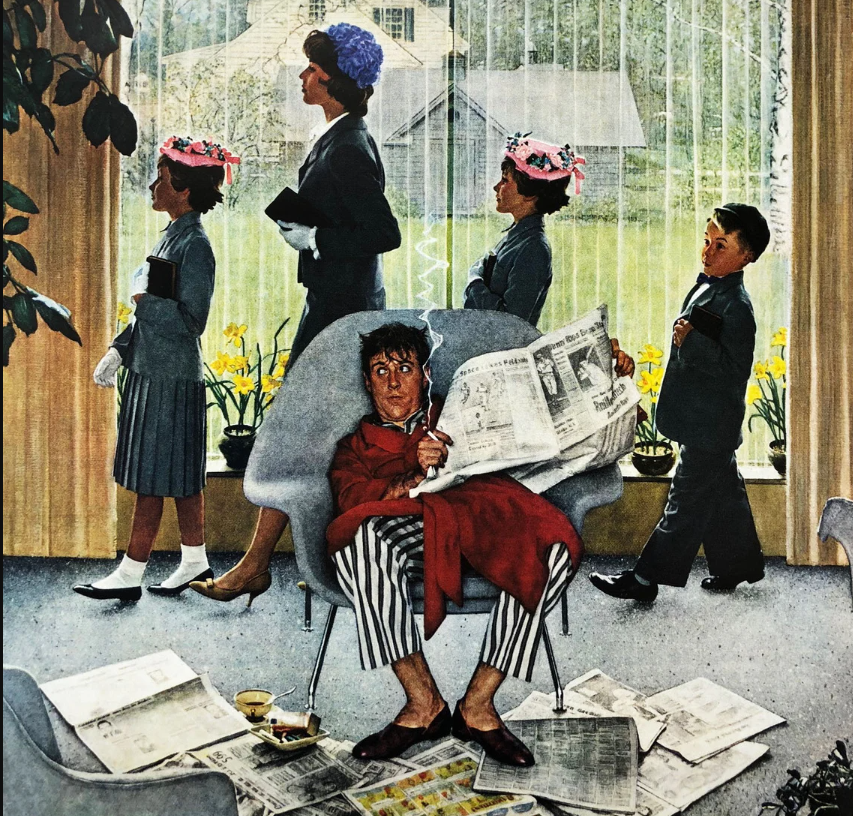 As Bakocarl recovers from his latest illness, some of us are subbing for Sundays. This is not going to be one of my usual open threads chock full of headlines, Tweets and memes pretty much because there isn't much out there, but more due to the day of the week: Sunday.
Genesis 2: 1-5
1 So the heavens and the earth were finished, and all the furniture of them. 2 And on the seventh day God ended his work which he had made: and he rested on the seventh day from all his work which he had done. 3 And he blessed the seventh day, and sanctified it: because in it he had rested from all his work which God created and made. 4 These are the generations of the heaven and the earth, when they were created, in the day that the Lord God made the heaven and the earth: 5 And every plant of the field before it sprung up in the earth, and every herb of the ground before it grew: for the Lord God had not rained upon the earth; and there was not a man to till the earth.
When Christianity continued on after Christ walked among us, what was given to our religious ancestors, the Jews, the day of rest, was moved from the original Sabbath to Sunday to honor our Lord and Savior, who rose from the dead on a Sunday.
All around the Christian world, Sunday used to be reserved for visiting, for family, for a special meal, for resting and relaxing. Even in the old colonial world (French and Spanish colonies), slaves were free on Sunday to relax and visit. They also got together to trade goods made by slaves. Masters at the time did not confiscate what their slaves produced.
Today, Sunday is really almost just like any other day. There's nothing special about it unless it's made special by resisting the consumer world. Entertainment and leisure activities are one thing, but a lot of other work….
At any rate, Christians might consider how far they take their Christianity. Is it a clocking in and out as one walks into Church and then back out. Or is it a lifetime commitment of love doing as the Lord commands. Do we really know what is worth worrying about if we can't do anything about it?
From the Gospel According to St. John, Chapter 5
After these things was a festival day of the Jews, and Jesus went up to Jerusalem. 2 Now there is at Jerusalem a pond, called Probatica, which in Hebrew is named Bethsaida, having five porches. 3 In these lay a great multitude of sick, of blind, of lame, of withered; waiting for the moving of the water. 4 And an angel of the Lord descended at certain times into the pond; and the water was moved. And he that went down first into the pond after the motion of the water, was made whole, of whatsoever infirmity he lay under. 5 And there was a certain man there, that had been eight and thirty years under his infirmity.

6 Him when Jesus had seen lying, and knew that he had been now a long time, he saith to him: Wilt thou be made whole? 7 The infirm man answered him: Sir, I have no man, when the water is troubled, to put me into the pond. For whilst I am coming, another goeth down before me. 8 Jesus saith to him: Arise, take up thy bed, and walk. 9 And immediately the man was made whole: and he took up his bed, and walked. And it was the sabbath that day. 10 The Jews therefore said to him that was healed: It is the sabbath; it is not lawful for thee to take up thy bed.

11 He answered them: He that made me whole, he said to me, Take up thy bed, and walk. 12 They asked him therefore: Who is that man who said to thee, Take up thy bed, and walk? 13 But he who was healed, knew not who it was; for Jesus went aside from the multitude standing in the place. 14 Afterwards, Jesus findeth him in the temple, and saith to him: Behold thou art made whole: sin no more, lest some worse thing happen to thee. 15 The man went his way, and told the Jews, that it was Jesus who had made him whole.

16 Therefore did the Jews persecute Jesus, because he did these things on the sabbath. 17 But Jesus answered them: My Father worketh until now; and I work. 18 Hereupon therefore the Jews sought the more to kill him, because he did not only break the sabbath, but also said God was his Father, making himself equal to God. 19 Then Jesus answered, and said to them: Amen, amen, I say unto you, the Son cannot do any thing of himself, but what he seeth the Father doing: for what things soever he doth, these the Son also doth in like manner. 20 For the Father loveth the Son, and sheweth him all things which himself doth: and greater works than these will he shew him, that you may wonder.
Okay, so Christ worked miracles on the Sabbath. That doesn't mean we can't honor Him by taking a rest.
Rules of the house borrowed from Friday:
And now for the business portion of the post borrowed from Tuesday:
Guidelines for posting and discussion on this site were outlined by our host, WolfM00n. Please, review them from time to time.
The discourse on this site is to be CIVIL – no name calling, baiting, or threatening others here is allowed. Those who are so inclined may visit Wolf's other sanctuary, the U-Tree, to slog it out. There is also a "rescue" thread there for members of the Tree to rendezvous if the main site goes kablooey. A third site has been added for site outages of longer duration.
This site is a celebration of the natural rights endowed to humans by our Creator as well as those enshrined in the Bill of Rights adopted in the founding documents of the United States of America. Within the limits of law, how we exercise these rights is part of the freedom of our discussion. In that spirit, though, threats of violence real or hypothetical are out of bounds.
Fellow tree dweller the late Wheatie gave us some good reminders on the basics of civility in political discourse:
No food fights.
No running with scissors.
If you bring snacks, bring enough for everyone.
And Auntie DePat's requests:
If you see something has not been posted, do us all a favor, and post it. Please, do not complain that it has not been done yet.
The scroll wheel on your mouse can be your friend. As mature adults, please use it here in the same manner you would in avoiding online porn.
God grant me the Serenity
To accept the things I cannot change,
Courage to change the things I can,
And the Wisdom to know the difference.

Living one day at a time,
Enjoying one moment at a time.
Accepting hardship as a pathway to peace,
Taking, as he did, this sinful world as it is,
Not as I would like it.

Trusting that he will make all things right,
If I surrender to his will.
That I may be reasonably happy in this world
And supremely happy in the next.