Q had a "Q&A" today, and one of the questions was – at least from my point of view – a bit unexpected.  OK – VERY unexpected.
---
Q

 

!!mG7VJxZNCI

 

ID: 98088e

 No.3094236

Q
Are we alone ?
Roswell ?
>>3093831
No.
Highest classification.
Consider the vastness of space.
Q
---

People are already asking a lot of questions about this, and one of the theories (which actually makes a lot of sense) is that it was simply a bandwidth test.  However, I think it may have also been a "believability test", too.  Probably for a variety of reasons.
Anyway, on Twitter, there was some discussion of it, and I'd like to bring my thoughts here.  I'm not going to be too argumentative about them – this is all very speculative.  But still, I want people to see my thoughts, which are likely going to be tamped down BIG-TIME on Twitter.
For this reason, I'll present it as IMAGES first, of each tweet, which can't be removed by Twitter.  I'll include the actual Tweets as an appendix.  People can click on those and go to them, if they are still there.
---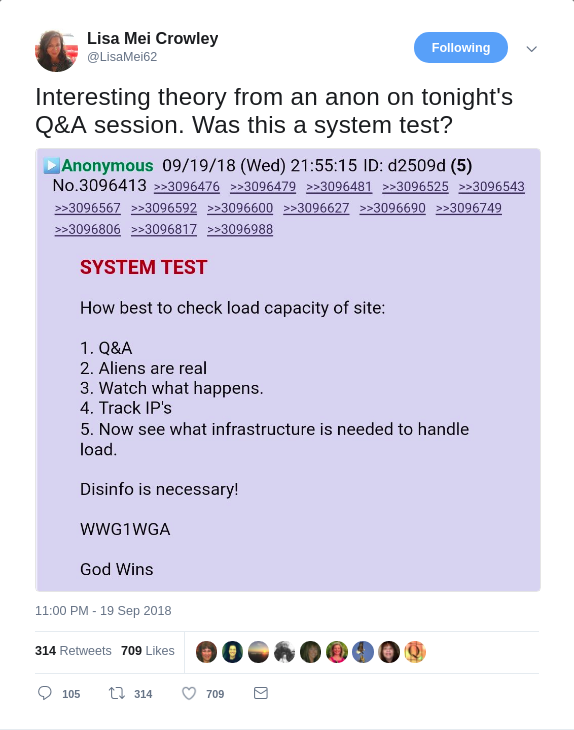 Next, somebody responds with an earlier Q post on the topic.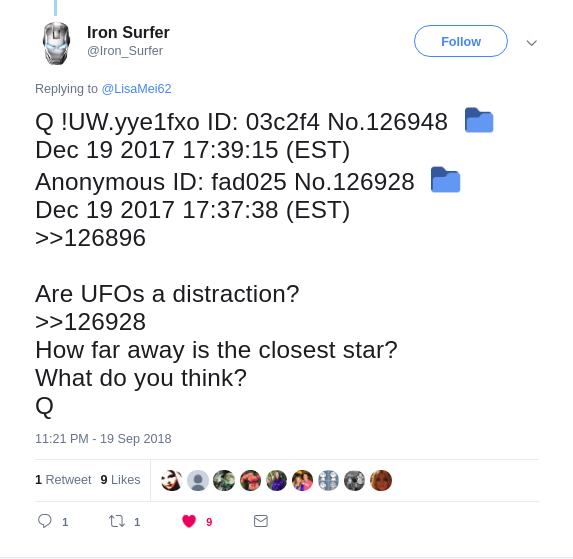 Somebody responded to THAT with a "Got it!"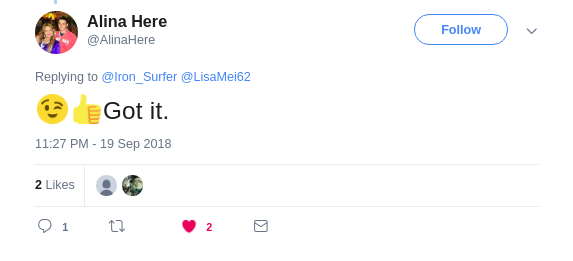 And THAT is where I jumped in.
My thoughts will be hidden on Twitter – nobody will see them.  That's why I'm bringing them here – to share with people who can appreciate them.  Not necessarily agree.  Just something to think about.
Here we go.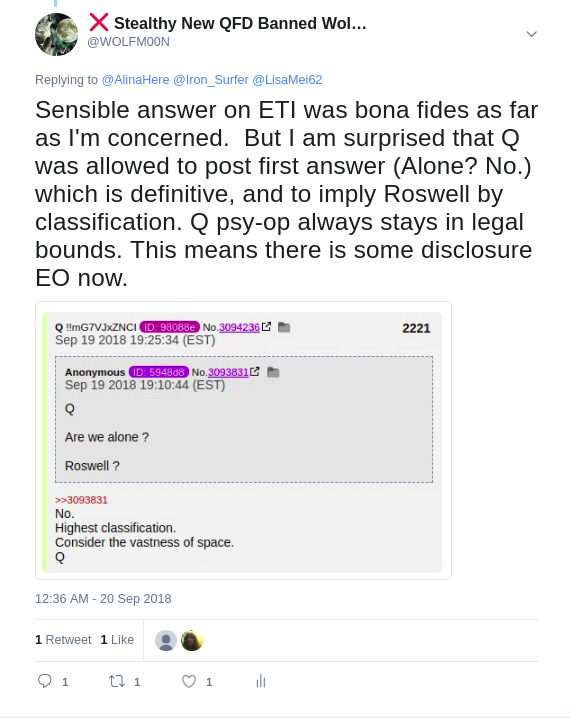 Hopefully that is clear.  To put it more bluntly, Q sometimes misleads extremely well – especially the other side, but doesn't just outright lie.  I find it difficult to reconcile the idea that this is disinformation with Q's normal style – particularly when science (in my opinion) agrees with the idea of pervasive life in the universe (which also, in my opinion, argues for God).
I then began expanding on that.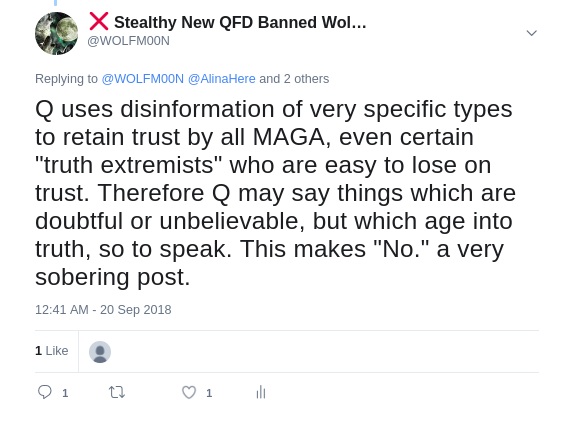 Nevertheless, I do think it was a bandwidth test.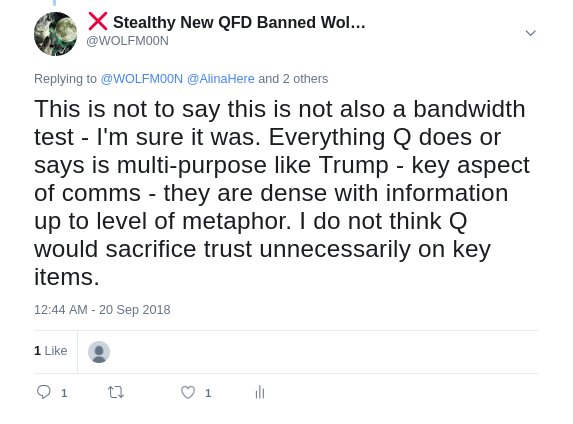 Now I want to get into why Q's final answer is even more convincing to me.  When you see "AO", that is my abbreviation for "Alpha and Omega".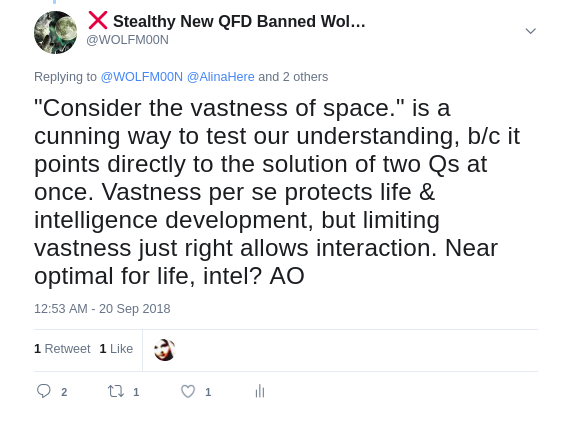 What I'm talking about there is an aspect of the "anthropic principle", which basically says "isn't it weird that the universe seems so suited for humans?", and scaling it up to the "isn't it weird that Star Trek is even possible?" level.
Many argue that the anthropic principle is a tautology anyway, and I certainly see that point.  However, if one simply accepts the idea that the universe we experience is optimized toward intelligence for the reason of the tautology, then it becomes highly predictive at the same time, and the more and more we see it borne out, the more it tends to argue for intelligence as a kind of first principle of the universe.
Hmmmm.  That sounds like something.  Some old thought of mankind.  Where is Descartes?  Wake him up – he would be interested in this stuff.
Anyway, now it's time to think of how mind-blowing all of THAT really is.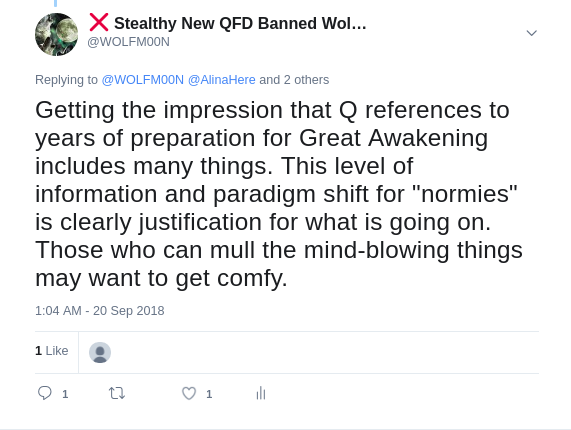 Great Awakening actually BEING a "great awakening"?  Wow.  Could be.
But now I don't want to provoke arguments, so I'm going to let the people who are going pale in the face have an out.  Here is where that starts.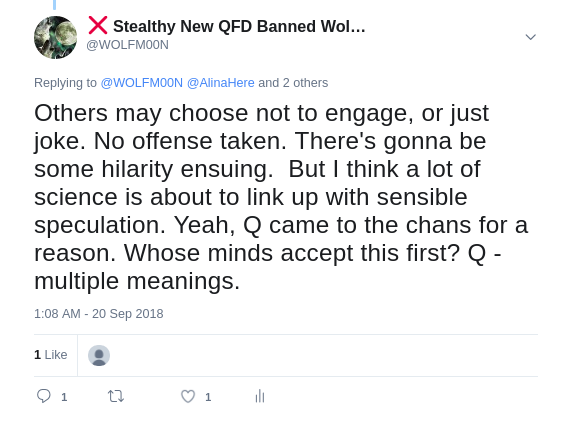 Q has stated multiple times that "they" came to the chans for a reason.  Being "first to be able to believe" freaky stuff is very likely part of that.
Now I wrap up with the "WHEW" post.  "Hey there – don't worry – maybe only a few believe me – I think that's what they wanted."
That will give people PROPER pause – easy to reject – easy to accept – your call.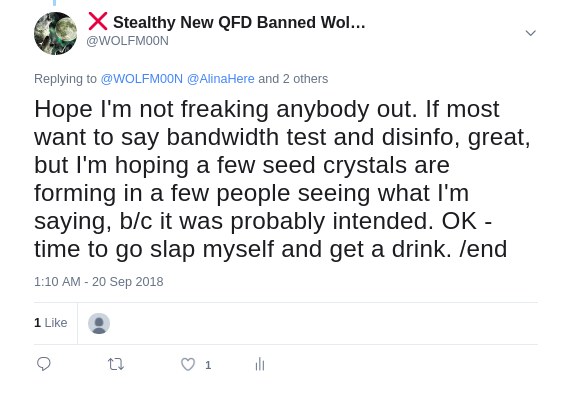 There you have it.  The moment I believed Q about aliens.  I was only believing what I already believed, but I believed that Q was telling me the truth.  I believe this may actually be the first moment of official public disclosure, so I took a picture.
W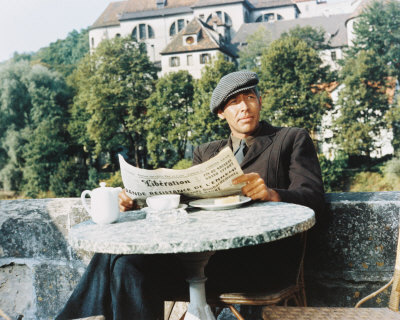 PS – there is also – via YouTube – considerable DISINFORMATION about aliens. Because the YouTube Brin/Wojcicki Red Diaper Socialist Club targets me individually with certain types of disinformation via their product, and particularly about aliens, and because I'm aware of it, I have reconstructed the Hillary left's agenda on that issue VERY clearly.  It is definitely Satanic and atheistic, which is a bit of a contradiction in terms, but it's 100% Cabal.
The message is BAD HUMANS who DESERVE CONTROL.  BAD AMERICAN MILITARY which is EVIL and TRUMP.  We need GOOD SOCIALISM.
That is not the Q message.  THANK GOD.

APPENDIX I – Twitter Posts
https://twitter.com/LisaMei62/status/1042609439579271170

https://twitter.com/Iron_Surfer/status/1042614631632527360

Sensible answer on ETI was bona fides as far as I'm concerned. But I am surprised that Q was allowed to post first answer (Alone? No.) which is definitive, and to imply Roswell by classification. Q psy-op always stays in legal bounds. This means there is some disclosure EO now. pic.twitter.com/Qi0wArZWaa

— Wolf Moon (@WOLFM00N) September 20, 2018
This is not to say this is not also a bandwidth test – I'm sure it was. Everything Q does or says is multi-purpose like Trump – key aspect of comms – they are dense with information up to level of metaphor. I do not think Q would sacrifice trust unnecessarily on key items.

— Wolf Moon (@WOLFM00N) September 20, 2018
Getting the impression that Q references to years of preparation for Great Awakening includes many things. This level of information and paradigm shift for "normies" is clearly justification for what is going on. Those who can mull the mind-blowing things may want to get comfy.

— Wolf Moon (@WOLFM00N) September 20, 2018
Hope I'm not freaking anybody out. If most want to say bandwidth test and disinfo, great, but I'm hoping a few seed crystals are forming in a few people seeing what I'm saying, b/c it was probably intended. OK – time to go slap myself and get a drink. /end

— Wolf Moon (@WOLFM00N) September 20, 2018

FIN