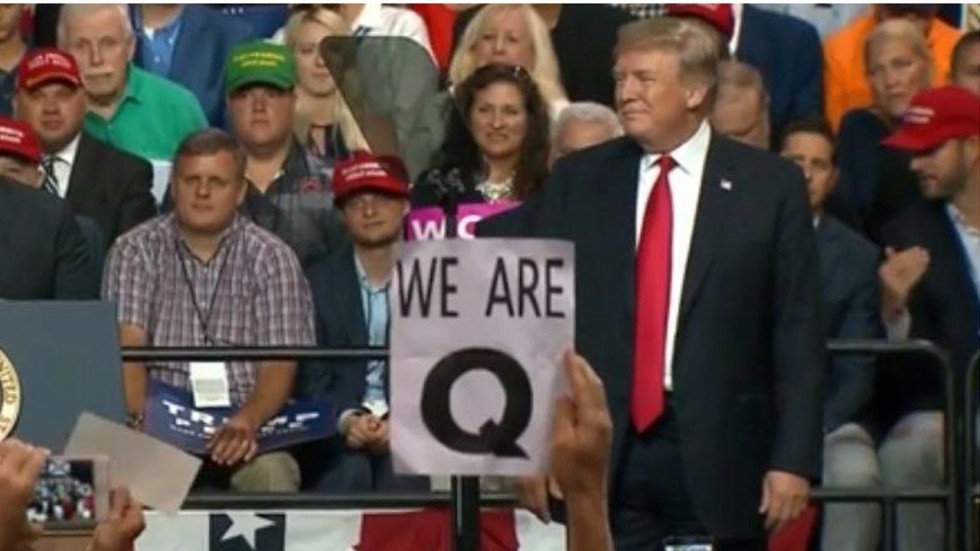 When people say "we are Q", I find it immensely satisfying to consider the reality of that statement, and not to simply brush it off.  To look at the totality of our elaboration of Q posts into a movement, and consider how we might do it better.
Clearly, understanding Q helps us do it better.  And what – actually – IS that understanding?
It is that vibrant, moving, shifting, intelligent sum of our understandings, changing itself.  Thus, I find that people's own INDIVIDUAL VIEWS of Q actually help CONSTITUTE what "Q" – the larger Q, so to speak – thinks.  And the CHANGE in that sum comes from SELF-AWARENESS and INTER-AWARENESS of the parts.
Simple, in the end.  But let's not just think – let's DO.
para59r had an interesting point of view on Q, from the comments on my first REAL post here, that I thought I would share, so that others could discuss.  I find myself in strong agreement with many of the points made.
An image of the original post, and then the text (for those who use text reader devices) is provided.
IMAGE: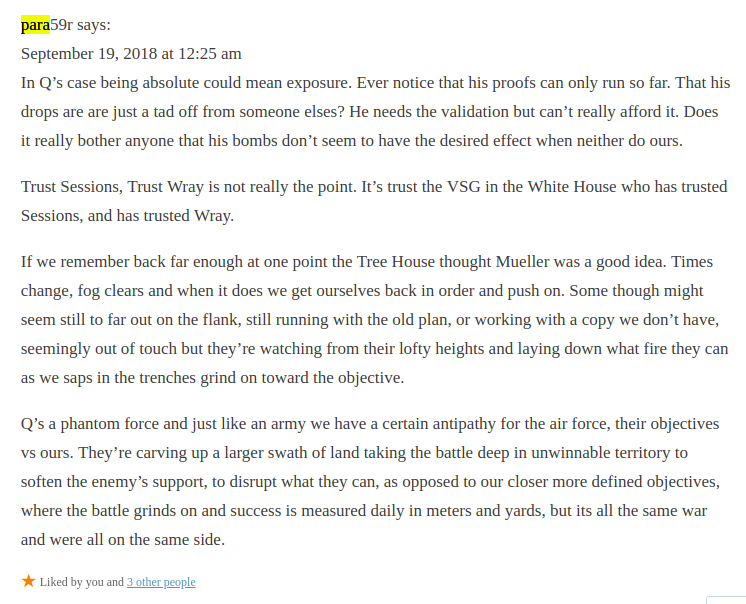 TEXT:
In Q's case being absolute could mean exposure. Ever notice that his proofs can only run so far. That his drops are are just a tad off from someone elses? He needs the validation but can't really afford it. Does it really bother anyone that his bombs don't seem to have the desired effect when neither do ours.
Trust Sessions, Trust Wray is not really the point. It's trust the VSG in the White House who has trusted Sessions, and has trusted Wray.
If we remember back far enough at one point the Tree House thought Mueller was a good idea. Times change, fog clears and when it does we get ourselves back in order and push on. Some though might seem still to far out on the flank, still running with the old plan, or working with a copy we don't have, seemingly out of touch but they're watching from their lofty heights and laying down what fire they can as we saps in the trenches grind on toward the objective.
Q's a phantom force and just like an army we have a certain antipathy for the air force, their objectives vs ours. They're carving up a larger swath of land taking the battle deep in unwinnable territory to soften the enemy's support, to disrupt what they can, as opposed to our closer more defined objectives, where the battle grinds on and success is measured daily in meters and yards, but its all the same war and were all on the same side.
I find this to be a great BRIDGE to several important points about the Q strategy, and even the larger POTUS strategy.  Some of these points I find validating in themselves, BECAUSE they are so strategic, and maybe even optimally so.  If we were NOT doing them, we would want to be doing them.
But rather than point them out myself, I think it's worth challenging readers to identify them and discuss.
What think Q?
W