Last night – a SMALL but very public demonstration of Q's growing power over the Fake News media.  And you saw it here first, people, in the Q WORLD.



For the visually impaired:
"We will be voting this week."
Heading to TN now.
Q
Heading to TN now.
This looked very similar to other Q posts that gently mention POTUS movements – sometimes ahead of schedule, sometimes after the fact, and sometimes playing games with timing, as a proof of Q's insider status.
But this time was different.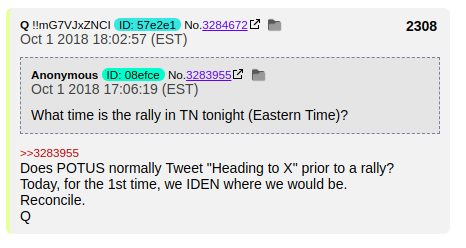 Does POTUS normally Tweet "Heading to X" prior to a rally?
Today, for the 1st time, we IDEN where we would be.
Reconcile.
Q
Q then spelled it out even more clearly by confirming an anon post.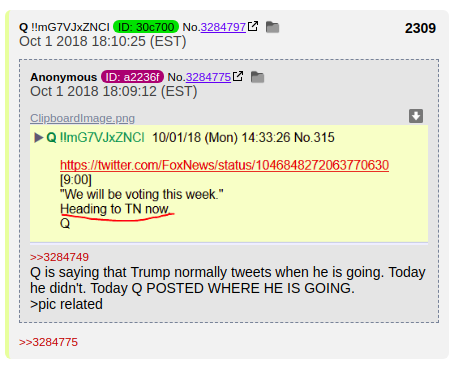 Q is saying that Trump normally tweets when he is going. Today he didn't. Today Q POSTED WHERE HE IS GOING.
In other words, if the media was looking for an easy tip on when Trump was leaving, they would not be seeing it on Twitter.  The would have to look at Q.  Hilarious.
Another anon fact-checked this, and Q confirmed: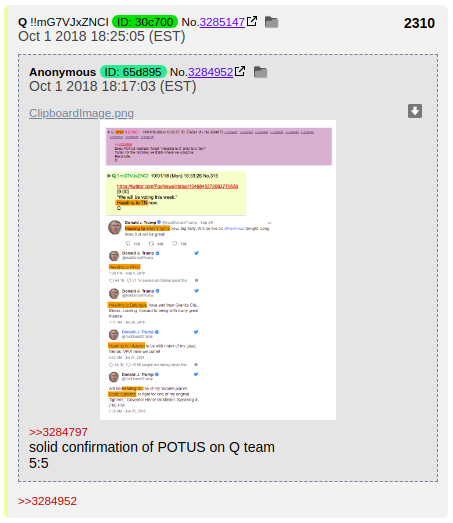 solid confirmation of POTUS on Q team
5:5
I could potentially argue that Q is on the POTUS team, but whatever.  I think the other way around is more Trump.  Our VSGPOTUS feels PRIVILEGED to be ON THE TEAM – and quite possibly in the worst position of all – the CiC – who bears the cost of every dead patriot.  Thank GOD it's Donald J. Trump there.
Here is a close-up of the image showing that Trump/Q typically announce using Tweets: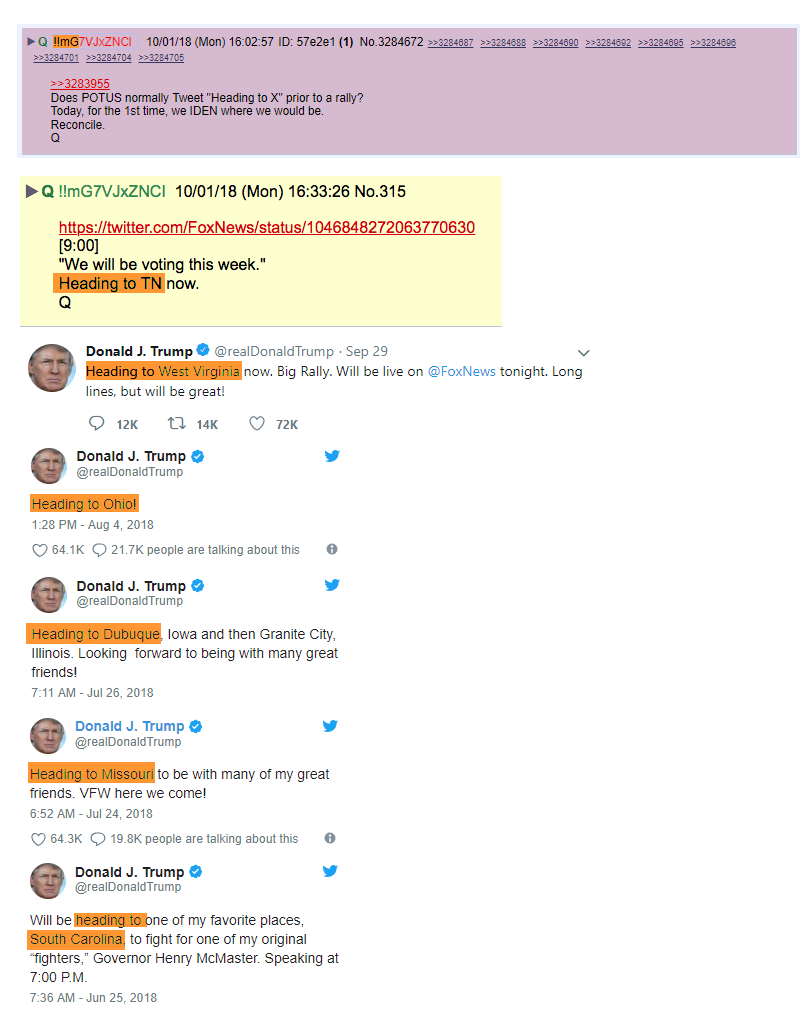 Why is this relevant?
The media has just spent a YEAR denying Q.  They have been calling Q a LARP – a conspiracy theory – a sad effort of Trump supporters to believe in something while the Trump administration (under General Kelly, no less – LMAO) descends into chaos!
"OH NOES!  CHAOS!"
Do you see what is happening here?
Right before the election, the VSGPOTUS is preparing to utterly destroy the KGB-CIA media's credibility without even acknowledging them.  The same media which has DENIED Q is now going to have to GO TO Q for information.
Utterly devastating.  The KARMA – the SCHADENFREUDE – is out of the park.
I keep saying that President Trump is TOYING with the American Soviet Fake News media.  It is truly amazing.  I just love it.
This is extremely reminiscent of The Drudge Report during the Clinton administration.  While all of Washington was officially calling Drudge a disreputable rag printing the ridiculous and unbelievable, it was common knowledge that The Drudge Report was not only bookmarked by all Washington journalists, but was frequently their HOMEPAGE.
Yeah.  FAKE NEWS.
Exactly HOW the media chooses to backpedal on Q should be precious.  Get your popcorn.  But the bottom line is that the Trump administration found a way to engage the patriot community right under the nose of the FAKE SOCIALIST DEMOCRAT NEWS, and help that fake news destroy its own credibility at the same time.
And it will only get better.
---

To finish, I include a cut-up of a New York Times piece denying Q.  Let's look at it now (gently – more later – MUCH MOAR later) in light of what is coming.
Here is an intentionally poisoned link so that the scumbag rag Slim's Slimes does not track their hideous article back to here using the WordPress New York Times plugin.
JUNKJUNKJUNK___https(colon)//www.nytimes.com/2018/09/11/magazine/a-trail-of-bread-crumbs-leading-conspiracy-theorists-into-the-wilderness.html___JUNKJUNKJUNK
If you want to follow it, copy the embedded URL, paste to a browser, change (COLON) to an actual colon, and go to the URL.
I am saving a copy for posterity.

Who in the hell is Mattathias Schwartz?  Let us look at THAT first.
"Contributing writer"
Former staff writer (at a different NY publication)
Livingston Award recipient
Last feature there about John Brennan!
I leave the first two items for those who knows what they mean.  The last item is also self-evident.  The award is, however, the biggest indictment of all.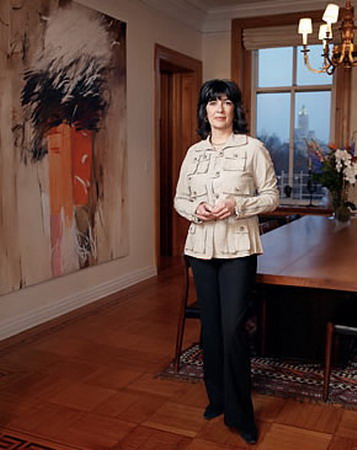 The Livingston Award should be renamed the Christiane Amanpour Award.  It is specifically designed to INFLUENCE young Fake News journalists to genuflect to the agenda.  You can click on this link:
https://en.wikipedia.org/wiki/Livingston_Award
…to see what the award entails, OR you can simply look at the list of JUDGES:
Christiane Amanpour
Ken Auletta
Dean Baquet
Charles Gibson
Ellen Goodman
John F. Harris
Clarence Page
Anna Quindlen
Mike Wallace (former)
Yeah.
Will they hide this article eventually?  Will Mattathias Brennan-Schwartz do a correction?  An "update"?
Who knows.
Note that Slim's Slimes did NOT bury their commitment to the narrative – they are calling us conspiracy theorists right in the title.  Hey – WE are not the ones who are going to have to backtrack.
Read the piece if you want, but be careful, because it IS socialist propaganda.
I personally minimize my own undermining by enemy propaganda by reading it in several VERY careful ways.  I either disarm the booby-traps by reading very slowly and questioning every single idea, or skim in a rapid and circumspect way that fails to trip the hidden ideas meant to weaponize psychology and try to work around my logic.
It is, however, worth a look if you realize that it is PROPAGANDA.  Everything about it is propaganda.  Even the literary allusions are propaganda.  The tone – the sneering superiority – everything.
The point is clear, though, that they will soon have to SHIFT THEIR NARRATIVE on Q and the Q movement.  I could speculate on what they will do, but frankly, I think letting them do it by trial-and-error and VERY BADLY is deserved, so I won't help too much.
Fun times.  Grab your popcorn.
There's nothing like a Trump rally – even over the Internet.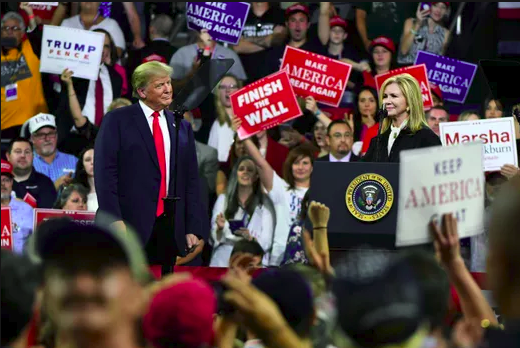 ---

Enjoy the show.  It will only get better! 😉
W