Before I get into the larger issue of Red October today, I want to focus attention on a small nugget of ADVANCED Q thinking and logic.  This will be a bit nerdy, and will twist a few undies, but it's a good twist – maybe even a wedgie – of which some of the insufficiently critical autists are in dire need.
You will notice the featured image of this post is a meme purportedly showing shots fired from the LOWER FLOORS of the Mandalay Bay casino hotel in Las Vegas.  It took a while, but eventually (far too late, IMO) people figured out that these were just lights of various kinds.  But the damage was done.  An ENORMOUS amount of crowd investigation was wasted on chaff ideas and disinformation.
Why is this relevant?
It is my contention – and I think that many "autists" besides myself (is this info or disinfo? – watch language evolve) noticed this – that deployment of Q followed very soon on the heels of the Las Vegas DEEP STATE PROPAGANDA EVENT.
Let me hit you with a string of Questions to finish the argument.
What else [INTERNATIONAL] followed the Las Vegas Event?
Why is this relevant?
WHERE was this relevance located [MB32++] near the alleged site of the event [MB32] ?
WHY would somebody want to push a different location?
Was the target venue even visible from [MB4/MB10] lower floors? [NO]
Who might have checked this out? [W]
Who might have tried and FAILED to inject this truth into social media?
How and why did arguments then shift to MAINTAIN the deception?  [C_A?]
Who specializes in creating confusion after events? [JFK++]
Who noticed that disinformation was being re-crafted in real time? [W]
What did Health Ranger prove scientifically by audio analysis? [MB32 + ???]
Who worked furiously to discredit Health Ranger by influencing influencers?
Who realized social media comms were being used to craft new disinfo? [W++]
What is "reactive disinformation"?
How does one defeat "reactive disinformation"?
New comms?
Withholding details?
Questions, not answers?
Making people think again?
Things that add up to 17?
---

This is, in fact, one of the reasons I accept the VALIDITY of "Q" no matter what the origin, alleged origin, proven origin, disproven origin – WHATEVER.  Q is a valid counter to enemy disinformation, and particularly REACTIVE disinformation.  In my mind, Q is VALID MAGA no matter what.
Q earns faith so it gets faith.

Now – it's time to bring this to Q's recent posts.
Q is no longer just a counter to the enemy – it is a TARGET of the enemy.  The enemy is continuously trying to discredit Q.
One of the ways to do that, is to catch Q in a PINCH.
One particular pinch works like this – using DISINFORMATION:
Invalid disinformation is fed by "fingerprint-free" means to autists, so that they will believe it and seek endorsement by Q.
Q is then caught in a pinch:
Endorse, and give the enemy ways to DISCREDIT Q.
Fail to endorse, or disprove it, and DEMORALIZE autists.
This is particularly cunning, when the disinformation is SYMBOLICALLY TRUE but FACTUALLY FALSE.
Example: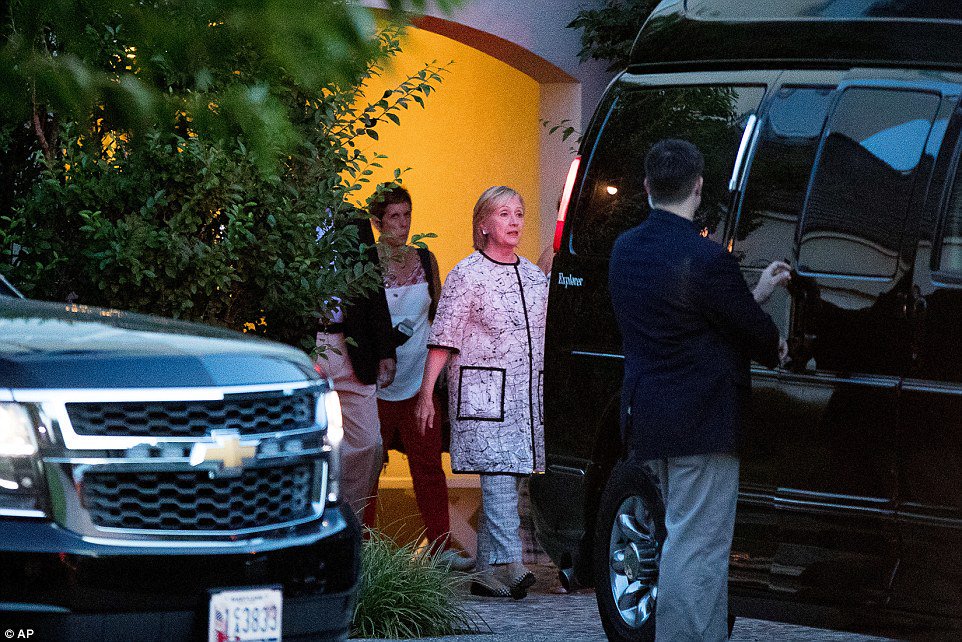 This picture appeared immediately before the "Dr. Ford assault" portion of the Kavanaugh SCOTUS hearings.  It alleges that the woman behind Hillary Clinton is Dr. Ford's LAWYER, Debra Katz.  Many people saw this and retweeted it – even me.
Here is a picture of Debra Katz: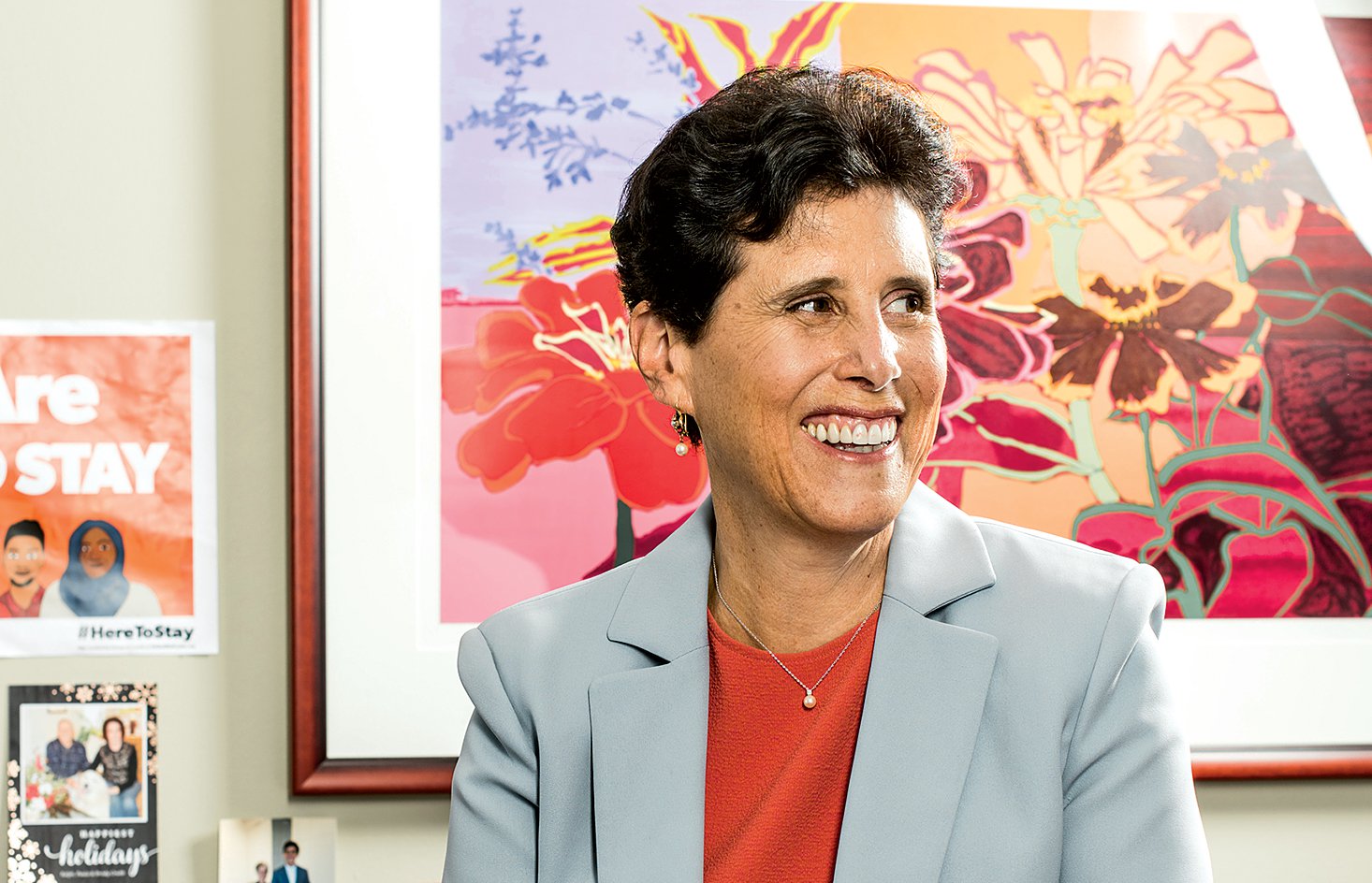 There is definitely a STRONG resemblance.  This is NOT hard to believe, either.  Debra Katz is in fact a HUGE backer of Hillary Clinton, and has surely been very close to her on numerous occasions.  One only has to check out a few links to see this truth.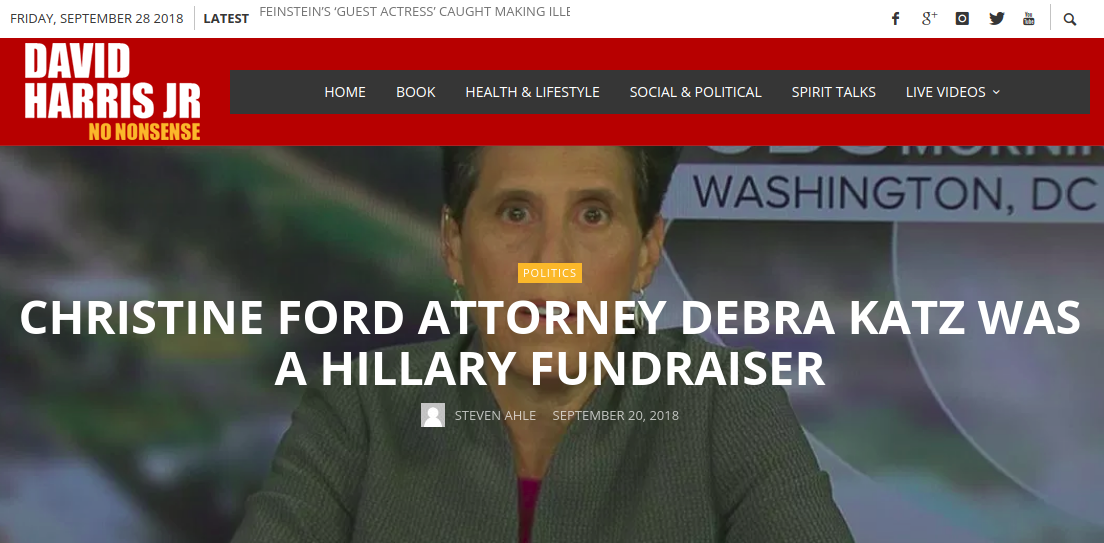 https://davidharrisjr.com/politics/christine-ford-attorney-debra-katz-was-a-hillary-fundraiser/



http://www.foxnews.com/politics/2018/09/24/kavanaugh-accusers-enlist-high-powered-lawyers-dem-operatives.html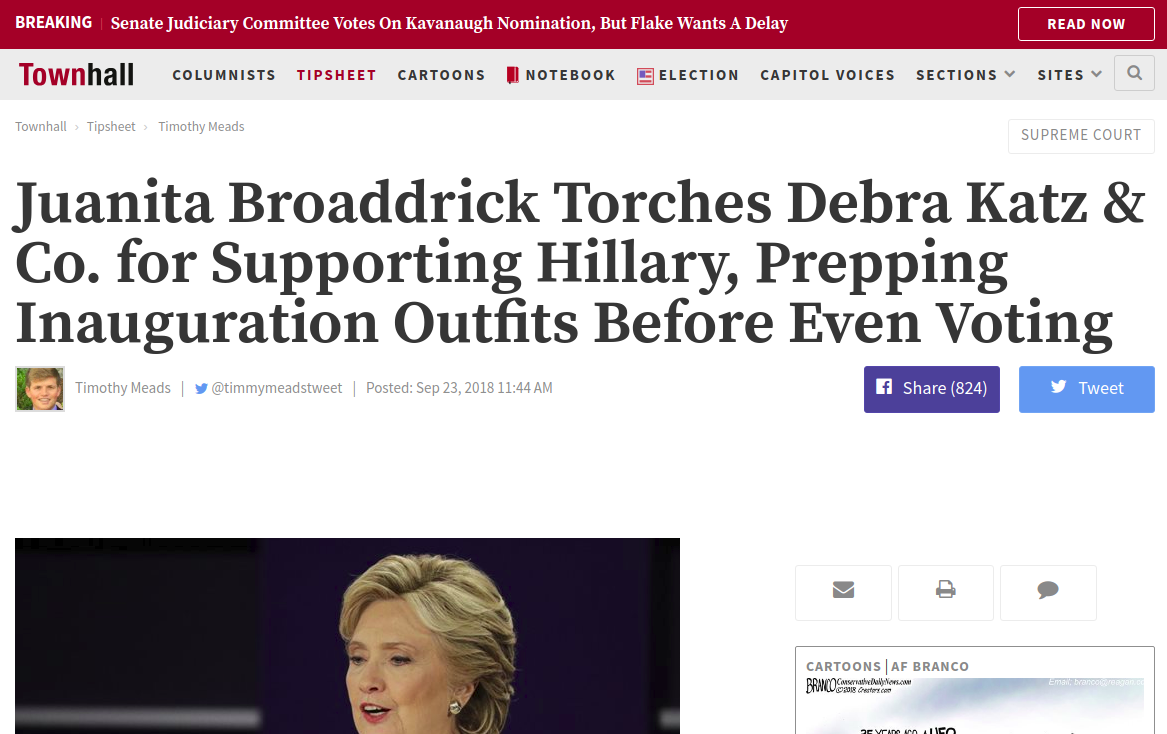 https://townhall.com/tipsheet/timothymeads/2018/09/23/juanita-broaddrick-sounds-off-on-debra-katz-co-for-supporting-hillary-plannin-n2521610
---

The problem?  The woman is not Debra Katz.  It's Hillary's PHOTOGRAPHER, Barbara Kinney.  In the picture, if one looks closely, one can see her both holding a flash/light meter/something and shouldering a bag of camera equipment.
And, to remove all doubt, here is a picture of Barbara Kinney, shouldering a bag the same way: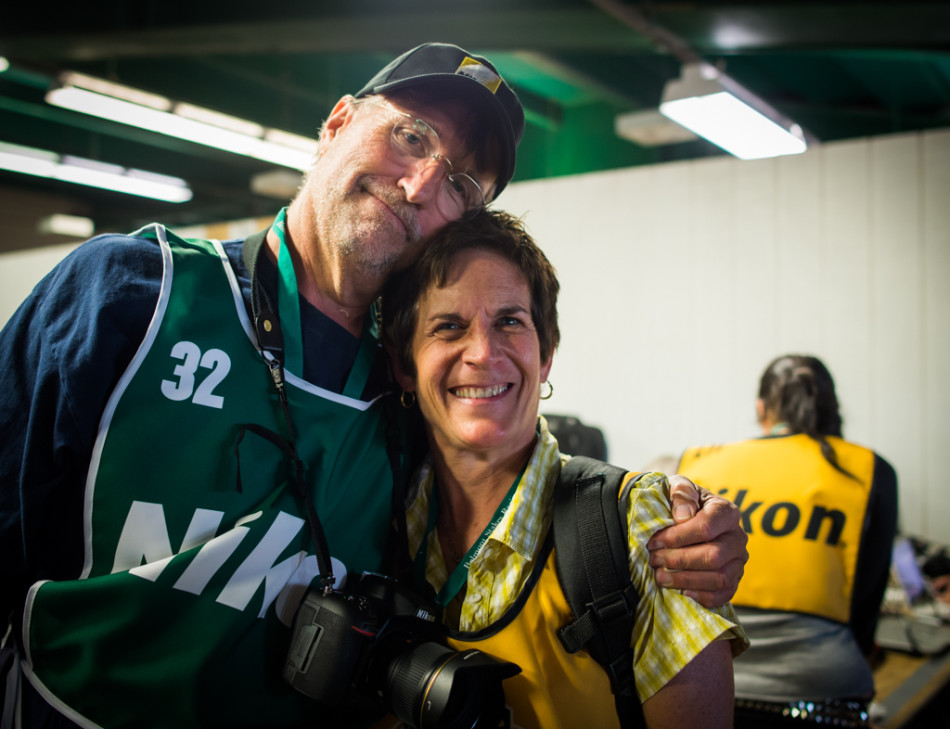 One can go to her website, barbarakinney.com, and find other pictures of her that show the truth of the matter clearly.
NOW – we get back to Q.
Q posts a tweet which MAY or MAY NOT be from an authentic autist.  Remember – the picture is DISINFORMATION which is symbolically true, but factually false.
Here is the tweet: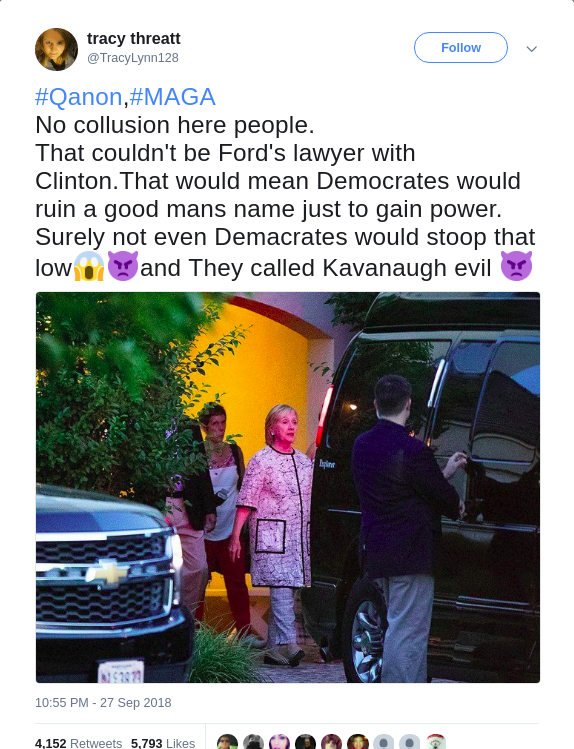 The tweet is actually interesting.  If you read it assuming the first sentence is sarcasm, which is the way most people would read it, one is taken down the wrong path in terms of the details, but the right path in terms of the actual situation (that Hillary Clinton and Debra Katz are close).  But because it's not actually true, and people on our side judge strongly on BASIC FACTUAL truth, this is a path to DISCREDIT those who pass it on – or get us to accept lies.
The fact is, there IS no collusion in the picture.  BUT there is collusion elsewhere, if you look for it, and that collusion is WAY WORSE than just a ride in the Scooby Van.
How does Q play it?  TWO MOVIES.  Both of which maximize the MAGA for two MAGA audiences.  Both of which maximize the greater truth which people get, IF they think for themselves.
Here is the Q post: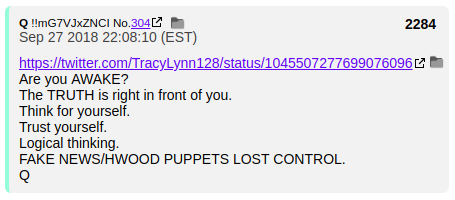 What Q is doing here is taking disinformation and flinging the poo right back at the people who put it out for discreditation purposes.
Q does not actually endorse the (dis)information.  Instead, Q asks questions.  The READER can interpret them different ways, all of which make sense.
Are you AWAKE?
This is a good point.  If you accept the image at a symbolic level, you ARE more awake than most people, because you realize that Hillary and Katz are conspiring against the public.  If you realize that the image is factually incorrect, you are even MORE awake.  But if you realize it is BOTH symbolically correct AND factually misleading, AND can be used to discredit those on our side who pass it on, you are MOST awake.
The TRUTH is right in front of you.
Again – the image is the story.  Dig into it, and you FIND the truth.  The image is both true and false, and the TRUTH is devastating for Hillary, Katz, Feinstein and the Democrats.  The "error" of the photo actually PALES in comparison to the truth of the long-running, MONEY-BASED Katz-Clinton connection.  This is part of the logic of such disinformation, which tries to make us settle for CHUMP CHANGE (Debra Katz knows Hillary Clinton).  This is almost a Clinton SIGNATURE.  They use chaff scandal information – discrediting our side if possible – better than almost anybody.
Think for yourself.
That is exactly what I'm demonstrating here.  This is how we get SMARTER.  Don't just "believe Q".  Believe Q when Q says to THINK FOR YOURSELF.
Trust yourself.
The enemy has gotten us to not trust our own thinking.  NEVER turn back when you're wrong.  Never distrust yourself.  Take the error, UNDERSTAND IT, and MOVE FORWARD with GREATER TRUTH.
Logical Thinking.
We MUST get logical thinking back.  It's hard, it's painful, and you will make a thousand logical errors on the way to one BIG TRUTH.  Suck it up.  We need LOGIC to WIN.
FAKE NEWS/HWOOD PUPPETS LOST CONTROL
This is the fundamental truth.  The enemy HIDES truth.  They LIE.  They spew disinformation to harm the innocent and the honest.  But they have already DISCREDITED THEMSELVES, and LOST CREDIBILITY.  That is why a NEW JOURNALISM – an HONEST JOURNALISM – reemerges.  That new journalism is US.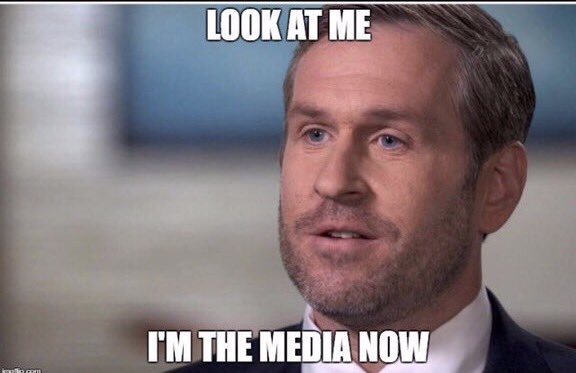 The best they can do is to try to DISCREDIT US by various means.
They will try.  And they will FAIL.
---
Do not give up on TRUTH.
THE TRUTH will not give up on you.
W