This THINKING OF WHERE EAGLES DARE TO GO THURSDAY open thread is VERY OPEN – a place for everybody to post whatever they feel they would like to tell the White Hats, and the rest of the MAGA world.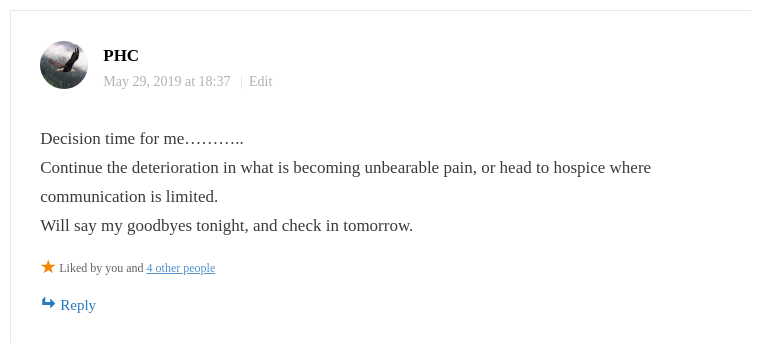 For Zoe's benefit, the text:
Decision time for me………..
Continue the deterioration in what is becoming unbearable pain, or head to hospice where communication is limited.
Will say my goodbyes tonight, and check in tomorrow.

Liked by you and 4 other people

Patrick Henry Censored, May 29, 2019
You can say what you want, comment on what other people said, and so on.
Free Speech is practiced here. ENJOY IT. Use it or lose it.
Keep it SOMEWHAT civil. They tried to FORCE fake Orwellian civility on us. In response, we CHOOSE true civility to defend our precious FREEDOM from THEM.
Our rules began with the civility of the Old Treehouse, later to become the Wolverinian Empire, and one might say that we have RESTORED THE OLD REPUBLIC – the early high-interaction model of the Treehouse – except of course that Q discussion is not only allowed but encouraged, and speech is considerably freer in other ways. Please feel free to argue and disagree with the board owner, as nicely as possible.
Please also consider the Important Guidelines, outlined here in the January 1st open thread. Let's not give the odious Internet Censors a reason to shut down this precious haven.
---
Remember the 5 words that President Trump and Vice President Pence love to hear:
I AM PRAYING FOR YOU!
---
Tonight, we pray most of all for our dear brother, Patrick Henry Censored, or PHC for short.
He runs ahead to where we follow.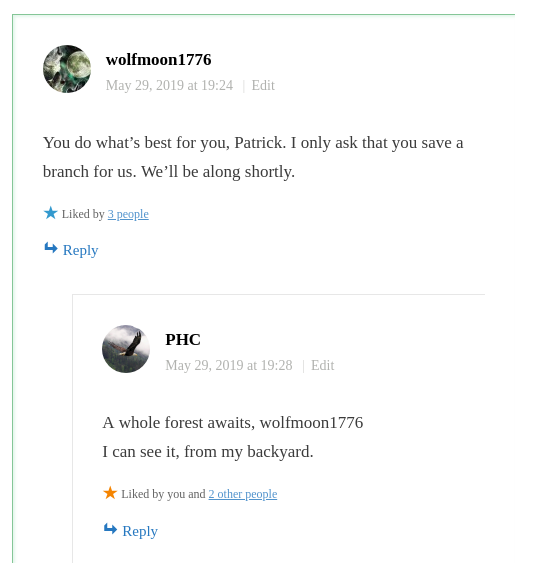 wolfmoon1776
May 29, 2019 at 19:24

You do what's best for you, Patrick. I only ask that you save a branch for us. We'll be along shortly.

Liked by 3 people

PHC
May 29, 2019 at 19:28

A whole forest awaits, wolfmoon1776
I can see it, from my backyard.

Liked by you and 2 other people

wolfmoon1776
May 29, 2019 at 19:32

Dang it, I'm crying. Please stick around for tonight's daily. I want to make sure everybody sees this.

Liked by 1 person

PHC
May 29, 2019 at 19:33

I can hold out for a couple of hours, wolfie
Liked by you and 2 other people

PHC and W, a short while ago
---
There are many other comments on Wednesday's thread where this occurred:
https://wqth.wordpress.com/2019/05/29/dear-maga-20190529-open-topic/comment-page-3/#comment-160489
But I add this one from bakocarl – perhaps his shortest poem: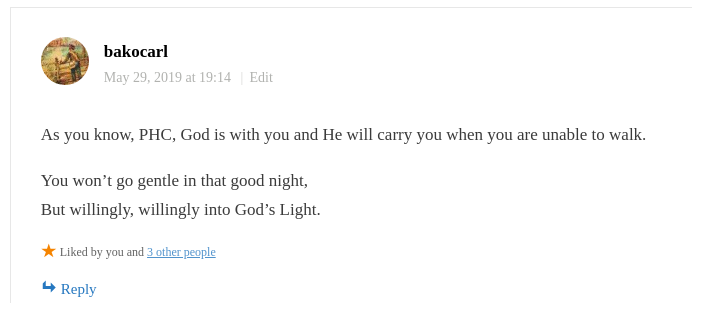 bakocarl
May 29, 2019 at 19:14

As you know, PHC, God is with you and He will carry you when you are unable to walk.

You won't go gentle in that good night,
But willingly, willingly into God's Light.

Liked by you and 3 other people

bakocarl to PHC, this evening
---
With that, I put the Daily Thread up EARLY for once, and invite people to give PHC a hug.
W