This season is a traditional time for ingathering. The harvest is ripening in the fields. Thoughts of preparation for the coming Winter are more frequent. We are remembering what we have done and maybe even feeling regret for some of our deeds.
The ancient custom of reciting a special prayer asking God to make our unknown vows (unkept promises) null and void is on the calendar for today, the day before Yom Kippur. These are the sins of omission it would seem. And tomorrow, the confession of the sins of commission.
Today, some of the strongest voices calling America to return to God will be in our nation's capitol. Americans will gather to repent; for living as if God was not the center of our lives, for the blood of the innocents shed on our land, for carelessly breaking covenants, for pride, self-indulgence, turning a blind eye to the evils of slavery, exploitation and abuse.
Today is one of those days where we will join together in humbling ourselves before the One to whom we owe every good gift, crying out for Mercy.
"18 I advise you to buy from Me gold refined by fire so that you may become rich, and white garments so that you may clothe yourself, and that the shame of your nakedness will not be revealed; and eye salve to anoint your eyes so that you may see. 19 Those whom I love, I reprove and discipline; therefore be zealous and repent.

20 Behold, I stand at the door and knock; if anyone hears My voice and opens the door, I will come in to him and will dine with him, and he with Me."

Revelation 3:18-20
The Return
NATIONAL AND GLOBAL DAY OF PRAYER AND REPENTANCE
IN BETWEEN THE WASHINGTON MONUMENT & CAPITOL HILL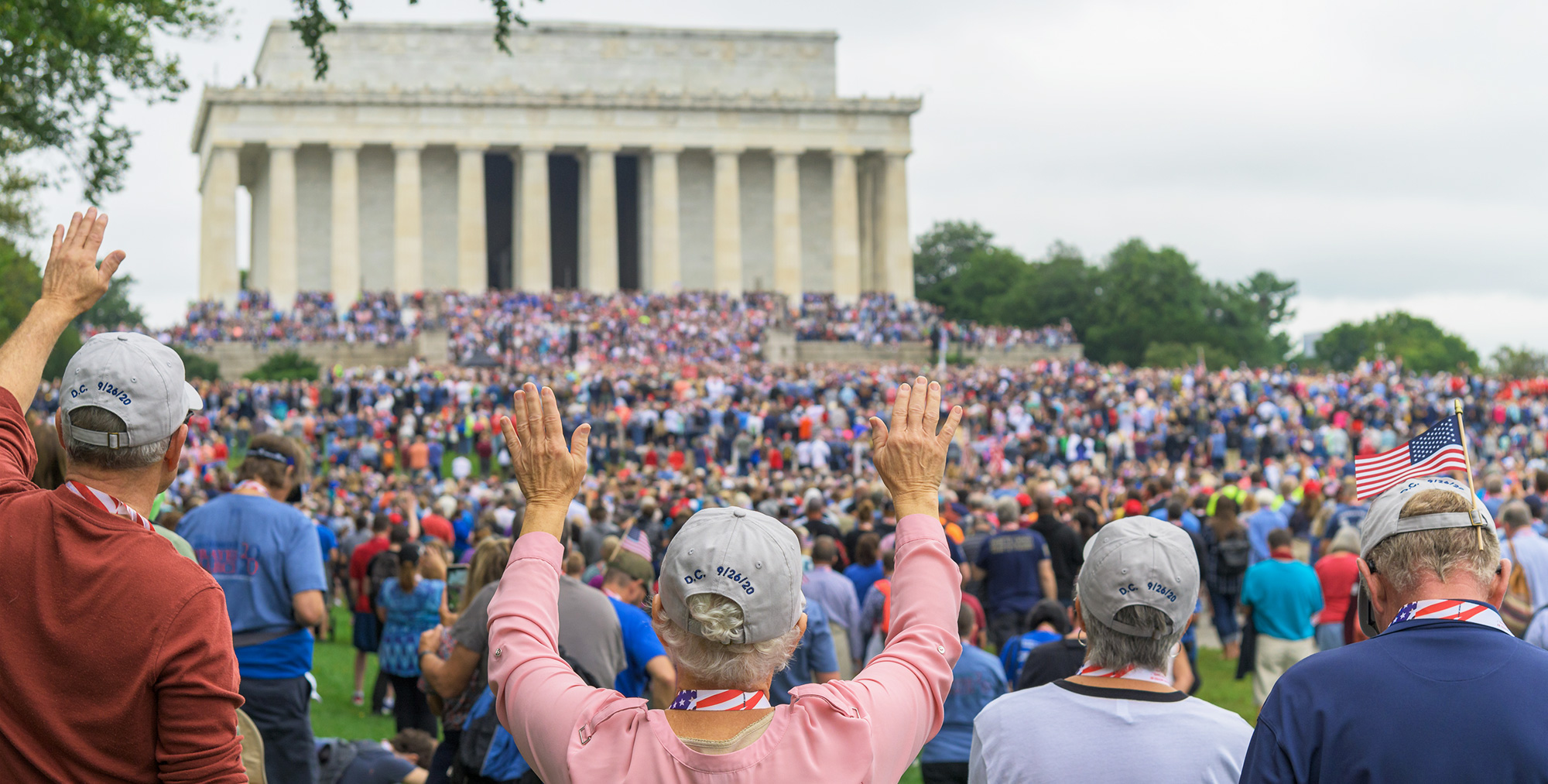 SATURDAY, SEPTEMBER 26, 2020 AT 9AM
AND THE RETURN EVE FRIDAY NIGHT AT 6PM
THE RETURN EVE: NEXT GENERATION: FRIDAY NIGHT, SEPTEMBER 25 FROM 6-9PM
JOIN US ON THE NATIONAL MALL FOR A NIGHT OF WORSHIP AND PRAYER FOR THE NEXT GENERATION. JOSHUA 1: 6-9
 
THE RETURN: MAIN DAY PROGRAM: SATURDAY SEPTEMBER 26 FROM 9AM-5PM
THIS EVENT IS OPEN TO THE GENERAL PUBLIC ON THE NATIONAL MALL. 2 CHRONICLES 7:14
 
THE RETURN NIGHT CELEBRATION: SATURDAY NIGHT, SEPTEMBER 26 FROM 6-9PM
---
"Will you join us for this march as we call out to God to heal our land?"
Join Franklin Graham For A Prayer March In Our Nation's Capital
Date: September 26
Time: 12pm – 2pm
Starting Location: Lincoln Memorial
Distance: 1.8 miles