[INSERT DAILY DOSE OF HOPIUM HERE]
Hopium is in the midst of being censored by YouTube, it seems. Videos from a number of channels where the epicenter of hopium is interviewed and featured have been taken offline. There are two specific people targeted: the epicenter of hopium and one Robert David Steele, specifically.
Why would hopium be censored by the other side if it didn't pose a danger?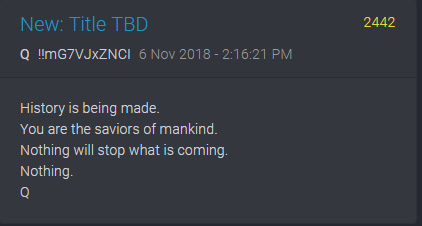 This is the point of today's non-hopium message: perseverance.
In searching for more hopium to at least stay caught up on what is reported to be happening even if it might well be disinformation, this story of perseverance and triumph popped into a feed. Yes, it's fifty minutes long, but it's the story of one man not giving up, and now being on the front lines of this fight. (Hopefully, this one stays up. It's also on BitChute, I understand.)
What is most interesting about this man's story, is put it with so many others, and the concept of "grass roots" really begins to show through. Yes, President Donald Trump is our movement's ultimate leader, but he didn't direct this man's actions. Nor did he direct Robert David Steele's or any of the other video channels and websites out on the internet holding the line.
Each of us has a story about perserverance, and what it took to overcome obstacles that seemed impossible as we were going though it. Some of our participants post about them at length, and no two are alike.
That's what makes MAGA truly American.
The movement is diverse in nature from top to bottom, just as the nation itself is, and that is our strength. No two channels or forums or websites are alike. Each is inhabited by different sorts of people all with the same goal: take this nation back to its roots whether the deep state and the swamp likes it or not.
Different projects spearheaded by the people – not the government, and certainly not the ruling class – are in progress to further wake up those who are still stuck in the mainstream media echo chambers and have no idea they are being fed misinformation.
That the people invested in hopium are active and financing these efforts off the beaten path…that deserves some consideration for respect.
At least this writer thinks so.
Everyone here, though, will draw their own conclusions.
Now…here's another great American movie theme about a situation (bounty hunters going after a mob accountant who skipped out on his bail bondsman) that can only happen here.
And now for the obligatory message from our sponsors:
Here at the Q tree we believe in the concept of CIVIL open free speech and the discussion that fleshes out ideas. When commenting and participating in the OPEN discussion on this thread all comments MUST NOT CONTAIN personal threats, baiting, name calling, or other anti-social words fomenting hate, violence or destruction. Our host Wolfm00n has strict rules about that.
Fellow tree dweller Wheatie gave us some good reminders on the basics of civility in political discourse:
No food fights.
No running with scissors.
If you bring snacks, bring enough for everyone
Please, stock up on blanks for celebratory gunfire, be ready to swing from the chandeliers…and no messing with the nuclear weapons.
Please remember to remain locked and loaded and ready for trouble should the insurrectionists try to invade your space.
Those who have things to say that do not fit the generally accepted limits of "civil" discussion, Wolf has provided a venue known as the UTree. You're welcome to visit over there and say hi to anyone hanging out over there.
Auntie DePat's requests as we are all, ahem, adults, not uncivilized pygmies:
If you see something has not been posted, do us all a favor, and post it. Please, do not complain that it has not been done yet.
The scroll wheel on your mouse can be your friend. As mature adults, please use it here in the same manner you would in avoiding online porn.
Thank you so much for any and all attention to such details. It is GREATLY appreciated by more than one party here.
One other vital note:
Please, review these rules that our host Wolfm00n outlined toward the beginning of the growth of the tree itself. it won't take long.
__________________________________________________
Psalm 30/31
[2] In thee, O Lord, have I hoped, let me never be confounded: deliver me in thy justice. [3] Bow down thy ear to me: make haste to deliver me. Be thou unto me a God, a protector, and a house of refuge, to save me. [4] For thou art my strength and my refuge; and for thy name's sake thou wilt lead me, and nourish me. [5] Thou wilt bring me out of this snare, which they have hidden for me: for thou art my protector.
[6] Into thy hands I commend my spirit: thou hast redeemed me, O Lord, the God of truth. [7] Thou hast hated them that regard vanities, to no purpose. But I have hoped in the Lord: [8] I will be glad and rejoice in thy mercy. For thou hast regarded my humility, thou hast saved my soul out of distresses. [9] And thou hast not shut me up in the hands of the enemy: thou hast set my feet in a spacious place. [10] Have mercy on me, O Lord, for I am afflicted: my eye is troubled with wrath, my soul, and my belly:
[11] For my life is wasted with grief: and my years in sighs. My strength is weakened through poverty and my bones are disturbed. [12] I am become a reproach among all my enemies, and very much to my neighbours; and a fear to my acquaintance. They that saw me without fled from me. [13] I am forgotten as one dead from the heart. I am become as a vessel that is destroyed. [14] For I have heard the blame of many that dwell round about. While they assembled together against me, they consulted to take away my life. [15] But I have put my trust in thee, O Lord: I said: Thou art my God.
[16] My lots are in thy hands. Deliver me out of the hands of my enemies; and from them that persecute me. [17] Make thy face to shine upon thy servant; save me in thy mercy. [18] Let me not be confounded, O Lord, for I have called upon thee. Let the wicked be ashamed, and be brought down to hell. [19] Let deceitful lips be made dumb. Which speak iniquity against the just, with pride and abuse. [20] O how great is the multitude of thy sweetness, O Lord, which thou hast hidden for them that fear thee! Which thou hast wrought for them that hope in thee, in the sight of the sons of men.
As always, prayers for the fight against that which seeks to enslave us are welcome.
Please include: President Donald Trump, the Q team, our soldiers in the field, special forces, tactical units, first responders and those working behind the scenes…and any and all people with family members in the hospital, COVID or not.
Anyone else getting tired of all the racism crap?