I will try to make this quick, but you could learn a lot.
GOP – take notice. You got SNOOKERED.
I saw a meme on Gab that was somewhat dubious.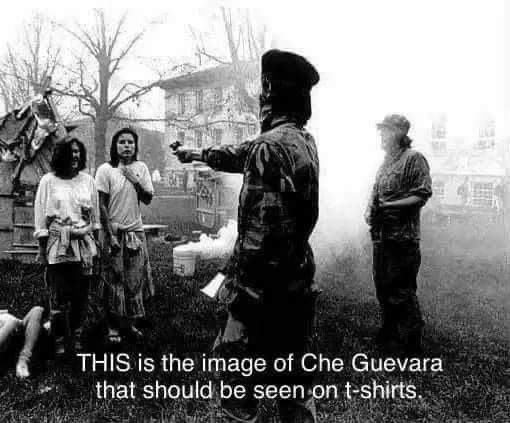 LINK: https://gab.com/Freebeing/posts/105794620873717585
Now – I'm a bit of a bush-league authority on communism in Latin America – at least compared to most "Norte-Americanos". The most exemplary executions by Che were of MEN, and I'm not even sure if I have ever seen a picture of one. There are many detailed and authoritative accounts of him PERSONALLY executing peasants. NUMBERS is not a problem. ACTION PICTURES is.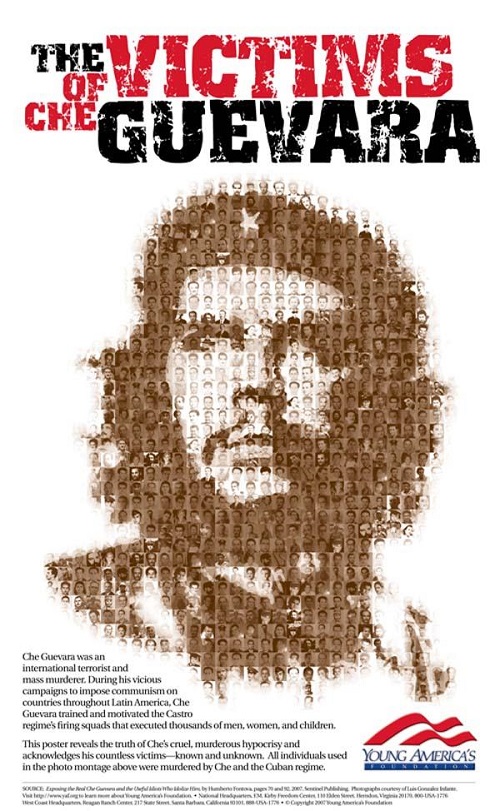 LINK: https://therealcuba.com/?page_id=32
This just didn't sniff right. Che murdering unarmed women? A PICTURE? I'm from Missouri on this.
SHOW ME.
I decided that I wanted to get the ORIGINAL image and validate it at the same time.
I did a search on the wonderful TinEye and found that the MEME had appeared in multiple places, but the ORIGINAL IMAGE had appeared as a reply on Twitter.
Here is the top post on that thread:
There is a wonderful slideshow video of Che Guevara, and a link to a 2013 article about him:
LINK: https://panampost.com/richard-salvatierra-ube/2013/11/24/frases-che-guevara/
The image in question was NOT in that video or article, but it WAS in the REPLIES:
Note that these tweets were 4 years after the article.
I decided to look for this image elsewhere – not through TinEye, but rather by searching on relevant term in images. I turned off any filtering (b/c violence) and used the terms "Che Guevara executing women" in a DuckDuckGo image search.
LINK: https://duckduckgo.com/?q=che+guevara+executing+women&t=brave&iar=images&iax=images&ia=images
This brings back a SNOPES entry immediately.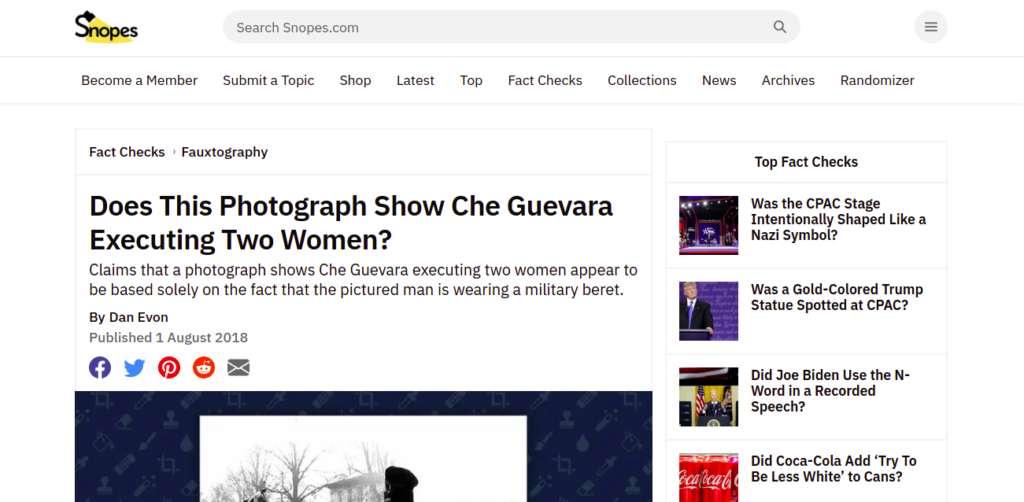 LINK: https://www.snopes.com/fact-check/che-guevara-executing-women/
This is actually a good, DEEP, well-researched debunking.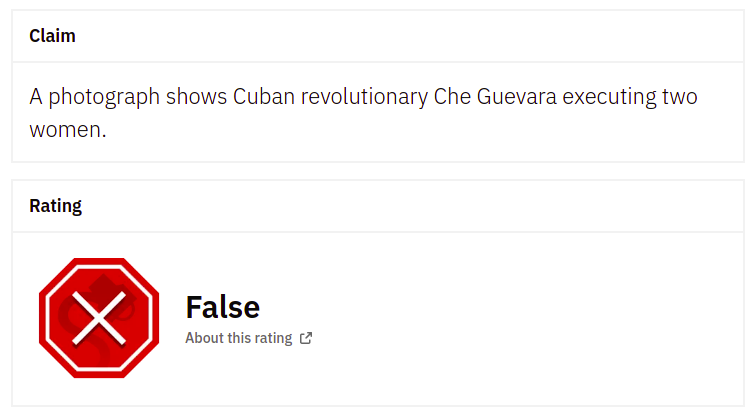 It turns out that it was from a university socialist political "guerrilla theater" production at Emory College, likely in support of Soviet actions in Central America.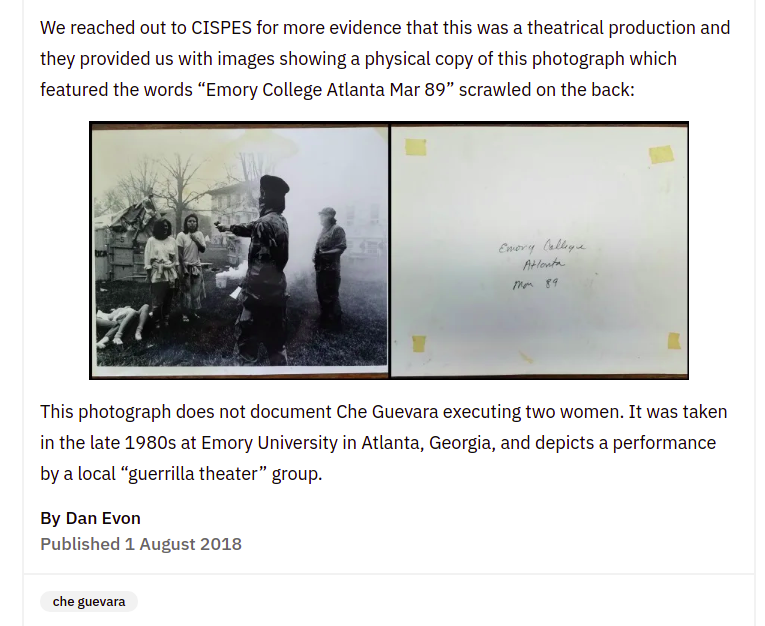 Thus, we are left with the ironic probability that this image was originally socialist propaganda, meant as an indictment of Salvadoran military or paramilitary forces, responsible for numerous atrocities against civilians, such as the notorious murders of Marxist "liberation theology" nuns. Such incidents were a powerful propaganda weapon for the atheist Soviets, quite ironically, used as a "contradiction" against American narratives in defense of the Salvadoran regime.
NOW – this would just end here – a weirdly karmic debunking of socialist propaganda used against socialists, had I not noticed ANOTHER Snopes featured article.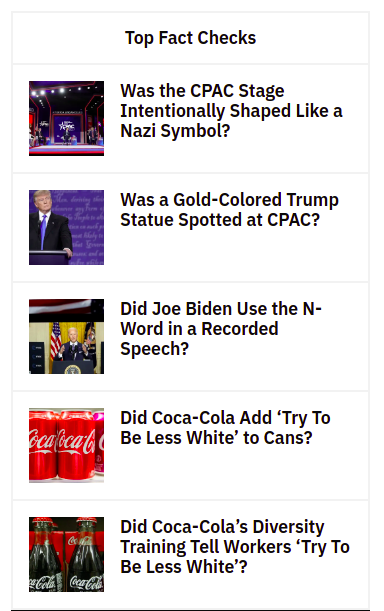 SAY WHUUUUUT?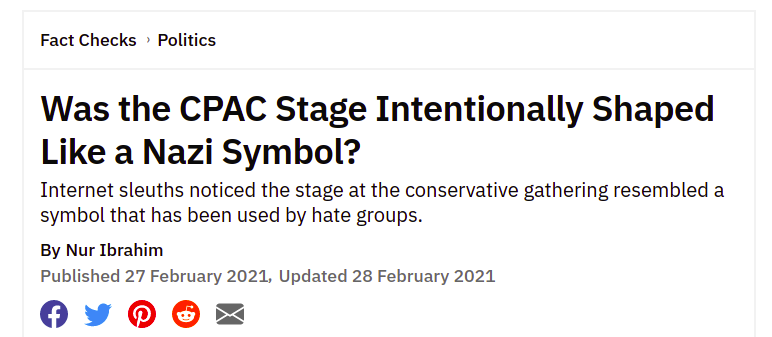 LINK: https://www.snopes.com/fact-check/cpac-stage-nazi-symbol/
OK – this has to be a hilarious load of crap – I mean…..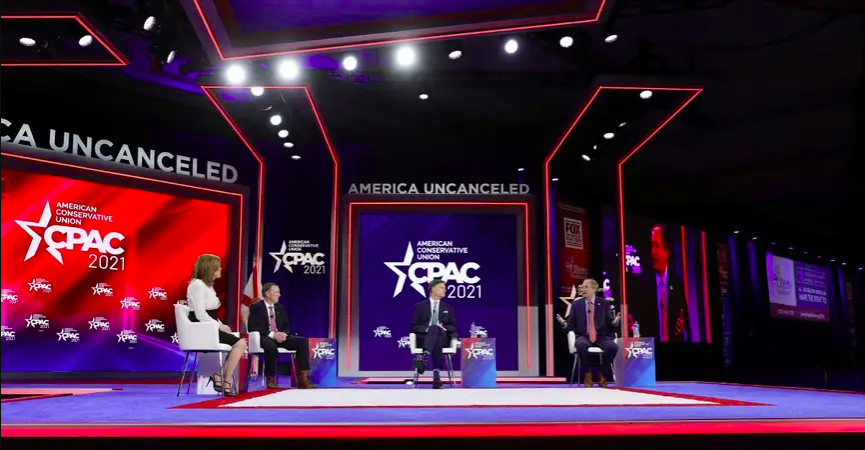 YEAH, RIGHT. What – that weird pair of "half-Y" goalposts?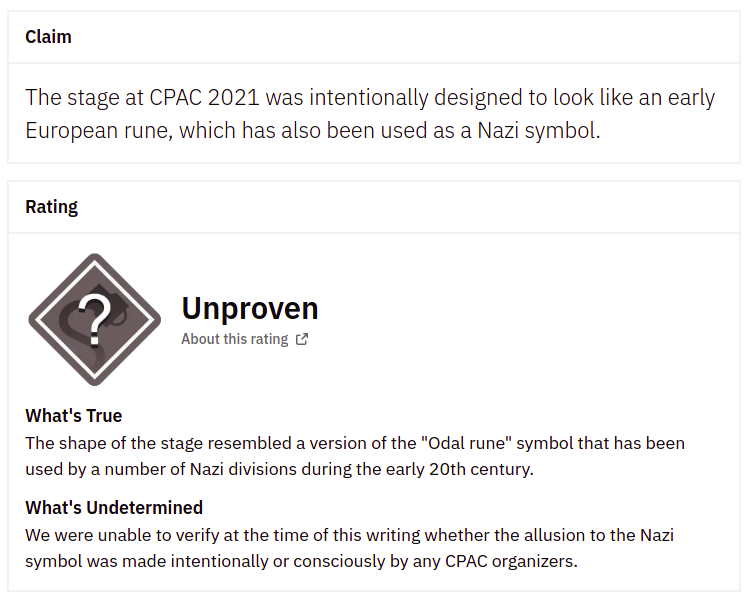 HUH?
So at that point, I read the article.
My advice?
DON'T LOOK AWAY.
Now I urge you to click the link and read the Snopes article, but if you don't want to do that, just peruse these convincing images: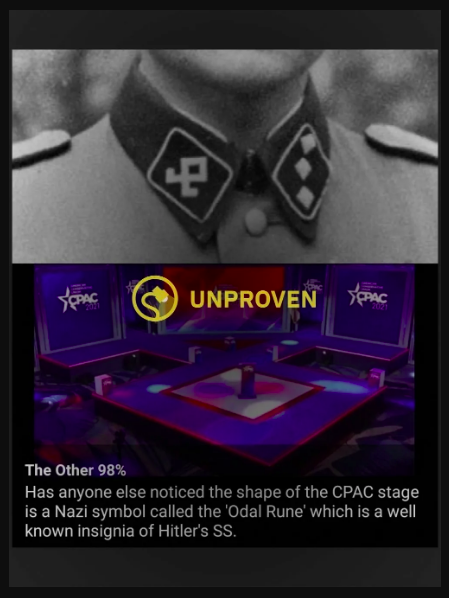 Now – remember what I said…..
DON'T LOOK AWAY.
I'm going to add a new rule, which turns out to be like one of Alinsky's, but this one serves TRUTH and not LIES…..
PUSH THROUGH TO FIND THE TRUTH.
Now, one of my BEST TRICKS in finding truth is that people will publicly state helpful but seemingly conflicting TRUTHS. Try to save all the truths by "deconflicting" them.
CPAC's stage sure looks like a symbol adopted by the Nazis
The idea that this is accidental doesn't seem particularly plausible
A bunch of lefty Jews are acting AS ONE WOULD EXPECT to Nazi symbols
Matt Schlapp calls the accusations outrageous and slanderous [YES to the latter]
The only thing needed to SOLVE this is to simply add some more TRUTH to the mix. Observe…..
The LEFT understands SYMBOLS much better than the right (see some guy named "Q")
The RIGHT misses symbols all the time, and the Establishment right is even WORSE
The LEFT loves to set people up as CHUMPS, and will brazen out the denials
Nobody wants to admit that they got snookered on something this stupid, but YEAH
The entire history of Trump in office has been one frame job after another
The media WILL NOT dig into a frame job against the RIGHT – they will play along
People in the design world lean INCREDIBLY strongly to the LEFT
People in the design world, by and large, DESPISE President Trump
People in the design world have extremely high opinions of their own intelligence
The left is getting more and more desperate and brazen in their frame jobs against Trump
Jews are very predictable in their suspicion and outrage, and are easily played
GOPe are very predictable in their lack of suspicion and forgiveness, and are easily played the other way
GOPe signed off on this stuff the whole way, you just know it, and are the perfect MARKS
If CPAC had accepted a stage design shaped like a dreidel, they would have been accused of pandering, and they're dopey enough to fall for that one, too
NOW – here is the deal.
Nobody wants to confront this stuff, but it's TIME. It's time to go after the leftists who pull this crap, and make them PAY as the SCUM they are.
Here's why it works.
Oh, the MEDIA will deny it up and down. They will mock. They will "refute". They will HELP THE PERPS. They will "PROVE" that it wasn't intentional BY THE LEFTISTS in the mix.
Just look at the Snopes article. Snopes will NEVER dig deep on this one, and if others do, they will question it. They will NOT dig deep and hard like they did on the Che Guevara piece. NOPE.
But THAT is not what punishes the perps. That is not what gives us JUSTICE.
The perpetrators' fellow leftists will know the truth. THE PERPS CAN'T BE TRUSTED. They snaked Trump. They could snake their fellow leftists just as easily.
THEY WON'T BE ABLE TO WALK THE STREETS. Why? Because THEY GOT CAUGHT. Getting CAUGHT is a SIN for the left. It's not a SIN if you don't get caught, but it IS if you do get caught.
Too bad.
So, if I was Matt Schlapp, I would drag the stage design people all over hell. Refuse to pay. Take 'em to court. Make 'em testify. Find their social media posts where they BRAGGED about setting up CPAC.
I am CONFIDENT that somebody set CPAC up. FIND IT and PROVE IT.
And enjoy the show, when they CAN'T WALK THE STREETS.
W