So, back when I was a junior in high school, a cousin got married. After the wedding, in the dark gloom of the reception venue where those who were not gyrating on the dance floor were seated, I was talking to yet another cousin about where I wanted to go to college and what I wanted to do with my life, and he told me, "Tell your mom that you want to go to the University of California at Berkeley and major in psychology."
Now, to be plain about the way things were at the time (and to an extent still are), my mother has not had the best experience with trained psychologists, mostly in the social setting, and so when my family piled into the van later that evening, and I said, "Hey Mom, T told me to tell you that I should go to the University of California at Berkeley and major in psychology," I got a lecture on what a joke psychology was right after my mother laughed at her nephew trying to get a rise out of her through me.
Well….
As it happens, in the end, I ended up majoring in communications, which is not lab psychology, but applied psychology along with strategery to get humans to behave a certain way. That's what happens when marketing takes place in the form of advertising and propaganda. The practitioners use the levers of fear, desire, and social acceptance (itself a mixture of fear and desire) to influence behavior and buying habits.
In the year of COVID, we've seen how applied psychology works. Even down to the whole thing being chalked up to a conspiracy theory.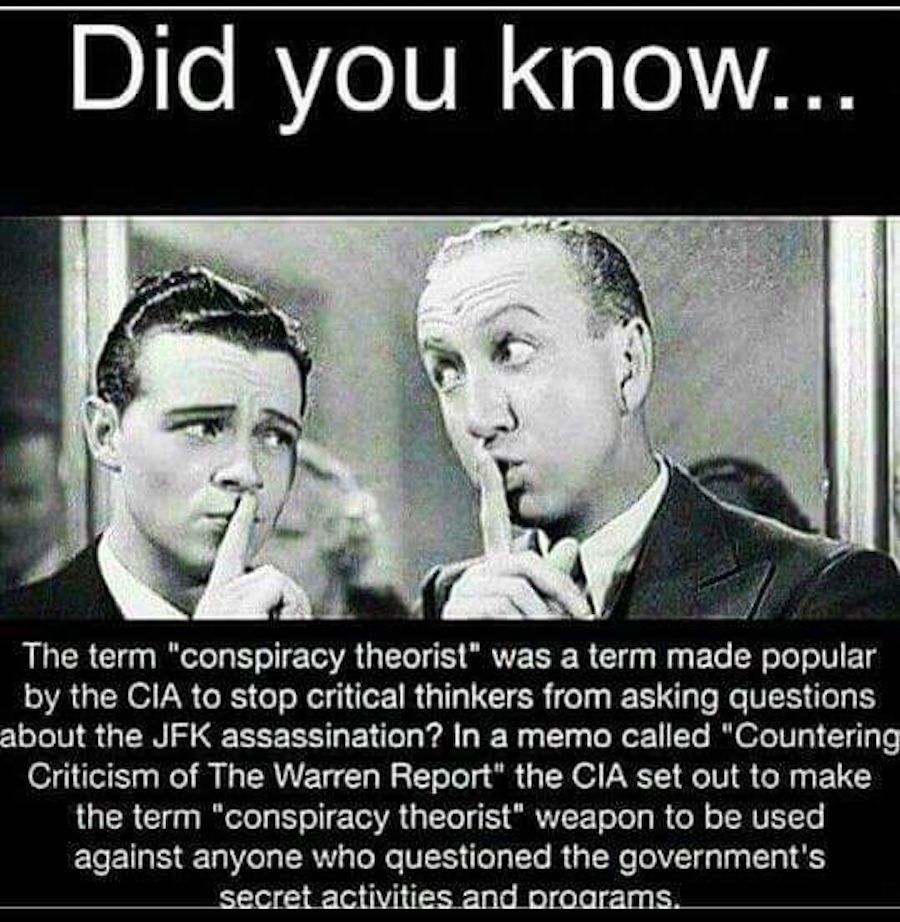 Yucki, one of our participants, brought this excellent video to the group on Wednesday.
The video itself is a narration, to an extent, of passages from a book from the 1960s titled The Rape of the Mind by Joost Meerloo. Meerloo writes of how totalitarian governments use fear in incremental steps to get the people to give up freedoms in the name of the common good, and for what is perceived to be self preservation.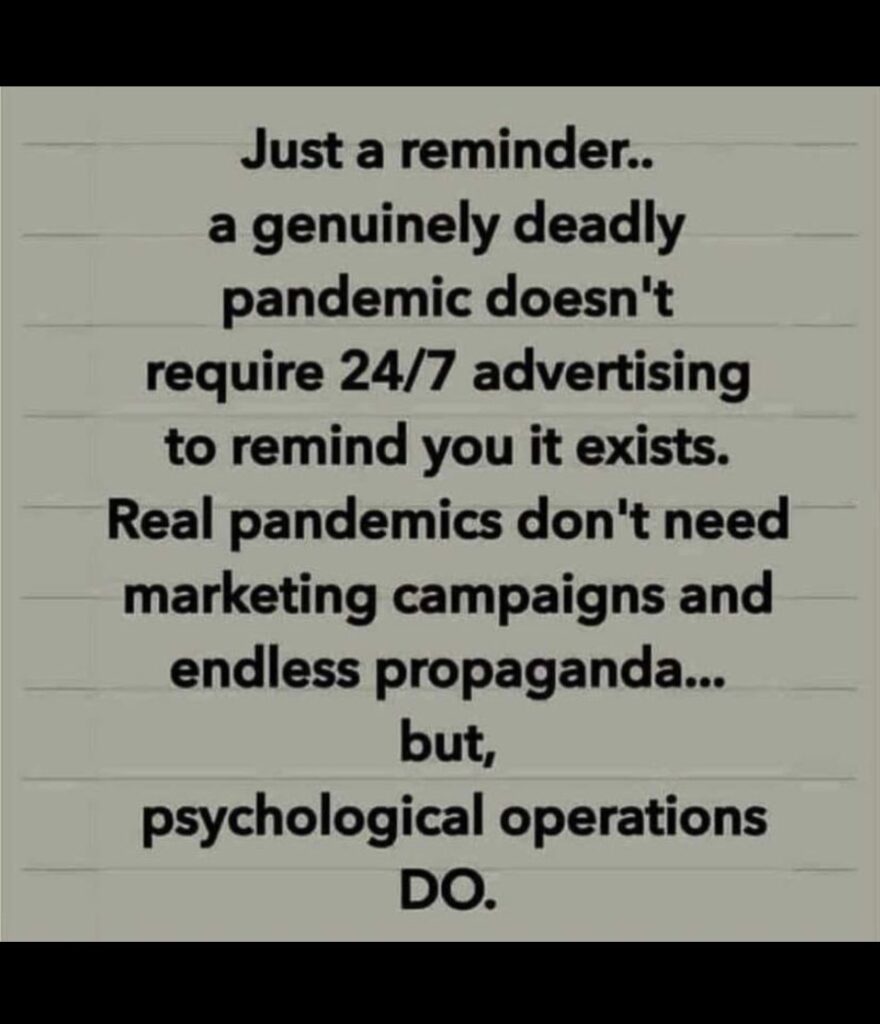 And so, the people who are tied to social media and their devices like a lifeline are in the tank for what is turning out to be lambs willingly going to the slaughter.
Barkerjim brings us a terrifying article from the Salk Institute about the entire mess.
An explosive new study by researchers at the prestigious Salk Institute casts doubt on the current crop of gene-based vaccines that may pose a grave risk to public health. The article, which is titled "The novel coronavirus' spike protein plays additional key role in illness", shows that SARS-CoV-2's "distinctive 'spike' protein".."damages cells, confirming COVID-19 as a primarily vascular disease." While the paper focuses strictly on Covid-related issues, it unavoidably raises questions about the new vaccines that contain billions of spike proteins that could greatly increase the chances of severe illness or death. Here's an excerpt from the article dated April 30, 2021:
"In the new study, the researchers created a "pseudovirus" that was surrounded by SARS-CoV-2 classic crown of spike proteins, but did not contain any actual virus. Exposure to this pseudovirus resulted in damage to the lungs and arteries of an animal model—proving that the spike protein alone was enough to cause disease. Tissue samples showed inflammation in endothelial cells lining the pulmonary artery walls. (Note– "Vascular endothelial cells line the entire circulatory system, from the heart to the smallest capillaries.")

The team then replicated this process in the lab, exposing healthy endothelial cells (which line arteries) to the spike protein. They showed that the spike protein damaged the cells by binding ACE2. This binding disrupted ACE2's molecular signaling to mitochondria (organelles that generate energy for cells), causing the mitochondria to become damaged and fragmented.

Previous studies have shown a similar effect when cells were exposed to the SARS-CoV-2 virus, but this is the first study to show that the damage occurs when cells are exposed to the spike protein on its own." ("The novel coronavirus' spike protein plays additional key role in illness", Salk.edu)
The new research paper is the equivalent of a hydrogen bomb. It changes everything by confirming what vaccine critics have been theorizing for months but were unable to prove.
It seems that the response to COVID is far more destructive than the disease itself.
And that being the case, the people's reaction to the marketing campaign in the end is going to be one HUGE buffalo jump.
By the way, the audit continues in Arizona and in Michigan. Real data has not been released even if there are reports of what has been found. The actual counts are being held close to the vest at this point.
But, really, Joe Biden didn't win, and all this waiting for a shoe to drop (at this point we'd take a sock or a jock strap) is by definition one of those step down fear blinkering episodes as described in the video above, only, in this case, the MAGA faithful are trying not to descend into the pit of despair.
And a reminder of what we all need to avoid if we don't want a fatty liver.
_______________________________________________
Please review our HOST and site owner's Guidelines for posting and discussion for this site. Wolf is kind enough to put up with *most* of us and our antics after thorough vetting. Violators of the baiting and deliberately attempting to divide the group rules WILL face consequences.
The discourse on this site is to be CIVIL – no name calling, baiting, or threatening others here is allowed. Company manners are appreciated. Those who are so inclined may visit Wolf's other sanctuary, the U-Tree, to slog out discussions best saved for a wrestling mat. Say hi to anyone who is actually hanging out there for the rest of us. If, for some reason, this site is not available, head over to the UTree and visit the post at the top of the list.
This site is a celebration of the natural rights endowed to humans by our Creator as well as those enshrined in the Bill of Rights adopted in the founding documents of the United States of America. Within the limits of law, how we exercise these rights is part of the freedom of our discussion. THAT MEANS THAT ALL OF US HERE ARE ENTITLED TO OUR OPINIONS AND PREJUDICES, ETC., SO LONG AS THEY CAUSE NO PHYSICAL HARM TO OTHERS OR DOXX OUR FELLOW TREE DWELLERS.
All opinions here are valued for the diversity they bring to the issues, and the shaping of understanding regarding topics for which many of us do not have all information.
Be careful in expressing thoughts as we would all like to think well of the rest of the group, and ill-thought out comments have a way of wrecking that for everyone.
Fellow tree dweller Wheatie gave us some good reminders on the basics of civility in political discourse:
No food fights
No running with scissors
If you bring snacks, be sure they are made with bacon
Auntie DePat's requests as we are all supposedly adults and not perpetual high school sophomores or the back row of the soprano section in any big chorus:
If you see something has not been posted, do us all a favor, and post it. Please, do not complain that it has not been done yet.
The scroll wheel on your mouse can be your friend. As mature adults, please use it here in the same manner you would in avoiding online porn.
Thank you so much for any and all attention to such details. It is GREATLY appreciated by more than one party here.
__________________________________________________
ACTS 15:7-21
7And after there had been much debate, Peter rose and said to them, "Brethren, you know that in the early days God made choice among you, that by my mouth the Gentiles should hear the word of the gospel and believe. 8And God who knows the heart bore witness to them, giving them the Holy Spirit just as he did to us; 9and he made no distinction between us and them, but cleansed their hearts by faith. 10Now therefore why do you make trial of God by putting a yoke upon the neck of the disciples which neither our fathers nor we have been able to bear? 11But we believe that we shall be saved through the grace of the Lord Jesus, just as they will." 12And all the assembly kept silence; and they listened to Barnabas and Paul as they related what signs and wonders God had done through them among the Gentiles. 13After they finished speaking, James replied, "Brethren, listen to me. 14Simeon has related how God first visited the Gentiles, to take out of them a people for his name. 15And with this the words of the prophets agree, as it is written, 16`After this I will return, and I will rebuild the dwelling of David, which has fallen; I will rebuild its ruins, and I will set it up, 17that the rest of men may seek the Lord, and all the Gentiles who are called by my name, 18says the Lord, who has made these things known from of old.' 19Therefore my judgment is that we should not trouble those of the Gentiles who turn to God, 20but should write to them to abstain from the pollutions of idols and from unchastity and from what is strangled and from blood. 21For from early generations Moses has had in every city those who preach him, for he is read every sabbath in the synagogues."
Prayers for the nation, the salvation of humanity, and all of us here – lurkers and members – as well as our families, are welcome.
_______________________________________________________
Who says dogs aren't man's best friend?