Another Friday, and time to gather at Wolf's Pub. Welcome, and sit back for the smackdown! I've had it with the liberals. Enough is enough. We are long past niceties.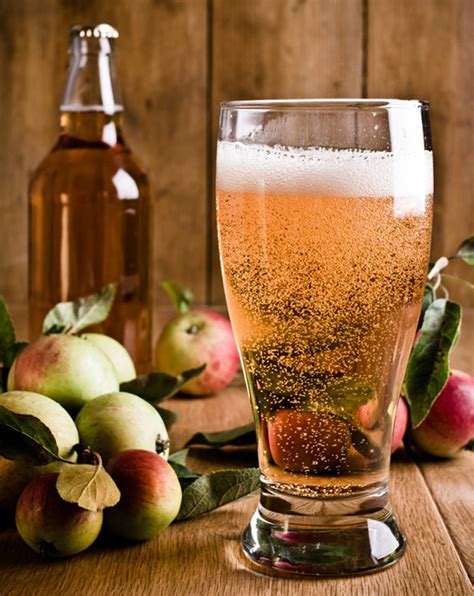 Our drink special today is a dose of Liquid Liberty, aka Hard Cider. Americans were cider drinkers from before we became the United States of America. The Founding Fathers were drinkers and fermenters of hard cider. It was pretty much the drink of choice for a long while, until ale and beer slowly supplanted hard cider, and it fell on hard times. The Revolution, birthed partly in the many taverns of the colonies, was fueled on alcohol, according to this article.
John Adams for instance, enjoyed his hard cider:
"It's tough to say, but John Adams may have been the biggest drinker of the Sons of Liberty. He began every day with a draft of hard cider before breakfast. He drank three glasses of Madeira, a wine fortified with rum, every night before bed. During the bad old days under British taxation, Adams wrote to his wife, "I am getting nothing that I can drink, and I believe I shall be sick from this cause alone." He died at 90. Of old age."
A bar tab at the time of the Constitutional Convention included eight bottles of hard cider, among an astonishing amount of other alcohol:
"It is impossible for Americans to accept the extent to which the Colonial period—including our most sacred political events—was suffused with alcohol. Protestant churches had wine with communion, the standard beverage at meals was beer or cider, and alcohol was served even at political gatherings. Booze was served at meetings of the Virginian and other state legislatures and, most of all, at the Constitutional Convention.
Indeed, we still have available the bar tab from a 1787 farewell party in Philadelphia for George Washington just days before the framers signed off on the Constitution. According to the bill preserved from the evening, the 55 attendees drank 54 bottles of Madeira, 60 bottles of claret, eight of whiskey, 22 of porter, eight of hard cider, 12 of beer, and seven bowls of alcoholic punch."
Speaking of George Washington, from an article about the history of hard cider in America:
"George Washington won his election into the House of Burgesses in 1758 after serving up 144 gallons of hard cider and other beverages to voters."
Keep on reading that article for some fun information about the "hard cider candidate" for president in the 1800s. He won. Ahem.
I had no idea that hard cider was served at the Battle of Concord. Yep.
Here's a quirky and fun video on how to make hard cider:
Here's a lovely article on drinking hard cider for Passover (it's gluten free), with some info on the Founding Fathers. Gives some nice suggestions for cider choices today.
And check out Cider Scene for a history lesson on the Way Back history of hard cider.
Today, hard cider has made a big comeback. Funny how things come round at just the right time. Angry Orchard is probably one of the best known hard ciders today, but then it's owned by the Boston Beer Company, which also owns Sam Adams. Here's a page of ciders for your perusal.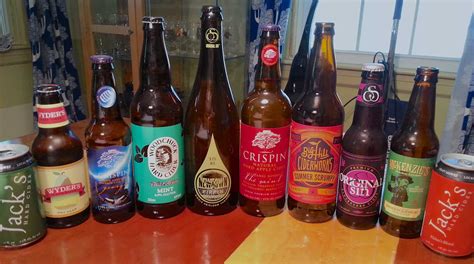 There are many local breweries that also make hard cider. You should check out your own area. You might find a delicious cider made locally.
Head over to the bar for a nice selection of hard ciders. Then we can get down to brass tacks.
HOUSE RULES
We're supposed to be civil…with each other. Wolf's rules are simple and finite:
If the American Revolutionaries can keep it together drinking hard cider during a battle then we can, too.
The Utree is for the knockdown stuff and to reconvene in case of emergency. On to the business.
An Open Letter to Liberals
Dear Liberal Friends (or not),
This letter has been rolling around in my head for awhile now, and I guess it's time to let you know how I really feel about your politics. I've been quiet around you. I don't share much because I know how it will cause division, and you've already caused enough division in our country. But I guess we are well past that now. I have seen how you treat others who are more open with their support of the Trumpian America First agenda.
You're downright mean, nasty, uncivil, immoral and bullying. You are Anti-American. You are Un-American.
I want to address the hollowed out bubble you have lived in for many years. Some of you went to Ivy League schools. You got great jobs, met all the right people and settled in the typical enclaves of the elites. You live, work, shop, and educate your kids in these places where the people of color you see are often as educated and wealthy as you are. Have you noticed there's no shortage of minorities in all sectors of our institutions? Surely, you see that. I mean, it's right in front of your faces.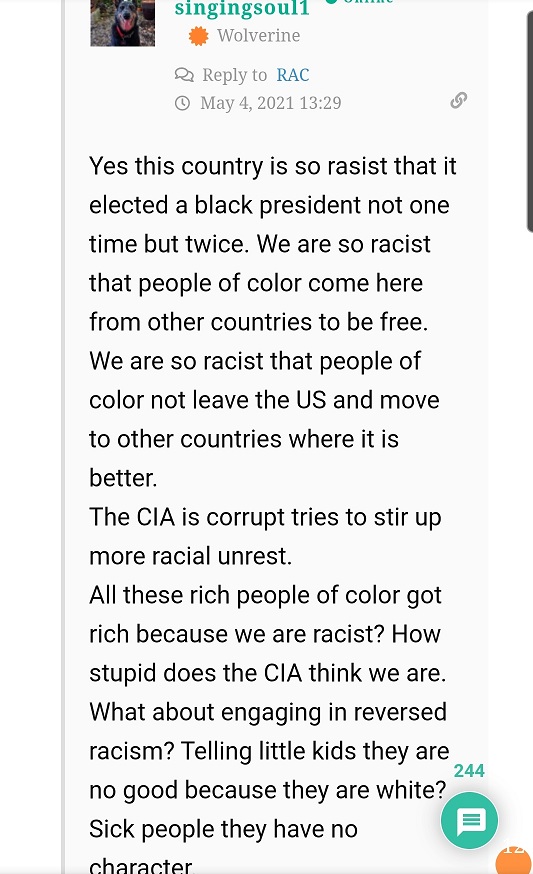 The hospitals in your area have lots of minority nurses and doctors. And yes, some of the more mundane jobs are done by minorities, like the landscapers, grocery clerks, and pool cleaners, and those who wipe the bottoms of the old people in nursing homes.
But somehow, you don't see that plenty of white people are doing those mundane jobs, too. To you they are invisible. Just the color of their skin makes them not worthy of your paternal attention because…white privilege.
You've been convinced to feel guilty about your wealth and societal privileges. To feel better about it, you denigrate the great masses of working- and middle-class white people, who you call rednecks, racists, bigots, homophobic, ignorant and downright stupid.
You believe the traditional American values of patriotism, adherence to the Constitution, religious values and egalitarian tendencies are passé. You are a firm believer that the people in your economic and social class are the ones best suited to rule this great nation.
Pardon me, but YOUR ignorance is stunning. If only you would hear what Stephen Balch is saying:
"What's more, because our elites' mentality derives from Cloud-Cuckoo Land, they can't deliver good governance, protective diplomacy, or material prosperity."

Toward a National Liberation Movement
If only you were somehow compelled to get to know the regular working-class and middle-class individuals that fill the everyday lives of MOST Americans. I wonder if you would be surprised to know that we all get along just fine.
Our communities have been integrated for decades. We have intermarried and raised kids together. Few think a thing about it. We appreciate each other's diverse cultures. We work together, worship together and hob nob with each other.
Yes, there are Spanish-language masses on Sundays (that liberal dioceses have added), and there are Baptist churches that cater almost exclusively to blacks, but that is a choice we are all free to make. Are there still racist people? You bet. And they are as likely to be people of color as whites.
Your group of people has been very busy bringing back racial division. It's you and your fellow Democrat/Socialists who are the racists and always have been. How terrible, and what an indictment of your political ideology. You have made everything about race, just when America was on the verge of making nothing about race.
The strategies of the politicians you favor have divided our national house like no other. You sit back in your wealthy enclave, protected from the outcome of these racist and divisive policies. Do you really think that you are improving the lot of anyone?
The liberal policies of the Great Society created an underclass of minorities (with TRILLIONS OF TAXPAYER DOLLARS), the descendants of which populate sections of our largest cities. Fatherless, directionless, these lost populations have turned to drugs and gangs and trafficking. It is this group of people who have most been harmed by liberals such as yourselves.
And your planners have been whipping up anger and despair in order to effect a revolution against the people who have done more to make America a prosperous and free nation—the plumbers and soldiers, and teachers and machinists, the waitresses and small business owners, the office workers and homemakers (people of all stripes). In short, the people who support an America First agenda, the Deplorables. A name with which your High Priestess, Hillary Clinton, baptized us.
THE BIG LIE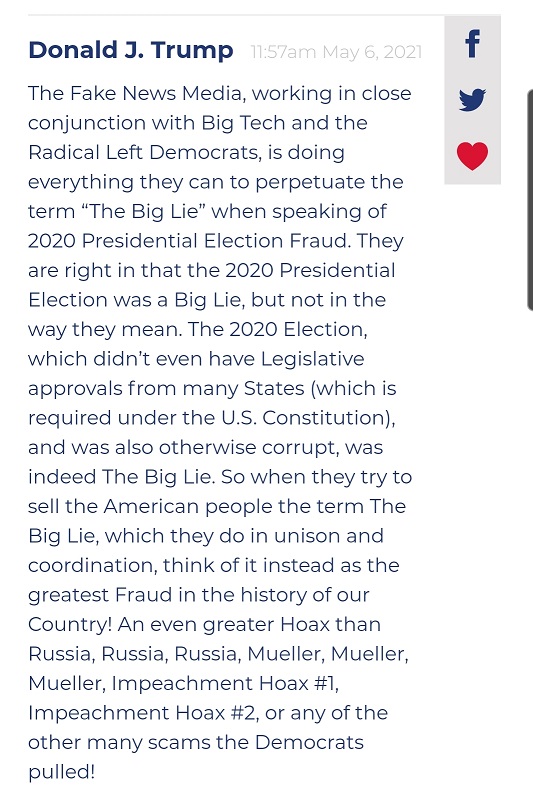 In order to consolidate your power as elite rulers, New World Order citizens, you have given up even the pretense of a traditional morality. You know Joe Biden didn't win. But the ends justifies the means to those destined to rule, eh?
Well, let me tell you something. You have lost any claim to a moral authority, let alone the authority to rule over us. And we aren't going to give up our right to have an equal share in the governance of this great nation. You are not our betters. In fact, your nihilistic death-cult politics has put you far beneath the Average Joe.
You are the ones who are touting post-birth abortions, the mutilation of gender-confused kids, the eugenic fantasies of the academics amongst you. You are the ones who give the masses depraved entertainment that glorifies violence and hedonistic sex, and then point fingers at the mess society has become.
You have the money to mitigate the problems your politics and policies cause on a personal level (your kids are a mess, by the way.) The rest of us are left having to deal with the carnage on the ground with little resources to fix things.
For all your education and connections, you don't know much at all. I consider you the useful tools in this revolution to overturn our Constitution and usher in a tyrannical world government. History tells us the useful tools always get consumed in the end.
However, the Deplorables will win and you will be saved. But I know you won't be grateful. You'll go to your graves lamenting the loss of authority and power of your tribe. The wokeness of the ruling class is a laughable testimony to your gullibility. Mark Twain once said, "All schools, all colleges, have two great functions: to confer, and to conceal valuable knowledge."
My liberal friends, you have had hidden from you this valuable knowledge:
Your whole political identity is based on the lie that education, money, and position confer intrinsic worth. And that the higher you are in the Ivory Tower (of Babel), the more godlike you become.
I am no longer astonished at your blindness. It's all been written about before in that Book you either willfully misinterpret or reject outright.
God have mercy on you all. You're going to need it.
Most Sincerely,
One of 85 Million Deplorables