Cover image: Paris in the Rain by Kathryn Morris Trotter, native of Mississippi and impressionist knife painter.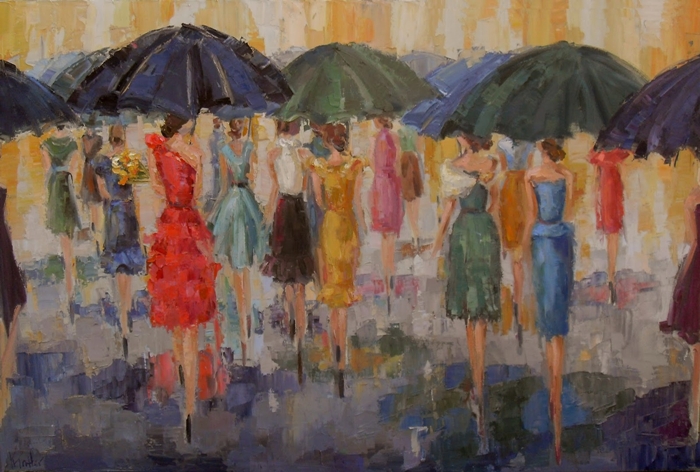 Overshadowed by Senator Rand Paul's confrontation with the increasingly disgraced little Tony Fauci last week was this gem.
It's too bad that a critical mass of Americans did not tune into that hearing. They missed out on some pretty big red pills which lead to some disturbing questions about the current situation with the inoculations currently being pushed on the population.
A member of our group posted a link to a piece in American Thinker that pretty much lays out the situation.
If these were any other vaccines, they would already be off the market.

In fact, they would have been pulled a long time ago. Usually, a new drug is withdrawn after 50 deaths, which isn't typical because the FDA has a strict approval process. The COVID-19 vaccines have been exempted from it, instead being temporarily "authorized" for emergency use.

These vaccines have coincided with 3,544 American deaths and 12,619 serious injuries as of April 23, according to the CDC's Vaccine Adverse Event Reports System database (VAERS, republished "as is" in user-friendly format here). The flu vaccines by comparison are linked to 20–30 death reports a year, according to Dr. Peter McCullough, and those 20–30 death reports come with considerably more vaccines administered.

This is precisely the kind of thing FDA approval is supposed to prevent.
And, as we all know, nothing is stopping the shot train right now. Although, more and more stories are surfacing from people who took the jabs and now bear the scars of it and the expense of treatment since so many insurance companies are refusing to pay for the effects of an experimental therapy.
Maybe this is what it is going to take to wake people up.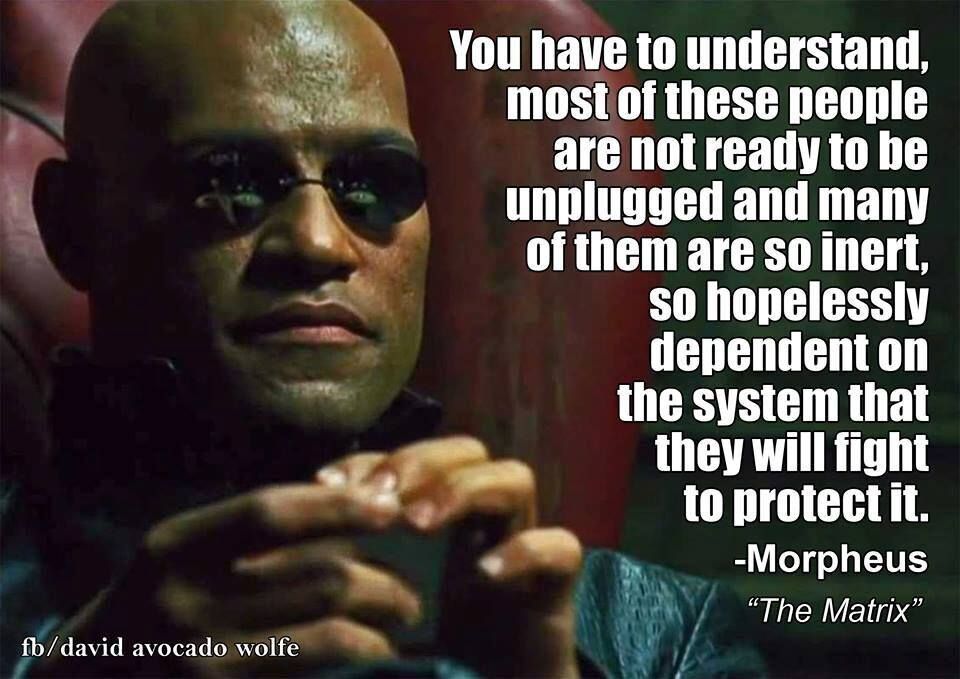 That's called Stockholm Syndrome and it ain't no joke. Too many are too invested.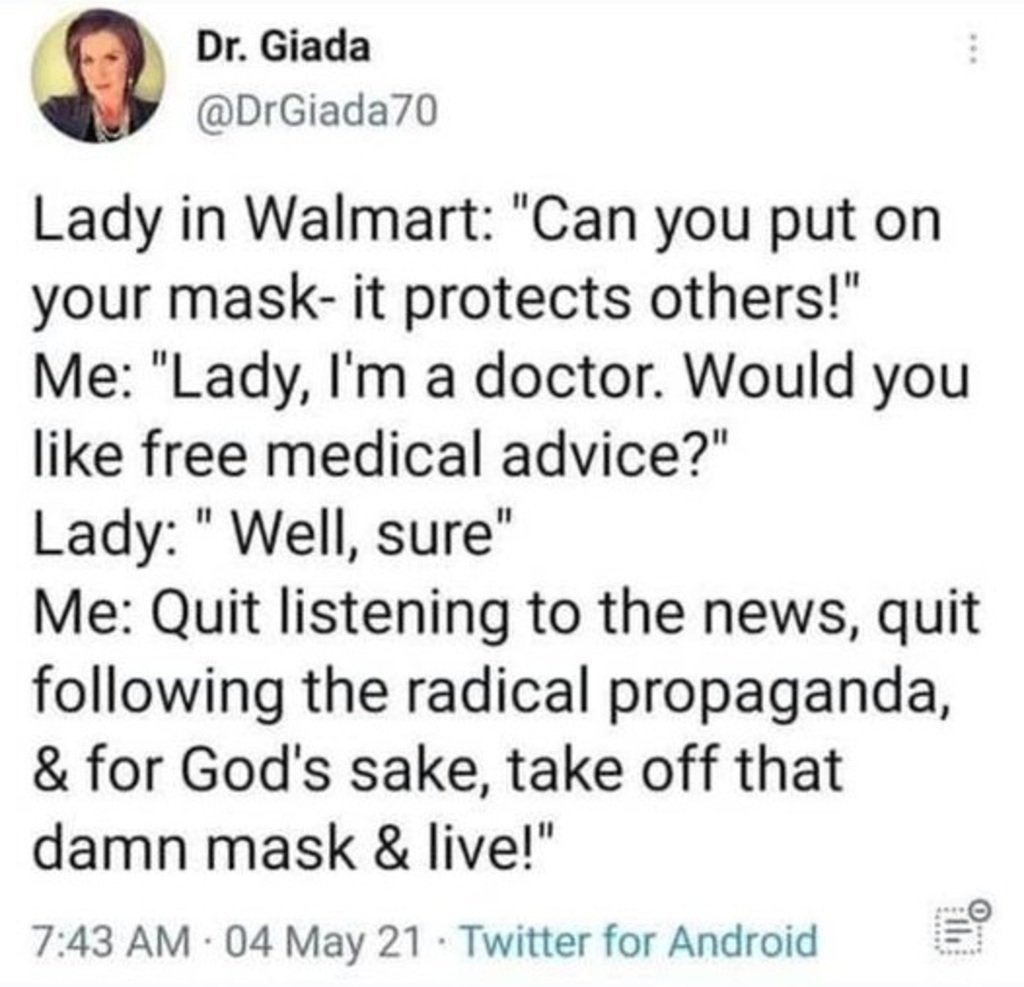 Still, this is what "they" want and what is being refused by the very people that "they" want reduced in numbers.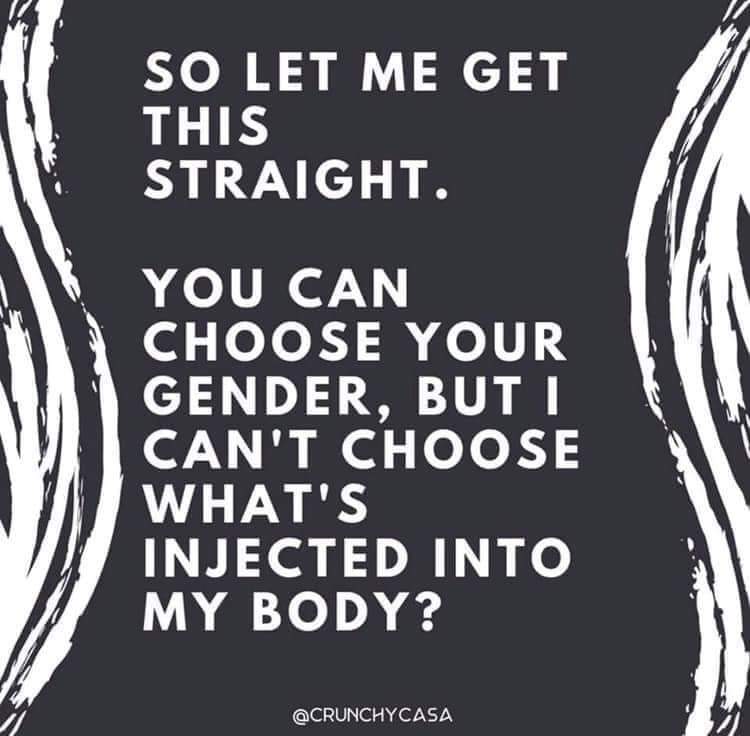 From the American Thinker article linked above:
Inexplicably, Dr. Fauci was able to look at those data and say, "obviously the safety looks really, really good in well over 140 million people having been vaccinated." How can he look at the VAERS data in good faith and say the safety looks good?

The updated number of published death reports as of April 30 is 3,837. That's 300 reports in a week, and those are just the reports: per the studies that show that VAERS underreports deaths, we're on pace for an estimated half a million COVID vaccine deaths by the end of the month. It's remarkable that the press isn't covering this.

They are indeed doing the opposite, insisting that VAERS data are meaningless. They say VAERS reports are unverified, which is always true with raw data, and anyone can make them, so we don't know that 3,544 deaths have happened.

What they leave out is the correlation between death reports and deaths has already been studied, and one report on VAERS correlates with 10–100 deaths. They also leave out the sheer volume of reports. What they don't leave out is their customary appeal to authority: listen to the doctors.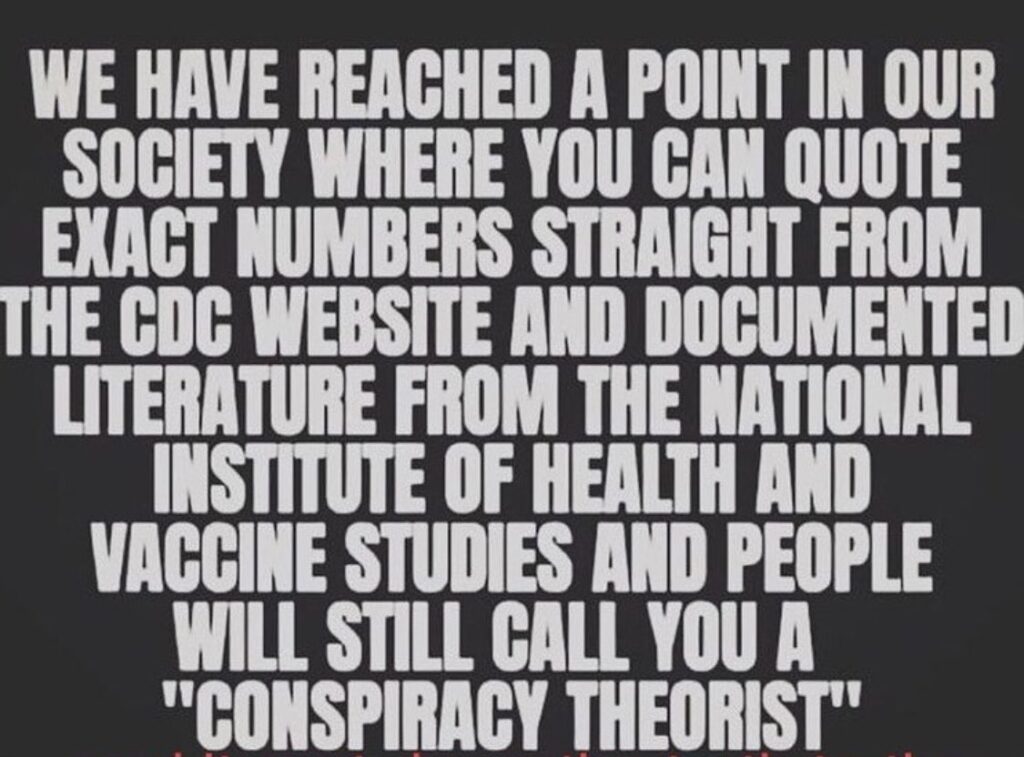 What a friggin' mess.
Although, it looks like there's some potentially good news out there.
If they can't meet, they can't plot for the next move to try to get us to eat bugs, can they.
Anyone want to take a stab at explaining this?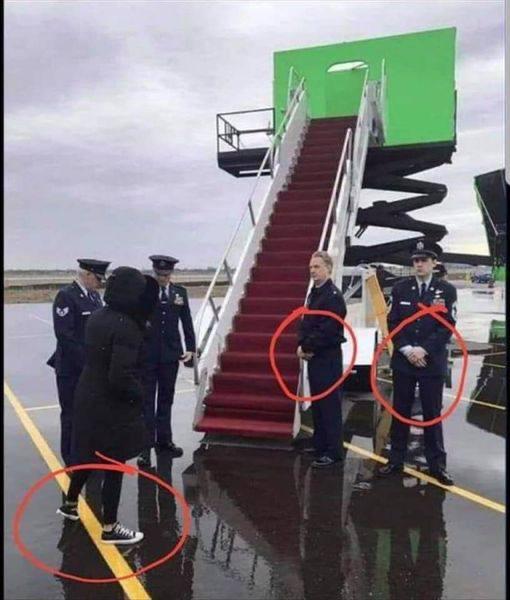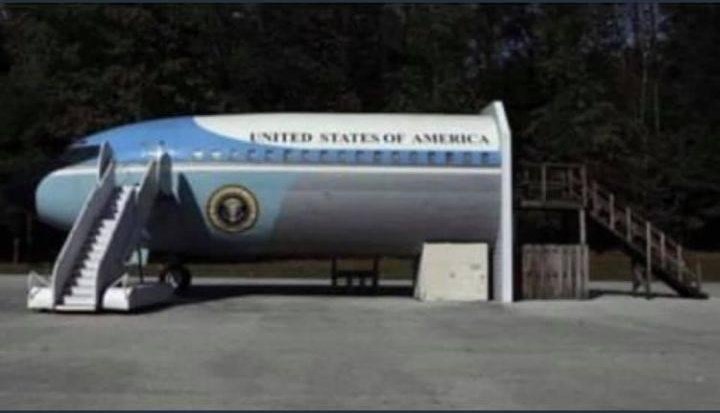 And just a reminder that if the Democrats didn't steal the last election, they would be in front of the cameras trumpeting the audit just to prove that it didn't happen.
Still waiting for results.
And one SERIOUS question:
In the Gates divorce, who do you think will get the farmland?
Discuss.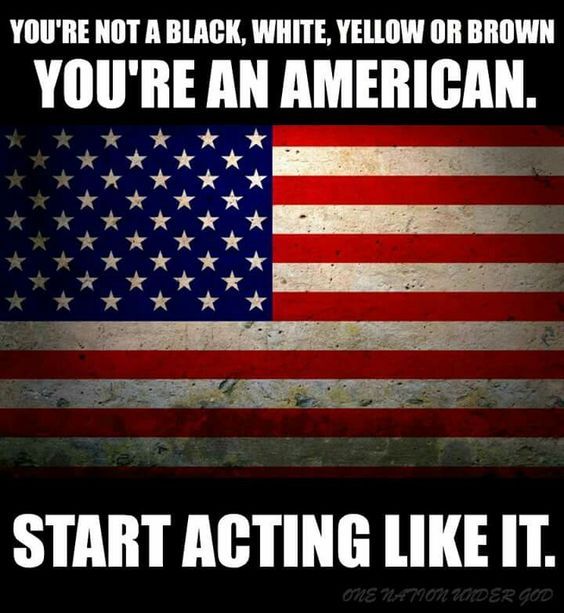 Of course, this does not mean committing felonies, but standing up to the forces that want to tear this nation – and humanity apart. The very people XVII told us will be destroyed by the time this movie comes to an end are currently roaming the halls of power…supposedly. It's a sickening sight.
And now for some mood music:
Your weekly reminder to take the pledge:
"I do solemnly swear (or affirm) that I will support and defend the Constitution of the United States against all enemies, foreign and domestic; that I will bear true faith and allegiance to the same; that I take this obligation freely, without any mental reservation or purpose of evasion; and that I will well and faithfully discharge the duties of the office on which I am about to enter: So help me God."
And now for the nitty gritty of the Q Tree 5 minute, stand up, Tuesday morning meeting version of the Daily Thread.
Ahem.
Guidelines for posting and discussion on this site were outlined by our host, WolfM00n. Please, review them from time to time.
The discourse on this site is to be CIVIL – no name calling, baiting, or threatening others here is allowed. Those who are so inclined may visit Wolf's other sanctuary, the U-Tree, to slog it out with anyone who happens to still be hanging out there. There is also a "rescue" thread there for members of the Tree to rendezvous if the main site goes kablooey.
This site is a celebration of the natural rights endowed to humans by our Creator as well as those enshrined in the Bill of Rights adopted in the founding documents of the United States of America. Within the limits of law, how we exercise these rights is part of the freedom of our discussion.
Fellow tree dweller Wheatie gave us some good reminders on the basics of civility in political discourse:
No food fights.
No running with scissors.
If you bring snacks, bring enough for everyone.
And Auntie DePat's requests as we are all, ahem, adults, although some of us are beginning to wonder what the threshold for true adulthood is:
If you see something has not been posted, do us all a favor, and post it. Please, do not complain that it has not been done yet.
The scroll wheel on your mouse can be your friend. As mature adults, please use it here in the same manner you would in avoiding online porn.
Thank you so much for any and all attention to such details. It is GREATLY appreciated by more than one party here.
__________________________________________________
COLOSSIANS 3:12-17
12Put on then, as God's chosen ones, holy and beloved, compassion, kindness, lowliness, meekness, and patience, 13forbearing one another and, if one has a complaint against another, forgiving each other; as the Lord has forgiven you, so you also must forgive. 14And above all these put on love, which binds everything together in perfect harmony. 15And let the peace of Christ rule in your hearts, to which indeed you were called in the one body. And be thankful. 16Let the word of Christ dwell in you richly, teach and admonish one another in all wisdom, and sing psalms and hymns and spiritual songs with thankfulness in your hearts to God. 17And whatever you do, in word or deed, do everything in the name of the Lord Jesus, giving thanks to God the Father through him.
LUKE 12:22-31
22And he said to his disciples, "Therefore I tell you, do not be anxious about your life, what you shall eat, nor about your body, what you shall put on. 23For life is more than food, and the body more than clothing. 24Consider the ravens: they neither sow nor reap, they have neither storehouse nor barn, and yet God feeds them. Of how much more value are you than the birds! 25And which of you by being anxious can add a cubit to his span of life? 26If then you are not able to do as small a thing as that, why are you anxious about the rest? 27Consider the lilies, how they grow; they neither toil nor spin; yet I tell you, even Solomon in all his glory was not arrayed like one of these. 28But if God so clothes the grass which is alive in the field today and tomorrow is thrown into the oven, how much more will he clothe you, O men of little faith! 29And do not seek what you are to eat and what you are to drink, nor be of anxious mind. 30For all the nations of the world seek these things; and your Father knows that you need them. 31Instead, seek his kingdom, and these things shall be yours as well.
109
Anonymous ID: hHkrVD7x No.148156632
Nov 5 2017 20:06:36 (EST)
Anonymous ID: pqW40Wgk No.148156518
Nov 5 2017 20:05:48 (EST)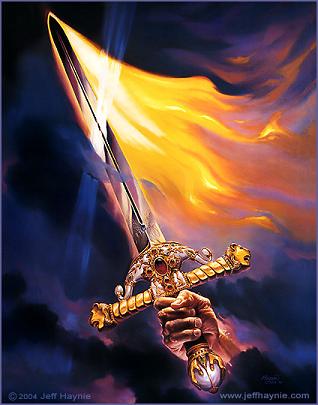 >>148154137
St. Michael the Archangel, defend us in battle. Be our protection against the wickedness and snares of the devil. May God rebuke him, we humbly pray. And do thou, Prince of the Heavenly Hosts, by the power of God, cast down to Hell Satan and all his evil spirits, who prowl about the world seeking the ruin of souls. Amen.
>>148156518
Amen brother.
Q
As always, prayers for the fight against that which seeks to enslave us are welcome. Via con Dios.