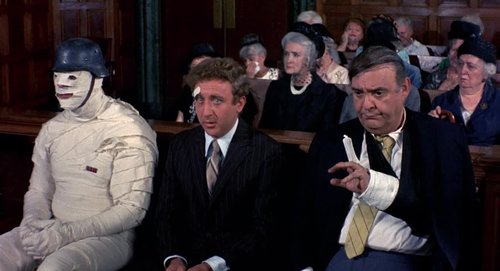 ---
Springtime for Hitler just went full Bolshevik.
Never go full Bolshevik! Most of all, in CHINADA.
This is actually a lot of fun, in a kind of sick / maybe not so sick way. It's complicated.
Stay with me on this and you'll see.
SCTV had an old (1982) skit, I Was A Teenage Communist, making fun of 1950s conservatism and anticommunism, which for context aired during Reagan's first term (right after the deep state failed to kill him). It was originally hilarious, being what we didn't realize at that time, was actually communist propaganda from Hollywood, mocking 50s anticommunism, to keep those progressive gains of three post-war decades fresh.
Anticommunism! What a hoot!
Yeah, add a few decades, multiple internal communist "auto-coups" by the deep state (JFK, Nixon, Reagan, Trump), and a generation old enough, smart enough, and WISE enough to finally see through multiple generations of leftist deception and language games. Add young kids today, who now SEE the crooked communist past clearly, though NEW EYES.
The bankruptcy of American Sovietism, dying on the vine, is there for all to see, but particularly for those with historical perspective.
With time, this SCTV skit became very unfunny as one watches all of the following things:
communist foundations laid in the 50s obvious now
Hollywood's lulling communist propaganda of the 70s obvious now
anti-communism of the 50's not properly dealing with communism
complete duping of Americans during the 70s by Hollywood
absence of anti-communist warning in the 70s and thereafter
the horror of what good people missed all the way along
Indeed, if you have CUT THE CABLE, then this skit will almost certainly seem VERY unfunny now. THAT is proof that you're destroying their programming.
BUT there is a silver lining, and if you watch this with the right frame of mind, it's hilarious once again – this time as Hollywood (or Iciclewood, or whatever you call these people) self-indicting as Marxist tools. In a sense, they make fun of themselves, by history having validated all the stereotypes that they themselves use for false mockery.
It's JAW-DROPPING – in a Springtime For Hitler way – as dupey, dopey, Marxist tools mock awareness of their true selves, proven over time.
If you watch very closely near the end, you will even see very calculated mockery of subtle old warnings we have now resurrected as TRUE WISDOM.
At first it's kinda horrifying, but then it becomes SO unfunny, it's once again laugh-out-loud funny at the brazenness, the stupidity, and the WRONGNESS of it all.
If you catch the (hilarious (not hilarious (hilarious))) part, it's sly patriot fun. Just keep saying the word "ghastly" as you watch it, and you'll get it.
They'll be studying this clip in propaganda discussions for centuries.
"GHASTLY!"
Enjoy.
W