Shall we dive right in?
Yes, I know the two links above are teasers for subscription.
Shocker. I thought for sure Schmitt was uniparty all the way.
I'll say.
HELL TO THE NO! NOPE. NOT EVEN. NO WAY JOSE.
Now, why does just the title seem like NAFTA revisited.
And Elon said it at a world government sort of conference.
Uniparty is finished with her.
Why would we need a new "Master of the World" when we have Father, Son and Holy Ghost?
Does this mean that conservatives have learned the art of pushback?
TWEETS:
Next, they are going to tell us we have a higher risk of tuberculosis.
Has she ever READ a book? That's expensive fire starter right there.
On this, I agree with her.
The next James Bond movie is missing a villian.
Millie Weaver's dad, actually, is the one to hear out in the video. He used to work for a railroad company.
Jesse Watters asked the congresscritter for that area if the company was asking people to sign waivers. He hadn't heard of that, but he was on the scene for the townhall meeting. Officials from Norfolk Southern were not. Who is advising them on a public relations front? That violates at least three of the cardinal rules of crisis communications. (I got an A on that paper.)
Old grandmothers always know the scoop.
This is getting really old, really fast.
Better to be tried for the lie.
People like this make us feel good about being Americans.
MEMES: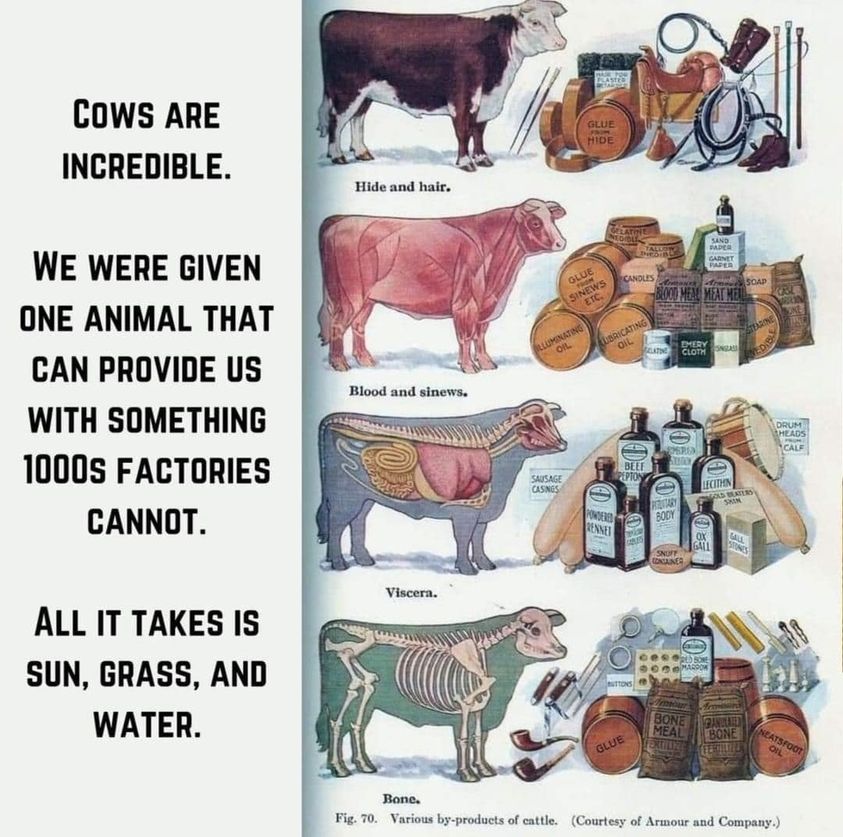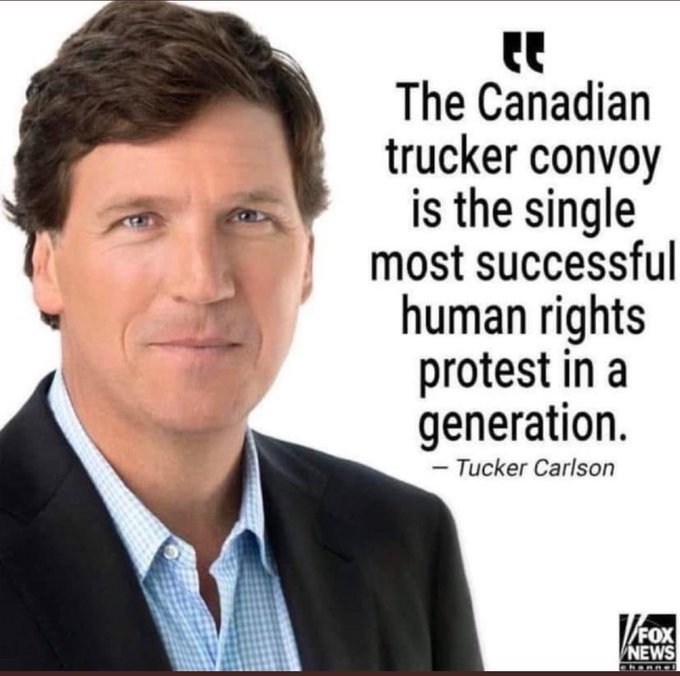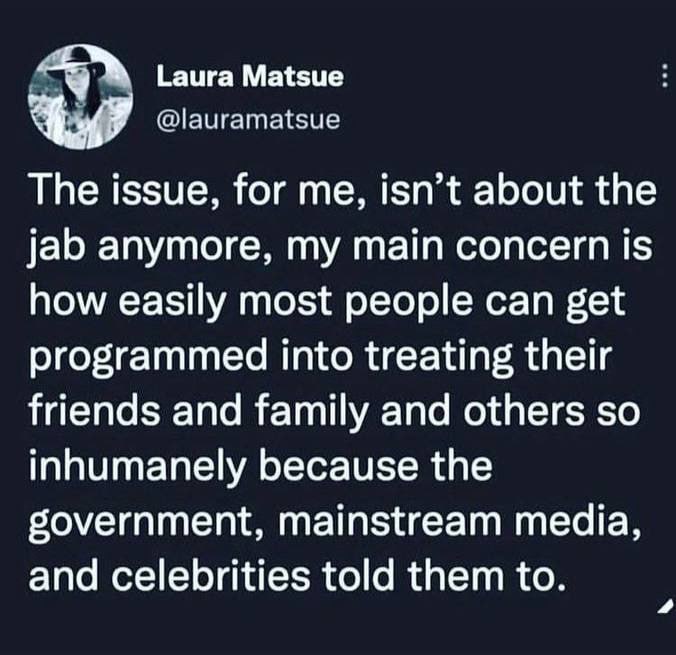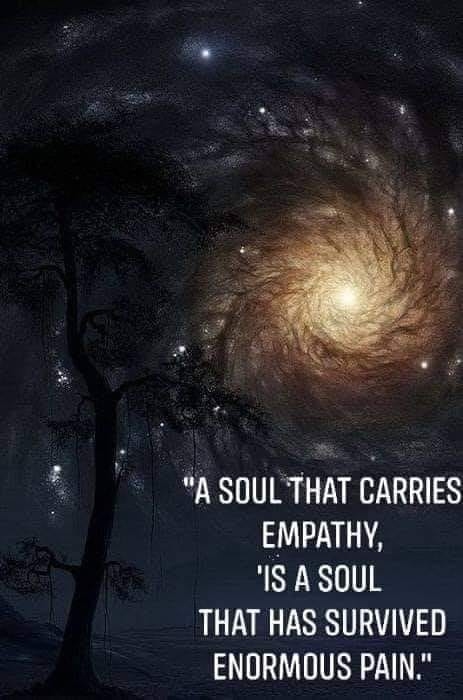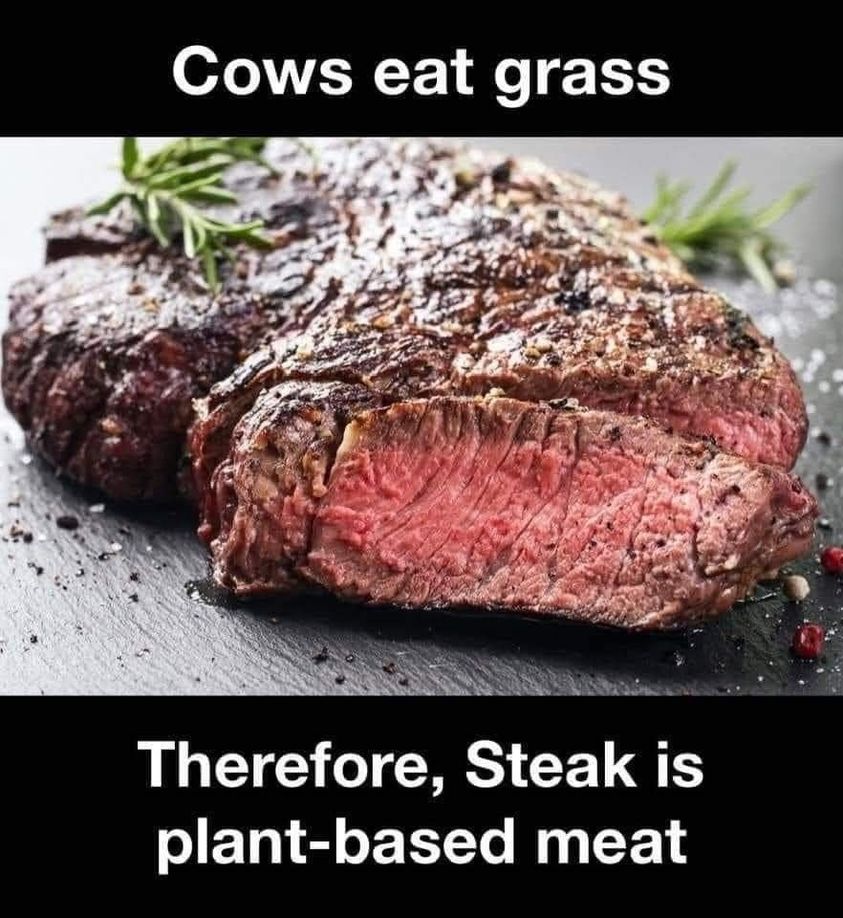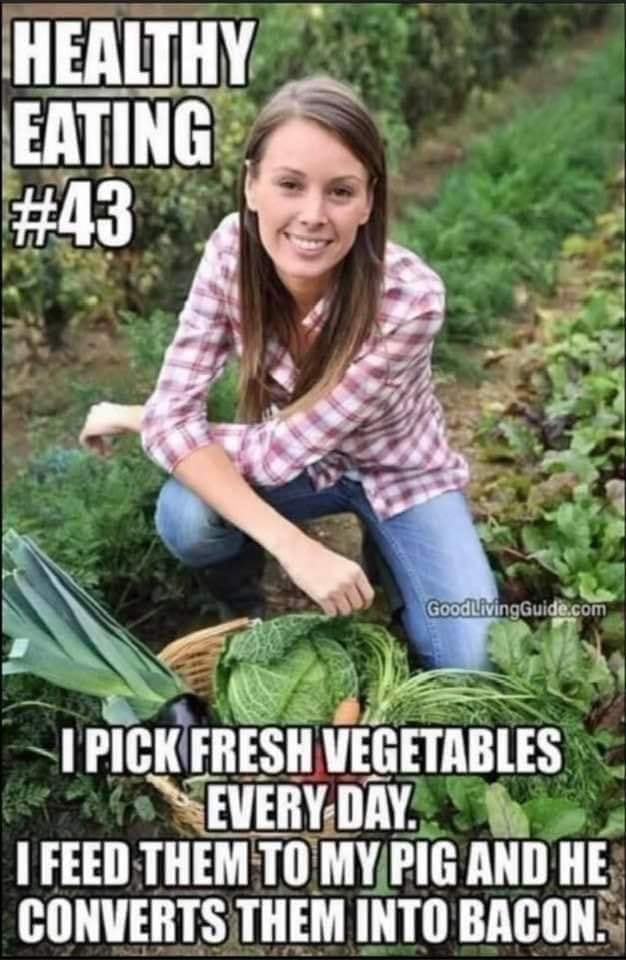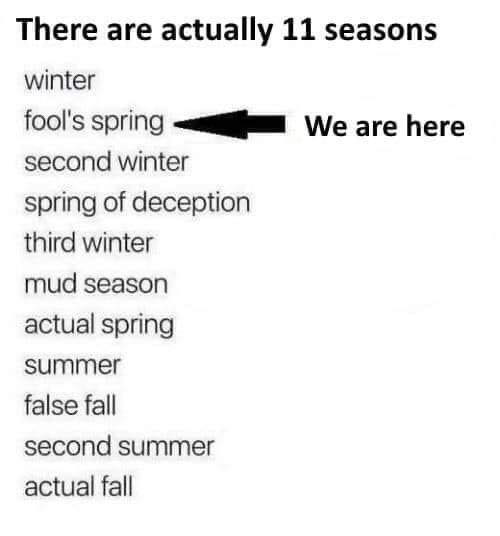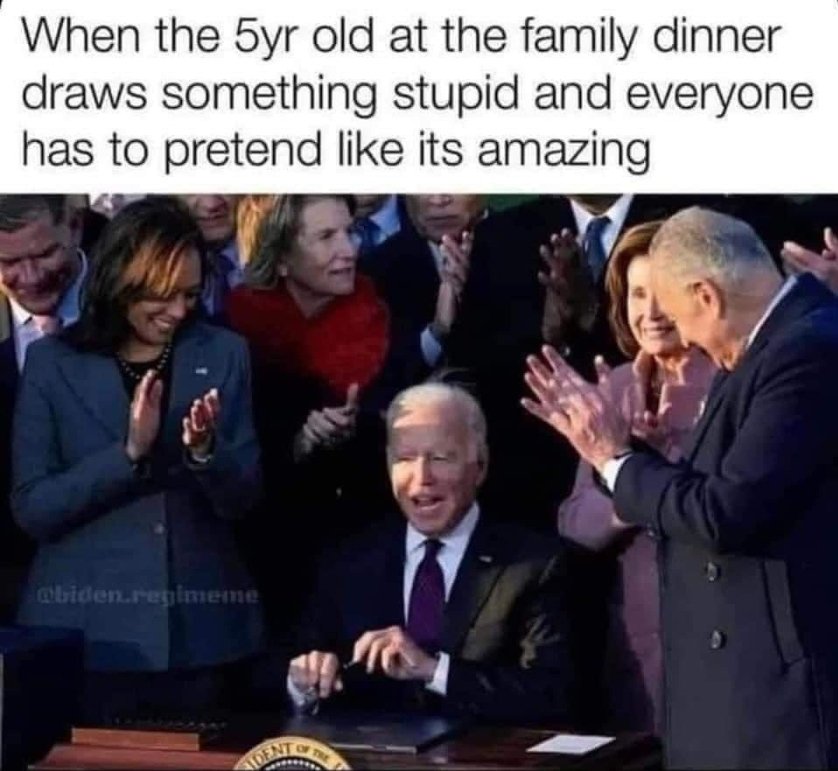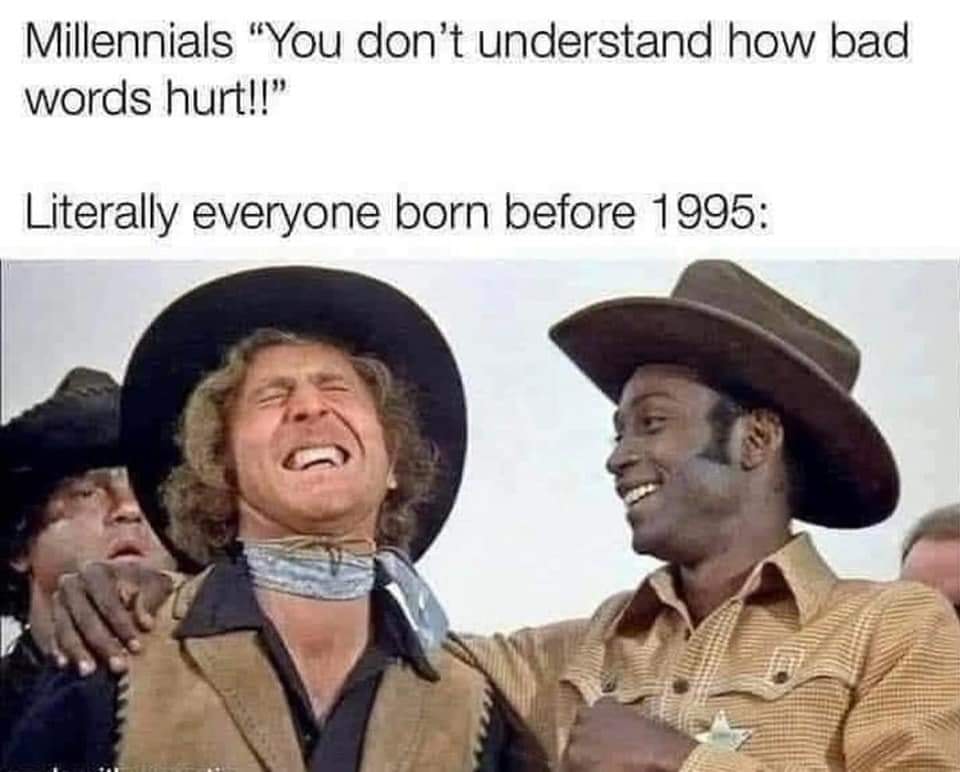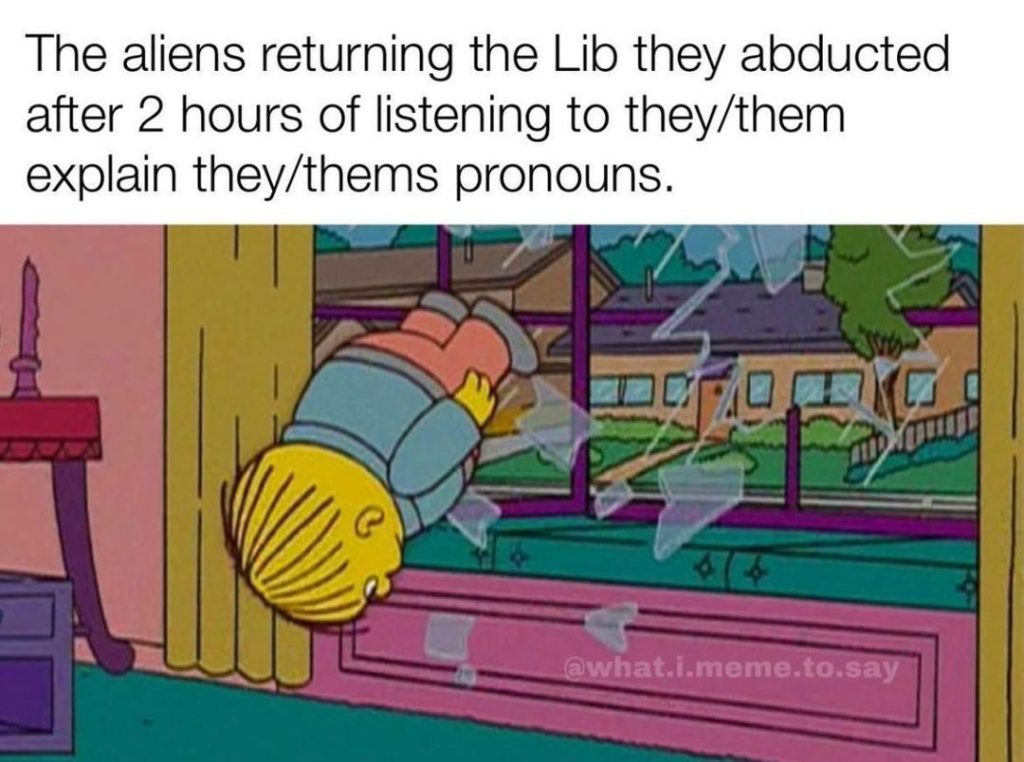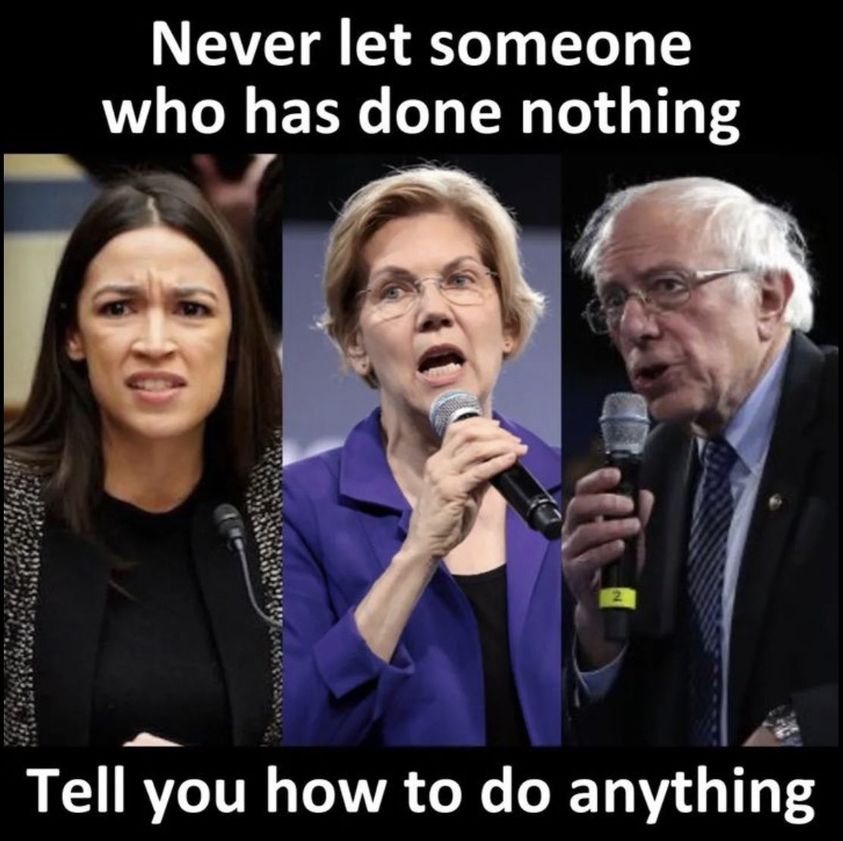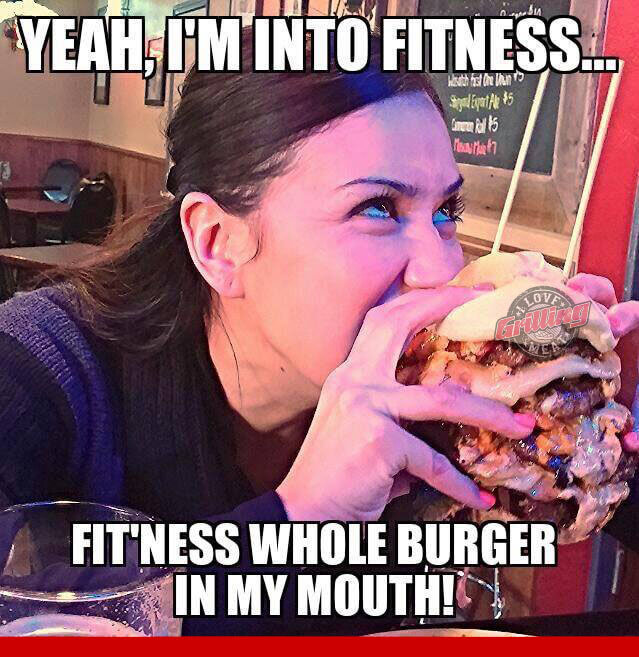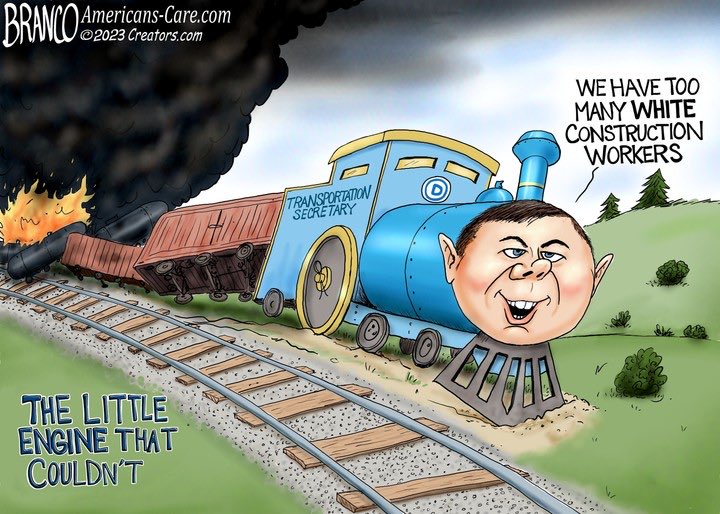 ____________________________________
And now for the business portion.
Please review our HOST and site owner's Guidelines for posting and discussion for this site. Wolf is kind enough to put up with *most* of us and our antics after thorough vetting. Violators of the baiting and deliberately attempting to divide the group rules WILL face consequences.
The discourse on this site is to be CIVIL – no name calling, baiting, or threatening others here is allowed. Company manners are appreciated. Those who are so inclined may visit Wolf's other sanctuary, the U-Tree, to slog out discussions best saved for a wrestling mat. If, for some reason, this site is not available, head over to the UTree and visit the post at the top of the list or the closest rescue thread.
This site is a celebration of the natural rights endowed to humans by our Creator as well as those enshrined in the Bill of Rights adopted in the founding documents of the United States of America. Within the limits of law, how we exercise these rights is part of the freedom of our discussion.
THAT MEANS THAT ALL OF US HERE ARE ENTITLED TO OUR OPINIONS AND PREJUDICES, ETC., SO LONG AS THEY CAUSE NO PHYSICAL HARM TO OTHERS OR DOXX OUR FELLOW TREE DWELLERS.
All opinions here are valued for the diversity they bring to the issues, and the shaping of understanding regarding topics for which many of us do not have all information. Correcting the record on any one topic is appreciated.
Be careful in expressing thoughts as we would all like to think well of the rest of the group, and ill-thought out comments have a way of wrecking that for everyone.
Fellow tree dweller, the late Wheatie, gave us some good reminders on the basics of civility in political discourse:
No food fights
No running with scissors
If you bring snacks, be sure they are made with bacon
Auntie DePat's requests as we are all supposedly adults and don't just play them on TV like the body doubles pretending to be the squatter in chief:
If you see something has not been posted, do us all a favor, and post it. Please, do not complain that it has not been done yet.
The scroll wheel on your mouse can be your friend. As mature adults, please use it here in the same manner you would in avoiding online porn.
Thank you so much for any and all attention to such details. It is GREATLY appreciated by more than one party here.
____________________________________________________
GENESIS 9:1-13
1And God blessed Noah and his sons, and said to them, "Be fruitful and multiply, and fill the earth. 2The fear of you and the dread of you shall be upon every beast of the earth, and upon every bird of the air, upon everything that creeps on the ground and all the fish of the sea; into your hand they are delivered. 3Every moving thing that lives shall be food for you; and as I gave you the green plants, I give you everything. 4Only you shall not eat flesh with its life, that is, its blood. 5For your lifeblood I will surely require a reckoning; of every beast I will require it and of man; of every man's brother I will require the life of man. 6Whoever sheds the blood of man, by man shall his blood be shed; for God made man in his own image. 7And you, be fruitful and multiply, bring forth abundantly on the earth and multiply in it." 8Then God said to Noah and to his sons with him, 9"Behold, I establish my covenant with you and your descendants after you, 10and with every living creature that is with you, the birds, the cattle, and every beast of the earth with you, as many as came out of the ark. 11I establish my covenant with you, that never again shall all flesh be cut off by the waters of a flood, and never again shall there be a flood to destroy the earth." 12And God said, "This is the sign of the covenant which I make between me and you and every living creature that is with you, for all future generations: 13I set my bow in the cloud, and it shall be a sign of the covenant between me and the earth.
MARK 8:27-33
27And Jesus went on with his disciples, to the villages of Caesare'a Philip'pi; and on the way he asked his disciples, "Who do men say that I am?" 28And they told him, "John the Baptist; and others say, Eli'jah; and others one of the prophets." 29And he asked them, "But who do you say that I am?" Peter answered him, "You are the Christ." 30And he charged them to tell no one about him. 31And he began to teach them that the Son of man must suffer many things, and be rejected by the elders and the chief priests and the scribes, and be killed, and after three days rise again. 32And he said this plainly. And Peter took him, and began to rebuke him. 33But turning and seeing his disciples, he rebuked Peter, and said, "Get behind me, Satan! For you are not on the side of God, but of men."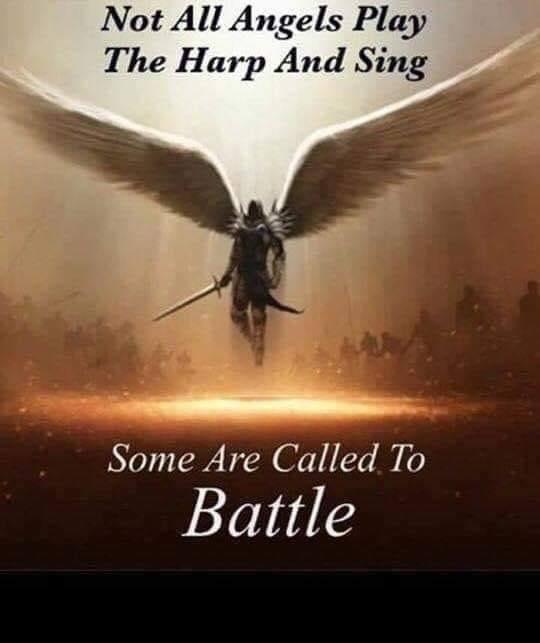 _____________________________________________________
SATIRE!