This 3rd Sanctuary Sunday of Advent Open Thread, with full respect to those who worship God on the Sabbath, is a place to reaffirm our worship of our Creator, our Father, our King Eternal.
It is also a place to read, post and discuss news that is worth knowing and sharing. Please post links to any news stories that you use as sources or quote from.
In the QTree, we're a friendly and civil lot. We encourage free speech and the open exchange and civil discussion of different ideas. Topics aren't constrained, and sound logic is highly encouraged, all built on a solid foundation of truth and established facts.
We have a policy of mutual respect, shown by civility. Civility encourages discussions, promotes objectivity and rational thought in discourse, and camaraderie in the participants – characteristics we strive toward in our Q Tree community.
Please show respect and consideration for your fellow QTreepers.
Before hitting the "post" button, please proofread your post and make sure you're addressing the issue only, and not trying to confront the poster.
If you feel the need to bare your fangs, we have a companion site – called The U Tree – where you can run wild and free with the Wolfpack where all legal free speech is allowed.
But NOT HERE in The Q Tree. Personal attacks, name calling, ridicule, insults, baiting and other conduct for which a penalty flag would be thrown are VERBOTEN.
In The Q Tree, we're compatriots, sitting around the campfire, roasting hot dogs, making s'mores and discussing, agreeing, and disagreeing about whatever interests us. This board will remain a home for those who seek respectful conversations.
Please also consider the Important Guidelines, outlined here. Let's not give the Internet Censors a reason to shut down this precious haven that Wolf has created for us.
---
With the Storm upon us…please remember to Pray for our President.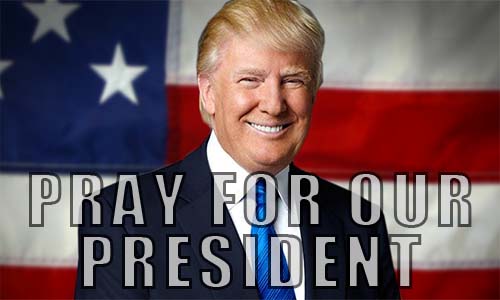 ---
AND WHAT TIME IS IT? TIME TO….DRAIN THE SWAMP!!!
Our movement is about replacing a failed and CORRUPT political establishment with a new government controlled by you, the American People. ~ Candidate Donald J. Trump
---
Also remember Wheatie's Rules:
No food fights.
No running with scissors.
If you bring snacks, bring enough for everyone.
---
On this day and every day –
God is in Control
. . . and His Grace is Sufficient, so . . .
Keep Looking Up
---
Hopefully, every Sunday, you can find something here that will build you up a little . . . give you a smile . . . and add some joy, very much needed in all our lives.
"This day is holy to the Lord your God; do not mourn nor weep." . . . "Go your way, eat the fat, drink the sweet, and send portions to those for whom nothing is prepared; for this day is holy to our Lord. Do not sorrow, for the joy of the Lord is your strength."
---
3rd Sunday of Advent ~ Joy
Joy should be a characteristic that permeates through all facets of a Christian's life: every day, in troubles and trials, in hope, in giving, in prayer, in praise, in worship, in thanksgiving . . . in everything . . . for the joy of the Lord is our strength.
During this Advent season, we look to the past to recognize and celebrate the effects of Christ's 1st coming, and we look to the future in anticipation and a peaceful assurance of what Christ's 2nd coming will bring.
The 3rd Sunday of Advent . . . Gaudete Sunday . . . Joyful Sunday. The Christmas season is well upon us. Christmas trees, lights, carols, and soon will come presents, friends, family, food . . . the most wonderful time of the year!
As we should do during Advent, on this Joyful Sunday, we look back: Joy . . . should be an easy topic with all the joy surrounding the birth of Jesus.
Mary rejoiced in God her Savior. An angel of the Lord brought good tidings of great joy to the shepherds and to all people. All those who heard, marveled at what the shepherds told them. The shepherds joyfully returned, glorifying and praising God for all the things that they had heard and seen. Simeon got to see the Messiah. The promised Messiah had come to Israel.
But there is some joy, looking back, that is more difficult, if not impossible, for us to truly grasp. Jesus wasn't born just so He could walk around the countryside healing people and telling people they needed to get right with God. He came to die, to be the perfect sacrifice to reconcile our inherent sin nature and our sins with the righteousness of God.
And not just to die. He knew He would be flogged beyond recognition, nearly to the point of death, before they pounded the metal spikes into Him. His bones would be out of joint. He knew He would die by the most painful and torturous method of execution ever devised. He knew He would become sin.
The night before, Jesus' anguish was so great that the blood capillaries surrounding His sweat glands ruptured and His sweat became like great drops of blood falling down to the ground.
We have now gone far from our topic of joy. But what would make Jesus go through this for us?
The answer to that is His love for us, agape love . . . love that puts our best interests ahead of His own welfare. Love? Not joy? Well, here it is. "Who for the joy that was set before Him endured the cross, despising the shame".
And what was the joy that was given Him? God gave Jesus authority, that He shall give eternal life to as many as God has given Him. Jesus' joy, greater than the physical agony of crucifixion and being forsaken by God, since Jesus had become sin, was the joy that came from being the means through which believing mankind would be reconciled to God and given eternal life to know God, the only true God, and Jesus, our Messiah.
---
Most of the time we fail at discovering joy in some difficult present circumstances. And that's because we're looking at what we consider troubles and trials from our earthly perspective, and we overlook how these troubles and trials can and do result in changes to our Christian life . . . which is God's perspective.
"My brethren, count it all joy when you fall into various trials, knowing that the testing of your faith produces patience. But let patience have its perfect work, that you may be mature and complete, lacking nothing."
Blessed is the man who endures temptation; for when he has been approved, he will receive the crown of life which the Lord has promised to those who love Him.
---
As part of Advent, we look forward to find joy. And again, we find joy, but, again, a joy that we can't entirely fathom. For "Eye has not seen, nor ear heard, nor have entered into the heart of man the things which God has prepared for those who love Him." "In Your presence is fullness of joy; in Your right hand there are pleasures forever."
Although we don't know the details of the things that God has prepared for us, we do know they will be wonderful, undoubtedly beyond our present capacity to comprehend, but will bring us to levels of peace and joy that we have never experienced or imagined.
---
Philippians 4:1
Rejoice in the Lord always. And again I say, rejoice!
Psalms 47:1-2
Clap your hands, all you nations; shout to God with cries of joy.
For the Lord Most High is awesome, the great King over all the earth.
1 Peter 1:8-9
Though you have not seen him, you love him; and even though you do not see him now, you believe in him and are filled with an inexpressible and glorious joy, for you are receiving the end result of your faith, the salvation of your souls.
---
O happy day, that fixed my choice
On Thee, my Savior and my God!
Well may this glowing heart rejoice,
And tell its raptures all abroad.
Happy day, happy day,
When Jesus washed my sins away!
He taught me how to watch and pray,
And live rejoicing every day:
Happy day, happy day,
When Jesus washed my sins away!
~ Philip Dodderidge, published 1755
---
. . . that the Gentiles might glorify God for His mercy, as it is written:
"For this reason I will confess to You among the Gentiles, and sing to Your name."
And again he says:
"Rejoice, O Gentiles, with His people!"
And again:
"Praise the Lord, all you Gentiles Laud Him, all you peoples!"
And again, Isaiah says:
"There shall be a root of Jesse; and He who shall rise to reign over the Gentiles, in Him the Gentiles shall hope."
Now may the God of hope fill you with all joy and peace in believing, that you may abound in hope by the power of the Holy Spirit.
---