I don't know how much more of this book I can read, but here goes. Chapter 8 of Mitch McConnell's memoir, "The Long Game" is titled 'Love.' It begins thus:
"It was my friend Julia Chang Bloch who had first suggested that I meet Elaine. I'd known Julia and her husband, Stuart, since I was a staffer for Senator Marlow Cook in 1969, and we had become close friends."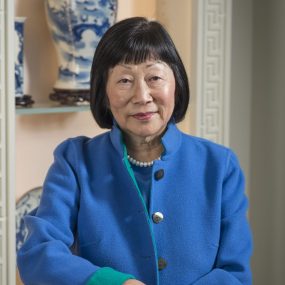 Mitch has been close friends with Julia Chang Bloch and Stuart Bloch since 1969. Mitch likes dropping names and I was intrigued about his two long-time friends. I had never heard of either of them, but they are obviously important to him. Besides Chao's family and McConnell's daughters, the Blochs were the only others present at Mitch and Elaine's wedding in 1993.
I was intrigued with Chang Bloch because of an interesting snippet that has been repeated over and over in different articles about her and Elaine Chao.
In article after article, using virtually the same words, we are told that Julia Chang Bloch mentored Elaine Chao. It is mentioned as part of the background in many articles, a mere tidbit.
This is the only thing I could find, a sentence of her inclusion on a list of mentors for the magazine Women of Wealth or WOW:
"Julia is listed in World's Who's Who and in Donna Langston's A to Z of American Women Leaders and Activists – she is one of only 147 women from U.S. history to make the list – and she was selected in 2011 by the American magazine Women of Wealth as "one of the nation's top women mentoring leaders".
A search at the website returned no results, however.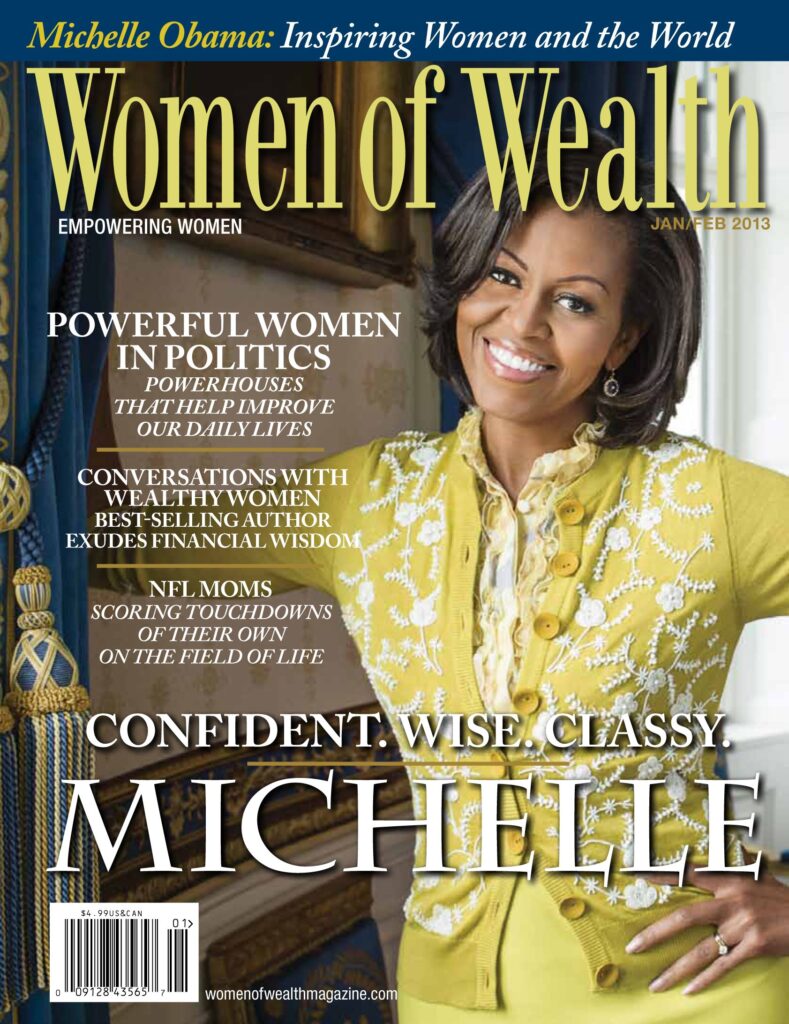 I looked into Julia Chang Bloch and found she has had great success as a Chinese immigrant to the United States. You can read about her here and in an interview here. Here is some of her background from the Foundation she founded in 1998:
"A native of China who came to the U.S. at age nine, Ambassador Bloch grew up in San Francisco and earned a bachelor's degree in Communications and Public Policy from the University of California, Berkeley, in 1964, and a master's degree in Government and East Asia Regional Studies from Harvard University in 1967. She was awarded an honorary doctorate of Humane Letters from Northeastern University in 1986.

Ambassador Bloch serves on a number of corporate and non-profit boards, including: Asia Institute for Political Economy, the University of HK, the Atlantic Council, Council of American Ambassadors, US Asia Pacific Council, Meridian International Center, World Affairs Council, the Fund for American Studies, and Penn Mutual Insurance Co. She was elected as a Fellow to the National Academy of Public Administration and is on the Expert/Eminent Persons Register of the ASEAN Regional Forum, a member of the Woodrow Wilson Council, as well as Trustee Emeriti of the Asia Society, Honorary Member of the Board of Directors of the Friends Society of the Asian Division, Library of Congress, and Honorary Fellow of the Foreign Policy Association. A member of the Council on Foreign Relations and American Academy of Diplomacy, she also serves on the Edumasters International Advisory Committee and the Editorial Board of Berkshire Publishing Group's Encyclopedia of China."
Like so many Asians who immigrate to the United States, her family worked very hard and have attained a great deal of success. Her father was the first Chinese national to graduate from Harvard Law School.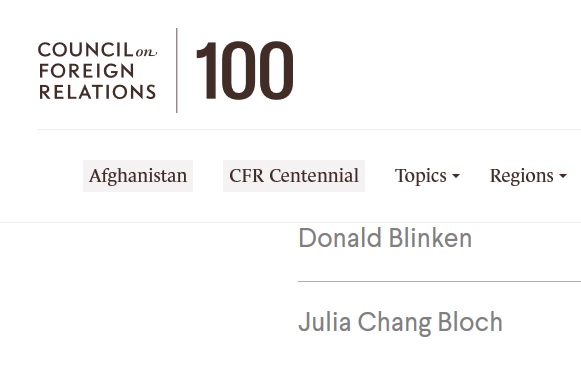 Bloch was nominated as Ambassador to Nepal by President George H. W. Bush and served in that capacity after years of working in government.
In 2008 she also worked on Mitt Romney's presidential campaign.
But back in 1998 Bloch founded the US-China Education Trust. According to the website:
"USCET is unique among organizations involved in US-China relations in its focus on serving China's scholars, professionals and future leaders with resources in concert with their own institutions. USCET projects build confidence, basic understanding, and trust between China and the United States through support for American Studies, Media Education, and American Governance programs at China's leading academic and policy institutions. USCET helps China's next-generation leaders understand American society in the context of the political, cultural, and economic forces that have given rise to America and its values.."
And,
"In the US, USCET works with over fifteen diverse academic partners, including Yale University, the University of Maryland's Philip Merrill College of Journalism, American University's Center for Congressional and Political Studies and the School of Communication, the University of North Alabama, and The Fund for American Studies. In China, USCET partners include the Chinese Academy of Social Sciences (CASS), and more than 70 of China's top universities through USCET's American Studies Network and Media Education Consortium.."
Bloch has deep ties to China, as does Mitch's wife, Elaine Chao. And we know that the Chinese Communist Party has infiltrated our educational, political, and corporate institutions through organizations that promote educational exchanges. Good info here, here, and here for a video panel discussing the issue of CCP infiltration of our institutions.
I kept digging for more information.

Julia Chang Bloch is listed as a contributor at The Globalist, but the only article that comes up authored by her is a 2003 article advocating for globalism through bilingual education and lots of studying abroad.
"Only study abroad and international exchange can connect people across boundaries. Only face-to-face dialogue can build understanding of cultural values, trust, confidence, networks and collaboration. And only international education can produce the leaders needed by the global knowledge economy—and the profound changes it will bring about."
Networks, collaboration, international education, global knowledge economy, profound changes…
Goodness gracious.
She is affiliated either through speaking engagements, awards, fellowships, etc., at numerous organizations that promote globalist viewpoints, feminism, and various groups that couch social and economic thinking through the lens of race, and all the trigger points in between.
One of the board members on her US-China Education Trust, Kurt Campbell, has been named to Resident Biden's administration. Here USCET congratulates Mr. Campbell on his appointment:
"Washington, D.C. – On January 25, 2021, Kurt Campbell, former Assistant Secretary of State for East Asian and Pacific Affairs and former USCET Advisory Council member, assumed the position of Deputy Assistant to the President and White House Coordinator for Indo-Pacific Affairs on the National Security Council. The US-China Education Trust congratulates Kurt Campbell on his new role in the Biden – Harris Administration during this unprecedented time in US-China relations. We are grateful for Kurt's service on the USCET Advisory Council and wish him success and the best of luck in his new role in the administration."
For context, here's a Powerline article detailing the Biden's penchant for China sympathizers.
Moving on.
Here is Mrs. Bloch being interviewed on China Global Television Network, a State-owned television station, which has had numerous complaints against it for propaganda and worse.
There is some interesting exchanges in the 20-minute interview. In an opinion piece about the video interview, the author focuses on American discrimination against Chinese immigrants. This is a mantra. Mitch even pitches it about poor Elaine's childhood when she was teased at school and her family terrorized by Halloween trick-or-treaters. He even goes so far at one point to lament that Kentucky is very 'white'.
In this article at China Daily, Chang Bloch is mentioned as being part of the conversation but never quoted. Here is a quote however, from the person, Yang Xinyu, minister counselor for educational affairs at the Chinese Embassy in the United States, who did seem to be talking to Bloch:
"Calling educational exchanges 'the fundamental power of the over-all relations between the two countries,' Yang said cooperation is the only option for the prosperity of both countries and for addressing common challenges to all mankind."
It is clear the Chinese feel educational exchanges to be extremely important to fostering cooperation (as in, "You will cooperate!") and prosperity (as in, "You make us rich!") between the United States and China. This is not just a feel-good nod of benevolence, and the Chinese emphasis on it is deeply serious.
If you read enough of these articles by Chinese nationals, however, you can see that the Chinese feel they have come of age. They look upon the United States as an unequal–as in lesser–power, and their own problems with cultural superiority come shining through.
The Feminists. UGH.
Further on, I found an article that is boilerplate feminism. A puff piece about the husbands of women ambassadors, Mr. Bloch duly introduces himself as "Mr. Julia Chang Bloch," and the article finishes with the obligatory story of how the diplomats spoke to the men and not the actual ambassadors about important things. Mrs. Bloch said, "I guess we will just have to work this out," to her husband.
After her careers in government and business, Chang Bloch turned her focus to education.
From another article:
"In 1998, Julia resigned from the board of America West Airlines. In the same year, Peking University – China's oldest modern university, consistently ranked in the top 50 universities worldwide – asked her to rebuild its American Studies Center. She became Executive Vice Chairman of its American Studies Center and a Visiting Professor at the Institute for International Relations. In 2001, she also joined Fudan University in Shanghai as a Visiting Professor and Distinguished Adviser of International Relations and Public Affairs."
Here she is talking about the fallout of the Covid pandemic at the 2020 AmChamChina HR conference: Transforming and Attracting Talents in a World Changed By Covid-19.
Cultural Marxism and dissing Milton Friedman! The article is full of globalist pap:
"The most unpleasant part of the job was my having to remove my predecessor. He had been a banker all his life, and he was a follower of Milton Friedman's doctrine that "the social responsibility of business is to increase its profits." He took the fall, but no one at the bank saw any problem in supporting the Boy Scouts, America's largest private youth organization. But in San Francisco, known as the "Gay Capital of the US," politically active LGBT groups, including bank employees, cared about the Boy Scouts banning homosexuals from its ranks, and began picketing the bank's headquarters. At the same time, my predecessor was blindsided by the passion of the anti-abortion movement and got caught between activists on both sides. I was able to manage this no-win situation because I did not treat it as non-business issue of little consequence. I listened to understand what was important to the activists and negotiated like a diplomat to reach deals. At the bank, I learned not only a lot about shareholder value, but also that business needs to be on top of issues outside of the corporate sphere to remain successful."
She goes on about the need for "talent" for American businesses in China, and how cross-cultural education is important and so on. She often sounds very similar to the corporate Marxists who run so many of our largest US corporations.
Talent, Talent, Talent
The US-China Perception Monitor, which is affiliated with the Carter Center, interviewed Chang Bloch in March 2020 about the pillars of US and China relations. Here's a snippet, but do notice how Chang Bloch asserts that American competitiveness may be dependent upon Chinese and other global "talent":
"Zhang Juan: Some Americans emphasize the nature of competitiveness in US-China relations and argue that the US should be careful of training Chinese students. What would you say to these people?

Julia Bloch: America did not become great by being averse to competition. The competitive spirit drives America. What are our anti-trust laws for but to encourage competition? Competition can boost excellence, inspiring men and women to put out their best. Just look how crazy Americans are about sports. You cannot win by avoiding competition.

America also does not have a monopoly on education and training. The UK, Canada and Australia, to name a few countries, are great competitors. The current atmosphere where Chinese students feel increasingly unwelcome in America has created a decline in the growth in Chinese students coming to the US, to the benefit of countries only too happy to take up the slack.

There's also, I think, a flip side to your question, which is that American competitiveness may very well depend on maintaining our inflow of Chinese students. The United States has the world's leading higher education system today partly due to the talent we attract from not only China, but also from the rest of the world. So, to answer your question in short, should the United States be careful of training Chinese students? I think we would be shortsighted not to train them." [My bolding]
Getting the picture? In general, the apothegm "You are known by the company you keep" is quite true. Mitch's best friend and Elaine's mentor, Julia Chang Bloch, is aligned with globalism and dedicated to bringing "talent" over from China via educational programs. And she's been at it for 20 years.
Mitch Has Been Chinatized
I'll leave you with one last gloriously cynical article that mentions Chang Bloch, but only in passing. It's mostly a one-stop shop for dissecting Mitch McConnell's and his wife's China connections.
Kentuckians would be especially interested, as it focuses a bit on how Mitch has hoodwinked the good people of Kentucky, and just how does he manage to keep getting elected? Hmmm…
Gotham Buzz does a close shave on Shanghai Mitch, as he's called in the article. A quote here:
"According to a June 6, 2019 report by the NYT,
'… In 1989, shortly after their first date (at the Saudi ambassador's home near Washington), Mr. McConnell was preparing for a re-election campaign. Greetings from Ms. Chao came in classic Washington fashion: a string of campaign donations, totaling $10,000, from Ms. Chao, her father, her mother, her sister May and May's husband, Jeffrey Hwang, according to Federal Election Commission records…'

But donating money to McConnell appears to have been a good investment for the Chao family, as they keep on giving."
Enjoy!
P. S. The love story between Mitch and Elaine is less than interesting. He has his assistant arrange a date with Elaine's assistant and three years later Elaine tells him to $h*t or get off the pot.
Mitch's other China connections are much more 'sexy', eh? 😊