Not that most Americans haven't expected this for over a year, but on Wednesday, the dreaded news arrived, and not by press release or a talking head reading off of a teleprompter, but straight from the woman who stood by Rush Limbaugh's side while he fought a scourge of a disease.
It was the bombshell that dominated the day's news. All day, one tribute after another was published on every social media platform. President Trump, among others, called into Fox News, and talked at length about his friend, the man he met, actually, after the escalator ride in 2015.
From the time Rush Hudson Limbaugh, III, hit the airwaves in 1988 with his Excellence in Broadcasting Network that eventually grew to over 600 stations, including the 50,000 watt powerhouse known as KMOX after another legend in radio, Robert Hyland, passed away, El Rushbo, as we liked to call him, breathed new life into what was then very much country club conservatism, and bridged the gap between the Ivy League and Little League. He was a man of the people despite being born into a family of lawyers, and spoke the language of Americans on the street who loved Ronald Reagan in the same way they/we loved Rush, and we now love Donald Trump.
He spoke our language.
He also believed very much in the concept of American exceptionalism, something that this humble Midwestern girl has a problem trumpeting. And Rush was not shy about touting the strengths of this nation compared with our roots where the people are comfortable just as they are.
"I'm aware that the United States is young compared to countries in Europe and Asia that have been around for hundreds of years. They're thousand-year-old civilizations," he told listeners in 2013. "So, I go to Europe and say, 'Wait a minute. Why is this bedroom so damned old-fashioned and doesn't work? What the hell is this? They call this a toilet?' So I started asking myself, 'How is it that we, who have only been around 200 years, are light-years ahead of people that have been alive a thousand?' So, I started thinking this. It was a matter of genuine curiosity to me, and not from a braggadocios standpoint."
Maybe so, but Americans, because of our experience in the place we are in the time this nation has existed, are a different breed.
Rush, unlike the Ivy League Country Club Conservatives who could write exquisite prose, but didn't quite get why farm reports were important in the long run, made us, or got us to, understand what it meant to be Americans again. Yes, in 1980, our men's Olympic hockey team won one heck of a tournament against the odds, and that gave us a boost, but it took someone like Rush, who had fun while talking politics, to explain that the give and take gradual slide into socialism was happening.
Rush, actually, gave voice to what we were all thinking most of the time:
The "Undeniable Truths" were part of an article he wrote for the Sacramento Union back in 1988. Here they are:
The greatest threat to humanity lies in the nuclear arsenal of the
USSR.
The greatest threat to humanity lies in the USSR.
Peace does not mean the elimination of nuclear weapons.
Peace does not mean the absence of war.
War is not obsolete.
Ours is a world governed by the aggressive use of force.
There is only one way to get rid of nuclear weapons – use them.
Peace cannot be achieved by developing a "understanding" with the Russian People.
When Americans oppose America, it is not always courageous and sacred; it is sometimes dangerous.
Communism Kills.
Neither the US, nor anyone else, imposes freedom on the peoples of other nations.
Freedom is God given.
In the USSR, peace means the absence of opposition.
To free peoples, peace means the absence of threats and the presence of justice.
The Peace Movement in the US, whether by accident or design, is pro-Communist.
The collective knowledge and wisdom of seasoned citizens is the most valuable, yet untapped, resource our young-people have.
The greatest football team in the history of civilization is the Pittsburgh Steelers of 1975-1980.
There is no such thing as war atrocities.
War itself is an atrocity.
There is a God.
Abortion is wrong.
Morality is not defined and cannot be defined by individual choice.
Evolution cannot explain Creation.
Feminism was established so as to allow unattractive women access to the mainstream of society.
Love is the only human emotion that cannot be controlled.
The only difference between Mikhail Gorbachev and previous Soviet leaders, is that Gorbachev is alive.
Soviet Leaders are just left-wing dictators.
Abe Lincoln saved this nation.
The L.A. Raiders will never be the team that they were when they called Oakland their home.
The US will again go to war.
To more and more people, a victorious US is a sinful US.
This is frightening and ominous.
There will always be poor people.
This is not the fault of the rich.
You should thank God for making you an American; and instead of feeling guilty about it, help spread our ideas worldwide.
Rush has updated this list, many of the "old" UTOL having become somewhat dated (but no less true for being in the past tense!) As read by Rush Limbaugh on his radio show, Friday, February 18, 1994:

(All equally truthful: number 1 is not more or less important than 35.)
There is a distinct singular American culture – rugged individualism and self-reliance – which made America great.
The vast majority of the rich in this country did not inherit their wealth; they earned it. They are the country's achievers, producers, and job creators.
No nation has ever taxed itself into prosperity.
Evidence refutes liberalism.
There is no such thing as a New Democrat.
The Earth's eco-system is not fragile.
Character matters; leadership decends from character.
The most beautiful thing about a tree is what you do with it after you cut it down.
Ronald Reagan was the greatest president of the twentieth century.
The 1980s was not a decade of greed but a decade of prosperity; it was the longest period of peacetime growth in American history.
Abstinence prevents sexually transmitted disease and pregnancy -every time it's tried.
Condoms only work during the school year.
Poverty is not the root ("rut") cause of crime.
There's a simple way to solve the crime problem: obey the law; punish those who do not.
If you commit a crime, you are guilty.
Women should not be allowed on juries where the accused is a stud.
The way to improve our schools is not more money, but the reintroduction of moral and spiritual values, as well as the four "R's": reading, 'riting, 'rithmatic, and Rush.
I am not arrogant.
My first 35 Undeniable Truths are still undeniably true.
There is a God.
There is something wrong when critics say the problem with America is too much religion.
Morality is not defined by individual choice.
The only way liberals win national elections is by pretending they're not liberals.
Feminism was established as to allow unattractive women easier access to the mainstream of society.
Follow the money. When somebody says, "It's not the money," it's always the money.
Liberals attempt through judicial activism what they cannot win at the ballot box.
Using federal dollars as a measure, our cities have not been neglected, but poisoned with welfare dependency funds.
Progress is not striving for economic justice or fairness, but economic growth.
Liberals measure compassion by how many people are given welfare. Conservatives measure compassion by how many people no longer need it.
Compassion is no substitute for justice.
The culture war is between the winners and those who think they're losers who want to become winners. The losers think the only way they can become winners is by banding together all the losers and then empowering a leader of the losers to make things right for them.
The Los Angeles riots were not caused by the Rodney King verdict. The Los Angeles riots were caused by rioters.
You could afford your house without your government – if it weren't for your government.
Words mean things.
Too many Americans can't laugh at themselves anymore.
I first discovered Rush before he moved to KMOX here in town while he was on a station out of Granite City, Illinois, I think. Maybe Edwardsville. I was working a job in semi isolation, and going to school at night at a local university when he would keep me company until a stick in the mud boss told me it was unprofessional to have even classical music going while doing what amounted to a grunt job.
At any rate, this was the early 1990s when waking up was hard to do, but thanks in part to Rush, it happened. I began to understand that there was a whole world outside of Social Justice Warriors that really seemed to talk…and that was all they did. Coming from a defense family, that was not the way things were supposed to be. Results were expected.
At any rate, as life went on, Rush and I sort of parted ways. Some of his stances…we were in the same ballpark, but I was just in a different part of it. Not important at this juncture. Water under the bridge.
That doesn't change the fact that a void has opened in the world of American conservative commentary and broadcasting which is not going to be filled in the same way ever. Some other names will come along, but there will only be one El Rushbo.
So, lift your glass, and toss one back for the legend who started the long march of true red white and blue Americans back to the place we really belong.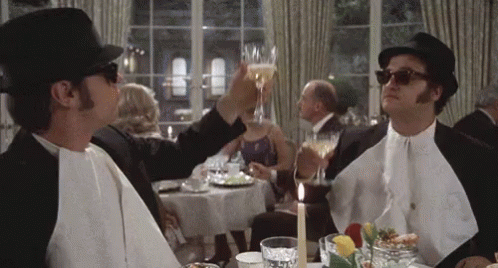 And from the grooveyard of forgotten favorites as the Couch Commando calls them:
And this classic:
Oh, my.
Well, if you all have any favorites from Rush's years behind the golden mic at EIB, or stories to add of your introduction or how he kept you grounded through the Clinton, Bush and Obama years, please put them in the comments.
(See, death doesn't have to be all about crepe hanging.)
_______________________________________________
Please review our HOST and site owner's Guidelines for posting and discussion for this site. Wolf is kind enough to put up with *most* of us and our antics after thorough vetting. Violators of the baiting and deliberately attempting to divide the group rules WILL face consequences.
The discourse on this site is to be CIVIL – no name calling, baiting, or threatening others here is allowed. Company manners are appreciated. Those who are so inclined may visit Wolf's other sanctuary, the U-Tree, to slog out discussions best saved for a wrestling mat. Say hi to anyone who is actually hanging out there for the rest of us.
This site is a celebration of the natural rights endowed to humans by our Creator as well as those enshrined in the Bill of Rights adopted in the founding documents of the United States of America. Within the limits of law, how we exercise these rights is part of the freedom of our discussion. THAT MEANS THAT ALL OF US HERE ARE ENTITLED TO OUR OPINIONS AND PREJUDICES, ETC., SO LONG AS THEY CAUSE NO PHYSICAL HARM TO OTHERS OR DOXX OUR FELLOW TREE DWELLERS.
All opinions here are valued for the diversity they bring to the issues, and the shaping of understanding regarding topics for which many of us do not have all information.
Be careful in expressing thoughts as we would all like to think well of the rest of the group, and ill-thought out comments have a way of wrecking that for everyone.
Fellow tree dweller Wheatie gave us some good reminders on the basics of civility in political discourse:
No food fights
No running with scissors
If you bring snacks, be sure they are made with bacon
Auntie DePat's requests as we are all supposedly adults and not perpetual high school sophomores or the back row of the soprano section in any big chorus:
If you see something has not been posted, do us all a favor, and post it. Please, do not complain that it has not been done yet.
The scroll wheel on your mouse can be your friend. As mature adults, please use it here in the same manner you would in avoiding online porn.
Thank you so much for any and all attention to such details. It is GREATLY appreciated by more than one party here.
__________________________________________________
DEUTERONOMY 30:15-20
15"See, I have set before you this day life and good, death and evil. 16If you obey the commandments of the LORD your God which I command you this day, by loving the LORD your God, by walking in his ways, and by keeping his commandments and his statutes and his ordinances, then you shall live and multiply, and the LORD your God will bless you in the land which you are entering to take possession of it. 17But if your heart turns away, and you will not hear, but are drawn away to worship other gods and serve them, 18I declare to you this day, that you shall perish; you shall not live long in the land which you are going over the Jordan to enter and possess. 19I call heaven and earth to witness against you this day, that I have set before you life and death, blessing and curse; therefore choose life, that you and your descendants may live, 20loving the LORD your God, obeying his voice, and cleaving to him; for that means life to you and length of days, that you may dwell in the land which the LORD swore to your fathers, to Abraham, to Isaac, and to Jacob, to give them."
Prayers for the nation, the salvation of humanity, and all of us here as well as our families and the repose of the soul of Rush Limbaugh, III, are welcome.
_______________________________________________________