It's looking more likely every day.
This, despite the media's sneaky plan to stop it.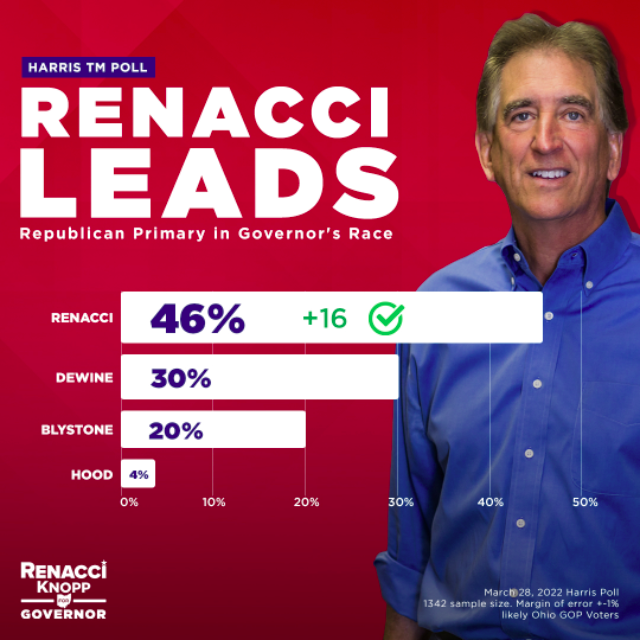 ---
CUE THE MUSIC!
---
Yes, folks – a recent poll is really shaking things up.
There could really be another FLORIDA in the GOP column.
Note that I did NOT say "another DeSantis". Jim Renacci has suggested that his administration would be a lot LIKE the DeSantis administration in Florida but he's actually rather loath to compare himself directly to Ron DeSantis, or to any other Republican governor.
But when he does compare, he makes no bones about it.
Renacci claims to have STUDIED DeSantis, just like he used to study his business competitors, in order to learn how they succeeded. Renacci says that DeSantis has a SYSTEM (which I will not repeat for enemy ears) that pipelines popular legislation to his desk very rapidly. Renacci is fully prepared to begin doing the same thing for Ohio in 2023, because he believes that conditions to create a similar system will be ideal after the 2022 election.
Renacci actually has a PLAN for Ohio – what he can accomplish in 4-8 years, and what he cannot. For example, Renacci figures that he cannot remove the state income tax during his tenure, but that he can prepare the state for a complete change in the tax system to happen AFTER his administration.
And all the stuff that we DO want right away, to push back against BRANDON and his insane, treacherous, WEF-and-China puppet administration? Renacci would begin signing bills as soon as he could get them across his desk.
Fox News, of course, as controlled FAKE NEWS opposition, is trying to downplay the possibility of Renacci winning.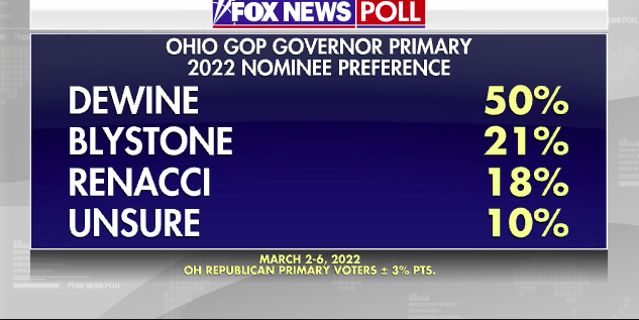 Note that Fox is pegging Joe Blystone (the underdog, outsider, "Farmer Joe" candidate) with the same very respectable 20% segment as the Harris poll, but is dropping the much more realistic Renacci candidacy BELOW that level – which makes no sense. IMO there was a 20% transfer from Renacci to DeWine here, but I'm not sure how that artifact was pulled off.
So exactly how "DeSantis" would a Renacci administration actually be?
IMO, it would be as Republican as the House of the Ohio Legislature, which just gave DeWine a constitutional carry bill that he could not afford to "not sign". That bill becomes law this summer.
That means Renacci would have legislative backing for moves like this.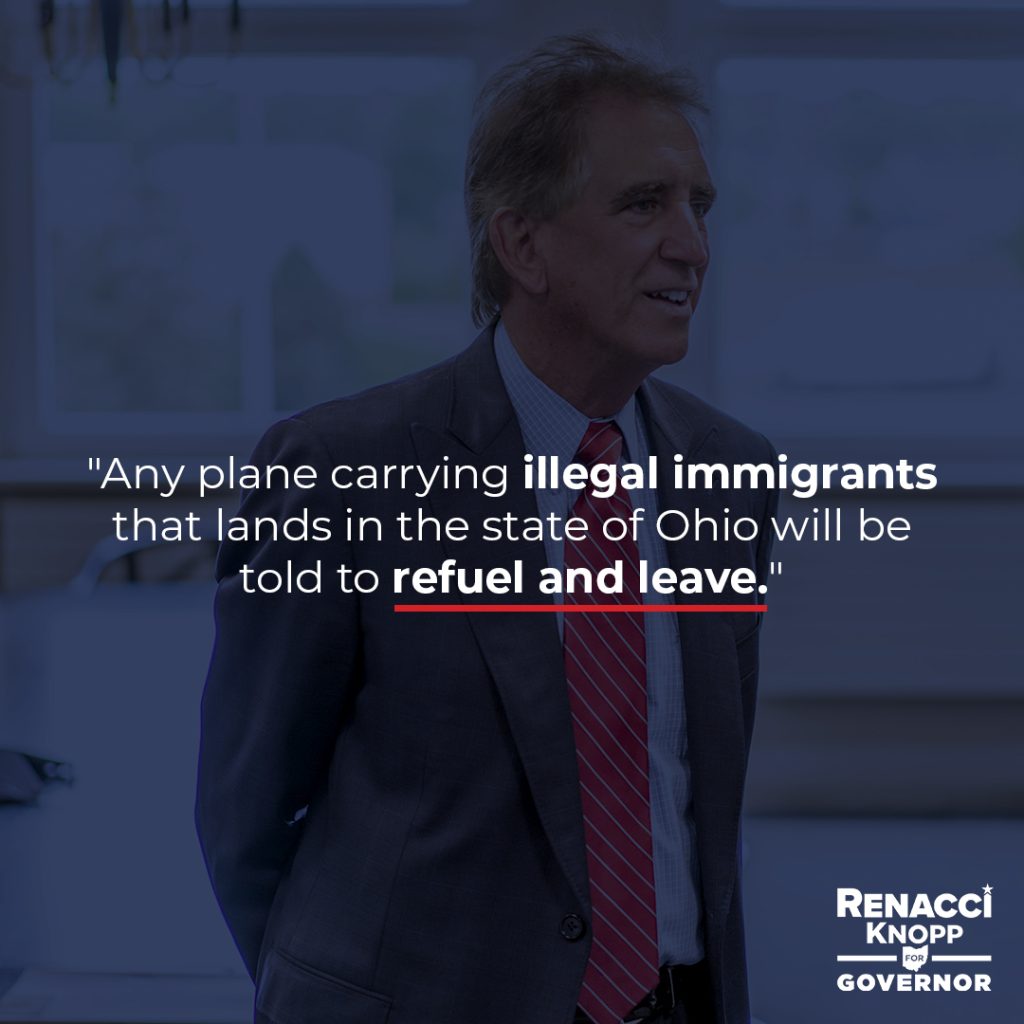 It means getting RID of the critical race theory that DeWine's appointees supported and defended to the very last liberal (yes, I was SHOCKED by that).
Renacci has studied Mike DeWine, too. Renacci says that DeWine runs like a Republican for the primary, moves left for the general, and then TRIES to govern like a Democrat.
And Renacci's not wrong about that.
Mike DeWine's a nice guy, but in my opinion he's not committed to freedom. He signed the constitutional carry bill because he HAD to do it to win the primary – not because it was the right thing to do. DeWine called constitutional carry a "tough decision". Not tough at all, says Renacci.
In my opinion, the only thing really standing in the way of Renacci is the media and lovable Joe Blystone, who the media plays up while ignoring Renacci. The media does this in order to keep Joe in the limelight and in viable "underdog" status, sapping votes from the more realistic and left-threatening competitor – Jim Renacci. You can tell – 20% of the vote is rather surprising for a third-party candidate. THAT is the power of the media, churning for Joe Blystone with "bad press".
Will the media plan succeed? Will they "keep us divided" so that a RINO can slip through, yet again, to force all of Ohio to suffer a minority ideology that nobody wants?
Or will Renacci bring that Sweet Florida magic to Sweet Ohio?

You can bet a bushel of buckeyes, I will do my best to help freedom happen!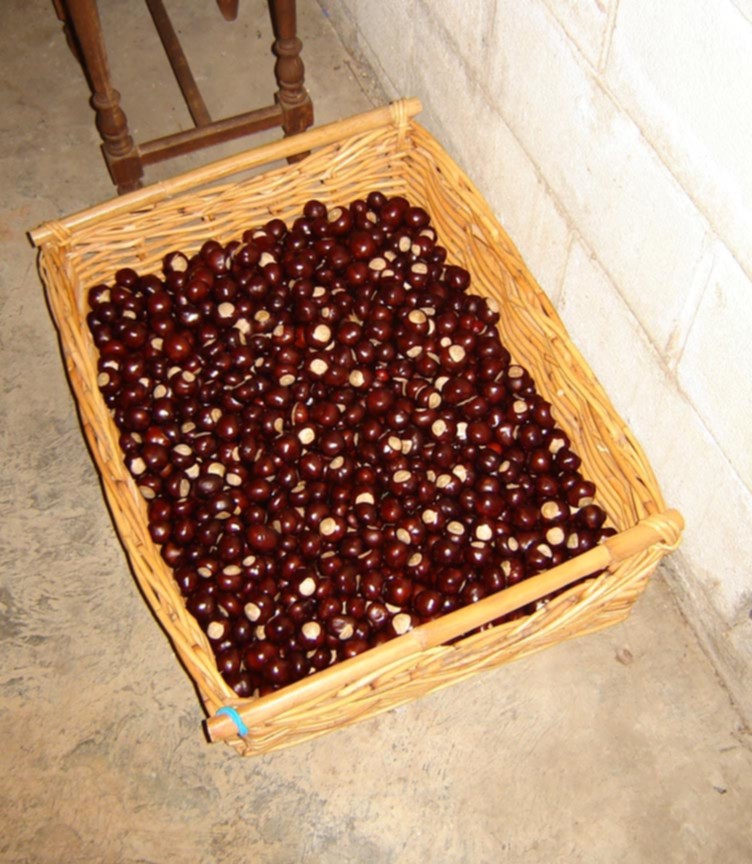 W