SPECIAL SECTION: Message For Our "Friends" In The Middle Kingdom
You knuckle-dragging barbarians are still trying to muck with this site, so I'll just repeat what I said last time.
Up your shit-kicking barbarian asses. Yes, barbarian! It took a bunch of sailors in Western Asia to invent a real alphabet instead of badly drawn cartoons to write with. So much for your "civilization."
Yeah, the WORLD noticed you had to borrow the Latin alphabet to make Pinyin. Like with every other idea you had to steal from us "Foreign Devils" since you rammed your heads up your asses five centuries ago, you sure managed to bastardize it badly in the process.
Have you stopped eating bats yet? Are you shit-kickers still sleeping with farm animals?
Or maybe even just had the slightest inkling of treating lives as something you don't just casually dispose of?
中国是个混蛋 !!!
Zhōngguò shì gè hùndàn !!!
China is asshoe !!!
And here's my response to barbarian "asshoes" like you:
OK, with that rant out of my system…
Loop it if you like; I will wait.
Richly deserved.
Justice Must Be Done
The prior election must be acknowledged as fraudulent, and steps must be taken to prosecute the fraudsters and restore integrity to the system.
Nothing else matters at this point. Talking about trying again in 2022 or 2024 is hopeless otherwise. Which is not to say one must never talk about this, but rather that one must account for this in ones planning; if fixing the fraud is not part of the plan, you have no plan.
Lawyer Appeasement Section
OK now for the fine print.
This is the WQTH Daily Thread. You know the drill. There's no Poltical correctness, but civility is a requirement. There are Important Guidelines, here, with an addendum on 20191110.
We have a new board – called The U Tree – where people can take each other to the woodshed without fear of censorship or moderation.
And remember Wheatie's Rules:
1. No food fights
2. No running with scissors.
3. If you bring snacks, bring enough for everyone.
4. Zeroth rule of gun safety: Don't let the government get your guns.
5. Rule one of gun safety: The gun is always loaded.
5a. If you actually want the gun to be loaded, like because you're checking out a bump in the night, then it's empty.
6. Rule two of gun safety: Never point the gun at anything you're not willing to destroy.
7. Rule three: Keep your finger off the trigger until ready to fire.
8. Rule the fourth: Be sure of your target and what is behind it.
(Hmm a few extras seem to have crept in.)
Spot (i.e., paper) Prices
Last week:
Gold $1,926.60
Silver $24.72
Platinum $994.00
Palladium $2,365.00
Rhodium $20,400.00
This week, 3PM Mountain Time, markets have closed for the weekend.
Gold $1,947.70
Silver $24.86
Platinum $987.00
Palladium $2,503.00
Rhodium $20,000.00
Gold is moving around within a fairly tight range lately.
James Webb Space Telescope Update
A lot of material has been written by the JWST team. The mirrors are lined up and focused, but they need to be focused for all five of the sensors behind the mirror before they can do the next iteration of fine-tuning. But that has only been done for four of them. What's the issue? The issue is that the Mid-InfraRed Instrument (MIRI) has been blind until very recently.
The other four instruments have gotten down to their desired operating temperatures of 34 to 39 kelvins. (And I discussed kelvins last week. Very convenient timing!) But they all work in either long wavelength visible light (oranges and reds) or "near infrared." "Near" because it's right next to visible wavelengths, just a bit longer than our eyes can see. But objects at room temperature actually glow at some of these frequencies, so in order to keep the sensor itself from glowing in the very light it's trying to see, we keep them cooled off.
But the longer the wavelength (and lower the frequency) we want to see, the colder we have to make the instrument. Mid Infrared is longer than near infrared, so we have to cool MIRI down to about 7 kelvins or less. From MIRIs point of view the rest of the spacecraft, at -390 to -399 F, is scorching hot!
This is done with cryogenic cooling, using helium. Apparently at least some of the power on board the spacecraft runs what is essentially a refrigerator, and we've been running that and allowing MIRI to slowly, slowly cool down to -450 F. We don't want to cool it off too fast lest frost form on the sensor (which would FUBAR it).
This whole process is described here.
From what I can see MIRI is actually at this temperature now, so the mirror adjusting fun can resume.
What use is MIRI? It's expected to be able to look at stars–and their accompanying planets–as they form. For instance, we've all seen "the Pillars of Creation" as imaged by Hubble, which is actually a part of the Eagle nebula.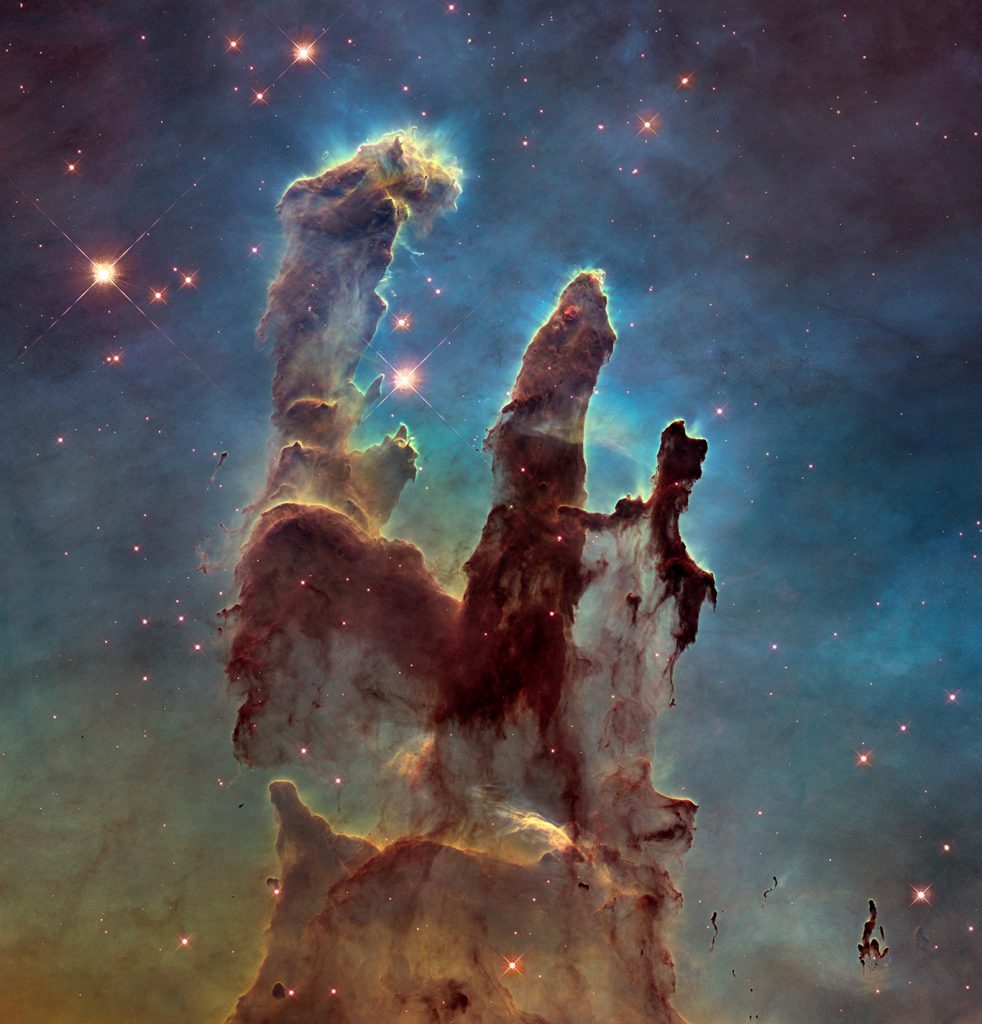 As presented the pillars run vertically, but the "Eagle Nebula" name was given to it based on the appearance of that area seen rotated 90 degrees clockwise. Or, here is a picture of the entire nebula, rotated only about 45 degrees. The dark area in the center is shaped a bit like an eagle, you can see the wings to the left, the body in the center, and the talons to the right…and of course, blown up, it's "The Pillars of Creation."
The Pillars of Creation picture is actually in false color, with green used to show hydrogen, etc., the picture of the eagle nebula is more like what it would look to us if we were close enough to it for it to be bright enough for us to see color.
But here's what the Pillars look like in infrared:
Of course the colors here are ALL false; an infrared image in true color would look black.
But notice you can see a lot more stars.
Infrared can cut through dust clouds, including the dust clouds that condense to form stars and planets. So MIRI is expected to help us greatly in our quest to study "solar systems" that are forming Out There. This is all described in this blog post, from which I ripped off these pictures.
Fuck Joe Biden
Biden, you don't even get ONE scoop of ice cream today.
(Please post this somewhere permanent, as it will continue to be true; the SOB will never deserve a scoop.)
Incidentally, I'm writing this on Friday. This morning I saw a full-sized pickup truck in the oncoming left turn lane with a forest of flags in the bed. Once he turned and drove left-to-right in front of me, I could see two American flags near the cab, and SIX "Let's Go Brandon" flags near the tailgate. That was unusual; usually there's a mix of FJB (only not abbreviated) and "Trump Won" and "Trump 2024" flags when someone does this.
I haven't seen such a display in a few weeks, by the way. Even the guy at the office complex where I work with the FJB flag on his pickup seems to have removed it (or doesn't work there any more–trucks all look alike to me from the back, and all crossovers look like cockroaches).
T3 Heat Engines
In the early 1800s, steam engines were the cutting edge tech. We didn't talk of them changing the world, because before that time, really the world didn't change much over a person's lifetime. People in the late 1700s pretty much lived as they had hundreds of years earlier. In fact, living conditions in Europe at the time (for everyone except the nobility and a very small wealthy merchant class) were described as "Third World Europe." Except that unlike the third world today, we had no concept of sanitation, vaccination (real vaccination, not this current crap), the germ theory of disease, etc., so we had high infant mortality rates and all the rest of the stuff that today's Third World is getting away from.
The steam engine, and the prosperity it would bring to Europe, would ultimately change that, and usher in an era where we are actually used to seeing rapid technological change generating wealth that even the not-so-rich and not-so-connected could accumulate.
If you recall my first Thermo post, I talked about turning work (energy doing something macroscopic like moving objects around) into heat, and how heat and work were both forms of energy.
A steam engine is one of a large class of devices called heat engines, that turn heat back into work.
A common misconception is that James Watt "invented" the steam engine. No, he didn't. Actually the first known thing that was something sort of like a steam engine was put together by Hero of Alexandria (10-70 CE), and it's either called Hero's Engine or the Aeolipile (from Greek αιολουπυλη). It looks something like this:
A cauldron of boiling water is kept under pressure, steam can only get out by going into an object free to move around a pivot (like a bird on a spit over a fire). The steam can only escape by going through the bent arms; it generates a thrust that causes the doohickey to spin.
So Hero was actually able to get heat to do work–some fifteen or so centuries before we had our scientific concept of "work."
The next step was to actually put something like this to work. It took a while. In 1698 Thomas Savery invented a pump for water that worked by steam power. Steam was allowed to cool and condense , which created a near vacuum which could be used to suck water upwards against gravity. Then more steam could be used to push that water.
So the first commercial application for steam power was to pump water.
Small copies of this device were reasonably efficient, larger ones were not. And lift height was severely limited (since it was a vacuum pump). And the power wasn't continuous.
In 1712 Thomas Newcomen came up with a steam engine that could deliver continuous power and it used a cylinder, but was still very inefficient because parts of the engine itself (not just the steam) ended up being heated and cooled, heated and cooled, over and over again…which took time. These things could pump water out of mines…slowly. Still, it was better than paying some grunt to do it.
What Watt did was vastly improve the Newcomen engine. And now it could be used not just to pump water, but to pull trains, and power steamships, and even (very primitive) automobiles. And also to power factory equipment, which up until then had been almost entirely reliant on water power or (worse) animal power.
A good steam engine could supply LOADS of power.
And of course this was something scientists investigated. And what they learned could be used to make steam engines even more efficient, delivering more work for the same amount of fuel, which could be either wood, or coal that was pulled out of some of the mines the steam engine had been invented to pump water out of.
One "model" of an engine that could turn heat into work was the Carnot Engine, basically an idealized model, a thought experiment.
What's needed is a piston with gas in it, a huge mass at high temperature (called the hot reservoir) that we can attach to the piston, and another huge mass at cold temperature (the cold reservoir) which we can attach to the piston as well. It runs through four phases, then from the fourth phase, it returns to the first phase.
Phase one starts with the piston pushed in all the way. There's a tiny space inside filled with hot gas, under pressure. The gas is at exactly the same temperature as the hot reservoir.
Now you could let the gas under pressure expand, and push on the piston and use that to do work. But as the gas expands, it will lose pressure and the temperature will drop. Instead, what we want to do is let the gas absorb heat from the hot reservoir, so that it stays at the same temperature as it expands. Ideally the temperature is exactly the same but in practical terms this is unachievable (unless you are willing to take literally forever for it to happen).
Phase 2 is to allow the gas to continue to expand and push the piston, but now you let the gas cool off…until it reaches the temperature of the cold reservoir.
Phase 3 is to compress the gas, and keep it at the same temperature as the cold reservoir. Compressing the gas would normally raise its pressure and temperature, but we let the increased heat bleed into the cold reservoir. Do this infinitely slowly, and the gas in the cylinder stays at the cold reservoir temperature.
Phase 4, finally, is to continue compressing the gas, but let it heat up…all the way up to the temperature of the hot reservoir. We're now back to having compressed gas at the temperature of the hot reservoir.
So what has happened here? We've extracted a net amount of work from the system…more came out letting the gas expand and cool than we had to put into it recompressing the gas. Also, some heat energy has been taken from the hot reservoir and put into the cold reservoir.
In reality, this would result in the hot reservoir cooling off just a tiny bit, and the cool reservoir heating up just a tiny bit, but this ideal model assumes these reservoirs are of infinite size.
So what's going on here? Heat has moved, and some (notice: some, not all) of that heat got turned into work. The rest simply moved from hot to cold and did no work for us at all. And since heat moves from hot to cold naturally, not the other way, that heat energy we didn't use is gone for good.
As it turns out this "Carnot Cycle" is the most efficient possible way, even in principle, to turn the heat differential between a hot and cold body into work. And it gets more efficient the greater the difference between the two. (And this is true even for engines that are steam turbines with no piston at all, or where the working fluid changes from a gas to a liquid…they can't beat the Carnot engine.)
The maximum theoretical efficiency is 1-TC/TH. Note that those temperatures need to be measured against absolute zero (so kelvins and Rankines work). You'll note that if TC and TH are far apart, that fraction gets smaller, and the efficiency climbs, if you can make that fraction 0, your efficiency is 1 (i.e., 100 percent). As a practical matter, though, we don't have a cold reservoir at 0 K, so we can't reach 100 percent efficiency even in principle. And whatever this number is…our current power plants don't even achieve that.
But this is why power plants (coal, nuclear, natural gas, even geothermal) run so hot; it's to raise the temperature of the working gas as high as possible. And this is why geothermal usually sucks as a power source. You have to drill way, way, way down to get to rocks hot enough to be worth the effort. Of course in some places, like Iceland the hot stuff is closer to the surface. Yellowstone has, if anything, even more potential than Iceland does for geothermal power.
And of course with nuclear and fossil fuels, we control the temperature difference and you can bet we run them as hot as we can.
Since a Carnot engine is as efficient as you can get, a lot of engine design since the mid 1820s has been to try to get as close to a Carnot engine as possible. (That was, for example, the initial idea behind the Diesel engine; eventually Diesel had to start making design compromises.)
In every power plant we build (other than geothermal) the heat reservoir is not only not infinite in size, but it's actually rather small. It would cool off rapidly as the engine cycles, and the heat is transferred out. To keep it hot, we have to burn fuel. So we're basically burning fuel to create heat to maintain the temperature of the hot reservoir so we can then turn the heat into work.
With geothermal, the reservoir is huge, perhaps even yuge, but still finite; using geothermal does suck heat energy out of the earth and dump it somewhere colder. It's just that there's so much of it we'll never notice.
A typical coal fired plant uses the work extracted from burning the coal (and keeping the hot reservoir hot) to turn a generator. And the efficiency is roughly 30 percent. 30 percent of the energy in the coal becomes electricity. In fact the engineers and designers are overjoyed when they get that number.
But that does mean the other 70 percent is wasted as waste heat…and it can't be any other way.
Waste heat is inevitable, and it can't be recovered. Not without reversing the process. We can push heat energy from the cold to hot reservoir by supplying work. If it's a Carnot engine, we can run the process in reverse, put the work we got out back in, and move all the heat back where it came from. For any real engine, it will take more work to move less heat than we lost creating the work in the first place. In other words, a Carnot engine is a reversible process. But no real heat engine is reversible this way. But if you try, you will move some heat from cold, back to hot.
This is the idea behind a heat pump.
In reality, there are always losses, and (again) there's no such thing as a Carnot engine. So if, say, you ran your (real) heat engine and got 100 joules of work out of it, and 200 joules of heat ended up in the cold reservoir, you'd probably need to put 150 joules into it to move those 200 joules back to the hot reservoir. Where would you get the extra 50 joules from? Maybe from another engine, which has its own losses and its own inefficiencies, and even more energy flows from its hot reservoir to its cold reservoir.
In fact, there's no way to completely reverse heat flow from hot to cold. Any attempt actually moves even more heat from hot to cold in the process. Which might be worth it, if you want to cool the inside of your refrigerator. You suck some heat energy out…at the cost of more heat energy being permanently lost somewhere else.
But on net, heat flows one way, one way only: From hot to cold. Even a theoretically perfectly reversible process like a Carnot engine just holds the total flow to zero. Never negative.
This is what was originally behind the concept of entropy. It denotes that fact that as processes go forward, temperatures even out, they get more and more evened out as time goes on, never the other way around.
(If you think you know of a case, like the inside of your refrigerator, recognize that that's at the cost of more heat flow in the other direction somewhere else. This is why you can't cool your house by opening the refrigerator door and leaving it open–it dumps the heat through the coils in back…more heat than it sucks out of the inside. Your air conditioner, on the other hand, does work…by dumping the heat (again, more than it removed from your living space) outside your house and making the outside warmer than it was before.)
Entropy is, conceptually, a measure of how much heat energy is irretrievably lost, and it increases. (It can even be quantified and measured…but that's WAY beyond the scope of this post.) Entropy never shows a net decrease.
(Entropy is also second only to quantum mechanics as a source of pop philosophizing with a scientific/geeky bent to it. More on this in future posts, because the concept of entropy would eventually be greatly extended beyond mere "waste heat" type considerations.)
So what happens at some distant day when all of the energy in the universe has become waste heat and is irretrievably lost? Well, it's game over.
Thinking in the long term, the big picture is the entire universe is running down. It will ultimately be one big thing of uniform temperature…and though there will be a lot of heat energy out there, none of it will be usable, not just for industry, but for life itself.
The concept of entropy, and the accompanying realization that the universe as a whole must run down, was the dawn of the science of thermodynamics. The true "dismal science." Economics is sometimes called the dismal science, but it doesn't hold a candle to thermodynamics when it comes to "dismal."
Obligatory PSAs and Reminders
China is Lower than Whale Shit
Remember Hong Kong!!!
中国是个混蛋 !!!
Zhōngguò shì gè hùndàn !!!
China is asshoe !!!
China is in the White House
Since Wednesday, January 20 at Noon EST, the bought-and-paid for His Fraudulency Joseph Biden has been in the White House. It's as good as having China in the Oval Office.
Joe Biden is Asshoe
China is in the White House, because Joe Biden is in the White House, and Joe Biden is identically equal to China. China is Asshoe. Therefore, Joe Biden is Asshoe.
But of course the much more important thing to realize:
Joe Biden Didn't Win
乔*拜登没赢 !!!
Qiáo Bài dēng méi yíng !!!
Joe Biden didn't win !!!