President Trump is more popular than ever.
Okay, about Selma, North Carolina:
Selma is a town in Johnston County, North Carolina, United States. In 2010, the population was 6,073,[5] and as of 2018 the estimated population was 6,913.[6] Selma is part of the Raleigh-Durham-Cary Combined Statistical Area. The area has a population over 1.7 million residents, though the town of Selma is able to maintain its rural character. The Everitt P. Stevens House, located in Selma, was the site of the last Grand Review of the Confederate Army held on April 6, 1865, after its defeat at the Battle of Bentonville.
Selma was officially chartered as a Town on February 11, 1873, but the Town's true birth took place on May 1, 1867, when there was a public sale of lots around a newly established station on the North Carolina Railroad. Selma was born as a "Railroad Town," and our rail heritage is still evident today, with our recently renovated 1924 Union Depot (Selma Union Depot) supporting Amtrak service.

The Town is also home to the Mitchener Station, which was built in 1855 and it is thought to be the oldest surviving train station in North Carolina. When Interstate 95 was built in the late 1950s, the Town experienced growth due to its proximity to the Interstate.  Today, there are many hotels and restaurants located in the area for visitors traveling on Interstate 95.

And one of Selma's most famous residents was Lunsford Richardson, who was born in 1854 on a farm near Selma. He rose to fame as the inventor of Vick's Vapo-Rub. After graduating from Davidson College at the top of his class, he became a teacher and then a pharmacist, working out of Dr. Joshua Vick's drugstore in Selma. While in Johnston County, he invented Richardson's Croup and Pneumonia Cure Salve and later changed the name to Vick's Salve in honor of Dr. Vick. The name was then changed to Vick's Vapo-Rub and a nationwide advertising campaign made the name a household word. In 1905, Richardson convinced the Postal Service to allow him to mass-mail his advertising circulars simply to "boxholder" instead of individuals. Because this marked the first such mailing, Richardson gained the dubious distinction of also being known as "the father of junk mail."
Well, we all have to be known for something, right?
About the rally: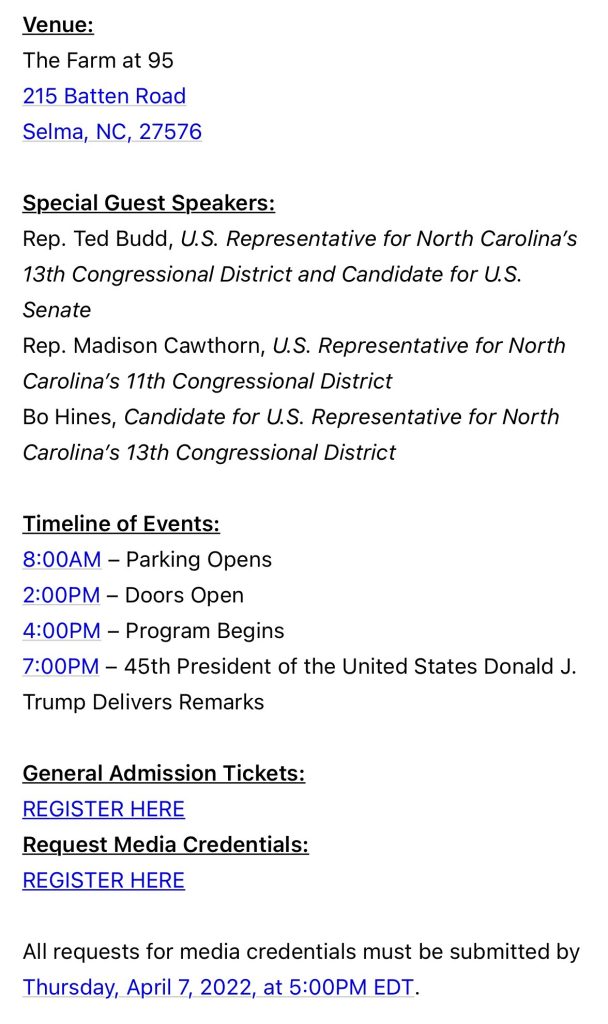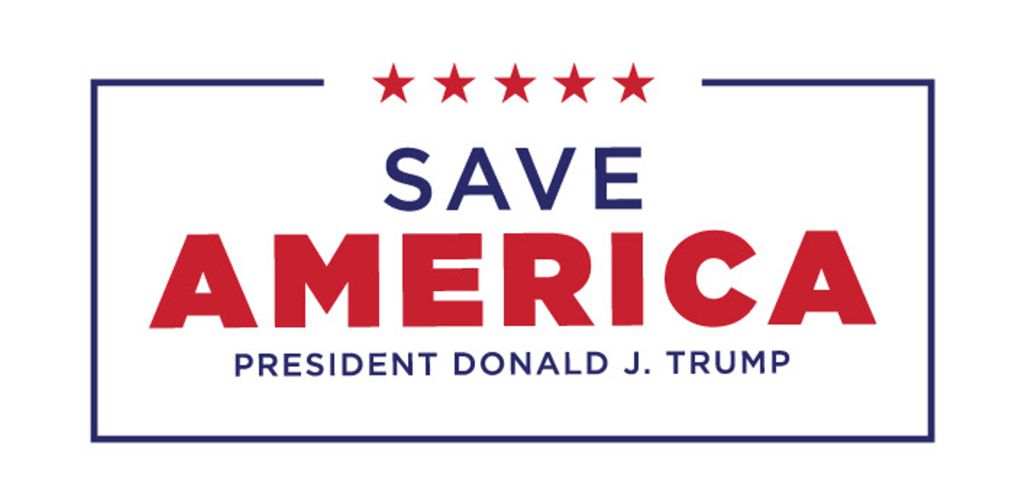 Over the past four years, President Donald Trump's administration delivered for Americans of all backgrounds like never before. Save America is about building on those accomplishments, supporting the brave conservatives who will define the future of the America First Movement, the future of our party, and the future of our beloved country. Save America is also about ensuring that we always keep America First, in our foreign and domestic policy. We take pride in our country, we teach the truth about our history, we celebrate our rich heritage and national traditions, and of course, we respect our great American Flag.
We are committed to defending innocent life and to upholding the Judeo-Christian values of our founding.
We believe in the promise of the Declaration of Independence, that we are all made EQUAL by our Creator, and that must all be TREATED equal under the law.
We know that our rights do not come from government, they come from God, and no earthly force can ever take those rights away. That includes the right to religious liberty and the right to Keep and Bear Arms.
We believe in rebuilding our previously depleted military and ending the endless wars our failed politicians of the past got us into for decades.
We embrace free thought, we welcome robust debate, and we are not afraid to stand up to the oppressive dictates of political correctness.
We know that the rule of law is the ultimate safeguard of our freedoms, and we affirm that the Constitution means exactly what it says AS WRITTEN.
We support fair trade, low taxes, and fewer job-killing regulations, and we know that America must always have the most powerful military on the face of the Earth.
We believe in Law and Order, and we believe that the men and women of law enforcement are HEROES who deserve our absolute support.
We believe in FREE SPEECH and Fair Elections. We must ensure fair, honest, transparent, and secure elections going forward – where every LEGAL VOTE counts.
---