That snow looks lovely after a couple days of 🥵🥵🥵. We're havin' a heat wave and it ain't tropical.
Warning for tomorrow:
If no one wants to impregnate them what's the point?
Throughout history, men have been ostracized, banished, exiled, or destroyed simply for not fitting in. For not conforming. As with all things, there were exceptions to the rule but it was a rule nonetheless. America turned that rule on its head when the emphasis changed from the top down to the bottom up for the purpose of governance. Authorities and dictators no longer arbitrarily conferred and revoked privileges. We have rights that are now acknowledged as having been endowed by God. They can't be taken away by men.

Thus did the individual find his rightful place as the nexus and primary force in society. This was no small accomplishment and it empowered people to strive for success and personal betterment no matter what their station in life, their level of education, or their social skills. This historic change in the role of the individual has driven the prosperity, accomplishment, and the monumental attraction that has always been America.

The resurgence of the authoritarian state was, however, inevitable and the Founding Fathers anticipated its occurrence. Their solution was limited government, which they then built into the constitution. Limit the "necessary evil." Limit the "group think." But as sure as night follows day, the failure to curtail government expansion heralded the revival of the authoritarian world. A dark, colorless world of absolute control and dismal existence where people are forced by their peers, their employers, and their governments into docile compliance and acceptance of the most oppressive forms of coercion and intrusion into their lives.

One doesn't have to look too deeply to see the manifestations of this puppet society. From carbon copy propaganda outlets masquerading as news agencies to outrageous bureaucratic efforts to snuff out the rights and autonomy of the individual.
They want us all to just be cogs in a wheel.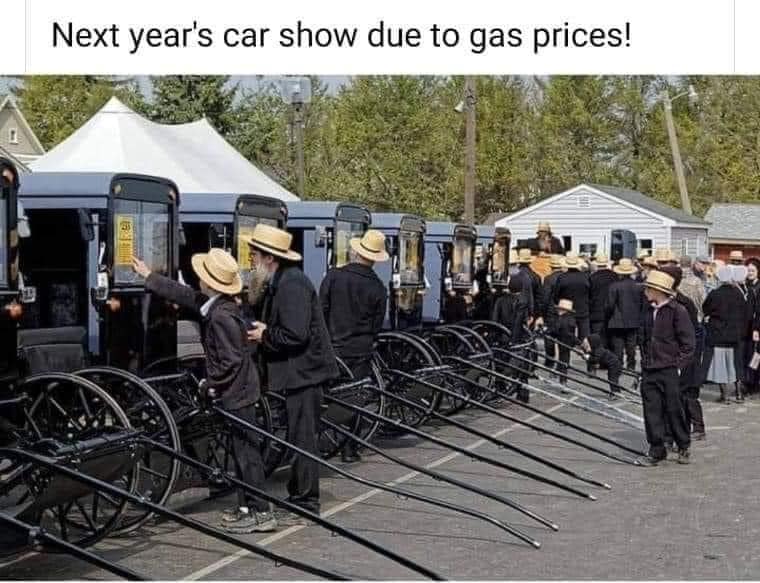 Jan. 6 stuff:
Jonathan Turley chimes in:
Congress has a long history of bipartisan investigatory and select committees. Many were formed during deep political rifts — yet, for 230 years, Congress maintained the need for bipartisan membership. That was the case with the Watergate committees, the House Committee on Assassinations, the Special Committee to Investigate the National Defense Program, the House Select Committee to Investigate Covert Arms Transactions and other investigations. It would have been easy to stack the decks and limit the members by party on each of those committees, but past congressional leaders understood that the credibility of such investigations required balance, including opposing views.

Pelosi's decision to gut that process was something of a signature muscle play. As a witness in the first Trump impeachment, I was highly critical of her insistence that the House would impeach before Christmas rather than conduct the traditional impeachment investigation with witnesses. Instead of building a more convincing case, Pelosi preferred to impeach with virtually no record, for a certain defeat in the Senate. In the second impeachment, she went one better: She held no hearing at all and pushed through the first "snap impeachment."

The Jan. 6 committee was similarly stripped of any pretense. It was as subtle a political move as Pelosi's ripping up President Trump's State of the Union speech. Asked what she hoped to achieve from the committee on the first day of hearings, Pelosi tellingly referred to it as a "narrative." It is the difference between seeing and simulating justice.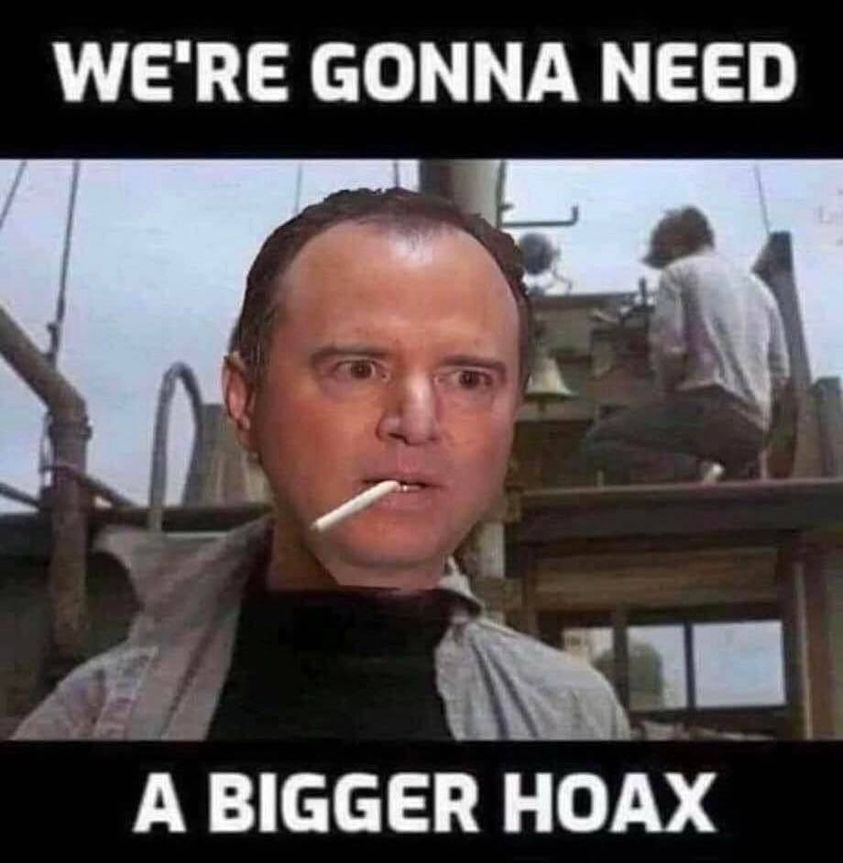 Gun control & red flag stuff:
Crime isn't skyrocketing nationwide because firearm laws have changed (they haven't), but because the law-enforcers have changed.

Enforcement of local laws makes far more sense than any one-size-fits-all policy, too, as crime is not an evenly distributed phenomenon. Consider that more than half of 2016's murders occurred in just certain parts of two percent of our land's counties, and 68 percent of the homicides were committed in only small pockets of five percent of the counties.

Oh, these would be exclusively, or almost all, Democrat-governed areas.

In contrast and on average, "73 percent of counties in any given year had zero murders from 1977 to 2000," reported Fox News in 2017. (These would generally be GOP areas.)

In other words, we don't have a "gun problem.

We have a Democrat population/governance problem.
Worth a read stuff:
From the moment Joe Biden illegitimately took office, he opened the border to migrants from all over the world, over 175 countries, and secretly transports them to towns and cities throughout America, amongst unsuspecting citizens. Thousands of them are ill with a variety of third world diseases and of course covid. Thousands of them are vicious gang members, human sex traffickers and/or pedophiles. Thousands of unaccompanied minors have been trafficked with the administration's knowledge and approval. All of the migrants pay the Mexican drug cartels thousands of dollars to be "crossed over" into the US. The cartels are netting millions of dollars a week in payments for getting migrants into America for what many of them believe will lead to citizenship and a free ride.

Of course, many of them are economic migrants who seek better and safer lives for themselves and their families. They are people who are used to and willing to work. But the jobs they get are jobs American citizens might have had for better wages. The Biden administration does not care about those American citizens who will be denied a living wage because millions of migrants will take those jobs for less.

The Biden administration has brought this country to a historically and frightening new low, domestically and internationally. Our President and our nation are now laughingstocks, perceived as weak and vulnerable. Biden has made it clear to the rest of the world, beginning with his shuttering of our energy independence and his disastrous withdrawal from Afghanistan, that America is free for the taking. China, Iran and Russia, even North Korea, have all sized up this president up and found him to be not only ridiculous but easily rolled. Each of those enemies of America, enemies of freedom, are planning their takeover of America, thanks to Biden and his pathetic cabinet's fecklessness. The US is now a vulnerable target of each of our enemies.
Other Stuff:
In addition to Nebraska, 24 other states have left the NSBA, including Alabama, Arizona, Arkansas, California, Florida, Georgia, Idaho, Illinois, Kentucky, Louisiana, Minnesota, Missouri, Mississippi, Montana, New Hampshire, North Carolina, Ohio, Pennsylvania, South Carolina, Tennessee, Texas, Virginia, West Virginia, and Wisconsin.

A total of 30 states have distanced themselves from the national association since the September letter, according to Parents Defending Education, a nonprofit that describes itself as "a national grassroots organization working to reclaim our schools from activists imposing harmful agendas,"

The NSBA board sent a letter in September asking federal law enforcement to investigate threats against school officials as domestic terrorism, including implementing the use of the Patriot Act.

"As these acts of malice, violence, and threats against public school officials have increased, the classification of these heinous actions could be the equivalent to a form of domestic terrorism and hate crimes," the letter read in part.
🚨BOMBSHELL FROM RUSSIA🚨

Ukrainian document released to Russian media outlet, @izvestia, showing decree from Zelensky to destroy all files on Ukrainian defense service members, employees and staff of the state, and any involvement with Hunter Biden's biolab METABIOTA, on 02/24/22, the same day the air strikes on Ukraine began.

See original document above on the left and then translated in English on the right. Holy shit is this a doozy. But wait, there's a lot more.

Remember that infamous video of Ukrainian MIL burning documents RIGHT IN FRONT of the Ukrainian Ministry of Defense building in Kyiv, Ukraine? On 02/24/22 THE SAME DAY OF THE DECREE FROM ZELENSKY.

Yup. The MSM broadcasted a video of Ukrainian MIL destroying evidence of Ukrainian State involvement with HUNTER BIDEN'S BIOLAB in Ukraine, right as Russia was beginning its missile strikes.

You guys… we caught them all. We caught them in broad daylight on MSM.
Now, people selling used items on eBay, homemakers with craft stores on Etsy, and roommates who split rent on Venmo will all be subject to increased scrutiny by the IRS if they make a penny more than $600. The rules have the potential to dissuade small-time sellers from using the platforms altogether, driving some to under-the-table alternatives and others out of the market entirely.

While the new rules do not change what users owe in taxes—if you made $750 on eBay in 2020, that was still potentially taxable, despite your not having received a 1099-K—it could give them the impression they owe more than they do. What is more, the rules will effectively require small-time sellers to itemize their expenses. That might be reasonable for a person selling crafts on Etsy, but impracticable for a person selling a microwave he bought six years ago.

"The reporting-threshold change does not change taxes that users already owe, and could also help them by showing what income has been reported to the IRS at tax time," Garrett Watson, senior policy analyst at the Tax Foundation told The American Conservative. "The tradeoff is, it may dissuade some people who may either have a misunderstanding of what the reporting actually means for them (e.g. think it actually is a tax increase), or could encourage some people to avoid taxes by engaging in transactions off the platform."

Watson added that the new rules may require platforms to collect the Social Security information of sellers, which, he said, "could dissuade some users who do not want to disclose this information."

The Joint Committee on Taxation estimated that the new rules would result in more than $8 billion in tax revenue over the coming decade. It's not hard to conceive of where that money might come from: Etsy had upwards of 7.4 million sellers in 2021, most of whom were located in the United States. eBay has about 7 million U.S.-based sellers. Countless more use Venmo and Paypal—not only for business transactions but to reimburse friends for a meal or to split rent payments.

The fact that the 1099-K forms will be issued on the basis of a user's gross revenue means Venmo meal-splitters will have to dig up paper receipts to calculate their net profits and establish a paper trail if auditors dispute their estimates. It may also increase the burdens for "gig economy" workers—ride-share drivers, handymen, and other service workers who collect payments through a third-party platform—to record their expenses, even if they only work their "gig" job on a part-time basis.
This is going to effect a whole lot of people, that's for sure.
Memes: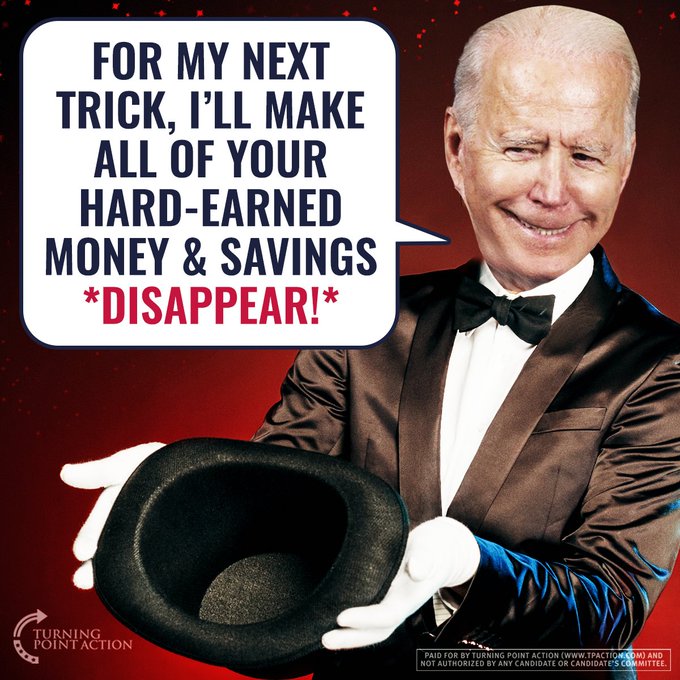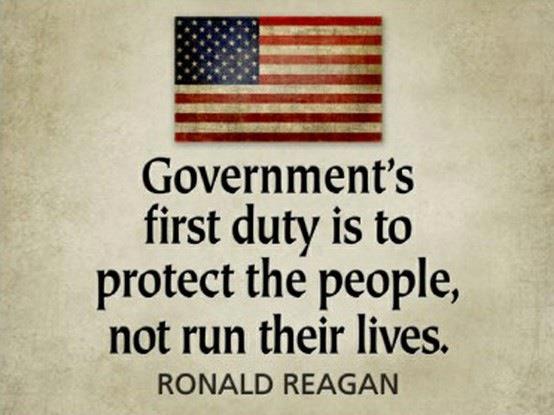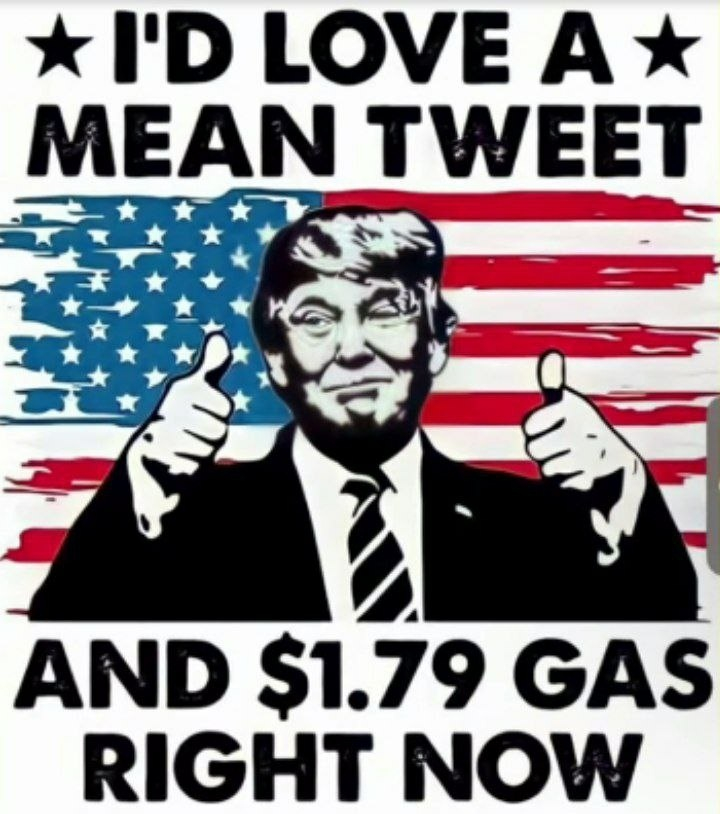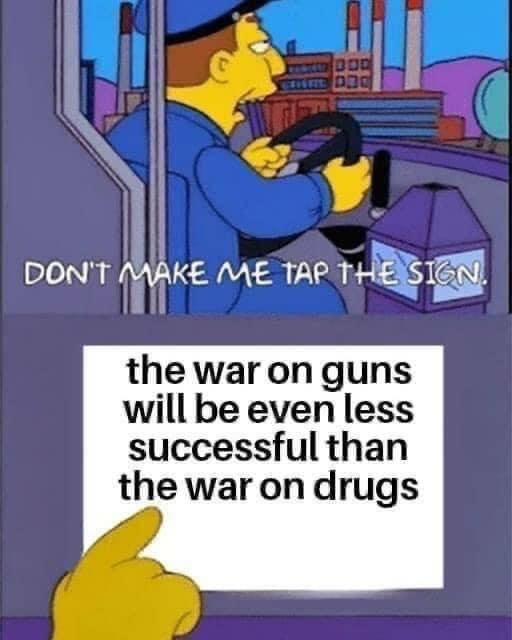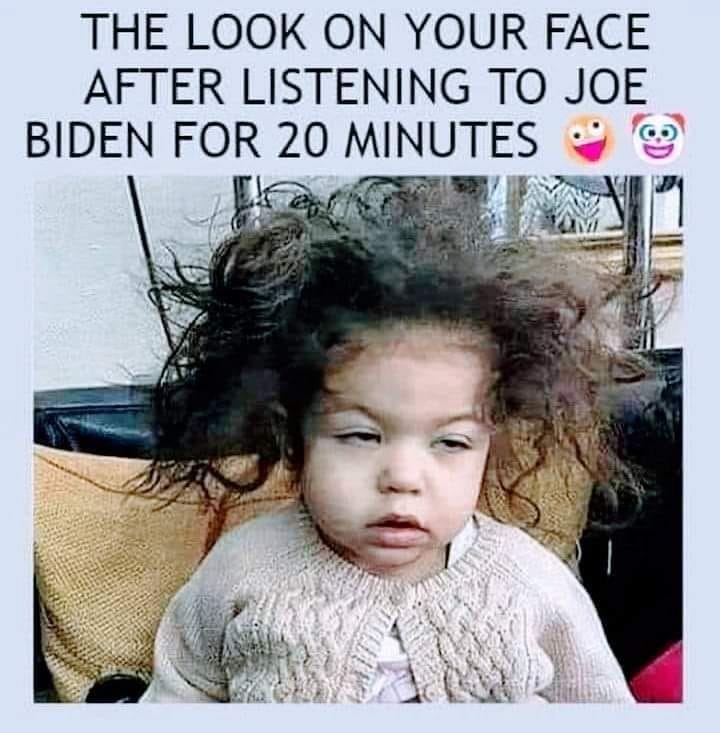 Have a good day y'all.
(I don't remember who brought this to a daily in the comments, but thanks.)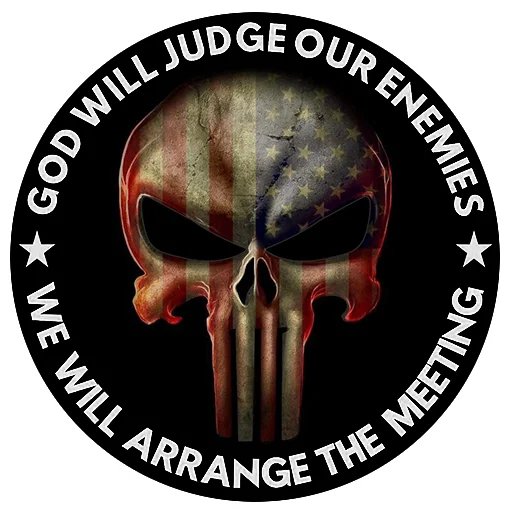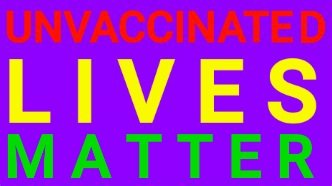 And, of course, the obligatory George Carlin: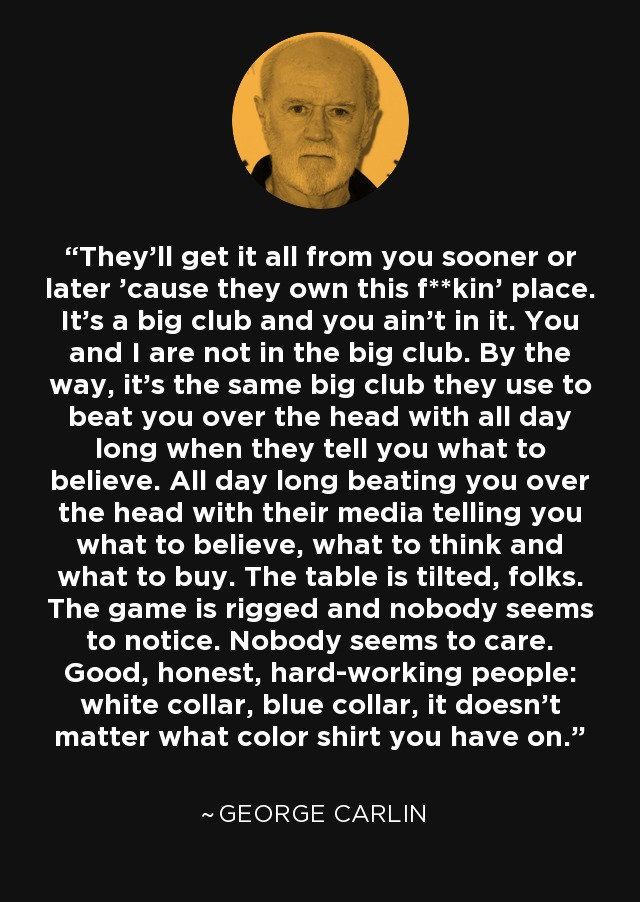 Per the Boss: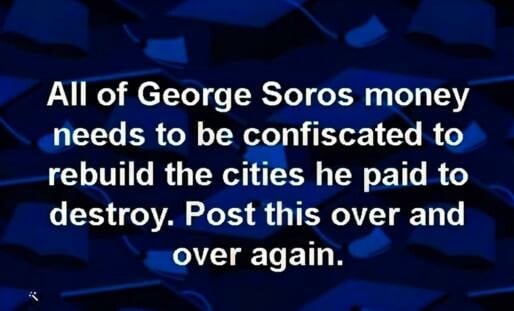 And now for the obligatory message from our sponsors:
Here at the Q tree we believe in the concept of CIVIL open free speech and the discussion that fleshes out ideas. When commenting and participating in the OPEN discussion on this thread all comments MUST NOT CONTAIN personal threats, baiting, name calling, or other anti-social words fomenting hate, violence or destruction. Our host Wolfm00n has strict rules about that.
Fellow tree dweller Wheatie gave us some good reminders on the basics of civility in political discourse:
No food fights.
No running with scissors.
If you bring snacks, bring enough for everyone
Please, stock up on blanks for celebratory gunfire, be ready to swing from the chandeliers…and no messing with the nuclear weapons.
Please remember to remain locked and loaded and ready for trouble should the insurrectionists try to invade your space.
Those who have things to say that do not fit the generally accepted limits of "civil" discussion, Wolf has provided a venue known as the UTree. You're welcome to visit over there and say hi to anyone hanging out over there. The "Rescue Thread" is also over there. In the event a rendezvous of the tree is needed, please check it out, as well as the newest rescue venue.
Auntie DePat's requests:
If you see something has not been posted, do us all a favor, and post it. Please, do not complain that it has not been done yet.
The scroll wheel on your mouse can be your friend. As mature adults, please use it here in the same manner you would in avoiding online porn.
Thank you so much for any and all attention to such details. It is GREATLY appreciated by more than one party here.
One other vital note:
Please, review these rules that our host Wolfm00n outlined toward the beginning of the growth of the tree itself. it won't take long.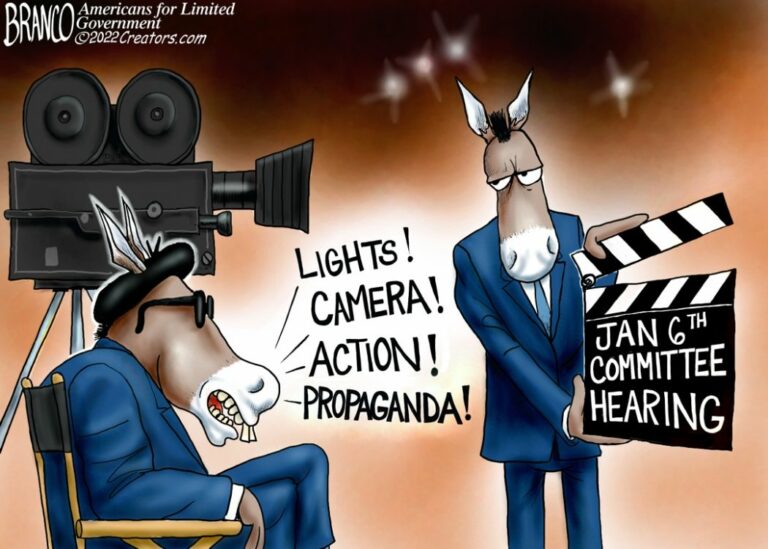 __________________________________________________
MATTHEW 6:1-6, 16-18
1"Beware of practicing your piety before men in order to be seen by them; for then you will have no reward from your Father who is in heaven. 2"Thus, when you give alms, sound no trumpet before you, as the hypocrites do in the synagogues and in the streets, that they may be praised by men. Truly, I say to you, they have received their reward. 3But when you give alms, do not let your left hand know what your right hand is doing, 4so that your alms may be in secret; and your Father who sees in secret will reward you. 5"And when you pray, you must not be like the hypocrites; for they love to stand and pray in the synagogues and at the street corners, that they may be seen by men. Truly, I say to you, they have received their reward. 6But when you pray, go into your room and shut the door and pray to your Father who is in secret; and your Father who sees in secret will reward you. 16"And when you fast, do not look dismal, like the hypocrites, for they disfigure their faces that their fasting may be seen by men. Truly, I say to you, they have received their reward. 17But when you fast, anoint your head and wash your face, 18that your fasting may not be seen by men but by your Father who is in secret; and your Father who sees in secret will reward you.
As always, prayers for the fight against that which seeks to enslave us are welcome.
Please include: President Donald Trump, the Q team, our soldiers in the field, special forces, tactical units, first responders and those working behind the scenes…and any and all people with family members in the hospital, COVID or not.
And…members of the QTree who no longer participate for one reason or another, as well as Gil, RDS, Bakocarl, Nora, Cthulhu and any others facing serious health issues right now..
It is quite clear, as per Wolf's message from July, that we are under spiritual attack. Building up a robust arsenal of prayer and discipline is a must in fighting the enemy and his minions.
In that spirit, the Prayer to St. Michael the Archangel from Tuesday's threads, and the Breastplate of St. Patrick, not to mention the Litany of Humility are favorites recommended by exorcists in spiritual warfare.
SATIRE SECTION