Due to Q-Treeper poll results, this is a lighter fare Thanksgiving thread. If anything important happens, or if a skunk moves in under your she shed, please post in the comments.
Anti-Thanksgiving? UnAmerican at best, treason more likely.
So, what REALLY happened to bring about Thanksgiving here in the former colonies of England, France and Spain?????
This official story is nothing like what really happened. It is a fairy tale, a whitewashed and sanitized collection of half-truths which divert attention away from Thanksgiving's real meaning.

The official story has the Pilgrims boarding the Mayflower, coming to America, and establishing the Plymouth colony in the winter of 1620–21. This first winter is hard, and half the colonists die. But the survivors are hard working and tenacious, and they learn new farming techniques from the Indians. The harvest of 1621 is bountiful. The pilgrims hold a celebration, and give thanks to God. They are grateful for the wonderful new abundant land He has given them.

The official story then has the Pilgrims living more or less happily ever after, each year repeating the first Thanksgiving. Other early colonies also have hard times at first, but they soon prosper and adopt the annual tradition of giving thanks for this prosperous new land called America.

The problem with this official story is that the harvest of 1621 was not bountiful, nor were the colonists hard-working or tenacious. 1621 was a famine year and many of the colonists were lazy thieves.

In his History of Plymouth Plantation, the governor of the colony, William Bradford, reported that the colonists went hungry for years because they refused to work in the field. They preferred instead to steal food. He says the colony was riddled with "corruption," and with "confusion and discontent." The crops were small because "much was stolen both by night and day, before it became scarce eatable."

In the harvest feasts of 1621 and 1622, "all had their hungry bellies filled," but only briefly. The prevailing condition during those years was not the abundance the official story claims, it was famine and death. The first "Thanksgiving" was not so much a celebration as it was the last meal of condemned men.

But in subsequent years something changes. The harvest of 1623 was different. Suddenly, "instead of famine now God gave them plenty," Bradford wrote, "and the face of things was changed, to the rejoicing of the hearts of many, for which they blessed God." Thereafter, he wrote, "any general want or famine hath not been amongst them since to this day." In fact, in 1624, so much food was produced that the colonists were able to begin exporting corn.

What happened? After the poor harvest of 1622, writes Bradford, "they began to think how they might raise as much corn as they could, and obtain a better crop." They began to question their form of economic organization.

This had required that "all profits & benefits that are got by trade, traffic, trucking, working, fishing, or any other means" were to be placed in the common stock of the colony, and that, "all such persons as are of this colony, are to have their meat, drink, apparel, and all provisions out of the common stock." A person was to put into the common stock all he could, and take only what he needed.

This "from each according to his ability, to each according to his need" was an early form of socialism, and it is why the Pilgrims were starving. Bradford writes that "young men that were most able and fit for labor and service" complained about being forced to "spend their time and strength to work for other men's wives and children." Also, "the strong, or man of parts, had no more in division of victuals and clothes, than he that was weak." So the young and strong refused to work and the total amount of food produced was never adequate.

To rectify this situation, in 1623 Bradford abolished socialism. He gave each household a parcel of land and told them they could keep what they produced, or trade it away as they saw fit. In other words, he replaced socialism with a free market, and that was the end of the famines.
Socialism only works in religious order settings, and then, it doesn't really work there, either.
From our friend Gail:
One misconception that is still with us is that the Pilgrims adopted socialism out of religious conviction, as if Christian ethics requires a Platonic communist utopia. Galles notes that this is a misconception, but it is beyond the scope of his essay to provide the full historical back drop to that initial fateful economic design.

In fact, as Bradford makes clear, the Pilgrims did not desire to establish Christian communism. The Pilgrims' original communal property arrangements were foisted upon them by their colonial sponsors. The sponsors did this after they learned that they would not be granted a monopoly of fishing rights in Cape Cod. The sponsors' original agreement with the Pilgrims was such that the Pilgrims were to work for four days for the sponsoring company and then would have two days to work for themselves. The sponsors later changed their deal and told the Pilgrims that they would have to work all six days of the work week for the sponsors. At the end of seven years, the Pilgrims would be granted title to the property they worked. The Pilgrims were not happy with the change, several of them recognizing that the new arrangement would make them virtual slaves of the sponsors, but they went along with the deal because many had already made large investments toward the move and they were convinced that emigrating to the New World is what God wanted them to do.
Also of interest may be the story of Squanto as told by Dr. Taylor Marshall. Unfortunately, this is only available on YouTube, so I am providing links.
For your viewing pleasure:
And, of course, Louis Anderson telling of Thanksgiving at his house.
And, true story, we were at some relatives' house for a September fish fry, and a cousin said, "Do we have everything out?"
In unison, several of us said, "THE CRANBERRIES!"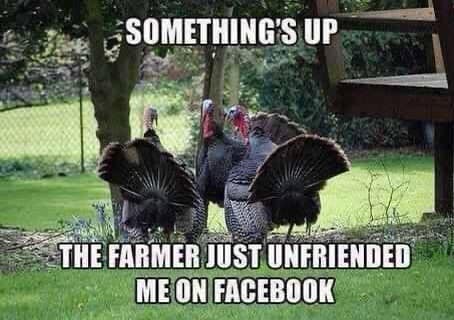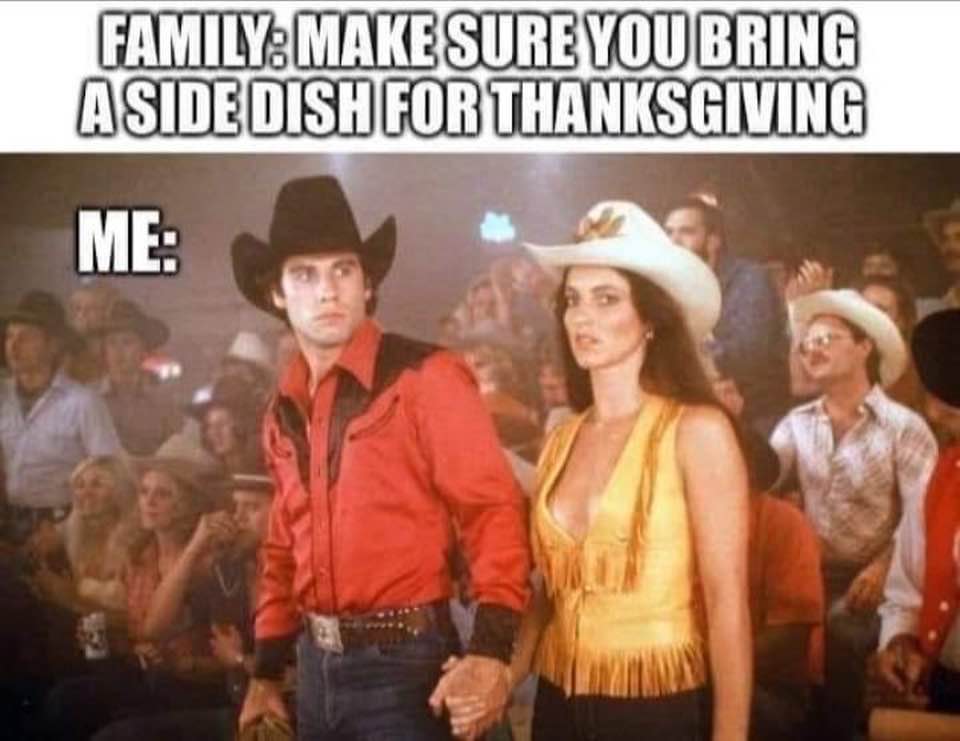 I'd actually bring some sort of salad.
_______________________________________________
As usual, this is the daily thread, the place to put all information that needs to be out there – Q drops, Q drop decodes, riot information, rumors about MAGA rallies starting up again, news flashes, Chy-na flu updates, fashionable mask photos, satire, memes, and of course cute animal videos.
In the meantime, the short and sweet version of "THE RULES" is here borrowed from Tuesday:
Guidelines for posting and discussion on this site were outlined by our host, WolfM00n. Please, review them from time to time.
The discourse on this site is to be CIVIL – no name calling, baiting, or threatening others here is allowed. Those who are so inclined may visit Wolf's other sanctuary, the U-Tree, to slog it out.
This site is a celebration of the natural rights endowed to humans by our Creator as well as those enshrined in the Bill of Rights adopted in the founding documents of the United States of America. Within the limits of law, how we exercise these rights is part of the freedom of our discussion.
Fellow tree dweller the late Wheatie gave us some good reminders on the basics of civility in political discourse:
No food fights – IN HONOR OF OUR PAT, SUSPENDED FOR TODAY ONLY
No running with scissors.
If you bring snacks, bring enough for everyone. ALSO FOR TODAY ONLY, BYOB – BRING YOUR OWN BOURBON.
Since it is almost the weekend, the reminders are in place to not swing from the chandeliers, wash your hands and face, and be nice to the liberals whether they deserve it or not. Making your bed, OTOH, is optional.
__________________________________________________
SIRACH 50:22-24
22And now bless the God of all, who in every way does great things; who exalts our days from birth, and deals with us according to his mercy. 23May he give us gladness of heart, and grant that peace may be in our days in Israel, as in the days of old. 24May he entrust to us his mercy! And let him deliver us in our days!
PSALMS 138:1-5
1I give thee thanks, O LORD, with my whole heart; before the gods I sing thy praise; 2I bow down toward thy holy temple and give thanks to thy name for thy steadfast love and thy faithfulness; for thou hast exalted above everything thy name and thy word. 3On the day I called, thou didst answer me, my strength of soul thou didst increase. 4All the kings of the earth shall praise thee, O LORD, for they have heard the words of thy mouth; 5and they shall sing of the ways of the LORD, for great is the glory of the LORD.
1 CORINTHIANS 1:3-9
3Grace to you and peace from God our Father and the Lord Jesus Christ. 4I give thanks to God always for you because of the grace of God which was given you in Christ Jesus, 5that in every way you were enriched in him with all speech and all knowledge — 6even as the testimony to Christ was confirmed among you — 7so that you are not lacking in any spiritual gift, as you wait for the revealing of our Lord Jesus Christ; 8who will sustain you to the end, guiltless in the day of our Lord Jesus Christ. 9God is faithful, by whom you were called into the fellowship of his Son, Jesus Christ our Lord.
LUKE 17:11-19
11On the way to Jerusalem he was passing along between Sama'ria and Galilee. 12And as he entered a village, he was met by ten lepers, who stood at a distance 13and lifted up their voices and said, "Jesus, Master, have mercy on us." 14When he saw them he said to them, "Go and show yourselves to the priests." And as they went they were cleansed. 15Then one of them, when he saw that he was healed, turned back, praising God with a loud voice; 16and he fell on his face at Jesus' feet, giving him thanks. Now he was a Samaritan. 17Then said Jesus, "Were not ten cleansed? Where are the nine? 18Was no one found to return and give praise to God except this foreigner?" 19And he said to him, "Rise and go your way; your faith has made you well."
_______________________________________________________
Happy Thanksgiving, y'all. Remember, after the meal, it is perfectly acceptable to look for a place to lie down.