No, not THAT Weinstein – THIS ONE.
Or THIS ONE.
Or this one.
Eric Weinstein is an interesting Twitter follow. He has opinions which I would say land square in the middle of the "new skeptical intelligentsia", part of which would include the "intellectual dark web", part of which would be outside it, but are disturbed in different meaningful ways that such a thing has to exist (and therefore some people on the left consider them PART of the "intellectual dark web"). Eric is pretty much on the internal border between the two parts of the larger movement, and "gets" everybody.
Stated another way, he's "Quillette perfect".
Anyway, he's worth following even if you just want to see what smart people are saying about stuff.
---
Well, a Twitter friend replied to him on something, and that led THE WOLF to pontificate just a bit. The tweets were ultimately in response to a QUESTION by Weinstein.
How – 2A defenders – do we stop the NEXT school shooting?
Oh, did I *EVER* want to talk about how I, personally, may have stopped a "non-school" shooting by NOT SHOWING UP in the same room as a politician, thereby nixing an opportunity for the MURDEROUS WHOEVER to pull their little game of "wrap up multiple loose ends". But then THIS gets into the REALITY of "fighting the future" in a statistical, quantum-ish, highly uncertain, multiverse way – something most people aren't even ready to consider, much less believe, much less understand.
This gets into all we have observed about active shooter training exercises and drills "mysteriously" preceding active shooters who are used for political payload. This gets into my long-and-painfully-developed "economy of events principle", which shows how these events nearly always have to have MULTIPLE POLITICAL PAYOUTS for them to occur.
This gets into acceptance that there are technologies IN USE that most of us are not aware of, few of us understand, and nearly none of us is even CLEARED to know about.
This gets into believing that there are motivations IN PLAY which are far, far different from anything which is being revealed publicly to the hapless population of victims and aggrieved family members.
This gets into believing that there is ANOTHER "intellectual dark web" – possibly not all on this planet or even in this universe – that has its own ideas about where humanity needs to go.
Yeah. Some conjecture may be necessary. And you had probably better believe that EPSTEIN didn't kill himself.
So scratch THAT SHIT. Unless somebody really wants to understand how tenuous ACTIVELY STOPPING ACTIVE SHOOTINGS actually is, when SOMEBODY OUT THERE WANTS THEM, and all we have to go on is the experience of SURVIVORS and WITNESSES – those who have been set up before by sketchy, abused LE and IC, and managed to walk out of their "history grooming process". Or those who have dedicated their lives to investigating and stopping this stuff.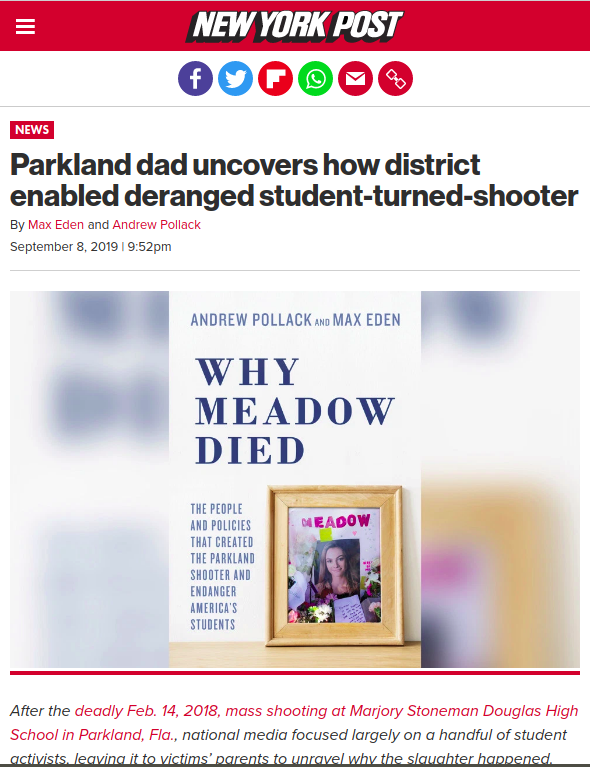 In that case, then they can look at how it was done in one particular instance.
---
This is a bit of a strange post, and I won't go into all of the details here and now. Maybe never. However, I am deciding how I'm going to deal with exactly what is in the title, and I want the have maximum information at hand when I do. You folks are a wealth …
https://wqth.wordpress.com/2019/11/04/seeking-qtreeper-counsel-on-active-shooter-training-and-sketchy-scheduling-thereof/
---
So skipping the X-Files stuff, or maybe not, let me show you my responses on the thread.
---
NOW, I think my idea about "neutralizing" the FAKE NEWS MEDIA is really key to this, but probably not enough. FAKE ENTERTAINMENT has to be dealt with as well. And more.
But that's just ME.
What about YOU? What do all of YOU think? Most of you have been unplugged from FAKE WORLD enough that you may be seeing answers, too. You may see that THE RIGHT is going to be who solves this problem – not THE LEFT.
I'm all ears. And – hopefully – so are others.
W