The Chinese Should Think Before Wiping Us Out As Sometimes They Need Us To Solve Their Problems For Them
Okay you knuckledragging ChiComs trying to take us down…here's a history lesson for you.
For millennia, you had to suffer from this: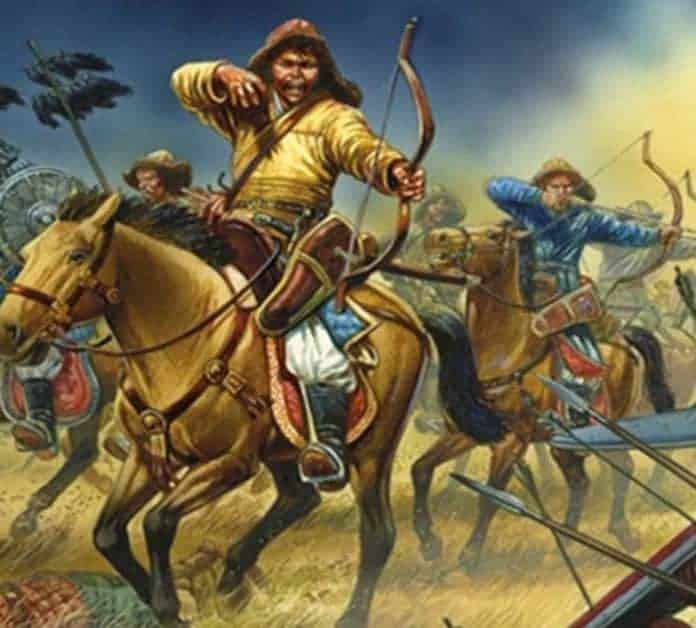 Yep. Steppe Nomads. They laid waste to your country, burned, raped and pillaged (but not in that order–they're smarter than you are) for century after century.
You know who figured out how to take them on and win? The Russians.
Not you, the Russians. And it took them less than two centuries. And Oh By The Way they were among the most backward cultures in Europe at the time.
You couldn't invent an alphabet, you couldn't take care of barbarians on horseback, and you think you can take this board down?
HAHAHAHAHAHAHA!!!! We're laughing at you, you knuckledragging dehumanized communists…worshipers of a mass-murderer who killed sixty million people!
I mean, you still think Communism is a good idea even after having lived through it!
By my reckoning that makes you orders of magnitude more stupid than AOC, and that takes serious effort.
His Fraudulency
Joe Biteme, properly styled His Fraudulency, continues to infest the White House, and hopium is still being dispensed even as our military appears to have joined the political establishment in knuckling under to the fraud.
One can hope that all is not as it seems.
I'd love to feast on that crow.
"No Chemicals"
A detailed analysis of the contents of His Fraudulency's skull was performed.
Absolutely no chemicals found!
Justice Must Be Done.
The prior election must be acknowledged as fraudulent, and steps must be taken to prosecute the fraudsters and restore integrity to the system.
Nothing else matters at this point. Talking about trying again in 2022 or 2024 is hopeless otherwise. Which is not to say one must never talk about this, but rather that one must account for this in ones planning; if fixing the fraud is not part of the plan, you have no plan.
Political Science In Summation
It's really just a matter of people who can't be happy unless they control others…versus those who want to be left alone. The oldest conflict within mankind. Government is necessary, but government attracts the assholes (a highly technical term for the control freaks).
James Webb Space Telescope Update
MIRI (the Midrange InfraRed Instrument) is now at 6K and the final iteration of mirror alignment is in progress. Once this is done, it's time to work on commissioning the instruments…and I have no idea what that entails, to be honest. My vague notions of what that meant were all taken care of as part of the mirror alignment process.
The NASA blog put out another article on what JWST is expected to do. It's expected to learn more about extrasolar planets that we have already detected; in particular it will be able to analyze their atmospheres.
Lawyer Appeasement Section
OK now for the fine print.
This is the WQTH Daily Thread. You know the drill. There's no Poltical correctness, but civility is a requirement. There are Important Guidelines, here, with an addendum on 20191110.
We have a new board – called The U Tree – where people can take each other to the woodshed without fear of censorship or moderation.
And remember Wheatie's Rules:
1. No food fights
2. No running with scissors.
3. If you bring snacks, bring enough for everyone.
4. Zeroth rule of gun safety: Don't let the government get your guns.
5. Rule one of gun safety: The gun is always loaded.
5a. If you actually want the gun to be loaded, like because you're checking out a bump in the night, then it's empty.
6. Rule two of gun safety: Never point the gun at anything you're not willing to destroy.
7. Rule three: Keep your finger off the trigger until ready to fire.
8. Rule the fourth: Be sure of your target and what is behind it.
(Hmm a few extras seem to have crept in.)
(Paper) Spot Prices
Last week:
Gold $1,947.70
Silver $24.86
Platinum $987.00
Palladium $2,503.00
Rhodium $20,000.00
This week, 3PM Mountain Time, markets have closed for the weekend.
Gold $1,975.80
Silver $25.77
Platinum $1,000.00
Palladium $2,436.00
Rhodium $19,900.00
In fact, they closed 3PM on Thursday; the market weenies get Good Friday off and apparently that's true even in Asia.
Gold is definitely on another upward climb. It was a couple of bucks higher on Wednesday, but that downtick doesn't cover the fact that it's distinctly in the upper 19s now. (1975? I remember that year…) The price of platinum can't get any rounder than it is right now (even rounder than rhodium's was last week). Palladium and rhodium are the two losers this week, albeit not by very much. But they are the two metals whose price is most dependent on industry.
T4 Combinatorics
If you're wondering what "Combinatorics" is (and let's face it, you probably weren't wondering until you read that title, if even then), it's the branch of mathematics that has to do with counting things; including counting the number of possible combinations of things. It's not "hard" to do, but the concepts are a bit abstract sometimes.
If you've ever seen those statements about how many different configurations some puzzle (like a Rubik's Cube) can have (and only one of them is right!), those were computed with combinatorics. (No one went and looked for them all.)
Ancient Indian physician Sushruta in the 6th century BCE asserted that given six tastes, there are sixty three possible combinations total where they are taken one at a time, two at a time, three at a time, and so forth. The ancient Greeks looked into this sort of thing too. During the Middle Ages, more progress was made, but not in Europe. Again in India more general formulas were found.
The specific problem here is precisely the number of combinations of different objects can occur. As it turns out, that's also the same number as possible sequences of coin tosses.
Going back to Sushutra's example, if you flip a coin six times, there are 64 possible outcomes. It could come out tails all six times. It could come out tails the first five times, then heads the last time. It could come out tails the first four times, then heads the fifth time, then tails the last time. And so on. If I were to tabulate all 64 of them with 0s (for tails) and 1s (for heads) it would look like someone counting in base 2 or binary.
000000
000001
000010
000011
…and so on.
There's another method of stepping through all of the possibilities, and that's to use a sequence where exactly one of the six things changes each time. That's a bit trickier, but you can get some cool patterns out of it (like the bottom half of the list being a mirror image of the top half…except for the first digit which is 1 instead of 0).
But something may be bothering you….Sushutra said there were 63 combinations; I have just been yapping about there being 64. The discrepancy is because Sushutra didn't count the case where none of his 6 samples were being tasted.
So far, perhaps not a surprise. The number of possibilities is 2n, where n is the number of times you toss the coin (or the number of flavors you're sampling). And this works when the different tries are independent of each other. In the case of the coins, one toss has no effect on any of the others. In the case of the flavors, there are no rules like, for example, that flavor E is forbidden if you are using flavor B.
Slightly more interesting is the question, out of these six possibilities, how many of them have exactly three flavors. Or how many possible sequences of six coin tosses have exactly three heads in them?
Well, it turns out there's a formula for this. And it involves, interestingly enough, combining formulas for another couple of possible problems.
Let's say you have six scrabble tiles, A, B, C, D, E, F. How many possible words are there?
You could exhaustively list them all out, but that's tedious. Instead let's try thinking about it.
There are six possible choices for the first letter. Once you pick the first letter, though, there are five possible choices for the second letter; so each of the six first possible letter possibilities has five possible second letters. So that's 6 x 5 = 30 possibilities for the first two letters. You can proceed similarly, 4 possibilities for the third letter, 3 for the fourth, 2 for the fifth, and 1 for the sixth. So we're looking at 6 x 5 x 4 x 3 x 2 x 1 = 720 possible combinations. (It's a good thing we decided not to try to list them all!)
This is a common enough thing that we call this the factorial and denote it with an exclamation point, in this case, 6! = 6 x 5 x 4 x 3 x 2 x 1 = 720.
I don't believe it's possible to form a good word of English out of those six letters, with all of those six letters and no others (but correct me if I'm wrong!); the best I can come up with is FACED. Or DECAF. I guess if you're sore at the Federal Elections Commission you could say BADFEC.
But this is a game of Scrabble, and so you might settle for using some of the tiles. For example, how many candidate four letter words are there?
You can follow the same reasoning as above. Six possibilities for the first letter, five possibilities (for each of the six) for the second letter (30). Four possibilities (for each of the thirty) for the third letter (120). For each of those, three possible fourth letters (360). But now we STOP, because we don't pick a fifth, or sixth letter. The math is: 6 x 5 x 4 x 3 = 360. So it's like 6! only not taken all the way down to 1. In fact, it's like 6! divided by 2!. Look: (6x5x4x3x2x1)/(2×1); the twos and ones cancel and we're left with 6x5x4x3. Note that 2 is 6 – 4, i.e., it's the total number of titles minus the number of tiles actually chosen.
So there's a general formula here. You have n objects, you want to choose m of them. The number of possibilities is n!/(n-m)!
One thing that needs to be stressed, though! This formula is for use when you care about the order of the selection. In other words, if you grabbed the letters A, C, E, F, it matters to you whether you grabbed them as F, A, C, E or C, A, F, E or FCEA.
When dealing with Sushruta's flavors, the first, third, fifth and sixth flavors (combined) taste the same no matter what order you're adding them. It's as if you didn't care what order ACEF was written in.
So how do you adjust your answer to the question of how many possible ways to select four of the six letters if you don't care about the order?
Well, imagine that you had actually written down all of the possible combinations (all 360 of them). Some number of these would have the letters A, C, E, and F in them. In fact, all possible orders of those letters would appear in the list exactly once. How many possible orderings of A,C,E,F are there? We already know this: 4 x 3 x 2 x 1.
And this is true for any possible grouping of four letters. There will be nine other anagrams of those four letters in the list.
So to get the answer, we start with our 360…and divide by 4! which is to say, 24, and get 15. This is the factorial of the number of objects we are choosing (m).
So, remember we got the 360 with n!/(n–m)!; this new number involves dividing again by m!.
So our number of combinations for an unordered choice of m objects out of a group of n objects is n!/[(n–m)!m!]. My combinatorics teacher called it "n-choose-m" or he'd substitute actual numbers.
We could, for example, figure out how many possible groups of ten letters we could pull out of the alphabet. With 26 letters, we have 26!/(16! x 10!).
So punch that into your calculator.
Well, don't. 26! is probably too big for your calculator.
But you can probably get clever before you punch the numbers in.
Write those factorials out. It turns out you can do a lot of cancelling! You can skip 10×9…x1 on top, and just divide by 16x15x14…on the bottom. Better yet, you can skip the 16x15x…x1 on top and only divide by 10! on the bottom.
26 x 25 x 24 x 23 x 22 x 21 x 20 x 19 x 18 x 17 / 10 x 9 x 8 x 7 x 6 x 5 x 4 x 3 x 2 x 1.
Right off the bat, you can cancel the 20 up top with the 10 and 2 on the bottom, and the 18 up top with the 6 and 3 on the bottom:
26 x 25 x 24 x 23 x 22 x 21 x 19 x 17 / 9 x 8 x 7 x 5 x 4 x 1
Do a bit more cancelling–get rid of the 5, 7, and 4 by dividing them into the 25, 21, and 24 respectively:
26 x 5 x 6 x 23 x 22 x 3 x 19 x 17 / 9 x 8
You have three even numbers on top. Divide them all by 2 and get rid of the 8 on the bottom:
13 x 5 x 3 x 23 x 11 x 3 x 19 x 17 / 9
And you now have two threes, so you can get rid of the 9 and those 3s
13 x 5 x 23 x 11 x 19 x 17
Well, now, we don't have to do any dividing! In fact, you should NEVER have to do any dividing after you cancel. Why? We're counting numbers of combinations, and that has to be a whole number. You won't get a fraction. So if it looks like you're about to get a fraction, you messed up somewhere–you didn't do a cancellation you could have, or you made a simple arithmetic error.
So now go to the calculator, and it turns out there are 5,311,735 possible sets of ten letters you could pull out of 26 letters of the alphabet.
Yikes, that's a lot!
You can get to some really big numbers this way with bigger "pots" of choices; in fact you can easily get to numbers that are larger than the numbers of quarks in the universe without too much trouble.
In fact, consider the number of possible bridge hands, which is 52!/(39!13!). If you think you've played enough bridge to repeat a hand…you're probably wrong! Because there are 635,013,559,600 of them. That's still more than the US Debt…though ask me again next week.
(And the game would still be different unless the other three players also each got the same hand as before. This could be computed with our n-choose-m formula, too, applied successively (it'll be that number, times 39-choose-13, times 26-choose-13, times 26-choose-26) to see how many possible bridge deals there are.)
There's another clever method to compute m-choose-n. It's very visually oriented, but it does involve computing all of the smaller problems first.
Start with 1.
Then below it, staggered, write 1 1.
So you see:
1
1 1
You repeat this, over and over again. Each number is the sum of the two above it (and "blank" is zero). So you get:
1
1 1
1 2 1
1 3 3 1
1 4 6 4 1
1 5 10 10 5 1
And so on. What good is this exercise (which is called "Pascal's Triangle")?
It turns out that if you go to row n, the mth element is n-choose-m. But you have to start counting from zero. That last row is row 4 (not 4). And if you want 4-choose-2 you have to go to the third element on that row, which is 6. This is logical, because the actual first element is always a 1, and that's how many ways you can pick zero items out of the group of 4. Or 17, or whatever. The last number is choosing all of the elements, and of course there's only one way to do that (if you don't care about the order).
Another neat thing about this triangle is if you sum up everything in the row, you get the total number of possible selections in that row, for example, with 4 items, the total is 16…which is 24.
Pascal's triangle has a whole host of interesting properties, actually.
Once you see this triangle, it's pretty clear that the biggest single n-choose-m value is when m is half the size of n. (Or if n is odd, when m is either just above or just below half of n.)
So that, if you toss a coin a hundred times, the most likely outcome is 50 heads and 50 tails, (In fact that is possible about 1×1029 different ways!) though a 49/51 split is almost as common (~9.89 x 1028 different ways), and a 48/52 split wouldn't be all that surprising either (~9.32×1028 different ways). But 100 heads (or tails) in a row? Ridiculously unlikely! Even a 75/25 split can "only" occur 2.42 x 1023 ways, which sounds like a lot…but is 2 42/100 millionths as common as a 50/50 split. And therefore. 0.00000242 times as likely as a 50/50 split if you try the experiment.
Conversely an exact 50/50 split might be the most likely result, but it's less likely than a 49/51 and 51/49 split put together, much less if you add all the other near/even splits. There are 2100 possible sequences, that's 1.267×1030 possibilities. So there's roughly 1 chance in 12 2/3 you'd get an exact 50/50 split.
The takeaway from this is that an exact "middle" result becomes less and less likely the more things are involved…but a result near the middle becomes overwhelmingly likely the more things are involved.
But what, you might ask, does this have to do with heat and temperature and thermodynamics?
This sort of example does not really have much to do with it, but the general concepts behind combinatorics do have a lot to do with it, as it turns out. Next time…
Obligatory PSAs and Reminders
China is Lower than Whale Shit
Remember Hong Kong!!!
中国是个混蛋 !!!
Zhōngguò shì gè hùndàn !!!
China is asshoe !!!
China is in the White House
Since Wednesday, January 20 at Noon EST, the bought-and-paid for His Fraudulency Joseph Biden has been in the White House. It's as good as having China in the Oval Office.
Joe Biden is Asshoe
China is in the White House, because Joe Biden is in the White House, and Joe Biden is identically equal to China. China is Asshoe. Therefore, Joe Biden is Asshoe.
But of course the much more important thing to realize:
Joe Biden Didn't Win
乔*拜登没赢 !!!
Qiáo Bài dēng méi yíng !!!
Joe Biden didn't win !!!