The Chinese Should Think Before Wiping Us Out As Sometimes They Need Us To Solve Their Problems For Them
Okay you knuckledragging ChiComs trying to take us down…here's a history lesson for you.
For millennia, you had to suffer from this: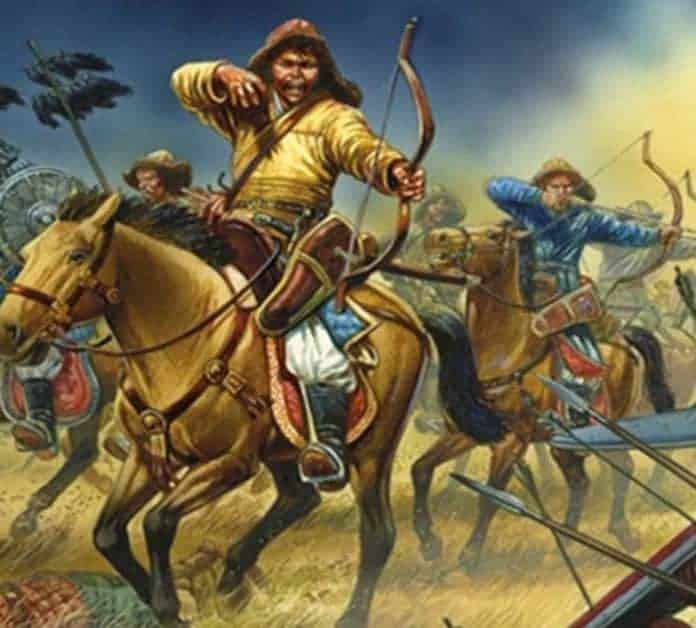 Yep. Steppe Nomads. They laid waste to your country, burned, raped and pillaged (but not in that order–they're smarter than you are) for century after century.
You know who figured out how to take them on and win? The Russians.
Not you, the Russians. And it took them less than two centuries. And Oh By The Way they were among the most backward cultures in Europe at the time.
You couldn't invent an alphabet, you couldn't take care of barbarians on horseback, and you think you can take this board down?
HAHAHAHAHAHAHA!!!! We're laughing at you, you knuckledragging dehumanized communists…worshipers of a mass-murderer who killed sixty million people!
I mean, you still think Communism is a good idea even after having lived through it!
By my reckoning that makes you orders of magnitude more stupid than AOC, and that takes serious effort.
His Fraudulency
Joe Biteme, properly styled His Fraudulency, continues to infest the White House, and hopium is still being dispensed even as our military appears to have joined the political establishment in knuckling under to the fraud.
One can hope that all is not as it seems.
I'd love to feast on that crow.
"No Chemicals"
A detailed analysis of the contents of His Fraudulency's skull was performed.
Absolutely no chemicals found!
Justice Must Be Done.
The prior election must be acknowledged as fraudulent, and steps must be taken to prosecute the fraudsters and restore integrity to the system.
Nothing else matters at this point. Talking about trying again in 2022 or 2024 is hopeless otherwise. Which is not to say one must never talk about this, but rather that one must account for this in ones planning; if fixing the fraud is not part of the plan, you have no plan.
Roe v. Wade is Toast
Whatever you feel about abortion per se, however important it might be, the import of this decision extends far beyond it. For it is a re-affirmation of the basic principles of federalism, which have been severely eroded since…oh…well, you can draw that line anywhere you want in American history. FDR? Wilson? The other Roosevelt? Lincoln? For that matter, the Constitution itself centralized power that had previously been scattered, so maybe the trend has been on since 1787. But this was a major, blatantly visible step in the opposite direction. Abortion is now left to the states, and the opinion explains that that is the way it used to be.
Let's see if that trend continues.
Small Government?
Many times conservatives (real and fake) speak of "small government" being the goal.
This sounds good, and mostly is good, but it misses the essential point. The important thing here isn't the size, but rather the purpose, of government. We could have a cheap, small tyranny. After all our government spends most of its revenue on payments to individuals and foreign aid, neither of which is part of the tyrannical apparatus trying to keep us locked down and censored. What parts of the government would be necessary for a tyranny? It'd be a lot smaller than what we have now. We could shrink the government and nevertheless find it more tyrannical than it is today.
No, what we want is a limited government, limited not in size, but rather in scope. Limited, that is, in what it's allowed to do. Under current circumstances, such a government would also be much smaller, but that's a side effect. If we were in a World War II sort of war, an existential fight against nasty dictatorships on the brink of world conquest, that would be very expensive and would require a gargantuan government, but that would be what the government should be doing. That would be a large, but still limited government, since it'd be working to protect our rights.
World War II would have been the wrong time to squawk about "small government," but it wasn't (and never is) a bad time to demand limited government. Today would be a better time to ask for a small government–at least the job it should be doing is small today–but it misses the essential point; we want government to not do certain things. Many of those things we don't want it doing are expensive but many of them are quite eminently doable by a smaller government than the one we have today. Small, but still exceeding proper limits.
So be careful what you ask for. You might get it and find you asked for the wrong thing.
Political Science In Summation
It's really just a matter of people who can't be happy unless they control others…versus those who want to be left alone. The oldest conflict within mankind. Government is necessary, but government attracts the assholes (a highly technical term for the control freaks).
James Webb Space Telescope Update
They've now checked off ten (no, twelve–they added two on Friday!) out of 17 (heh) instrument mode boxes on JWST. And four of these are all on one sensor, NIRISS, and that one sensor is done.
NASA has announced an event on the 12th of July, where they will be release the first "real" color images. (These will no doubt be "false color" since most of the light JWST sees, is light we cannot see because the frequency is too low–analogous to sound pitches only dogs can hear, because the pitch is too high. In fact the famous Pillars of Creation from Hubble is also false color.)
There will even be local gatherings you can go to, for example two in Denver suburbs, one in Boulder, and one in Pueblo (surprisingly, though, none in Colorado Springs, even though we have a space symposium here frequently).
NASA Invites Media, Public to View Webb Telescope's First Images | NASA
We've already seen hints of what it can do, for instance imaging the LMC far more sharply than the old, short-lived infrared Spitzer Space Telescope could do.
This is where it gets interesting, but very slow-paced. We might not see news from JWST for months at a time but be assured scientists will be using it. And the headline will likely not even mention the telescope at all but instead describe what they discovered using the telescope.
So, I'll have to hunt for something else Joe Biden hasn't managed to fuck up (I can only conclude he's unaware of JWST or he'd have fucked it up), to highlight here every week.
Lawyer Appeasement Section
OK now for the fine print.
This is the WQTH Daily Thread. You know the drill. There's no Poltical correctness, but civility is a requirement. There are Important Guidelines, here, with an addendum on 20191110.
We have a new board – called The U Tree – where people can take each other to the woodshed without fear of censorship or moderation.
And remember Wheatie's Rules:
1. No food fights
2. No running with scissors.
3. If you bring snacks, bring enough for everyone.
4. Zeroth rule of gun safety: Don't let the government get your guns.
5. Rule one of gun safety: The gun is always loaded.
5a. If you actually want the gun to be loaded, like because you're checking out a bump in the night, then it's empty.
6. Rule two of gun safety: Never point the gun at anything you're not willing to destroy.
7. Rule three: Keep your finger off the trigger until ready to fire.
8. Rule the fourth: Be sure of your target and what is behind it.
(Hmm a few extras seem to have crept in.)
(Paper) Spot Prices
Last week:
Gold $1,840.80
Silver $21.74
Platinum $941.00
Palladium $1,896.00
Rhodium $13,850.00
This week, 3PM Mountain Time, markets have closed for the weekend.
Gold $1,827.40
Silver $21.24
Platinum $918.00
Palladium $1,952.00
Rhodium $15,000.00
Rhodium and palladium up, the other three–you know, that may actually be known to the man in the street–are all down.
T6 Entropy Understood, Or Why I Inflicted Combinatorics On You In Part 4
But first, a couple of go-backs.
One way people like to bring up the kinetic theory of gases is to ask a stupid-sounding question that isn't really stupid.
Why doesn't the air fall down?
That's on the same level as "why is the nighttime sky dark" which isn't as obvious as it seems.
Gases are individual atoms free to move about, and spaced far apart. So why don't those atoms just fall to the ground and roll around like marbles on a floor? In the case of the air, why isn't there just an 14.7 pounds of nitrogen and oxygen (and a few other things) lying around on every single square inch of Earth's surface on average? (Up in the mountains this pile of small marbles would no doubt have rolled down hill and left the ground bare, which is why I used the word average.)
Well, something like that would resemble a liquid, not a gas, and that's our clue. The question "why doesn't the air fall down," it turns out, is equivalent to asking why air is a gas.
As we saw last time a gas is full of widely spaced particles, moving around at random, slamming into each other and their surroundings; it's all that kinetic energy being transferred in differing amounts with every collision that keeps the air from falling. If there's less kinetic energy on average, the air molecules are, on average closer to each other because they're not bumping into each other as hard.
The sorts of diagrams I showed last time (which was five weeks ago) with gas molecules ping ponging off each other (you know like this one:)
make the point fairly well. Imagine if the top wall of that box were free to slide downward; all of those dots hitting it would tend to push it up against gravity…that's what pressure is, at a fundamental level.
But in the real world, with say pool balls on a pool table after a break, the little balls slow down and come to a stop eventually. And this is true; gases are part of the real world. But what this diagram doesn't show you is that the edges of the box are also made of molecules, and though they aren't moving freely, they're vibrating in place, transferring energy back to the gas as often as the gas loses energy to the walls. At least it's "as often" if the gas and the walls' molecules all have roughly the same kinetic energy…which we learned last time is equivalent to saying "if they're at the same temperature."
Speaking of those billiard balls, you've no doubt at some time seen movies run backwards. You'll see people walking backwards, eating backwards, and so on. And maybe you've seen a pool break backwards, with all the balls coming back together into that nice triangular array and "spitting out" the cue ball.
You can carefully analyze each collision you see in that backwards-pool-break, and see that they all follow Newton's laws–all that stuff about elastic collisions–perfectly. (See Part 2 of the original physics series: https://www.theqtree.com/2021/05/08/2021%c2%b705%c2%b708-joe-biden-didnt-win-daily-thread/ )
Newton's laws behave the same whether you're looking at them in forward motion, or backwards motion.
If they didn't, you'd be able to measure what's going on in a clip and be able to tell whether the clip is running backwards or forwards, right?
But then, you can tell that anyway. Why?
With the billiard balls, you simply won't ever see sixteen billiard balls moving around at random suddenly come together with 15 in a triangle and one–the only one that happens to be all white–shooting off to the other side of the table.
Even though it's perfectly "legal" by physical law for them to do so.
It's fifteen times more likely that they'd come together and one of the fifteen balls other than the cueball goes shooting to the other end of the table, and yet you'll never see that happen, either.
You can tell which direction is "forward in time" versus "backward in time" just by watching what happens, even though both sequences follow the same physical laws.
This is actually pretty profound. And when you dig deeper, it turns out that the "forward" view shows entropy increasing, and the "backward" view shows it going down, and so what we see is that "wrong looking" backwards-playing tape is wrong-looking because it's violating the second law of thermodynamics.
I'll spend the rest of this expanding on that, trying to justify it. After all entropy is just this thing I tried, in vain, to explain satisfactorily when I was talking about hot gases (not necessarily emitted by politicians) a few essays ago.
Now I'm saying you can see it at the billiards table.
Imagine, if you will, a chamber like the one in the GIF above. But imagine there's an adjacent, empty chamber to the right of the first chamber, the same size as the first. The gas should stay in the first chamber, yes? And the second chamber should remain empty.
Until, of course, you drill a little hole in the wall. Not too little, though…you want the gas molecules to be able to pass through.
The first molecule through the hole will travel left to right, of course, since all the molecules are on the left side of the wall. And if this is a real situation, many more will do the same because there are billions of billions (not billions and billions, Doctor Sagan; billions of billions) of molecules. And the odds are one of them will hit the opening in the wall before one of the few that have made it into the right hand chamber does so.
So the flow of these little gas molecules is left to right, predominantly, Eventually there's about an equal amount on both sides, and the flow is two way.
But you will not ever see all of the molecules on the same side of the wall, or even 60 percent of them or even 51.1 percent of them on one side, once it has had a chance to even out…or as scientists say it, to reach equilibrium.
They're all bouncing around effectively at random, but they'll split 50/50 on both sides of that wall.
You don't even need the wall. Let's say it's one big chamber. What are the odds, at any given moment, that the gas molecules will all be on the same side of the room?
Not quite zero…but so low that you can bet your life and the life of everyone else on Earth that it won't happen ever even if the room lasts a trillion trillion years.
Because this situation is exactly like the situation of tossing a billion billion coins all at the same time and having them all come up heads. Or all come up tails. Each gas molecule has a 50 percent chance of being in the left side of the room rather than the right, each coin has a 50 percent chance of coming up heads, rather than tails.
And we saw two installments back how unlikely that is for just a hundred coins…much less 1,000,000,000,000,000,000 of them (and that would be a very small sample of gas; to get up to a gram of it you'd need over ten million times as much as even that ridiculous number).
[And no, the Federal Debt hasn't gotten that high yet; it only has thirteen zeroes in it officially, fourteen unofficially. But not for lack of trying.]
Combinatorics can be used to count the different configurations of things like coins or molecules, and it's very closely related to another branch of mathematics called probability. Combinatorics, however, doesn't consider the possibility that some states might be more likely than others; it simply will tell you how many configurations there are of 48 heads and 52 tails.
Probability can tell you the likelihood of it being 48/52–that's the number of configurations like that, divided by the number of all possible configurations. But it can do a lot more; it can even adjust for situations where the coins are all weighted, say to come up heads 60 percent of the time. But that doesn't concern us here.
The point is that if things are reasonably random, the evenly spread out state is vastly more likely than the state with everything clustered together.
The single state where the billiard balls are in a triangle is MUCH less likely than the multitude of states where they're scattered around the table, and that is because there are so many more such possible states. So if you see a scattered state become a "in a nice triangle" state just watching the billiards bounce around, you've either seen something inconceivably unlikely…or you're watching a movie running backwards.
So as it turns out that there is a statistical way to think about entropy, and that is the tendency of a system full of random components to go to a state that's basically equivalent to a lot of other states. (That's my wretched phrasing, don't use it on a thermodynamics exam.) With the coins, you're going to see about 50 coins out of a hundred come up heads…and it doesn't matter which fifty it is; the important thing is the proportion of heads to tails. 50-50 or 48-52 or something like that is vastly more likely than 100 to 0 or 0-100, and so that is what you see. Likewise with gas moving around a volume.
And this is why heat flows hot to cold. A hot item has a high kinetic energy per particle; put it in contact with a colder object and some of the high-energy particles of the hot item will transfer their energy to colder particles in the other object. Over time the kinetic energy will come to be average everywhere; the cold object has warmed up, the hot item has cooled off.
There's a lot of pop-science and even some geeky corners pop culture regarding entropy. A picture of a child's messy bedroom and a quip about entropy, for instance. Or calling it a progression from "order" to "disorder." Well, that's an evaluation, that 100-0 head/tails on a bunch of coins is "orderly" where half and half is not–by whose standards? I don't call it a progression from order to disorder.
And of course entropy can be reversed, locally, but only by paying for it with more entropy elsewhere. The kid can clean his room, or you can painstakingly turn all the coins so they show heads. But these activities take energy and total entropy of you (or the kid) and the coins (or the clutter) still goes up, because you (or the kid) burned energy tidying up.
There's a famous thought experiment called "Maxwell's Demon." And yes, it's the James Clerk Maxwell I wrote about at length when talking about electromagnetism; he also did good work in thermodynamics–good but it pales by comparison with his EM work.
He said, imagine a device that sits near the opening between the two chambers in the example above. If a fast molecule approaches, it's shunted (or bounced back) into the left chamber. A slow one is bounced back (or shunted) into the right hand chamber.
With this device, you'd eventually see the left chamber heat up (because it has all the high kinetic energy molecules) and the right one cool down.
This looks like a way to reverse entropy, and that device is usually called "Maxwell's Demon."
However, it turns out that the demon would require energy to function, and so it'd be just as much of an energy hog as an air conditioner. And it's basically doing the same thing, except that the AC unit moves the energy out, not the particles with the energy.
This becomes plain when you treat the subject with mathematical rigor…which I don't have time to do, so you guys all lucked out.
But now you hopefully understand the physical basis of this slippery thing called "entropy."
It's this sort of thought process that became known as "statistical mechanics" during the late 19th century, and Max Planck, when he began the quantum revolution, did a similar sort of thing and he, like many others, was deeply suspicious of it…but it worked. So he had to accept it.
And that brings this "T" miniseries to a close.
Obligatory PSAs and Reminders
China is Lower than Whale Shit
Remember Hong Kong!!!
中国是个混蛋 !!!
Zhōngguò shì gè hùndàn !!!
China is asshoe !!!
China is in the White House
Since Wednesday, January 20 at Noon EST, the bought-and-paid for His Fraudulency Joseph Biden has been in the White House. It's as good as having China in the Oval Office.
Joe Biden is Asshoe
China is in the White House, because Joe Biden is in the White House, and Joe Biden is identically equal to China. China is Asshoe. Therefore, Joe Biden is Asshoe.
But of course the much more important thing to realize:
Joe Biden Didn't Win
乔*拜登没赢 !!!
Qiáo Bài dēng méi yíng !!!
Joe Biden didn't win !!!