Continuing with our newly created theme I need to bring things forward in a more intense way because the primary subject of today's thread would undoubtedly want it that way. She is remembered for the intensity of her stare. It was a glare that could cause knees to buckle of grown women and men.
In my lifetime role of being Forest Gump's imaginary younger brother, Goober Gump, I am compelled to follow the previous story of The King with one about The Warrior Queen. Not all of my posts will be as long as this one. Well, maybe only a couple more. There is a lot to unpack and to make this a two parter would be difficult since it is all interwoven.
First, I need to describe the location of today's as well as some of my future stories. I will not spend as much time on it in the future. I realize the story could dox us somewhat, and that is OK because the story is important and I care about my fellow Q-Treeps. We live in a generally rural, unincorporated bedroom community burb in rural east TN at the base of the Great Smoky Mountains. Even now, most folks living here would have difficulty understanding that our community has grown into the largest population center of this rapidly growing county, except when they go to vote. The county's public servants and candidates all show up that day to shake hands and hand out cards, then leave after the election concludes and proceed to forget we exist. Fortunately, the state DOT has awoken to our needs in recent years, making major road improvements with more in the works. Public utilities are well thought out, planned and addressed. If at one time we desired to stay rural, we no longer have those delusions.
We chose to move here because it was halfway between our two jobs like many other married couples in the area. There are relatively low property tax and insurance rates with a good quality of life in general. It's easy to get to know your neighbor, make lifelong friends, and look out for one another such that the limited number of county deputies available usually do not have too much to do. Especially considering how pro-second amendment Tennessee is. After we were married, we moved into our new home and began attending churches to find that home as well. We settled on a growing 250 member UMC church congregation that had started up 4-5 years before. We had no idea who many of the members were yet. We just agreed with the denomination's doctrine back in those days (80s), enjoyed the worship services and small groups, liked the pastor and felt accepted. I mean it's rural hillbilly land, not much to see here, right? Just average folks.
Well, not exactly. Turns out there were several people in the congregation that were living in our community who had done things, but did not want a lot of attention so they could enjoy a normal life at home. One such person turned out to be the matriarch of women's collegiate basketball.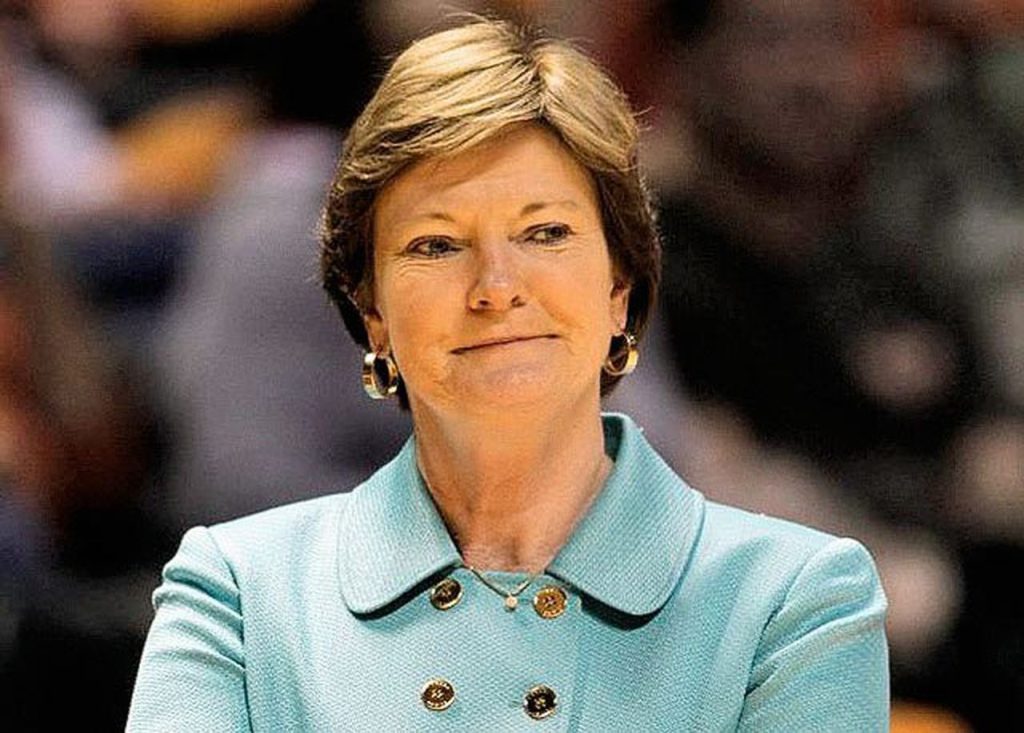 Yep, HOF Lady Vol Head Coach Pat Summitt lived here for a couple of decades and was a member of our church family along with her now ex-husband, RB, and their son, Tyler. The Warrior Queen on the court who made women's basketball into the international game it became was our friend along with her husband and child for many years. So within this small, rural UMC congregation and community back in my day, I will start with her and only speak about what I believe the subjects would approve. Much of about their lives has been openly publicized, however, I will add some information that I doubt they would mind me sharing.
I will not spend much time rehashing the public, basketball life of Pat as there are plenty of sources for learning more if you were not already a fan. You can go to Wiki to see a snapshot of an unbelievable body of work. On the job she was fierce and demanding. She expected her players to be as well. No betas permitted. That meant you had to be in the best physical and mental condition of your life. You had to handle your academics well. You did not get in trouble off the court. She made it clear that to be a LV was an honor and privilege that carried with it responsibilities to each other and the world. If you messed up, you knew there would be quality basketball players nationwide eager to take your spot. As a result you did what you were supposed to do.
Her players worshiped her and would run through brick walls if she asked. She had their backs and they knew it. Nobody messed with one of her girls. She promoted the game selflessly worldwide and with Title IX in force, many other schools jumped in and developed quality programs. As most know, Gene Auriemma and the UConn Lady Huskies became the LV's arch rival. This led to even more publicity, televised games and growth. Attendance for home LV games was spectacular. Sell outs in the 20 K seat arena were common.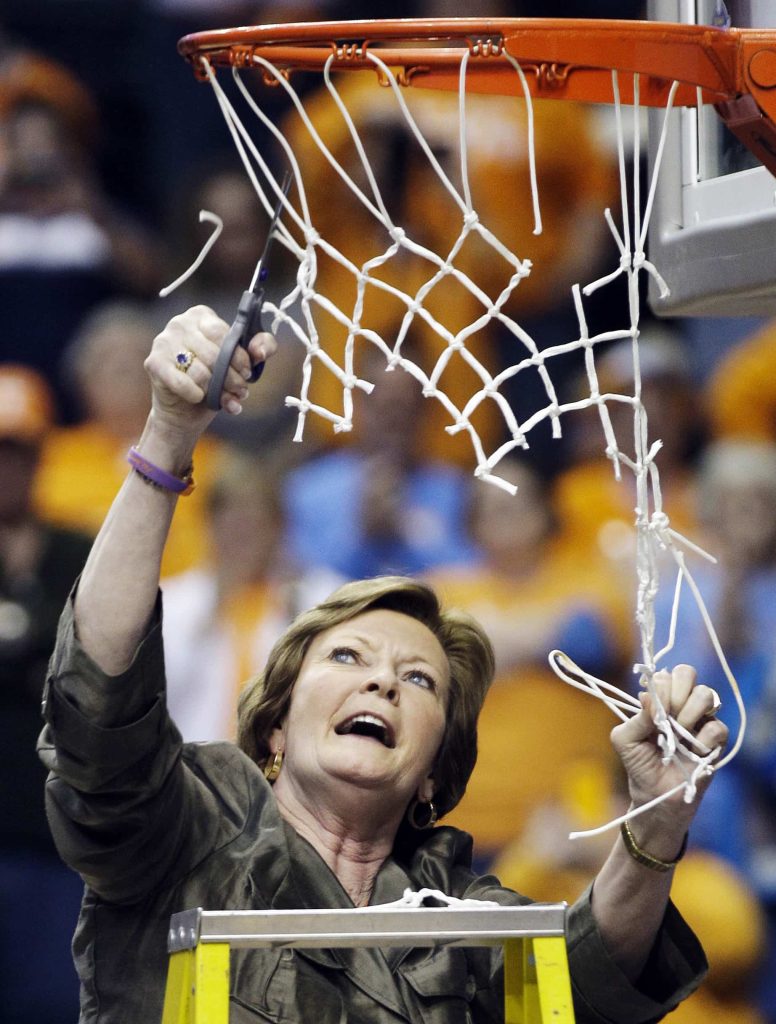 None of that portrayed the personal sides of Pat that we locals knew. During the 80s into the mid-90s she was one of us when away from the court even if the demands on her time made it so she could not be around as often. She was friendly, a lot of fun, considerate, giving and caring. Friends in need of work found jobs at UT with her assistance. Area kids in poor living conditions received assistance. If your community organization or charity needed a speaker, she was there. She just went about helping and serving others. She wanted things done right, but was not judgmental of others at all and was very accepting. I still remember the glow on her face when she told some of us at church that she was pregnant with Tyler as well as how proud and happy RB was. Her OB/GYN was a client of mine, so we had common connections there as well.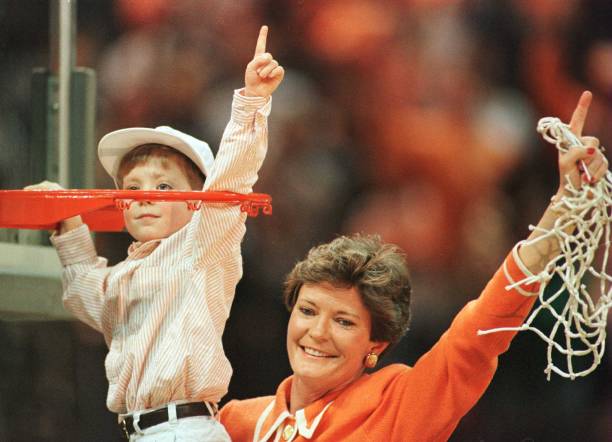 Many of you may have previously remembered the scene of the photo I posted above of Tyler as a young boy cutting down the nets with her after yet another championship was celebrated. Proud momma bear moment right there. The LV players adopted Tyler as their kid brother. Through the years our daughter got to know Tyler from his participation in our church youth group activities. RB was also always there for the program and team, attending all of their games and doing his part while offering support.
Pat's success and fame spread such that the coaching contracts grew in compensation to the annual seven figures range, a first in women's basketball history. But so did the expectations, demands and pressures. As the SEC and national championships continued to roll in with a program she literally built from ground up, she became an international icon. Book deals, print media stories, major awards and television appearances happened. As her time constraints grew, the couple saw a real need for her to be closer to the campus facilities and airport. So, they decided to build a home in a neighboring county overlooking the lake with a style that would be good for entertaining, especially since most of the players spent time in their home frequently. She was not just a coach, she was also another mom to her ladies and they would stop by to discuss life as well as have fun get-togethers that usually involved cooking in the kitchen. Their home in our community was much too small and harder to access for those purposes. As the new home was completed, that meant saying farewell to their regular involvement in our church family and community as they would be joining a new church home closer to their residence. It was a bittersweet time; proud of her success while understanding the reasons, but sorrowful for no longer being able to visit with them as much. RB pledged that he and his family's bank would always meet the needs of our rapidly growing local church in the future even after they moved. It was a promise he faithfully kept.
With the move, RB's commute to his senior officer role in their family controlled bank became much longer and in the opposite geographical direction from Pat. He progressed in his career to being named President and CEO. The banking community knew RB and his family well, including his father who was the Chairman of the bank (more on him later), as he volunteered to work in state banking association roles. Quality family time became a much more rare event in their household. As we know, marital relationships in particular are hit hard when there is not enough quality time spent physically together, when times are hectic and everybody is going different directions much of the time. At one point, after about 25 years of marriage, serious mistakes were made. Numerous media reports exist if you want to know more and I will leave it at that. Two years later their divorce was final. Tyler was about 17 years old and already living with Pat when it was finalized. In my opinion the couple had drifted too far apart and the marriage simply could not be fixed. The year was 2008. I remember it well because it was the year the financial debt markets collapse on Wall Street began. Banking and Wall Street were in a free fall. RB's occupational stress would have been high as would the stress from Pat's high profile as it was the year of her last national championship.
Many of us who knew Pat and her personality reasonably well, began to see occasional, subtle changes. We attributed it to the divorce, which hardens many people. She was still riding high as a coach and promoter of the game, but her coaching staff began turning over as long time assistants left. Some recruiting wars for top national talent were lost, which was unusual. She was still traveling the world seemingly tirelessly. We all just accepted that her time was limited and that we were friends for a season of life. We still loved her and wished her great success and happiness while faithfully going to games and supporting the program, especially after what she shouldered during the divorce. However, during that very same year of 2008 another thing happened that was very concerning. She and Geno of UConn had a very hateful, public spat over recruiting violations committed by Geno in their co-pursuit of a much heralded recruit, Maya Moore. The alleged violations were secondary, not the kind that would cause a serious UConn program probation. Yet, Pat went off the deep end over it. What folks may not have realized is that there had been numerous public barbs thrown at Pat by Geno along with some other questionable recruiting actions for a decade before the Moore issue to try to get under her skin and throw her off her game. He succeeded, just not in the way he envisioned. Pat had enough of it and cancelled the most visible and important series in women's basketball that the entire sports world loved to watch. That angered Geno immensely and the bad blood spilled out publicly into the media who fanned the flames of the feud. Reconciliation was no longer in the cards. Pat later offered an explanation of her position and actions in a book that was released in early 2014. It was at that point in 2008 and beyond that we who followed the LV's and sport began to see a slow decline in our perception of Pat's game day coaching. Some of her decisions and choices seemed really odd or inconsistent in our opinions. We all talked about it and wondered if the staff turnover may have contributed.
A couple of years after the divorce and the blow up with Geno, I had the occasion to meet with RB in his bank office over a local church business matter. Both of us with our banking backgrounds talked shop and discussed the huge impact the market collapse had on community banks like his and others. There was no shame with this as the industry in general had been in extreme trouble. During this visit, Pat called. She exchanged greetings with me via RB on the phone and proceeded to talk with RB about Tyler's activities and her own issues at work. Their relationship had healed and they remained amicable. RB hung up the phone I could tell something was troubling him. He confirmed what many of us had observed, that Pat had grown really harsh with people, even more so with her players and coaches. She was not sleeping well. His deep concern for the mother of his child and former wife was obvious. He asked my opinion and for prayer. I offered no opinion as I had not heard directly from Pat, but told him prayers for him, her and the situation were always being offered by us and their former church family. With our business concluded, we parted, spoke a time or two on the phone and went about our lives. However, it did prod me to work through things I had observed and heard for several years. I did not tell him at the time that I had seen Pat and her Athletic Director in the parking lot of a popular restaurant near campus a week before my visit with him. Her AD spoke to me as we had met a time or two. However, Pat looked right through me and kept walking, no recognition at all after around 25 years of casually knowing each other on friendly terms even after the divorce. It had not been that long since she and the team had signed a poster for us commemorating going over 1000 wins in her career. I passed it off as her being distracted and busy. It bothered me though, it was not like Pat to do that. After the discussions with RB a week later, well, it all seemed to add up to something different.
What set off warning bells in my head was related to experiences my wife and I had being the primary care givers along with the assisted living center staff for her mother who battled dementia. She had been diagnosed with it some ten years before this time and was in the final stages of her body shutting down. Our sweet Momma, had gone through a stage of harshness even to the point of lashing out physically that was the exact opposite from how she lived her life before the disease. We were very aware of dementia patients in Momma's assisted living center who were in their 40s and 50s. Before her public announcement we would discuss Pat when we saw something out of character on game days – a specific look on her face, a fit of rage, even an an occasional blank stare while sitting. They were all things we had observed in Momma's journey. We soon learned the awful reality of Pat's diagnosis as she announced to the world in August of 2011 she had been diagnosed by the Mayo Clinic with early-onset Dementia, Alzheimers Type. Our worst fears for her had been realized.
Our precious Momma died 2.5 months after Pat's announcement. It was a blessing to see her body finally relax and know that she was in the presence of the Lord she loved so much all of her life. Nearly all of our local family were by her bedside when she passed on. It brought great closure. She did not know any of us for a couple of years prior to it happening except for brief flashes. However, she somehow sensed we were all connected to her.
We knew what awaited Pat, her family and the university on her journey as the disease is no respecter of persons. In typical Pat fashion she informed the world that she was going to battle it and there would "be no pity parties." And there wasn't. She kept coaching for as long as she could until she needed to take an emeritus type role in the program as an ambassador for the LVs. The Pat Summitt Foundation was formed to take on the evils of Alzheimers. Many celebrities joined in to promote and raise funds. The SEC and NCAA sponsored games dedicated to the cause to raise awareness and funds which continue to this day. Even Geno and Pat reconciled a few years later with Geno later writing a big check or two to her foundation. The foundation began its operations including the diagnosis and counseling of patients and families in its offices at the University of Tennessee Medical Center.
Pat died about 5 years after her announcement in 2016 at 64 years of age, which is a normal lifespan after diagnosis. Her televised memorial was inspiring and much support was given to her family as her mother was still alive and in attendance. Much of the world grieved with the passing of this legendary coach and person. Yet, many have benefitted from the foundation she started and its on-going work. One such person was the neighbor friend I discussed on here recently who has now happily adjusted to life in the memory care unit of a local assisted living center. Fortunately, she no longer remembers her husband who passed from COVID caused heart failure after being jabbed and boosted. She and her children were helped greatly by the foundation as they struggled to understand the disease more and deal with the effects of her dementia.
Tyler's life led him into collegiate coaching that eventually led to being the women's head coach of Louisiana Tech as a young married man. Unfortunately, Tyler became embroiled in a scandal of his own making there that was highly publicized. Per media reports he now lives in Ohio, having married a player on the Tech team he coached with whom he had had relations. They live near her family in Fairborn where she is the high school basketball coach for the girls' team. They have a young son. Tyler states he never plans to coach again. He does not have to work as he is the designee of Pat's state pension that pays him $173,000 annually for life. He takes care of their son and home, while assisting with the foundation and has thankfully returned to the faith of his youth. His mom would approve of his faith walk, however, in my opinion I am very sure she would want his tail out there in the workforce doing something productive. As she said, no pity parties. Hopefully, he will do so at some point once his spirit has healed.
RB still lives locally. His family's bank needed to take on outside investors during the tough years to remain open and his role was reduced as the price for the capital injection. The bank was slowly rebuilt financially over time and recently sold. He remains active in local community and charity organizations. We still hold much respect for him.
I promised more about RB's father. He was a very good banker, but he was widely known to be an overly stern man to his employees at times. An example involves my wife. Before we met and not long after graduating from a local business college, my wife worked for him and the bank for five years. During that time she trained a young RB, who had left a job as a bank examiner after graduating from UT to return to the family business. One day RB's dad refused to allow my wife time off for a pressing family medical matter. Back in that day there were no federal laws to permit what is required today. So much to RB's dismay, she had enough and walked across the street. She was hired on the spot by their primary bank competitor who had begged her to work for them for years. She offered to work a notice and RB's dad refused the offer. It was a really good move for my wife's career and she progressed through the years to Loan Officer and VP. RB never held a grudge and they have remained friends all of their lives. Along the way her new employer sent her to graduate banking schools, one of which was in Memphis. At that time she was going through a failed marriage and had filed for divorce. At that same school was this guy, who had returned to a banking career after working in utilities management roles for a half dozen years in Arkansas. I was also going through a failed marriage and had filed for divorce. I was a last minute addition to the school having been placed on a waiting list. Two enrollees withdrew for personal reasons the week before its start and I was admitted.
So, my wife and I have her ex-employer, RB's dad, and two bankers with other things more important to do in their lives, for us having met each other 38 years ago. Which all led to me taking a banking officer position in a very familiar east TN area near my family's origins, dating my future wife, starting our lives together in this community, joining a church we liked that led to getting to know Pat Summitt, with Pat and my wife having children at the same late 30's age a few years apart, which led to me being able to tell this story to you. The Lord sure works in mysterious ways.
Things change and life moves on. It pays to pay attention to everything that happens during the journey. You may not understand it right away, but clarity will come at some point, especially if you trust in the Lord. You now know more about The Warrior Queen who was a legend of a human being. I believe some solid life lessons are contained in this story and I hope they provide some benefit to you. So let's hear your thoughts and stories.
For you, Pat. We miss you.