The Twitter Files
The big deal right now is the Twitter Files, which from what I've seen, seem on the verge of confirming what we already strongly suspected. I've only seen 36 parts of the thread; the picture being painted so far is some guy near (but not at) the top making a bad decision and no one in the company having the guts to challenge it. (Note that there is, so far, no real evidence of malicious intent, but plenty of evidence that a decision might have been made due to political bias–i.e., because the decision maker was a leftist, it might not even have occurred to him how badly he was favoring his own side. Not all biased acts are taken with the realization they are biased; that's why they're called "biases.") We don't know yet who, or what organization, specifically requested the Hunter Biden stuff be suppressed.
There's more to come.
The biggest part of this is that enough of the Left, and normies, are on Twitter that there's a decent chance millions of people who have no idea Hunter Biden had anything to do with laptops, will see this.
As Drudge used to put it: developing…
RINOs an Endangered Species?
If Only!
According to Wikipoo, et. al., the Northern White Rhinoceros (Ceratotherium simum cottoni) is a critically endangered species. Apparently two females live on a wildlife preserve in Sudan, and no males are known to be alive. So basically, this species is dead as soon as the females die of old age. Presently they are watched over by armed guards 24/7.
Biologists have been trying to cross them with the other subspecies, Southern White Rhinoceroses (Rhinoceri?) without success; and some genetic analyses suggest that perhaps they aren't two subspecies at all, but two distinct species, which would make the whole project a lot more difficult.
I should hope if the American RINO (Parasitus rectum pseudoconservativum) is ever this endangered, there will be heroic efforts not to save the species, but rather to push the remainder off a cliff. Onto punji sticks. With feces smeared on them. Failing that a good bath in red fuming nitric acid will do.
But I'm not done ranting about RINOs.
The RINOs (if they are capable of any introspection whatsoever) probably wonder why they constantly have to deal with "populist" eruptions like the Trump-led MAGA movement. That would be because the so-called populists stand for absolutely nothing except for going along to get along. That allows the Left to drive the culture and politics.
Given the results of our most recent elections, the Left will now push harder, and the RINOs will now turn even squishier than they were before.
I well remember 1989-1990 in my state when the RINO establishment started preaching the message that a conservative simply couldn't win in Colorado. Never mind the fact that Reagan had won the state TWICE (in 1984 bringing in a veto-proof state house and senate with him) and GHWB had won after (falsely!) assuring everyone that a vote for him was a vote for Reagan's third term.
This is how the RINOs function. They push, push, push the line that only a "moderate" can get elected. Stomp them when they pull that shit. Tell everyone in ear shot that that's exactly what the Left wants you to think, and oh-by-the-way-Mister-RINO if you're in this party selling the same message as the Left…well, whythefuckexactly are you in this party, you lying piece of rancid weasel shit?
Justice
It says "Justice" on the picture.
And I'm sure someone will post the standard joke about what the fish thinks about the situation.
But what is it?
Here's a take, from a different context: It's about how you do justice, not the justice that must be done to our massively corrupt government and media. You must properly identify the nature of a person, before you can do him justice.
Ayn Rand, On Justice (speaking through her character John Galt, in Atlas Shrugged):
Justice is the recognition of the fact that you cannot fake the character of men as you cannot fake the character of nature, that you must judge all men as conscientiously as you judge inanimate objects, with the same respect for truth, with the same incorruptible vision, by as pure and as rational a process of identification—that every man must be judged for what he is and treated accordingly, that just as you do not pay a higher price for a rusty chunk of scrap than for a piece of shining metal, so you do not value a rotter above a hero—that your moral appraisal is the coin paying men for their virtues or vices, and this payment demands of you as scrupulous an honor as you bring to financial transactions—that to withhold your contempt from men's vices is an act of moral counterfeiting, and to withhold your admiration from their virtues is an act of moral embezzlement—that to place any other concern higher than justice is to devaluate your moral currency and defraud the good in favor of the evil, since only the good can lose by a default of justice and only the evil can profit—and that the bottom of the pit at the end of that road, the act of moral bankruptcy, is to punish men for their virtues and reward them for their vices, that that is the collapse to full depravity, the Black Mass of the worship of death, the dedication of your consciousness to the destruction of existence.
Ayn Rand identified seven virtues, chief among them rationality. The other six, including justice, she considered subsidiary because they are essentially different aspects and applications of rationality.
—Ayn Rand Lexicon (aynrandlexicon.com)
Justice Must Be Done.
Trump, it is supposed, had some documents.
Biden and company stole the country.
I'm sure enough of this that I put my money where my mouth is.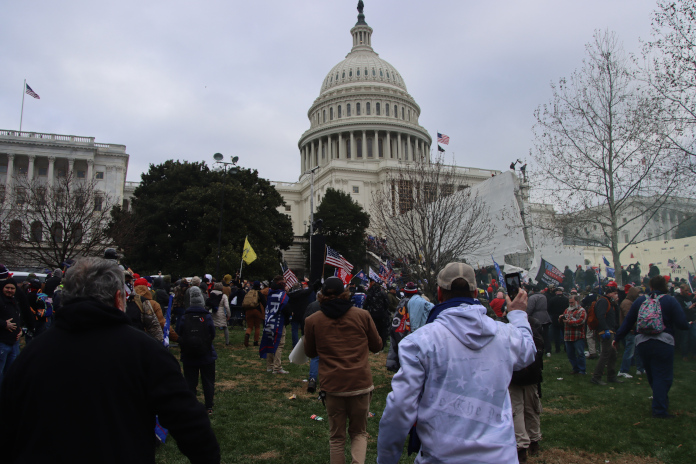 The prior election must be acknowledged as fraudulent, and steps must be taken to prosecute the fraudsters and restore integrity to the system. (This doesn't necessarily include deposing Joe and Hoe and putting Trump where he belongs, but it would certainly be a lot easier to fix our broken electoral system with the right people in charge.)
Nothing else matters at this point. Talking about trying again in 2022 or 2024 is pointless otherwise. Which is not to say one must never talk about this, but rather that one must account for this in ones planning; if fixing the fraud in the system is not part of the plan, you have no plan.
This will necessarily be piecemeal, state by state, which is why I am encouraged by those states working to change their laws to alleviate the fraud both via computer and via bogus voters. If enough states do that we might end up with a working majority in Congress and that would be something Trump never really had.
Lawyer Appeasement Section
OK now for the fine print.
This is the WQTH Daily Thread. You know the drill. There's no Poltical correctness, but civility is a requirement. There are Important Guidelines, here, with an addendum on 20191110.
We have a new board – called The U Tree – where people can take each other to the woodshed without fear of censorship or moderation.
And remember Wheatie's Rules:
1. No food fights
2. No running with scissors.
3. If you bring snacks, bring enough for everyone.
4. Zeroth rule of gun safety: Don't let the government get your guns.
5. Rule one of gun safety: The gun is always loaded.
5a. If you actually want the gun to be loaded, like because you're checking out a bump in the night, then it's empty.
6. Rule two of gun safety: Never point the gun at anything you're not willing to destroy.
7. Rule three: Keep your finger off the trigger until ready to fire.
8. Rule the fourth: Be sure of your target and what is behind it.
(Hmm a few extras seem to have crept in.)
Spot Prices
Last week:
Gold $1,752.20
Silver $21.05
Platinum $988.00
Palladium $2,020.00
Rhodium $14,150.00
This week, 3 PM MT on Friday, markets closed for the weekend
Gold $1,798.30
Silver $23.19
Platinum $1,023.00
Palladium $1,974.00
Rhodium $14,100.00
Rhodium going nowhere, palladium actually down. But remember those metals are used industrially. Them not going up while everything else is, should worry people. Those people, that is, who haven't already figured out our economy is being fed down the toilet deliberately.
Percentage wise, silver is the big winner, by far. (That's OK, I've got lots of it.)
Platinum has broken a thousand bucks, and gold is close to 1800.00. Indeed it closed above that mark on Thursday.
Apropos of Nothing
Apparently the US Soccer Team got through the first round of the World Cup. This is where the 32 teams are divided into eight groups of four, and each team plays all of the other teams in the group (total, six games). 3 points awarded for a win, 1 for a draw, zero for a loss. The top two teams in each group advance to a more conventional "bracket" of sixteen teams–you lose, you're done. The United States was the second team in Group B, so it gets to play the first team in Group A. (As near as I can tell the groups are set up by random draw with some restrictions to try to make the members not all from the same multinational league.)
The first of those games is tomorrow at 8AM Mountain Time, and it's the one between the United States and the Netherlands.
Also Apropos of Nothing
https://www.usatoday.com/story/news/nation/2022/05/08/treasure-hunter-gold-shipwreck/9663123002/?gnt-cfr=1
The previous is a USA Today story (yeah, I know), but it's regarding the team that found the SS Central America. It's behind a subscription wall but it looks like the video will play even without one.
The Central America sank in 1857. It was one of the vessels that carried people from the East Coast to Panama, where the passengers could then cross the skinny part of North America and take another ship to California. Or vice versa. The transcontinental railroad was still twelve years in the future, but the Gold Rush had been going on for eight years.
People went in both directions. Gold came west-to-east. The Central America encountered a hurricane in September 1857 and went down in well over a thousand feet of water. Of her 578 passengers, 425 perished. In terms of lives lost, this was one of the largest US disasters up to that point.
The ship was under the command of Commander William Lewis Herndon, veteran of the Mexican-American War and explorer of the Amazon Valley. He went down with his ship. There is a statue of him at Annapolis; I recall hearing that was the only peacetime hero so honored. And he was a national hero; the last national hero before the Civil War. (His daughter later married Chester Alan Arthur–yes, that Chester Alan Arthur. And, Herndon, Virginia, is named for him.
There were 13,600 kilograms (!) of gold on board–13.6 metric tons. That was about 8 million dollars worth back then, and roughly 750 million dollars today. (It should be noted that this is well under a cubic yard of gold.)
The loss of the gold actually triggered an economic crisis. All money back then, even highly leveraged/fractional reserve bank notes, was ultimately based on gold; a bunch of money had literally disappeared.
But in 1988 Thompson's group sent down an ROV (basically a drone), and over the next couple of decades a lot of that gold has been recovered, as well as artifacts, such as photographs, clothing, guns, brass items, and on and on. Much of that will be auctioned off this weekend (according to the story).
Just for instance, there is this Daguerrotype found in the wreck, nicknamed the Mona Lisa of the Depths.
I've actually seen this picture in person since it and many other artifacts was exhibited at the last American Numismatic Association convention. I got to talk to Bob Evans, who is the chief scientist of the team that recovered everything; and he is the man in the video in the linked story (where I saw it earlier today, it was not behind a paywall).
Much of the recovered gold was in bricks–several hundred ounces, much larger than the standard 400 oz bars you see in the movies–but much had been minted into coins in San Francisco.
US gold coinage issued before 1866 does not have the motto "In God We Trust." (And the $2 1/2 quarter eagle never did.) Otherwise, the Liberty Head designs used in 1857 were used from 1840 or so through 1907 (a remarkably long run for a design in those days). But if you're on a middle class budget with some disposable income, and you collect coins, you can't collect gold by date. But you might want one gold coin with the motto and one without the motto. The problem is the $5, $10 and $20 without the motto are scare at best, and very challenging to find in uncirculated condition. It's not that they didn't make many, but that they got used. People weren't about to set ten or twenty whole dollars aside back then, that was real money. If they actually got their hands on one of these, they ended up using it.
Except for the 1857-S double eagle. Those are relatively available in uncirculated condition, and that's because hundreds of them were "saved" at the bottom of the ocean, in alkaline water.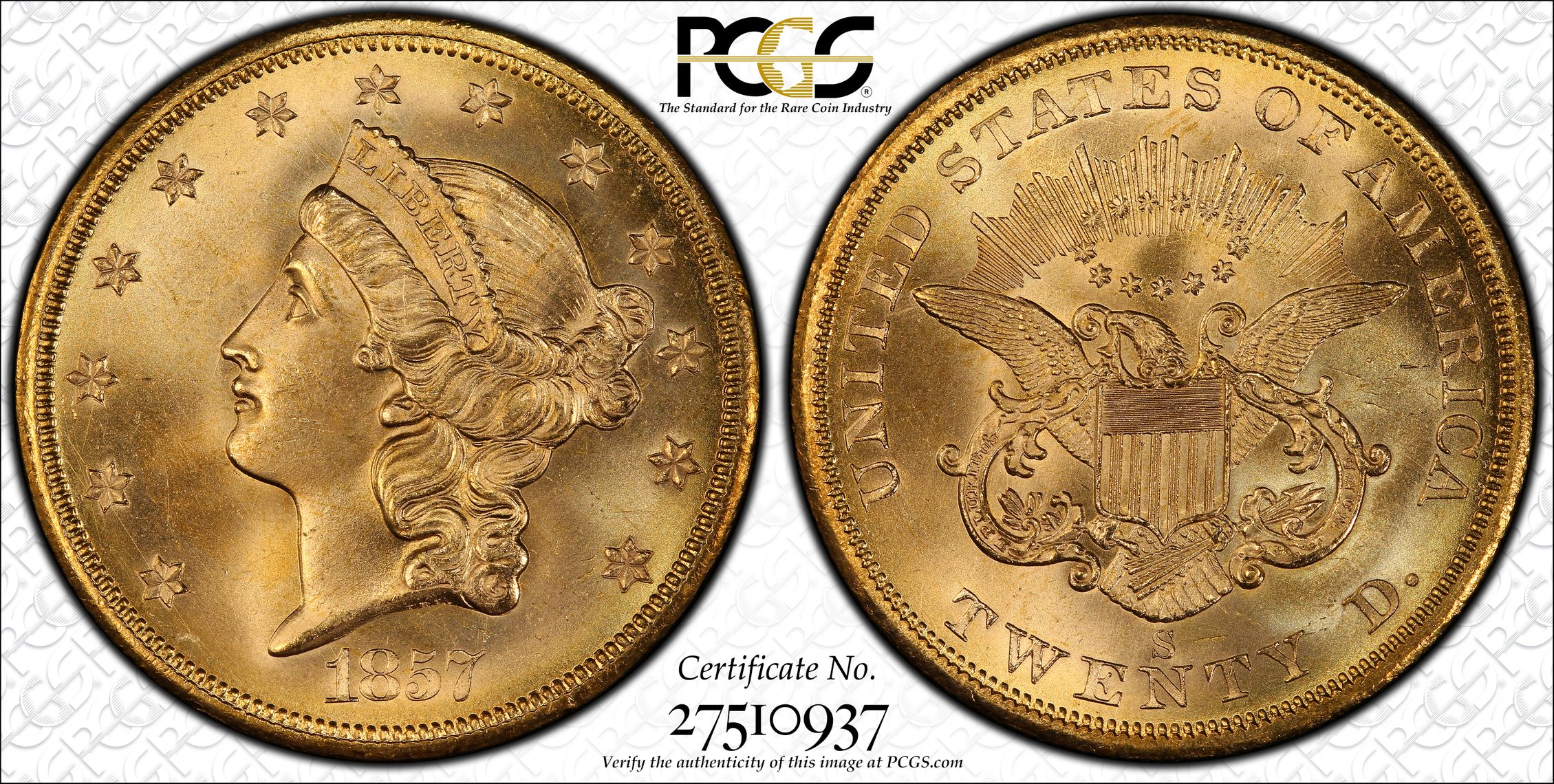 The above image is a coin graded MS-66 (which is a pretty high grade on the 1-70 scale used for coins) and is worth roughly $30,000. Many of the other dates simply do not exist in this grade, so as I said, relatively available. (The best ones are in MS67+.) I do own one of these, but in a lesser grade that was quite a bit less expensive (however the absolute lowest a double eagle, even a dog-butt-common one in low grade, will cost today is about $2K mostly on account of the gold content).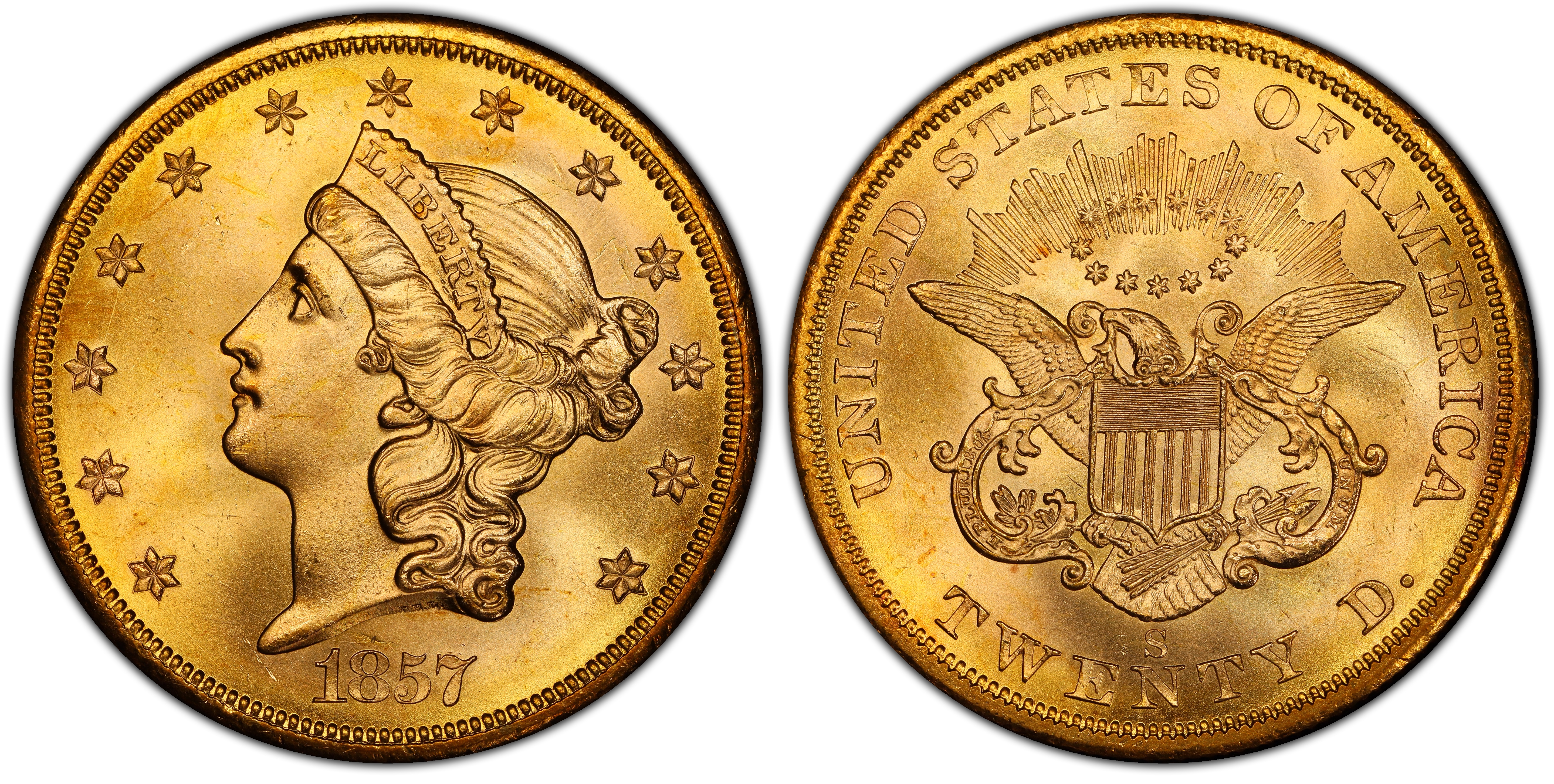 It isn't quite true that gold coins don't react; here's another one of a different color (in MS67). I find this color more appealing, to be honest.
Why Mars Sucks
Of all of the other planets in the Solar System, Mars is by far the most Earthlike. Yet it's dry, has a thin atmosphere (0.6% of our sea-level air pressure) almost entirely made of carbon dioxide, and frigid, mostly colder than Antarctica, averaging -80 F or -60 C. Also, the surface gets blasted with solar radiation…not at a huge rate, but you wouldn't want to deal with it long term.
Not the best real estate, but with a lot of equipment, we could possibly make a go of it, growing food in pressurized habitats. Oxygen is available, carbon is available, hydrogen is available too if you dig; there appears to be plenty of buried ice there. Contrast with the Moon, where ice can be found in some few places, but which is otherwise just a big freaking rock. Rocks contain plenty of oxygen (though it would take a lot of energy to extract it), but that's about it for native resources for sustaining life.
Yes, Mars could be settled at great effort and at great expense, and the colonists could never, ever go outside without a pressure suit, and even then they probably won't want to spend all of their time out there. Antarctica is benign by comparison: you won't get radiation sickness and you can breathe. Even the Himalayas are vastly better than Mars (and people don't live high up in them, but down in the relatively lower elevations well under 20,000 feet).
Yet we know Mars once had liquid surface water…which implies a much more congenial temperature and an atmosphere which a much higher pressure. Depending on what it was made of (probably not oxygen!), you might have been able to live there with nothing more than an oxygen mask.
If it was so much more livable then, why does it suck so much now?
The atmosphere went away.
The old atmosphere was thick enough to keep the planet warm. Yes, that means "greenhouse effect." (It's real; Earth would be a frozen iceball without it.) The current atmosphere isn't thick enough to keep water from boiling away, but then the water is likely to freeze first because it's so dang cold. But then it will sublimate–turning directly from solid to water vapor.
The atmosphere also does little to stop cosmic rays and solar particles from hitting the surface, too. Much of that crap is blocked by our atmosphere.
Well, okay…but why, then, did the atmosphere go away? We know there used to be one, why isn't it there any more?
That's a combination of Mars' low surface gravity and its lack of a magnetic field.
The surface gravity means that atmospheric molecules, which are zipping around at varying speeds (but with an average speed directly related to the mass of the molecules and the temperature), will sometimes be travelling faster than Mars' escape velocity; if that happens to a molecule in the upper reaches of the atmosphere, it might leave Mars for good. Since the average speed depends on temperature it's only a matter of time before some molecule in the upper atmosphere, rebounding from a collision with another one, busts the escape velocity and goes away. Or think of it this way: Mars is a gravity trap for gas molecules, but it leaks because the gravity isn't strong enough.
(Even here on Earth, which much more surface gravity, we lose some water this way–it's a lighter molecule than oxygen or carbon dioxide, thus will travel faster on average at the same temperature.)
What's left is the heaviest atmospheric molecule of them all…wait for it…carbon dioxide.
I said it was partially due to the surface gravity; the other factor is the solar wind. This is a constant stream of charged particles blasting out of the Sun; it's part of the radiation load people on the surface of Mars (or the Moon) would have to endure. There are also cosmic rays, very high-energy particles that were blasted out of supernovae or…well I don't think they know everything yet about where they come from. But: same story, they hit the Martian surface.
They would hit us here on earth, too, but with the exception of some cosmic rays, they're almost entirely blocked.
On Mars this radiation isn't blocked, and eventually, over tens or even hundreds of millions of years, strips the atmosphere away, hitting atmospheric molecules and giving them a big boost in speed, accelerating the process I just described.
This shouldn't be confused with coronal mass ejections. The solar wind is always there; a CME can be thought of as a gust…a big gust.
What blocks the solar wind here, and why isn't it happening at Mars?
What blocks it here is Earth's magnetic field. The charged particles get deflected as they move through the magnetic field.
Mars has no magnetic field. Your compass would be useless for direction-finding. So without a magnetic field, Mars loses its atmosphere…and sucks.
But we're going to keep digging. Why does Earth have a magnetic field? Why doesn't Mars have one?
The Earth's magnetic field is generated by our liquid iron outer core; eddy currents in all that molten iron generate a magnetic field.
Mars doesn't have a liquid iron core.
Why not? Because it's colder inside, and Mars is colder inside because it cooled off more rapidly than Earth after it was formed. And Mars cooled off more rapidly for one simple reason: It's considerably smaller than Earth.
So, in the end, the reason Mars sucks is, it's too small.
Obligatory PSAs and Reminders
China is Lower than Whale Shit
To conclude: My standard Public Service Announcement. We don't want to forget this!!!
Remember Hong Kong!!!
中国是个混蛋 !!!
Zhōngguò shì gè hùndàn !!!
China is asshoe !!!
China is in the White House
Since Wednesday, January 20 at Noon EST, the bought-and-paid for Joseph Biden has been in the White House. It's as good as having China in the Oval Office.
Joe Biden is Asshoe
China is in the White House, because Joe Biden is in the White House, and Joe Biden is identically equal to China. China is Asshoe. Therefore, Joe Biden is Asshoe.
But of course the much more important thing to realize:
Joe Biden Didn't Win
乔*拜登没赢 !!!
Qiáo Bài dēng méi yíng !!!
Joe Biden didn't win !!!