You can only push Americans so far before they narrow their eyes, set their jaw, start to bristle, and fight back. Farmers are among the most stout and determined of all Americans. China picked the wrong fight, attacking American farmers to purposefully diminish Trump's support…. hoping for a weaker and more accomodating President in the USA….. like our past Presidents. China made a grave miscalculation. The farmers are not moving. In fact, they've stiffened their resolve.
See this guy below, that's my Daddy's Daddy's Daddy, Great Grandpa D. In his hands is IOWA Corn. He came from Belgium at age 3, and worked for John Deere for 54yrs. I have his 35yr pin and his 50yr pin on my charm bracelet. China wouldn't have stood a chance with men like Grandpa D.


Apparently, the farmers of today feel the same way. The Purdue Center for Commercial Agriculture has finished their latest survey of Farmer Sentiment. ( Link )
Keep in mind, this is a PURDUE survey, not some survey from an ivory tower think tank with a predetermined outcome. Purdue is the "Harvard" for pragmatic Mid-Westerners. Daddy went to Purdue (so it must be true….).
Farmer confidence in the AG economy is SOARING. You wouldn't know it if you watched the MSM, but the numbers don't lie. Overwhelmingly, farmers believe the trade skirmish with China will be worked out in a way which benefits the USA. In fact, in the month of July, even after devastating spring floods, the farmer expectations index went to a measure of 159, a two year high Link , which is 18 points HIGHER than the month of June Link
Why are they so positive? It's President Donald Trump. They turned the vote in Iowa for him. They know he's not backing down when it comes to China. Trump's popularity is actually INCREASING with farmers.
A Farm Journal Pulse survey conducted last month showed that 79 percent of farmers now approve of the job the president is doing, up from 74 percent in the June survey. Fifty-three percent said they "strongly approve" of President Trump, up from 50 percent in June.
Yes it's true, President Trump is using some of the tariff money to help out our farmers while China tries to toy with our economy. Yet, President Trump is not having it. He stands with the farmers 100%
https://twitter.com/realDonaldTrump/status/1158718548518297600?ref_src=twsrc%5Etfw%7Ctwcamp%5Etweetembed%7Ctwterm%5E1158718548518297600&ref_url=https%3A%2F%2Fwww.breitbart.com%2Feconomy%2F2019%2F08%2F08%2Famerican-farmer-support-trump-rises-chinas-tactics%2F
Breitbart's article ( Link ) takes us to the USDA Farm Income Report (  Link )   Once we parse through the bureaucratic "inflation adjusted" legalese, we learn cash "farm" income is up between 5% – 9.7% for this year, across all regions, and profits from farm activities are up about 10% (6.3 billion).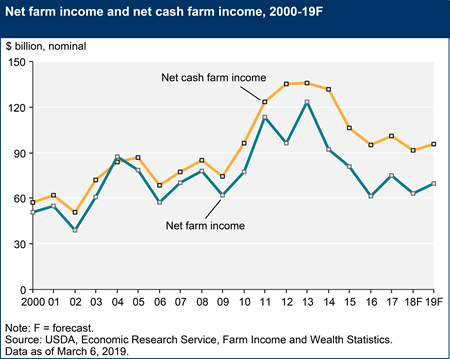 Farmer are starting to get ahead again, finally. Again, from the USDA report linked above, " Median farm household income is forecast to reach $78,987 in 2019. In nominal terms, that income level represents an increase of 3.6 percent from its 2018 level; in inflation-adjusted terms, it is a 1.9-percent increase. " Also, equipment assets rose by about 30 billion, and total farm assets are up 44.6 billion to a grand total of 3.1 TRILLION dollars (which also includes about a 2% rise in the value of real estate = land value).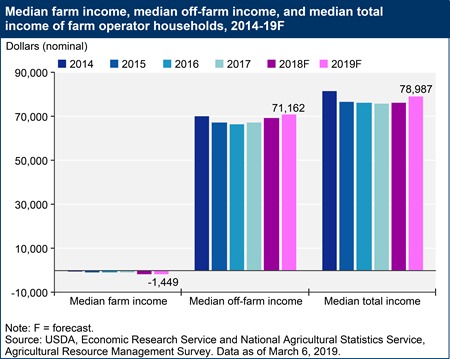 Spring was tough this year in the heartland. We have a few problems with debt taken on by our farmers and cash available for working capital, but with the foul spring weather and China trade issues providing headwinds, it SHOULD be far worse. But it's not.
President Trump allotted 12 Billion dollars to farmers last year to ease the tension and 16 billion this year. Everyone knows farmers would rather work than take a subsidy, but the situation is extraordinary – we're fighting a 40yr old problem which was ignored by our past leaders.

In preparing this post, I looked through dozens and dozens of videos about President Trump/Farmers/China. I found a massive effort by CNBC, Bloomberg, CBS Today Show, and other MSMs to get a single farmer on camera to say they were abandoning President Trump and felt betrayed. If the MSM found one such farmer, the video was pushed.
And then I found this little nugget, which told me everything we need to know.
Here is an amazing video from Missouri, with only 1600 views. Title of the video is "Missouri farmers support Trump, despite tariffs". You won't believe it….. The video was made by an outfit called CGTN (China Global Television Network). Take a look, at the lower chyron, which says, "CGTN is funded in whole or in part by the Chinese government".

It must really stink for China, to pay for propaganda, and still have the farmers supporting President Trump. Maybe China should have invested in MSNBC or CNN? They do a much better job disparaging President Trump, but I can't imagine Grandpa D would have ever watched CNN. Nah…..
Yes, the Chinese have misjudged President Trump and his resolve. Former Presidents would have caved to China's demands at the first sign of Tom Donahue in the WH driveway, or at the first 500 point drop on the DOW. Yet, our President is serious about straightening out the imbalance of trade with China, and just as the farmer's believe, it WILL work out to benefit the USA.
The Chinese have also misjudged Trump Supporters as well. Take a look at this exchange below, where two men are arguing the merits of the 2nd Amendment. It speaks volumes.
https://twitter.com/RaheemKassam/status/1159520326390173696
Nah, the Chinese don't stand a chance against men like Grandpa D, nor Trump Supporters who are like-minded Americans, and they sure as hell should have NEVER picked a fight with America's farmers….. or their great-granddaughters.
Here is MY FIGHT against Chinese products. 

We have to support OUR farmers!!!! 


End