I am in BOOK MODE right now – something that doesn't always happen. There is a reason.
The GREAT AWAKENING is coming, and I'm trying to GET THERE as an EARLY ADOPTER. I have made HUGE strides of late, thanks to THESE FIVE BOOKS. Only TWO of which I've actually READ.
Yup. That's right. Just the SHOCKER TEASE REVIEWS of two of them, and prior information about the third – as well as personal experiences which MESH WITH THEM ALL – tell me that THESE ARE BIG.
And while I'm likely getting a bit ahead of Q – maybe on an ongoing basis – I hope to drag a few INDIAN SCOUTS with me, into that DANGEROUS TERRITORY. I may end up lost in the "60% that won't be revealed", but who knows – I already have so much unfortunate knowledge in that segment, that I'm already there, so to speak.
So all that being said, let me repeat more explicitly.
I believe that it is possible to see the Dawn's Early Light ahead of us RIGHT NOW – maybe even HIGH NOON – and these FIVE BOOKS together are the LENS through which I can see it coming.
I am going to introduce these five books in roughly the order of my becoming aware of their subjects and importance, and in each case explain the book, the author, the subject, and HOW the subject is going to IMPACT THE FUTURE.
We begin with a book which is not yet published. You can, however, pre-order it NOW.
---
1st: Dreamland: An Autobiography by Bob Lazar
I have to thank Harry Lime for not just alerting me to this book, but turning me on to Bob Lazar. While Bob's YOUNGER face seems somehow familiar to me, possibly from television, I don't think I ever paid SERIOUS attention to him until Harry posted THIS VIDEO by body language analyst Derek Van Schaik:
This video absolutely stunned me. Not because of the "way out" stuff – but because of the SCIENCE.
As Bob talked about Element 115 – an isotope of which is supposedly used to power alien spacecraft – I suddenly realized that Bob and his Area 51 colleagues were likely WORKING with some of the THEORIES I once believed were MISSING from public science, back when I was a young scientist. And beyond THAT, an exo angle would sure explain how the CIA would have gotten involved with my utterly domestic case, which would explain how I got sucked into an ABUSE of MK ULTRA technology, and….
OK – that's a bit of a side issue – let's just wait until we get to BOOK FOUR for that discussion.
The main point is, what we have here in Bob Lazar is a kind of "limited leak" – not an authorized disclosure. He's not even really a whistleblower, in my opinion. In fact, what he did is a bit like what Jim Comey did – a "defensive leak" – except I actually BELIEVE Bob Lazar.
And by the way – I think that Bob was probably SMART to leak enough to make killing him not worth it. Again, more on THAT when we get to BOOK FOUR.
IF what Bob is saying is true – and he has ENORMOUS credibility with me for scientific reasons – then it changes the nature of what is happening right now in an EXTREME but also very SATISFYING and LOGICAL way.
I had suspected, both by the NATURE of what "the Swamp" has been trying to do, and by various dead ends in my political analysis – that there has been a big, invisible element that drives much of the current political turmoil. That element – IMO – is most likely EXO.
Bob Lazar not only confirms this – he fills in much of the details, and connects many of the dots.
Watch the video. It will answer all your questions – and raise ten times as many MORE.
And because of Bob, while looking for more information about him, I picked up a DIFFERENT book, which I thought might have more "reality-based EXO information".
Tighten your seatbelts and grab the rails. We are accelerating in ALL DIMENSIONS.
---
2nd: The Day After Roswell by Col. Philip J. Corso
This is an old book (1997), and yet it reads like it was written and published yesterday.
This book covers what I now regard as a limited 50-year disclosure of Roswell by somebody who was involved with "farming out" technology from one or more crashed alien spacecrafts. The fact that Col. Phil Corso was clearly a very loyal and patriotic soldier, and the timing of his highly circumscribed "whistleblowing", lead me to believe that he had an "orphaned" standing order – likely presidential or from his boss, General Trudeau – to make a limited disclosure of his own role at the 50 year anniversary of Roswell, absent a fuller disclosure already having been made.
His thusly presumed order was presumably carried out, and it certainly helped ME to see see the world more clearly.
"Be sure you're right, then go ahead."

Davy Crockett
Read the book. You'll understand.
Col. Corso handled the ASSIGNMENT of reverse engineering tasks for a variety of technological artifacts recovered from the Roswell spacecraft – as well as pursuing OTHER technologies NOT found, but IMPLIED by the findings of the craft.
The INTERSECTION of these technologies with our own, similar, technologies – which seem to have developed in perfect timing from them – is just too remarkable and correct to be anything but serious reality. Consider this one more shoulder-bump disproof of both the fake news media and its accessory before the fact – the "fictionalizing", "normalizing", and "alibi-creating" fake entertainment.
Corso gives a good and very SELECTIVE general recollection of what HE HEARD about the Roswell crash, over the years, in his professional life, as well as what HE himself saw in the shipment of artifacts from the crash which was housed at his fort. Corso is obvious a really good WITNESS – observant, careful, self-understanding, and self-critical – but not too much.
One of the best parts, however, is the degree of political insight Corso shows. Col. Corso had a clear window into not only the real politics of America, where hidden communists and dupes figure prominently, but also into what is often called exo-politics. Not so much between "exos" or "EBEs" (aliens) themselves, but between aliens and humans, and between different nations, militaries, and agencies. Corso reveals very careful and limited knowledge, and THAT is why it is so valuable. When Corso speculates, which is very rare, he clearly labels it as such. Otherwise, he is quite good about sticking to what he actually KNOWS, or was told – all properly differentiated.
Every time I re-read ANY section of this book, I gain a deeper understanding of the past, the present, and the future. I could talk about this book all day, and at some point, I will. But before I do get into it deeply, I STRONGLY urge everybody to read this book. It, like the Bible, will bear RE-READING.
But now lets' come back to earth, and look at a POLITICAL GUN MURDER – one which I believe is very subtly but DEEPLY connected to exo-politics – a connection which remains just a bit murky for the moment, but will likely be exposed in crystal clarity, sooner rather than later.
---
3rd: Why Meadow Died by Andrew Pollack (and Max Eden)
You will find no UFOs, communists, or mad scientists in this book – but you will STILL be shocked out of your gourd by this highly revealing work of citizen journalism.
And that is precisely why I can fit this piece of the puzzle so NEATLY into the bigger picture. There are QUESTIONS by the dozen, just WAITING for ANSWERS.
Andrew Pollack – aggrieved father of Parkland shooting victim Meadow Pollack – was able to put together all the evidence needed to prove a shocking and unsettling reality – that there were forces which ENABLED – with what seems like great intention – the Parkland shooter, Nikolas Cruz. People just did the WRONG THING – over, and over, and over. And your mind adds the following: as if they wanted an even BIGGER wrong thing to INTENTIONALLY HAPPEN.
Andrew Pollack is and has been very smart. He never goes "over the line" in trying to speculate as to "why" people in Parkland did what they did to – quite literally – create the drama of #Parkland. Thus, everybody else is left to figure it out. This is the PERFECT WAY for a public researcher to interface with the issue, because it is utterly unassailable. Nobody can call him a "conspiracy theorist" because he puts no tag on the evidence – and yet – well – for any sane person looking at the bag of evidence he has collected, it's very clear.
SOMEBODY wanted what happened, to ACTUALLY happen.
Here is another opinion of this book – a "tweet review" that should be heeded. Note that Brian Cates is likewise careful not to speculate openly on causes, despite his own remarkable ability to so speculate with broad accuracy and frequent precision. He doesn't "go there", even though we all know he could.
Don't you just LOVE the way Brian leaves those questions open?
We are DIVIDED in picking up any of the array of partially true, chaff answers to WHODUNIT and WHYDUNIT – chaff that we all suspect is laid out by the very people responsible.
We are UNITED in simply asking "WHAT THE FUCK? Why didn't they close off every one of these obvious-as-hell "enabling" dysfunctions, instead of AFTER-THE-FACT asking America to disarm?"
You gettin' me, brothers and sisters?
Are we 5:5 on this stuff?
Yeah. Pick up that sword that Q laid down for us – the one that says:
"The QUESTIONS slay them before the ANSWERS they want us to grasp at like straws on water."
Now – I'm going to leave you with a VERY specific question.
If somebody wanted #Parkland to turn out the way that it did – to provide a sure thing and a fitting finale to ALL of those YEARS of extraordinary and curious enabling – who are the TWO PEOPLE whose irrational actions would need to be GUARANTEED?
And HOW would you guarantee them?
Oh, let me tell you – I'm the expert on this shit.
---
4th: Poisoner in Chief by Stephen Kinzer
This right here is the nuclear trigger for our NUCLEAR FUTURE VISION MACHINE.
Maybe even our NUCLEAR FUTURE FREEDOM MACHINE.
It has taken 72 years for the "night vision" windows of the Roswell spacecraft to appear in the iPhone 11. Something Col. Phil Corso did not live to see, but which I hope to discuss with him at some point.
It has also taken 72 years for the truth about human programmability to reach a point where we are faced with two choices – admit the truth, or suffer an endless series of social, political, historical and (IMO) extraterrestrial manipulations – supposedly in our own interest, but always in the interest of HIDDEN PARTIES more than WE THE PEOPLE.
Well, let's just say the INDIANS found a CRATE OF GUNS and want a RED NEW DEAL.
Think of Wolf Moon as the universe's spontaneously triggered antiviral programming, guarding against this garbage, and you will see the beauty of SMART DESIGN.
I am not going to tell you about ALL of the "people" who tried to fuck with me on this, because ultimately that part is unimportant, and all of their sins are forgiven before mine, anyway. In the context of too-hidden truths, people act on hidden orders and end up bumping into other people with hidden orders, or people downstream from them. People who act loyally on old orders, fight with people who act loyally on new orders. None of that is important now. What is important now is REVELATION.
You can be a part of it, or you can fight it. But as Q says….
NOTHING CAN STOP WHAT'S COMING.
So let's begin.
---
I have only read TWO REVIEWS of this book, and I am already WAY AHEAD of everybody.
Why would that be? Probably because if there was ever a secret technology that was OVER-USED and then ABUSED, to the point that some guy like me would know about it, it would be "mind control" of various kinds. "Advanced mental science", let us call it.
You cannot "un-invent" mind control, any more than you can uninvent programmable interfaces to computers. You can PRETEND that individual back-door programmability of computers doesn't exist, but that is not possible if you actually want to CLEAN STUFF UP.
And there is no "Draining The Swamp" without "Cleaning Stuff Up". Let's just be clear about that part.
This book is ALREADY being spun – furiously – by NPR and GOOGLE and the usual CABAL JOKERS, to preserve the Swamp's moneymaker fiction – part of FAKE HISTORY – that MK ULTRA was not fabulously successful.
Well, that's news to me, having accidentally remembered an induction and part of a programming session, which enabled me to figure out – almost 40 years later – that Sidney Gottlieb was a WHOLE LOT more successful than he let on. He FOUND HIS HOLY GRAIL – and the system kept it a secret, while USING IT LIKE CRAZY. Including the doing of a lot of very bad stuff, albeit much of it having been done in the name of "good".
Rather than wasting time HERE trying to convince the FIVE RANDOM PEOPLE I need to convince, I'm just going to leave them some links that will open doors for those who WANT to walk through them:
---
The key "Wolf Lazar" post: https://wqth.wordpress.com/2019/01/18/deja-woo/
Archive key post: https://archive.fo/VQAkN
Recent discussion (Barb Meier): https://wqth.wordpress.com/2019/09/07/dear-kmag-20190907-open-topic/comment-page-2/#comment-248804
Recent discussion (Daughn): https://wqth.wordpress.com/2019/09/10/dear-kmag-20190910-open-topic/comment-page-2/#comment-250775
Left-Anglo-Quasi-Truth-Seeker Review: https://www.theguardian.com/us-news/2019/sep/06/from-mind-control-to-murder-how-a-deadly-fall-revealed-the-cias-darkest-secrets
NPR Shiny Object Cover-Up Review: https://wlrh.org/npr-news/cias-secret-quest-mind-control-torture-lsd-and-poisoner-chief
Failing NYT Classic Cover-Up Review: https://www.nytimes.com/2019/09/10/books/review/poisoner-in-chief-stephen-kinzer.html
Failing NYT Report on Sidney Gottlieb's Death: https://www.nytimes.com/1999/03/10/us/sidney-gottlieb-80-dies-took-lsd-to-cia.html
---
What is ironic about the NYT review, is that the totally unwarranted conclusion about the failure of the guy whose technology was used to "torture" me, makes me angry enough to DEFEND HIM.
Don't tell ME his shit didn't work.
Let's put this all in perspective. Sidney Gottlieb did the dirty job that he was assigned to do, in the scared-as-all-fuck LAST PLACE position the United States found itself in, relative to both scary aliens and post-Nazi world socialism, in regard to "advanced biological programming sciences".
Which sciences I will just call "MK" for short. This includes both "control of minds" and "control by minds". And if you think about things that way, in a very technological fashion, knowing what we know now – as in future proves past – you will see that the whole subject comes STRAIGHT OUTTA ROSWELL. Although some aspects of it are much older. It's been in use on this planet for a long time. ASK WHY.
The absolute scariest thing found in the Roswell crash was not the astoundingly meager propulsion system. Nor was it the laser tool, nor the particle beam, none of which seemed to be weapons grade, IMO.
No. It was the "headbands" that basically allowed people, used broadly, to share their thoughts. WITHOUT all the CRAP we use now. That allowed the people on the crashed craft to project – in the wrong language and broken speakers – some garbled version of their thoughts to the humans trying to both help and – unfortunately in the confusion – hurt them.
None of this crap should freak us out now. Our scientists all over the planet – even at Mind Control Facebook – are desperately working on this stuff with a gleam in their eyes. The ALIEN bloom is off that rose – LONG AGO. It SEEMS utterly human at this point.
But FAKE NEWS like the Failing New York Times continues to SHILL for the CIA's FAKE UNIVERSE, pretending the alien origin of this stuff isn't REAL and that the tech doesn't halfway WORK now.
I can tell you – based on a desperate attempt to shut me up, that we have the SPEAKER PART working reasonably well, although only a nebbish would think that the result – which is categorically distinguishable from any kind of endogenous "voices", such as in dreams, is anything but a Model T version of a communications technology.
But this stuff – our weak emulation of the Roswell tech – is not the real Holy Grail of espionage. It's early, baby Ethernet – it's not hacking root. No. THAT was discovered by Sidney Gottlieb, and he needs to get credit for what he did. MK ULTRA works FABULOUSLY – within the limits of what it CAN do – something that I personally experienced. And it is enough. ENOUGH TO FUCKING CHANGE HISTORY.
You don't think they TRIED IT when they HAD IT? Give me a break.
MK ULTRA amnesia is what was used on Barney and Betty Hill. THAT is something we apparently had – thanks to Sidney Gottlieb – working very nicely in 1981. But we also had more – much more. We could alter people's choices. We could INSURE certain choices. It's actually quite startling. Particularly if you experience it – and then have creeps of every kind trying to figure out if you accidentally remembered it when you didn't die, without PROMPTING you to remember it, and then doing something about it anyway.
Trust me – "Wolf" ain't the cleaner. He was the thing to clean up.
Read the links. You'll see. MK ULTRA explains not only the stuff that happened to ME and other people – it explains everything that Dr. Christine Blasey Ford and her FBI / DOJ friend Monica McLean were up to, trying to send the latter – presumably a CIA asset – through an FBI polygraph undetected.
Like I said, I have not even read the book yet, and the REVIEWS are confirming everything I suspected – and MORE. Just knowing from these reviews that the REAL story of Sidney Gottlieb was MIND CONTROL and what we would otherwise call TELEPATHY – not mere LSD – fills in all kinds of blanks in the REAL story of MK ULTRA – how it was a phenomenal success that got us caught up to Soviet brainwashing, and even got us a scientific foothold in terms of understanding the mental programming sciences of the EBEs.
NOW – what do we do about dealing with the FACTS of MK ULTRA technology?
For that, I recommend the next book. In MULTIPLE WAYS.
---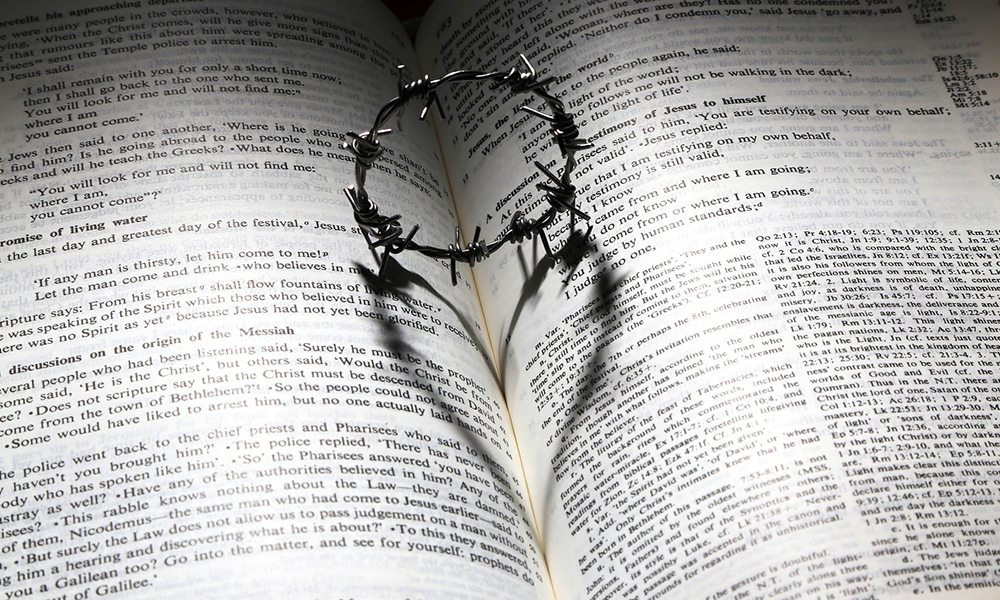 5th: The Bible
Whether you approach what is happening now from the viewpoint of "The Cabal" – our loose term for the corrupted, even SATANIC power-mongers of the world, in loose league to preserve their own riches and control – or whether you approach that part as being [somewhat] downstream of exo-politics, which adds a new level of useful complexity to the known manipulators of humanity – you need the SAME source of understanding to get ahead of ALL THESE JOKERS.
Why? Because, EVERYTHING – even CULTURE – even EXO – is downstream from CREATION, and if you don't believe that the descent of logic from creation is REAL and CONTROLLING, then you are fighting without a plan.
One of the beauties of the AND LOGIC which these enemies of truth consistently DENY US, is that we can listen to other people holding ONLY ONE REFERENCE FRAME and understand them as "speaking the same TRUTH in a different LANGUAGE".
That is not just a "higher" specialty. That can be OURS.
This is relativity – which is a much different thing from mere relativism. Relativism is a PROBLEM, whereas relativity is a SOLUTION.
So when people say that SATAN is behind it, I understand. When others say THE CABAL is behind it, I understand. When others say NATURE is behind it, I understand. When others say WE are behind it, I understand. When others say ALIENS are behind it, I understand.
It's actually rather hilarious, but the character CHURCH LADY is weirdly smarter than the people who created her. Once you can actually SEE THIS – when you can see intelligence in a whole new framework above what THEY tell you intelligence is – you are on a level that not only FIGHTS BACK against those who want to keep humanity down on THEIR farm.
You are on a level that can WIN.
2994
Wake Up People! See Through Their Division Tactics
Q!!mG7VJxZNCI7 Mar 2019 – 12:34:41 AM
PEOPLE ARE PAWNS IN THEIR SICK GAME OF GLOBAL DOMINATION.
PEOPLE ARE DIVIDED TO PREVENT A RISING OF THE PEOPLE.
PEOPLE ARE DIVIDED AND TAUGHT TO FIGHT THEMSELVES INSTEAD OF THE RULING CLASS.
RACE VS RACE
RELIGION VS RELIGION
POLITICAL VS POLITICAL
CLASS VS CLASS
SEX VS SEX
WHEN YOU ARE DIVIDED, YOU ARE WEAK.
WHEN YOU ARE WEAK, YOU HAVE NO POWER.
WHEN YOU HAVE NO POWER, YOU HAVE NO CONTROL.
STAY STRONG, PATRIOTS.
STAY UNITED, NOT DIVIDED.
YOU ARE WHAT MATTERS.
YOU, AWAKE, IS THEIR GREATEST FEAR.
Q

Q Post 2994
W