This Superlative Sanctuary Sunday Open Thread, with full respect to those who worship God on the Sabbath, is a place to reaffirm our worship of our Creator, our Father, our King Eternal.
It is also a place to read, post and discuss news that is worth knowing and sharing. Please post links to any news stories that you use as sources or quote from.
In the QTree, we're a friendly and civil lot. We encourage free speech and the open exchange and civil discussion of different ideas. Topics aren't constrained, and sound logic is highly encouraged, all built on a solid foundation of truth and established facts.
We have a policy of mutual respect, shown by civility. Civility encourages discussions, promotes objectivity and rational thought in discourse, and camaraderie in the participants – characteristics we strive toward in our Q Tree community.
Please show respect and consideration for your fellow QTreepers.
Before hitting the "post" button, please proofread your post and make sure you're addressing the issue only, and not trying to confront the poster.
If you feel the need to bare your fangs, we have a companion site – called The U Tree – where you can run wild and free with the Wolfpack where all legal free speech is allowed.
But NOT HERE in The Q Tree. Personal attacks, name calling, ridicule, insults, baiting and other conduct for which a penalty flag would be thrown are VERBOTEN.
In The Q Tree, we're compatriots, sitting around the campfire, roasting hot dogs, making s'mores and discussing, agreeing, and disagreeing about whatever interests us. This board will remain a home for those who seek respectful conversations.
Please also consider the Important Guidelines, outlined here. Let's not give the Internet Censors a reason to shut down this precious haven that Wolf has created for us.
---
The Storm is upon us.
Please remember to Pray for our President.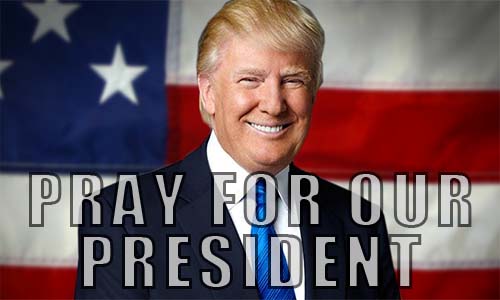 ---
AND WHAT TIME IS IT?
TIME TO DRAIN THE SWAMP!!!
Our movement is about replacing a failed and CORRUPT political establishment with a new government controlled by you, the American People. ~ Candidate Donald J. Trump
---
Also remember Wheatie's Rules:
No food fights.
No running with scissors.
If you bring snacks, bring enough for everyone.
---
---
On this day and every day –
God is in Control
. . . and His Grace is Sufficient, so . . .
Keep Looking Up
---
Hopefully, every Sunday, you can find something here that will build you up a little . . . give you a smile . . . and add some joy or peace, very much needed in all our lives.
"This day is holy to the Lord your God; do not mourn nor weep." . . . "Go your way, eat the fat, drink the sweet, and send portions to those for whom nothing is prepared; for this day is holy to our Lord. Do not sorrow, for the joy of the Lord is your strength."
---
What then should we do?
---
I started writing this Sunday thread thinking that it would be about the Fruit of the Spirit. Then that sort of morphed into the larger picture of how the Holy Spirit is our Helper from God, guiding and teaching us, in more ways than His fruit. And then that changed to what we should be doing to grow into the mature Christian life God wants us to live. And that led into writing down many of the specific things God's Word tells us to do as Christians . . . members of His family. And that led to the following thoughts:
---
---
When John the Baptizer was baptizing for repentance and the forgiveness of sins, he warned the people to "Bear fruits worthy of repentance." And those crowds kept asking him "What then should we do?" (Luke 3)
Paul posed a similar question in his letter to the Roman Christians. "What then are we to say? Should we continue in sin in order that grace may abound? By no means! (Romans 6:1-2) He was referring to how we should act, given that God's grace has freed us from the Law.
James addressed our actions, also, saying "But someone will say, 'You have faith, and I have works.' Show me your faith without your works, and I will show you my faith by my works.", stressing the importance for our actions to demonstrate our faith.
Almost 800 years earlier than Jesus, God, speaking through the prophet Hosea said "For I desire mercy and not sacrifice, and the knowledge of God more than burnt offerings. (Hosea 6:6), saying that God wants to see real, meaningful action more than observance of ritual.
This leads up to a very pertinent question for today. Given that we are Believers, how should we act? "What then should we do?"
---
Some people think that God's got a bunch of rules that He lists in the Bible for us to obey and, if we aren't careful to follow His rules, He's not going to be very happy with us and we can expect some kind of retribution.
As Christians, we believe in the finished work of Jesus Christ on the cross, that His death was the once for all time sacrifice for our sins. God counts our faith in Christ as righteousness and has forgiven our sins for all time (past, present and future). And there is now no condemnation for us who are in Christ Jesus, because through Christ Jesus the law of the Spirit who gives life has set us free from the law of sin and death. (Romans 8:1-2)
Now this got me to thinking . . .
Now that my sins have all been forgiven by God's grace, and my faith in Christ is counted as righteousness, and there is no judgement for my sin in the future, the question now arises: How should I then live?
This question is answered by Paul in the book of Romans: ". . . present your bodies a living sacrifice, holy, acceptable to God, which is your reasonable service. And do not be conformed to this world, but be transformed by the renewing of your mind . . ." (Romans 12:1-2) . . . put on the Lord Jesus Christ, and make no provision for the flesh . . . (Romans 13:14)
Well, still thinking here . . .
I've been chosen by God, and not because of anything about me or anything I've done. God has forgiven my sins and I will not be judged because of them. God has promised me an eternity with Him and Jesus in heaven with a glorious new body, everlasting joy, and unimaginable wonders.
Now, given all that . . . just how grateful should I be? I don't think it's possible, if we fully understood what God has done for us and the wonders of heaven, for a human being to express that level of gratitude.
But certainly, I should be grateful enough to search God's Word for how He wants me to live. And once I find that information on how He wants me to live, to make an absolutely conscious, determined effort, every day of my life, to live in that manner. How could I possibly do less for all that I have gained and will shortly be gaining?
---
Briefly then, thinking about Paul's answer to how I should live in Romans, some real-life questions come to the fore.
Have I searched God's Word and have I learned how He tells me I should be living my life?
Am I making a conscious, determined effort to live in that manner?
How much time am I spending at things that might interest me but are not part of what should be involved in living and maturing in the Christian life?
If I'm with a secular or mixed group, am I just one of the crowd, or do my words and actions stand as a good Christian example?
Am I following God's Word in my one-on-one interpersonal relationships, Christian or secular?
And quite a few more . . .
---
Now, lest anyone think I'm being sucked into the maelstrom of legalism in a sea of rules and regulations . . . not happening.  God clearly calls us to repentance, righteousness, holiness, and godliness, but because of His mercy and grace, He is abundantly clear that the Christian life is to be filled to overflowing with freedom, hope, peace, joy and love . . . as well as gratitude, thanksgiving, praise and worship.
Now may the God of hope fill you with all joy and peace in believing, that you may abound in hope by the power of the Holy Spirit. (Romans 15:13)
Rejoice in the Lord always: and again I say, Rejoice. Let your moderation be known unto all men. The Lord is at hand. Be careful for nothing; but in every thing by prayer and supplication with thanksgiving let your requests be made known unto God. And the peace of God, which passeth all understanding, shall keep your hearts and minds through Christ Jesus. (Philipians 4:4-8)
And ye shall know the truth, and the truth shall make you free. (John 8:32)
If the Son therefore shall make you free, ye shall be free indeed. (John 8:36)
In everything give thanks; for this is the will of God in Christ Jesus for you. (1 Thessalonians 5:18)
---
---
I knew I'd be interested when writing these Sunday threads and, perhaps even more, I wanted the preparation and involvement to speak to me. Well, I think that's happening.
---
The Lord bless you and keep you;
The Lord make His face shine upon you,
And be gracious to you;
The Lord look upon you with favor,
And give you peace.