---
Let my mouth be filled with Thy praise,
and with Thy honor all the day.
Psalm 71:8
---
This Superlative Sanctuary Sunday Open Thread, with full respect to those who worship God on the Sabbath, is a place to reaffirm our worship of our Creator, our Father, our King Eternal.
It's also a place to read, post and discuss news that's worth knowing and sharing. Please post links to any news stories that you use as sources or quote from.
In the QTree, we're a friendly and civil lot, unencumbered by political correctness. We encourage free speech and the open exchange and civil discussion of different ideas. Topics aren't constrained, and sound logic is highly encouraged, all built on a solid foundation of truth and established facts.
We have a policy of mutual respect, shown by civility. Civility encourages discussions, promotes objectivity and rational thought in discourse, and camaraderie in the participants – characteristics we strive toward in our Q Tree community.
Please show respect and consideration for your fellow QTreepers.
Before hitting the "post" button, please proofread your post and make sure you're addressing the issue only, and not trying to confront another poster.
If you feel the need to bare your fangs, we have a companion site – called The U Tree – where all legal speech is allowed and where you can run wild and free with the Wolfpack.
But NOT HERE in The Q Tree. Personal attacks, name calling, ridicule, insults, baiting and other conduct for which a penalty flag would be thrown are VERBOTEN.
In The Q Tree, we're compatriots, sitting around the campfire, roasting hot dogs, making s'mores and discussing, agreeing, and disagreeing about whatever interests us. This board will remain a home for those who seek respectful conversations.
Please also consider the Important Guidelines, outlined here. Let's not give the Internet Censors a reason to shut down this precious haven that Wolf has created for us.
---
The Storm is upon us.
Please remember to Pray for our President.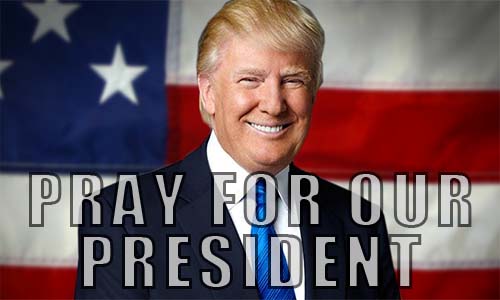 ---
AND WHAT TIME IS IT?
TIME TO DRAIN THE SWAMP!!!
Our movement is about replacing a failed and CORRUPT political establishment with a new government controlled by you, the American People.
Candidate Donald J. Trump
---
Also remember Wheatie's Rules:
No food fights.
No running with scissors.
If you bring snacks, bring enough for everyone.
---
---
On this day and every day –
God is in Control
. . . and His Grace is Sufficient, so . . .
Keep Looking Up
---
Hopefully, every Sunday, you can find something here that will build you up a little . . . give you a smile . . . and add some joy or peace, very much needed in all our lives.
"This day is holy to the Lord your God; do not mourn nor weep." . . . "Go your way, eat the fat, drink the sweet, and send portions to those for whom nothing is prepared; for this day is holy to our Lord. Do not sorrow, for the joy of the Lord is your strength."
---
Is Your God BIG or little?
Dr. Robert D. Wilson (1856-1930) was a Presbyterian scholar who devoted his life to showing the Hebrew Bible's reliability. In proving the accuracy of the Old Testament manuscripts, Wilson learned 45 languages, including all languages into which the Scriptures had been translated up to 600 AD. He was a Professor at Princeton Seminary and Westminster Seminary.
Wilson went to hear one of his students (Donald Barnhouse) preach and said, "I came to see if you are a big-godder or a little-godder, then I know how your life and ministry will unfold." Wilson explained that people with a little god are always in trouble. Their god can't create or do miracles. He can't forgive big sins or help people change their lives in big ways. Their little god can't take care of the Scriptures' inspiration and transmission to us. He doesn't intervene for His people or answer prayer. These people have a little god.
Others have the great, awesome, almighty, invincible God—the Lord of the Bible—Father, Son, and Holy Spirit. This God speaks and it is done; He commands and it stands firm; He shows Himself strong on behalf of those who love, fear, trust, and obey Him. Dr. Wilson said, "You, young man are a big-godder, and the Lord will bless your life and ministry. He will use you for His praise."
http://wohbm.org/are-you-a-big-godder/
---
A God Too Small?
November 28, 2019
by Charles R. Swindoll
Scriptures: Exodus 19:1–15
So deep, so profound must be this respect for God's holy presence that no one was even to touch the mountain. The people were to wait upon God to speak to Moses and hear the Lord's words through the Lord's servant.
What a needed reminder! This story makes it clear that we live in a day of pitifully shallow concepts of God. Some of today's contemporary Christian music leaves the impression that God is our buddy—a great pal to have in a pinch. A film star once said of God, "He's my great Big Daddy upstairs." One pop song asks, "What if God were just a slob like us?" That is not the biblical view of God. That is a human being's feeble attempt to make God relevant.
The Puritans, that rigorous people of old, possessed a solidly biblical concept of God. Do you know why it is so crucial for us to recover such a respectful understanding? Because a shallow view of God leads to a shallow life. Cheapen God and you cheapen life itself. Treat God superficially, and you become superficial. But hold God in profoundest respect, and it is remarkable how deep the roots of your spiritual life grow.
God is holy. Exalted. He is the only wise God, the Creator, the Maker, the sovereign Lord. He is the Master. He tells me what to do, and I have no safe option but to do it. He offers no alternative, no multiple choice. We have but one directive, and that is to do His will. We reaffirm that truth in our times with Him.
But not today. Today He's our pal, our understanding buddy, our ever-available bellboy. No, He is not! The Lord is our God. He does not bow to our hurried pace, but in silence He waits for us to meet His demands. And once we slow down enough to meet Him, He is pleased to add incredible spiritual depth to our otherwise shallow lives.
What has been your concept of the Lord? Who is your God? Be honest, now. Does He look anything like the God of Mount Sinai?
---
Psalm 139
1 O Lord, You have searched me and known me.
2 You know my sitting down and my rising up;
You understand my thought afar off.
3 You comprehend my path and my lying down,
And are acquainted with all my ways.
4 For there is not a word on my tongue,
But behold, O Lord, You know it altogether.
5 You have hedged me behind and before,
And laid Your hand upon me.
6 Such knowledge is too wonderful for me;
It is high, I cannot attain it.
7 Where can I go from Your Spirit?
Or where can I flee from Your presence?
8 If I ascend into heaven, You are there;
If I make my bed in hell, behold, You are there.
9 If I take the wings of the morning,
And dwell in the uttermost parts of the sea,
10 Even there Your hand shall lead me,
And Your right hand shall hold me.
11 If I say, "Surely the darkness shall fall on me,"
Even the night shall be light about me;
12 Indeed, the darkness shall not hide from You,
But the night shines as the day;
The darkness and the light are both alike to You.
13 For You formed my inward parts;
You wove me in my mother's womb.
14 I will praise You, for I am fearfully and wonderfully made;
Marvelous are Your works,
And that my soul knows very well.
15 My frame was not hidden from You,
When I was made in secret,
And skillfully wrought in the lowest parts of the earth.
16 Your eyes saw my substance, being yet unformed.
And in Your book they all were written,
The days fashioned for me,
When as yet there were none of them.
17 How precious also are Your thoughts to me, O God!
How great is the sum of them!
18 If I should count them, they would be more in number than the sand;
When I awake, I am still with You.
19 Oh, that You would slay the wicked, O God!
Depart from me, therefore, you bloodthirsty men.
20 For they speak against You wickedly;
Your enemies take Your name in vain.
21 Do I not hate them, O Lord, who hate You?
And do I not loathe those who rise up against You?
22 I hate them with perfect hatred;
I count them my enemies.
23 Search me, O God, and know my heart;
Try me, and know my anxieties;
24 And see if there is any wicked way in me,
And lead me in the way everlasting.
---
---
O Worship The King
O worship the King all glorious above;
O gratefully sing His power and His love:
Our Shield and Defender, The Ancient of days,
Pavilioned in splendour, and girded with praise.
O tell of His might, O sing of His grace,
Whose robe is the light, Whose canopy space.
His chariots of wrath the deep thunder-clouds form,
And dark is his path on the wings of the storm.
This earth, with its store of wonders untold,
Almighty, Thy power hath founded of old:
Hath stablished it fast by a changeless decree,
And round it hath cast, like a mantle, the sea.
Thy bountiful care, what tongue can recite?
It breathes in the air, it shines in the light;
It streams from the hills, it descends to the plain,
And sweetly distils in the dew and the rain.
Frail children of dust, and feeble as frail,
In Thee do we trust, nor find Thee to fail;
Thy mercies how tender! How firm to the end!
Our Maker, Defender, Redeemer, and Friend.
O measureless Might, ineffable Love,
While angels delight to hymn Thee above,
Thy humbler creation, though feeble their lays,
With true adoration shall sing to Thy praise.
~ Robert Grant 1779-1838
---