This is interesting.
NIH is sponsoring a new TRIAL of ivermectin to treat COVID-19.
The latest chess move by NIH may be a move toward truth, or it could be more smoke and mirrors. However, I am telling you now – WE THE PEOPLE can force the play to yield TRUTH, if we keep our eyes on the ball.
In my opinion, we are FORCING – by the threat of NUREMBERG 2 – various government agencies to turn away from the Faucist false narratives they KNOW will do them as much good as "We were only following orders" helped the lower-level Nazis.
For example, the recent FDA 16-3 vote AGAINST sketchy, unproven, and very likely USELESS or actually counterproductive boosters – which the Faucists had to REVERSE by diktat of CDC's Rochelle Alinsky – tells me that people in government who KNOW THE SCORE are starting to REBEL against "top-down" medicine, if only to save their own skins.
Yes, YouTube is holding the line for Comrade Alinsky, but others are starting to move away from the pounding gavels of NUREMBERG 2, sounding from just over the horizon of time.
So with that in mind, take a look at THIS:
---
LINK: https://www.al.com/news/2021/09/15000-people-sought-for-study-on-effectiveness-of-ivermectin-flonase-and-more-to-treat-covid.html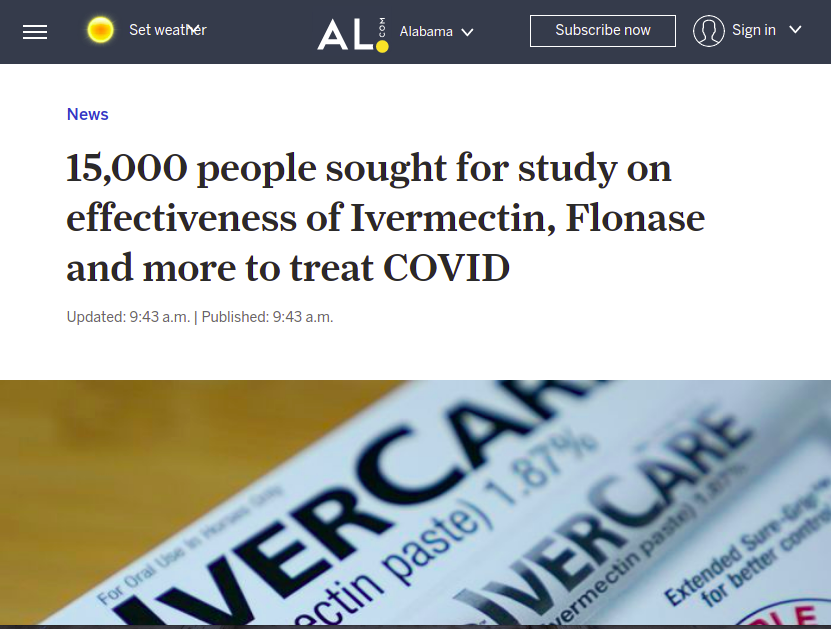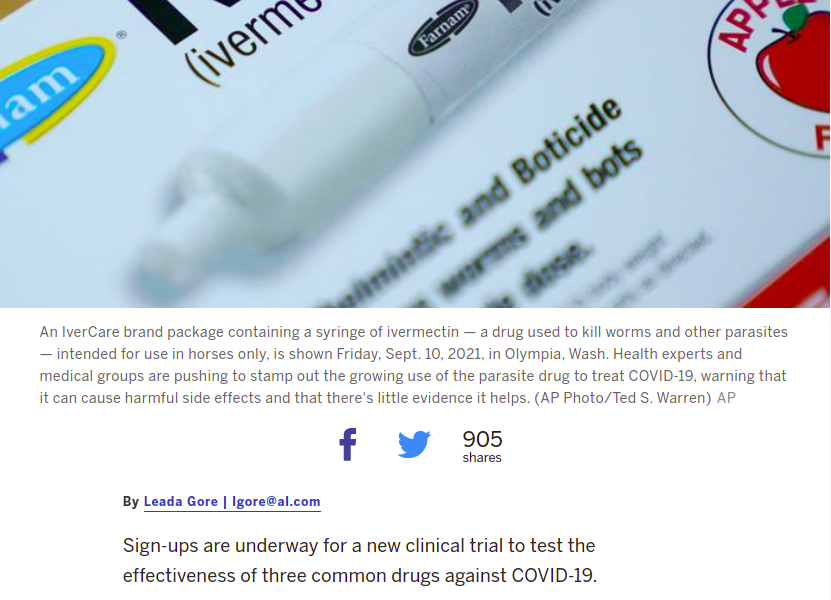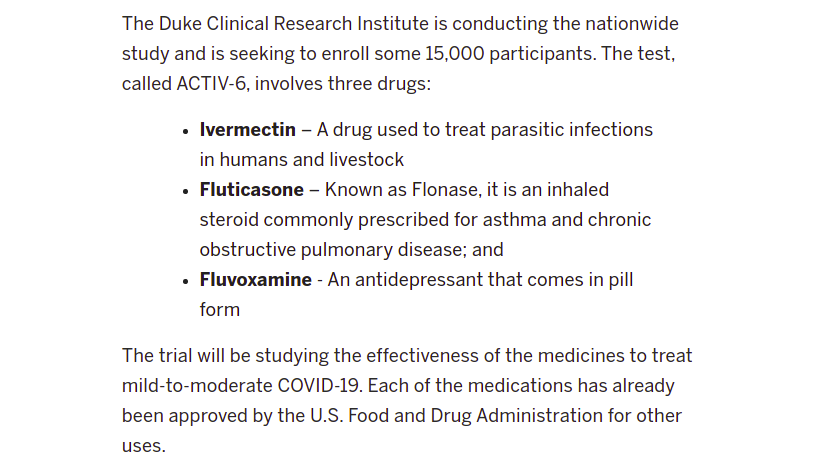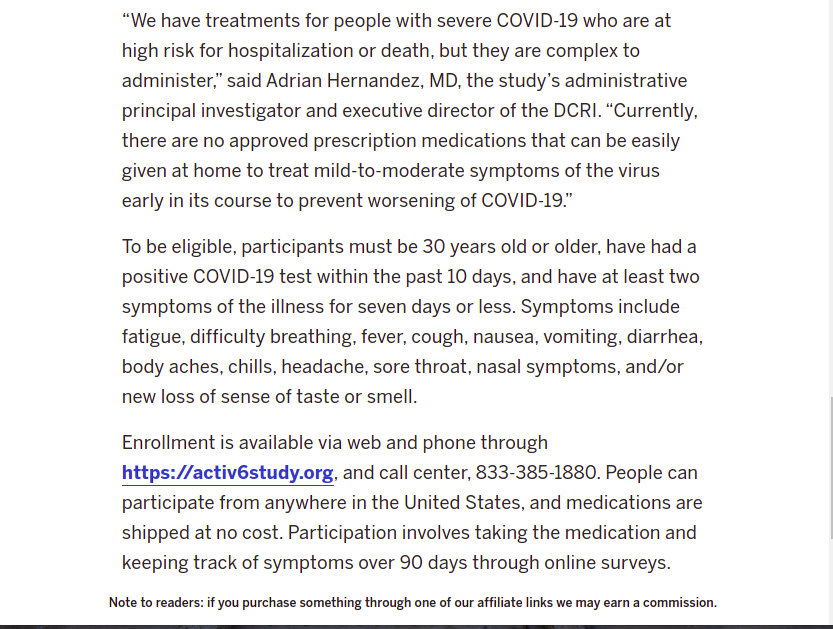 ---
Notice how FAKE NEWS can't help but go after ivermectin, even reporting that NIH is giving it a trial.
YOU'RE A JOKE, FAKE NEWS!
Now – trust me – there are a thousand ways that people inside NIH, CDC, NIAID, or FDA could game the results of this study. I may talk about some of the other methods, but there is ONE in particular that was already used against hydroxychloroquine.
Fool us once, shame on you. Fool us twice, shame on US.
The way to insure a FAIL of any trial of an antiviral against COVID-19 is to give it too late. That includes "standard" antivirals like acyclovir, remdesivir, etc., AND it includes non-standard antivirals like hydroxychloroquine or ivermectin.
To validly test an antiviral, you have to give it early enough that it makes a difference. For a safe but highly nonstandard (and likely WEAKER) antiviral, "early enough" means VERY EARLY.
Dr. Zelenko recognized this IMMEDIATELY. That is why he jumped on very early outpatient hydroxychloroquine PLUS azithromycin (Raoult's therapy, moved up in time) PLUS zinc, knowing that all three have a very HIGH margin of safety, so there is no need to wait – thus better to GET THE JUMP on both SARS-CoV-2 AND bacterial pneumonia, as well as any possible zinc deficiency.
Zelenko moved Raoult's therapy to ALMOST prophylaxis, and removed the concern of zinc deficiency, common in the elderly.
It was SIMPLE, but it was BRAVE and GENIUS.
Now – LATER – there were COWARDLY attack studies, where hydroxychloroquine was administered too late, too much, and to dying patients, long after both antiviral and antirheumatic activities would do absolutely no good.
The scientific community called these studies out, but still – SHAME.
Will it happen again here?
Not if we can help it.
WHAT WE HAVE A CHANCE TO DO HERE, IS TO MAKE SURE THAT THIS STUDY OF IVERMECTIN CAN'T BE PURPOSELY FAILED BY LATE ADMINISTRATION.
The beauty of this study is that WE THE PEOPLE are the ones who "call in" when we get COVID. The earlier that is done, the more likely that ivermectin will PROVE its awesome ability to stop COVID in its tracks.
Thus, it is imperative that truth-seeking Deplorables (or libtards who are red-pilled enough to believe me) who are at risk for COVID-19, be READY to get into this study the MOMENT they are diagnosed.
And the easiest way to do THAT is to simply do the following:
Be familiar with the study

have the site bookmarked
have its phone number saved to your contacts

Have a COVID test on hand at home

Abbott BinaxNOW test is $25 for two (2) tests
antigen test is highly accurate, is NOT a PCR test
test takes 15 minutes and is very simple to perform

Use ALL OPTIONS to accelerate delivery of the treatments
Here is information about the study:
---
LINK: https://activ6study.org/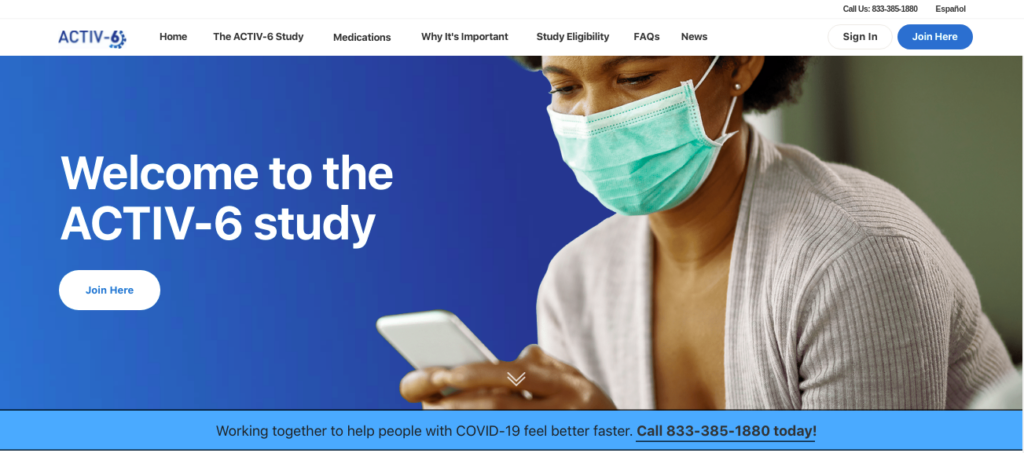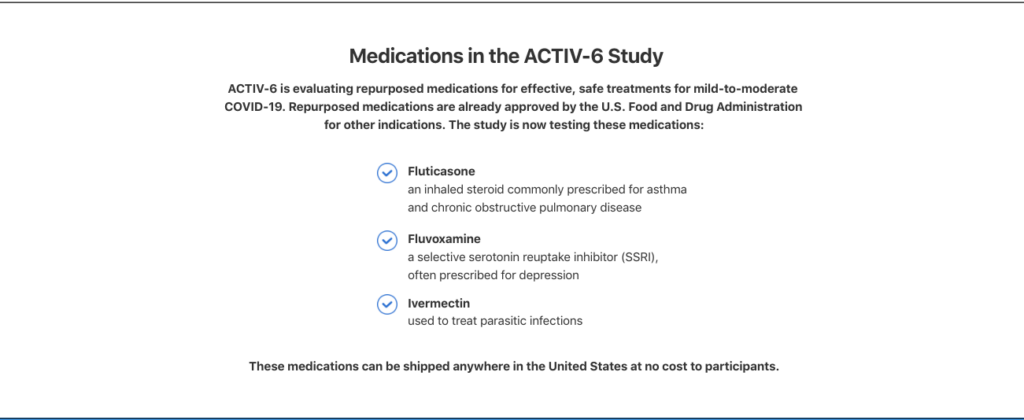 ---
Let me repeat that in TEXT:
---
Welcome to the ACTIV-6 study
Working together to help people with COVID-19 feel better faster. Call 833-385-1880 today!
The ACTIV-6 Study
The ACTIV-6 research study is testing several medications that are already approved for other diseases to see if they can help people with mild to moderate COVID-19 feel better faster and stay out of the hospital.
If you are 30 years old or older, have tested positive for COVID-19 within the past 10 days and have at least 2 COVID-19 symptoms for 7 days or less, you can help make a difference by participating in ACTIV-6.
You can participate from anywhere in the U.S. Medications are shipped to you at no cost. You will keep track of your symptoms and how you feel over 90 days.
Medications in the ACTIV-6 Study
ACTIV-6 is evaluating repurposed medications for effective, safe treatments for mild-to-moderate COVID-19. Repurposed medications are already approved by the U.S. Food and Drug Administration for other indications. The study is now testing these medications:
Fluticasone
an inhaled steroid commonly prescribed for asthma and chronic obstructive pulmonary disease
Fluvoxamine
a selective serotonin reuptake inhibitor (SSRI), often prescribed for depression
Ivermectin
used to treat parasitic infections
These medications can be shipped anywhere in the United States at no cost to participants.
Why This Study Is Important
Vaccines are available, but access is limited in some areas and new, more transmissible variants of the virus are emerging in the U.S. People are still getting sick, and many remain at risk for the disease.
Results from ACTIV-6 will help researchers understand how existing medications can improve symptoms and limit hospitalizations for people with mild to moderate COVID-19.
Study Eligibility
ACTIV-6 is for you if:
You are 30 years old or older
Tested positive for COVID-19 within the past 10 days
Have at least 2 COVID-19 symptoms for 7 days or less
Frequently Asked Questions
I am enrolled in ACTIV-6. How do I report a new health concern?
Click here to report a concern or medical event to our Call Center.
Does participation cost anything?
No, there is no cost to you to participate. All activities can be conducted on a private and secure website or over the phone.
Am I compensated for participating?
You may receive a gift card of up to $100 upon completion of the study.
News & Information
Nationwide Clinical Study Expands Platform to Test Medications to Treat Mild-to-Moderate COVID-19
Better treatments for COVID-19 are still needed, especially for patients with mild to moderate illness who are not hospitalized.
ACTIV-6 is part of a larger public-private partnership, Accelerating COVID-19 Therapeutic Interventions and Vaccines (ACTIV), announced in 2020 by the National Institutes of Health.
Enroll Today!
Fill out the screening form to have a study team member contact you, or call 833-385-1880 to speak with a study team member.
Together, we can change the future of COVID-19 treatment.
This site is intended for United States residents only.
Copyright © 2021 Jumo Health, Inc. All Rights Reserved
ACTIV-6 Study – Study Website – 29 – June – 2021 – English (Master) – V2.0
---
Now – I want to be absolutely clear about something – which is another way of saying that I want to rub FAKE SCIENCE'S NOSE in it's own POOP.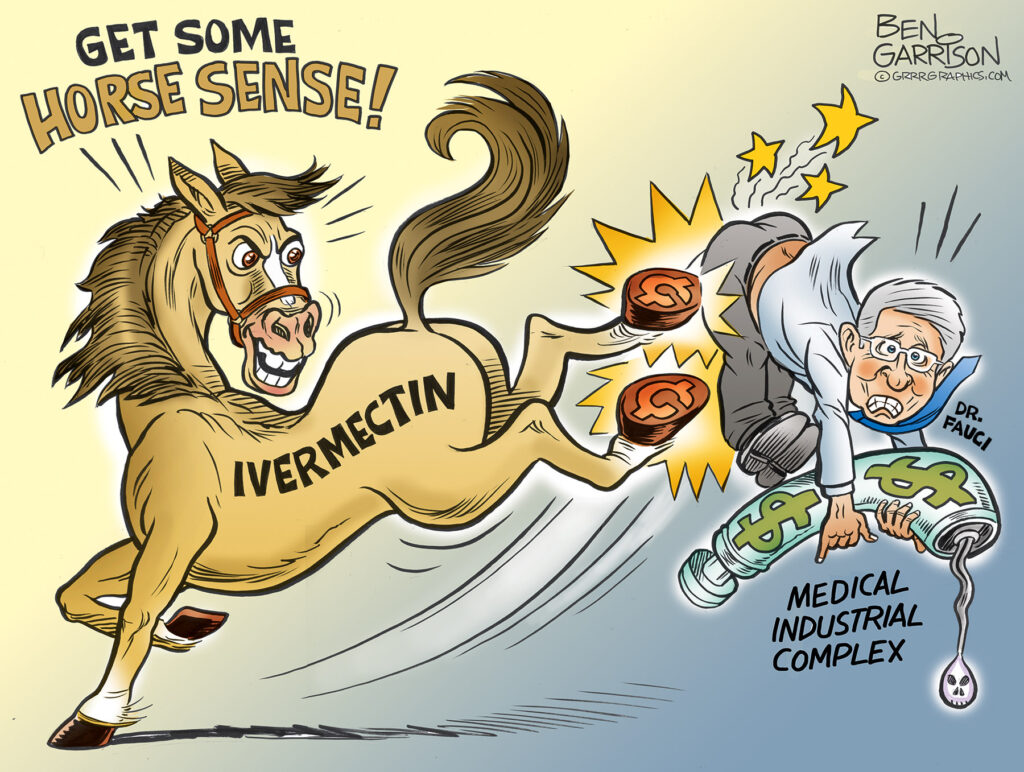 We are not "gaming" this study by FORCING better science on establishment science. We are making sure that this is not a "gamed" study, by REMOVING the most likely (and proven) source of gaming the study to NOT SHOW A RESULT.
If the average starting time of therapy goes DOWN to where conclusive results are shown, that is GOOD DESIGN. That's what we're banking on here.
So – be sure to bookmark this sucker. If you get COVID, and this study (or a successor study) is running, you want to get into it.
And you want to get into it FAST.
IVERMECTIN.
Allegedly being taken seriously by NIH.
Whoda thunk?
W