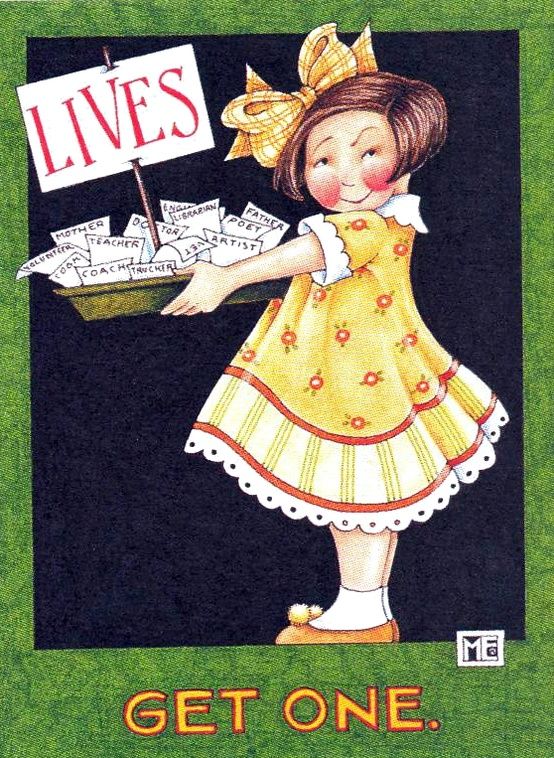 The image above is one drawn by the pride of Visitation Academy, one Mary Engelbreit, the queen of cute. Yours truly used to be a devotee of ME until she joined the Black Lives Matter plantation, and I promptly sold my collection of at least a couple dozen teapot Christmas ornaments. Since then, ME has waned for a number of reasons, but this illustration came to mind as the COVID saga has unfolded.
I knew specifically about this image because I have an old watch with it as the face. "Lives…Get One" and in the bowl are the names of OCCUPATIONS in addition to mother and father.
In an epic comment that we all need to have in our back pockets as the whole scamdemic unfolds further, TradeBait2 had this to say yesterday:
We learned from this "exam" that the NP was under orders to push jabs and not therapeutics. Which tells us her job is a bit more important to her than understanding and doing her best for us as people and patients despite us going to this physician office for the past 36 years – about 30 years before she joined them. We will go to our physicians or change next time.
On Monday, this popped into my FB feed courtesy of an uber liberal choir mate who just happens to be a hypochondriac: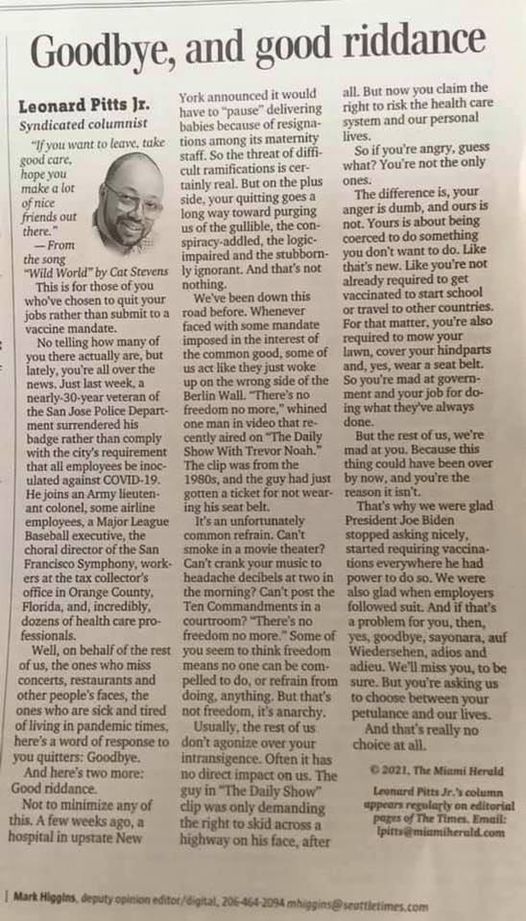 Comments below the image posted included:
Yes, they are petulant children whining because they have to brush their teeth before bed. Grow the f*** up already.
I mean, yeah. If people had simply gotten on board a year and a half ago, we could have had this under control with masks and social distancing and then finally put it all to bed with the vaccines…but we can't have nice things.So the people fighting safety measures are the reason we still need the safety measures. In other words, they are their own worst enemy.Ps. If it's alright, I may just post this same article to keep the message going.
I feel the same way. You were able to, but didn't want to take the vax? Then we shouldn't have to take care of you when you catch 'vid.
Well said, Mr. Pitts. And we ought to somehow discriminate against them, like we do smokers. Make them pay for holding the rest of us back from living normal lives.
I so agree … I am angry at the folks who whine about their freedom, or rights being taken away.when your, you've listened to the seat belt, the no smoking, the no shirt/shoes service, arguments and now the no vaccine. Tiring…
I remember seeing a comment on having to do with disdain for people who give up jobs rather than submit.
I'm not sure what happened to that, and there was a thread on some account I follow this morning that talked about the choice between a job and the jab was a red line crossed.
(Thanks to FG&Cs bringing SD's information to the QT, we know that the government has no teeth in this matter, actually, and that it's all smoke and mirrors for the kool-aid drinkers.)
The thing about that, though, is that I've been toying with a post on the matter of forcing that choice, and how it would effect Americans from a psychological standpoint.
Going back to ME's illustration at the top, my favorite psychoanalyst marketing researcher, Clotaire Rapaille, talks about the phenomenon in American life that "what we do" is really, what is our occupation. What is our job. That is what identifies and defines us in our minds.
Forcing Americans to choose between who they are, and conformity and submission to the machine, really is an intrusion that goes too far.
Not that the people who are convinced that they did the right thing and have been shot up with experimental gene therapy and want the rest of us to do the same so THEY can get back to normal see it that way.
Oh, no. The people making a choice between freedom and tyranny are the problem.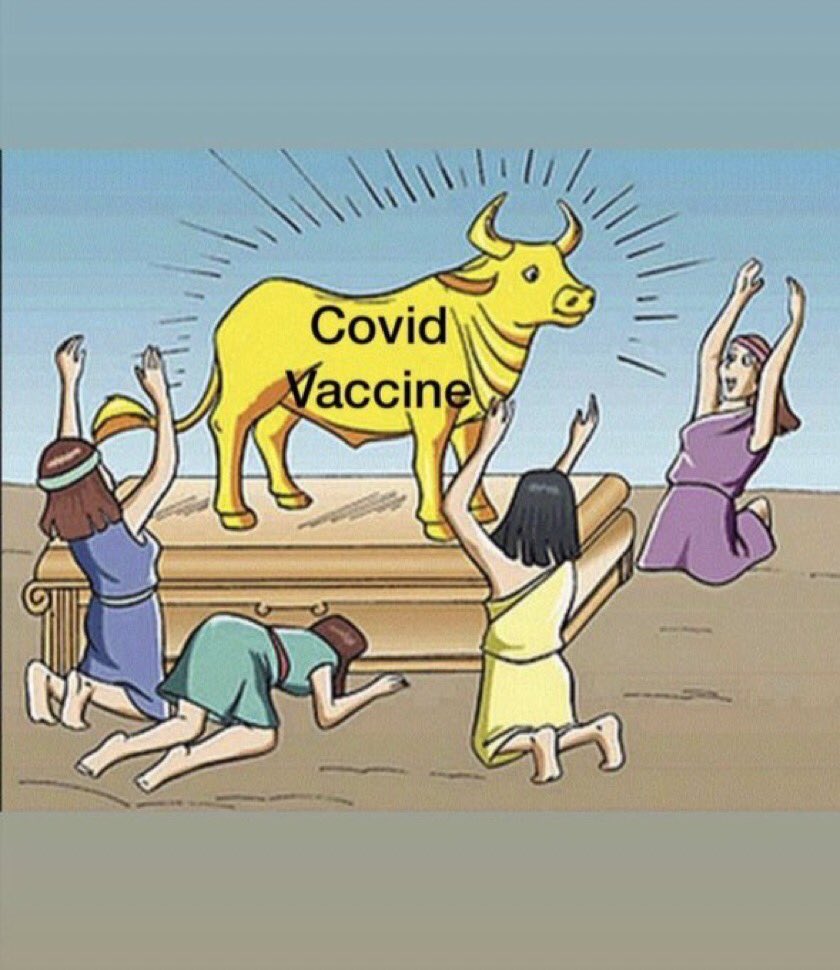 Accessories available for virtue signalling.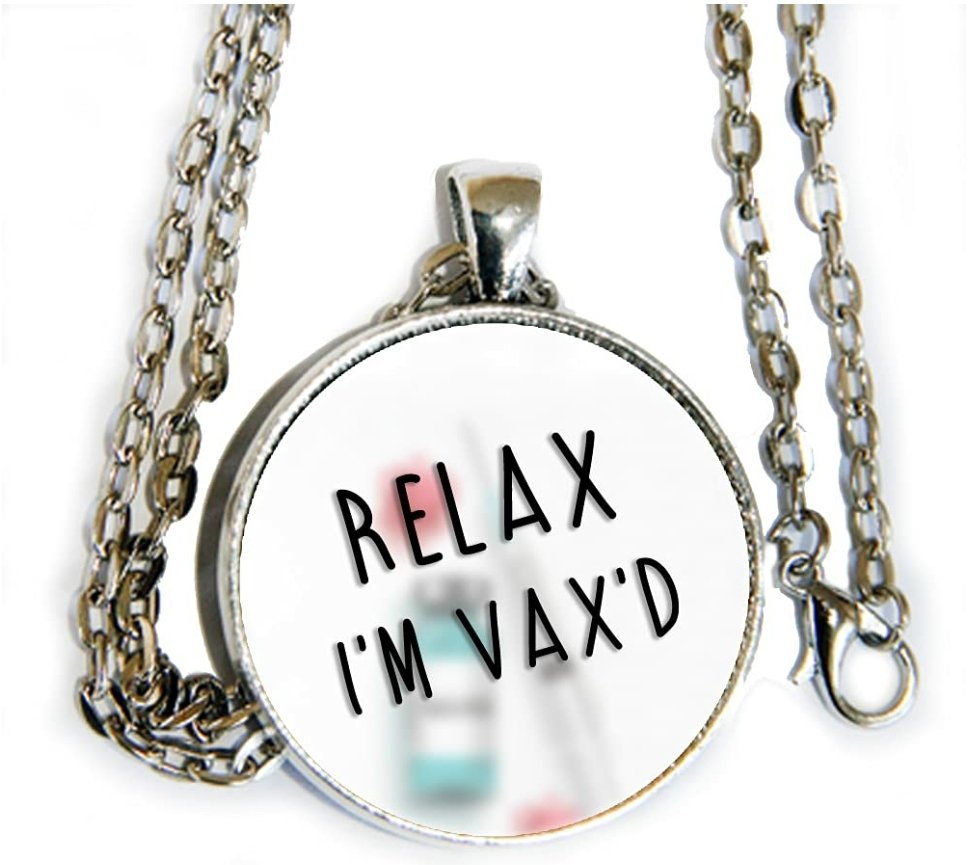 God, please help us.
In other news….
How to properly deal with voting machines.
And then they should be melted down.
Reprise of a message from the boss.
Have a good day y'all.
(I don't remember who brought this to a daily in the comments, but thanks.)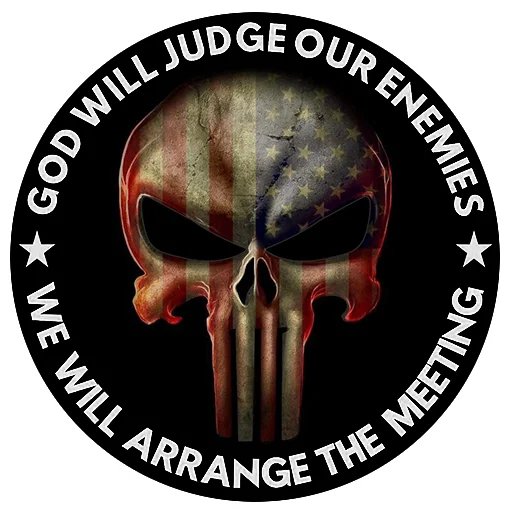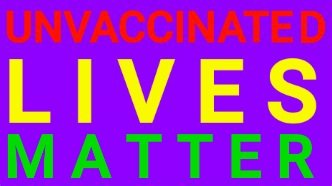 And, of course, the obligatory George Carlin: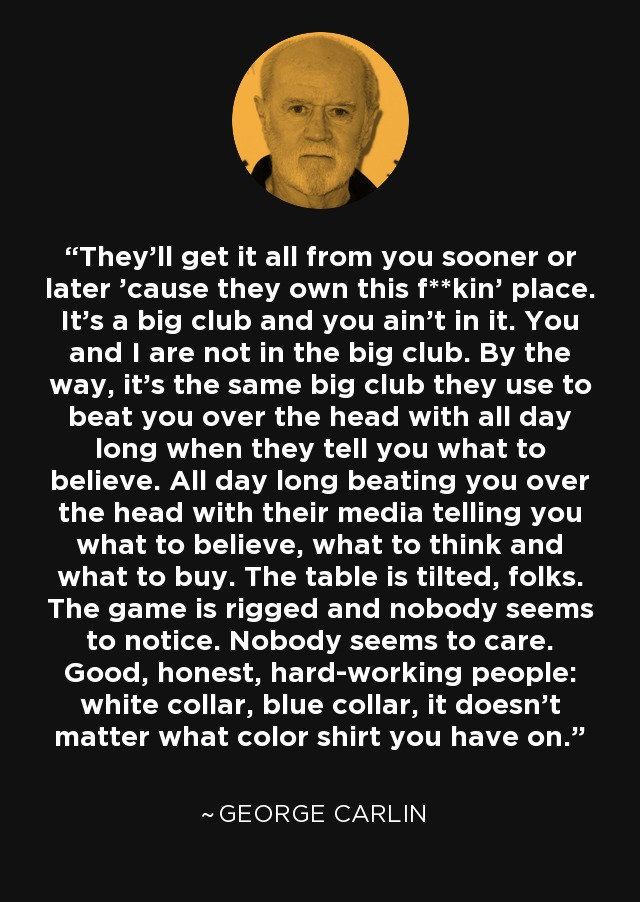 Per the Boss: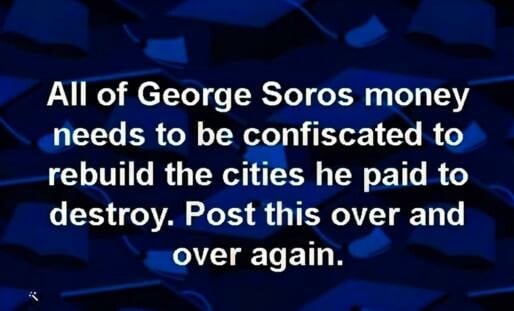 Inspired by the golden calf of COVID….
And now for the obligatory message from our sponsors:
Here at the Q tree we believe in the concept of CIVIL open free speech and the discussion that fleshes out ideas. When commenting and participating in the OPEN discussion on this thread all comments MUST NOT CONTAIN personal threats, baiting, name calling, or other anti-social words fomenting hate, violence or destruction. Our host Wolfm00n has strict rules about that.
Fellow tree dweller Wheatie gave us some good reminders on the basics of civility in political discourse:
No food fights.
No running with scissors.
If you bring snacks, bring enough for everyone
Please, stock up on blanks for celebratory gunfire, be ready to swing from the chandeliers…and no messing with the nuclear weapons.
Please remember to remain locked and loaded and ready for trouble should the insurrectionists try to invade your space.
Those who have things to say that do not fit the generally accepted limits of "civil" discussion, Wolf has provided a venue known as the UTree. You're welcome to visit over there and say hi to anyone hanging out over there. The "Rescue Thread" is also over there. In the event a rendezvous of the tree is needed, please check it out.
Auntie DePat's requests as we are all, ahem, adults, not uncivilized pygmies:
If you see something has not been posted, do us all a favor, and post it. Please, do not complain that it has not been done yet.
The scroll wheel on your mouse can be your friend. As mature adults, please use it here in the same manner you would in avoiding online porn.
Thank you so much for any and all attention to such details. It is GREATLY appreciated by more than one party here.
One other vital note:
Please, review these rules that our host Wolfm00n outlined toward the beginning of the growth of the tree itself. it won't take long.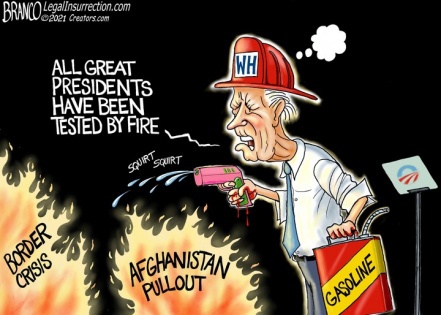 __________________________________________________
Today, on the Feast of the Archangels, a mix from the Scripture readings.
DANIEL 7:9-10, 13-14
9As I watched, Thrones were set up and the Ancient One took his throne. His clothing was snow bright, and the hair on his head as white as wool; His throne was flames of fire, with wheels of burning fire. 10A surging stream of fire flowed out from where he sat; Thousands upon thousands were ministering to him, and myriads upon myriads attended him. The court was convened, and the books were opened. 13As the visions during the night continued, I saw One like a son of man coming, on the clouds of heaven; When he reached the Ancient One and was presented before him, 14He received dominion, glory, and kingship; nations and peoples of every language serve him. His dominion is an everlasting dominion that shall not be taken away, his kingship shall not be destroyed.
REVELATION 12:7-12
7Now war arose in heaven, Michael and his angels fighting against the dragon; and the dragon and his angels fought, 8but they were defeated and there was no longer any place for them in heaven. 9And the great dragon was thrown down, that ancient serpent, who is called the Devil and Satan, the deceiver of the whole world — he was thrown down to the earth, and his angels were thrown down with him. 10And I heard a loud voice in heaven, saying, "Now the salvation and the power and the kingdom of our God and the authority of his Christ have come, for the accuser of our brethren has been thrown down, who accuses them day and night before our God. 11And they have conquered him by the blood of the Lamb and by the word of their testimony, for they loved not their lives even unto death. 12Rejoice then, O heaven and you that dwell therein! But woe to you, O earth and sea, for the devil has come down to you in great wrath, because he knows that his time is short!"
"Do not be afraid to take a chance on peace, to teach peace, to live peace. Peace will be the last word of history" – St. Pope John Paul II
As always, prayers for the fight against that which seeks to enslave us are welcome.
Please include: President Donald Trump, the Q team, our soldiers in the field, special forces, tactical units, first responders and those working behind the scenes…and any and all people with family members in the hospital, COVID or not.
Wolf Moon

July 6, 2021 17:07
Thanking everybody for your patience. Whether happenstance, coincidence, or enemy action, I'm dealing with some technical issues. In addition to those, and the obvious spiritual attacks, I am dealing with the obvious site stuff in what are best maintained as unobvious ways.
I suspect we struck a nerve.
A combined technical / spiritual / strategic response by all of us will prevent this attack from succeeding. Hold the line – bite the bullet – gird the loins – bite the lip – pray for guidance, discernment, and strength – whatever YOU believe keeps the ship aright for the moment. Everything else is lower priority.
In that spirit, the Prayer to St. Michael the Archangel from Tuesday's threads, and the Breastplate of St. Patrick, not to mention the Litany of Humility are favorites recommended by exorcists in spiritual warfare.